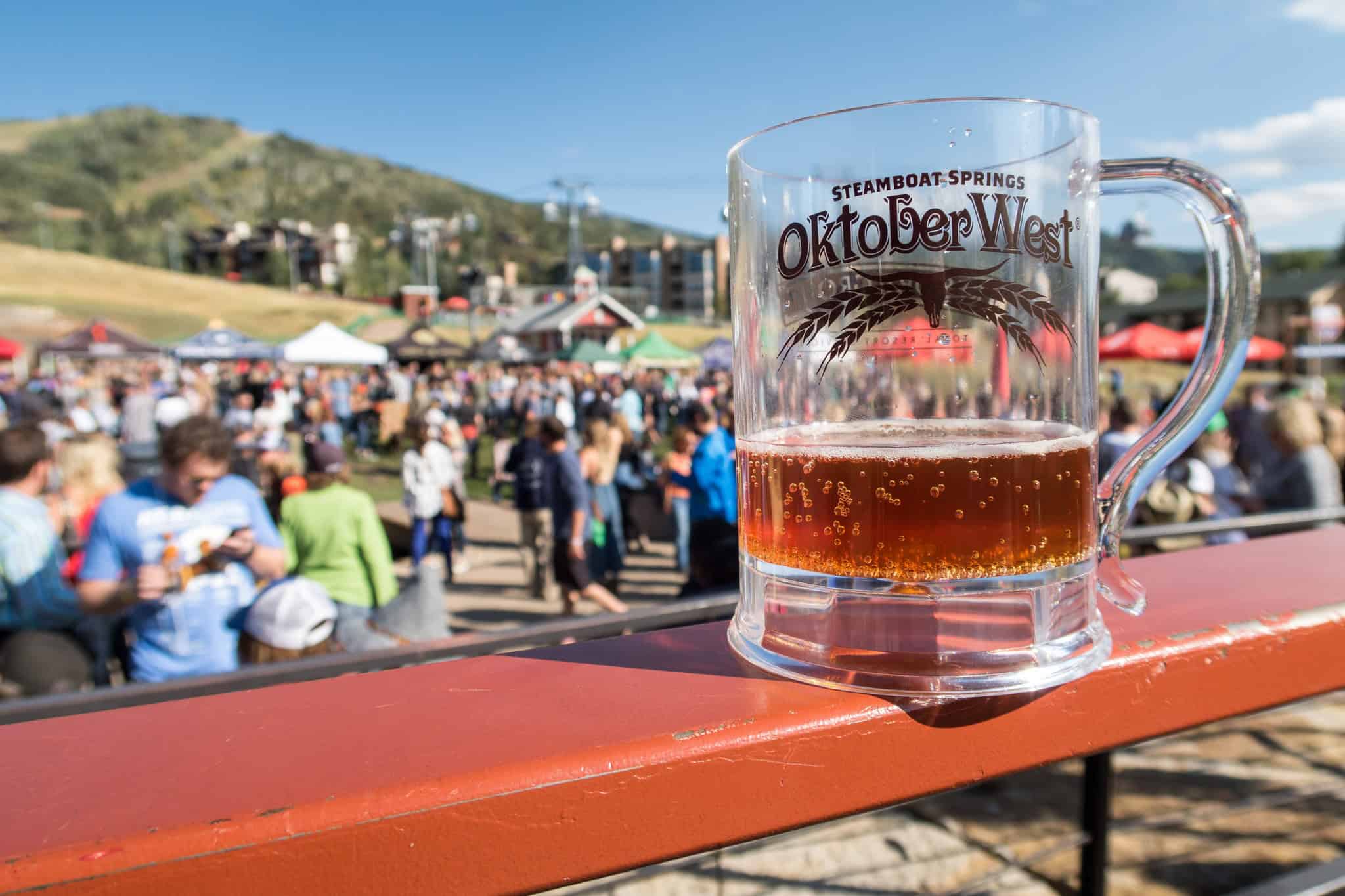 After exploring Denver in 48 hours, I drove three hours west to Steamboat Springs for the 9th annual Steamboat OktoberWest beer festival.
Steamboat is famous for many reasons, including champagne powder snow, producing more Olympians than any other U.S. town, and a 100-year old Winter Carnival.
However, for one weekend every September before the snow falls, the town celebrates Colorado craft beers.
Steamboat OktoberWest Bar Crawl
This year's festival began Friday, September 15th, with a beer crawl in town from 4-8 pm. The starting point was the historic Chief Theater.
The cost to take part was just $20 in advance or $25 at the door, and as you're about to see, this represents an incredible value.
There were four Steamboat-based breweries represented at the theater, each serving at least two beers.
Plus, another 22 venues in town, all within about three to four blocks of each other.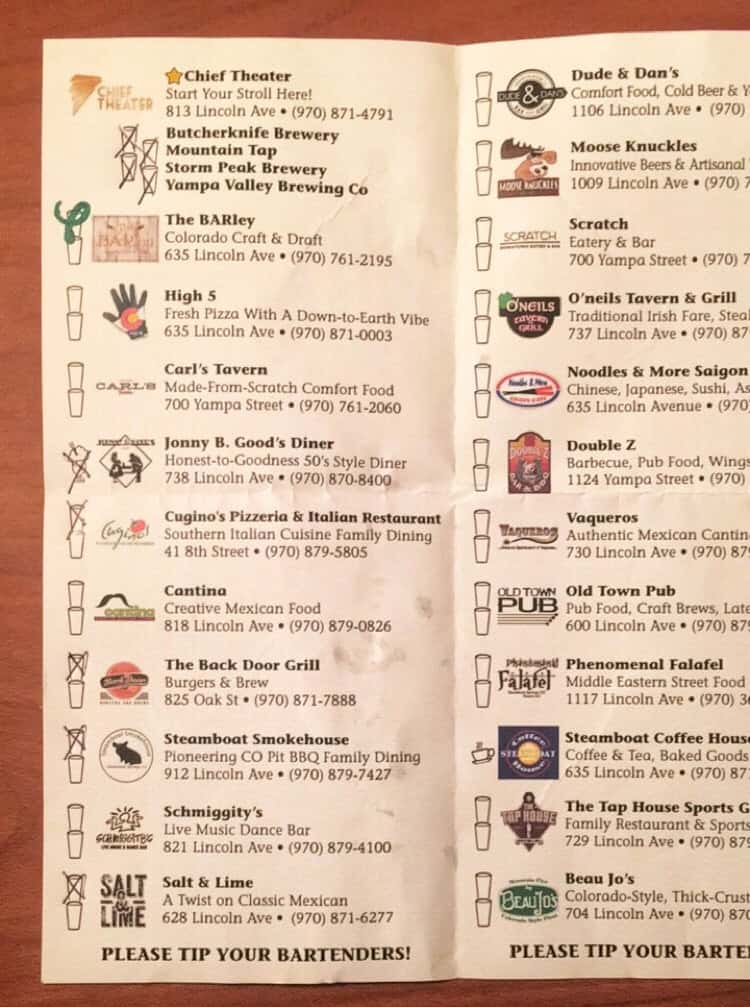 One of the first beers I tasted was Buzzcock by Butcherknife Brewing Company, Steamboat's first production brewery. It's a British-inspired dark ale.
I also tasted beers from the other brewers there, including:
Mountain Tap
Storm Peak Brewery
Yampa Valley Brewing Co.
Upon exiting the theater, I already had a nice little buzz going. A light rain had begun to fall. And the night came quickly.
As part of Steamboat OktoberWest, I went on to taste six more Colorado craft beers at six different bars and restaurants.
That was plenty for me, though if you have a higher tolerance, you could conceivably max out at 46 drinks total across all the venues!
And that's why the $25 ticket is such a great value, my friends.
Highlights included drinking beer at:
Cugino's Pizzeria, with views of the giant ski jumps used by athletes training for the Olympics
Back Door Grill, a favorite hangout for locals, where the fried Portobello mushrooms are a must
Salt & Lime, a beautifully designed Mexican restaurant, serving up bison tacos
Following dinner, I retired to the iconic Rabbit Ears Motel to rest up for the main event the next day.
Related: Packing List for a Fall Trip to Colorado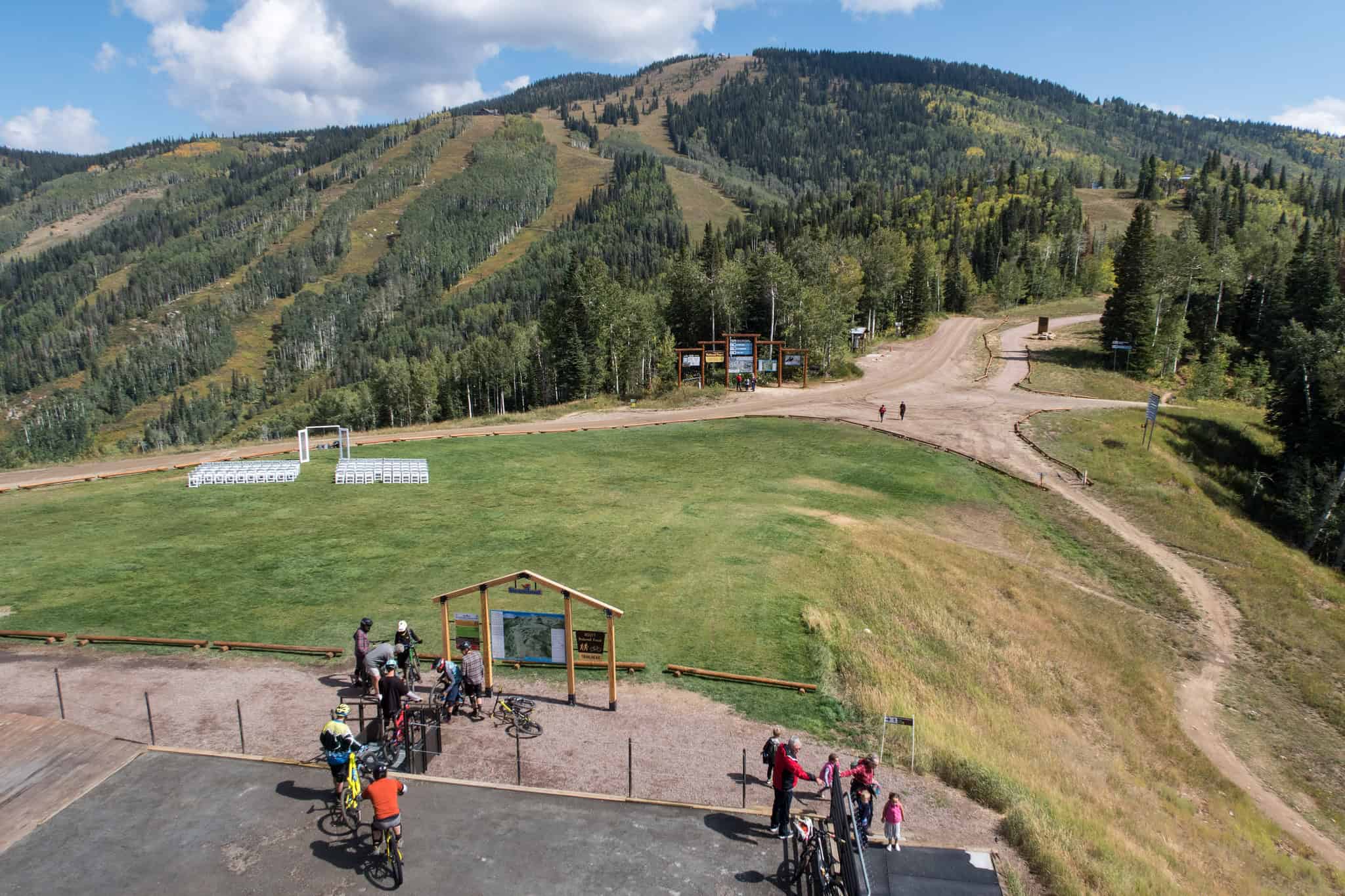 Farmer's Market & Gondola Ride
The following day, I awoke to blue skies, a sign it would be a beautiful day for beer drinking.
The OktoberWest beer garden wasn't due to open until 2 pm, so I started the day with a walk through the last Farmer's Market of the year, sampling the locally produced cheeses and pastries.
From there, I caught the free 15-minute bus from town to the Steamboat Mountain Village.
The bus is free year-round, making it cheap and easy to get back and forth.
I walked through Gondola Square (elev: 6,090 feet, 2,103 meters) around noon, where breweries were still setting up their tents, and boarded the 8-person gondola ($25) for the ride up Thunderhead Mountain (elev: 9,080 feet, 2,768 meters).
The scenic views from above were gorgeous.
Hikers were taking advantage of the 80 mountain trails, and mountain bikers with full protective gear were scoping out which routes to take down.
Seating arranged with scenic views was set up for two weddings happening that afternoon.
I had a quick lunch atop the mountain and descended by gondola to an already bustling beer garden.
Related: A Night Alone at North Fork Canadian Yurt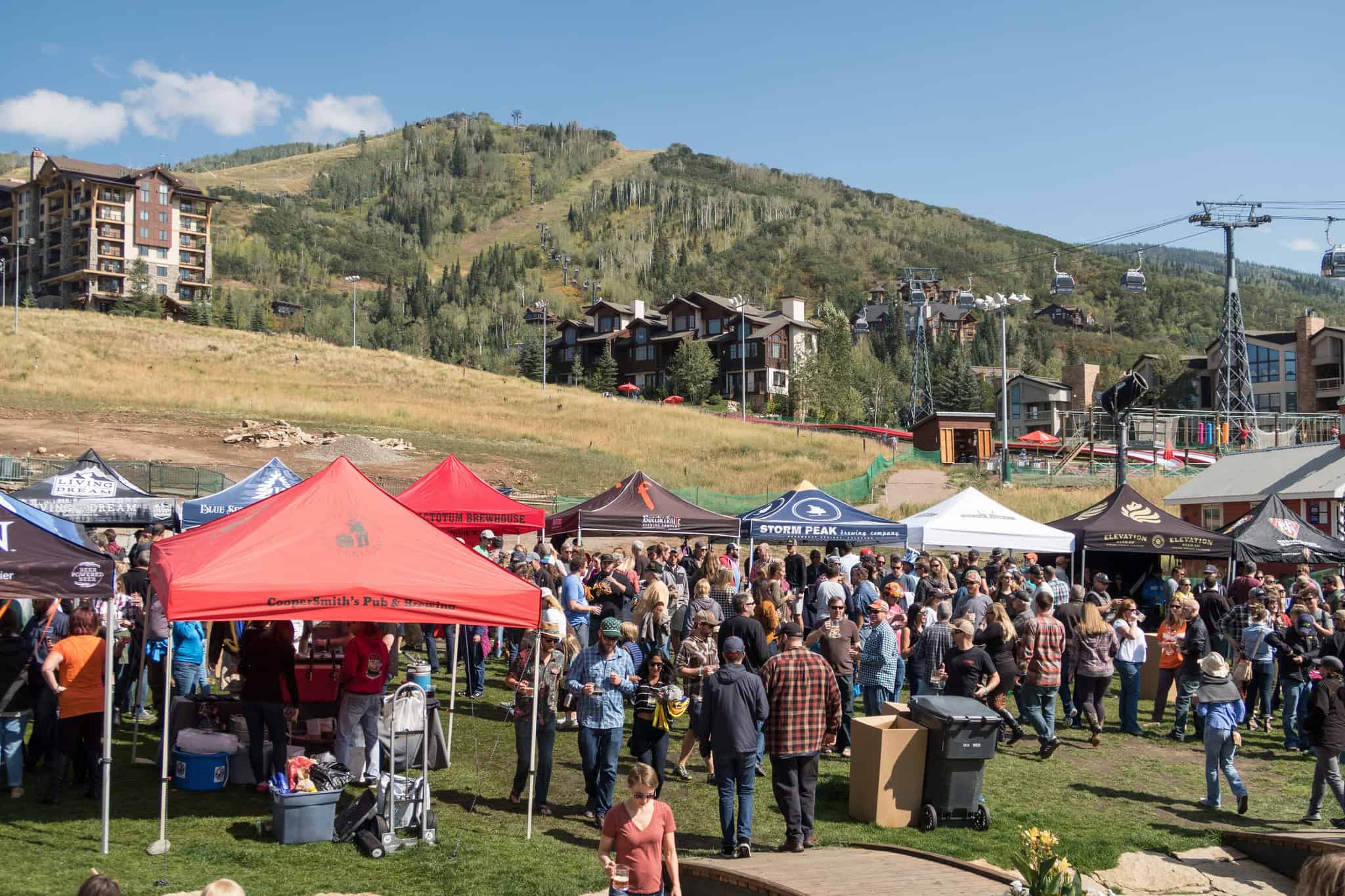 Beer Garden and Beef Cook-Off
In Gondola Square, I weaved through the growing crowd to reach the ticketing area, where I picked up my souvenir plastic mug.
Tickets for the beer garden were $30 in advance or $35 at the door. The combo ticket, including the beef tasting, was $48 online or $53 at the door.
The OktoberWest beer garden featured 45 breweries, serving two samples each. It was overwhelming!
I recognized a few names from the previous night and found myself gravitating toward the familiar, including Butcherknife and Storm Peak.
A band named Afrolicious was performing on stage, and the atmosphere was upbeat and friendly.
After all, what's not to enjoy about an endless supply of Colorado craft beer at the base of a beautiful mountain!
Related: Fly Fishing in Colorado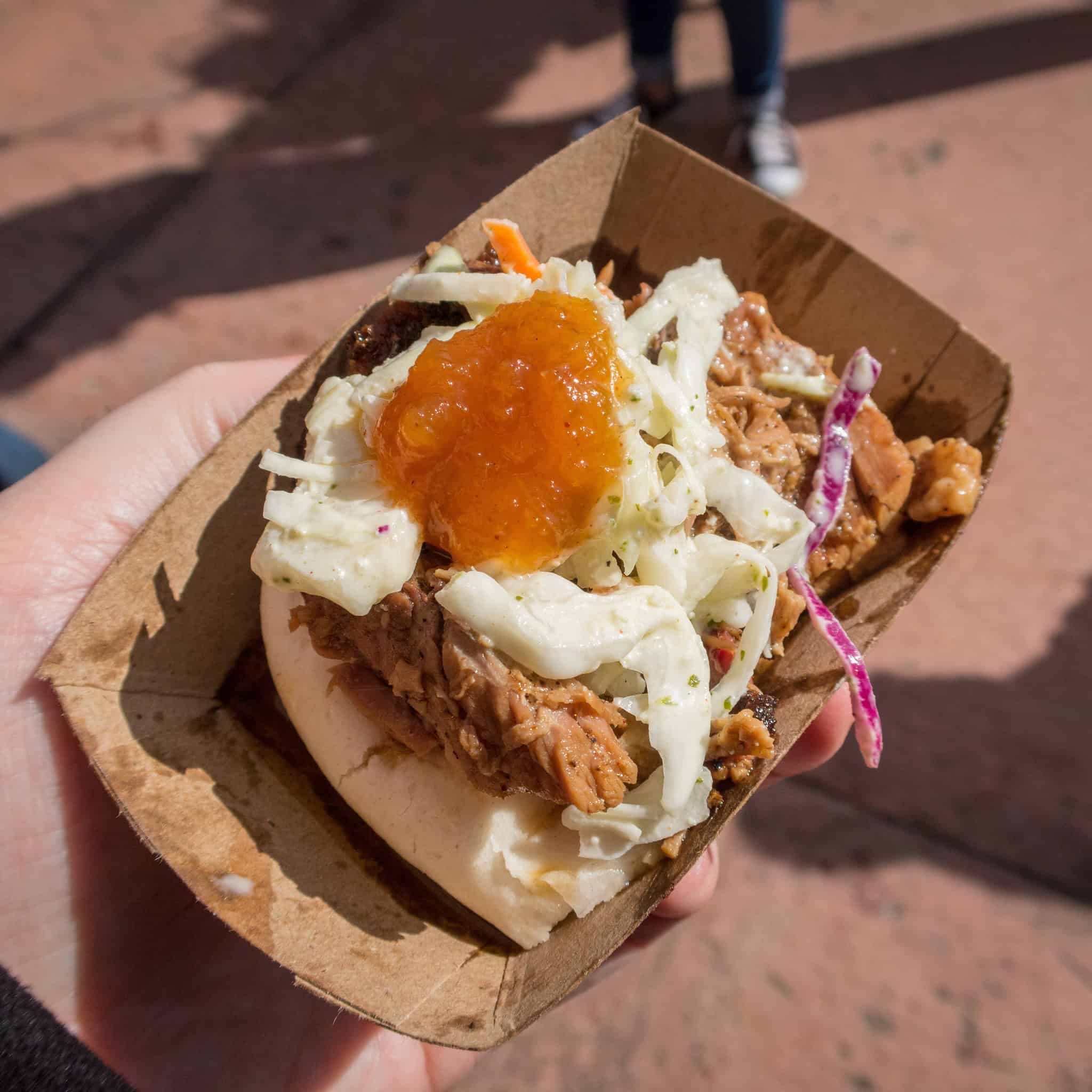 In addition to the beer tasting, OktoberWest also featured a beef tasting competition, with ten local restaurants doing their best to claim the top spot. All you can eat beef from 2-6 pm!
As voted on by attendees, the winner was Salt & Lime, the restaurant where I'd eaten the bison taco the night before.
The second and third place awards went to Cafe Diva and Laundry Kitchen & Cocktails, respectively.
All in all, it was a wonderfully intoxicating introduction to Steamboat Springs, the mountain resort, and the Colorado craft beer scene.
For more information and to stay up-to-date on the 2018 festival, visit the OktoberWest website.
Stay tuned for more scenes from my weekend in Steamboat Springs, Colorado.
_____
My stay in Steamboat Springs was hosted by the Steamboat Springs Chamber Resort Association.
Dave is the Founder and Editor in Chief of Go Backpacking and Feastio. He's been to 66 countries and lived in Colombia and Peru. Read the full story of how he became a travel blogger.
Planning a trip? Go Backpacking recommends: