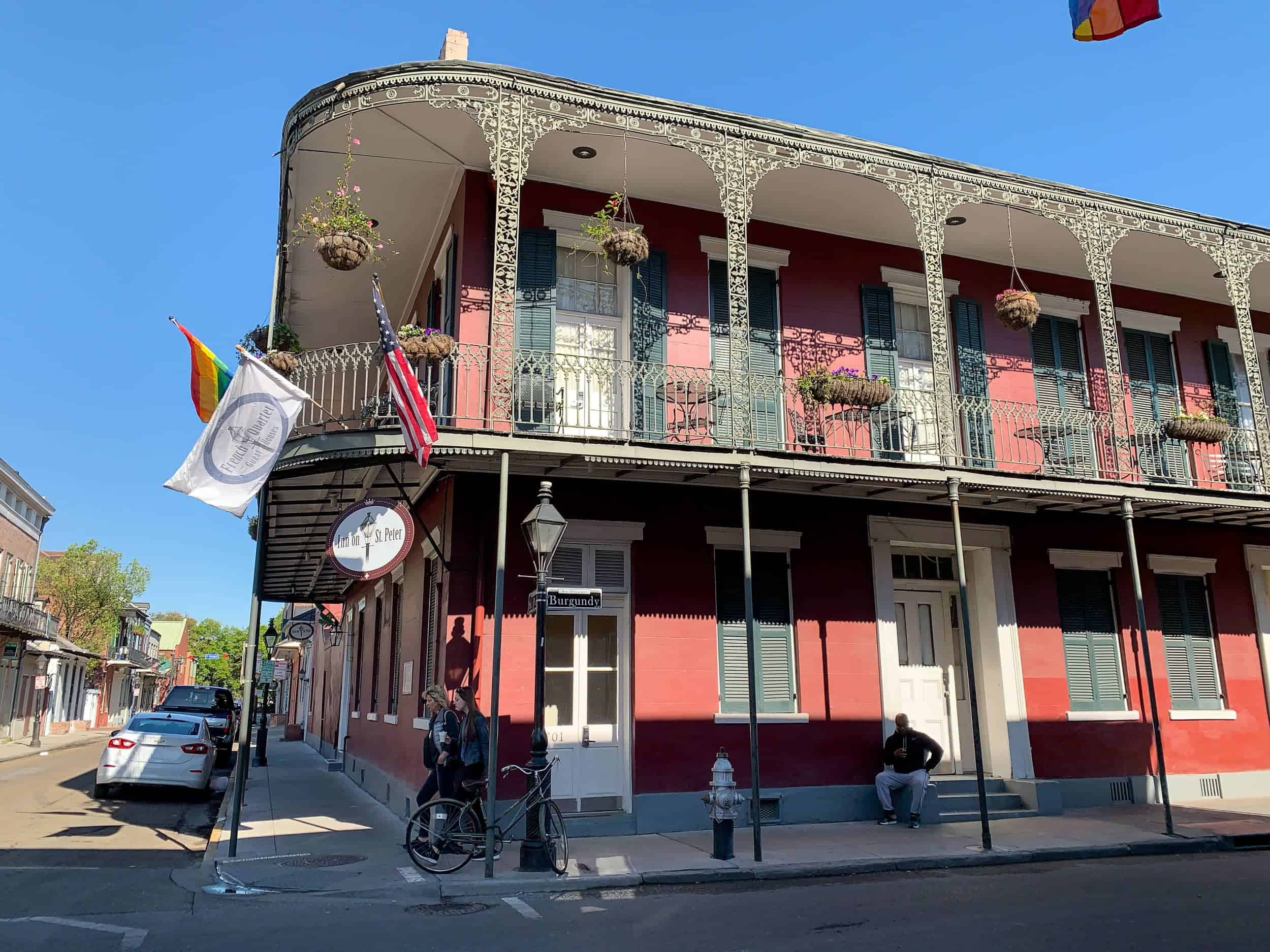 New Orleans is one of my favorite cities in the United States. Rich in history, culture, food, and music, there's no shortage of fun things to do in New Orleans.
I first visited NOLA, also known as "The Big Easy," with family for spring 2017.
Our time together revolved around eating – lots and lots of eating, and I'd wanted to go back and explore on my own ever since.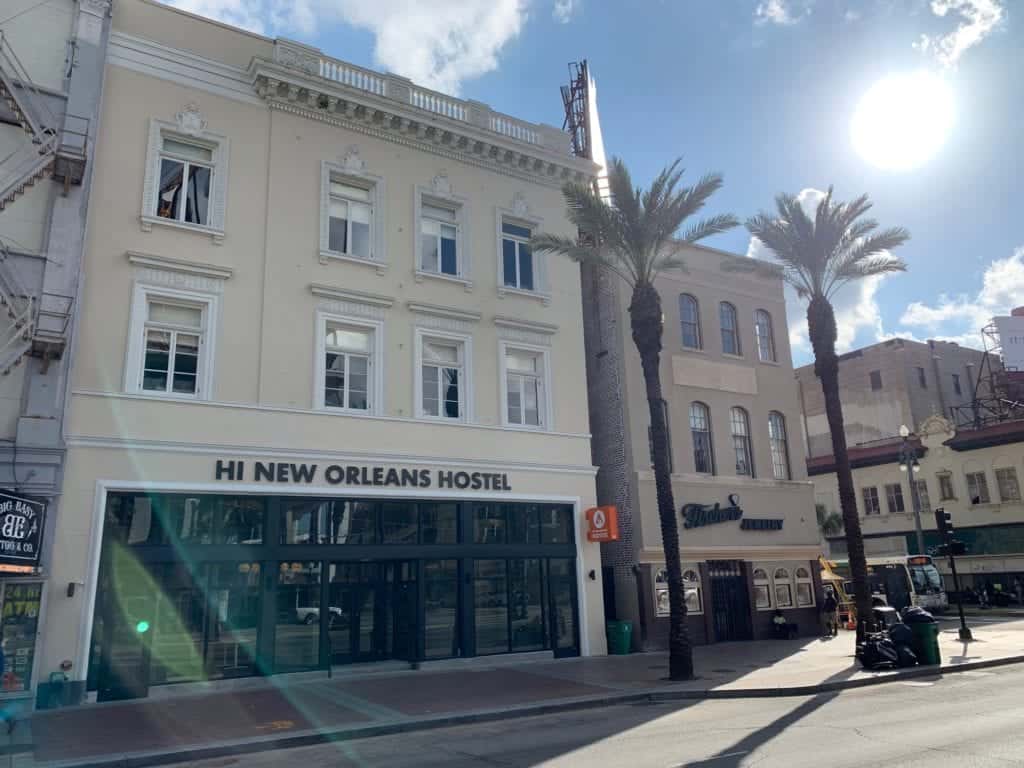 Then came the opportunity to return in partnership with Hostelling International USA to preview their new HI New Orleans hostel.
Located on Canal Street, just across the French Quarter, the hostel is housed in a historic building and features a fully renovated interior.
Walking into the spacious lobby feels more like walking into a hotel than a hostel.
A local artist was commissioned to create a large, colorful painting that greets all visitors checking in.
On the second floor, a modern open kitchen welcomes guests to cook their meals, reheat leftovers taken from the last restaurant they visited, or participate in one of the hostel's free community cooking events.
NOLA is known for food, so it's the ideal space to hang out and meet some of the hostel's international guests.
Another unique space is the street-level cafe, where guests can grab a quick cup of coffee in the morning or kick off happy hour with a local beer in the afternoon.
I highly recommend checking out HI New Orleans when planning your trip.
And now, without further ado, I want to share 15 fun things to do in New Orleans (most of which are cheap, free, and easily accessible).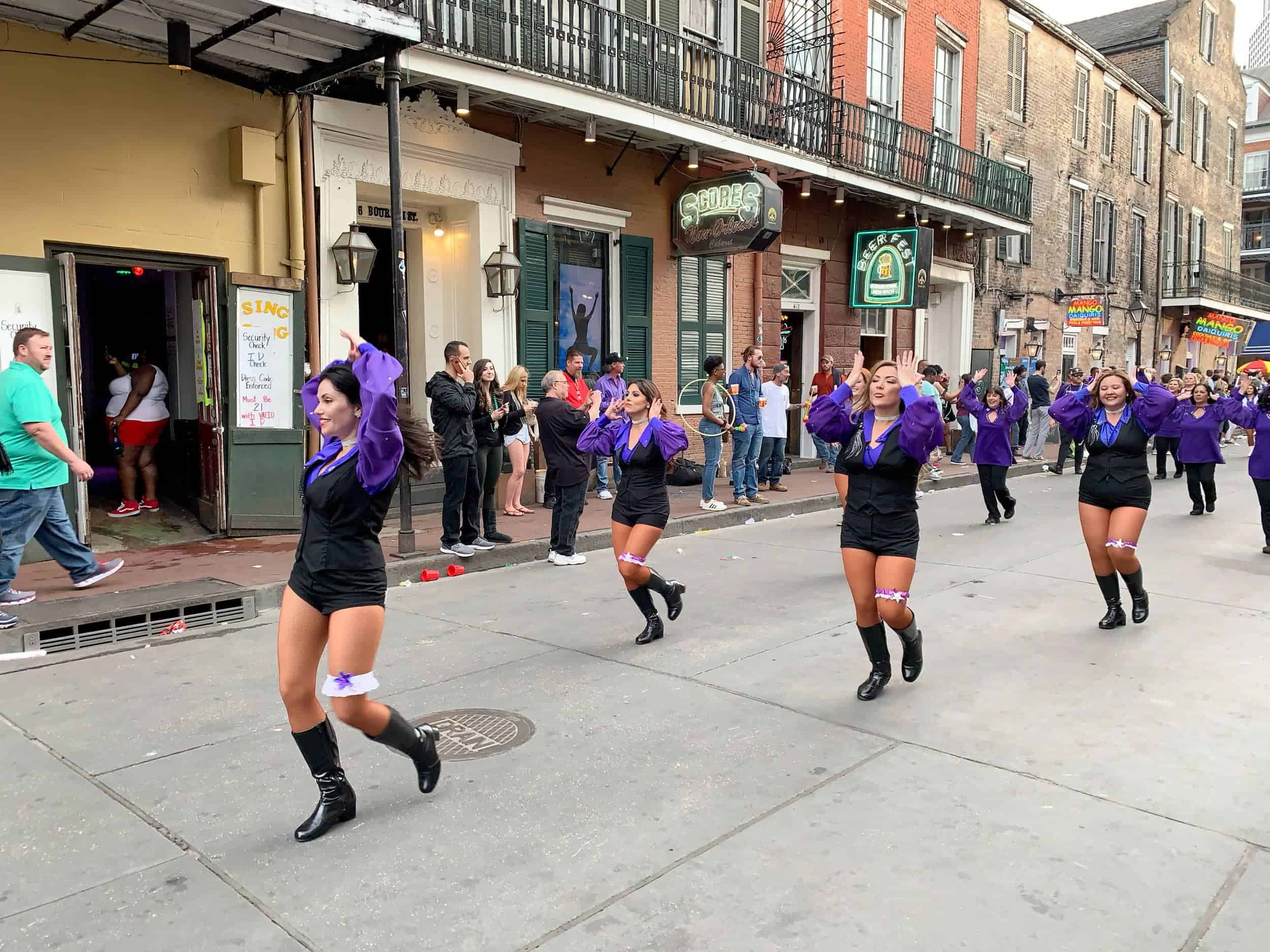 Walking and People Watching
New Orleans is a very walkable city. I use Uber to cover more considerable distances between neighborhoods, but I prefer to be on foot for the most part.
It's also a diverse city full of interesting characters, making it a fun place for people watching.
Explore the French Quarter
The French Quarter lies at the heart of New Orleans, its east edge running along the Mississippi River banks.
Famously home to the city's annual Mardi Gras parades and celebrations, there's much more to this area than naked body parts and raucous partying.
The French Quarter is full of historic buildings, restaurants, bars, and shops. Streets are based on a grid system, so it's easy to find your way around and hard to get lost.
Watch a Parade on Bourbon Street
I always associated parades and bead-throwing on Bourbon Street with Mardi Gras; however, it happens all year. It's just part of the culture.
When I was there in March, I heard there would be a parade celebrating Italian culture, so I made sure to be on Bourbon Street when it happened.
Catching an unexpected parade on Bourbon Street is another of the many fun things to do in New Orleans.
Check the city website's calendar of events when planning your trip to see what will be happening.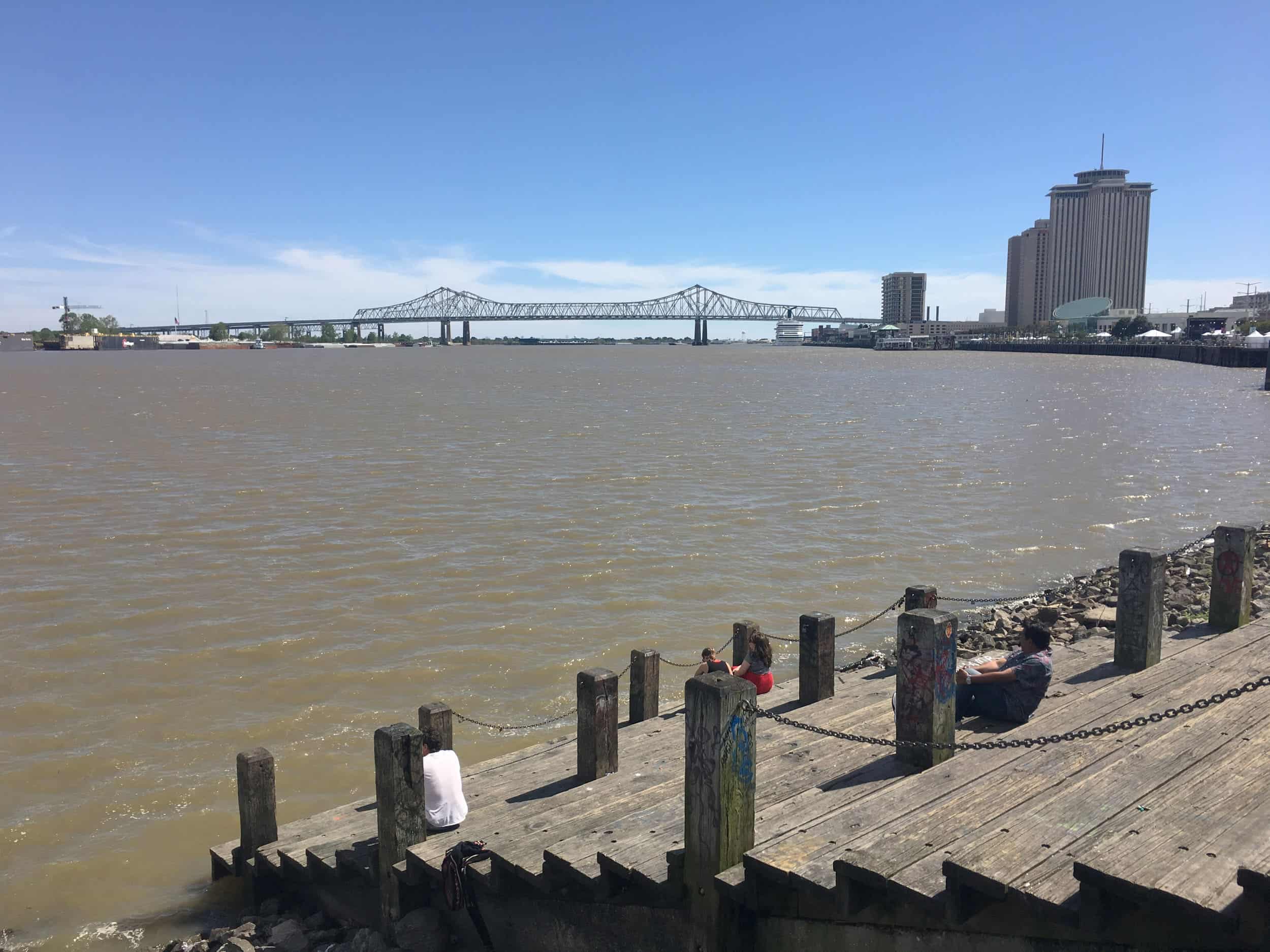 Admire the Mississippi River
Moonwalk Riverfront Park, French Quarter
Ah, the mighty Mississippi. Few rivers in the US inspire more nostalgia for days gone by.
New Orleans is the last big city on the river before it empties into the Gulf of Mexico, and of course, that makes it the historic entrance for boats and people heading north.
The riverfront has been cleaned up and improved since the 1970s and now offers visitors plenty of space to walk around and take in the views.
From Jackson Square, walk east across Decatur Street, up the stairs, and past the Washington Artillery Park to reach The Moonwalk Riverfront Park.
This green space offers plenty of benches for you to take a break and watch the water.
Walking south along the riverbank leads to a giant working paddleboat, Woldenburg Park, and the new Holocaust Memorial.
Walk Magazine Street in the Garden District
Magazine Street follows the Mississippi's curve, running six miles from the French Quarter in the east to Audubon Park in the west.
The street is lined with a mix of commercial buildings, shops, restaurants, and historic homes dating back to the 19th century.
It's the grand old homes which I find so captivating. On a future visit, I'd like to do a walking tour here.
You can get a sense of them in passing from a car. However, it's worth walking a stretch, so you can also enjoy a coffee, bite to eat, or window shopping.
The Magazine Street website features an event calendar with details about future sales, happy hours, and fun things to do in New Orleans.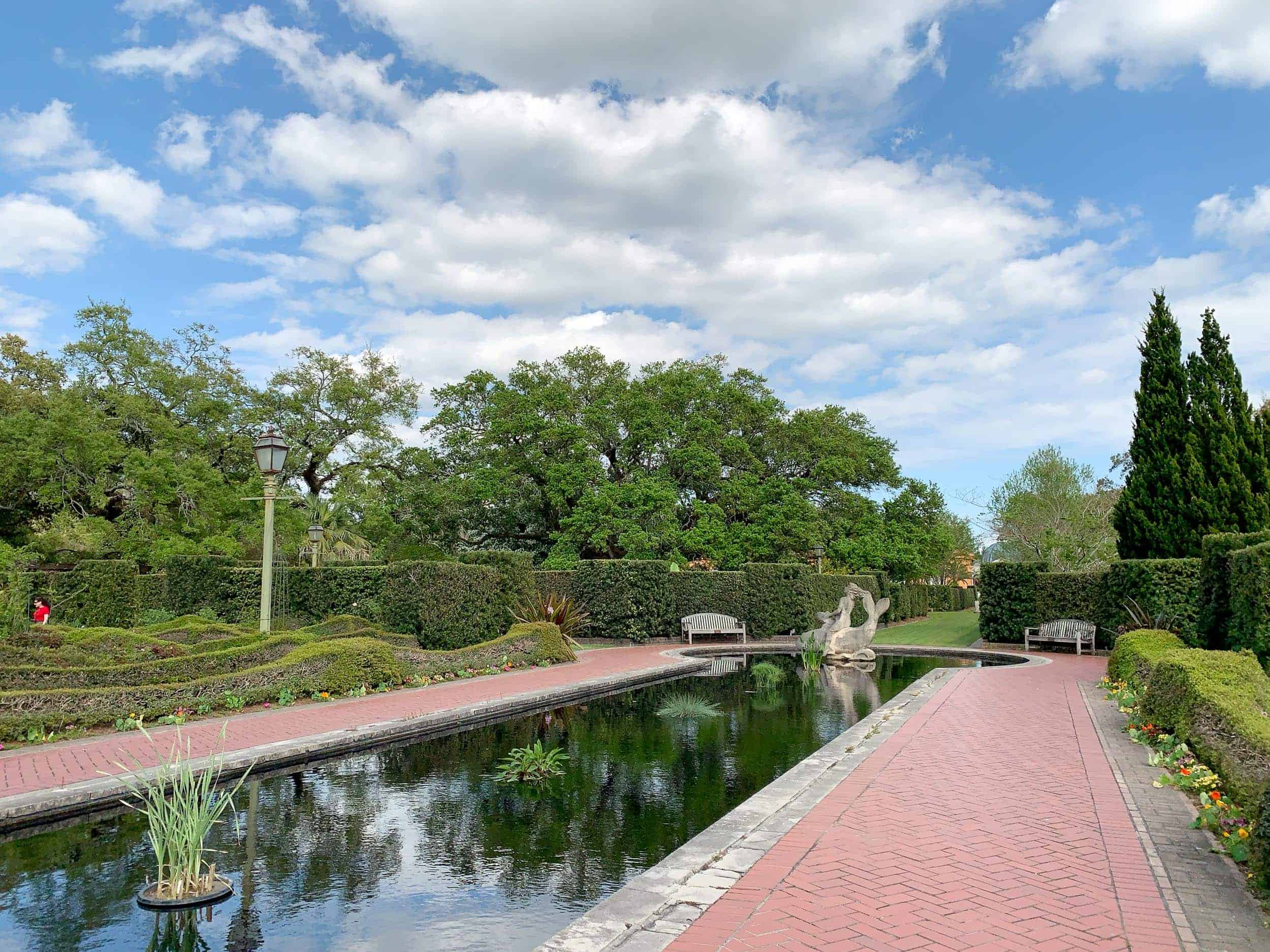 New Orleans Botanical Gardens
5 Victory Avenue, City Park
Escape the busy city streets with a walk through the peaceful New Orleans Botanical Gardens.
The Botanical Gardens are located at the south end of City Park, a vast green space about a 10-minute drive from the French Quarter.
My favorite area was the Historic Train Garden, which features working model trains in an outdoor garden.
Open 10 am – 5 pm, daily. Adult admission is $8.
See also: Whitney Plantation: An American Slavery Museum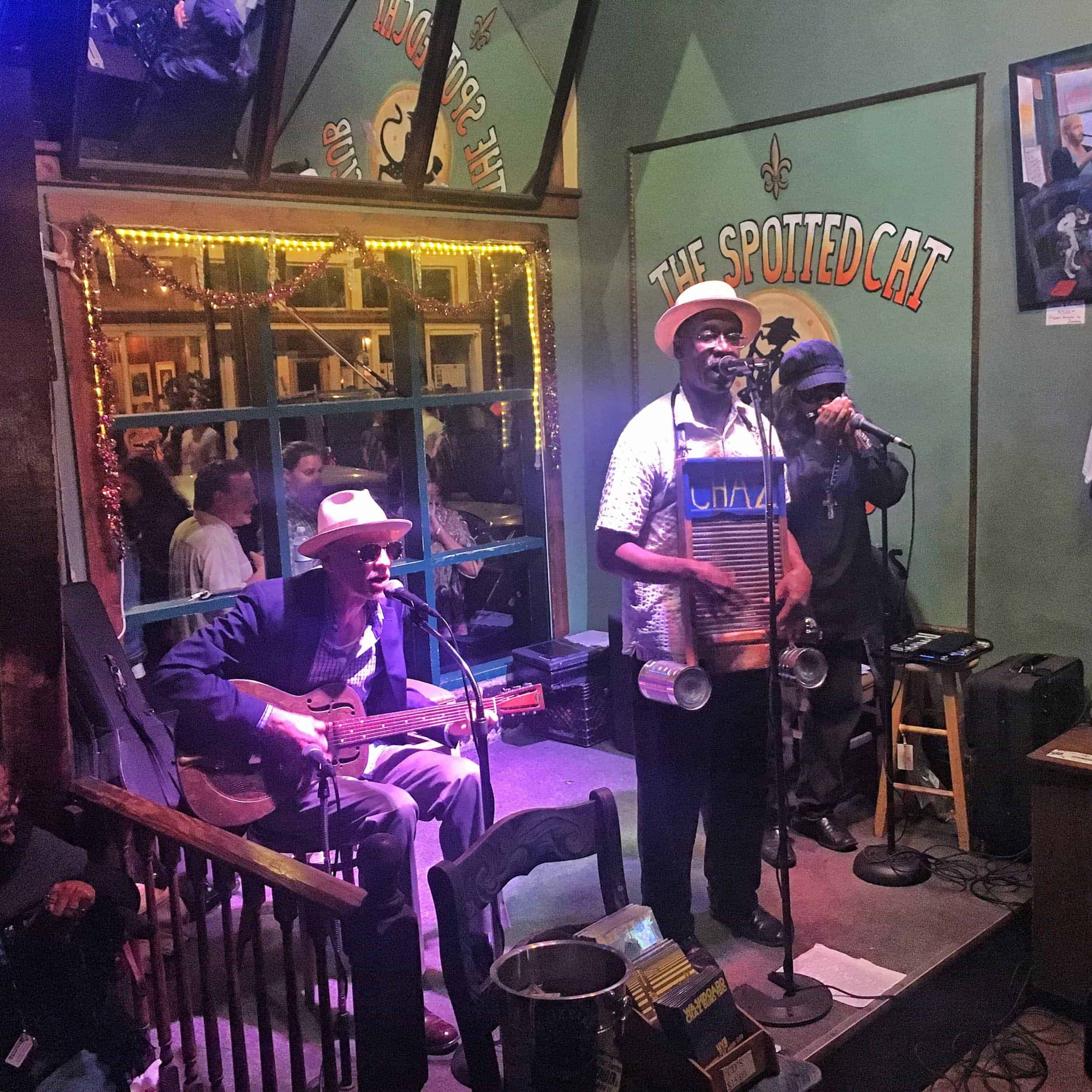 Live Music
New Orleans is widely considered the birthplace of jazz, which developed around the turn of the 20th century.
Live music is a hallmark of the city and well worth taking the time to seek out.
Frenchmen Street
Frenchmen Street, which lies just beyond the French Quarter's northern edge, is lined with music clubs.
Walk around and window shop until you find one you like, then head inside. Some venues charge a cover, although you may be able to avoid it if you arrive early.
On my first trip to New Orleans, my brother and I went out to Frenchmen Street both nights after dinner.
My favorite venue was The Spotted Cat, where we saw Washboard Chaz, a singer who plays a washboard worn around his neck.
Though he's originally from New York, he's lived in NOLA since 2000 and has become associated with the city.
See also: 7 Best Jazz Clubs in New Orleans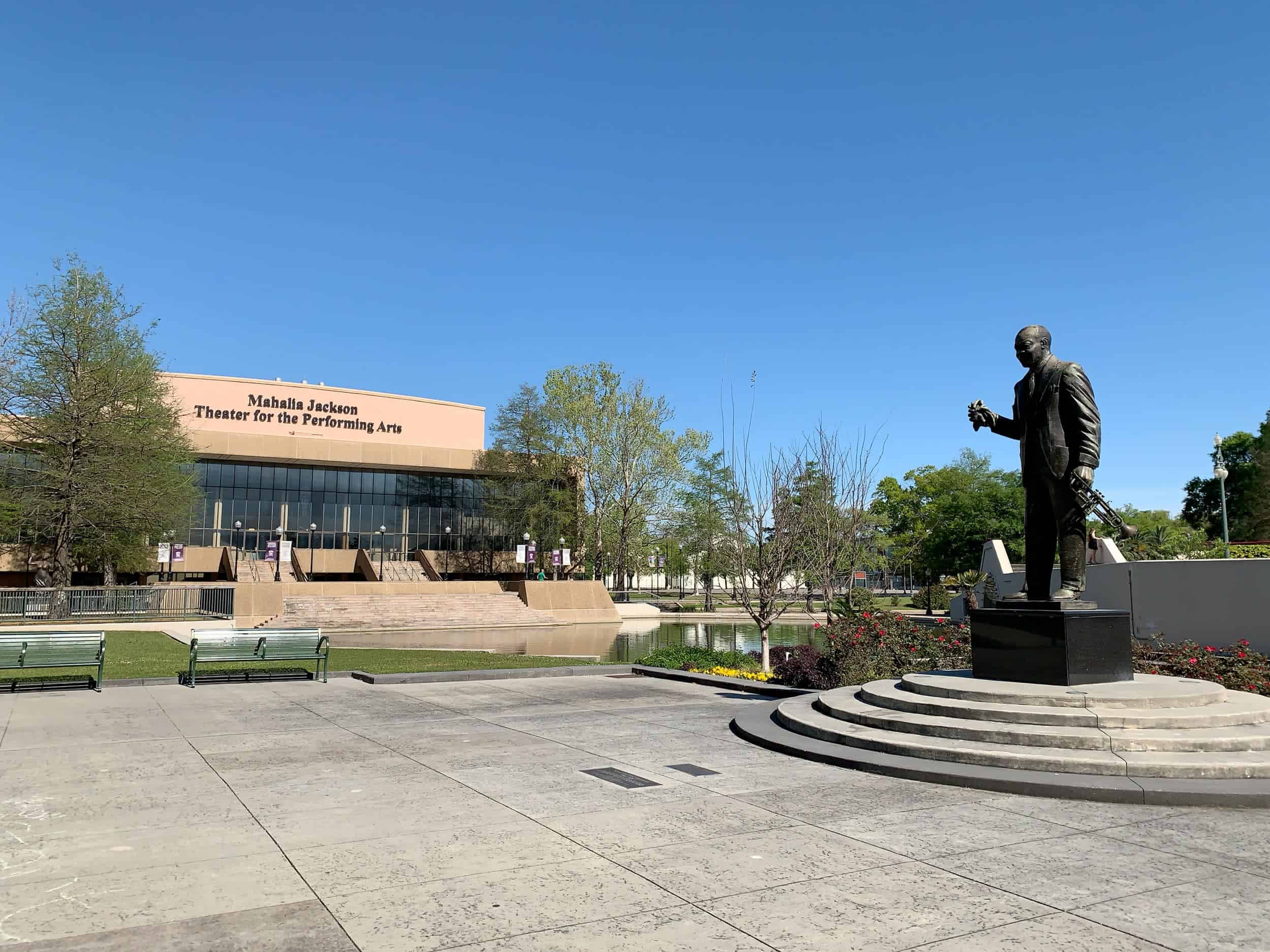 Louis Armstrong Park
701 N Rampart St
Louis Armstrong, one of the greatest jazz musicians of all time, was born in New Orleans.
To the northwest of the French District, just across North Rampart Street, is the 31-acre Louis Armstrong Park.
The park is home to the Mahalia Jackson Theater for the Performing Arts and hosts live concerts, films, and other events.
Adjacent to the park is Congo Square, an open space that by 1803 had become a popular place for African slaves to congregate, drum, dance, sing, and trade on Sunday afternoons.
According to the sign, these early forms of artistic expression eventually "developed into Mardi Gras Indian traditions, the Second Line and eventually New Orleans jazz and rhythm and blues."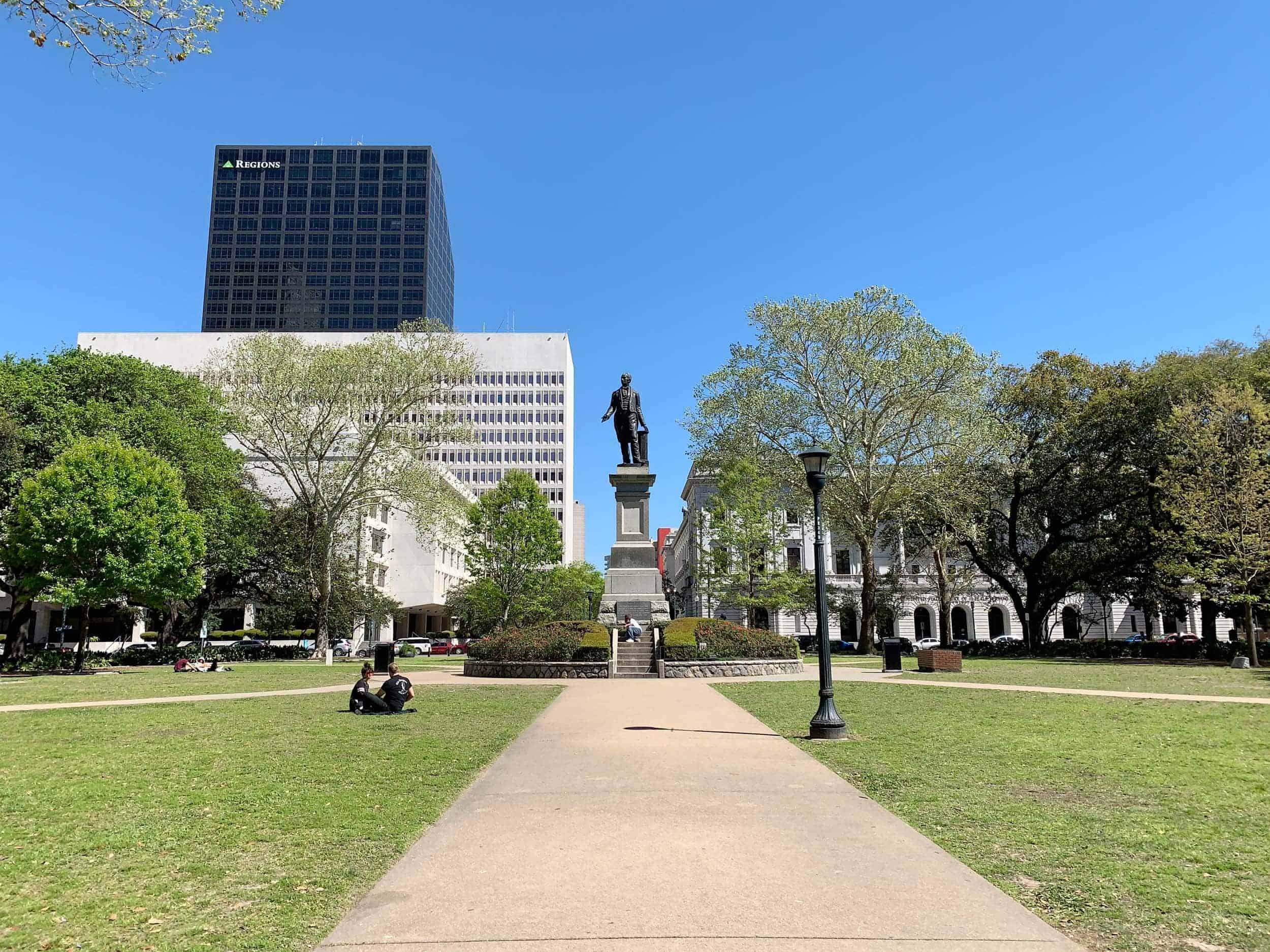 Lafayette Square
S Maestri Place
Lafayette Square sits in the heart of the Central Business District, just south of the French Quarter.
The park has hosted jazz concerts for the last 150 years and continues with Wednesday at the Square, a free concert series from March to May.
In the fall, Lafayette Square hosts a blues festival.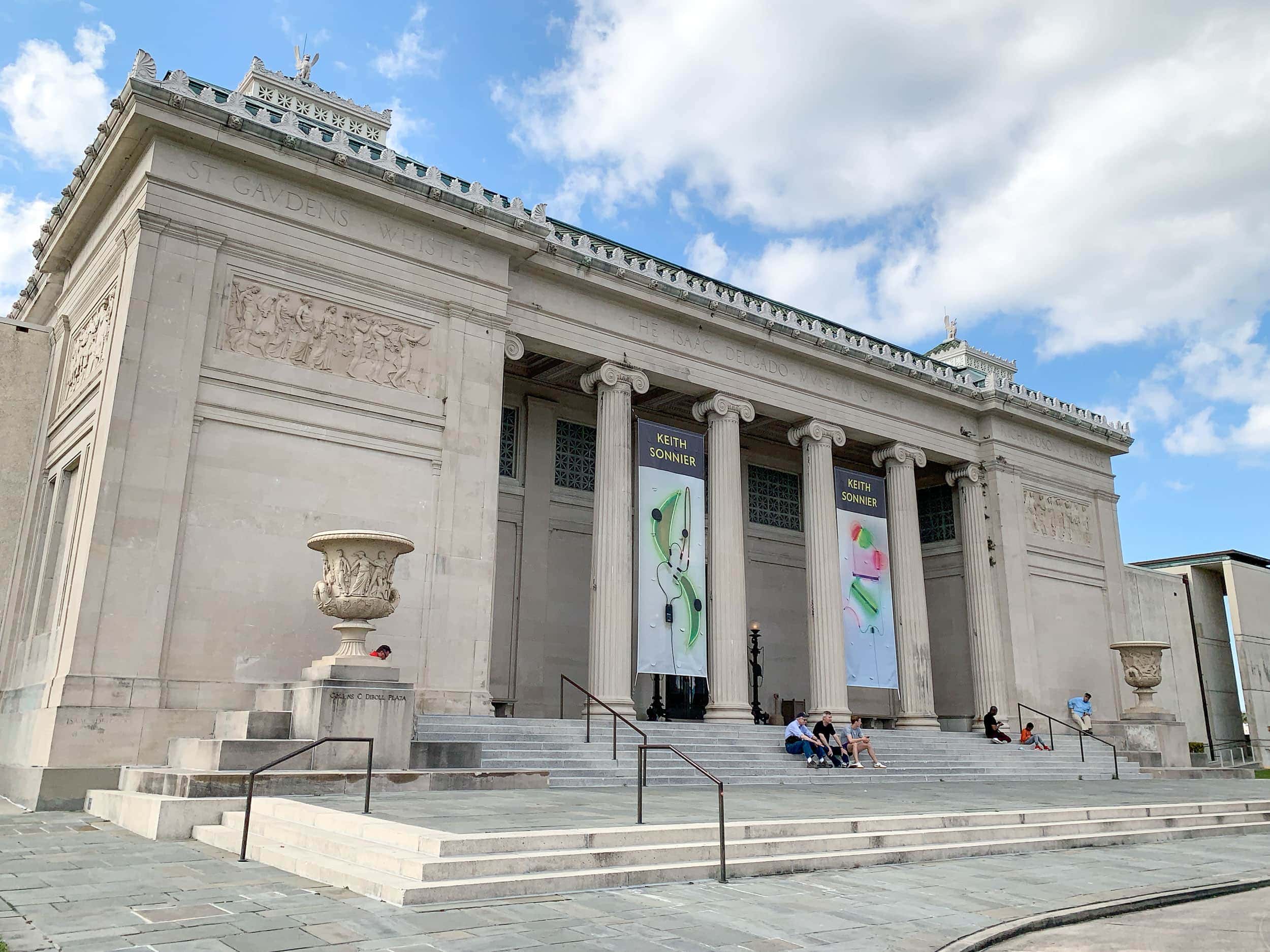 The Arts
In addition to the music scene, the arts are alive and well in the Big Easy.
New Orleans Museum of Art
One Collins Diboll Circle, City Park
Like the Botanical Gardens, the New Orleans Museum of Art (NOMA) is located at the southern end of City Park.
Opened in 1911 with just nine pieces of art, it now boasts a permanent collection of over 40,000.
Highlights from my visit included two temporary exhibits, one by Louisiana-born Tina Girouard featuring sequined prayer flags she created together with artists in Haiti and another by Keith Sonnier showcasing his work with colorful neon lights.
Museum hours
Tue-Fri: 10 am to 6 pm
Sat: 10 am to 5 pm
Sun: 11 am to 5 pm
Admission is $15 for adults, $10 for seniors and active military, $8 for university students, and $6 for children (age 7-12)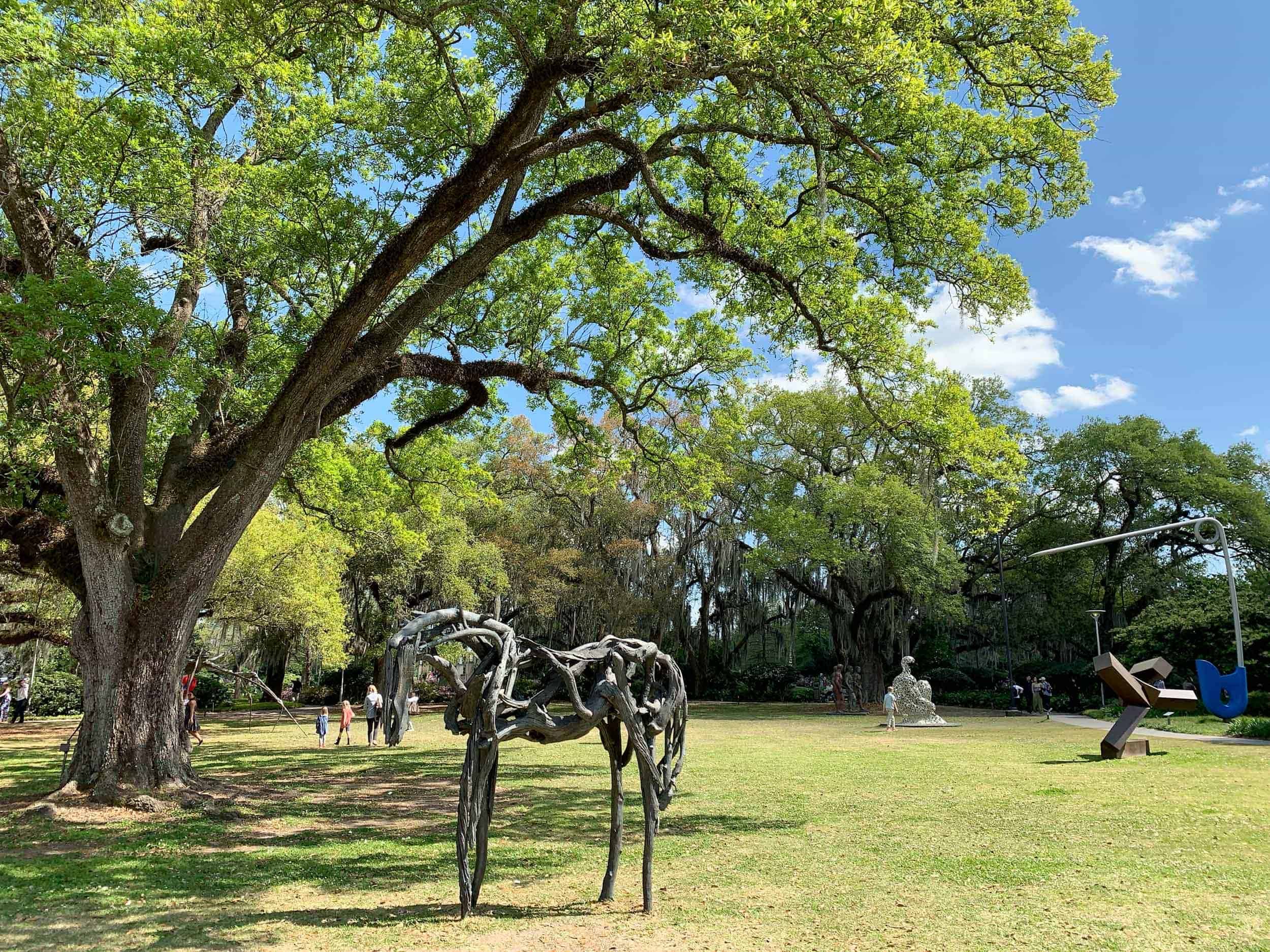 Sydney and Walda Besthoff Sculpture Garden
One Collins Diboll Circle, City Park
A highlight of my second visit to New Orleans was a relaxing walk through the Sydney and Walda Besthoff Sculpture Garden.
Located adjacent to the New Orleans Museum of Art and free to visit seven days a week, the garden features art by 20th and 21st-century artists.
Soon after my visit, a six-acre, $15 million expansion was completed, effectively doubling the Sculpture Garden's size and creating space for an additional 26 works of art to be displayed.
Re-visiting the sculpture garden is high on my list of fun things to do the next time I'm in town.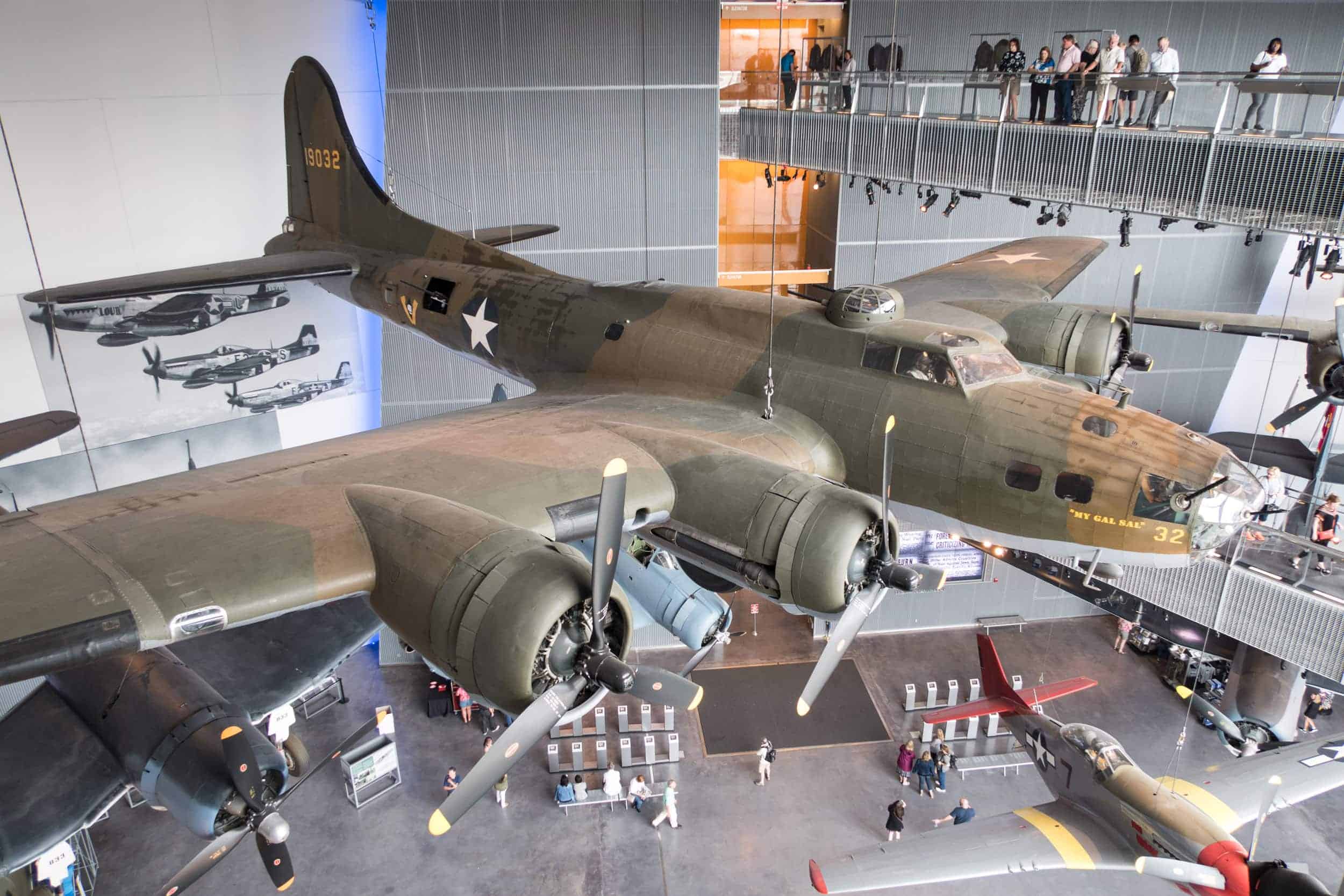 National World War II Museum
945 Magazine Street
On my first visit to New Orleans, I went to the National World War II Museum with my brother (a Marine veteran who served in Iraq).
According to their website:
The National WWII Museum tells the story of the American experience in the war that changed the world—why it was fought, how it was won, and what it means today—so that all generations will understand the price of freedom and be inspired by what they learn.
Beyond the history it tells, I was enamored with the number of military planes hanging from the ceiling.
They also had a small WWII-era tank and a few other vehicles on an outdoor patio.
Having never served in the military, I find military museums a way to honor and remember the people who made the ultimate sacrifice fighting for my country.
Museum hours
Admission is $28 for adults, $24 for seniors, $18 for active military and students, and free for WWII veterans.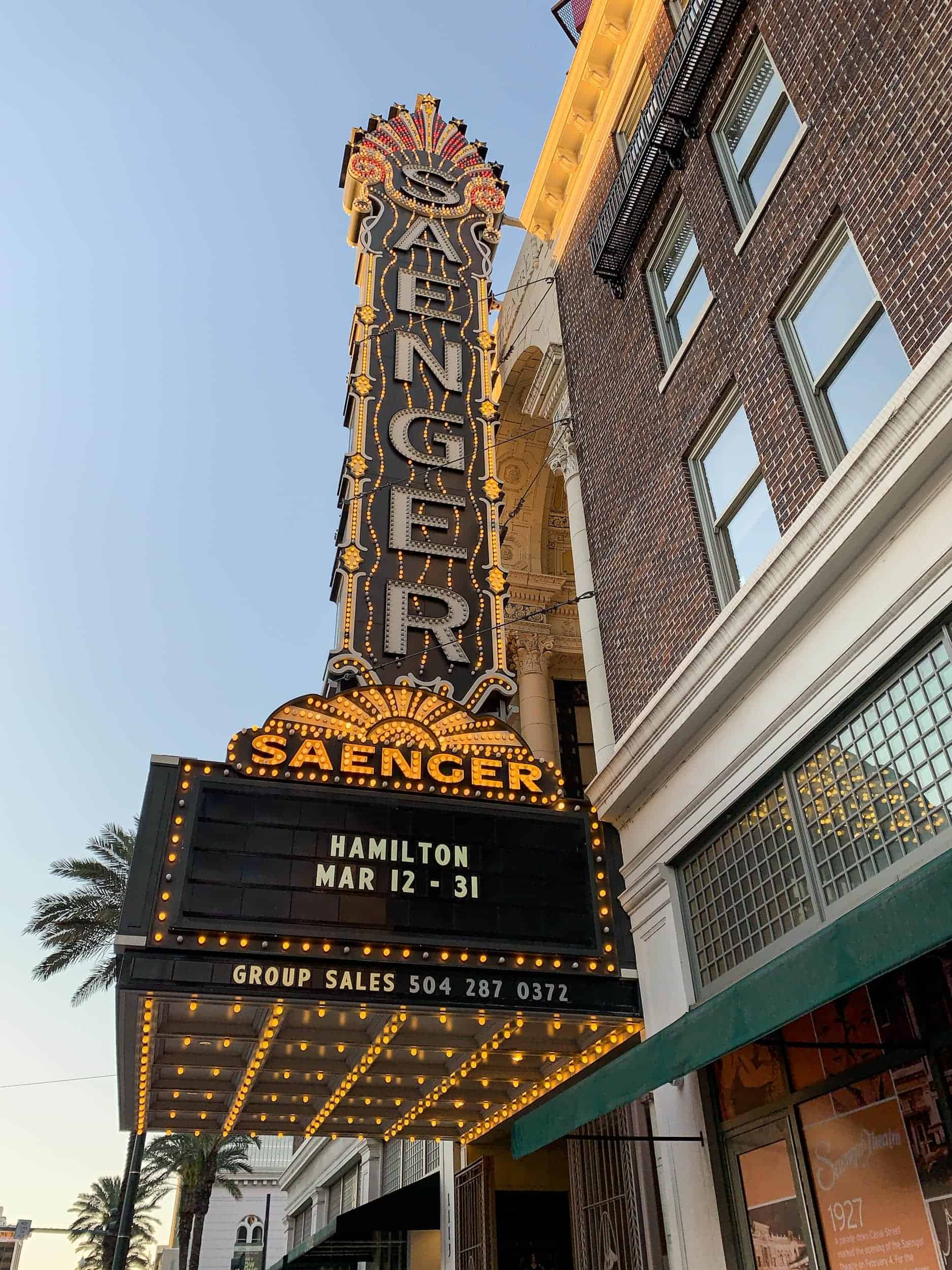 Live Theater
As if street parades, live music, and world-class museums aren't enough, New Orleans also offers fans of the dramatic arts numerous venues to catch a show.
I noticed Saenger Theater was hosting Hamilton, one of my all-time favorite musicals, when I visited the new HI New Orleans hostel on Canal Street.
The historic theater opened in 1927 and benefited from a recent $53 million restoration to bring it up to modern standards.
Out of curiosity, I ducked into the ticket box and asked about pricing and availability. There was a seat available only about 20 rows back from the stage for the next night.
Granted, seeing Hamilton was neither a free nor cheap thing to do in New Orleans, but I splurged and did it anyway because YOLO (you only live once)!
Touring Broadway shows aside, there are plenty of smaller productions that are available at more backpacker-friendly prices.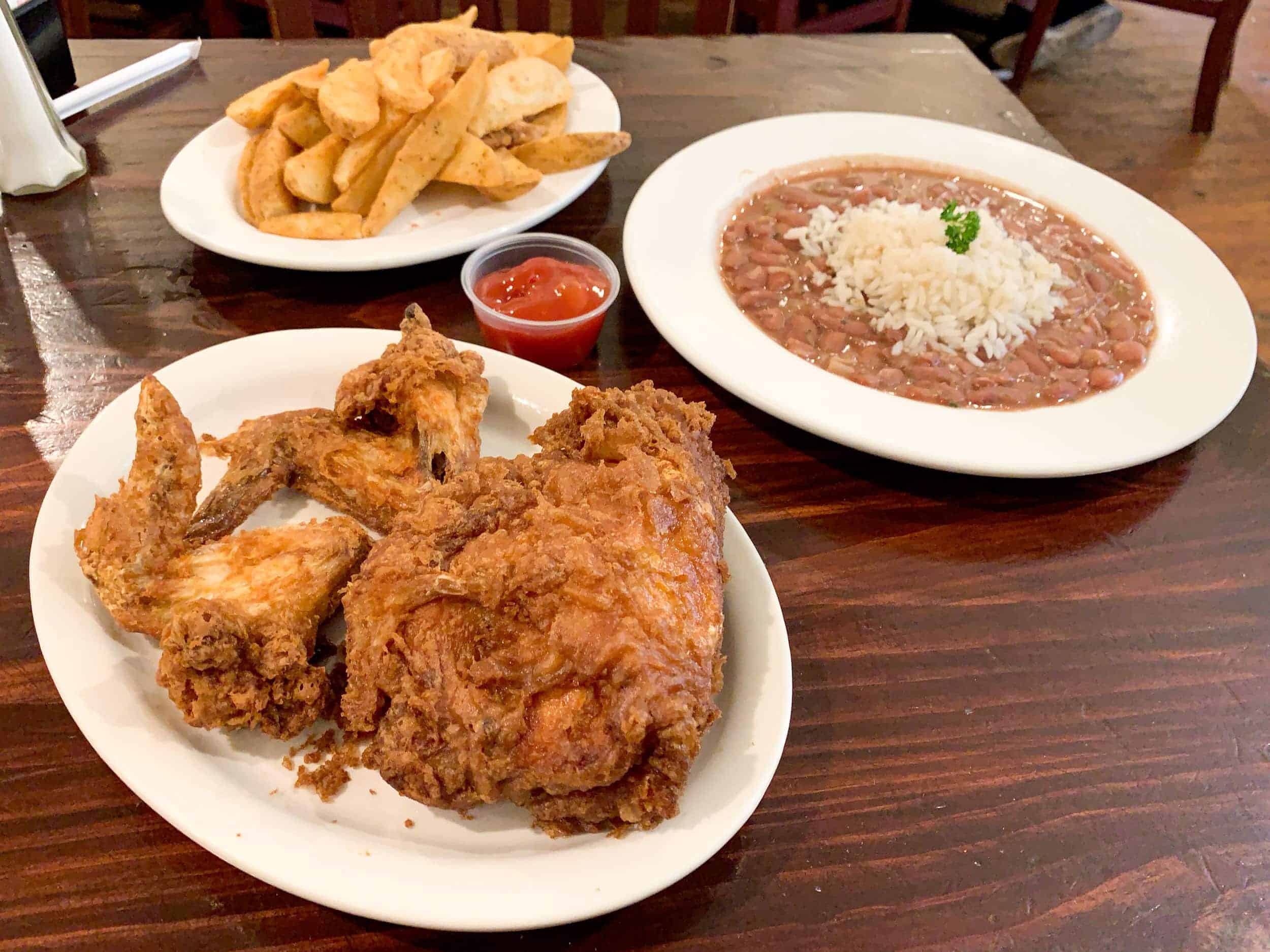 Eating and Drinking
One of the reasons I became an instant fan of New Orleans is the food scene. It's off the hook!
A mix of historic restaurants serving southern food and trendy upstarts gives food fans plenty of options.
And did you know the concept of the cocktail was born out of New Orleans? I didn't until I took a cocktail history tour in the French Quarter.
Eat Award-Winning Southern Food
Willie Mae's Scotch House (2401 St. Ann Street) opened in 1957 and was voted the best fried chicken in the United States by The Food Network.
This restaurant, named after James Beard award-winning Chef Willie Mae, is a NOLA institution.
I went for an early lunch at 10:30 am on a Monday, and it had filled up within minutes of my arrival.
I ordered a three-piece fried chicken plate, red beans and rice (a NOLA tradition on Monday mornings), and some fries.
True to its reputation, the fried chicken was excellent. Be sure and check it out.
See also: New Orleans Food Tour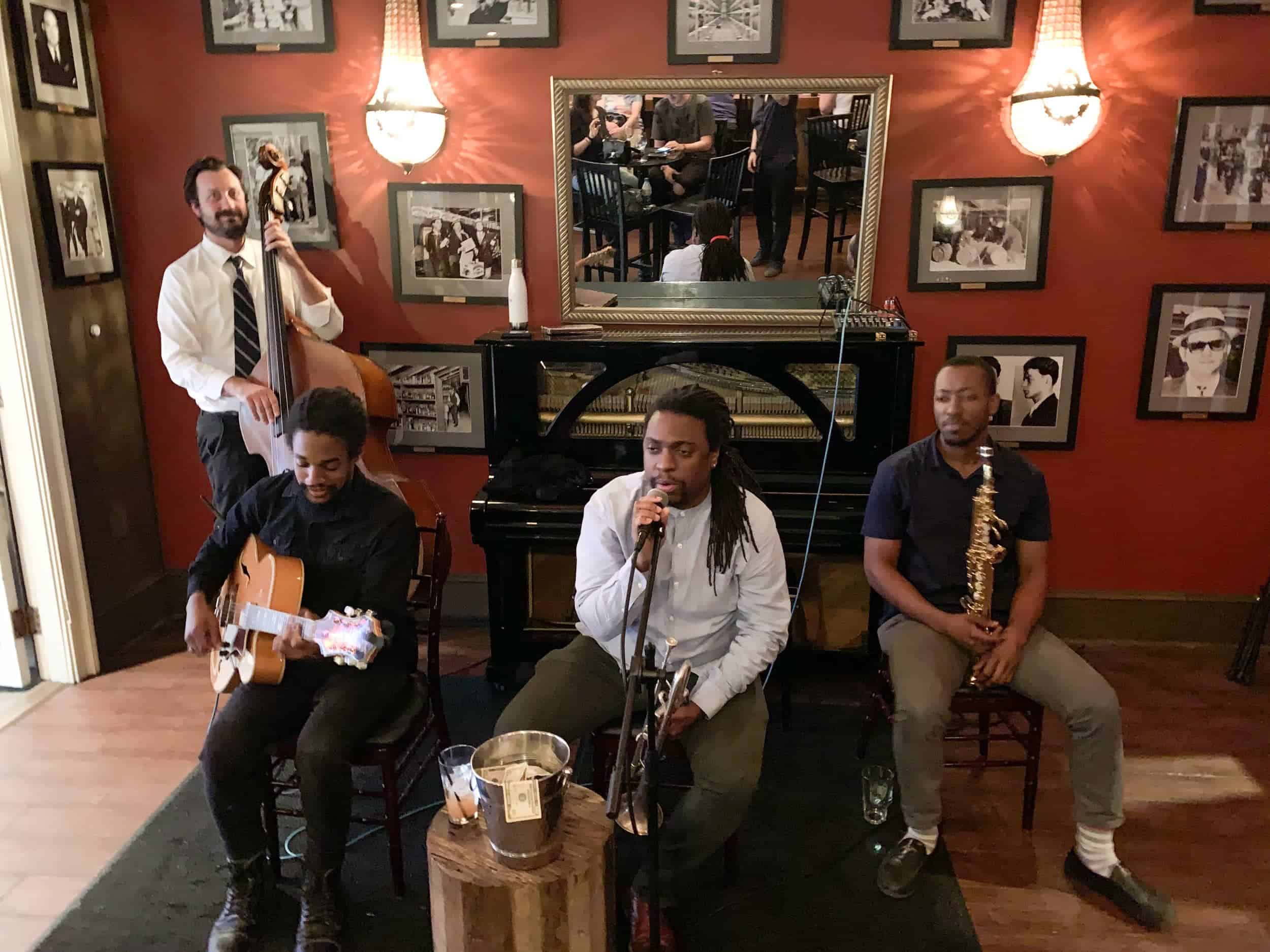 Drink at a Prohibition-Era Speakeasy
There may be no better city in the world to drink a cocktail than New Orleans. After all, it's where the concept of the cocktail was invented.
Take the experience a step further by going to one of the best speakeasies in the city, the 21st Amendment at La Louisiane (725 Iberville St).
According to their website:
"Franklin D. Roosevelt officially ratified the 21st Amendment on December 5, 1933 (referred to as Repeal Day) and repealed the 18th amendment that created Prohibition. The, 21st Amendment at La Louisiane celebrates the resurgence of the cocktail in a building with a rich and colorful French Quarter history dating back to 1881."
I stopped into this small, historic bar for a cocktail and was happy to see a live jazz band performing.
Related: New Orleans Cocktail History Tour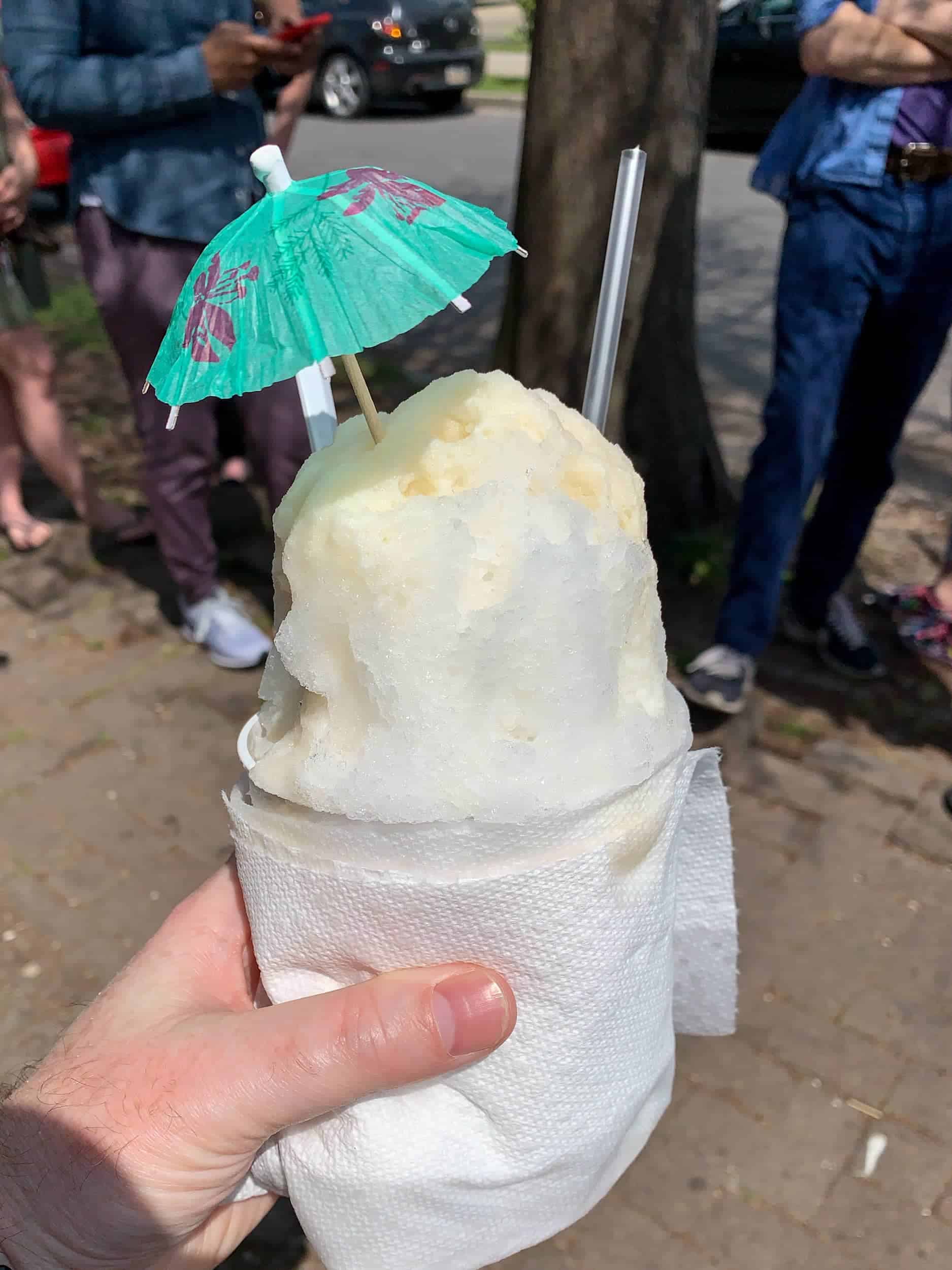 Cool Off with a Snoball
Warm weather comes early to New Orleans, with summer months that can be incredibly humid.
A favorite local dessert is the snoball made of shaved ice topped with delicious syrups.
And there's perhaps no better place to try your first snoball in New Orleans than Hansen's Sno-Bliz (4801 Tchoupitoulas St) in the Garden District.
This family-run business was conceived during the Great Depression and has served many New Orleans locals ever since.
***
As you can tell from this list, there's no shortage of fun things to do in New Orleans.
Whether you're traveling solo, as a couple, or with family or friends, there's something for everyone in the Big Easy.
____
My trip to New Orleans and this story are brought to you in partnership with Hostelling International USA.
Dave is the Founder and Editor in Chief of Go Backpacking and Feastio. He's been to 66 countries and lived in Colombia and Peru. Read the full story of how he became a travel blogger.
Planning a trip? Go Backpacking recommends: