If you've been to Thailand regularly, you may think you've seen all it offers. But the Land of Smiles hides a treasure trove of unique places for those who go off the beaten path.
When we say hidden, we mean places that may be challenging to get to without a guide. So, be prepared to spend a little more on transport, depending on where you're based.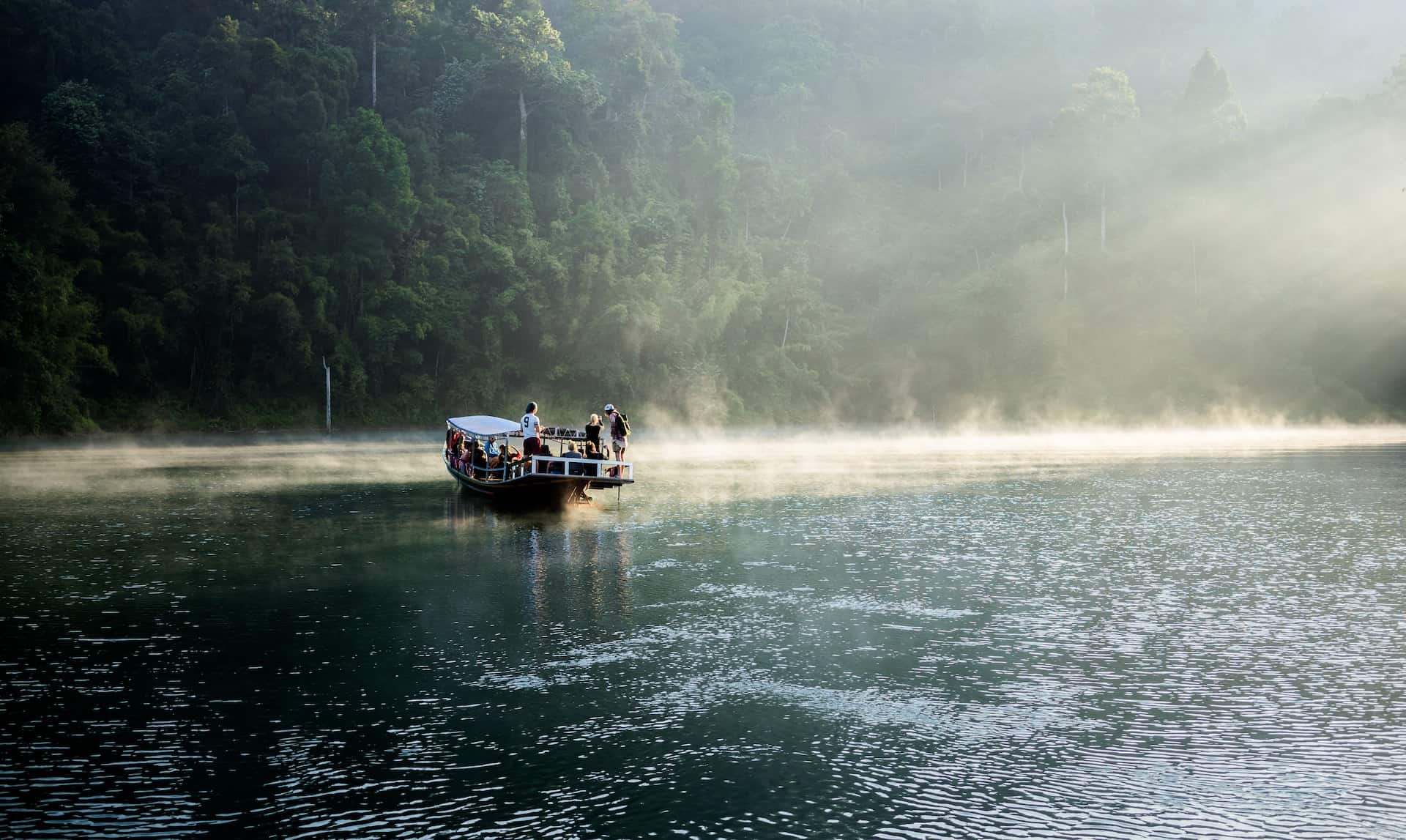 But with the cost of living in Thailand being much lower than in most Western countries, these hidden gems shouldn't be out of reach even for most broke backpackers.
If you're looking for something extraordinary beyond crowd-laden Bangkok, these are the best places in Thailand to experience tropical paradise in solitude.
Hidden Gems in Thailand
1. Khao Sok / Cheow Larn Lake
Cheow Larn is a 103 mile² (165 km²) artificial lake tucked deep in the thickets of the Khao Sok rainforest.
This lake was formed in 1987 and is a truly magical place where deep blue waters meet a scenery of lush rainforest and over a hundred peaks of towering limestone cliffs.
Over thirty years since its creation, Cheow Larn lake remains relatively untouched.
Besides swimming, canoeing, and enjoying boat rides, this is an excellent place to have close and personal encounters with clouded leopards, tigers, wild elephants, and Malayan sun bears.
Another unique feature of Cheow Larn lake is its Instagram-worthy Floating Bungalows that make up for a truly authentic Thai experience.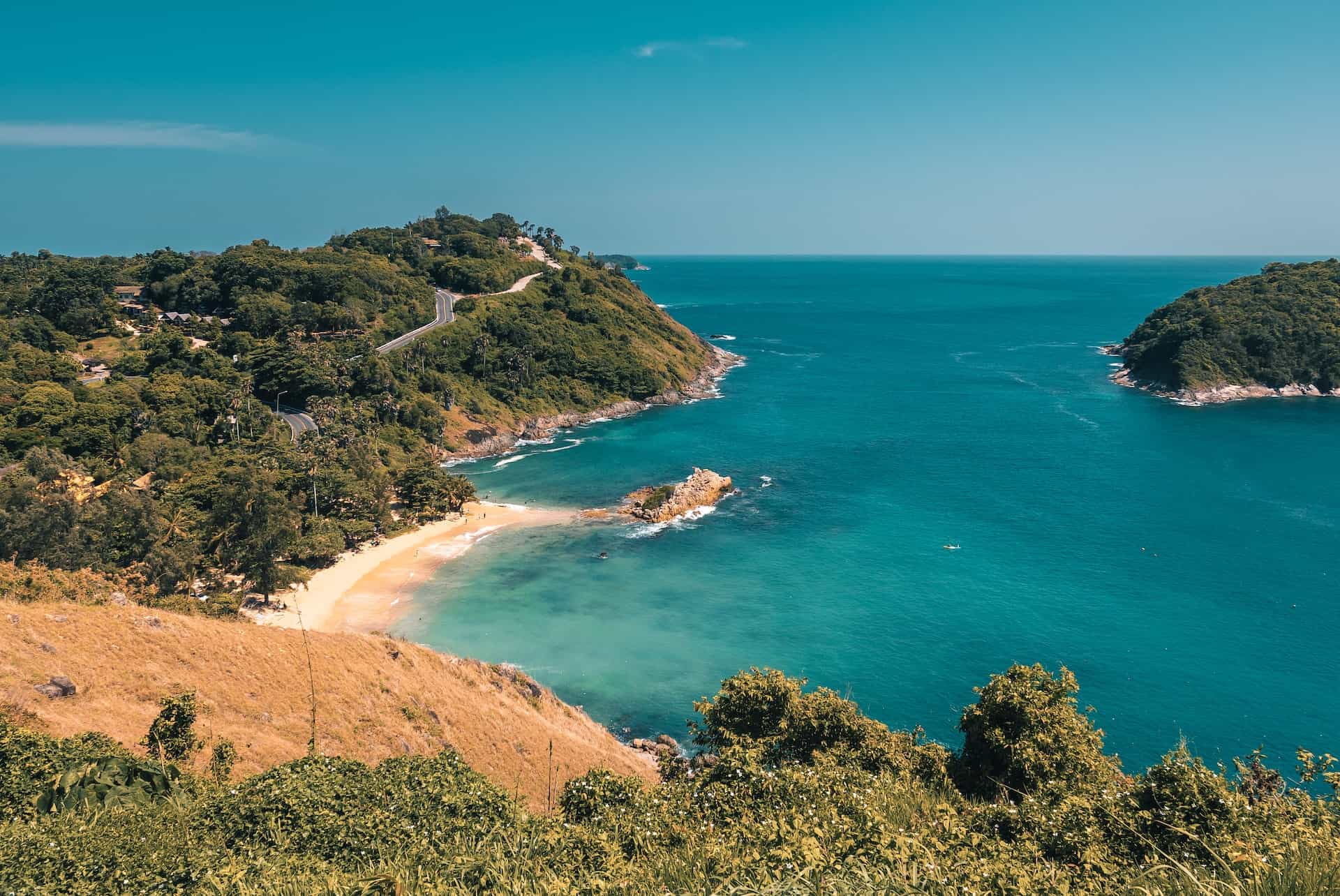 2. Nui Beach
Phuket, the southern province of Thailand, is home to some of the best beach destinations in the country.
If you want to avoid the large crowds that characterize Patong and Karon, Nui Beach is a worthy consideration.
Nui Beach is not a secret in the true sense of the word. But most people find it a challenge to get to due to its location. There was an entrance fee of up to 100 baht some years back.
While the fee has been lifted, the transfer service down the treacherous road and parking fee (if you choose to drive yourself) still limits most would-be visitors.
But this is a small price if you don't want other beachgoers and vendors bothering you.
Nui Beach is between Kata Viewpoint and Nai Harn Beach on Phuket's southwest coast. It's a good place for swimming, snorkeling, and snapping photos for social media.
You'll also find a restaurant and a mix of bars where you can order Thai food and drinks.
3. Tham Kra Sae Bridge
The Tham Kra Sae Bridge is another hidden gem in Thailand and a must-visit for history buffs. This is a tragic and historical wooden bridge and part of the infamous Death Railway.
While it's a sight to behold, it's tragic knowing that it was built by prisoners of war and Asian laborers during WWII.
The Tham Kra Sae Bridge is best experienced on a slow one-hour-long train ride from the station.
The train ride gives you breathtaking scenery of the bridge, the river below it, and the Krasae cave. The cave is said to have been a residence and hospital for the prisoners.
Riding the Death Train and taking photos of the river are some of the best things to do at Tham Kra Sae Bridge. But there's also a zipline nearby and a street market where you can polish your bargaining power.
4. Suan Lamai
Our next pick is another place that doesn't feel like part of Thailand.
In Rayong province, just two hours southeast of Bangkok, Suan Lamai is a family-friendly caravan park in a rural area surrounded by mountains and a thick natural forest.
The caravans are permanently moored and have everything you'd need for a comfortable camping experience, including AC, a shower, and a barbecue.
The caravans are built around a well-maintained pond, and a sheep farm nearby complements the rural setup.
Suan Lamai is nicknamed the Kingdom of Fruit on the Mountain because of its Thai fruit buffet.
Its location on the mountainside treats its visitors to magnificent views and makes it idyllic for nature lovers and those looking for a relaxing destination in Thailand.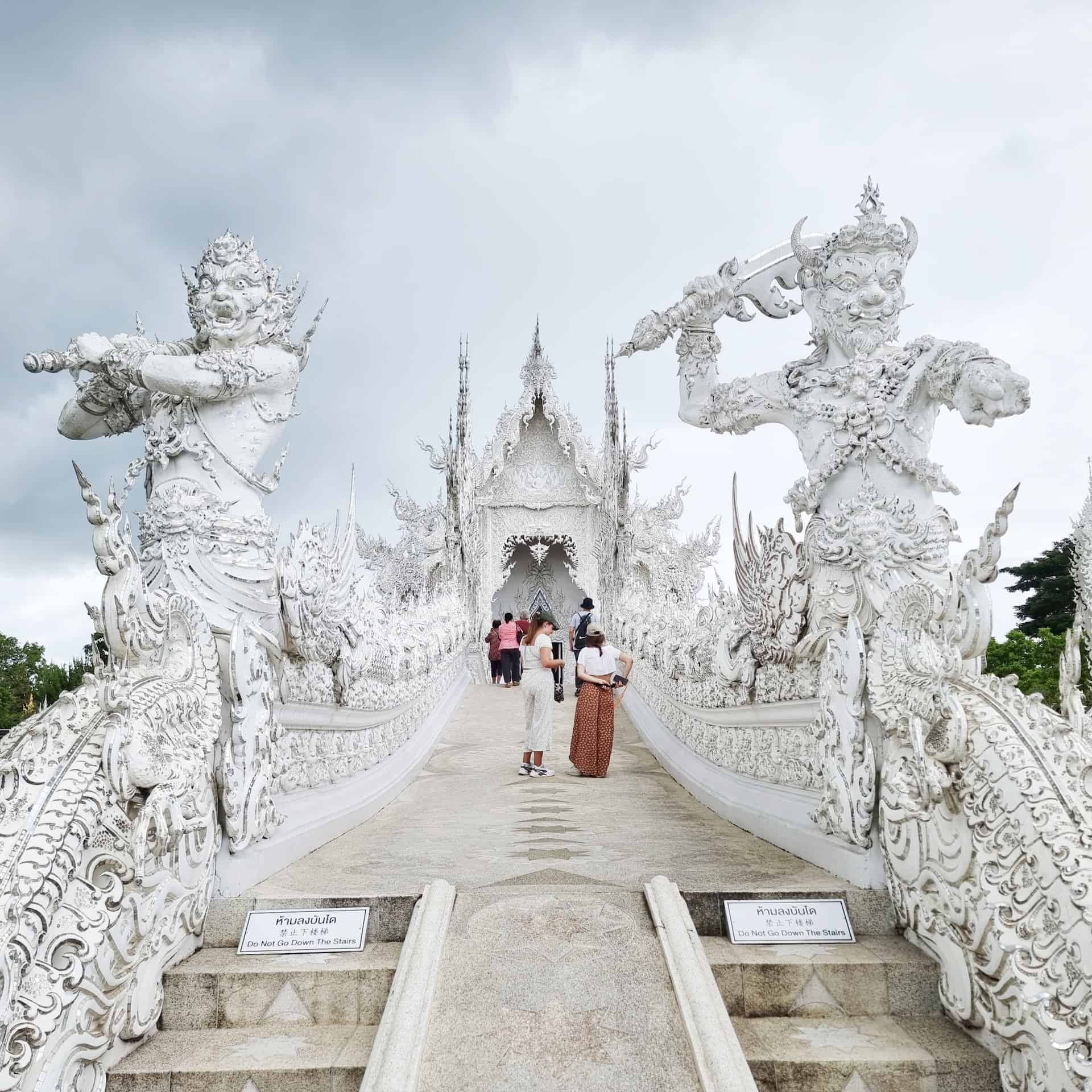 5. Wat Rong Khun
There are over 40,000 temples in Thailand, but a few stand out from the rest.
Wat Rong Khun, or the White Temple, is a departure from traditional Buddha temples in terms of style and symbolism.
While most temples in Thailand are painted red, orange, saffron, green, or a combination of these colors, Wat Rong Khun has a majestic white exterior.
Chalermchai Kositpipat, the owner of this temple, says that he chose that color to honor Buddha's purity. But that's just one thing that makes Wat Rong Khun unique.
The all-white structure is adorned with glasses and mirrors, symbolizing Buddha's wisdom that shines throughout the universe.
Another distinctive feature of the White Temple is the contemporary artwork of fictional elements, like Superman and the Matrix.
To the left of the building is an ornately decorated restroom covered in gold leaf to depict man's obsession with material wealth.
Wat Rong Khun is located about 9 miles (15 kilometers) southwest of Chiang Rai town and about 107 miles (173 kilometers) from Chiang Mai. It's open from 8 a.m. to 6 p.m. daily.
Entry to the White Temple is free, although donations not exceeding 10 baht are allowed.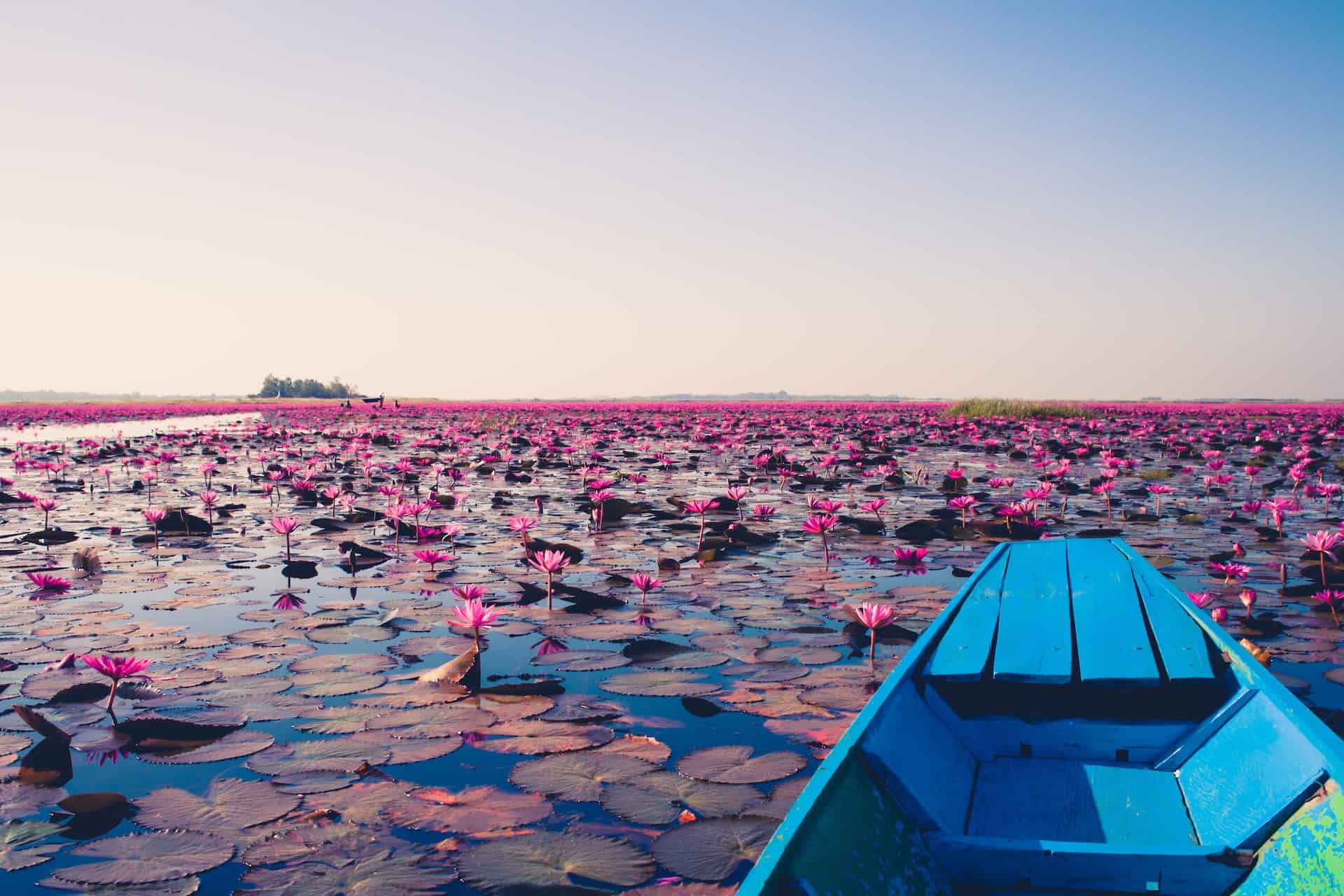 6. Talay Bua Daeng (Red Lotus Sea)
Most foreign tourists visiting Thailand have their eyes fixated on Bangkok, Phuket, Pattaya, and Krabi.
That's why the lesser visited cities like Udon Thani are becoming popular destinations for gem seekers.
About 31 miles (50 kilometers) north of Udon Thani is Talay Bua Daeng or the Sea of Red Lotuses.
Calling it a sea is a misnomer because Talay Bua Daeng is an inland lake, and the lotuses aren't exactly red.
Nevertheless, drifting through a carpet of pink lotuses in their full glory during the morning hours is among the best things to do in Udon Thani.
There are two options for boat tours – small boats with a capacity of four people and big boats that carry up to seven people.
The cost of hiring the big boats is 500 baht (approx $15), while the smaller boats charge 150 baht per person for a one-hour ride.
You don't need to prebook. It's natural for the lotuses to close from noon due to the hot weather. That said, it's best to visit the Red Lotus between sunrise and 11 a.m.
***
As you can see, there's no shortage of hidden gems in Thailand, despite the country's long-time appeal to backpackers and budget travelers.
_____
This story is brought to you in partnership with Remote Year.
Planning a trip? Go Backpacking recommends: