Climbing in Joshua Tree National Park can mean two different things, mountain climbing or rock climbing.
While I have done some rock climbing with ropes and safety harnesses in my younger days, I'm just a mountain climber now.
Joshua Tree bouldering and single-pitch rock climbing are world-famous and a great way to enjoy the California desert year-round.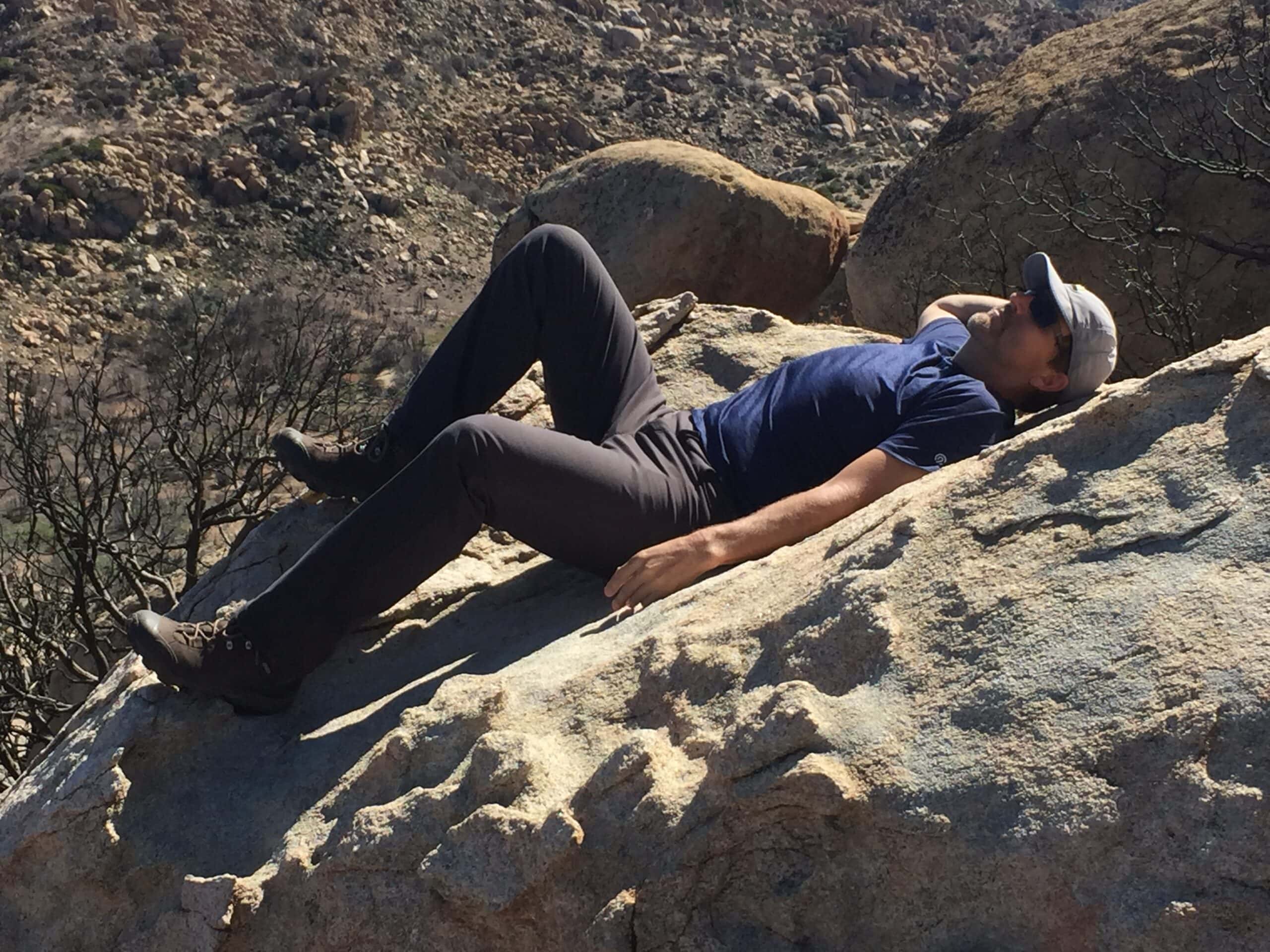 But, the park also has ten peaks over 5,000 feet (1,600 meters) in elevation, and only one of them has a trail to the top.
Most tourists who visit Joshua Tree National Park in California never get into the wilderness areas, let alone set foot on distant peaks, which require a four-wheel-drive vehicle, off-trail navigation, scrambling over rough terrain, and careful avoidance of dangerous plants and wildlife.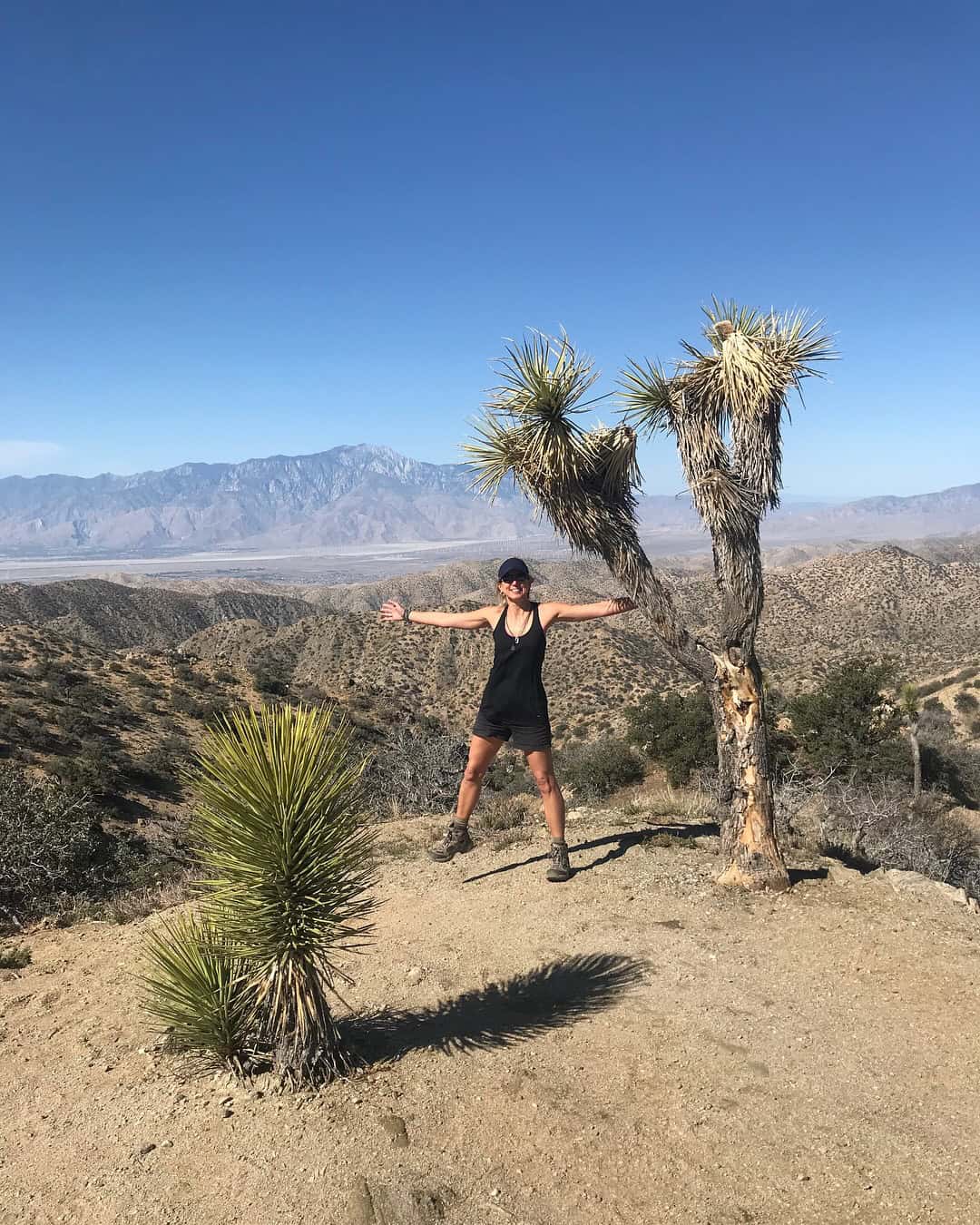 Climbing all ten peaks in Joshua Tree was a big goal for me and CT, my climbing partner.
In completing all ten ascents, she and I not only reached our objective, but we were able to spend countless hours alone in some of the most serene and wild places on Earth.
All ten Joshua Tree peaks we climbed are part of the Sierra Club's Hundred Peaks Section list for Southern California.
Joshua Tree Mountain Peaks
| Mountain | Elevation | Date | Bonus |
| --- | --- | --- | --- |
| Ryan Mountain | 5,457 feet | February 12, 2016 | |
| Queen Mountain | 5,680 feet | February 13, 2016 | Queen Benchmark |
| Mount Inspiration | 5,560 feet | February 13, 2016 | |
| Mount Minerva Hoyt | 5,405 feet | February 14, 2016 | Lang Mine Peak |
| Warren Point | 5,103 feet | February 18, 2017 | |
| Lost Horse Mountain | 5,313 feet | February 19, 2017 | |
| Quail Mountain | 5,813 feet | February 19, 2017 | |
| Bernard Peak | 5,430 feet | February 20, 2017 | |
| Little Berdoo Peak | 5,440 feet | February 20, 2017 | |
| Eureka Peak | 5,518 feet | April 21, 2018 | |
Although both of us had been to Joshua Tree National Park on several occasions, the quest to climb all ten 5,000-foot peaks took us three dedicated trips over 26 months.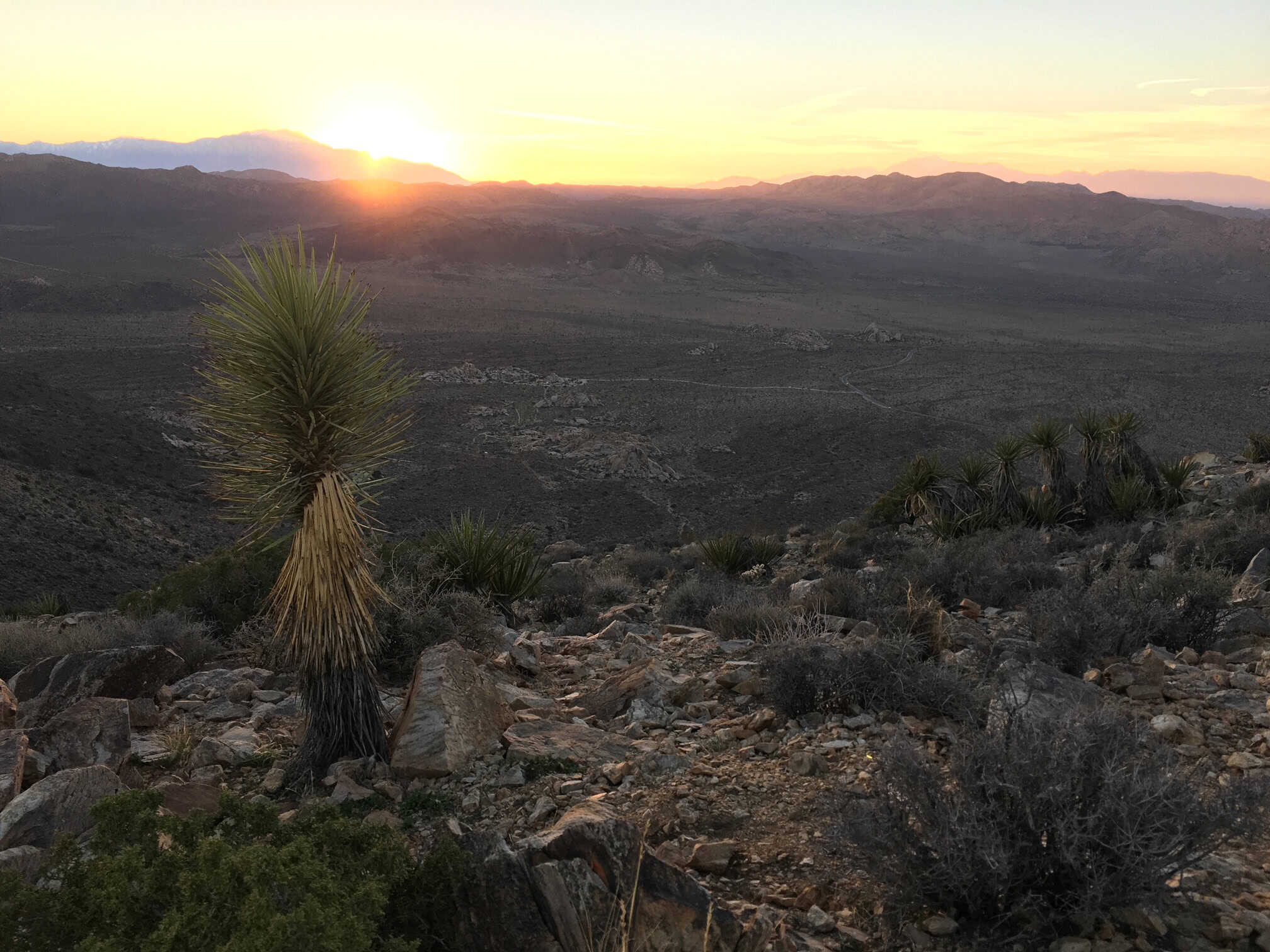 Ryan Mountain
The first peak we climbed was Ryan Mountain. This mountain is the easiest for parking your car and finding the route and has the least risk of injury or getting lost. It's a tourist peak but fun nonetheless.
Climb Ryan Mountain before sunset and enjoy one of the best experiences in the park.
The Ryan Mountain trail is marked with a big sign and an oversized parking lot. The path is wide and well-manicured.
The other nine mountains have a trail for only part of the way or no trail at all.
Eureka Peak
The last mountain we climbed at Joshua Tree National Park was Eureka Peak.
It was the only one left on our list, and we made a special trip to the park during our birthday week.
CT and I were born a few days apart, so we always celebrate our birthdays for a week.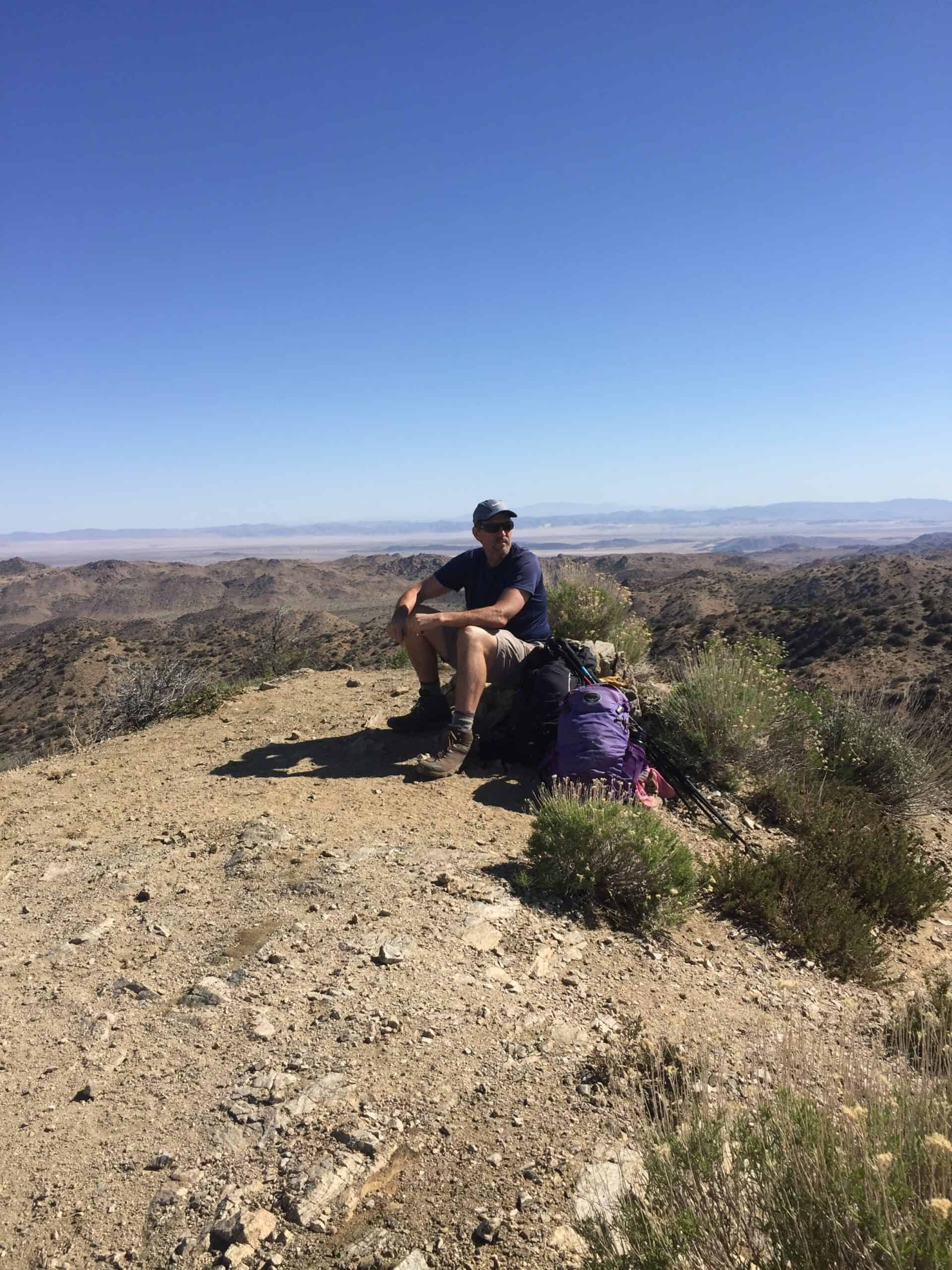 Like most of the mountains in the Joshua Tree wilderness, it's a no-trail, find-your-own-way to the top undertaking.
Few things bring me more satisfaction than climbing a rarely summited peak with no trail or route and no other people for miles around it.
Sitting on top and enjoying the spectacular view is worth the effort.
We use sites like Peakbagger.com and Alltrails.com to help us get there.
Plus, it is easy to download a route to your GPS device to guide the way.
We consider these downloads a significant factor in our successful climbs and safe returns.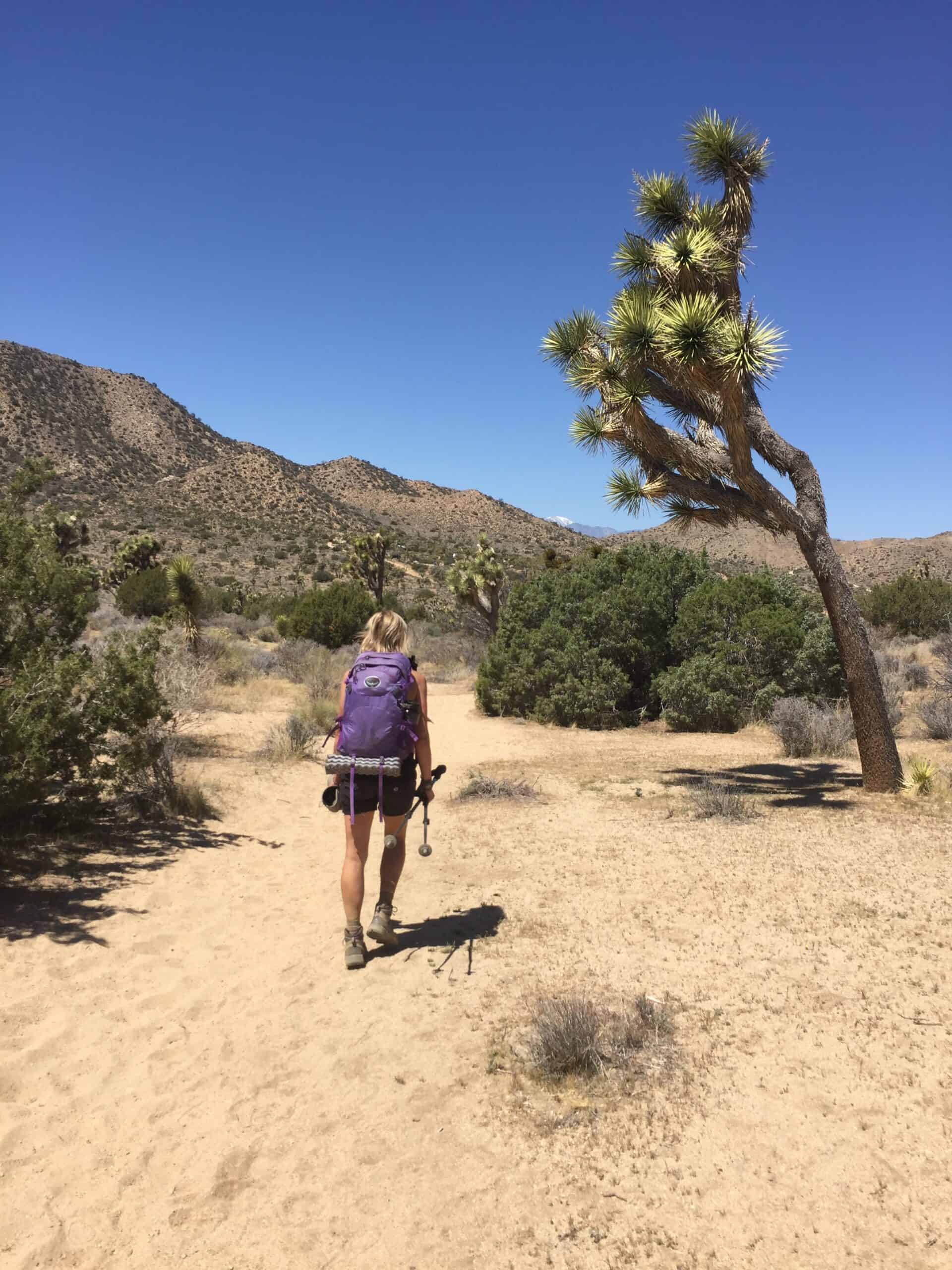 Queen Mountain
After enjoying the sunset on Ryan Mountain, we set out to climb Queen Mountain and Queen Benchmark the following day.
Queen Mountain and Queen Benchmark are twin peaks just a few hundred yards apart. This climb was tough.
As there was no trail, we made our way to the summits by hiking up a drainage area, which of course, is dry most of the time.
While there was no water in the drainage, there was plenty of cactus, yucca, and other assorted sharp and needle-filled plants to mess you up.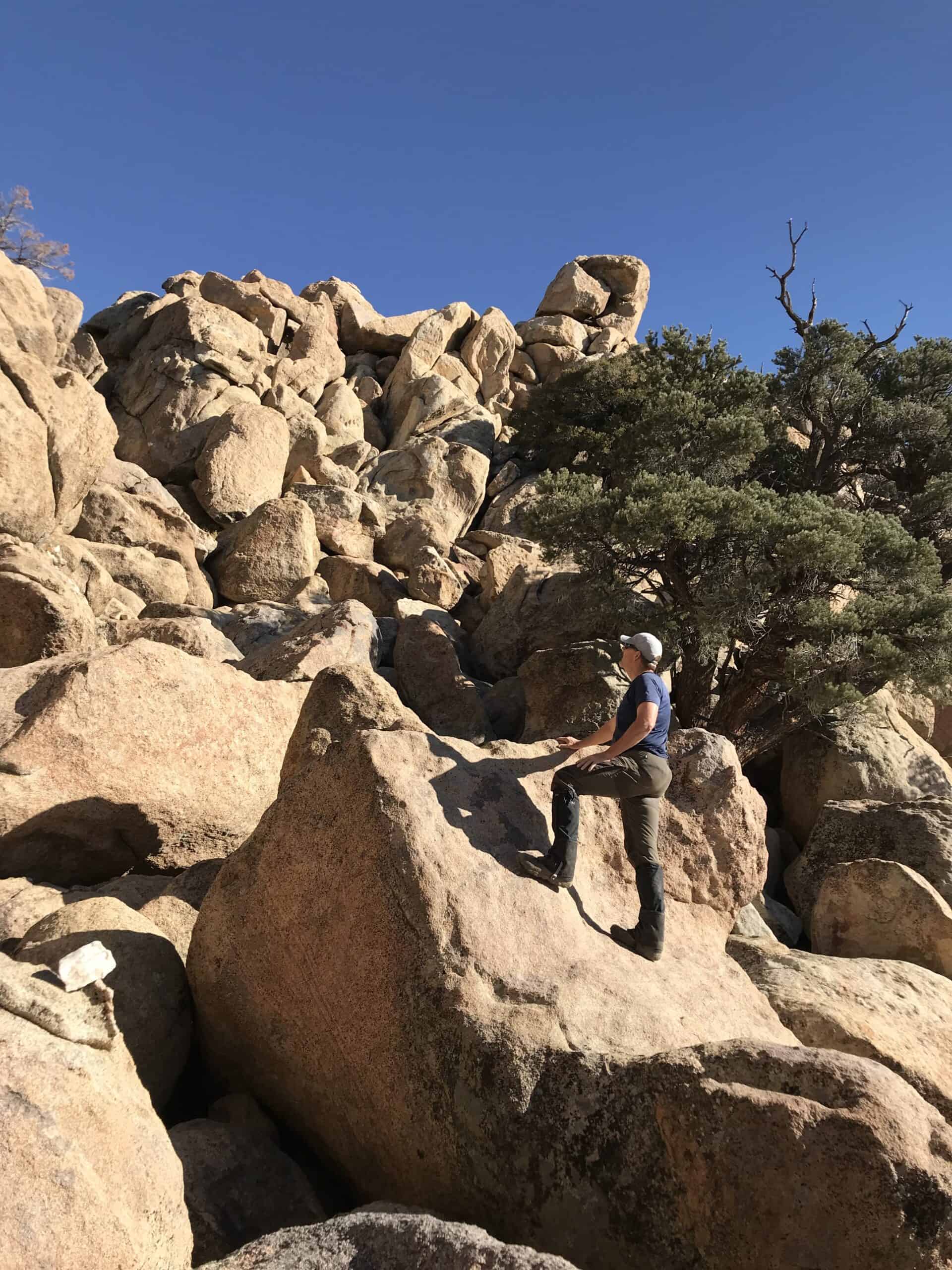 Queen Mountain is the second-highest point in Joshua Tree National Park.
Its location, centered in the middle of the main attractions and paved roads, gives the climber a great overhead view of the area.
Not only was the path to the top of Queen Mountain filled with sharp plants and loose footing, but the last 15 minutes of "hiking" included some difficult and risky moves called Class 3 or 4 climbing.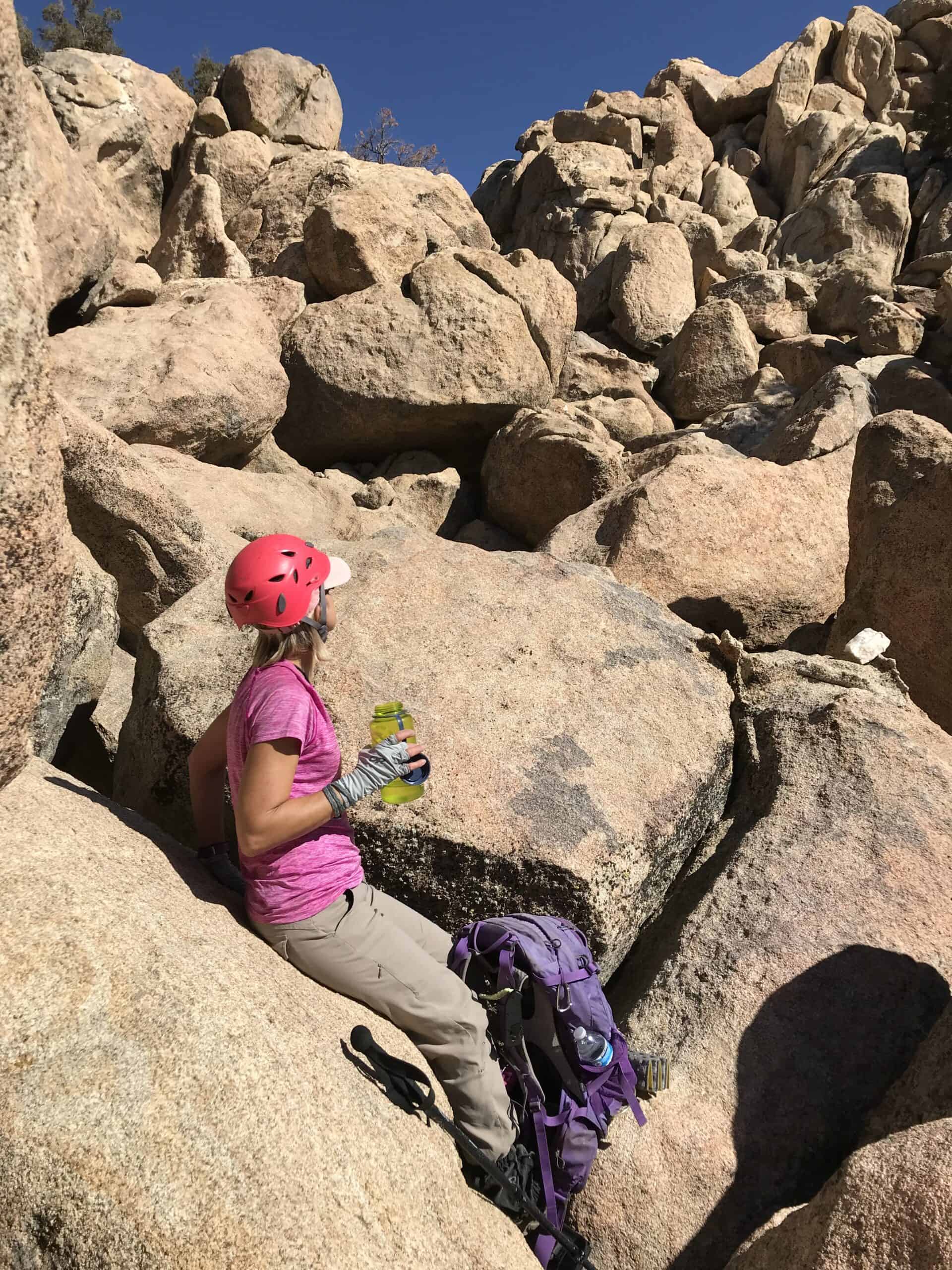 In these situations, we will often wear a climbing helmet in case of a fall. It only takes a short fall onto your head to do some significant damage.
While not a long hike from the truck, Queen Mountain took hours and hours due to the dangerous and challenging terrain.
Mount Inspiration
After a long rest and lunch break, it was time to take the 20-minute drive to the southwestern edge of Joshua Tree to a parking area called Key's View.
Mount Inspiration is a short 2.2-mile (3.5-kilometer) round-trip hike from the parking lot. However, there is no trail, and it is steep.
Mount Inspiration provides excellent views of Palm Springs, the San Andreas earthquake fault, and the distant Mount San Jacinto.
Mount Minerva Hoyt
For our last hiking day in the park during our 2016 visit, we set out to climb Mount Minerva Hoyt and Quail Mountain, the highest peak in the park.
It ended up being an interesting day.
We planned the route to go over several miles of open desert, through a valley, and then to Minerva Hoyt first.
After hiking in soft sand and around the Joshua Trees and Yucca plants, something strange and manufactured came into view.
We were way off of any roads and well past anything marked on a map.
It was a house and a fenced yard in the middle of nowhere.
Frozen in time, it looked like it was abandoned entirely and left "as is" for more than half a century.
We looked into the windows and saw that the home was completely furnished and decorated with 1950s appliances, dial-up telephones, and mid-century furniture.
We were utterly stunned.
I have since tried to find information on this ghost house but have been unsuccessful in the search.
Later, after hiking more than eight miles, some of it in thick fog, we summited what we thought was Minerva Hoyt. It wasn't.
Looking at our GPS device on the peak, we suddenly realized that we did not pay close enough attention when the fog rolled in, and we climbed the wrong mountain.
It was a mountain with no name and was not listed on the map. So, we named it Lang Mine Peak and added it to the Peakbagger.com website.
After this silly mistake, we laughed and found Mount Minerva Hoyt later in the day. Lessons are sometimes hard learned.
Since we were exhausted from three days of Joshua Tree climbing, we gave up on Quail Mountain and hiked out.
Quail Mountain, Finally
It was more than a year later when we returned to hiking at Joshua Tree National Park.
This time we were determined to climb Quail Mountain.
The afternoon we arrived at the park, we climbed Warren Point in a quick 5.6-mile jaunt.
The following day we set out early to get Quail Mountain by a different route than the year before by using the California Riding and Hiking Route for part of the way.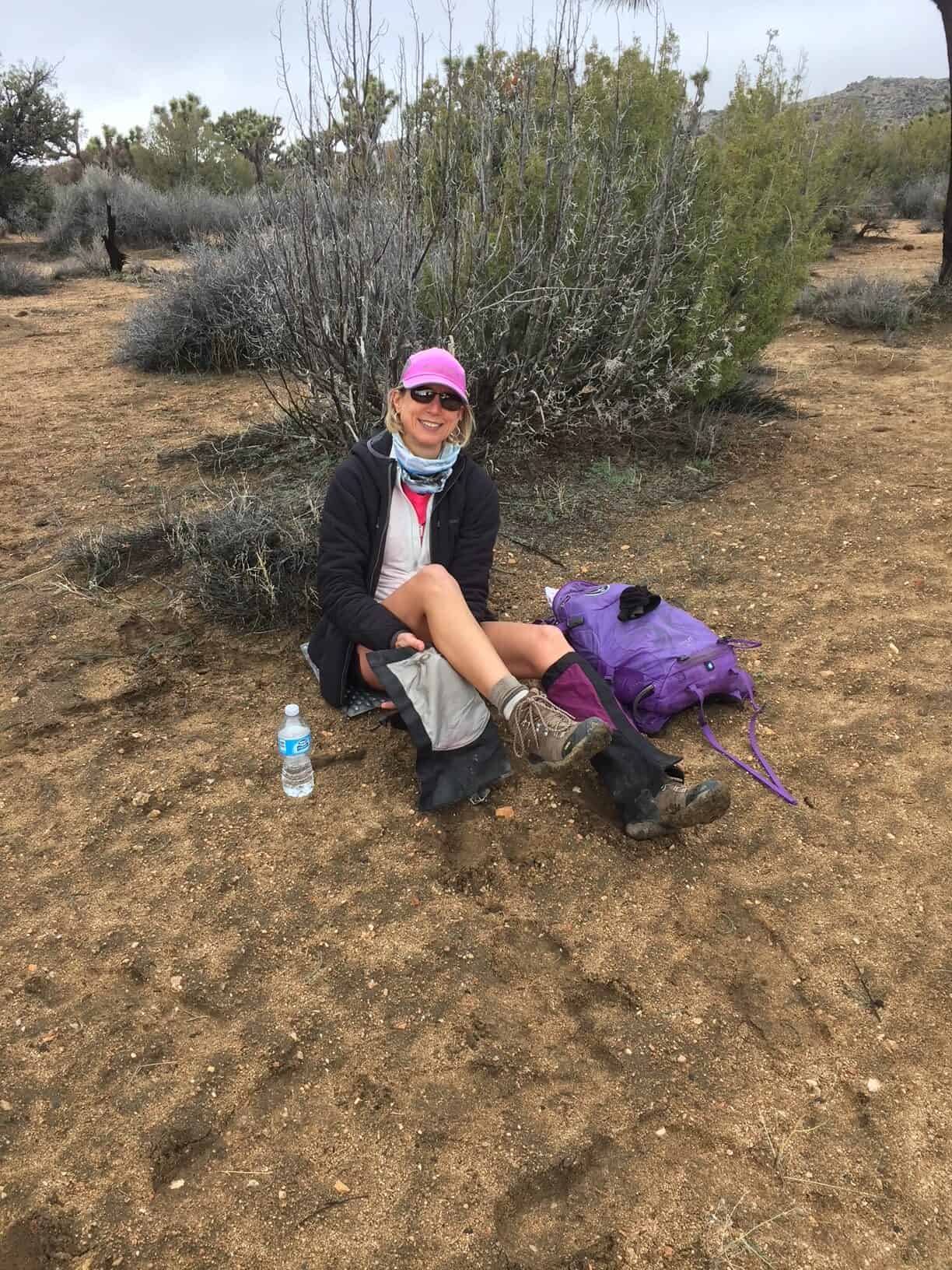 Success! After a 13-mile hike in the fog, rain, and cold, windy weather, we bagged Quail and drove to the other side of the park to get to Lost Horse Mountain and another 7.5 miles done before nightfall.
By the end of the day, we climbed three peaks, spanning over 26 miles, in 24 hours. We slept hard.
Bernard and Little Berdoo Peaks
The following day we set out on an hours-long 4×4 drive on a loose, sandy road to park at the base of Bernard and Little Berdoo Peaks.
While this day was only supposed to be a 6-mile round trip hike, we knew that it was nearly straight up over rocks and cacti.
The wind was blowing steadily at the base of the mountains, but by the time we got to the top, we were getting buffeted around as fall leaves on a breezy day.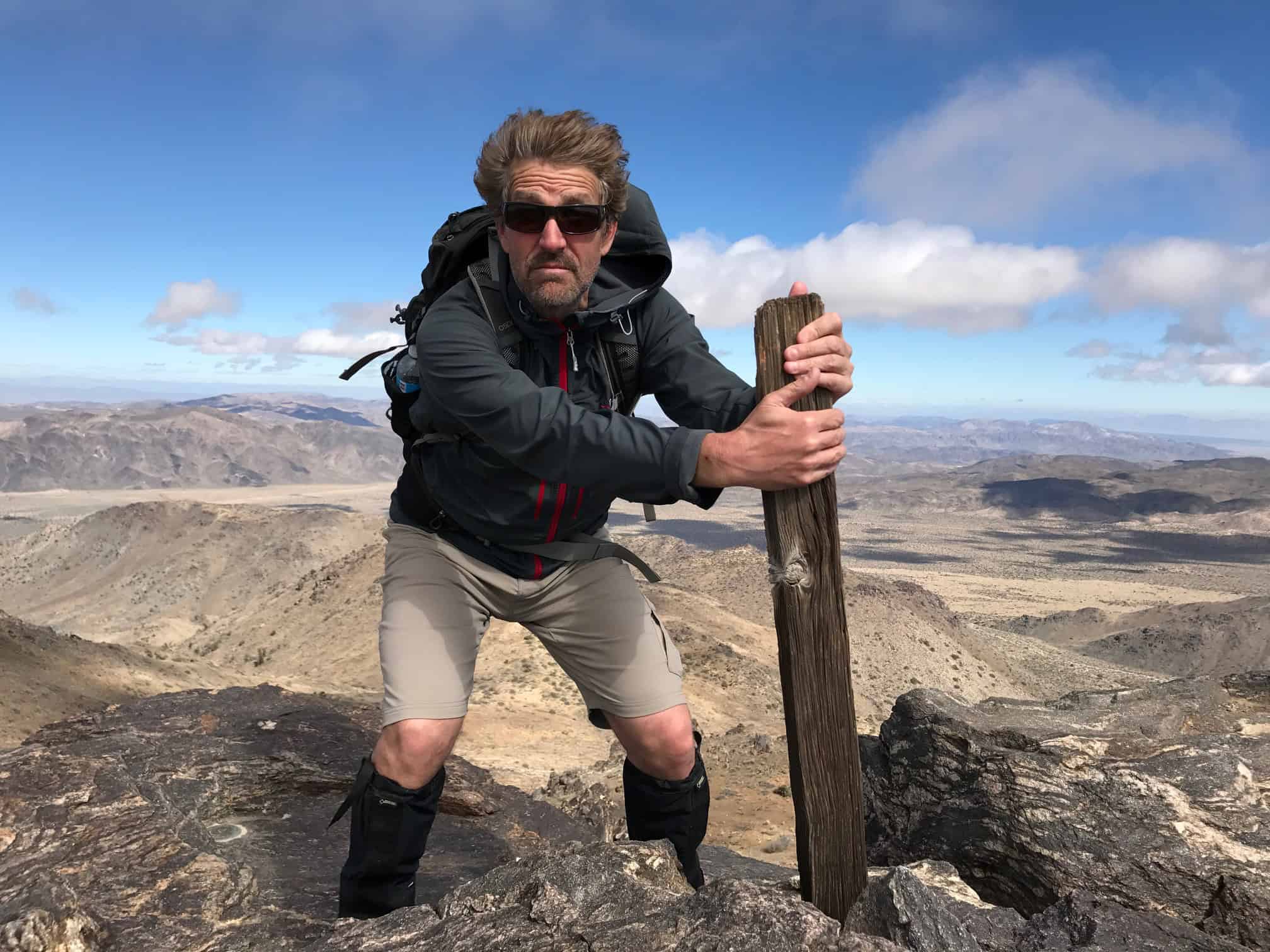 At the end of the long weekend, we felt very accomplished.
Five mountains were climbed, and more than 31 miles were hiked, and we saw almost no people in a popular national park. This is the way to get in touch with nature!
***
If you like climbing mountains and love places like the wilderness areas of national parks – strap on your boots and find yourself hiking and climbing at Joshua Tree National Park. Ten impressive peaks are waiting for you.
Traveler, Adventurer, Writer, Photographer
Planning a trip? Go Backpacking recommends: