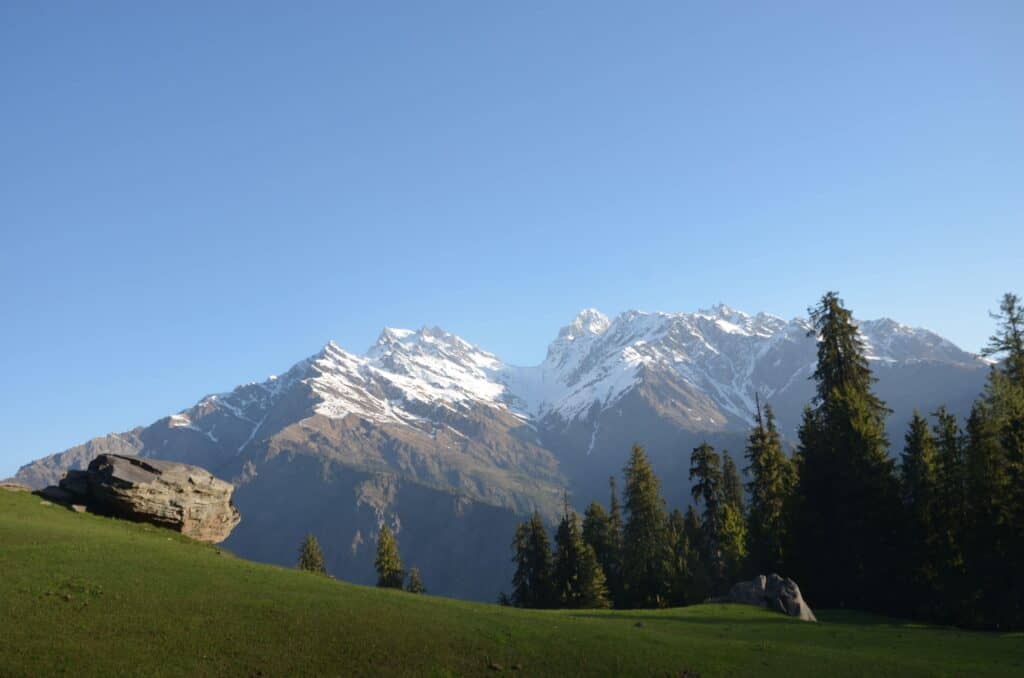 In India, the Himalayas are a dream destination. Apart from the breathtakingly beautiful mountain ranges and landscapes, India also offers visitors access to its unique culture.
I was intrigued and wanted to backpack in the Himalayas.
After further research, I arrived at two potential trekking destinations – one was the Triund Trek at McLeod Ganj, and the other was the Kheerganga Trek at Kasol.
Choosing between the two was difficult, as I wanted to go for both.
McLeod Ganj was all things pretty and picturesque, but Kheerganga had a natural hot spring atop it; that inclined me to go for the latter.
So, it was Kheerganga.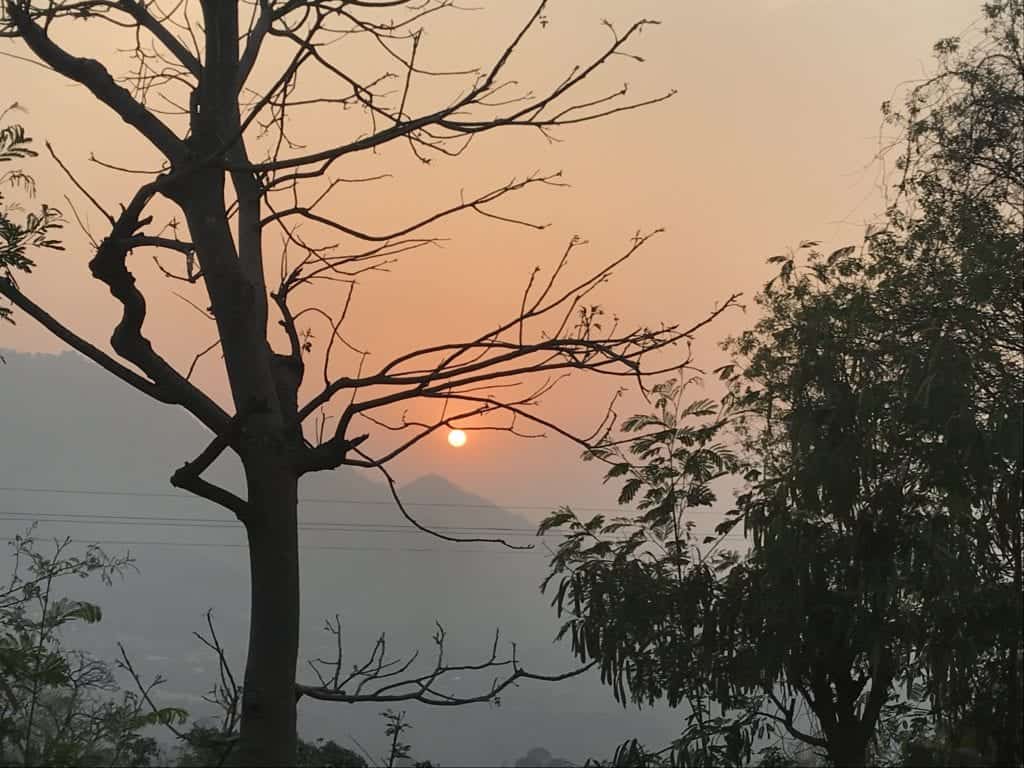 Kheerganga Trek in Northern India
Traveling from Delhi to Kasol
There are two ways to reach Kasol. You can either book your tickets to Delhi, and then take a car from Delhi to Kasol through Chandigarh and Punjab, or book a flight to Chandigarh directly and then make your way to Kasol.
Chandigarh is closer to Kasol, but flights are less frequent, so I preferred to go via Delhi, and then rent a car and drive from there to Kasol.
I reached Delhi airport around 8 am, and I started soon after. I had the opportunity to watch one of the most beautiful sunsets in awhile that evening.
It took me around 12 hours to drive from Delhi to Kasol, and I reached my hotel at around 7 pm.
As per the plan, I had dinner and then a good night's sleep since I had to start trekking the next morning.
I woke up the next day and came to the balcony. It was a welcoming sight already.
I could hear the water crackling as it hit the stones in the river and the mountains were all I could see around me.
I looked further down, and the river was running just beneath the roads. I was already in awe.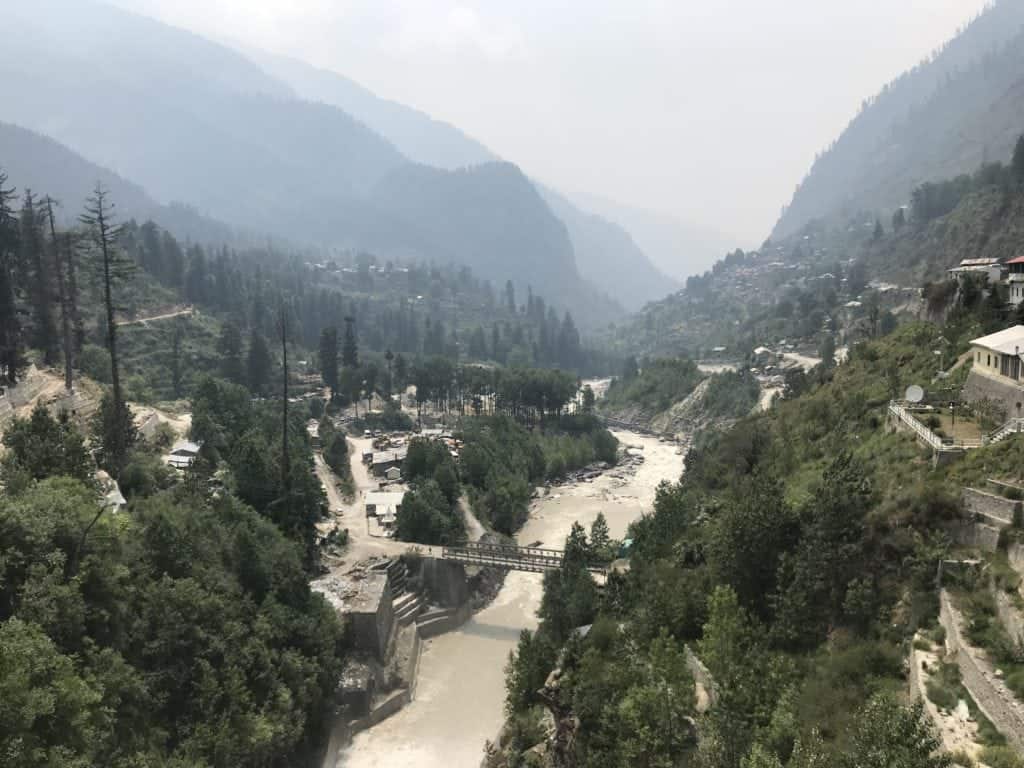 The Trek Begins
The village of Barshaini is the base for trekking up Kheeerganga. I parked my car there, crossed the bridge, and then was asked to take a left, right after.
There are wooden trekking poles available for purchase at the beginning of the trek. I bought one and found it to be quite useful throughout the trek.
It takes about four to five hours to trek to Kheerganga, on an average.
You could either plan a one-day trek – start early morning and get back home by dawn, or a two-day trek – reach Kheerganga, camp there, and return the next day.
See also: Walking Nepal's Great Himalaya Trail
Camping at Kheerganga
I'm a big fan of camping in the wild, so I had plans to stay there that night.
But, the hotel owner had alerted me that there was a ban issued by the state government on cafes, camping spots, and other commercial establishments.
He asked me to double-check if I would have a place to stay for the night.
I called up a few contacts through Google, and they said it was not wiped out yet.
However, I was not entirely convinced since a few other people had also told me that it was a risk at the time.
I still decided to go for it. And did I regret it? Read on!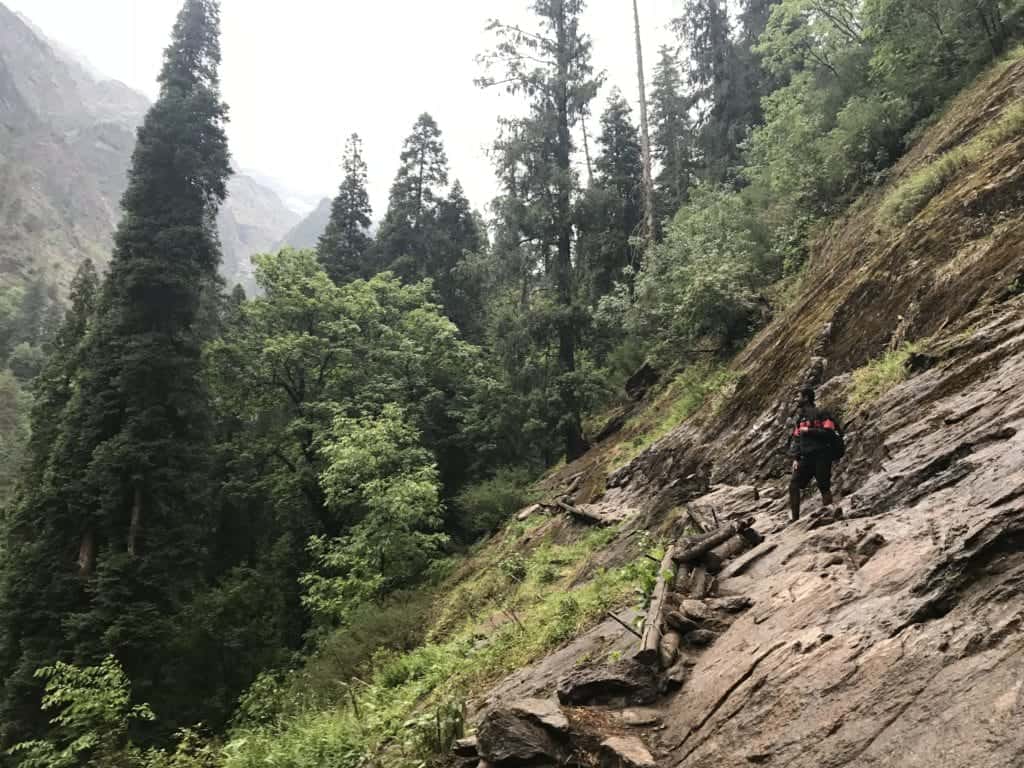 The Trek Up – Into the Wild
It was not very sunny, and that made the trekking easy, though it was an issue only at the beginning.
There was a meadow that I passed through, and after that, there was a canopy of trees that shielded the sun.
Most of the trees were pine and deodar, and all the way up, there was a river alongside, keeping us company.
The trek route is not an easy one for beginners; it involves trekking through the mountains. The mountain is the path, most times.
I find these moments in life to be the best — the wild ones where you are on the verge of life and death. One step astray, and you could be rolling on to join the rivers.
You get through all of that – alive and safe, but a part of you has experienced something that's going to stay with you forever.
There was a majestic waterfall that I came across, on the way. The water was freezing, but the hot drinks and snacks from the nearby cafe made me feel better.
There were not many cafes on the way up, and the ones that did exist were being wrapped up.
I took generous stops in between to soak in all the beauty of the place and rest some.
So I took a good six hours to reach the top of the mountain. It was just as the sun set that I reached the pinnacle.
It had become dark, and I couldn't see what it looked like. I had some food and then went on to check for the camps.
And thank the heavens, the camps were there.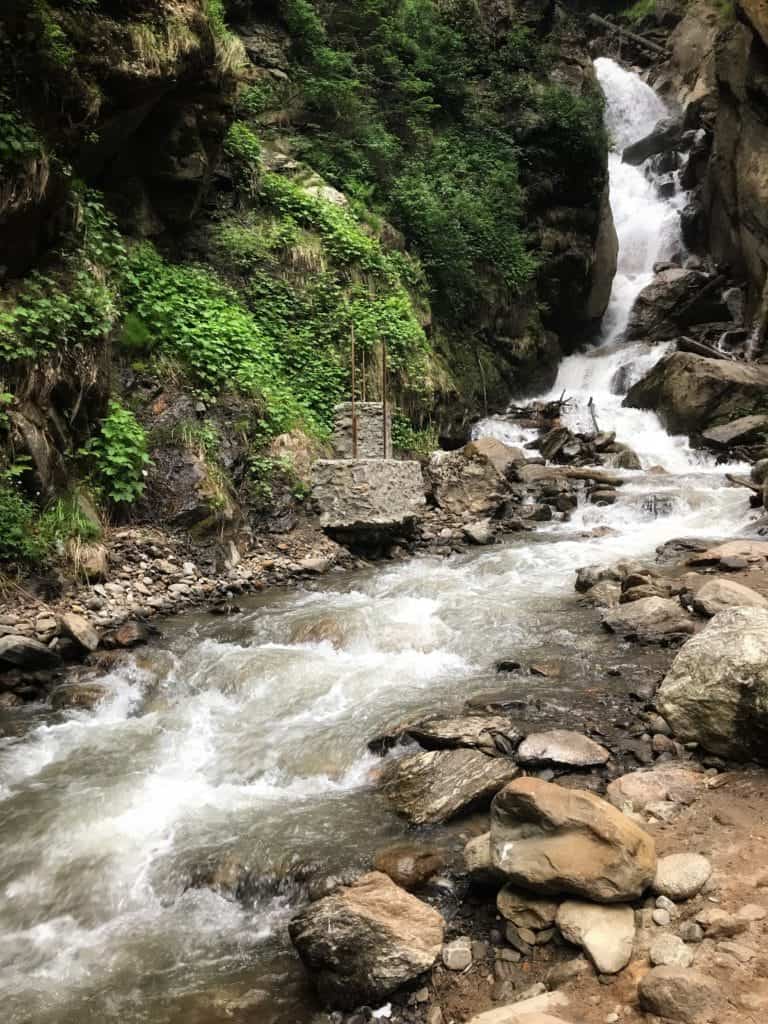 Why the Ban on Commercial Establishments?
I heaved a sigh of relief but learned shortly after that it was the last night for commercial camping at Kheerganga.
Camping is still possible, but you'd have to carry your tents, sleeping bags, and food yourself.
The luxury of a welcoming camp setup after a long day's trek would not be possible.
The ban is to preserve the beauty of the mountains, especially from plastic pollution.
Though it's a good move, the fact that the accessibility of the place gets reduced because of the irresponsibility of humans makes me sad.
The joy of sandwiches and hot chocolates and tent setups will be missed for sure.
I headed towards my camp and then enjoyed a campfire nearby.
I woke up early in the morning because I did not want to miss the sunrise. But after I got out, I saw majestic mountains surrounding me.
Unfortunately, there is no chance of seeing the sunrise there. The mountains are so tall that you can see the sun only after around 8 am.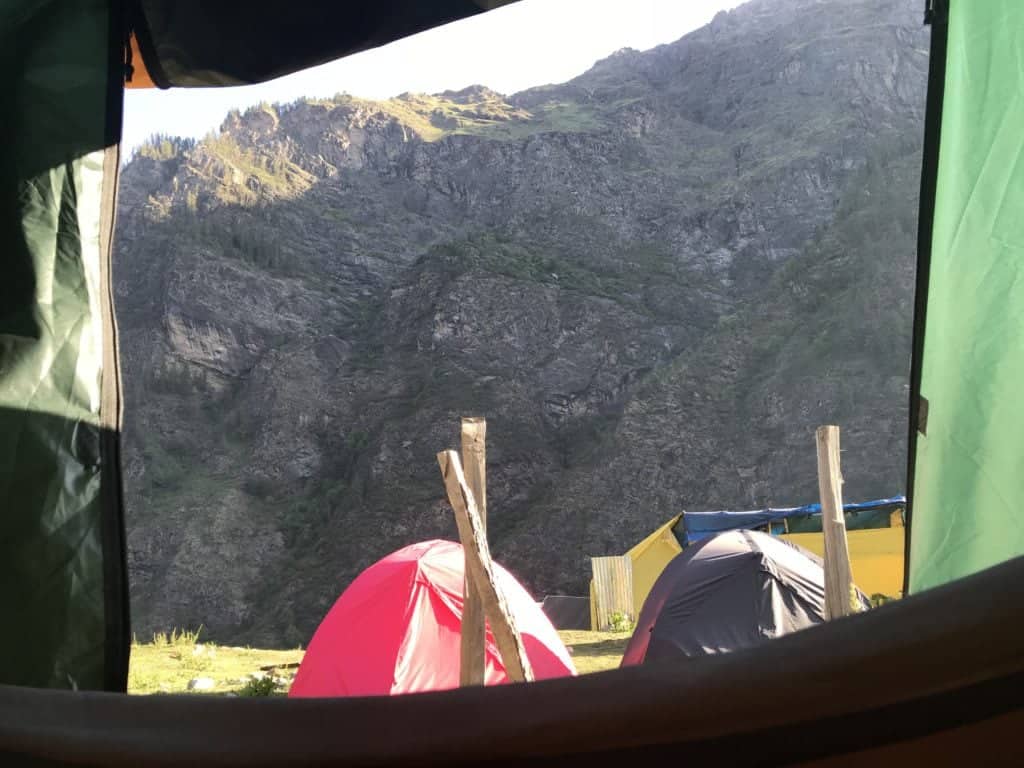 The Hot Spring
It was frigid, and that reminded me of the hot spring, which was the reason I had chosen Kheerganga.
It is a three-minute hike up the mountain nearby. There are separate baths for men and women.
The water was piping hot, and it could not have been more soothing given the temperature at that time of day.
Though I wanted to stay forever, the sun was out in a while, and I had to leave.
There is also a Shiva shrine near the hot spring.
I packed my stuff, had some breakfast, and started heading down.
All along my way down, I saw mules that were being marched up to bring back all the settlements and stuff.
Gladly Lost
Halfway down, I lost my way as I had taken a different route. I knew it was still a route because people were heading up and down it.
I was glad that I lost my way!
There was another waterfall on this route, and then I saw a village that overwhelmed me. It was called Tosh.
When I was trekking up, I could only focus on the next step ahead, as the path was dangerous, and we were walking amidst the forest that shielded us from the outside.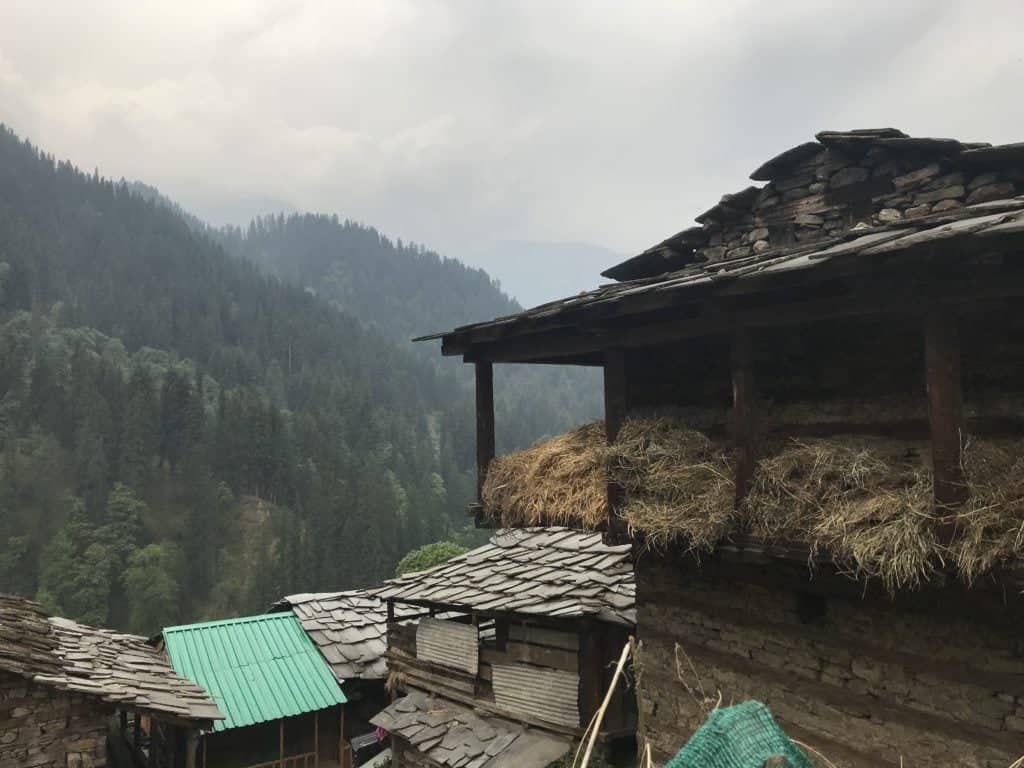 The Beauty of Tosh Village
But this time, I could enjoy the beauty of the place in its entirety.
The mountains, the pinewood trees, the rivers, the restaurants, everything was so spectacular.
There were green apple orchards that were being cultivated by the locals there.
There were also stay options in the Tosh village, and I couldn't help but wish that I had found it earlier.
See also: Tips for Hiking When You're Overweight
End of the Trek
As I saw roads, I realized that the trek was ending. Through the villages, it was a long route but a safe one.
Just before the roads, there was a river that was flowing in all its vibrancy and force.
As I was watching it, a part of me did not want to go back to the hotel. I wish the trek had not ended so soon.
Then I got to know that there were two routes up. One was the mountain route through which I trekked up, quick but a little hard. The second, the village route, was long, safe, and easy.
I am glad that I got to experience both of these, albeit by chance.
It was a fantastic experience. The trek to Kheerganga is something I'll never forget.
I'll definitely come back again for the Triund Trek and Dharamshala at McLeod Ganj because I didn't have the time to visit.
How Much Did It Cost
A rental car from Delhi to Kasol: $100-150
Stay at Kasol: $20 per day
You carry your tents and food to the camping spots atop Kheerganga
If you are looking for sleeping bags to camp, check out some of these ultralight sleeping bags that we have used until now.
They'll make your trek easier by cutting your pack weight.
Mark Bennett is an writer and traveler, whose major inspiration has been camping with his father ever since his childhood. He aims to visit 75 countries before he's 30. You can also follow his adventures on his site outdoorily.com.
Planning a trip? Go Backpacking recommends: