The mud squished below my boots on the Great Himalaya Trail as I tried my best to avoid patches of ice and snow that littered the mountain I was descending.
The sky was getting darker. My hiking partner Buckey yelled at me from ahead, "I found a stream."
We had walked all day, trying to conserve the murky pond water that filled our water bottles.
The pond had been the only water source we had found in the last twenty-four hours on this ridgeline along Nepal's Great Himalaya Trail.
Overwhelmed by the curious attention we had received from the locals of eastern Nepal who rarely see tourists, we decided to get away from the villages and onto a more remote path.
I continued at my cautious pace until I reached the stream. Buckey was dumping out the rest of his pond water and filling his bottles from the icy cool stream. I followed suit, and we continued downhill as the clouds rolled in.
There was smoke billowing out of a hut in the distance. I could make out a few buffalo and a man standing outside. He waved at us, our first human sighting since the previous morning.
We kept walking. It was getting late, and we needed to find a place to set up our tent.
Raindrops began to fall. They picked up speed and, in a matter of minutes, turned into hail. My clothing was quickly drenched as lightning illuminated the sky above.
"Buckey," I shouted. "We need to set up the tent. Now."
"Let's keep going until we find a better spot," he told me.
We both looked ahead to the trail before us. It was headed straight onto an open ridgeline.
"No. There's lightning. I'm not going out there," I insisted.
"Let's go back to that hut then," he suggested.
I took off at the best running pace I could manage on slippery ground with a fully loaded backpack.
As we approached the hut, the man was watching the hail from the doorway. He urgently waved us in.
I rushed inside the structure. The hut was made up of a tiny room filled with smoke from the open fire pit.
The hail was loudly pelting the wavy tin roof. Buckey and I greeted the two men and thanked them for inviting us in.
One of them spoke basic English, and the other did not. We knew only a handful of words in Nepali.
I peeled off my wet outer layers, took off my muddy boots, and sat on a woven bamboo mat by the fire.
The men offered us drinks of rakshi, a homemade millet wine. We shared our chocolate.
We learned that they were taking their buffalo up the mountain to pick up rice from a village, which they would then take back to their village.
They were twenty-six and twenty-seven years old, the same ages as Buckey and I. The hut was not theirs; it was a place where anyone passing through could take refuge for a night.
They made rice and vegetables for dinner, and Buckey and I contributed our freeze-dried chicken to the communal meal.
By six o'clock, we were all curled up under blankets and sleeping bags, safe from the storm outside.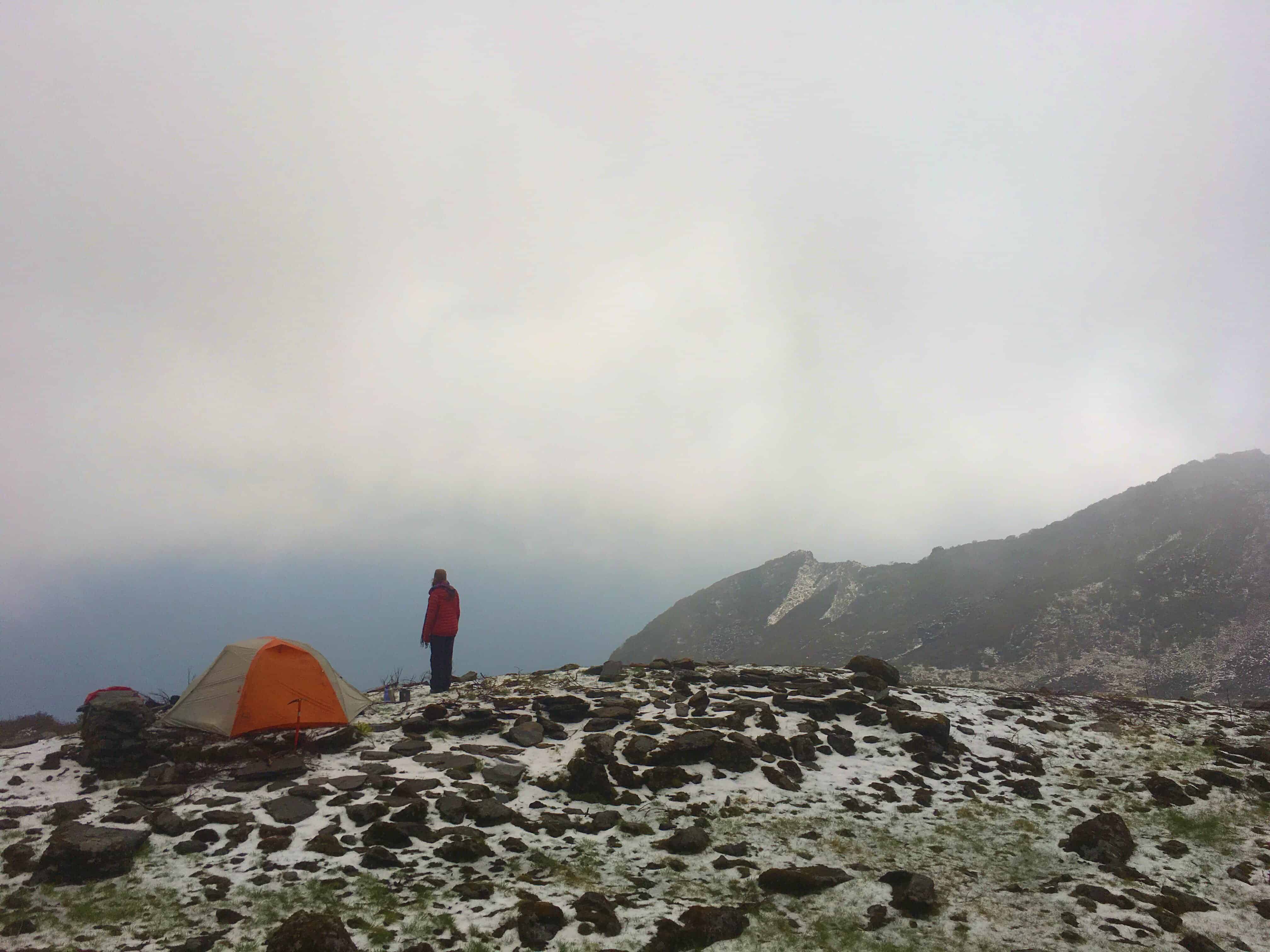 The Experience
Why I Hiked the Great Himalaya Trail
I had heard about the Great Himalaya Trail during my first trip to Nepal in 2015.
I was doing the popular guest house treks in the Annapurna, Everest, and Lang Tang regions.
They were challenging in their own right but were made easier by having a cozy guest house and a hot meal every night, as well as a group of comrades to share the experience with.
In contrast, the Great Himalaya Trail sounded wild, unpredictable, and demanding. I knew it would be remote, logistically challenging, and physically taxing.
Opportunities to befriend fellow travelers would be rare, and there would be a language barrier while interacting with locals in rural Nepal.
Despite the odds being against us to complete this trail, I wanted to do it.
I had made other long-distance trails before, but none had a formidable reputation as the Great Himalaya Trail.
I wanted to push the limits of what I could physically and emotionally withstand.
My goal was to walk across the world's highest mountain range and through villages that never get tourists. It sounded like the biggest adventure I could come up with.
Previous to our hike, Buckey was my roommate, and we both worked as guides for the same wilderness therapy company.
I hadn't thought to ask him to join me, but when he invited himself, I was elated. He said he had always wanted to see the Himalayas.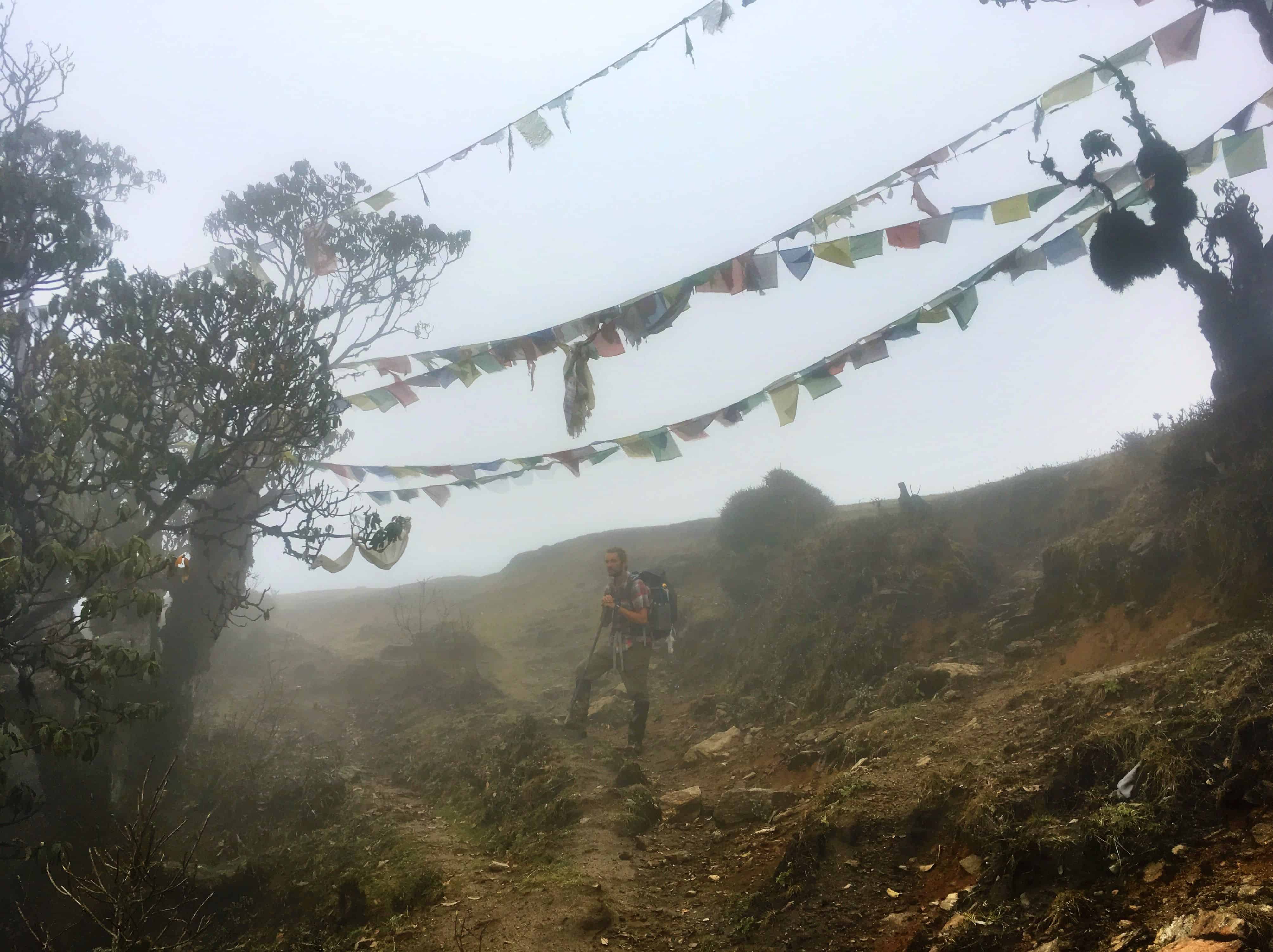 What It Was Like
Buckey and I spent four and a half months in Nepal, hiking 800 miles (1,300 kilometers) in total.
Sometimes we would stay in village guesthouses. When there were no guest houses, we camped and cooked for ourselves.
We walked in snow, hail, monsoon season, and relentless heat and humidity. We got lost in the jungle and the mountains.
Often, we were the spectacle of the town, and kids would follow us through their villages. Weeks would go by, and we wouldn't see any other tourists or have internet access.
Most days, we would gain or lose anywhere between 3,000-5,000 feet (900-1,500 meters) of elevation, which was exhausting. The miles came slowly. We rarely had an easy day.
Sometimes I found the views to be breathtaking, and sometimes I found equally amazing views to be monotonous.
Whenever we made a trip back to the city to resupply, we often lingered for a week because we were indulging in eating western food, watching HBO, and having internet access.
My favorite thing about hiking the Great Himalaya Trail was the lifestyle. I enjoyed spending most of my time outside in the mountains.
I liked sleeping in the tent and cooking on the camp stove. It was satisfying to reach viewpoints and see nothing but wilderness for miles.
The days mostly revolved around walking and eating, which made life satisfyingly simple.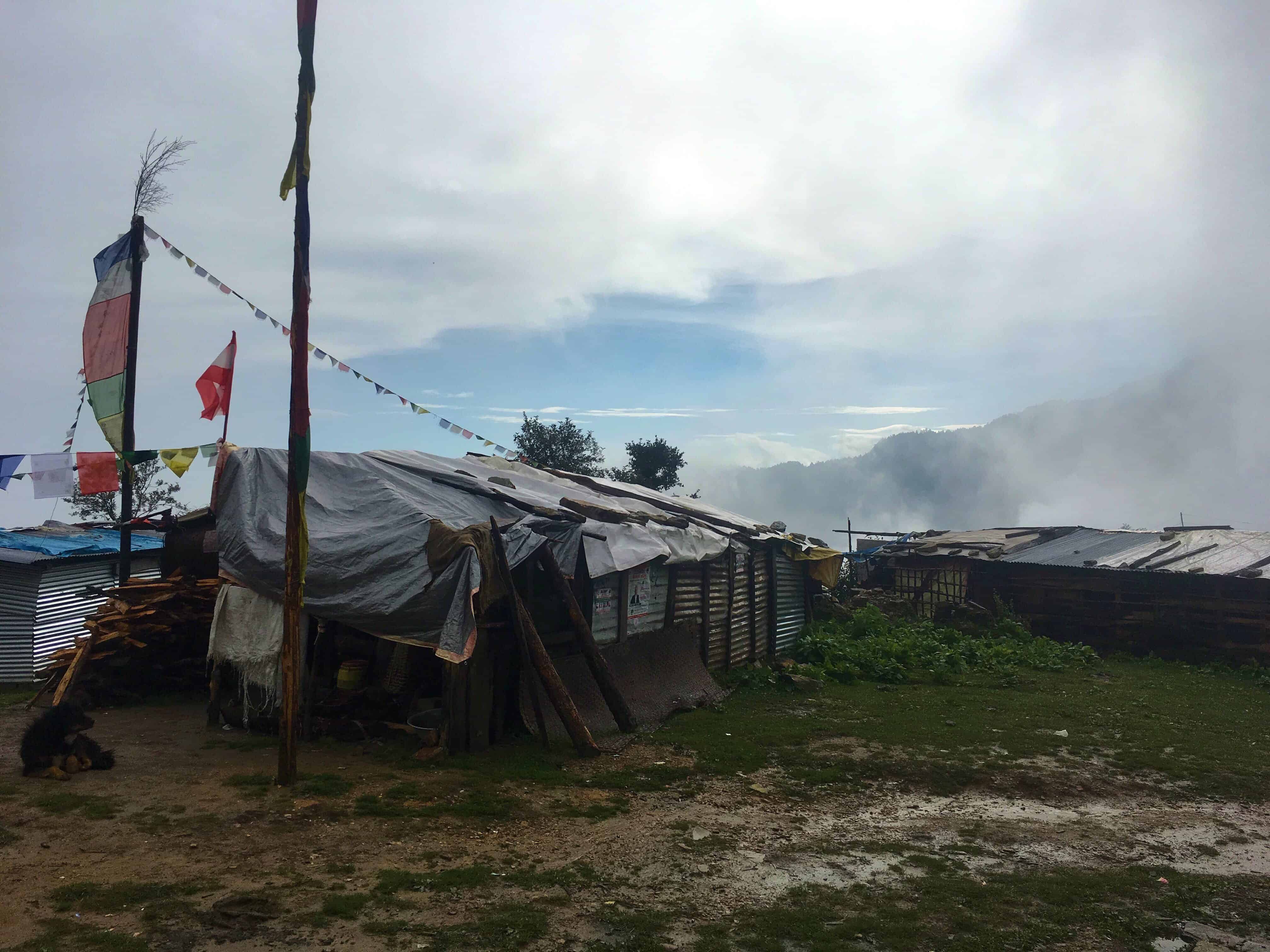 The Tough Times
Having Buckey as a hiking partner made me feel better about any frustrating situations that arose.
One day we got caught in a hailstorm at 13,000 feet (3,960 meters) and were lost on a ridgeline for a few hours.
Once we were thoroughly soaked and in bad moods, we decided to call it a day and set up camp.
The freezing temperatures had caused me to lose my fine motor skills, and I struggled to help set up the tent.
It didn't seem so bad, though, because I had Buckey there to be my teammate and commiserate with me.
Once inside of our tent, I made us hot orange-flavored drinks, and we looked over our maps while the storm raged outside.
I'm typically self-reliant to a fault, but I learned to appreciate having a dependable companion.
The most challenging part of the Great Himalaya Trail came at the end. We were hiking through Dolpa, our last and most strenuous section.
We had to carry more food than usual because guest houses and resupply points were rare in that region.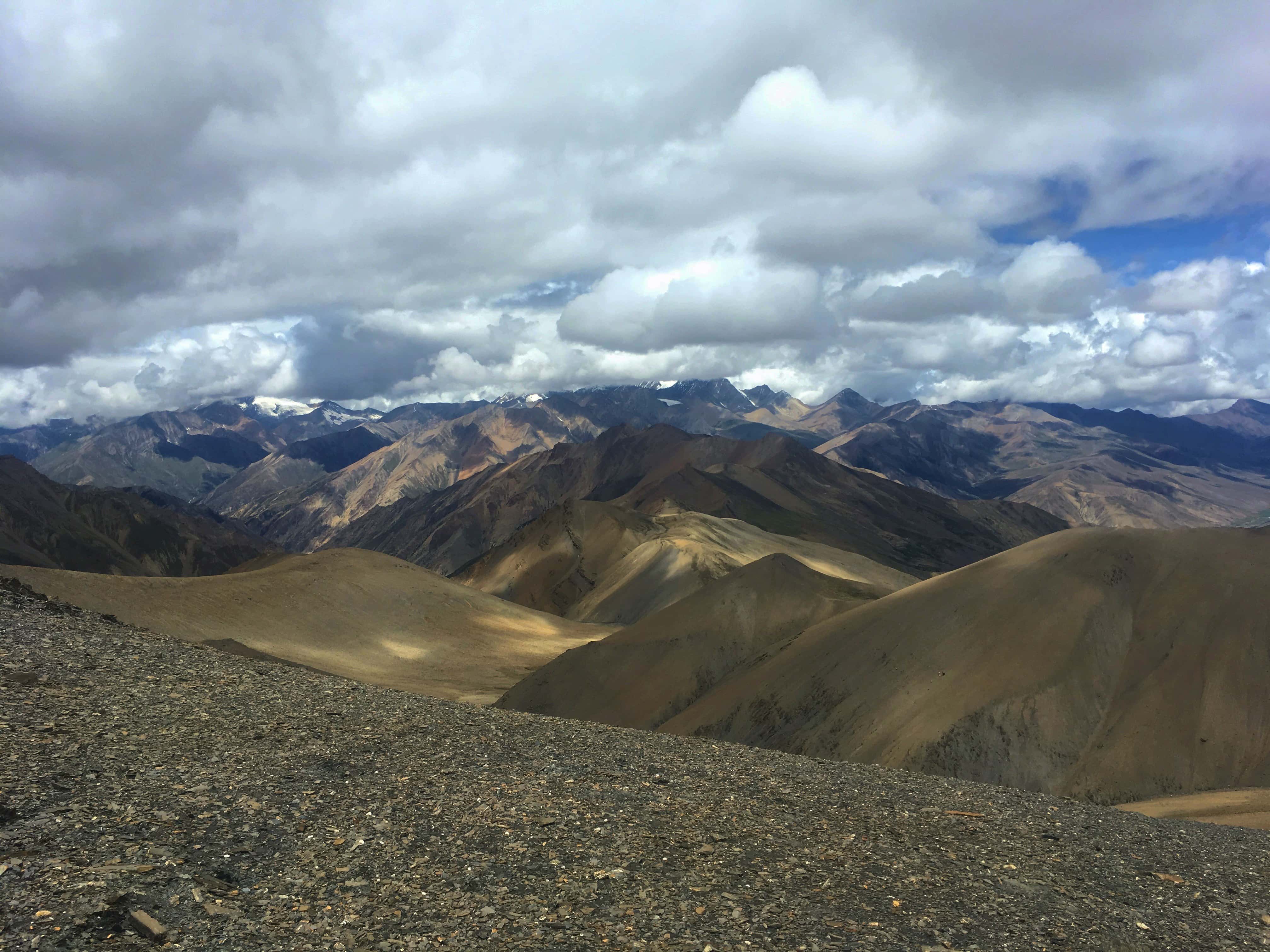 Every other day there was a pass upwards of 18,000 feet (5,480 meters) to hike over, made more difficult by my hefty pack weight.
Reaching elevations that high was tiresome because it was significantly harder to walk and breathe.
I would often have to take breaks to catch my breath after just a minute of walking, and it never felt like I could fill my lungs up completely.
On top of that, there were often sections of trail that had eroded from cliff sides.
Every time I hiked through these areas, I was aware that I would die or get seriously injured if I fell.
This led me to have more anxiety than I'm accustomed to handling.
After a week of dealing with physical and mental exhaustion, I had a meltdown on the side of the trail.
We had a few thousand feet to gain, I was hungry after an early start with no breakfast, and after months of walking, I was finally tired of it.
I flung my pack onto the ground, sat down on it, and started to cry until I was hyperventilating with snot dripping down my face.
Buckey was ahead of me on the trail, thus spared from witnessing my tears.
I stayed on the ground, curled up with my face on my knees until it started to rain. Then I stood up, put my pack back on, and continued up the mountain.
I was still exhausted and felt like quitting, but I knew I would keep going.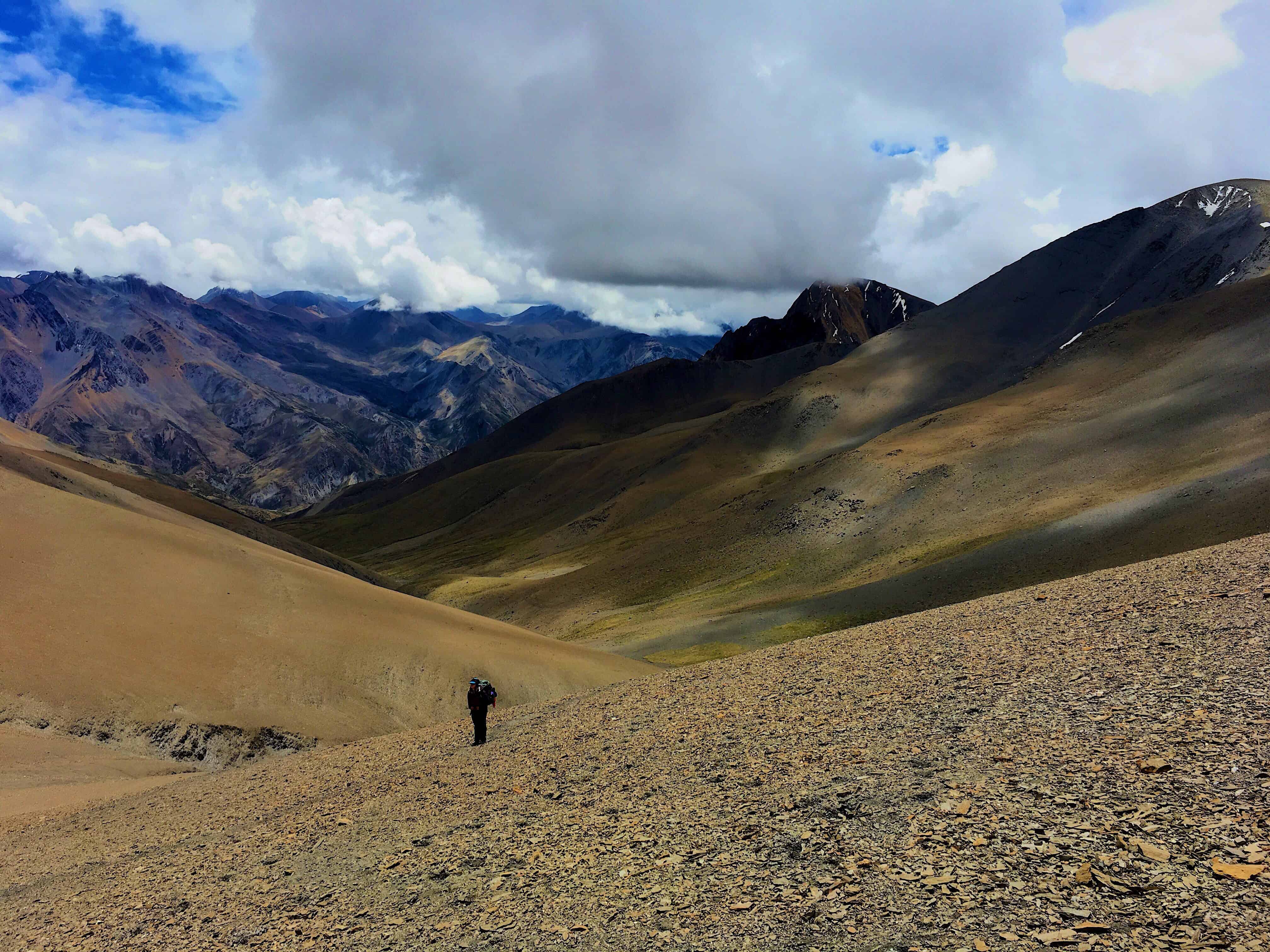 The End of a Journey
I set out to walk across the Himalaya mountain range and have an adventure, unlike anything I've experienced before.
While that is ultimately what I got, it's not the most important thing I gained.
I'll think most fondly of the storms that were endured, the locals who took us in and having Buckey around to rely on during the tough times.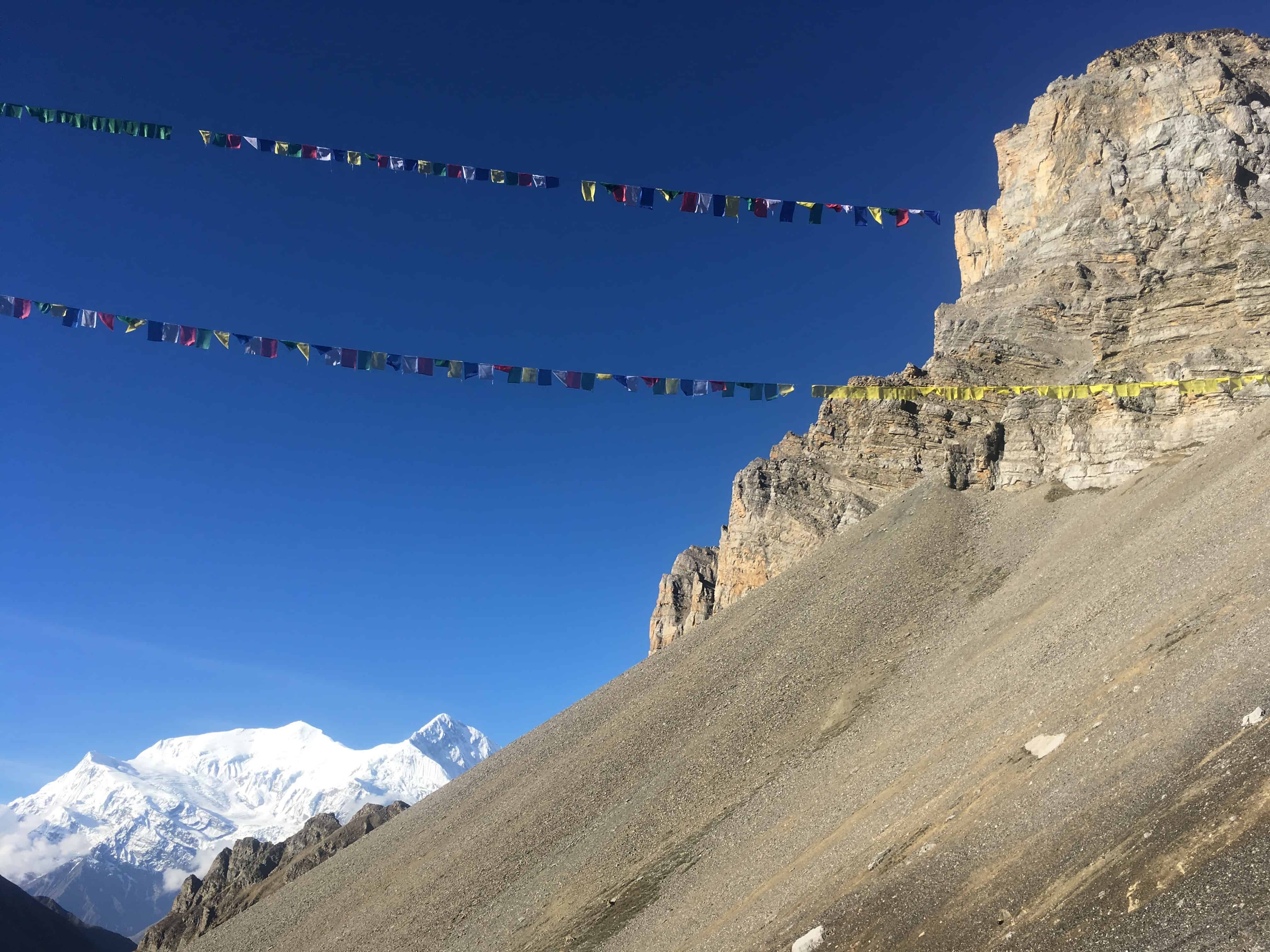 Great Himalaya Trail Logistics
Can you hike the Great Himalaya Trail?
While no one keeps statistics on the number of hikers who have completed this trail, it has not been very many.
For example, I only met two other hikers in person who were doing the entire trail, and I corresponded with three others online.
And this was possibly the busiest year yet along the Great Himalaya Trail.
I would only recommend that experienced long-distance hikers attempt the entire trail without guides.
You need to know how to navigate the backcountry, be prepared for difficult and long days, and be comfortable finding campsites and interacting with non-English speakers.
If you do not have extensive outdoor experience, you can hire a trekking agency to provide guides, porters and handle the trip's logistics.
I would recommend that you love the wilderness and be willing to get in good physical shape while on the trail.
If you don't want to commit to doing the whole Great Himalaya Trail, there are plenty of shorter sections that can be done with or without guides.
Check out my list of the 5 Best Treks of Nepal for recommendations.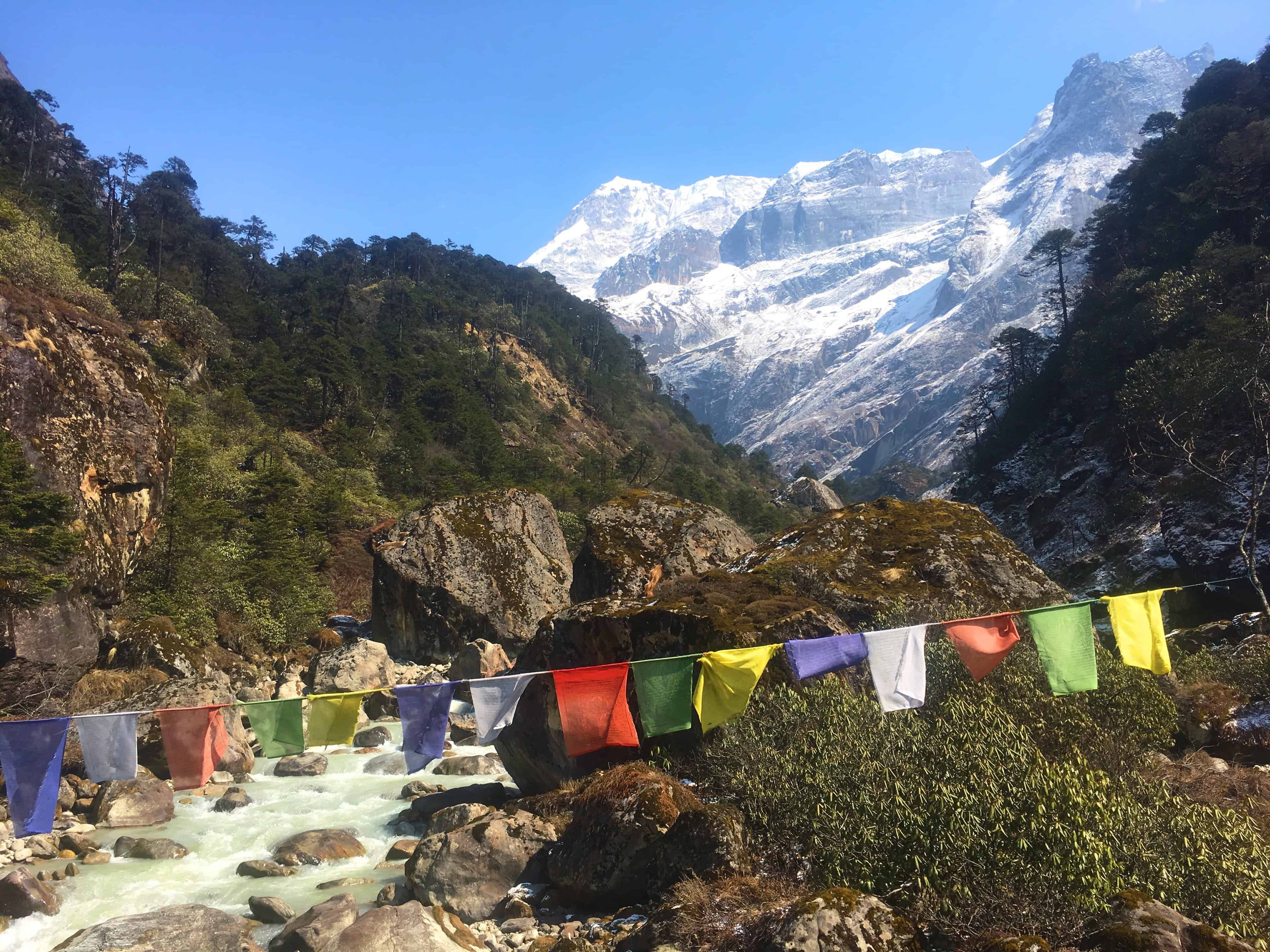 Time Frame
I spent four and a half months in Nepal for this trek and hiked for three of those months. I made four trips back to the city to resupply, during which time I took a week off from hiking.
Sometimes I hiked all day long until just before sunset, and sometimes I stopped walking in the afternoon.
Give yourself four to five months if you want to take the trail at a leisurely pace and have plenty of time to get the cultural experience.
If you're going to put in long days and finish the trail quickly, give yourself three months or less.
The Great Himalaya Trail has two options for routes, the high route, and the low route.
The high route goes through the mountains at higher elevations, has colder temperatures, and is farther from cities and road access.
The low route offers more jungle and rice terrace scenery, an abundance of villages not often visited by tourists, and hotter weather.
I combined the two routes, essentially sticking to the low route during the spring and the high route during the summer.
I started my hike in late March, and it was good timing for the route I was doing.
If you want only to do the low route, it can be done any time of year. Keep in mind that summer will be unbearably hot, and winter at higher elevations will be cold.
The timeframe for the high route will vary according to snowfall, but April and May will likely be good times to begin.
If you plan to hike fast, October and November have ideal weather conditions for both routes. Summer is monsoon season, and it typically rains every afternoon.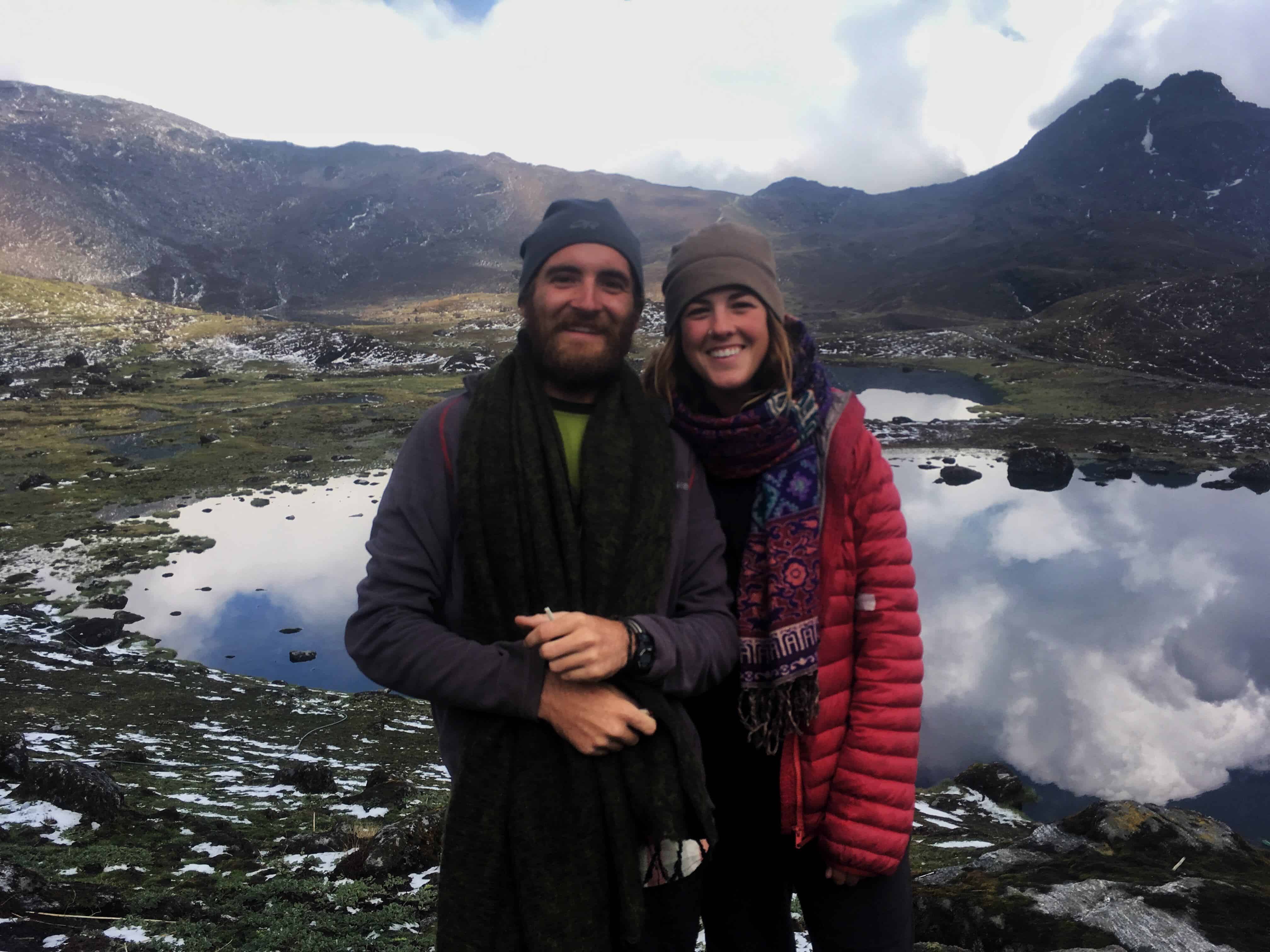 Final Thoughts
A lot of logistical planning goes into a Great Himalaya Trail hike before you even arrive in Nepal.
From selecting gear to going over maps to organizing permits and transportation, this hike involves so much more than just walking. And often, all the planning has to be adjusted once you are there.
I think this would be a fantastic hike for people who have a love of logistics and a flexible personality, in addition to a desire to traverse the world's highest mountain range.
I'm Megan Maxwell, a long-distance hiker, author, wilderness professional, and outdoor travel blogger. I first discovered wilderness backpacking on the Appalachian Trail back in 2012. I've hiked in the Himalayas, Andes, and all over the United States.
I blog about hiking and travel at Mountains with Megan. Find me on Instagram @mountainswithmegan
Planning a trip? Go Backpacking recommends: