Situated just 50 kilometers south of the massive urban sprawl of Manila in the Philippines, Taal Lake is a haven of calm and greenery; it's also home to Mount Taal, the world's smallest active volcano.
Depending on the horrendous traffic conditions, it can take anywhere from one to three hours to get from central Manila to the sleepy town of Tagaytay where the adventure begins.
Escaping the congestion of Manila for a quick trip to Taal is a refreshing experience and a thrilling volcanic adventure.
We created this post to help you visit Mount Taal from either Tagaytay or Manila.
Pro Tip: Need a flight to the Philippines? Search Travelocity for the best deals!
Need to Know Highlights: Mount Taal Travel Information
Stay
The village of Tagaytay is the closest place with a range of accommodation options and therefore is an excellent place to stay to visit Mount Taal.
Tagaytay has several well-rated hostels, and a full range of hotels and holiday apartments, many of which offer great value if you feel like splurging.
We've listed hotels here on Booking.com, because we found it to offer the best deals, compared to Agoda, which is also very popular in Asia.
Alternatively, you can stay in Manila and visit independently or part of a full-day trip from Manila to Mount Taal.
It takes one to three hours to get from Manila to Mount Taal, depending on the time of day and traffic.
Go
If you choose to visit from Manila, you'll need to take a bus to Tagaytay, preferably starting quite early to avoid traffic and heat. It's not hard to do, once you have the correct instructions.
From Tagaytay, get a tricycle or jeepney to Talisay Bay, and then hire a boat to take you to the island itself.
Alternatively, you can take a highly-rated, 8-hour round-trip tour from Manila for just under $100.
Depending on your energy levels or amount of time you have, this could be a good option and includes several other sights are well.
Spend
All prices are subject to change, but the following should give you a general idea of what it will cost you to visit Mount Taal.
Buses from Manila to Tagaytay: 80 to 120 pesos
Jeepney/Tricycle from Tagaytay to Talisay Bay: 100 to 1,000 pesos, depending on your haggling skills
Boat from Talisay to Taal Island: 700 to 3,000 pesos, depending on your haggling skills
Tourist Entry Fee: 50 pesos
Optional Pony/Donkey Ride to the Top: 700 to 2,000 pesos, depending on your haggling skills
Total Cost: 930 to 6,170 ($18 to $121)
(So…if you're a good negotiator, or can share the costs with others, it's way cheaper to DIY the trip. If you don't like negotiating, it might be worth splurging on the round-trip organized tour from Manila.)
Where Is Mount Taal?
It's a bit of a complicated situation, so let me do my best to explain it.
Luzon is an island in the Pacific Ocean, the most populous island in the Philippines archipelago.
Located on Luzon is the town of Tagaytay, nestled on a ridge of Taal Volcano and overlooking the vast Taal Lake.
Within Taal Lake is the Volcano Island.
Within Volcano Island is yet another Crater Lake.
Finally, within Crater Lake is Vulcan Point which is a volcano outcropping.
If that didn't make sense, here is the simplified version starting from the outside layer and proceeding to the inside:
Pacific Ocean
Luzon Island
Taal Volcano
Taal Lake
Volcano Island
Crater Lake
Vulcan Point Island
It's called a volcano complex for a reason!
Mark's Experience Visiting Mount Taal
For the climbing of Mount Taal, most people take on the task to climb the Volcano Island part of this volcanic system.
It is necessary to take a boat across Taal Lake to reach the island and be in grasping distance from the world's smallest active volcano.
The enjoyable boat ride took about 30 minutes and provided spectacular views of the lake and the rough cut ridges that surround.
The boat dropped us off at the base of Volcano Island, a foundation of muddy ash and volcanic sand.
As soon as the light breeze from the ride was over, the hot, humid air immediately penetrated; it's the type of thick drenching mugginess that you can feel before your body even starts to sweat.
The small village on the island seemed like a throwback in time.
There were a series of wooden stilt houses hovering over the water, an old weather-worn basketball court, and an ancient horse pen.
It was a quiet place, an absence of motorized vehicles, and the residents rested under the trees to escape the heat of the day.
There was a small park entrance fee and a choice to either hike or hire a horse to navigate the well-defined trail up to the summit of the volcano.
I chose to exercise, though the horse looked like an enjoyable option.
The trail to the top was a muddy mess, stirred up by the hooves of the horses and the manure they defecated when they pleased.
I was glad that for the first time in the Philippines, I had traded in my flip-flops for my tennis shoes.
The scenery was gorgeous, a real tropical mixture of bright green shrubs and the occasional palm or papaya tree that sprouted out of nowhere.
With every step, the view became more and more impressive, a panorama of the surrounding Taal Lake and outer volcanic rim.
The hike to the top took about 45 minutes. As the trail gained in elevation, the wind started to pick up, offering a blessed relief to the soaking sweat.
The trail became quite steep at the last section of the ascent, but overall it was an easy climb.
Do you see the tiny green island in the middle of that lake?
That is an island in a lake, on an island in a lake, on an island in the Pacific Ocean.
The view was a magical panorama of the entire volcanic region.
The edge of the interior crater lake was smoldering with sulfur, and one of the internal sides was leaking with a murky fluid.
Though it's highly active, it's different from the fire and ice eruptions on Iceland.
A guard at the top, allowed me to sign a Filipino style consent and release form (a crumpled piece of blank paper), to hike down to the shore of the interior Crater Lake. Pressed for time, I didn't make it all the way to the bottom.
Layers of complexity and depths of the surrounding beauty more than justify the Taal Volcano as the smallest active volcano in the world.
Escaping the congestion of Manila for a quick trip to Taal is a refreshing experience and a thrilling volcanic adventure.
Where to Stay in Tagaytay
Our Melting Pot Tagaytay
7.7/10 on Hostelworld
Falling under the 'cheap and cheerful' category, past guests seem to appreciate the friendly staff and welcoming atmosphere at this hostel, combined with an excellent location for exploring Mount Taal.
Room options include 6-bed mixed dorms, 3-bed family rooms/shared bathrooms, doubles with shared or private bathrooms, and twin privates with shared bathrooms.
Some reviews mention more attention to the shared bathrooms would be appreciated, but overall this place offers good value for money!
Check Pricing & Availability
Hostelworld / TripAdvisor
Mountain Breeze Hostel – Tagaytay Centre
7.6/10 on Hostelworld
First, the positives: this place gets top marks from past guests for helpful staff, location, and a nice backyard garden to relax in.
Most recent guests, however, rate it as a place to stay the night while visiting Mount Tall, but not somewhere to stay and chill for a while.
Thin walls mean a bit of noise, and bed linens seem a bit old and tired. As with many places, be sure to bring your padlock.
Your cheapest option is a bed in a 6-bed mixed dorm, but they also offer a few privates and family-style rooms as well.
Check Pricing & Availability
Hostelworld / TripAdvisor
Budget Hotel with Pool
8.3/10 on Booking.com
ZEN Rooms Buho Amadeo – If you're willing to up the budget a bit, Zen Rooms offers some well-rated rooms in town, with ZEN Rooms Buho Amadeo topping the list.
This property has an on-site restaurant, TVs in the room, and an outdoor pool. At the time of writing, rooms could be had for $27, around what you'd pay in either of the hostels in town.
Check Pricing & Availability
Booking.com / TripAdvisor
Funky & Affordable Hotel
7.7/10 on Booking.com
Tagaytay Garden Budgetel – City Center — Cheerful, bright, nicely decorated, and right in the center. This looks like a lovely option if you don't mind shelling out $36 for a room.
Traveling as friends who don't mind sharing a bed, or as a couple, this is probably the best of the listed options. Past guests mention the beautiful views, lovely garden, nice staff, and comfortable beds as highlights.
Check Pricing & Availability
Booking.com / TripAdvisor
Where to Stay in Manila
Z Hostel
9.0 on Hostelworld
A large hostel with a rooftop bar that provides awesome views of the city. The facility has a cool 'designer boutique' feel to it.
Clean and well located with a cafe next door, a 24-hour mini-market nearby, as well as lots of bars and restaurants, and the uber-modern Century City Mall is just down the street.
Beds are large and comfortable with reading lights and power outlets; even the lockers have power outlets in them so you can charge your camera or phone while safely locked up.
4, 6 & 8 Bed mixed dorms, 6-bed female-only dorms, all with ensuites. Private twin rooms with private baths are also available.
Check Pricing & Availability
Hostelworld / TripAdvisor
Bahay Kubo
8.9 on Hostelworld
Tropical themed hostel in a mid-20th-century heritage home. Charming but basic accommodation with a good vibe and easy to meet people.
A past guest commented that the wifi wasn't the best but the wifi at a café close by was amazing. Basic but nice beds and pillows, a/c & lockers.
It doesn't look like there are reading lights or power outlets in the bunks, but reviewers seemed to like the overall vibe and the friendly owner.
It's a place just to chill and hang out with fellow travelers. Short walk to a huge shopping mall, a metro stop and loads of cafes, bars, and restaurants.
6, 10 and 14-bed dorm rooms, all mixed, and a twin and double room with shared bathrooms are available as well.
Check Pricing & Availability
Hostelworld / TripAdvisor
Our Melting Pot
8.8 on Hostelworld
A nice little hostel located above a Korean grocery store on a quiet-ish street. Past guests have commented on the very comfortable beds with privacy curtains, reading lights and electrical outlets.
Lockers are available but be sure to bring your own lock. The hostel has a no-shoe policy, so it's quite clean. Located near the modern Century City Mall, and lots of small bars and restaurants.
4, 6, 7 and 9-bed dorms, a double private room with shared bathroom and one double private with a private bathroom.
Check Pricing & Availability
Hostelworld / TripAdvisor
Additional Information & Tips
What Kind of Shoes Should You Wear to Climb Mount Taal?
If you've been traveling in Southeast Asia for any amount of time, chances are you're a fan of wearing flip-flops/thong sandals.
These are not the best choice for this trip! If you plan on visiting or climbing Mount Taal, wear trainers or hiking boots with a good grip on the bottom, and accept the fact that they may get muddy.
What Should You Pack to Climb Mount Taal?
As noted above, expect hot and humid weather, and plan accordingly, especially if you plan to do the 45-minute hike up.
Bring plenty of water, sunblock, and a hat to cover your head and eyes from direct sunlight. It's probably smart to carry a basic first-aid kit, as well.
Small Group Tours of the Philippines
Want to see the Philippines as part of an organized tour? Check out these classic trips from G Adventures!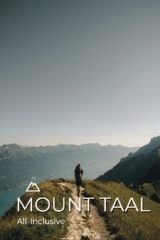 Mark was raised in central Africa before migrating back to the U.S. for University. After graduating, he decided to continue traveling the world. On Migrationology, he shares the cultural side of travel from a slow-paced local perspective that often revolves around his love for eating all forms of food. Join him on Facebook and follow him on Twitter @migrationology.
Planning a trip? Go Backpacking uses and recommends: