New Orleans has so much to offer visitors; it's hard to know where to begin. So, allow me to help—the food. Start with the food, and go on a New Orleans food tour with Doctor Gumbo.
Readers may remember I took their cocktail history tour earlier in the year; it was led by Ben, a larger-than-life guide who entertained and informed our little group for an evening.
Ben also leads afternoon food tours for Doctor Gumbo, so I was excited to see he'd be guiding me through the French Quarter once again.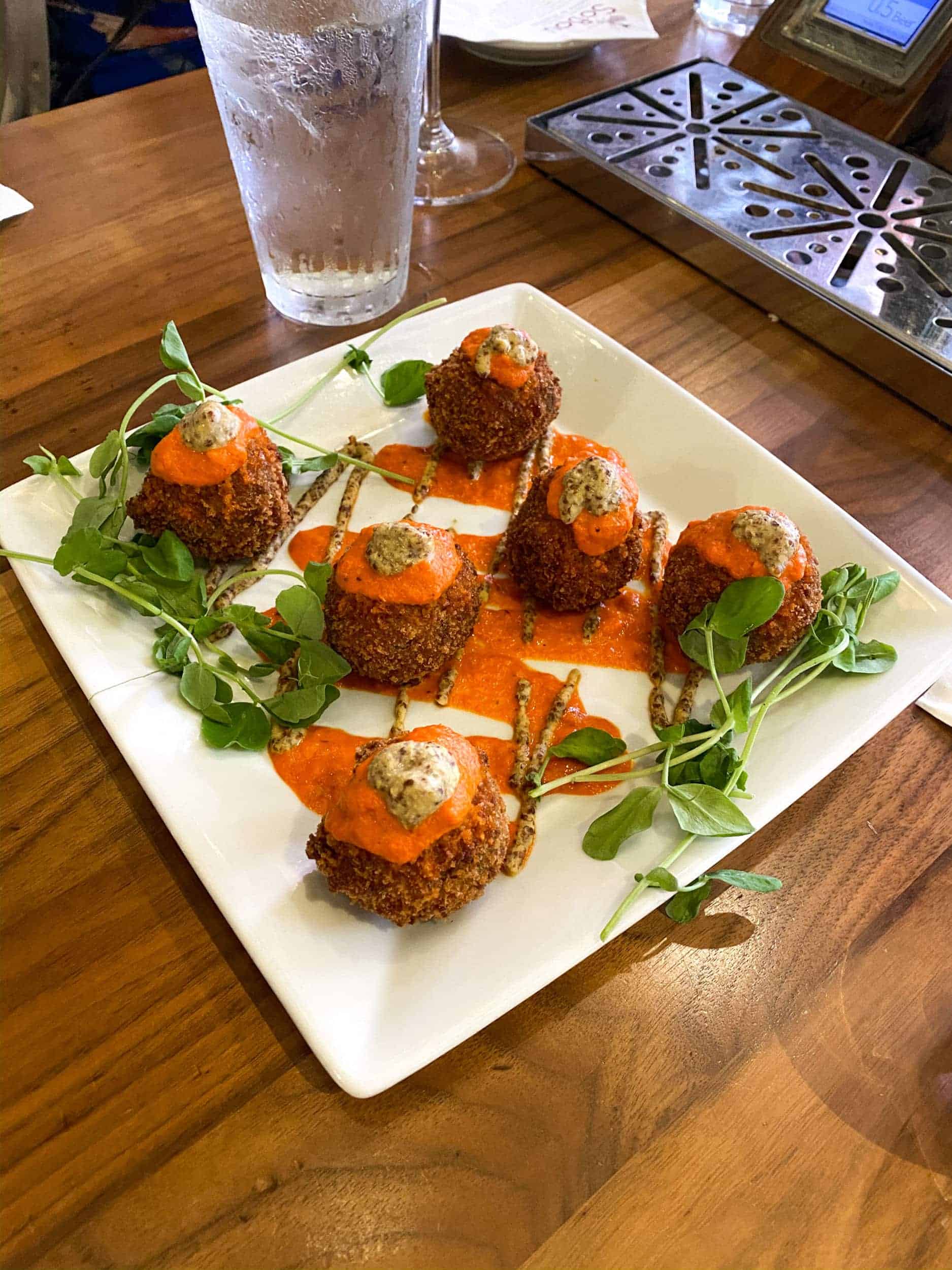 The three-hour food tour began at 1 pm at the SoBou Restaurant (310 Chartres St) in the W Hotel. SoBou takes its name from the neighborhood "south of Bourbon" street.
Once the dozen or so people in our group had arrived and taken their seats, Ben introduced himself, and the food began arriving in earnest.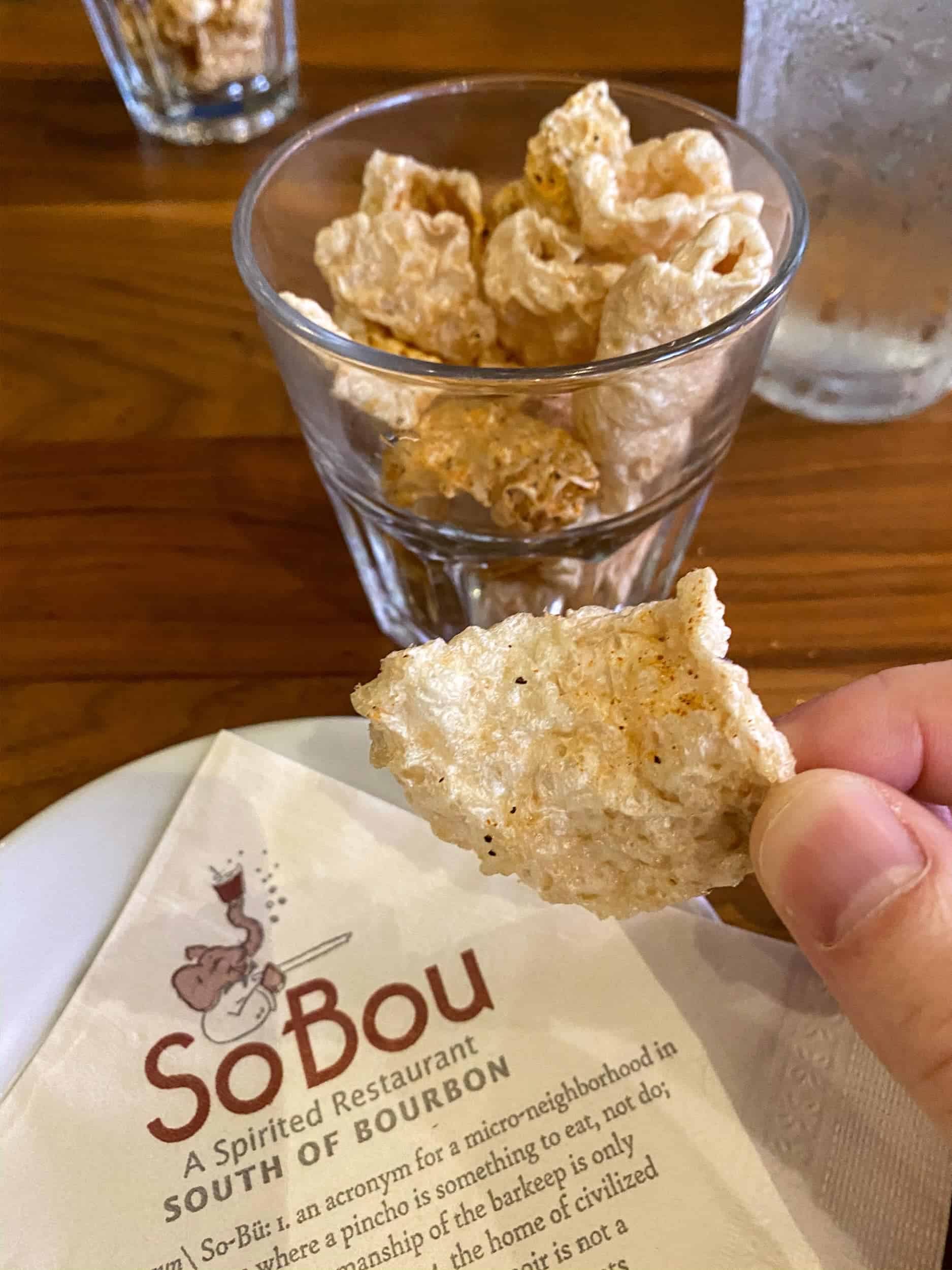 What We Ate on a New Orleans Food Tour
Pork Cracklings
The first food presented to us on our New Orleans food tour was pork cracklings.
The deep-fried pork skin wasn't new to me, so I chose to save room for the other dishes.
Boudin Balls
Next up were plates of Boudin balls. Boudin is a sausage from southern Louisiana made with pork and rice.
Boudin balls are what you get when you take that pork and rice filling, roll it into a ball, and drop it in the deep fryer instead of stuffing it into a sausage casing.
Add a dollop of mustard, and voila, you've got a tasty appetizer to start the meal.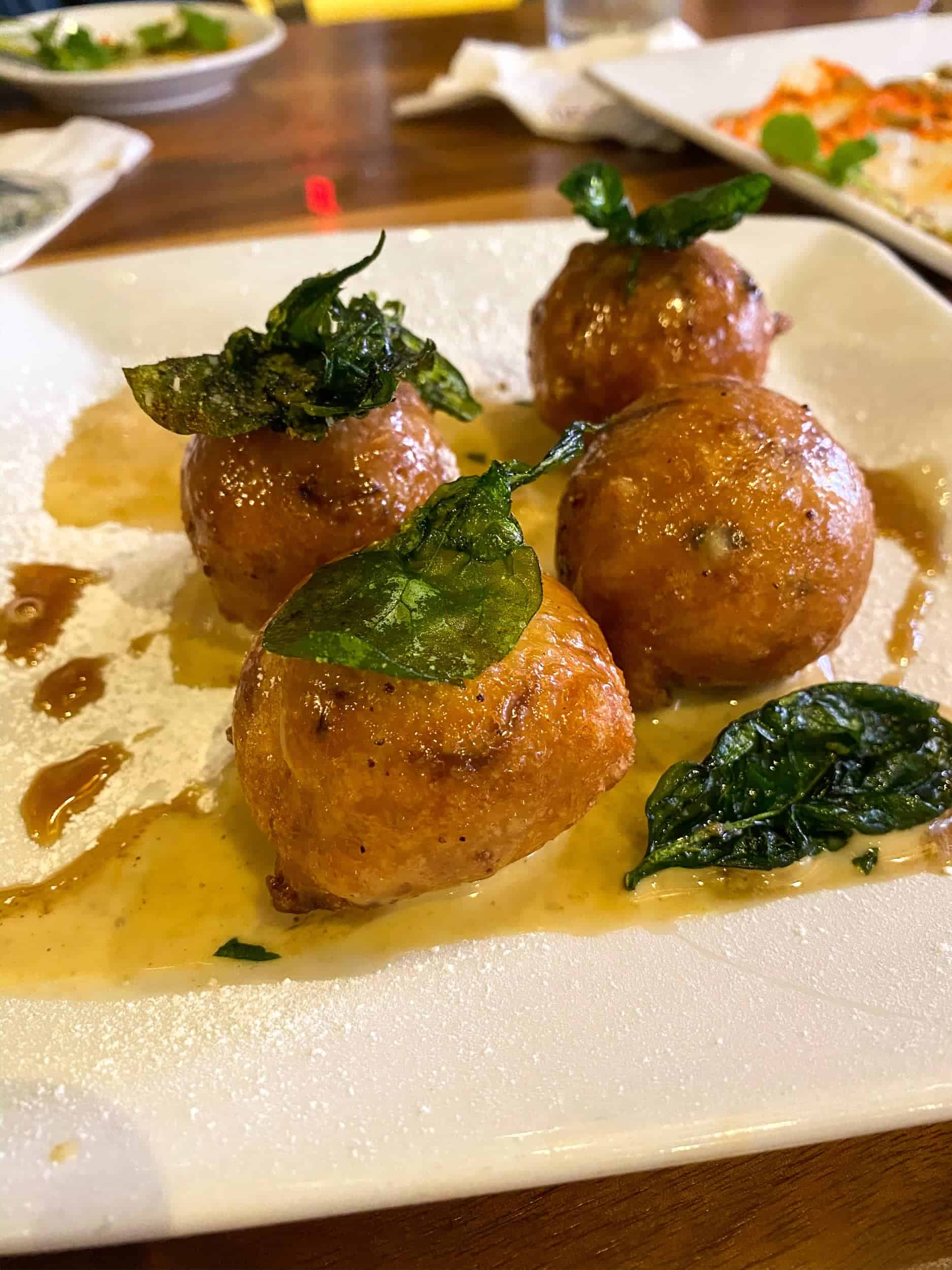 Beignets
New Orleans is famous for its beignets — light, fluffy fried dough with powdered sugar served up at historical spots like Cafe Du Monde in the French Quarter.
At SoBou, they kicked up the traditional presentation, serving us beignets with foie gras fondue.
These were an incredible indulgence.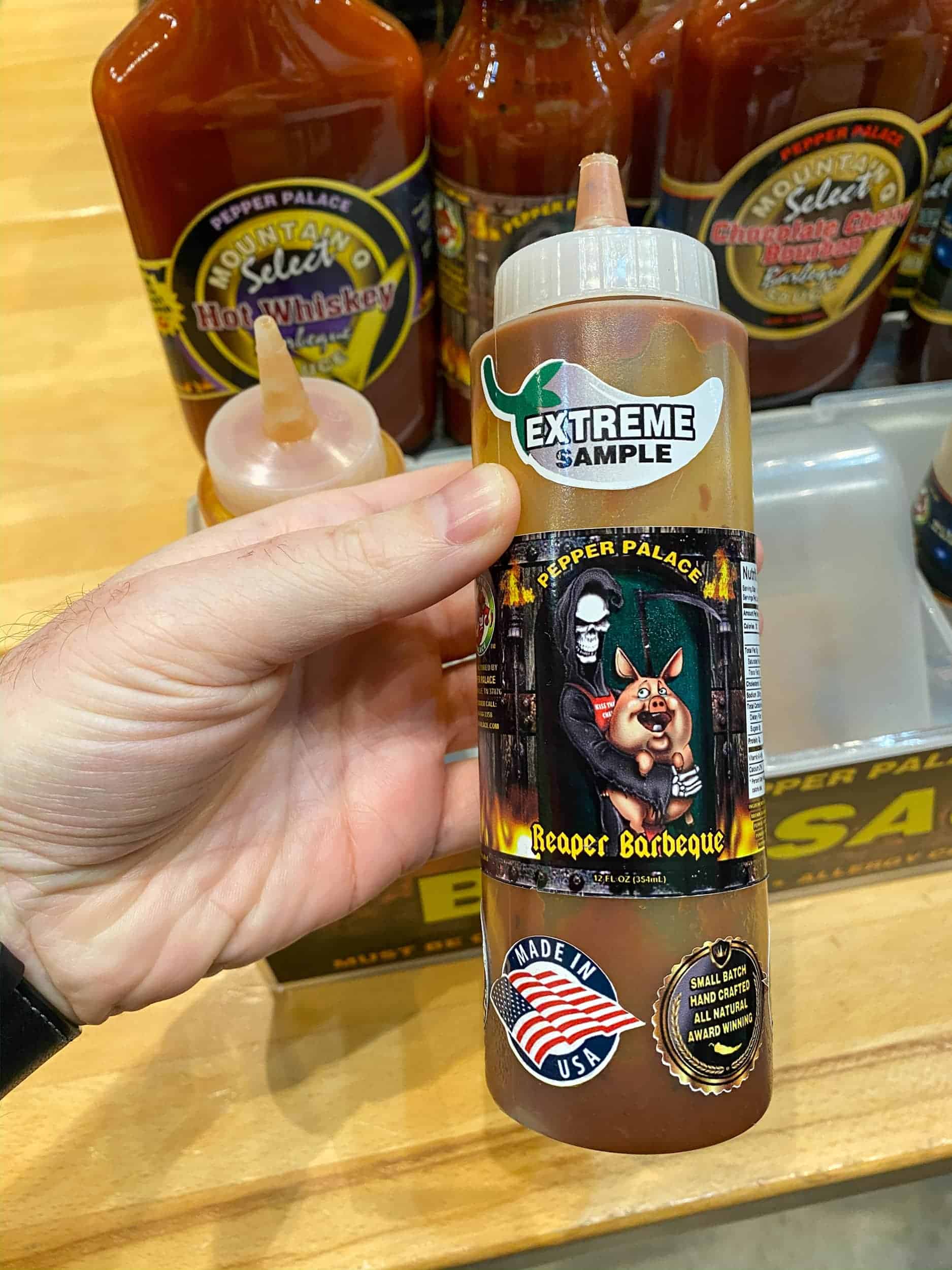 Hot Sauces
After tasting our first three dishes of the food tour at SoBou, Ben walked us over to the Pepper Palace.
After a quick introduction, we were free to taste the various hot sauces and barbeque sauces.
The heat levels ranged from mild to extremely hot, with names like "Scorpion Death Stalker Hot Sauce" and "Reaper Barbeque."
We were all given a 3-ounce bottle of "You're Awesome Sauce" to take home with us as a gift.
Related: 15 Cheap and Fun Things to Do in New Orleans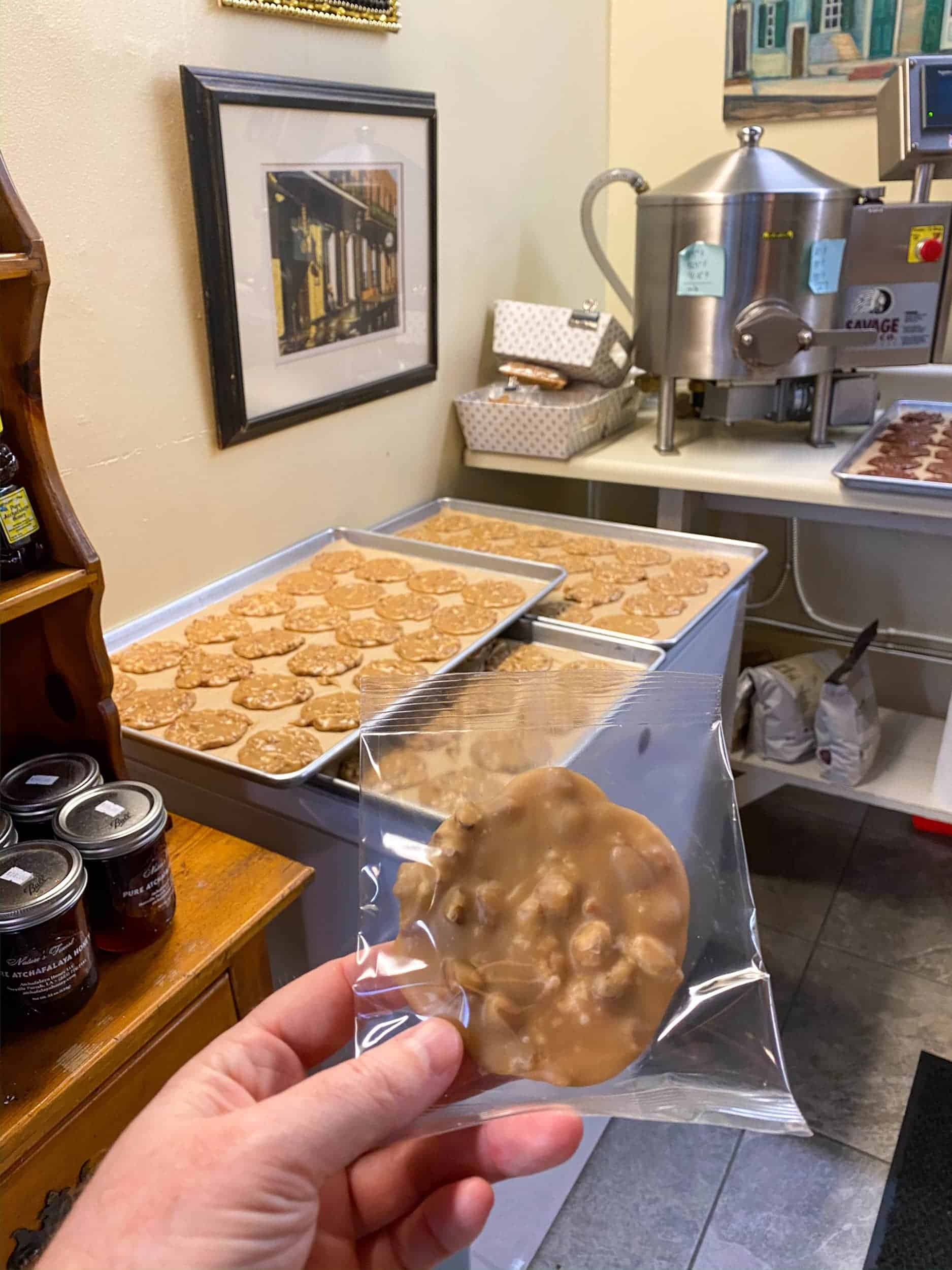 Pralines
Our third stop was at Leah's Pralines, a small family-owned candy shop in operation since 1944.
Here, Ben handed us individually wrapped praline cookies to try. Taking a bite, it all but melted in my mouth, and it tasted like pure sugar.
We also got to sample bites of bacon pecan brittle. Everything in Leah's is handmade the old-fashioned way.
The display case was packed with incredible-looking sweets, including a "Cajun mud" brownie made of caramel, pecans, and chocolate I'd like to try on my next visit.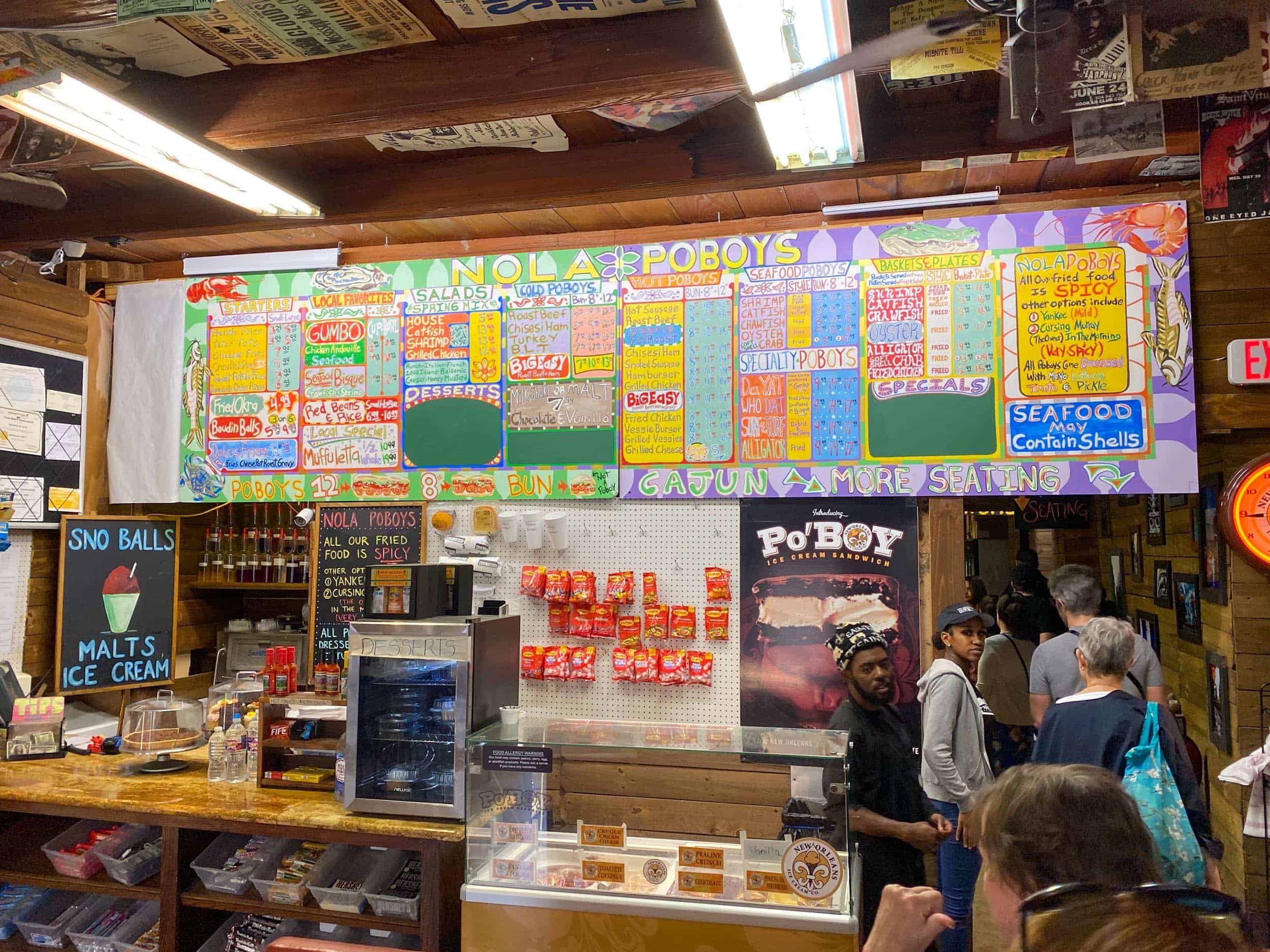 Po-boy Sandwich
Our longest walk of the tour was about 15 minutes to go from Leah's to NOLA Poboys on Bourbon Street.
We entered the sandwich shop and walked past the colorful counter and up a flight of stairs.
Once we were all settled in our seats, Ben schooled us on the history of po-boys.
The po-boy is believed to be the creation of brothers Benny and Clovis Martin, who offered the sandwiches to striking streetcar drivers in 1929.
Each time they saw a driver coming into their shop, they'd yell up to the kitchen, "here comes another poor boy." Over time, "poor boy" was reduced to "po-boy."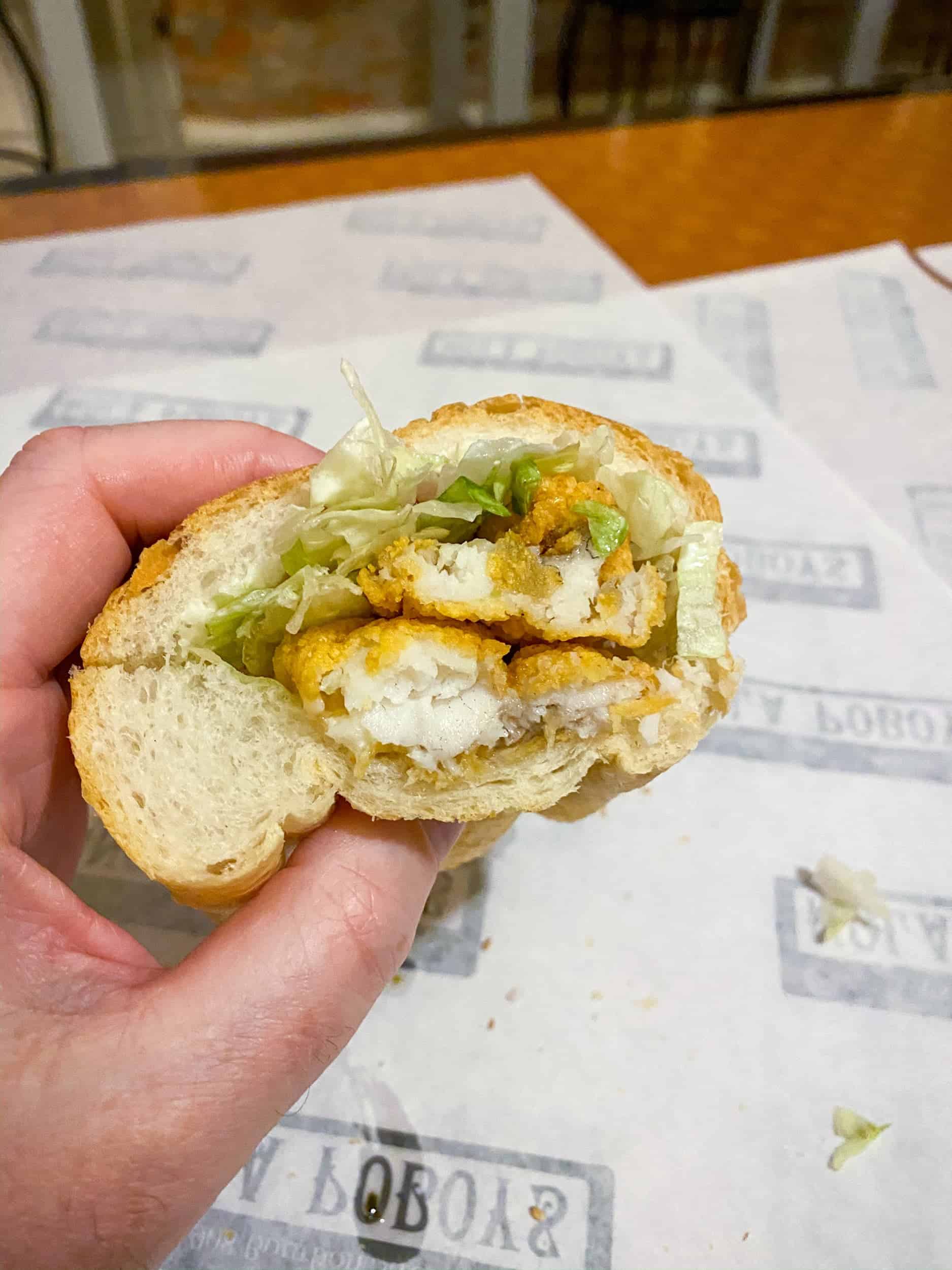 Po-boys are served on Louisiana French bread and can be filled with anything. They can be served cold or hot.
At NOLA Poboys, cold options include roast beef, ham, turkey, and BLT (bacon, lettuce, tomato).
The hot options are more numerous, including:
sausage
pot roast
fried chicken
grilled cheese
crawfish
oyster
alligator
We each tried a sample of the fried catfish po-boy — simple yet delicious!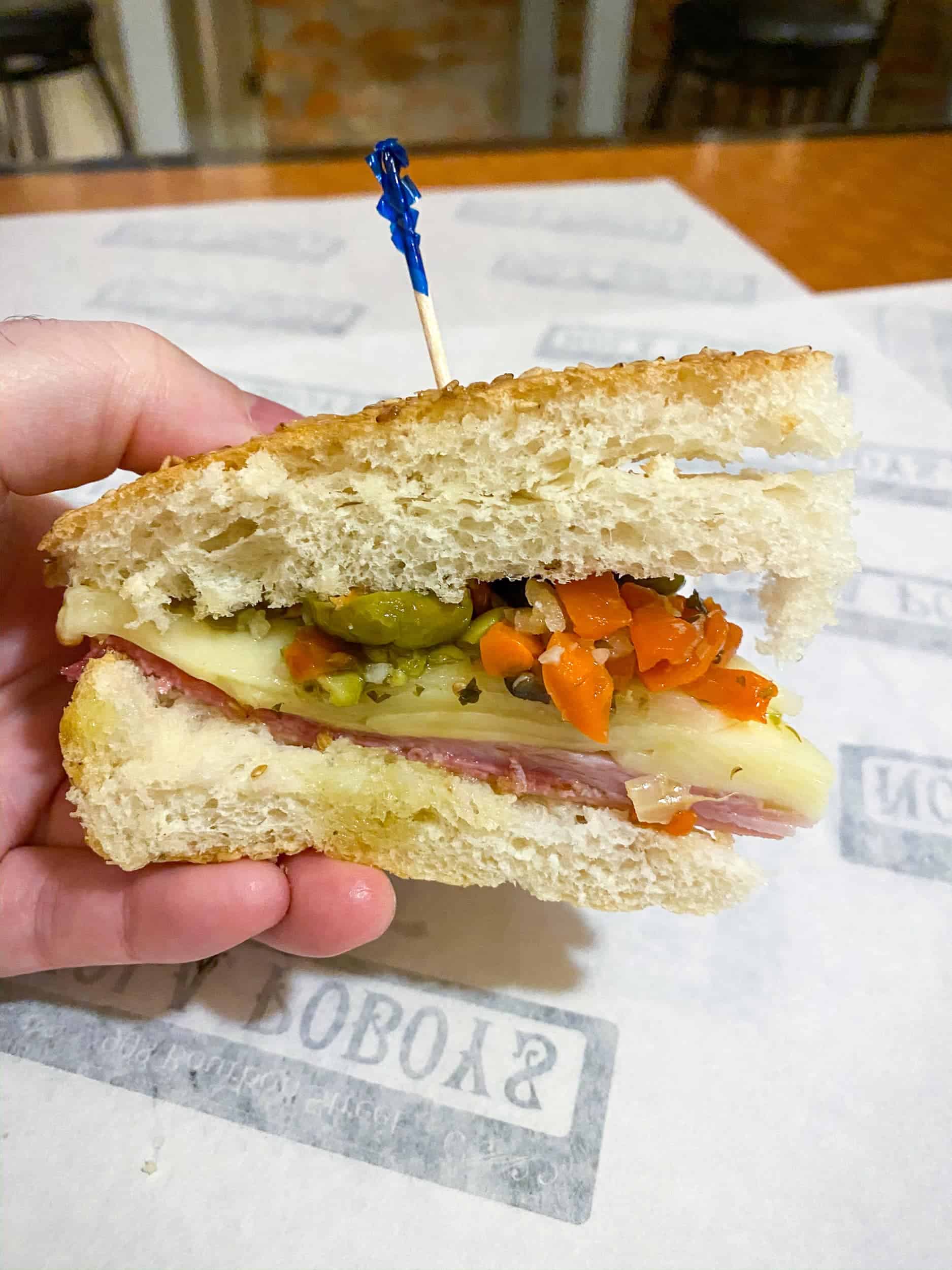 Muffuletta Sandwich
The muffuletta is another famous New Orleans sandwich we were introduced to on the food tour.
The name "muffuletta" refers to both the sandwich and the type of round bread with sesame seeds used to serve it.
In 1906, Salvatore Lupo created the muffuletta, a Sicilian immigrant and owner of Central Grocery Co.
The traditional ingredients include deli meats such as ham and salami, Swiss or provolone cheese, and olive salad.
I'm not too fond of olives, so despite taking a bite of the sandwich to give it a try, it's not something I'd eat again.
See also: Whitney Plantation: An American Slavery Museum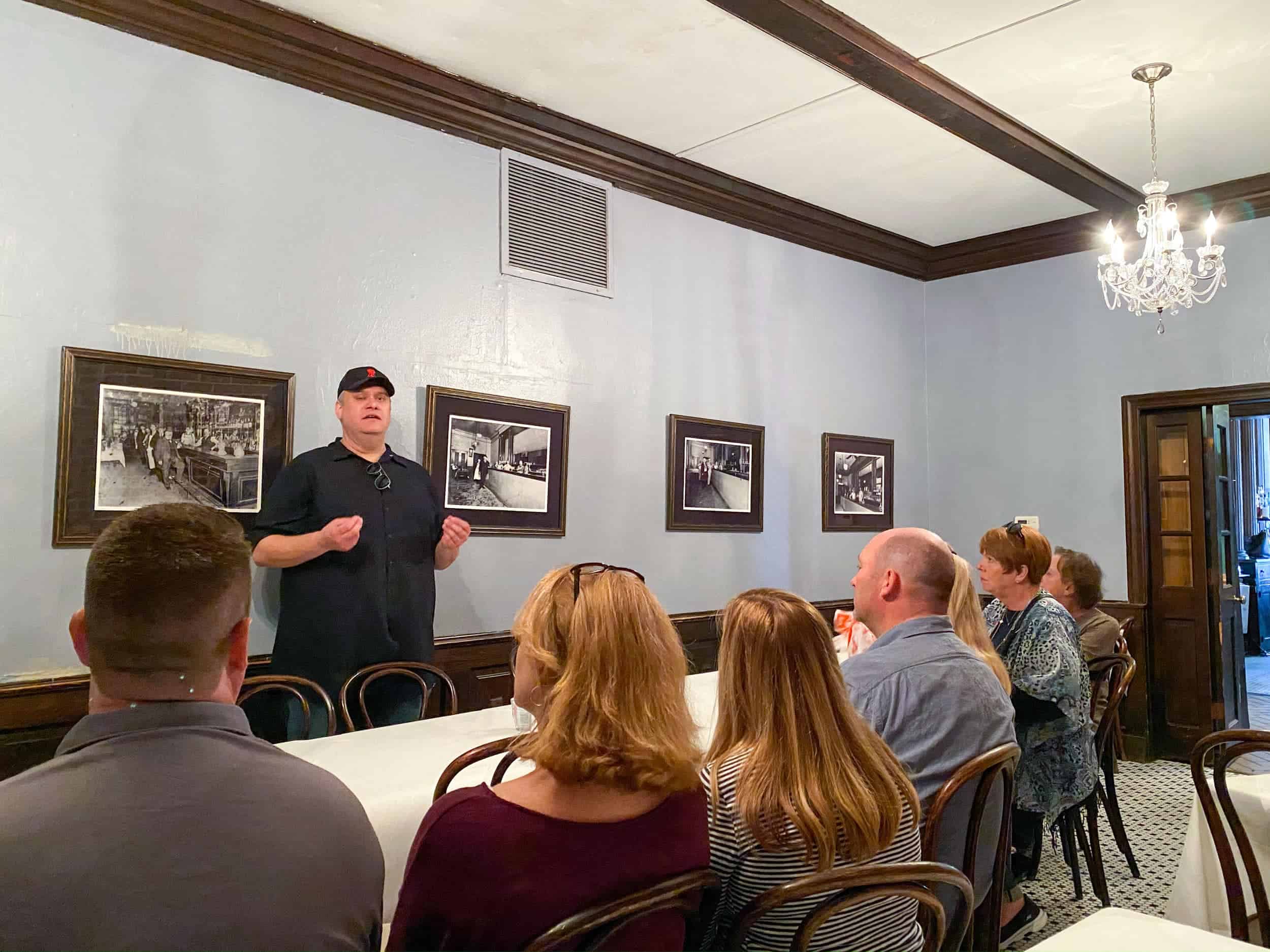 Birthplace of Brunch
After NOLA Poboys, we walked three blocks south to Tujague's Restaurant, which I'd first learned about on the cocktail history tour.
Opened in 1856 on the corner of Jackson Square, Tujague's is New Orleans' second oldest restaurant.
Ben sat us down in a dining room on the ground floor and shared that this was also where brunch was first offered. We were sitting in the room where it happened!
After our brief history lesson, I took a moment to look at the old black and white photos hanging on the walls.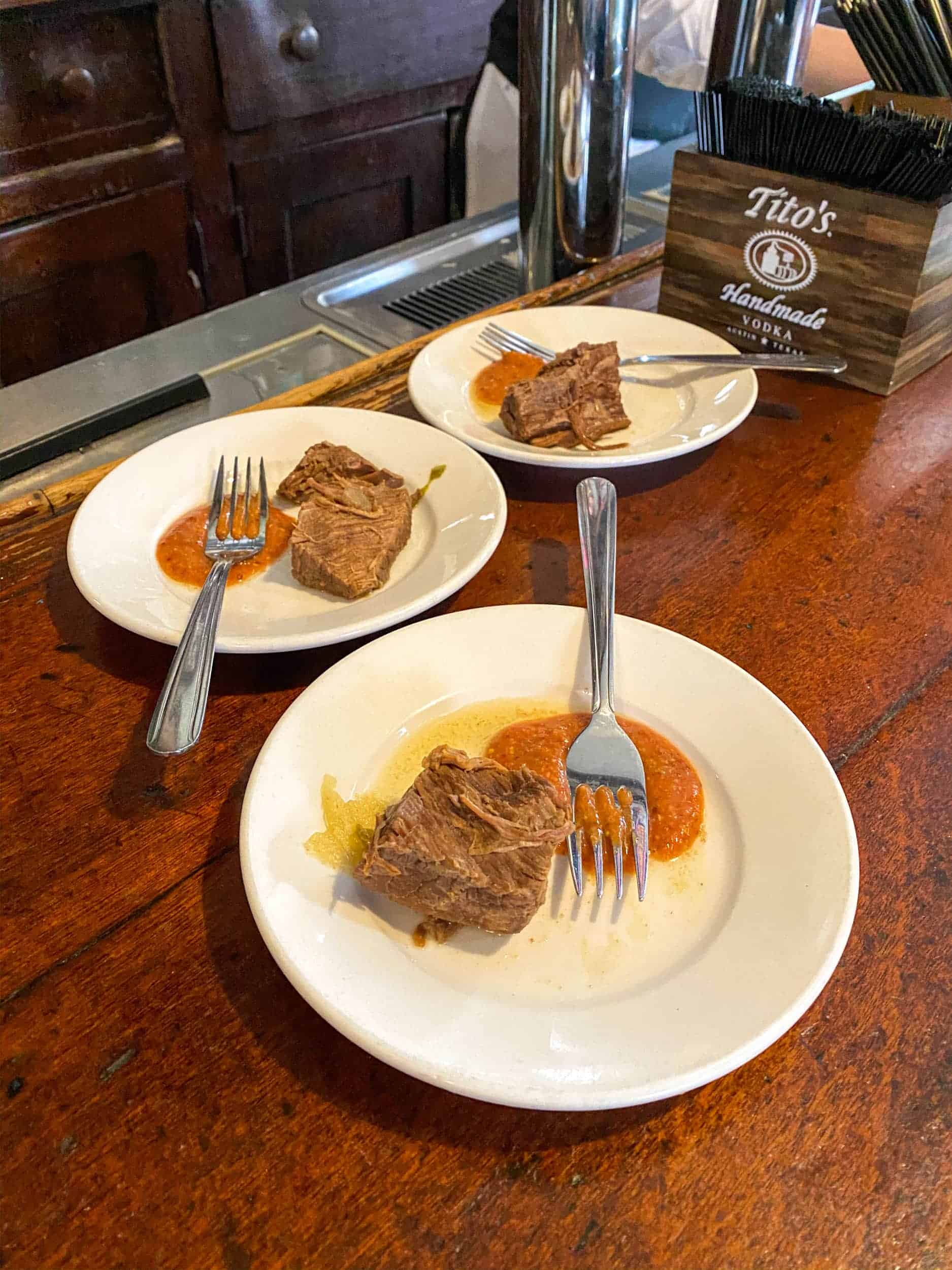 Beef Brisket
At the oldest standing bar in the United States, plates of Tujague's signature boiled beef brisket were being served.
I'm sure boiling brisket made sense in the 19th century, but flavorwise, it's a long way from the fatty barbecued brisket I'm accustomed to in Austin.
As I learned previously, Tujague's bar is also responsible for giving us the sweet, creamy grasshopper cocktail.
See also: 7 Best Jazz Clubs in New Orleans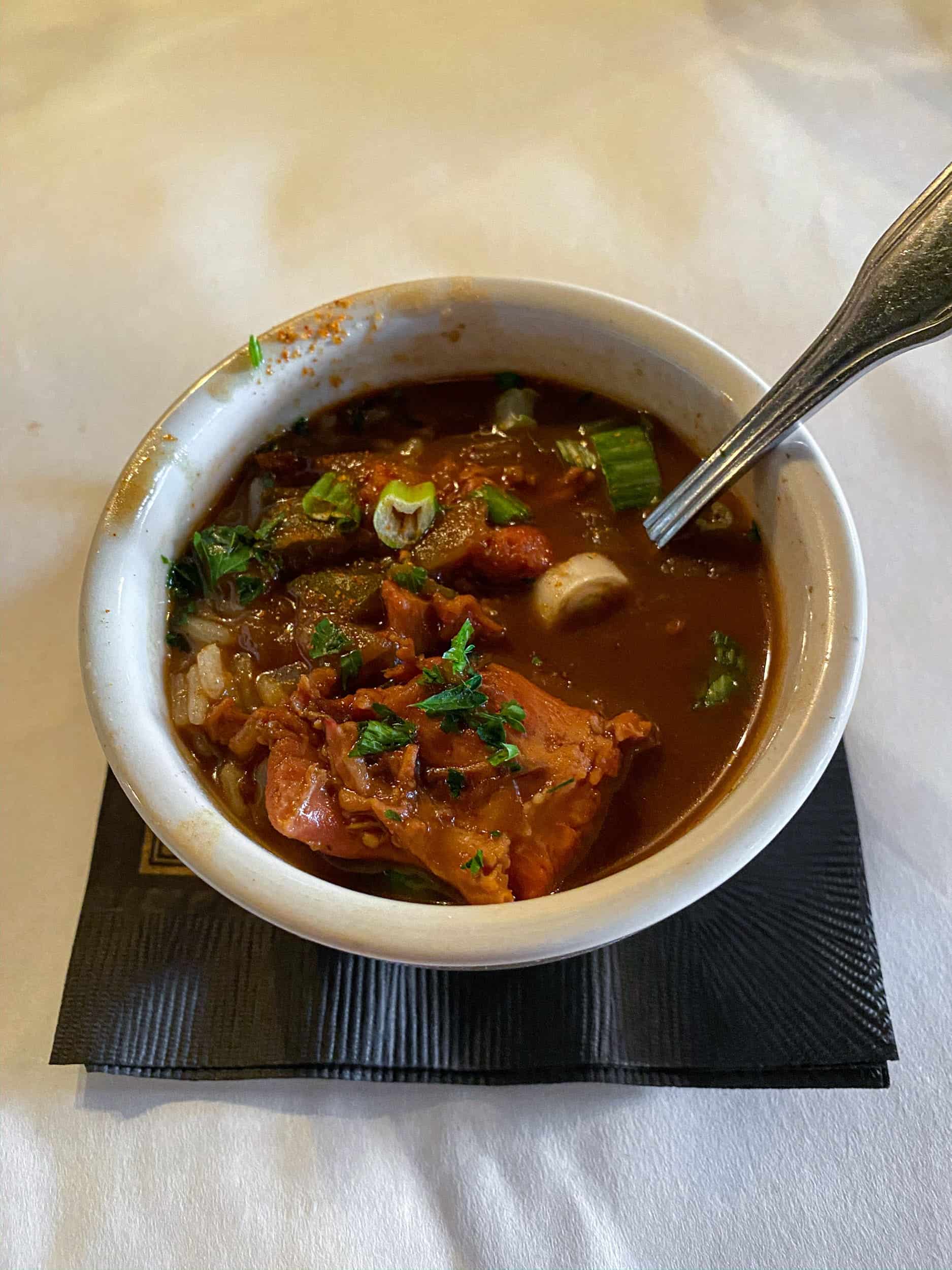 Gumbo
Our three-hour New Orleans food tour concluded with a hearty cup of gumbo at New Orleans Creole Cookery.
Gumbo is a centuries-old stew representing a confluence of cultures and culinary traditions from Africa, Spain, France, and Germany.
Ingredients include meat or shellfish, the Holy Trinity (celery, bell peppers, and onions), a thickener, and flavored stock.
Gumbo is beloved; it's the state cuisine of Louisiana, and you absolutely must try it when visiting the Big Easy.
***
Once again, this tour by Doctor Gumbo was made remarkable by our guide Ben. It was a quick and easy way to get to know some of New Orleans' most famous foods.
The Food History Tour by Doctor Gumbo runs daily from 1-4 pm, seven days a week. The cost is $70 per person.
Where to Stay in New Orleans: The Quisby is centrally located in the Garden District, a 15-minute walk from the French Quarter. Complimentary breakfast, an on-site bar open 24/7, and dorms starting at just $18 are a few reasons to stay here. Check availability
____
My trip to New Orleans was in partnership with New Orleans & Company and The Quisby; this tour was provided compliments of Doctor Gumbo Tours.
Dave is the Founder and Editor in Chief of Go Backpacking and Feastio. He's been to 66 countries and lived in Colombia and Peru. Read the full story of how he became a travel blogger.
Planning a trip? Go Backpacking recommends: