Jazz is as synonymous with New Orleans as Mardi Gras and gumbo. You're in the right place if you're wondering where to find the best jazz clubs in New Orleans.
Since I started going to the Big Easy in 2017, I've filled my nights with live jazz music at some of the city's best bars, clubs, and lounges.
I first began listening to jazz during my college radio days at Colgate University.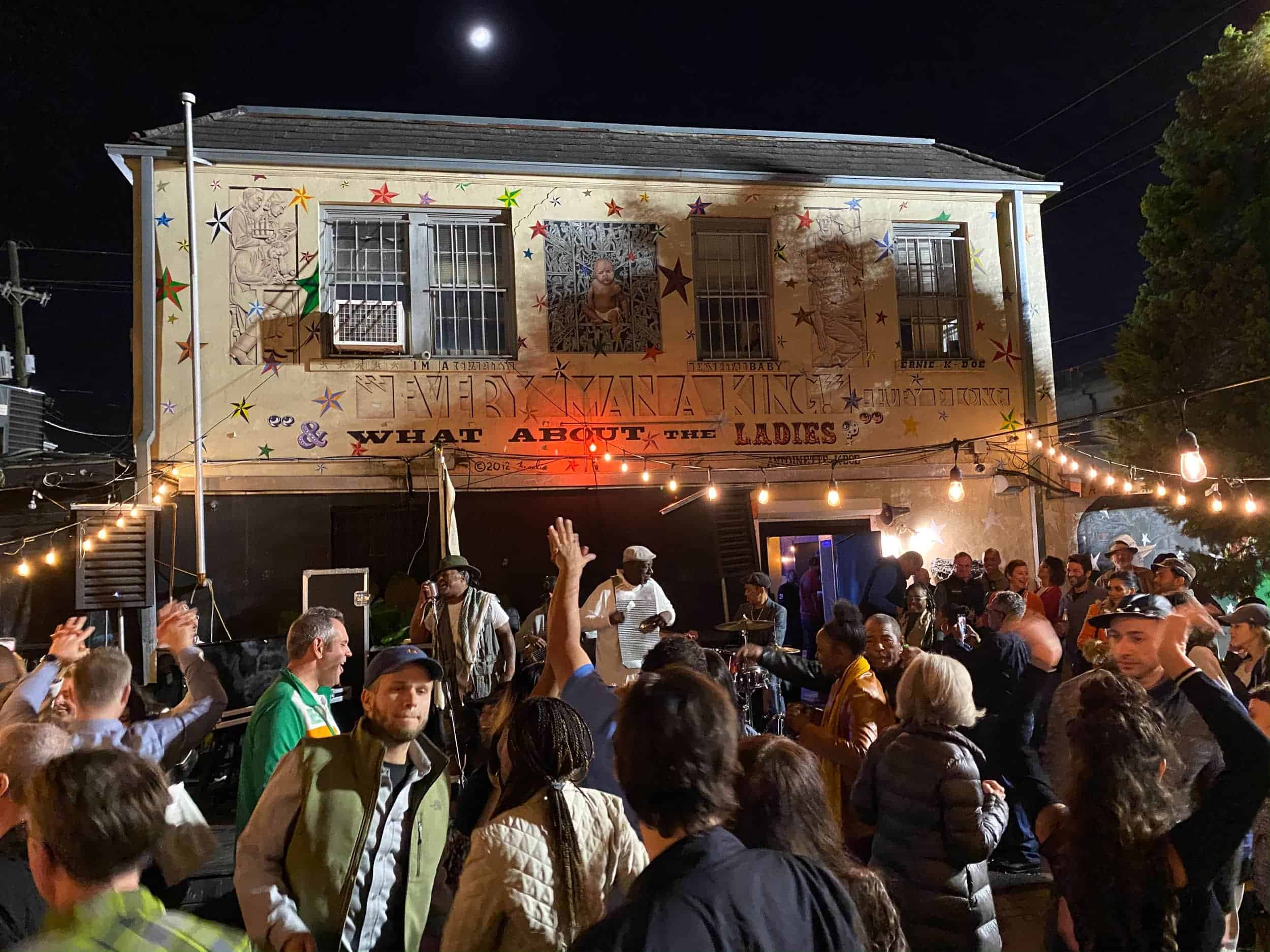 While living in South America during my thirties, I was consumed by Latin music and dance. However, since moving to Austin, Texas, I've gravitated to traditional jazz again.
Austin has a few downtown jazz clubs, which I enjoy, but they can't hold a candle to the vibe and sense of his history one feels going to jazz clubs in New Orleans.
Top New Orleans Jazz Tours
– Frenchmen Street Live Music Pub Crawl
– Live Jazz Music Discovery Tour
– Jazz Cruise on Steamboat Natchez
The following list of the best places is based on my personal experience. These are all tried and true spots to enjoy this uniquely American musical genre any night of the week.
Where To Find Live Jazz
1. Kermit's Treme Mother-in-Law Lounge
Before visiting New Orleans for the third time, I watched the HBO series Treme. The show is named after the neighborhood north of the French Quarter, where jazz music was born in the late 19th and early 20th centuries.
Several lead characters are musicians; viewers are treated to terrific music. Many local musicians appeared on the show as themselves, including Kermit Ruffins, a trumpeter/singer.
When I learned that he opened Kermit's Treme Mother-in-Law Lounge in 2014, I checked it out.
I went on a Monday night and found an empty bar, but only because the party was in the backyard. Instead of paying a cover to walk into the bar, you pay it when you walk out the back door.
I arrived a little before 9 p.m., and the music was in full swing at one of the best jazz clubs in New Orleans. I only caught Kermit's last song or two, which had everyone dancing.
After leaving the stage, guest musicians, including another guy I recognized from the Treme show, took over.
Kermit performs on Mondays and Thursdays, starting at 7 p.m. The cover is $20.
1500 N Claiborne Ave, kermitslounge.com
Travel Tip: Explore New Orleans with Go City and save money. Buy a 1, 2, 3, or 5-day all-inclusive pass to enjoy tours and museums, including the New Orleans Jazz Museum, at a discounted rate.
2. Preservation Hall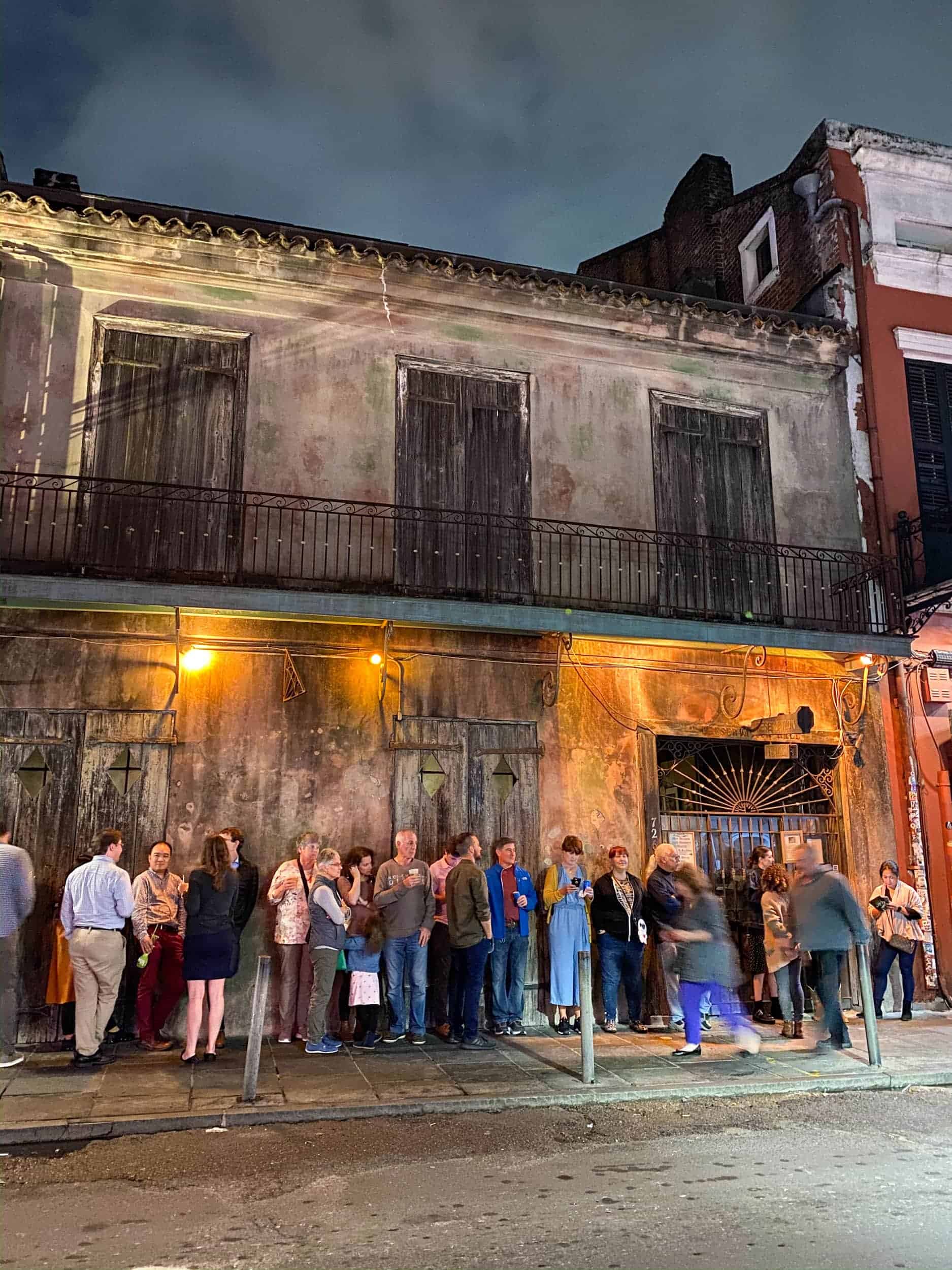 I learned about Preservation Hall from some locals while enjoying a drink at Jewel of the South, a bar in the French Quarter.
Dating back to the 1950s, Preservation Hall has to be the most unassuming jazz club in the world.
Every night, a line of hopefuls forms outside this venerable institution for the chance to spend an hour listening to the house band, The Preservation All Stars, perform traditional New Orleans jazz.
The Preservation Hall jazz band performs five sets per night: 5 p.m., 6 p.m., 8 p.m., 9 p.m., and 10 p.m.
Admission is $20 at the door (cash only), or you can pay $40-$50 in advance to make a reservation through their website.
Having a reservation means not waiting in line and sitting closer to the band.
The room's seating is rustic. We're talking wooden benches and the option to sit on some cushions in the very front. No photography and no alcohol. All-ages.
Preservation Hall offers a rare opportunity to enjoy an intimate performance in a historical setting. For that reason, it's my personal favorite. Don't miss it!
726 St Peter (between Bourbon and Royal Streets), preservationhall.com
3. The Spotted Cat Music Club
On my first trip to New Orleans with family in 2017, my brother and I walked to Frenchmen's Street after dinner in the French Quarter.
Frenchmen Street is lined with great music clubs. We stepped inside The Spotted Cat Music Club around 9 p.m. A few minutes later, Washboard Chaz took the stage to perform for a packed house.
His is just one of the many live bands The Cat, a smaller venue, regularly features on its tiny stage. When I returned to New Orleans for the third time, I re-visited The Cat and caught a terrific jazz band.
Tip the musicians if they're not charging a cover at the door. Preferably, tip them regardless.
623 Frenchmen St, spottedcatmusicclub.com
4. d.b.a.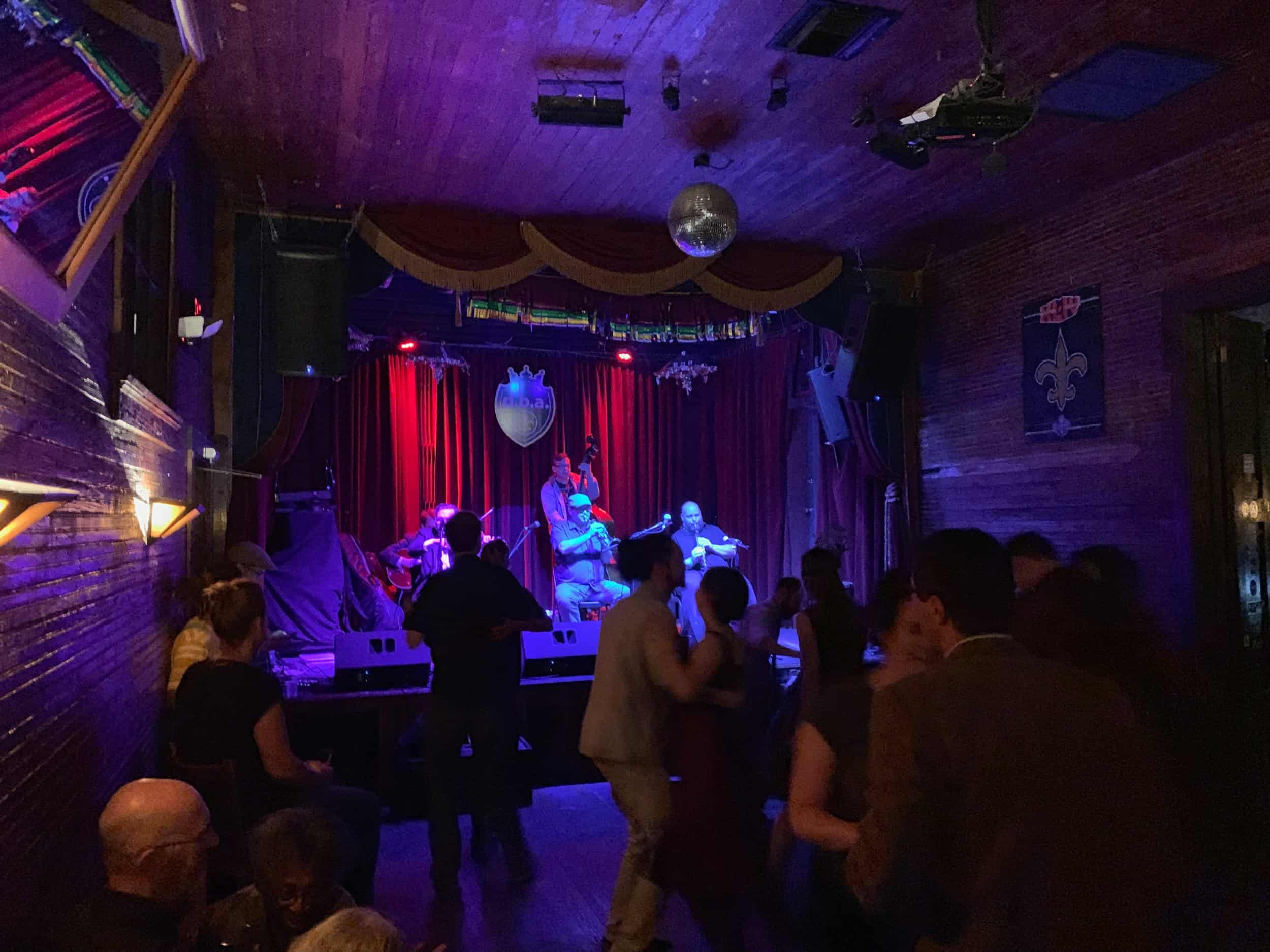 Across the street from The Spotted Cat is d.b.a., which opened its doors in the spring of 2000, though the building dates back to the 1880s.
Here, you'll find a steady stream of local and touring acts performing for a lively mix of residents and tourists.
When I dropped in during my second trip to New Orleans, swing dancers were whipping up a storm in front of the stage. I had a ball sitting back and drinking a beer while taking in the whole scene.
618 Frenchmen St, dbaneworleans.com
5. Blue Nile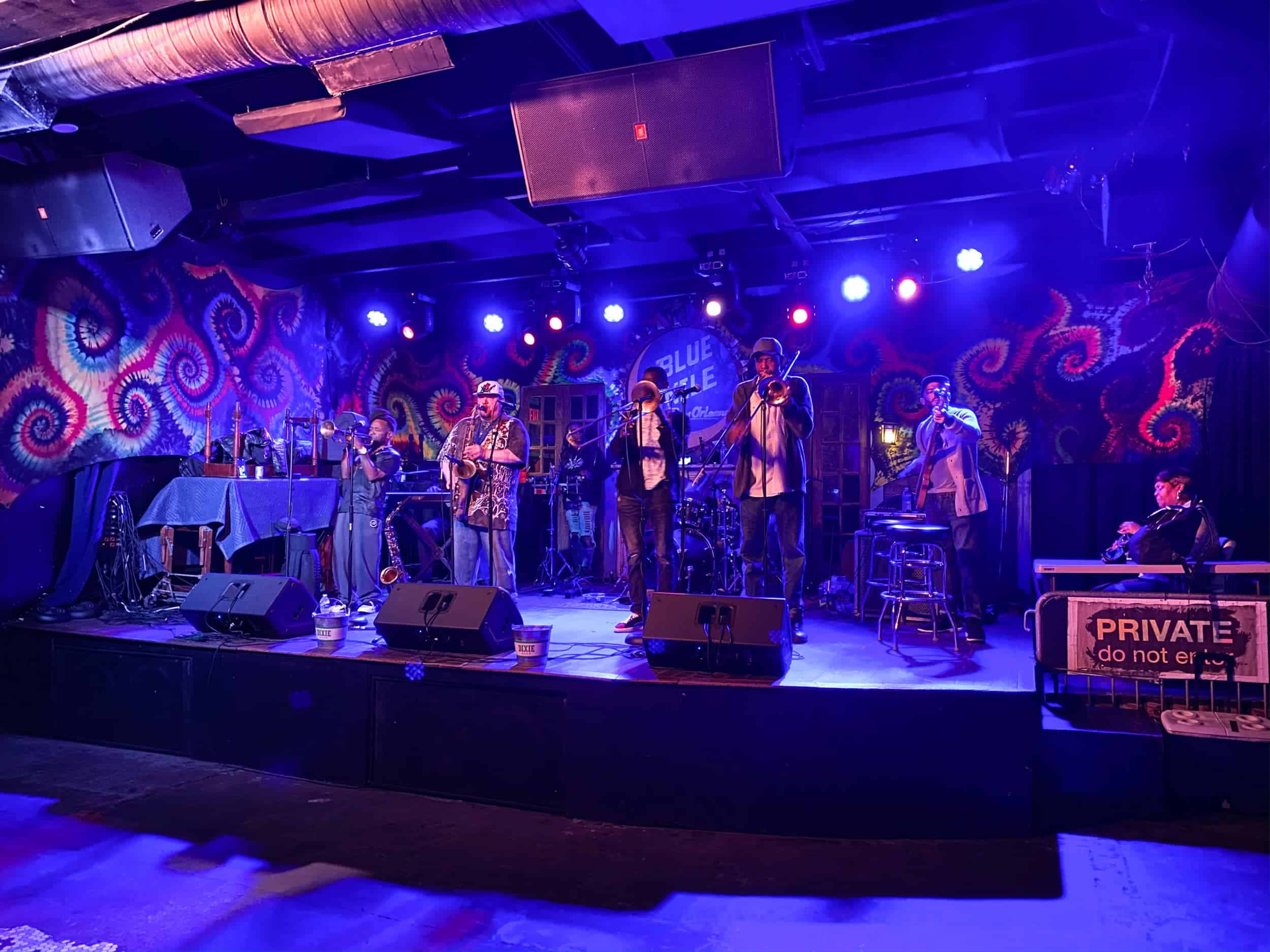 The Blue Nile is another excellent jazz club in New Orleans; it's also one of the longest-running on Frenchmen Street.
I walked into the Blue Nile on two of my first three trips to New Orleans, and both occasions were free, indicating the band was playing for tips. If you stick around for a few songs, show some love, and drop a dollar or two in the tip jar.
While other clubs like The Spotted Cat are smaller and fill up quickly, Blue Nile has a large stage and spacious dance floor.
532 Frenchmen St, bluenilelive.com
6. Fritzel's European Jazz Pub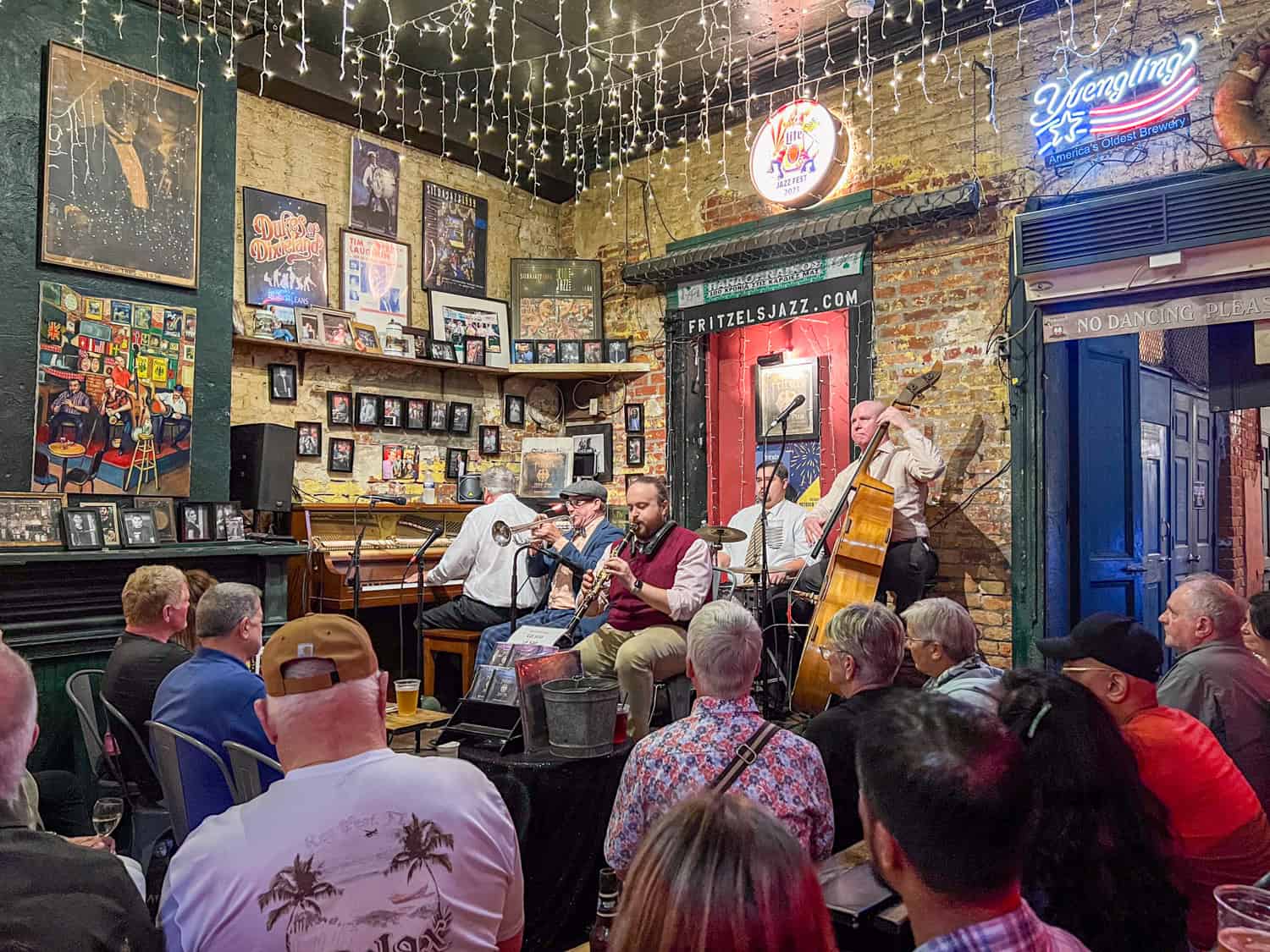 Established in 1969, Fritzel's European Jazz Pub brims with the charm of old-world Europe, offering a unique twist to the New Orleans jazz scene.
The club's intimate atmosphere transports patrons to a bygone era, with its weathered brick walls and cozy ambiance, making it a standout among the city's many live music spots. The French Quarter building dates back to 1831.
If you can get a seat, you'll be treated to traditional New Orleans Jazz from a neverending roster of talented performers. At Fritzel's, you've got a convenient place to pop in and catch great jazz from 8 p.m. 'till whenever 365 days a year.
There's a one-drink minimum, or you can pay your server a $10 cover charge instead of a drink. Frizel's doesn't serve food.
733 Bourbon St, fritzelsjazz.com
7. Mahogany Jazz Hall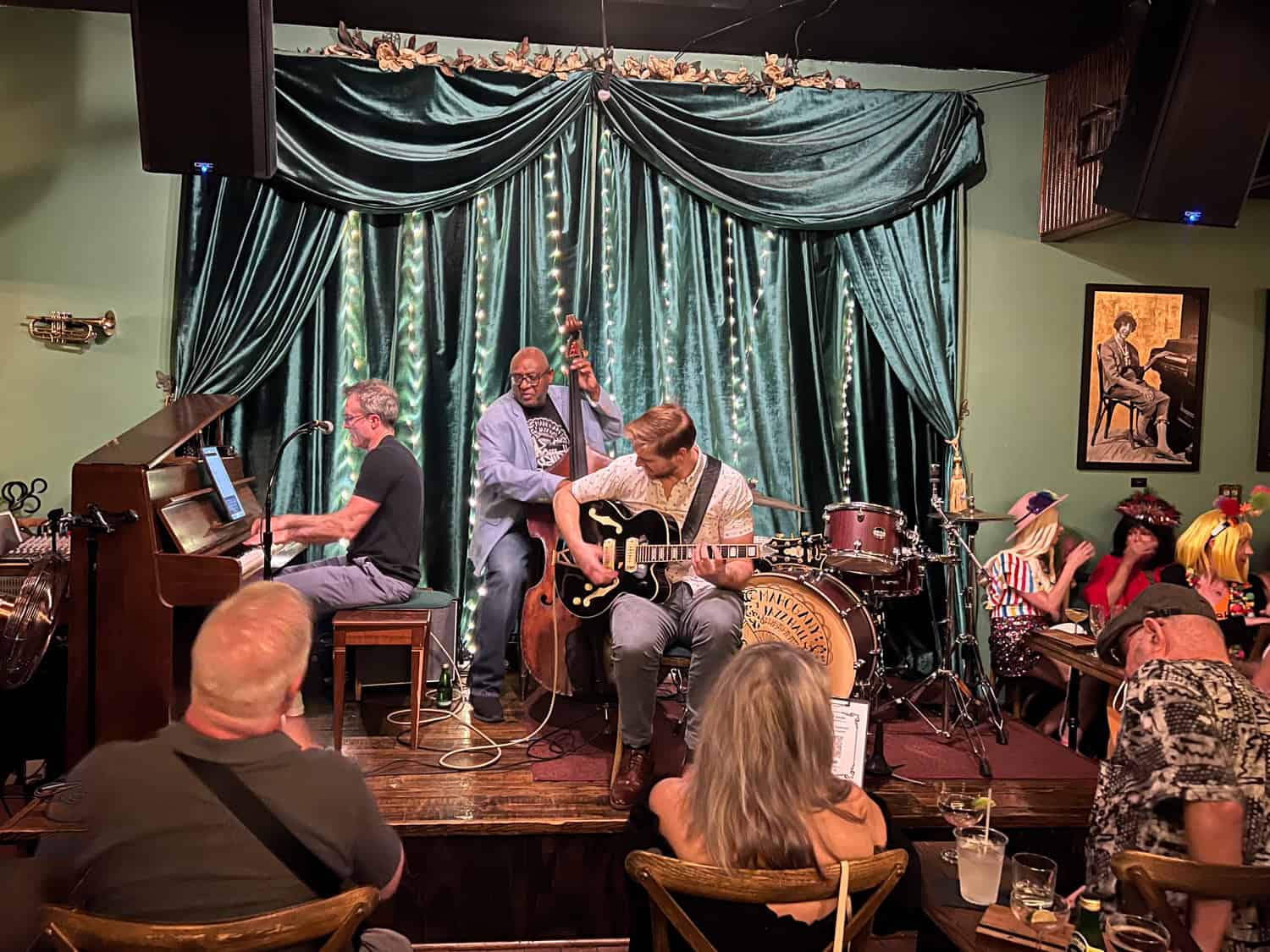 The Mahogany Jazz Hall stands as a homage to the deep-rooted jazz traditions of the Big Easy. This music venue, with its exposed brick and warm wooden accents, exudes a rustic charm that beckons jazz lovers into its soul-soothing embrace.
Here, every night celebrates music's power to unite and inspire. The venue's lineup features an array of talented musicians who breathe new life into classic jazz standards, as well as infusing contemporary zest into their performances.
The hall's intimate setting allows for an up-close and personal experience with the artists, fostering a connection that resonates long after the last note has been played.
There's a one-drink minimum to enjoy live jazz here, and it can be non-alcoholic. I got a virgin mule with pineapple when I dropped by on a Friday night.
125 Chartres St, mjhnola.com
8. The Davenport Lounge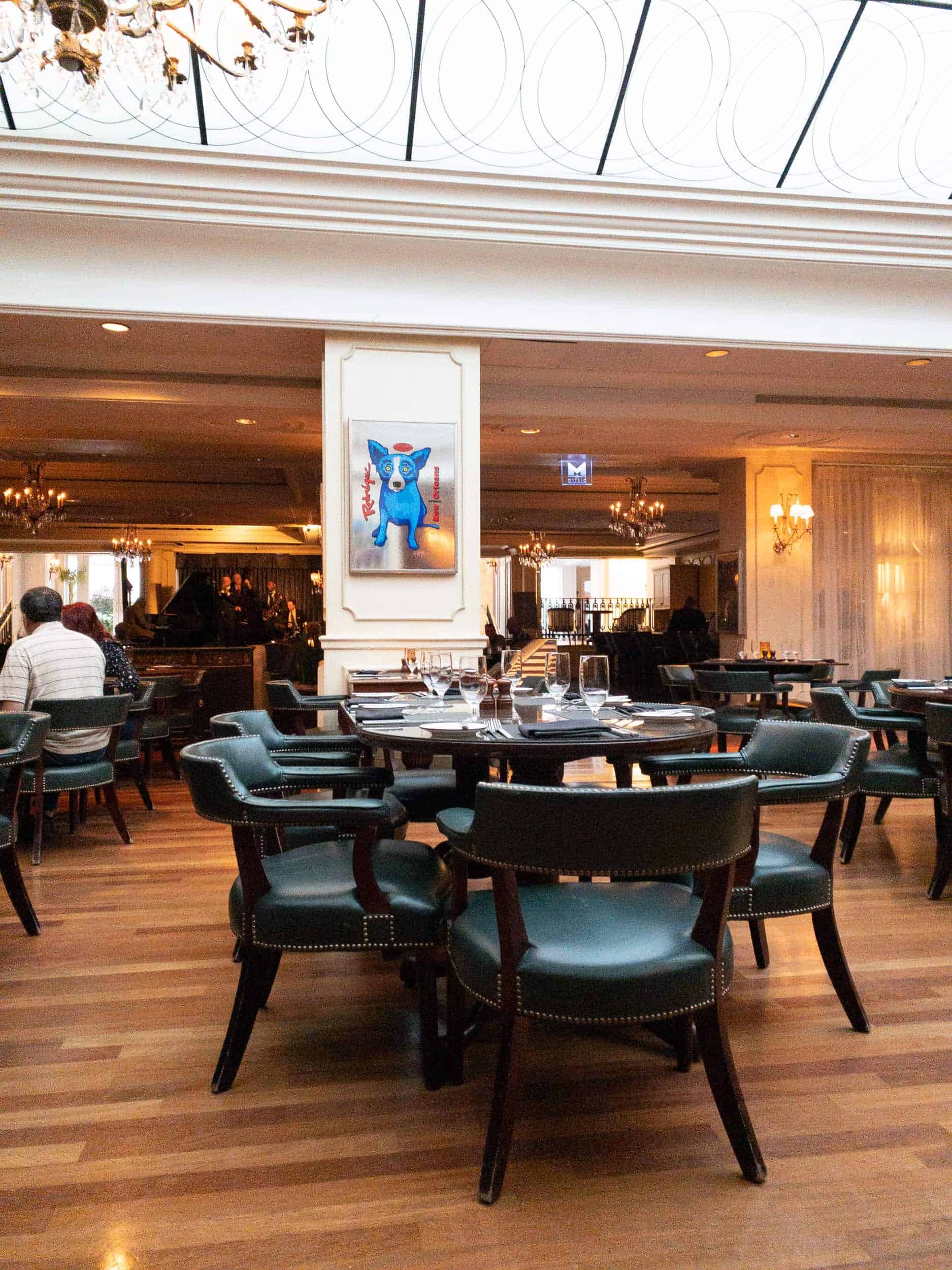 If you're feeling fancy or want to escape to a more comfortable jazz club in New Orleans, consider The Davenport Lounge.
Located in The Ritz-Carlton Hotel on Canal Street, the lounge is named after Jeremy Davenport, an American jazz trumpeter from Missouri (now based in New Orleans).
Given I run a site called "Go Backpacking," it should come as no surprise I don't often hang out in luxury hotels.
I was even a little nervous walking inside. However, those feelings disappeared as I took the elevator to the jazz lounge and saw a laid-back atmosphere.
I had dinner in M Bistro, adjacent to the lounge, which allows you to continue enjoying the jazz shows as you eat.
The Davenport Lounge offers light snacks and craft cocktails during the jazz shows, from 5:30 p.m. to 9:30 p.m. on Wednesdays and Thursdays and from 9 p.m. to 1 a.m. Fridays and Saturdays.
This is the only jazz club on my list where I'd suggest you dress nicely, either smart casual or business casual. I wore a collared shirt, jeans, and stylish sneakers.
The Ritz Carlton, 921 Canal St, ritzcarlton.com
Related: New Orleans Cocktail Tour
9. 21st Amendment Bar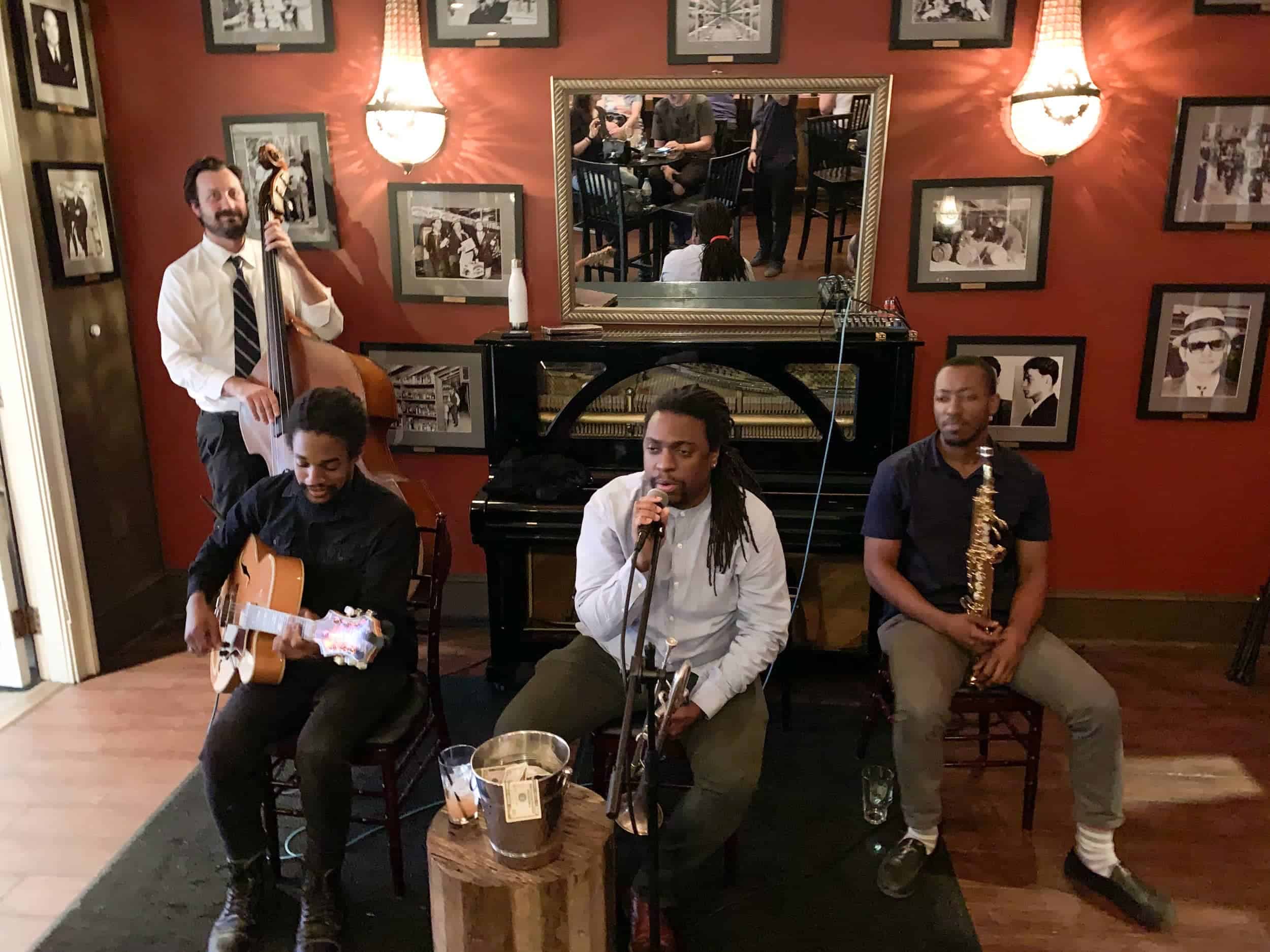 My love for speakeasies led me to check out the Prohibition-era 21st Amendment Bar, a half-block off Bourbon Street in the heart of the French Quarter.
The bar takes its name from the 21st Amendment to the U.S. Constitution, which repealed the 18th Amendment, creating Prohibition (the ban on alcohol production and sales) in 1920.
The space was originally a hotel and restaurant called La Louisiane when it was established in 1933, the same year Prohibition ended.
According to the website, "from the 1950s to 1980s, La Louisiane was owned by New Orleans' most notorious mobsters, Diamond Jim Moran, and Carlos Marcello." Today, black and white images of mobsters adorn the walls.
The 21st Amendment Bar features live music seven days a week and craft cocktails starting at $12.
725 Iberville St, 21stamendmentlalouisiane.com
Conclusion
Well, music lovers, I hope you've enjoyed my list of the best jazz clubs in New Orleans. In the birthplace of jazz, there's never a shortage of live music venues to experience.
There are many more places I'd like to check out in the Crescent City, including Snug Harbor Jazz Bistro on Frenchmen Street and The Jazz Playhouse at the Royal Sonesta Hotel. This list will be updated as I discover new spots to share.
_____
This story is based on multiple trips to New Orleans, including visits with New Orleans & Company, The Quisby, and HI New Orleans.
Dave is the Founder and Editor in Chief of Go Backpacking and Feastio. He's been to 66 countries and lived in Colombia and Peru. Read the full story of how he became a travel blogger.
Planning a trip? Go Backpacking recommends: