Twenty years ago this past July, I arrived in Florence by train with three of my best friends from college.
We were 21-year-old fresh-faced backpackers, a somewhat clueless but innocent group of American guys bumbling across the European continent.
In Florence, about ten days into our two-month backpacking trip, it became clear we had different priorities on the road.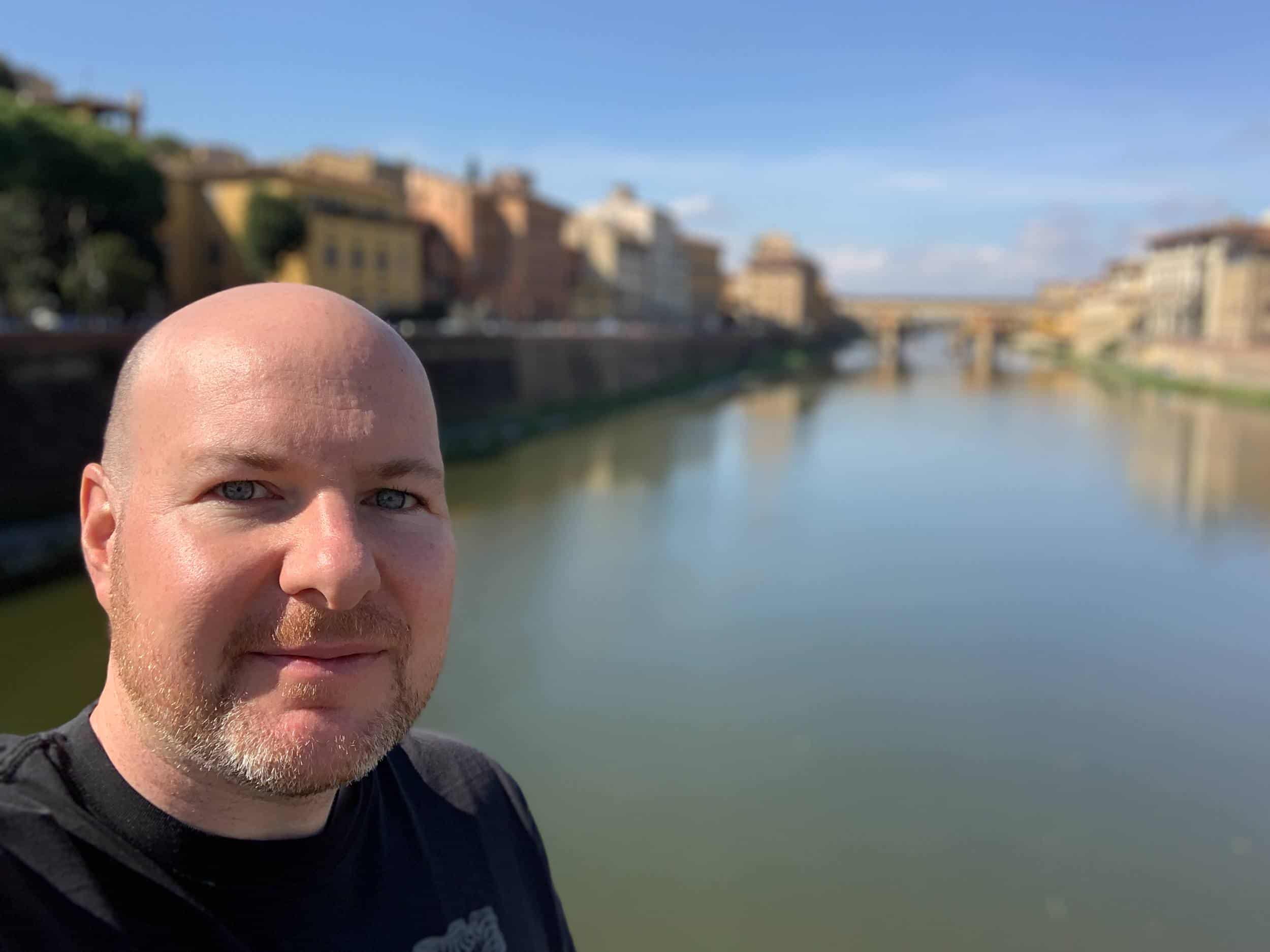 I loved Venice. A few didn't think much of it, leading us to head for Lake Como earlier than I would've liked.
I wanted to explore every church and museum in Florence, the birthplace of the Italian Renaissance.
Two of my friends were content to spend an afternoon reading and sleeping in our hotel room while I used the time to visit the Palazzo Medici and Santa Maria Novella church.
Despite our high points being on the ground in Paris the night the French beat Brazil to win the World Cup on their home turf and partying in Amsterdam and Prague, our travel group was coming unglued.
A few guys missed their girlfriends at home, and another had money issues. And so it was in Florence these concerns were aired, and decisions were made.
My three friends altered course to fly home early while I remained in Florence before going to Rome, Nice, England, and Ireland.
Continuing the trip was a no-brainer for me, even if it meant going it alone.
And it was in the decision to go it alone that I experienced a newfound sense of independence and self-reliance.
After all, it was their idea to spend the summer after college graduation backpacking in Europe, not mine. I was the friend who didn't want to miss out.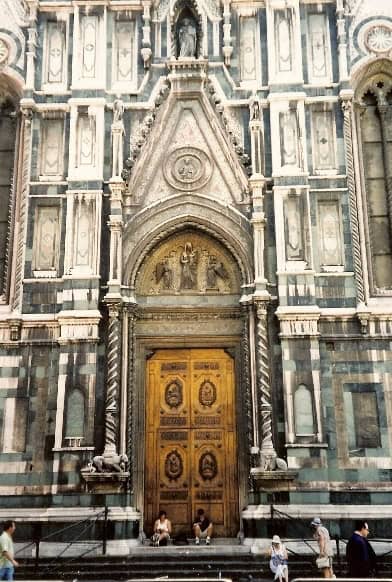 Fast forward five years, and I set a more glorious goal to save for a trip around the world.
Five years later, I'd met my savings goal, resigned from a customer service management job, and was busy living my dream.
Two decades after that decision to stay in Europe on my own, I've now traveled to nearly 70 countries (almost all solo) and turned my passion for travel into a career as a travel blogger.
This month marks the 11th anniversary since I quit my last job to pursue my passion for travel.
When I joined the Adventure Travel Trade Association earlier this year and applied to attend the 2018 Adventure Travel World Summit in Tuscany, I saw it not only as an opportunity to learn more about the organization, its members (who are primarily tour operators), and Tuscany but also as a chance to revisit Florence.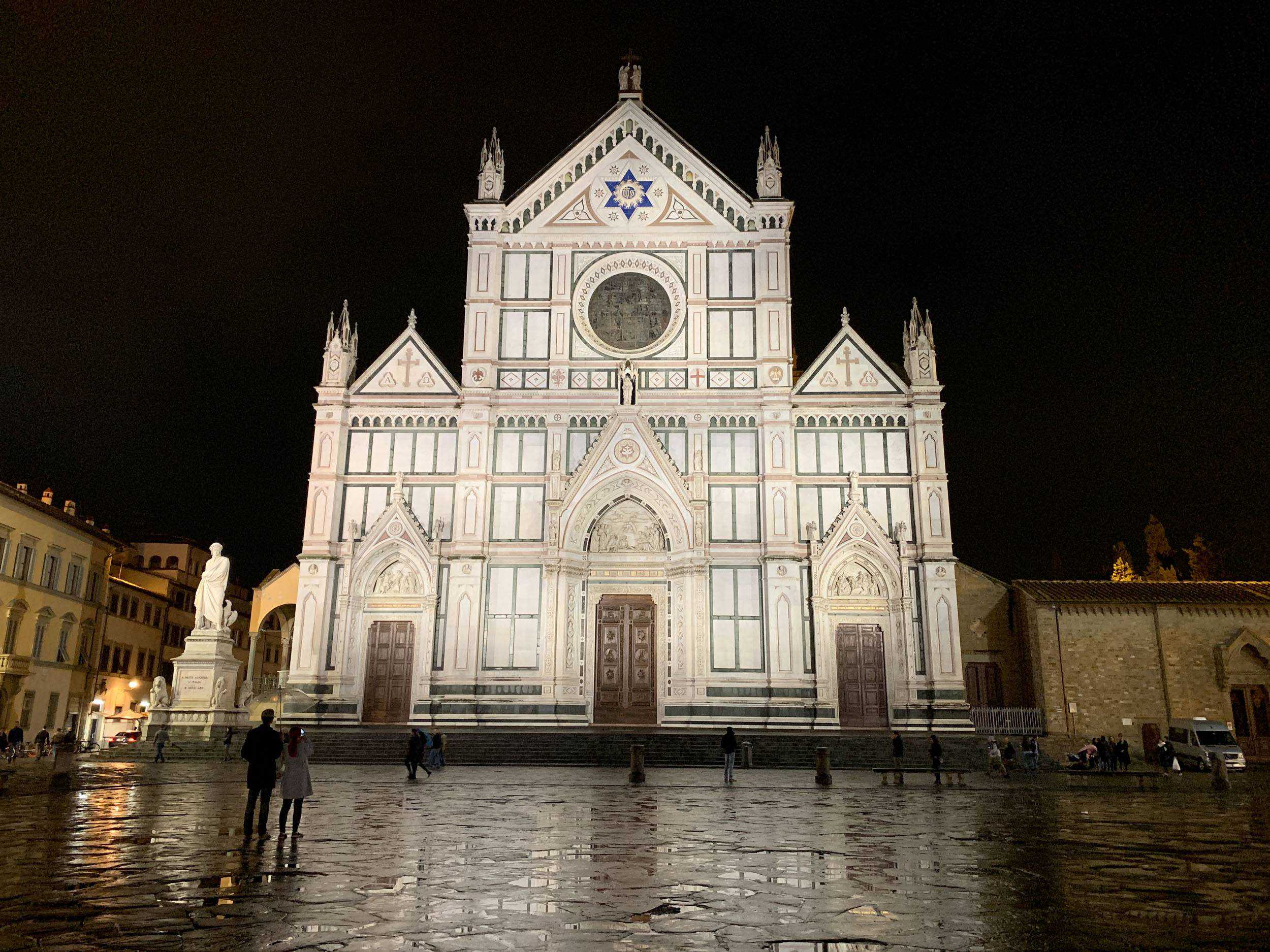 Florence 2018
Arrival and Accommodations
Stepping off the high-speed train from Milan, I arrived in Florence in a chilly rain.
The queue for a taxi looked to be at least a hundred people long, and I didn't have the patience to figure out the buses.
Google Maps suggested it was a 20 to 30-minute walk to my hostel. I took off, hoping to flag a taxi once I got away from the train station, only there were practically no taxis in the streets.
Still tired from jetlag, now wet and increasingly grumpy, I took shelter in a random restaurant in an alley.
Once seated, the tables offered a direct view of the Palazzo Vecchio a block away.
I toured the palace in '98, though I remember it more for its iconic exterior than interior.
I ordered overpriced lasagna, drank a hot cappuccino, and carried on the last little bit to my hostel.
Checking into my dorm room at Riverbank's Hostel, a room with four single beds and a queen-size bed with barely enough room to walk between them, I had flashbacks to when I was younger and didn't mind the random company of strangers.
At 42, I'm technically still welcome in most hostels but am less willing to sacrifice privacy and a peaceful night's sleep to save money. Though, I'm still game for giving it a try.
That didn't last long. In addition to three young guys already in my room, I was informed two women were sharing the large bed, making for six people in what was supposed to be a five-person dorm.
Between having trouble falling asleep due to jetlag and then once falling asleep being woken up by two young women being loud in another room, and later a guy in my room leaving at 4 am for an early flight, I gave up.
I took a loss for the dorm and booked a small room near Sani Tourist House for my last two nights.
Over the next few days, I revisited some of Florence's most beautiful landmarks while quietly reflecting on my decision to stay in Europe 20 years ago and how that experience has impacted my life ever since.
I enjoyed a few things I couldn't afford as a backpacker, including a refreshing cocktail at Locale Firenze bar and dinners at La Leggenda dei Frati and the new Gucci Osteria.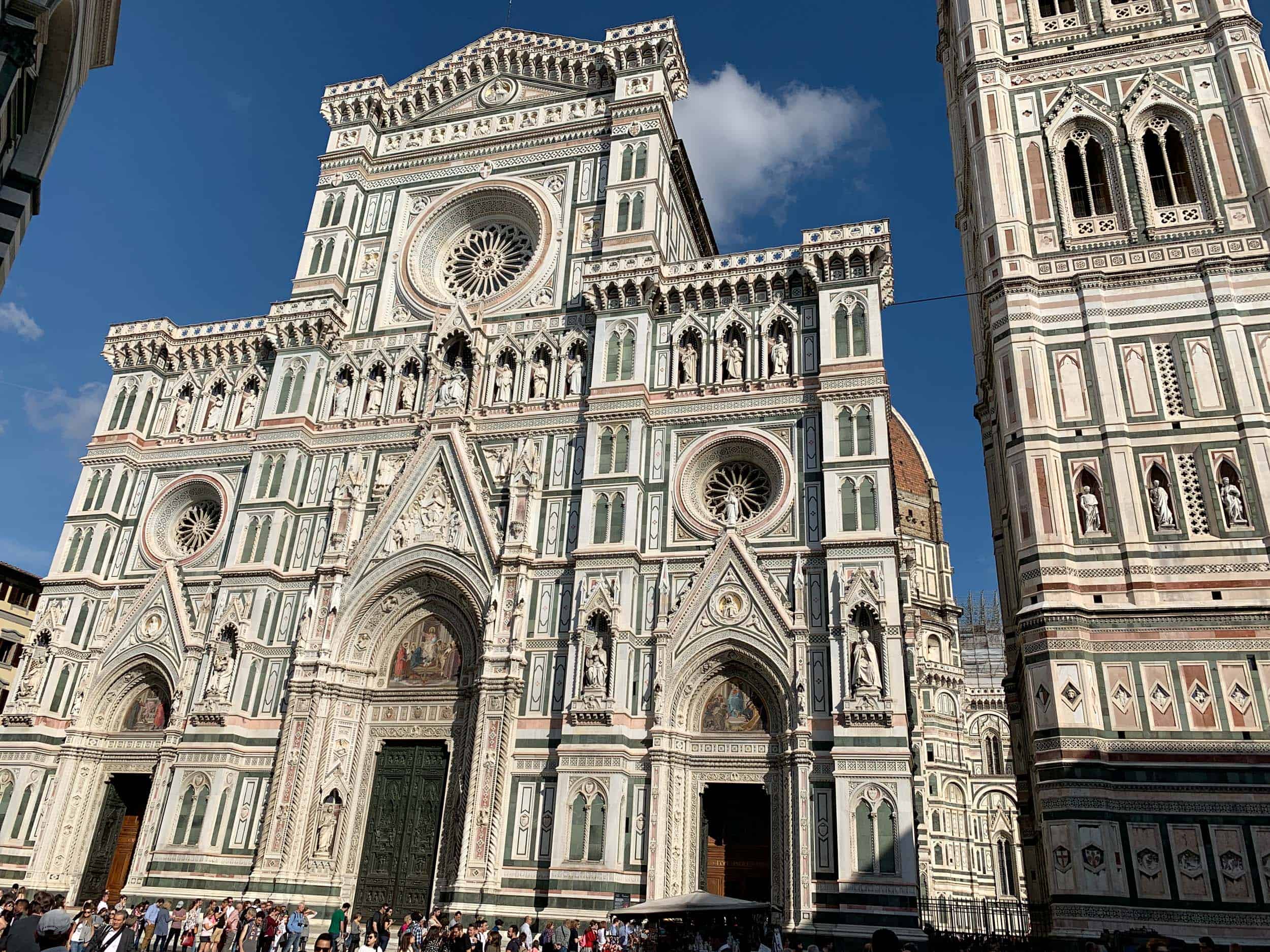 Santa Maria del Fiore (Duomo)
Florence's 13th-century cathedral, Cattedrale di Santa Maria del Fiore, is a testament to the craftsmanship of the Italian Renaissance.
In the humble opinion of this former art history student, the exterior composed of white, pink, and green marble makes it the most beautiful church facade in the world.
It's also the fourth-largest cathedral in the world. Milan's cathedral, which I visited a few days earlier, is number three.
Travel Tip: Buy your Milan Duomo ticket in advance to avoid spending time in line once you get there.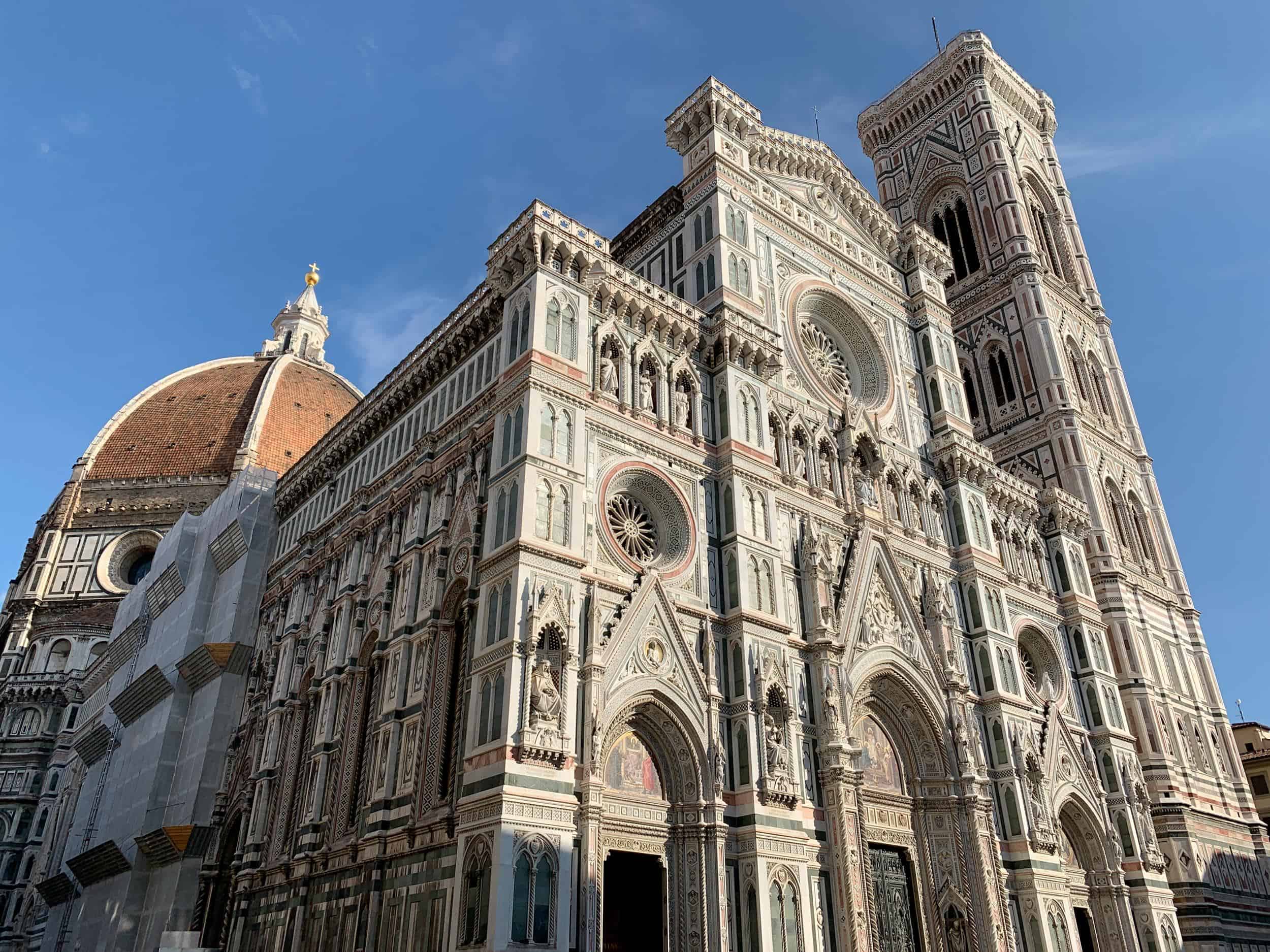 I was as enamored with its aesthetics in 2018 as when I first saw it in 1998.
Back then, I went inside (which is still free to do today) and climbed the curved stairs around Brunelleschi's dome to the cupola up top. Today, access to the dome requires a timed ticket.
The 278-foot high Campanile (clock tower) by Giotto and 11th-century Baptistry add grandeur to the cathedral complex.
Tourism-wise, it felt like there were more people around the cathedral in October 2018 than at the peak of summer, July 1998.
Once you get away from the historic center of Florence, a UNESCO World Heritage Site, the crowds are not so overwhelming.
Travel Tip: Get Your Guide offers a popular one-hour dome climb, including an English guide and priority entrance.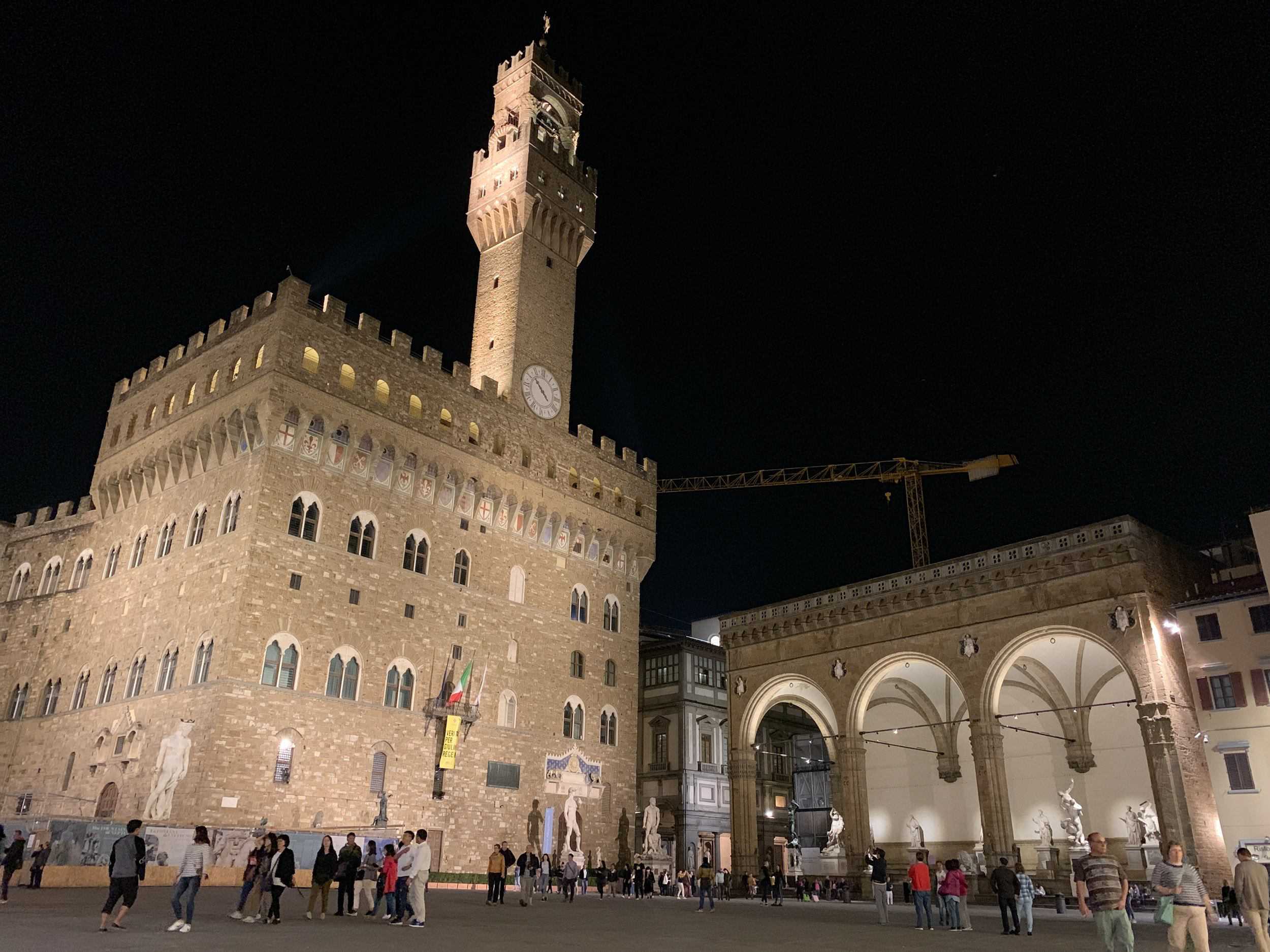 Palazzo Vecchio and Piazza della Signoria
In addition to visiting Florence in shoulder seasons, like spring and fall, walking around at night is another good way to see the historical landmarks without the crush of tour groups.
I was reminded of this while walking back to my room after dinner on my second night.
The Palazzo Vecchio ("old palace") was the former town hall for the city of Florence. It overlooks the Piazza Della Signoria, which features a copy of Michelangelo's famous David statue.
The basis for the sculpture is the biblical hero David, which is the same inspiration for my first name.
Since 1873, the original sculpture by Michelangelo has been housed in the Accademia Gallery.
I paid to see it my first time in Florence and therefore was happy to revisit the replica.
Travel Tips: Plan ahead with a skip-the-line ticket for the Palazzo Vecchio and a timed entrance ticket to see the original David.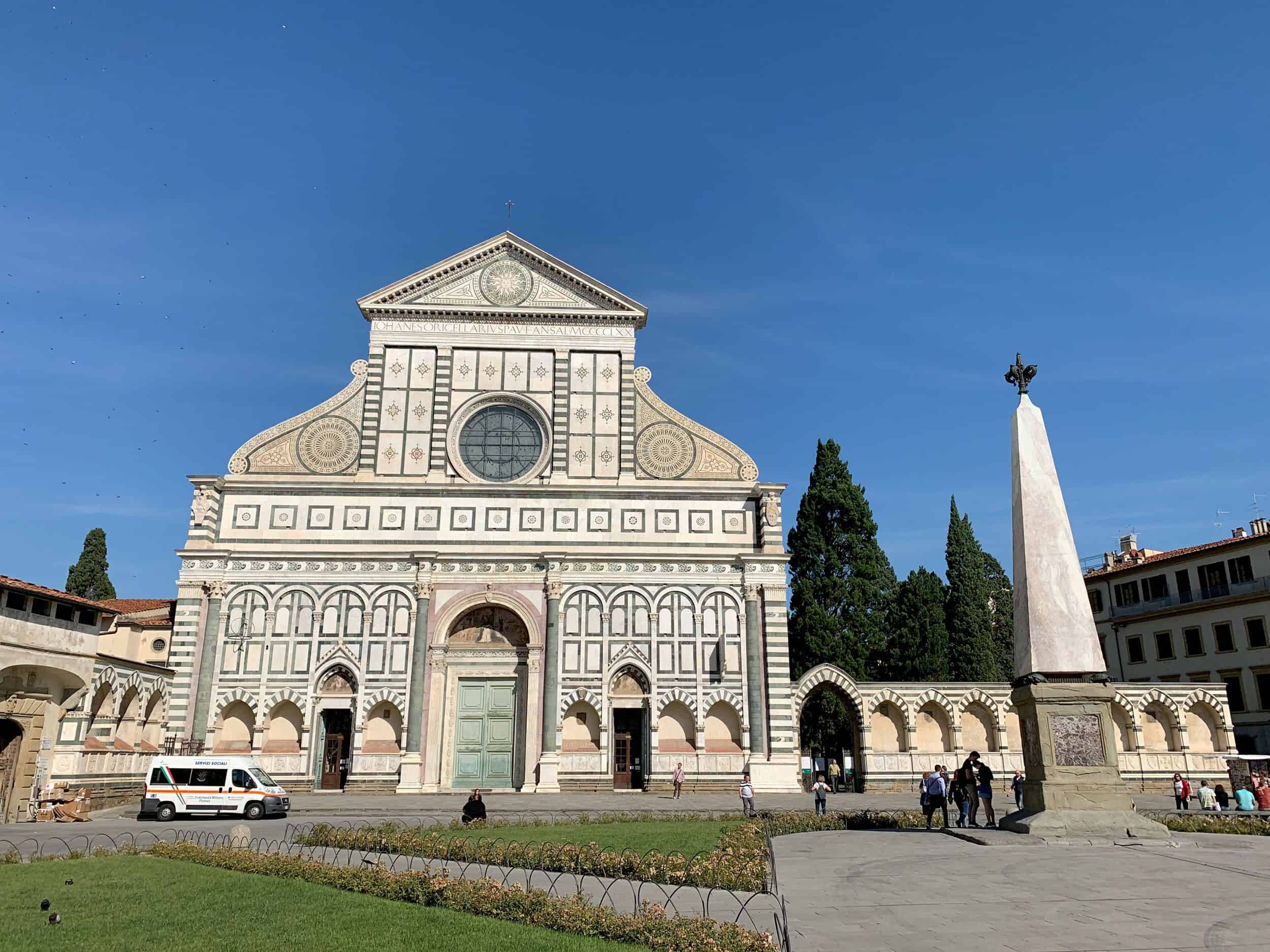 Santa Maria Novella
Far more diminutive in size and scale than the Duomo, 15th-century Santa Maria Novella always stuck with me as another gorgeous church facade in Italy.
Most travelers arriving or departing by train will pass by Santa Maria Novella, given its proximity to the station.
I clearly remember walking through the church's plaza 20 years earlier with my friends when we first arrived in the city.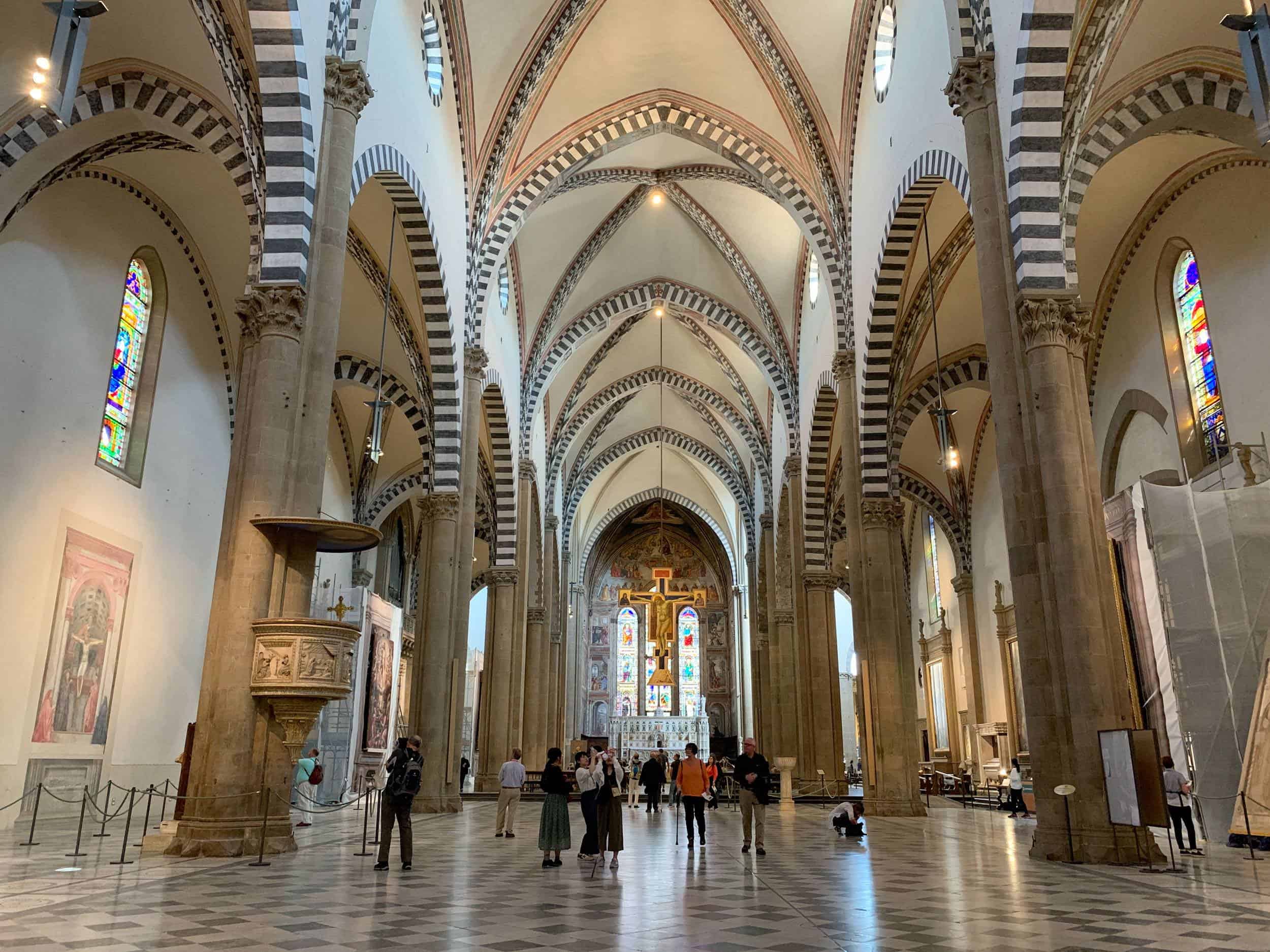 If you go to see the Duomo first, then the simple interior of Santa Maria Novella will seem plain by comparison.
However, some incredible works of art make the $6 (€5) price of admission worthwhile.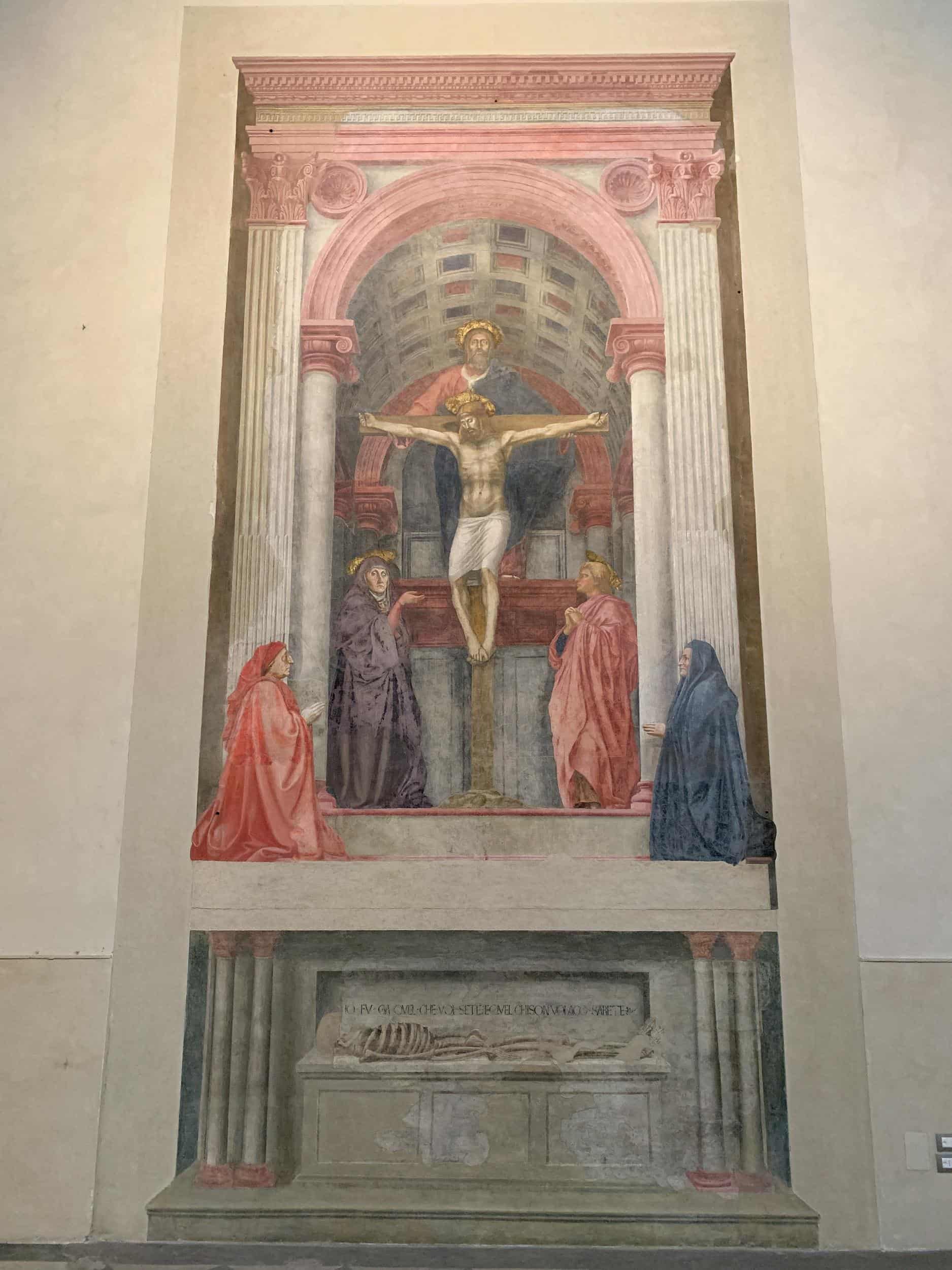 One of my favorite works from the Italian Renaissance is Masaccio's Holy Trinity, historically significant for his skill in creating perspective.
Aside from the Duomo, I was most excited to see this fresco again.
At the bottom, the inscription above the skeleton, a representation of Adam, states, "I was once what you are, and what I am you will become."
An ancient reminder for us to live every day to the fullest as we all share a common fate in death.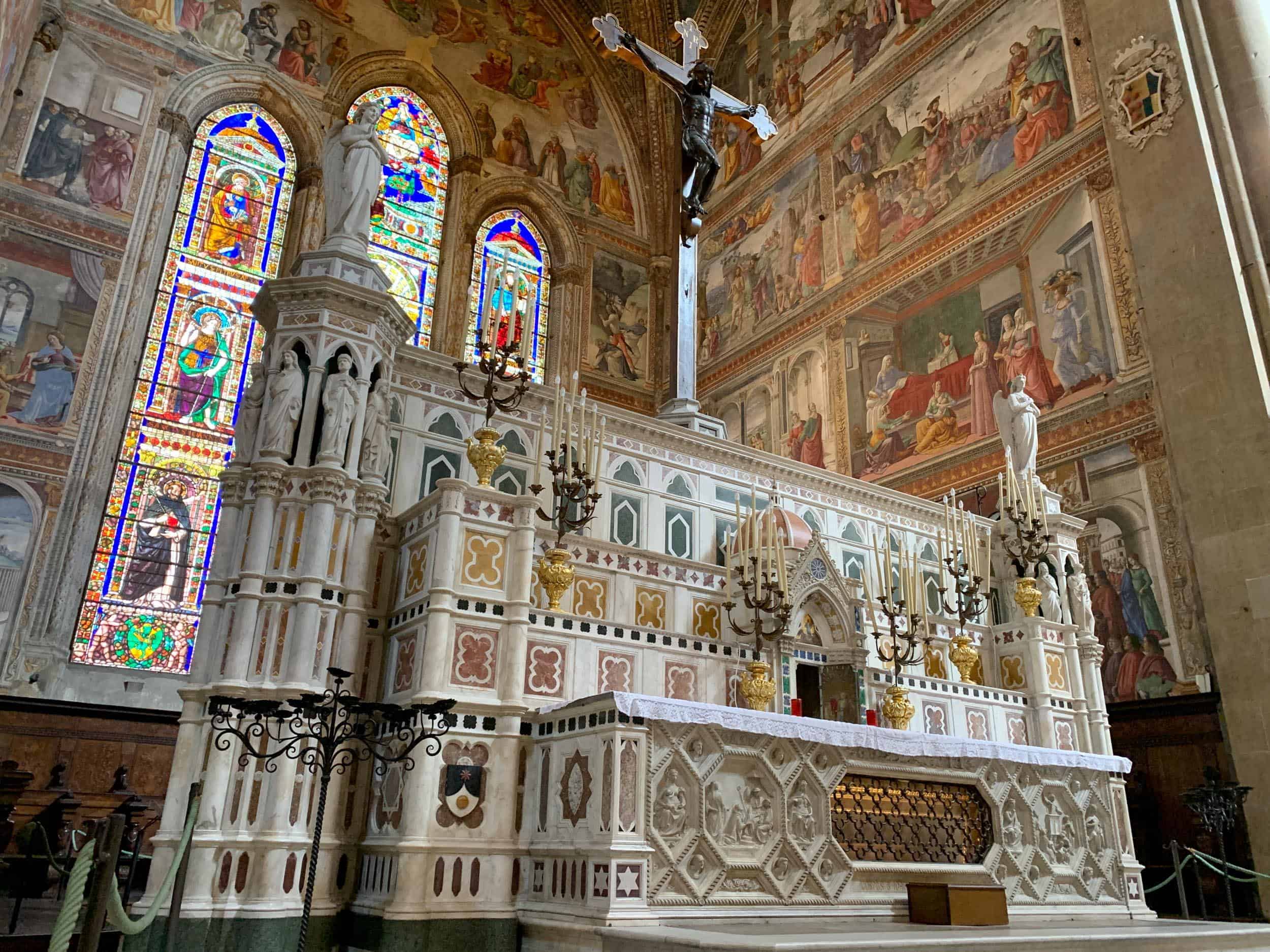 And then there's the beautiful pulpit, designed by Filippo Brunelleschi (the same guy who designed the Florence Cathedral's expansive dome).
Travel Tip: Go beyond the church's interior and stroll through the outdoor crypt and covered arcades of the adjacent cloister.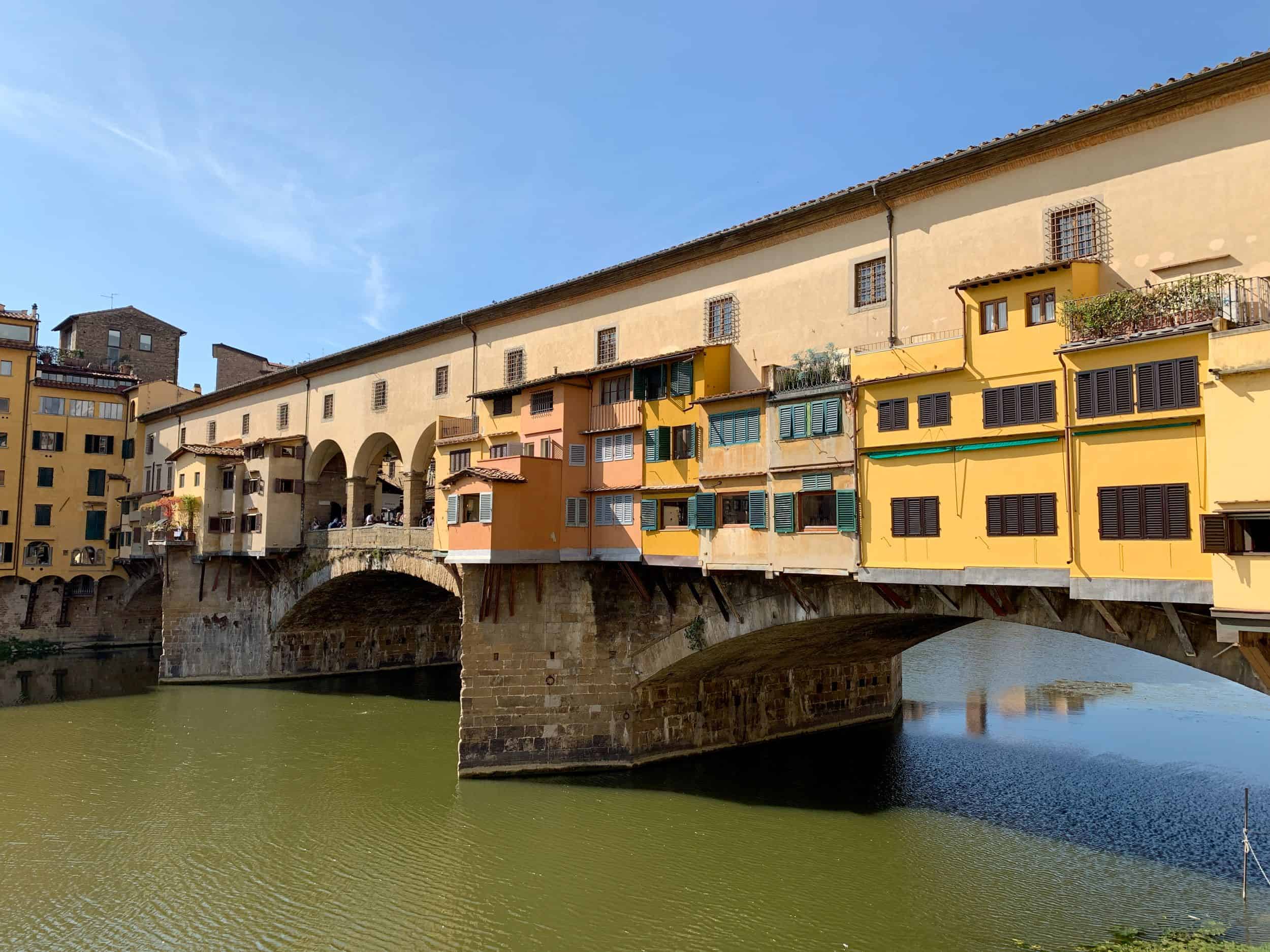 Ponte Vecchio
The 105-foot-long Ponte Vecchio ("old bridge") spans the Arno River at its narrowest point.
A bridge has been here in one form or another for over 1,000 years, though floods and wars have caused damage to various versions through the centuries.
The bridge is so interesting because it's lined with shops, something more common in the past.
Originally lined with butchers, today, you'll find souvenirs and jewelry shops instead.
Travel Tip: The bridge is narrow, so it can be hard to enjoy walking across it during the day. Go at night to avoid the crowds. Musicians often perform on the bridge. When I walked across it one night, tourists danced in the street.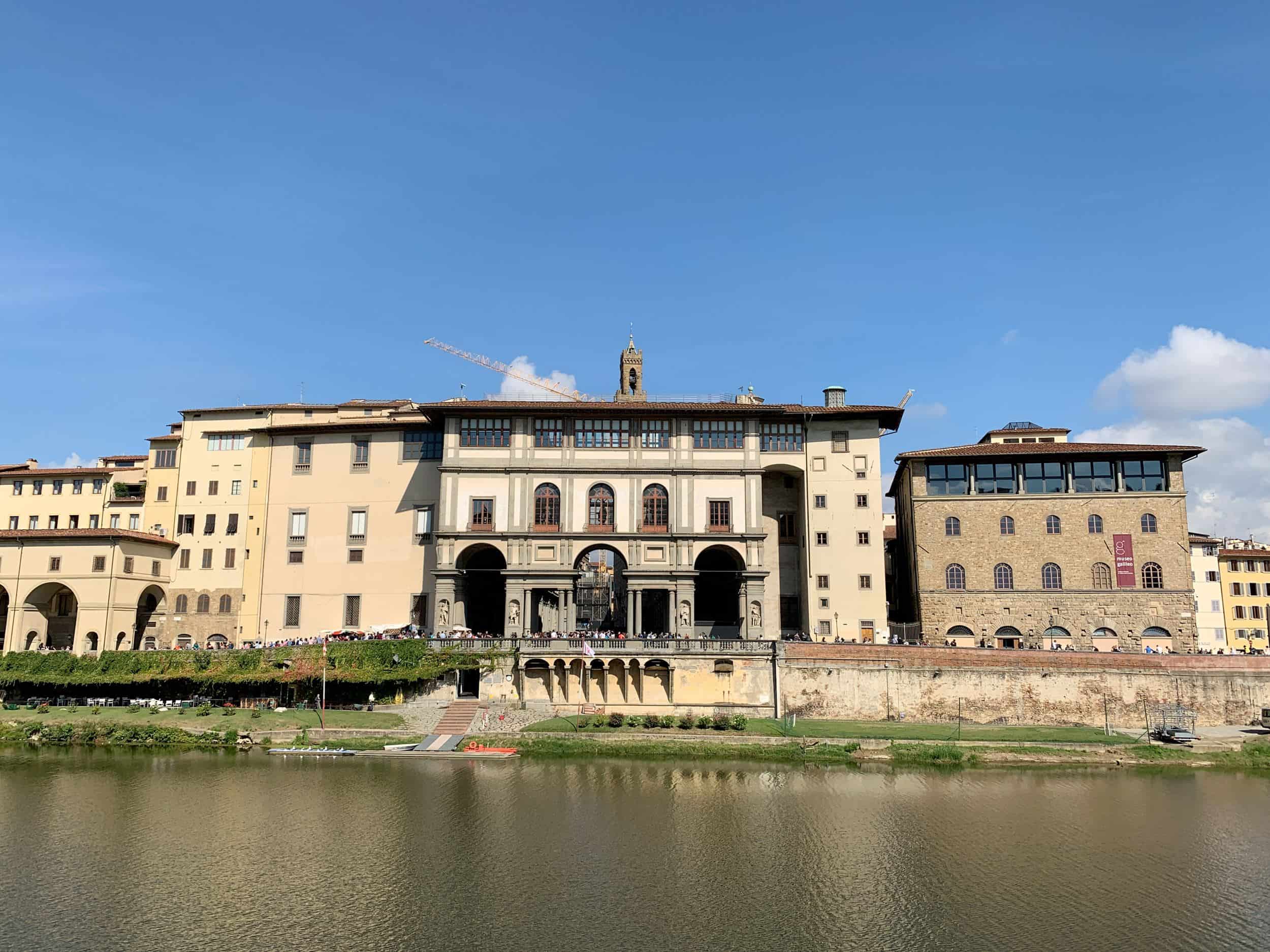 Uffizi Gallery
A stone's throw east of the Ponte Vecchio is the Uffizi Gallery, one of the world's largest and most important museums. The Uffizi Gallery is to Italy as the Louvre Museum is to France.
In 2016, two million people visited to see priceless works of art from the Italian Renaissance, including Botticelli's famous Birth of Venus.
The museum was initially created when the Medici family, who long ruled over Florence, began to die out. Initial art was donated to the city from their private collections.
Travel Tip: Avoid long lines, which can last for hours, with a timed entrance ticket to the Uffizi Gallery.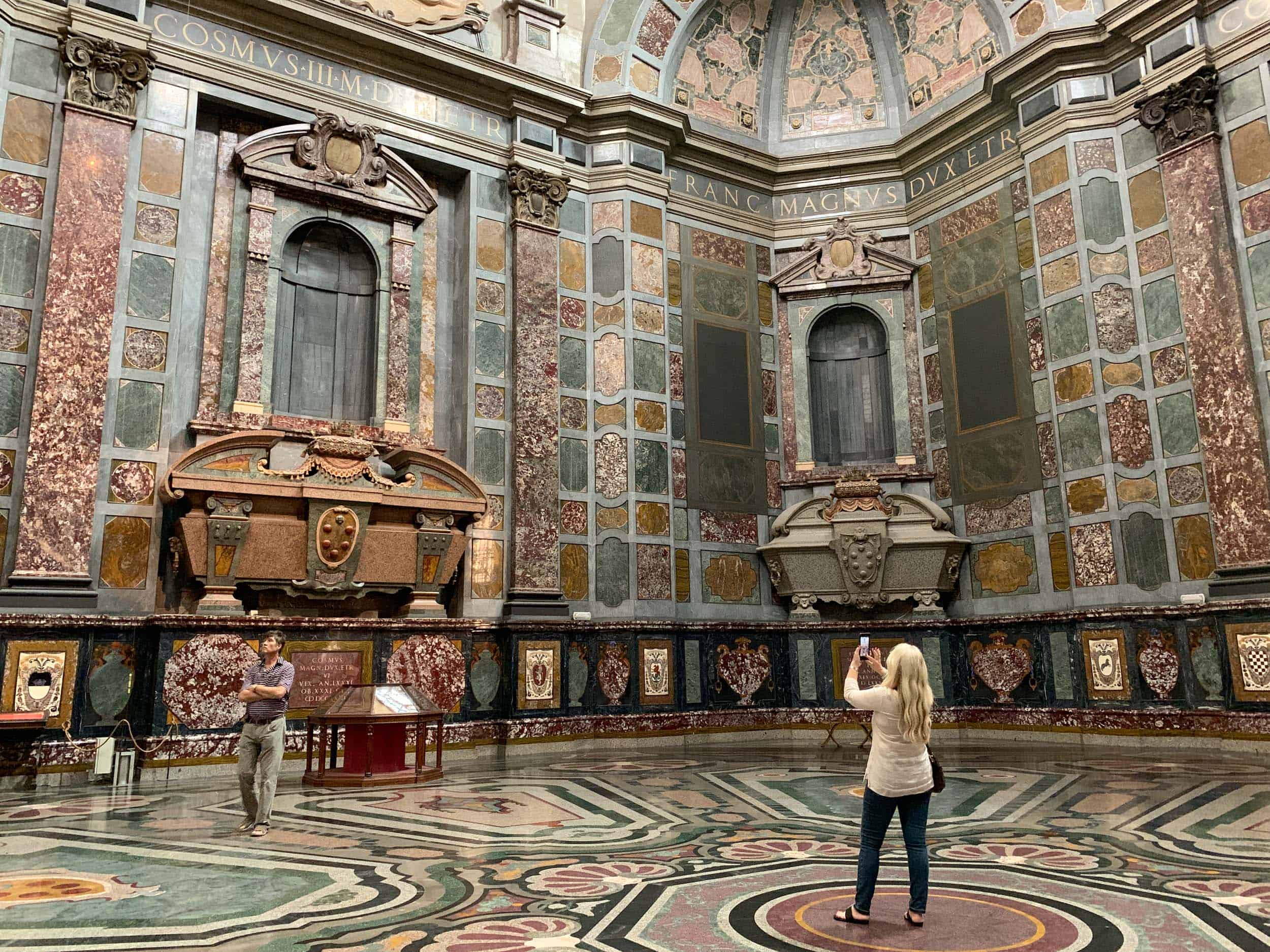 Medici Chapel
Speaking of the Medicis, this powerful Florentine banking family was critical to the artists working during the Italian Renaissance.
They commissioned many vital works and even supported Galileo, the famous Italian astronomer.
They knew how to build themselves an incredible chapel, too.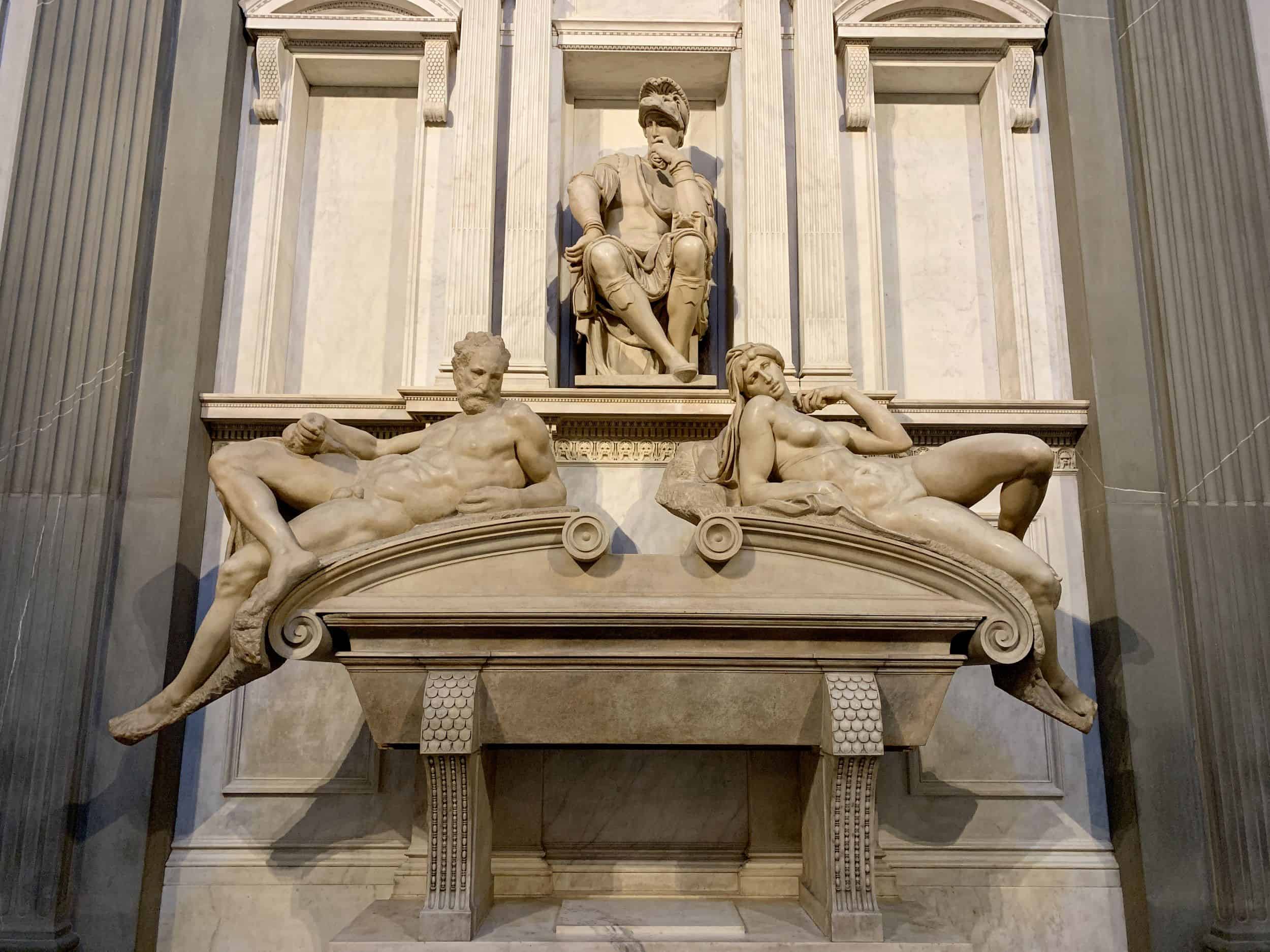 The Medici Chapel was even more stunning than I remembered, especially when I looked at the painted dome.
I didn't recall seeing the tombs 20 years ago, so I was happy to see them this time.
Lorenzo's tomb (above) is another example of Michelangelo's work.
Where to Stay
Florence is one of the most visited cities in Italy and, therefore, full of hostels, guest houses, B&Bs, and hotels. The closer you are to the historical center, the higher the cost.
Due to the city's popularity, book ahead of time to have a shot at the best-rated hostels. Below are a few recommendations from Hostelworld:
Hostel Gallo d'Oro – Modern hostel a 20-minute walk east of the train station. High 9.2 rating through 3,000+ reviews; however, it's a good distance from the historic center. Dorms from $28.
Leonardo House – Located in the middle of the historic center, between Santa Maria Novella and the Duomo, you pay for convenience when you stay here. Dorms from $22.
Archi Rossi Hostel – A few blocks from the train station and boasting an 8.9 rating through 6,000 reviews, Archi Rossi is a perennial favorite. Single private ensuite rooms from $45.
Click here to see all hostels in Florence.
Dave is the Founder and Editor in Chief of Go Backpacking and Feastio. He's been to 66 countries and lived in Colombia and Peru. Read the full story of how he became a travel blogger.
Planning a trip? Go Backpacking recommends: