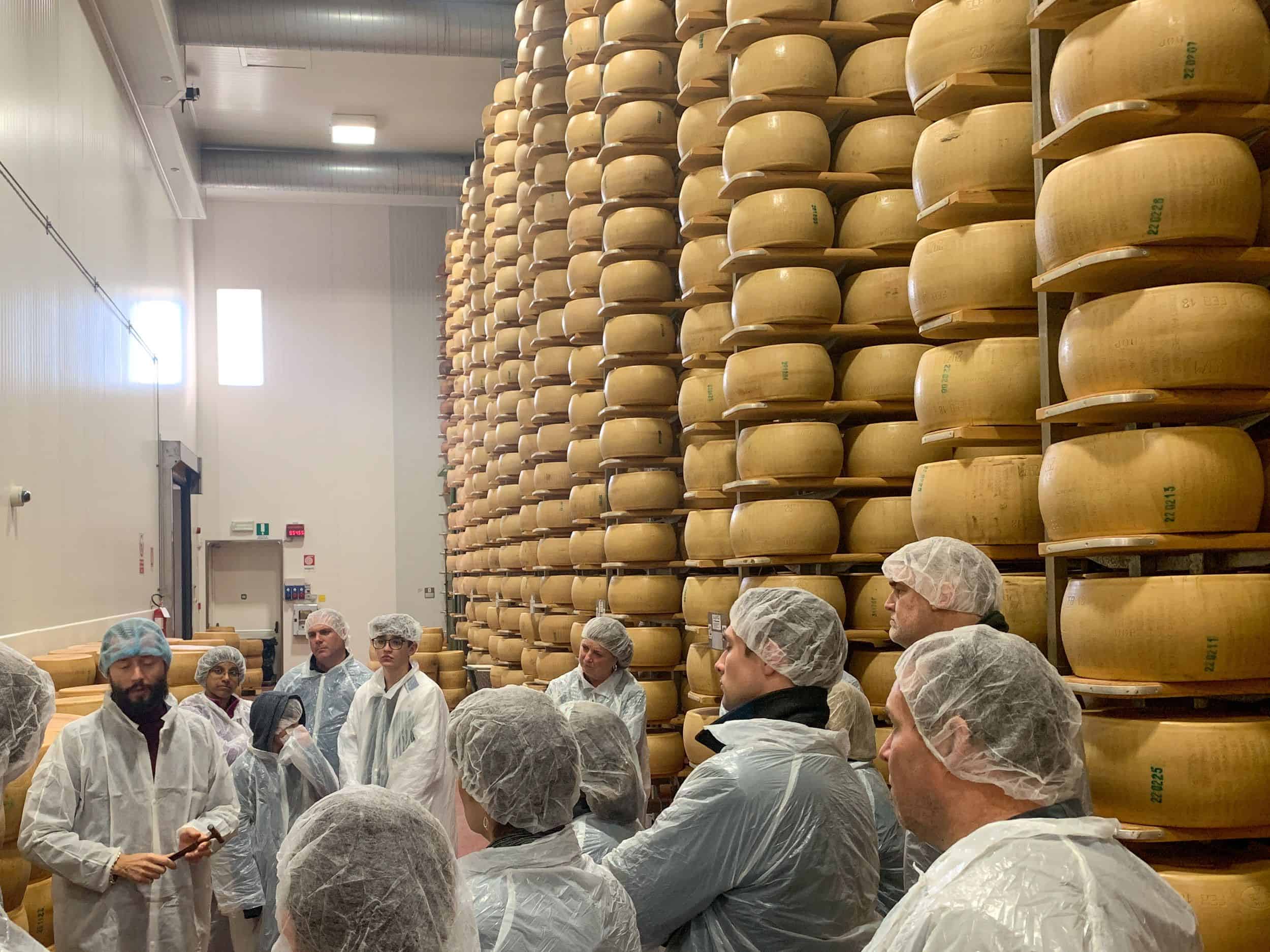 The city of Bologna is the perfect base for discovering many of the incredible food experiences in Emilia-Romagna, Italy.
Covering nearly the entire width of the country between Milan and Florence, the Emilia-Romagna region is home to Parmigiano-Reggiano cheese, prosciutto, and balsamic vinegar.
Plus, it boasts the world's best restaurant for 2018, Osteria Francescana, in Modena.
I only had a few days to see and sample as much as possible, so I started by booking a food and Ferrari tour.
The rest of my experiences were in the region's capital of Bologna, where I stayed with my friends Mike and Stephanie.
What follows are my top 10 food experiences in Emilia-Romagna, Italy. Buon Appetito!
1. Parmigiano-Reggiano Tour
The first stop on the food tour was a Parmigiano-Reggiano factory, where we donned protective jackets and hairnets to learn about cheesemaking.
The guided tour began in a room with several rows of giant metal vats where the process starts — every 1,000 liters of milk results in two wheels of 100% organic cheese.
Incredibly, the storage room we walked through was filled from the floor to the ceiling with 30,000 wheels of aging cheese.
Just five factories in Italy make the entire world's supply of Parmigiano-Reggiano cheese.
At the end of the tour, we sampled 24 and 36-month old Parmigiano-Reggiano, along with a bit of wine and finger food.
Pro Tip: Make the most of your time in Bologna. Click here to book a food tour and experience the best of Emilia-Romagna!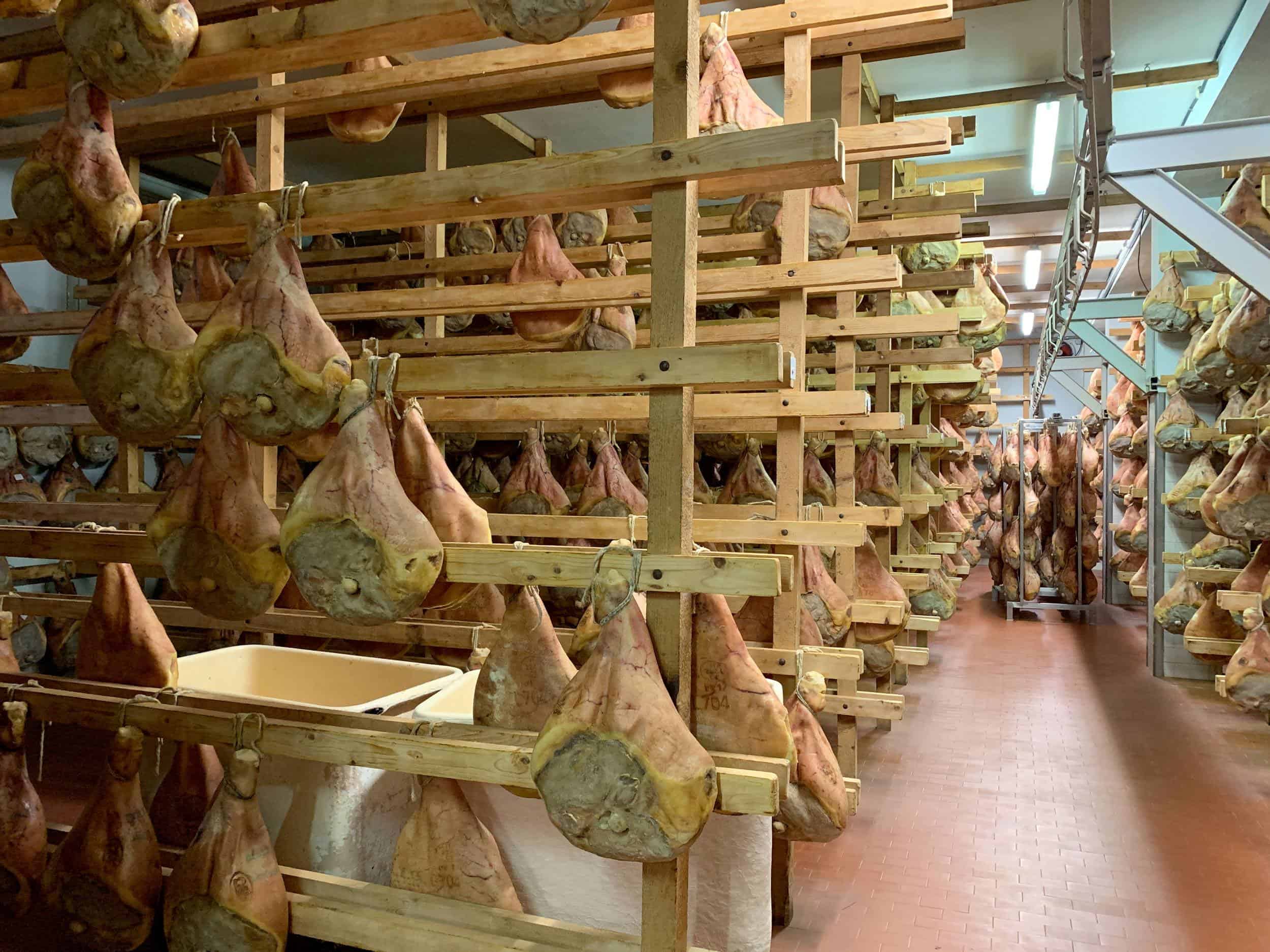 2. Prosciutto Tour
Our next stop was a small prosciutto factory. Mmm, ham. Set in a residential neighborhood, it was a much smaller facility than the cheese factory.
From the outside, it looked like a regular house. The family who owns it lives on the top floor.
Inside, there were at least two full floors of ham at various stages of aging.
We also saw the salt room and machines used to cut the ham. An apron and gloves made of chainmail are used by staff for protection.
Once again, the tour ended with a tasting and a little wine. Yum! The prosciutto was fresh, finely sliced, and practically melted in my mouth.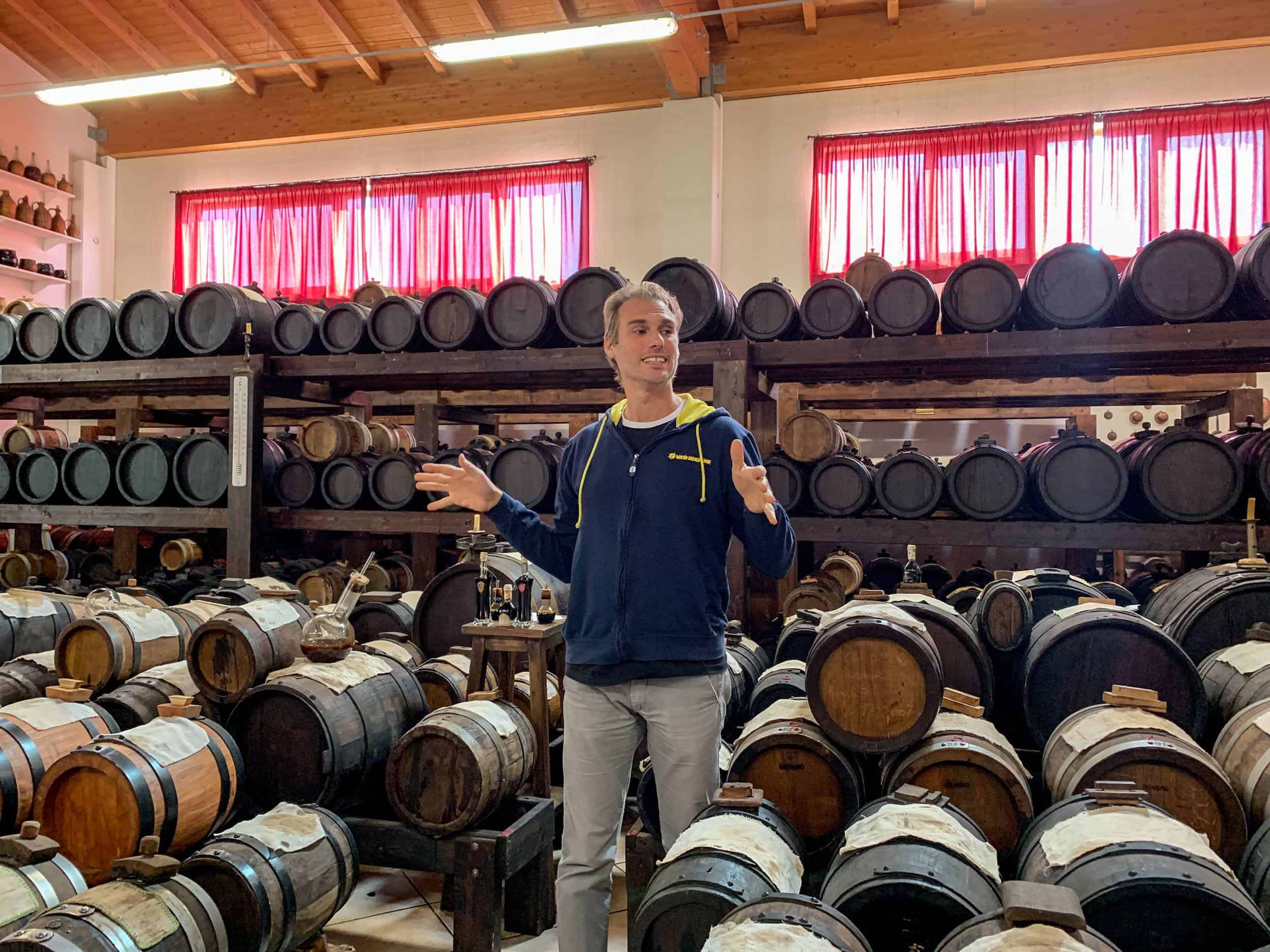 3. Balsamic Vinegar Tour
Our third stop on the food tour was Acetaia Boni, a 4th generation, family-owned balsamic vinegar producer.
The family is dedicated to growing their grapes and using traditional methods (not machines) to produce their black gold.
Traditional balsamic vinegar of Modena is made from Trebbiano grape juice fermented in wood barrels for a minimum of 12 years.
The longer the vinegar is aged, the more expensive it'll cost. Acetaia Boni sells balsamic vinegar that's aged for 15 years, 30 years, 70 years, and 150 years.
A 100 ml bottle of the 150-year-old balsamic vinegar will cost you a whopping €500 ($573).
We tasted the 15-year balsamic straight from a plastic spoon, which I didn't care for, followed by a few drops on pieces of Parmigiano-Reggiano cheese and vanilla ice cream (much better).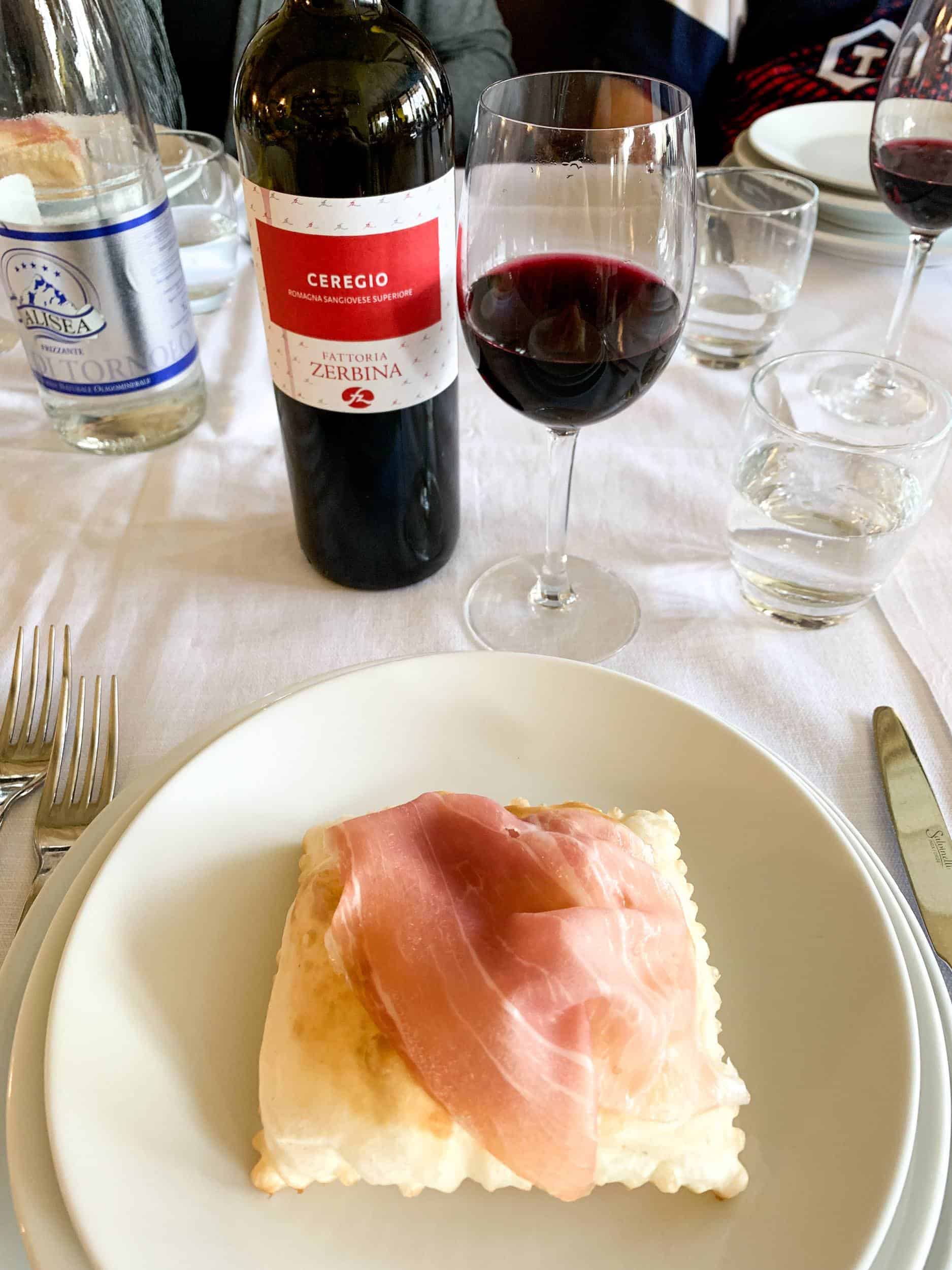 4. Prosciutto on Fried Dough
Following the balsamic vinegar tour and tasting, I had the opportunity to drive a Ferrari 488 and visit the Ferrari Museum in Maranello.
The last stop on the food and Ferrari tour was a six-course lunch with as much food and wine as anyone could ask need.
The first course was a slice of prosciutto on a puffed-up piece of fried dough.
It's a delicious combo and one I'd indulge in several more times before leaving Emilia-Romagna.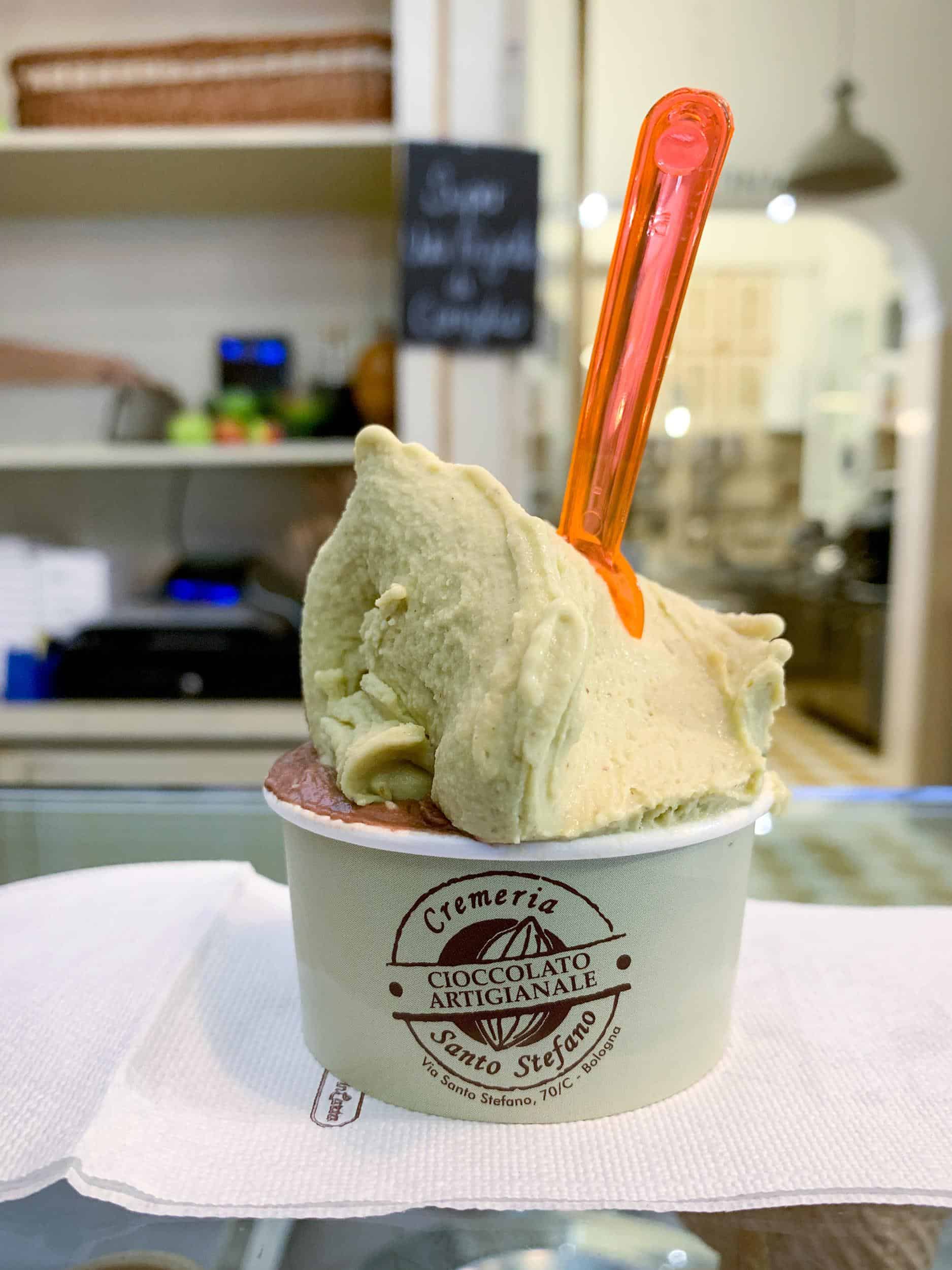 5. Gelato at Cremeria Santo Stefano
Northwest of Bologna is Gelato University, a school that attracts students interested in professional gelato-making from around the world.
After returning from this trip to Italy, I moved into a new apartment in Austin, TX. The owner of the gelato shop in my new building learned in Bologna. Small world!
Eating gelato was one of my top food experiences in Emilia-Romagna, which is why I had it four times in as many days.
The first of several gelato shops my friends recommended was Cremeria Santo Stefano, where I got the above-pictured pistachio and chocolate gelato.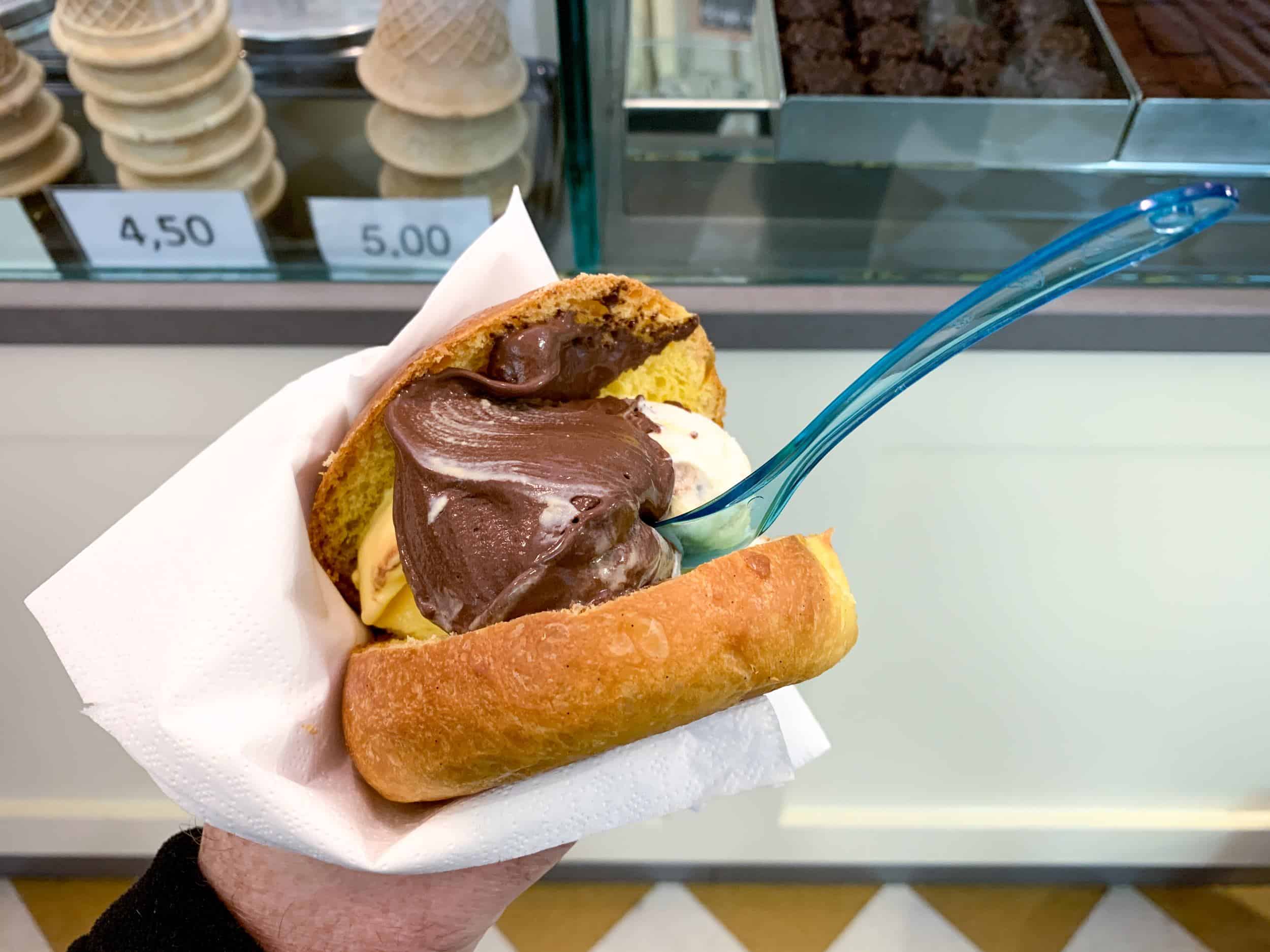 Another shop they suggested (and I can also recommend) is La Sorbetteria Castiglione, where I had a delicious mint and chocolate cone.
Gelato Focaccia Sandwich
I indulge in gelato every time I visit Italy. However, Bologna was the first city where I had a focaccia gelato sandwich.
I tried this treat at Cremeria Santo Stefano and liked it but came away still preferring my gelato in a cup or cone.
Read more on Feastio: The Best Gelato in Bologna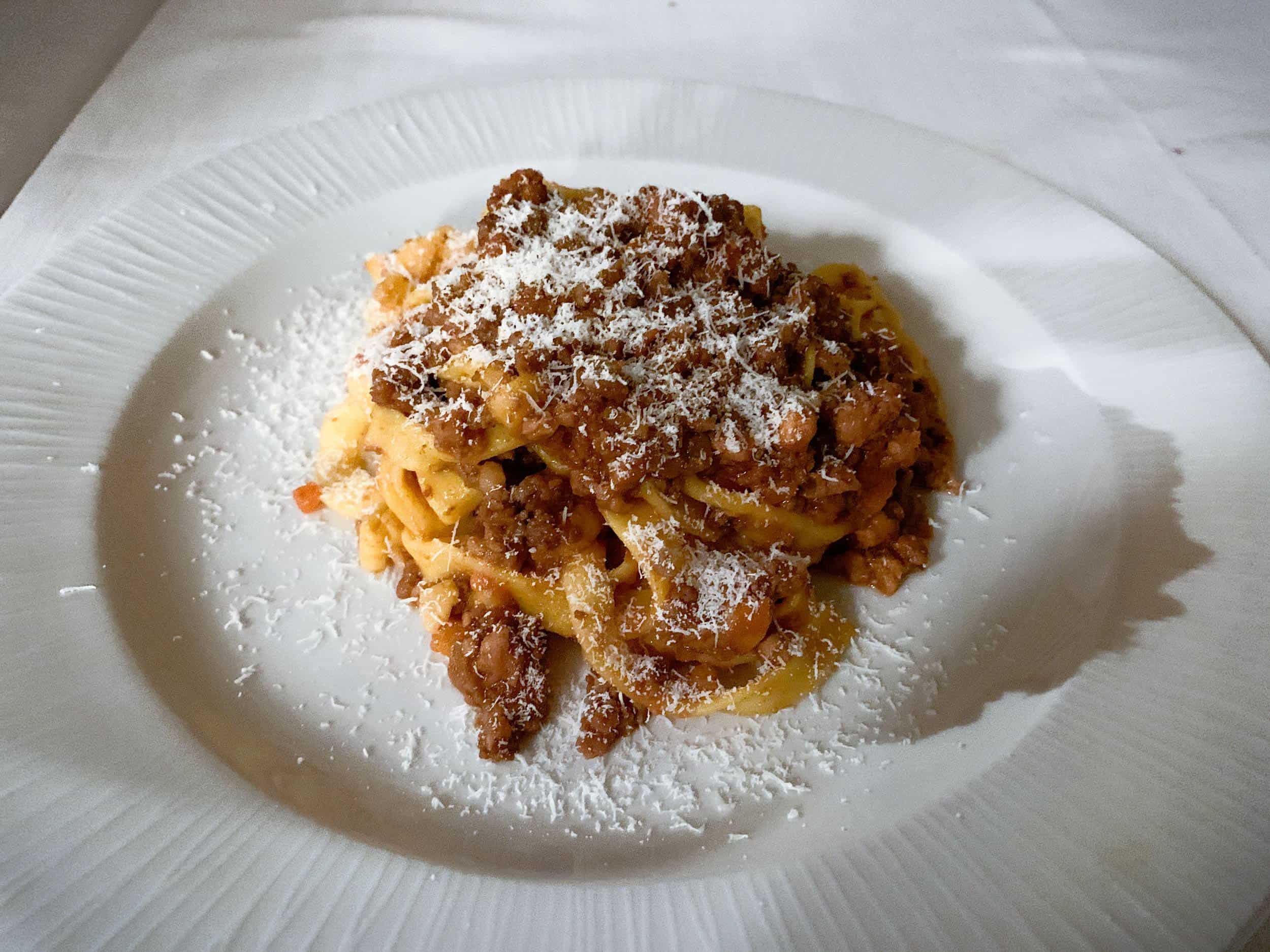 6. Tagliatelle with Bolognese Ragu
If you come to Bologna thinking spaghetti bolognese will be one of your top food experiences in Emilia-Romagna, think again.
While the meat and tomato sauce known as Bolognese hails from the region, Italians don't pair it with spaghetti, probably because the pasta's shape doesn't allow it to hold the sauce.
Typically, you'll find Bolognese sauce served with tagliatelle, a long, flat ribbon of pasta that also has its origins in Emilia-Romagna.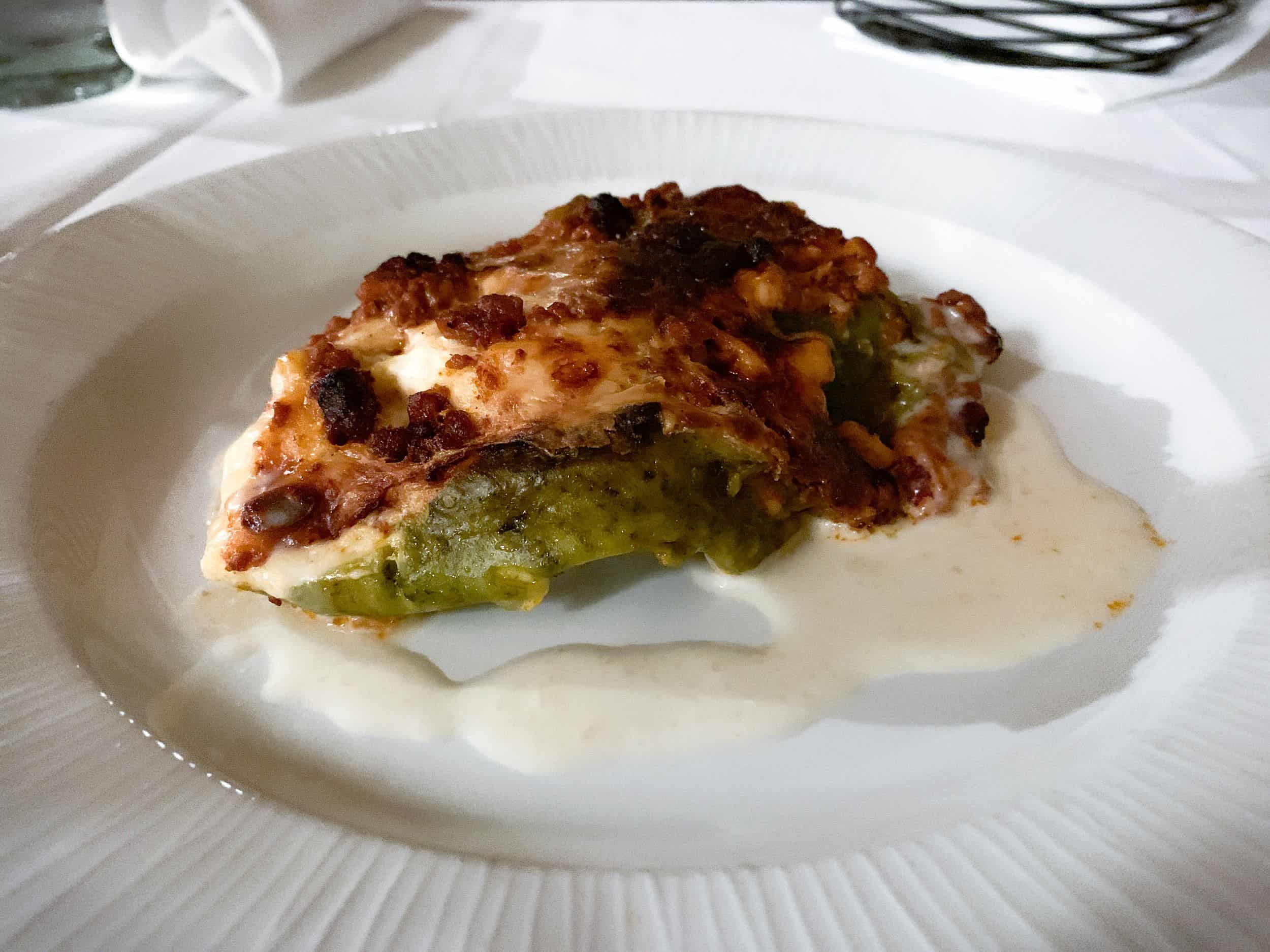 7. Green Lasagna with Spinach Pasta
Lasagna is another broad, flat pasta well-suited for holding the thick, rich bolognese sauce.
The green in green lasagna comes from using spinach pasta.
Served with a white béchamel sauce, it's a fun play on a dish many of us in America have come to love.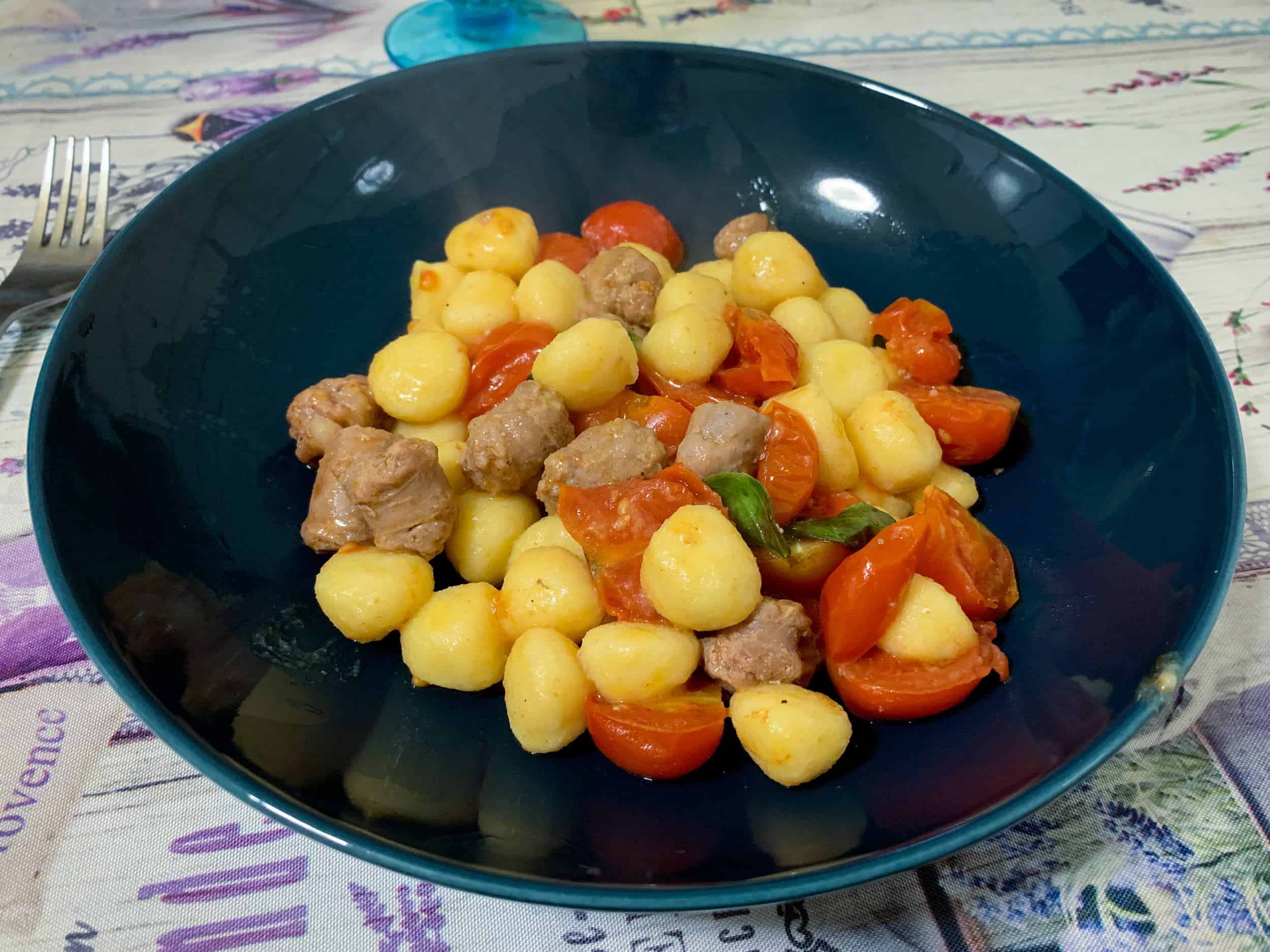 8. Home-Cooked Meal
Despite all the fantastic Italian food I was sampling, my friend Steph's home-cooked meals were among my favorite food experiences in Emilia-Romagna.
On my first night, she cooked short ribs with cheesy polenta and fresh rosemary, and we ate on their back patio.
Another night, she cooked gnocchi with cherry tomatoes, sausage, and fresh basil. Simple, colorful, and comforting on a cold night.
Related: Cheap and Healthy Meals You Can Cook Anywhere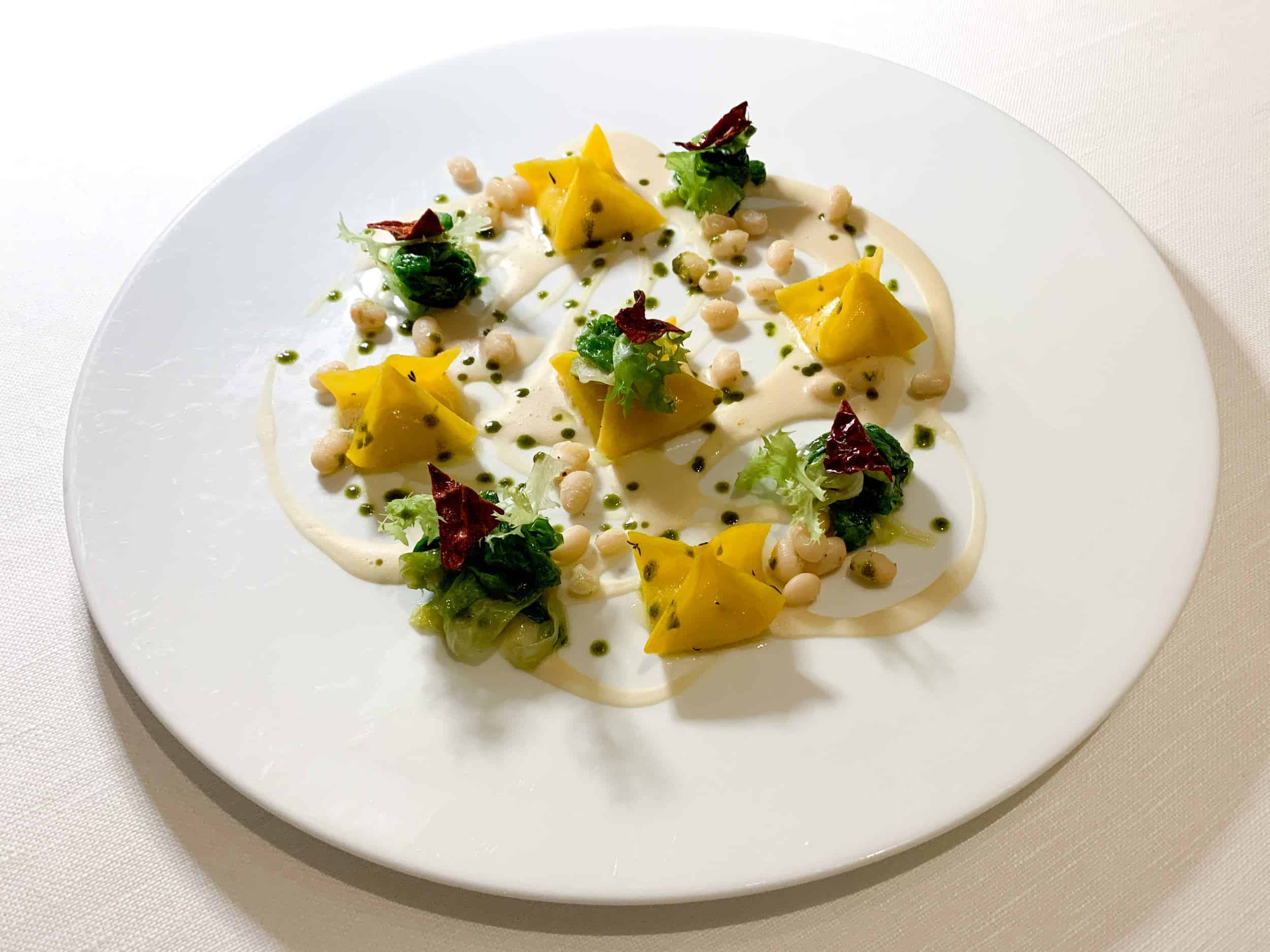 9. Michelin-Star Meal at I Portici Hotel
This year I launched a new food blog, Feastio, focused on my search for the best food, from street tacos to fine dining.
There are several Michelin-starred restaurants in and around Bologna.
The I Portici restaurant at the I Portici Hotel was the easiest one for me to visit, as I could walk there from my friend's house.
I ordered the "Wandering through Emilia" tasting menu and was treated to a series of creatively presented dishes showcasing traditional regional ingredients, including 36-month old Parmigiano-Reggiano.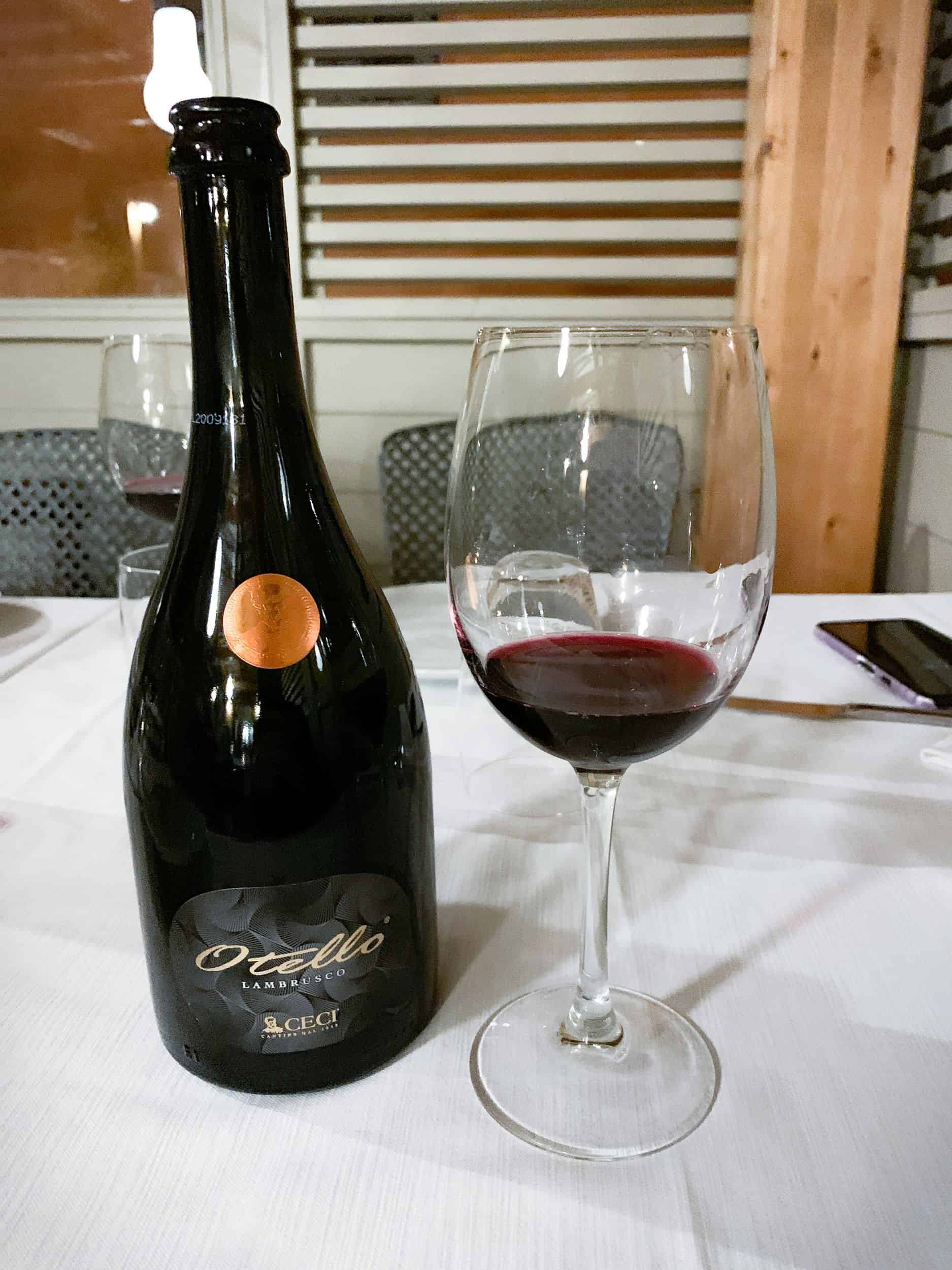 10. Lambrusco
Mike and Stephanie introduced me to Lambrusco, a sparkling red wine from Emilia-Romagna and neighboring Lombardy.
According to Wikipedia, Lambrusco was the top-selling imported wine in the United States during the 1970s and 80s.
It must've fallen out of favor, as I don't recall seeing it in the late 90s or 2000s when I began buying wine.
I liked it, but I have to admit it felt like a bit of a novelty, having grown up drinking non-sparkling red wine only.
There you have it, my top 10 food experiences in Emilia-Romagna.
I can't help but feel like I only scratched the surface of what this region of Italy has to offer.
I'd love to revisit Bologna in the spring or summer to explore the food and wine culture further.
Dave is the Founder and Editor in Chief of Go Backpacking and Feastio. He's been to 66 countries and lived in Colombia and Peru. Read the full story of how he became a travel blogger.
Planning a trip? Go Backpacking recommends: