Growing up in New York and New Jersey meant learning to ski in the mountains around me, including the Pocono Mountains of Pennsylvania.
The easily-accessible Poconos cover a 2,400-square-mile region of eastern Pennsylvania between Scranton and Allentown.
It's an hour's drive from north-central New Jersey, where I spent my early teen years and about two hours from New York City.
Planning a vacation in the Poconos is an easy, affordable way to escape to the countryside for a weekend.
There are plenty of outdoor adventures that await you, whether you're traveling solo, as a couple, with friends, or with kids.
Activities in the Poconos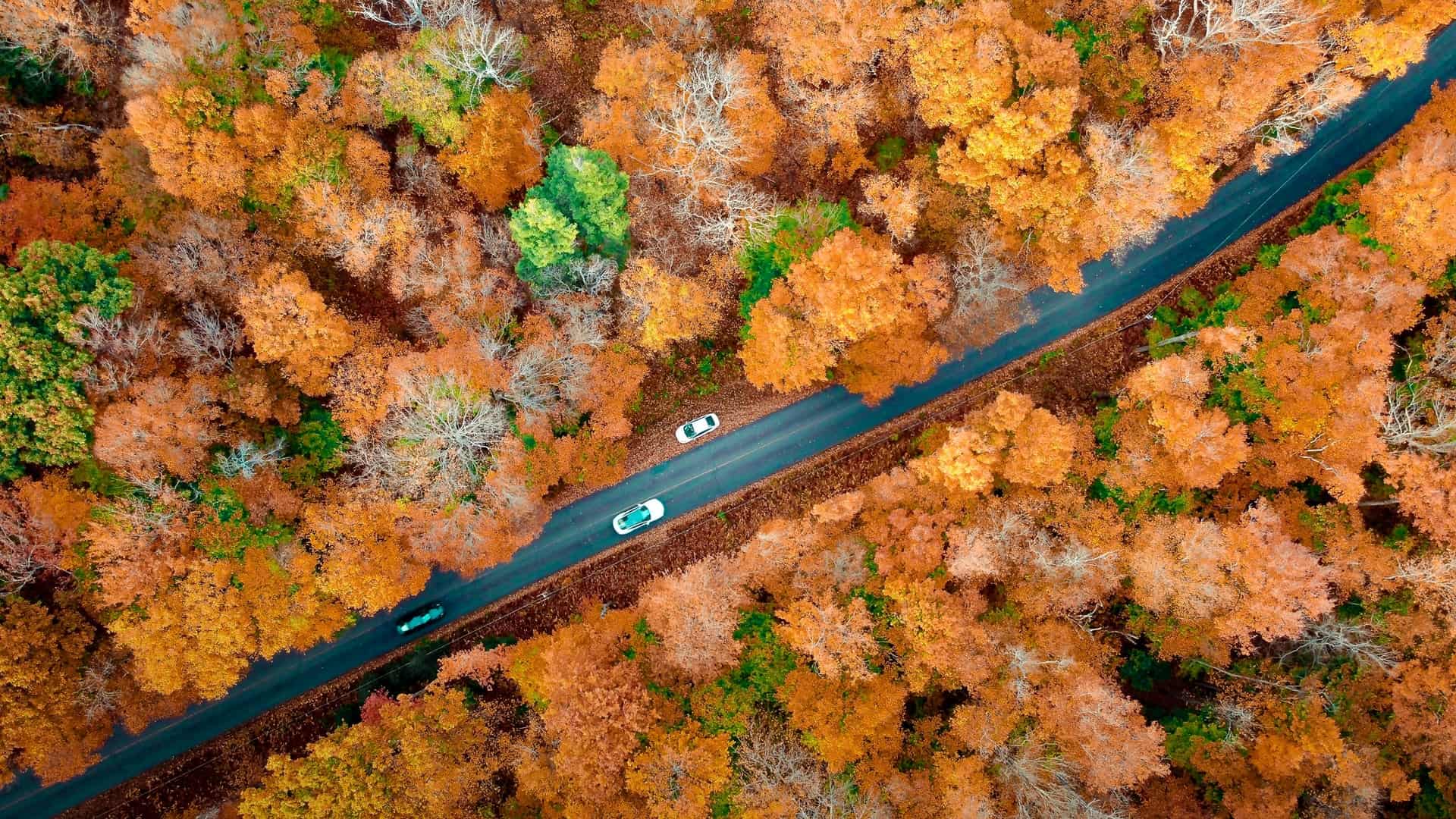 1. Hiking and Camping
The Poconos are full of parks, offering a seemingly endless variety of trails to explore.
The immense Delaware Water Gap National Recreation Area covers 67,000 acres, including 40 miles of the Deleware River and more than 150 miles of hiking trails.
Twenty-eight miles of the famed Appalachian Trail are within this recreation area. So, if you'd like to backpack the Appalachian Trail, keep the Poconos in mind.
Picnicking, fishing, and boating are also popular during the warmer months. When winter arrives, visitors turn to cross-country skiing and snowshoeing for their exercise.
The 3,000-acre Promised Land State Park east of Scranton features about 50 miles worth of trails amid oak, beech, and maple trees. There are two lakes and several streams.
Promised Land State Park offers visitors the opportunity to go hiking, camping, and fishing.
The even larger 6,000-acre Lehigh Gorge State Park boasts 33 miles of trails and two 50-foot waterfalls (Buttermilk Falls and Luke's Falls), which hikers can visit.
2. Whitewater Rafting
The Lehigh Gorge State Park's location along the Lehigh River makes it a popular whitewater rafting destination, too.
Here, you can get a little bit of excitement with Class II and III rapids while enjoying the beautiful natural scenery around you. Being on the water in the Poconos during peak fall foliage is incredibly gorgeous.
Tours can be arranged with experienced outfitters like Whitewater Challengers to ensure your safety. They offer rafting trips that range from two to seven hours on the river.
Pocono Whitewater offers a moonlit rafting experience down an 8-mile section of the Lehigh River that ends with roasting marshmallows over a bonfire and a glass of wine.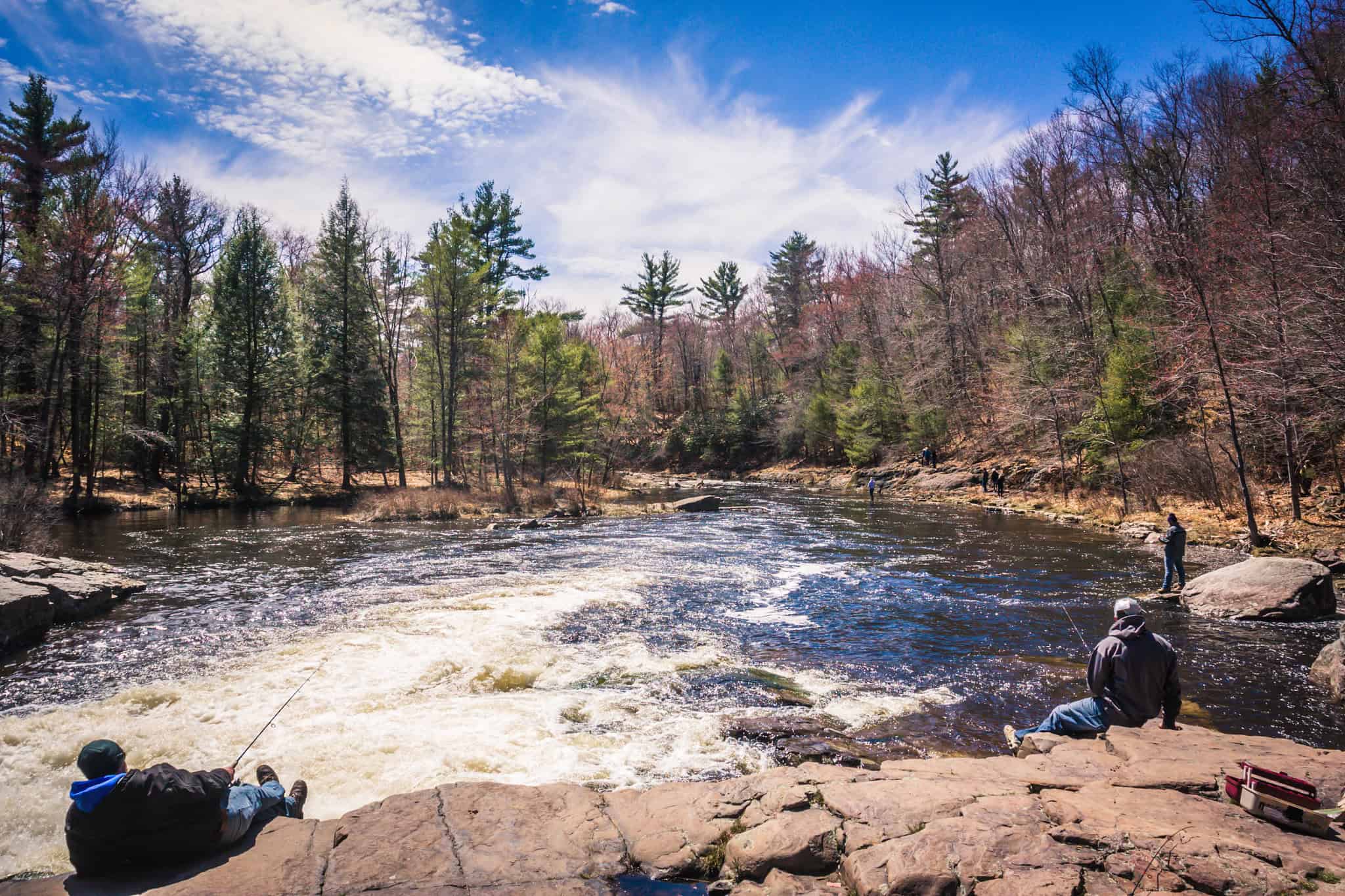 3. Fishing
Given all the lakes and rivers flowing through the Poconos, it should come as no surprise it's a popular fishing destination in the tri-state area.
Lake Wallenpaupack, the second-largest lake entirely within Pennsylvania, is a marquee spot to cast your reel. The lake has 52 miles of mostly wooded shoreline and reaches a depth of 60-feet.
Large and smallmouth bass, rainbow trout, and catfish are a few of the species you can catch. Whitetail deer and black bears can be seen visiting the lake.
Fishing at Lake Wallenpaupack is most popular in the summer months; however, there's also the opportunity to try your hand at ice fishing in the winter.
A Pennsylvania fishing license is required for anyone 16 or older who is not fishing at an official pay lake.
The annual Wally Lake Fest attracts locals and visitors to enjoy boating, farmer's markets, and live music.
4. Horseback Riding
Are you looking for a break from hiking? Give horseback riding in the Poconos a try.
Bushkill Riding Stables, Daisy Field Farm, and Happy Trails Stables offer horseback riding experiences for visitors of all ages and experience levels.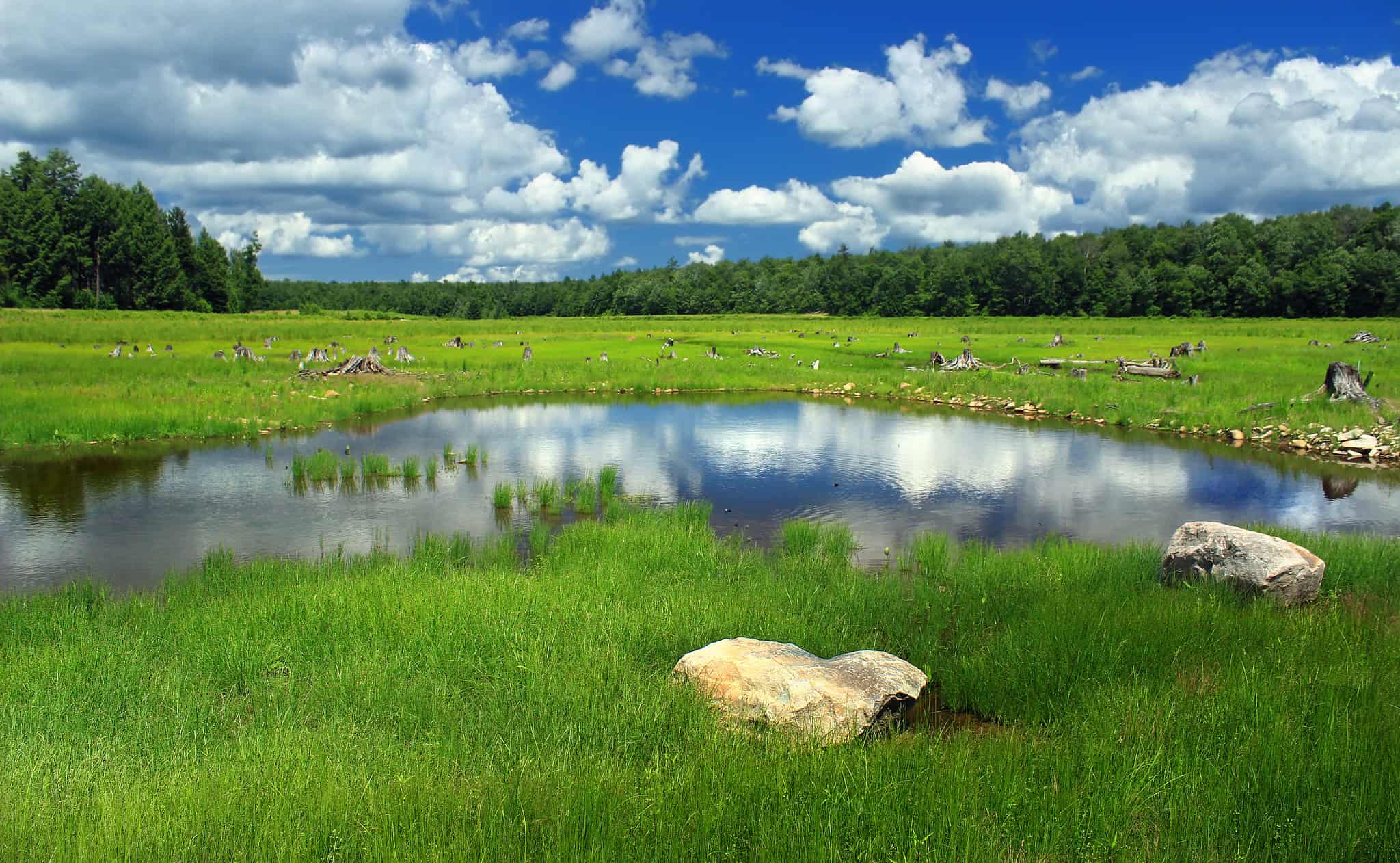 5. Mountain Biking
The Pocono Mountains also offer plenty of exciting terrain for mountain biking, whether you bring your bike or rent one.
The McDade Recreational Trail is a popular option for mountain bikers, with its 32 miles of gravel paths running along the Deleware River.
The Mauch Chunk Lake Park near the town of Jim Thorpe, Pennsylvania, is another fun option.
6. Ziplining
If you're looking for a new perspective of the forests and fields in the Poconos, consider signing up for a ziplining experience.
Camelback Mountain Adventures offers ziplines from 1,000 to 4,000 feet that'll get you going up to 60 miles per hour up to 80 feet off the ground.
Kittatinny Canoes features a 3,000-foot zipline that reaches 40 to 60 miles per hour.
7. Paintball
If you're looking for an interactive adventure, consider playing paintball at one of the area's outdoor facilities.
Duck, dodge, and dive through natural and artificial features as you try and evade your opponents and score points by hitting them first.
I've only played paintball once, indoors at a warehouse, and I imagine it's a heck of a lot more fun when you can play in nature.
8. Skiing and Snowboarding
My best memories of the Poconos are from early middle and high school ski club trips with friends. We'd take a bus to Shawnee Mountain, and Camelback on at least one occasion.
Both mountains continue to operate and offer opportunities for people of all ages to learn to ski and snowboard.
Sure, they're not as high in elevation as what you'll find further north in Vermont, but they're an excellent place to start.
Need a little inspiration? A 2002 Winter Olympics silver medalist in snowboarding, Danny Kass grew up on similar mountains in nearby New Jersey.
Snow tubing and sleigh rides are also available.
9. Birdwatching
If your idea of an adventure involves binoculars and bird spotting, the Poconos has you covered, too.
Of particular note is the American bald eagle, which migrates south from Maine and Canada to feed in open waters in the winter months.
The clean, protected waters of the Upper Delaware Scenic and Recreational River and the Lackawaxen River are two well-known places for eagle sightings.
Be sure to brush up on eagle etiquette before you go. You don't want to stress these incredible birds of prey unknowingly.
***
This list is the tip of the iceberg when it comes to planning outdoor adventures for a vacation in the Poconos.
_____
This story is published in partnership with Holiday Keepers.
This post was written by a guest contributor. Please reference the author's byline in the post above for more information. If you would like to guest post on Go Backpacking, please read our submission guidelines. For information on advertising opportunities, go here.
Planning a trip? Go Backpacking recommends: