There's no shortage of great sites when looking for the best places to camp in Oregon. From the seaside beaches to the high mountains, Oregon is a state of wondrous beauty and varied terrain.
For the backpacker, the middle section of the Pacific Crest Trail runs the length of the state in addition to thousands of miles of hiking trails open to camping.
Nearly half of the state is open public land which means you have an endless supply of spots for car and backcountry camping.
When looking for places to camp in Oregon, you will have to decide whether you want to car camp or head into the backcountry. It will come down to what amenities you can't live without.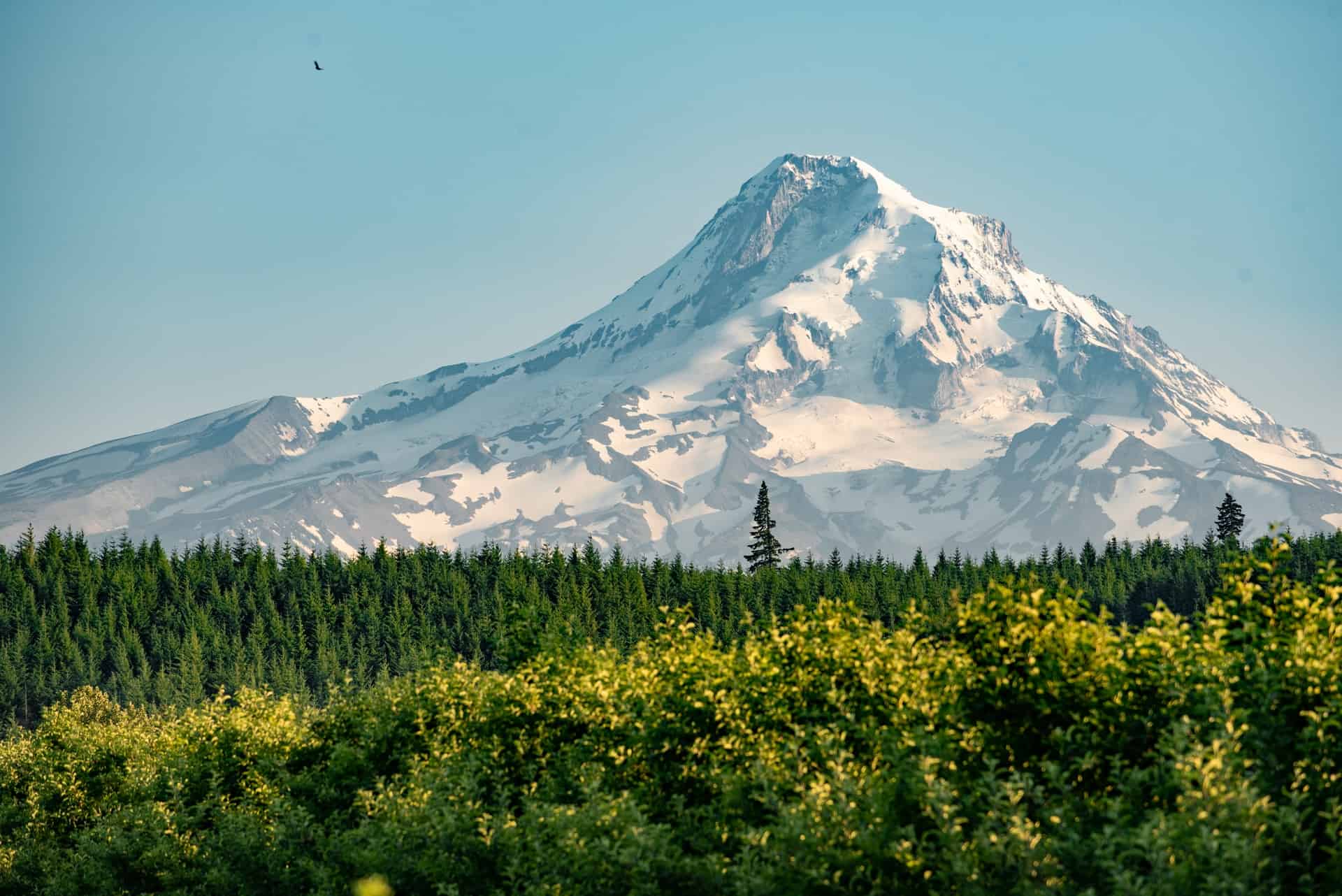 Some options have everything, including RV hookups and hot showers to an open bit of ground next to a mountain stream.
Oregon has a lot of primitive camping that has no services, so you have to bring everything you need and be comfortable pooping in the woods.
Where to Camp in Oregon
1. Mt. Hood National Forest
Home of the tallest mountain in Oregon, Mt. Hood National Forest is a vast tract of land that combines lots of free camping with one of the best-paid campsites in the state.
Lost Lake Campground combines the beauty of lakeside campsites with an unparalleled view of Mt. Hood towering in the distance.
It's only a short drive from Portland, so it is advisable to book in advance, especially on busy weekends.
To the south of the lake, there's a collection of first come, first serve campsites, but they fill up quickly on the weekends.
Countless hiking trails of all skill levels are accessible from the campground. Enjoy a leisurely walk near the lake or hike some of the smaller mountains surrounding the lake.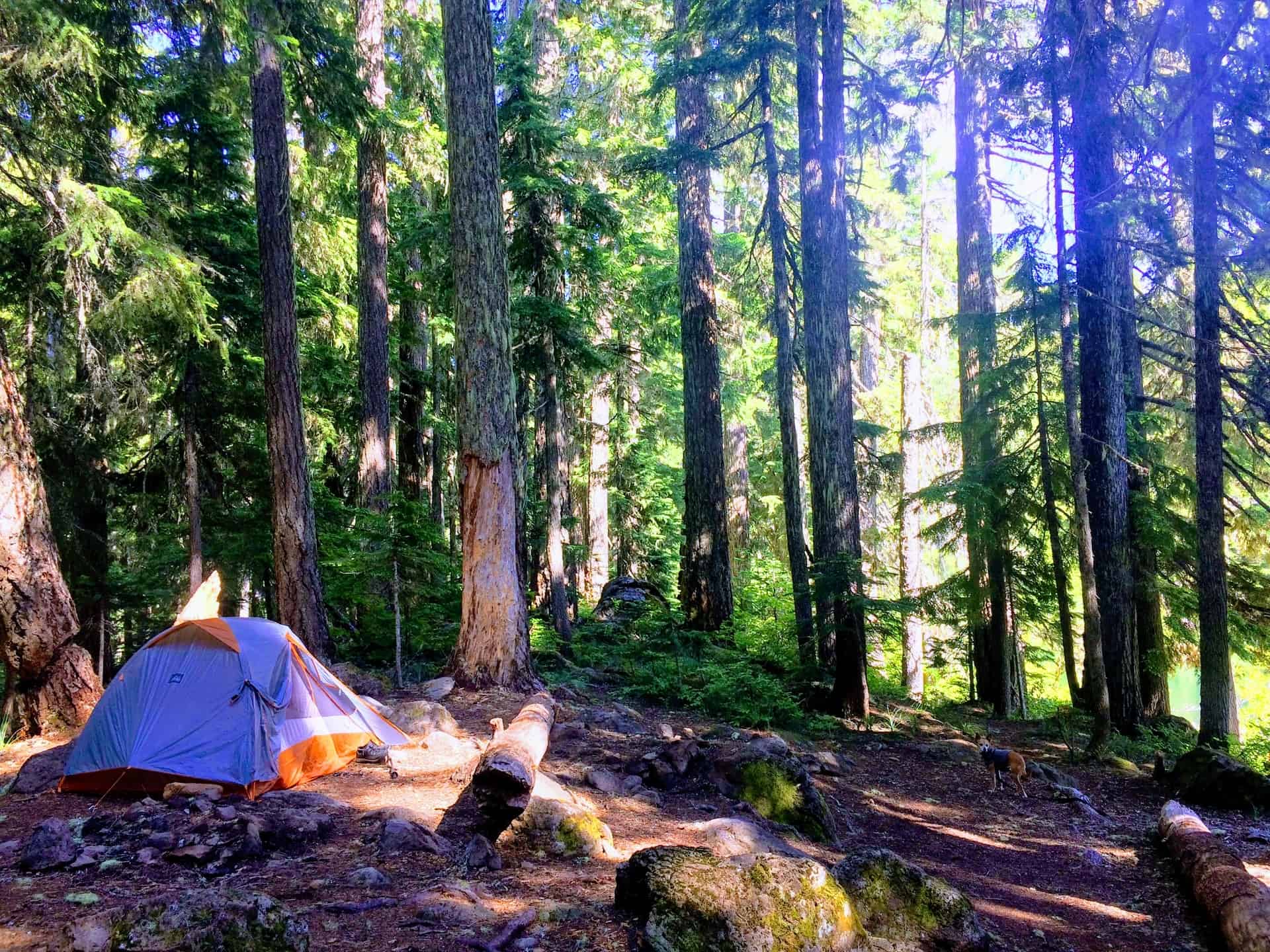 The lake offers up paddling and fishing while the adventurous can enjoy a dip in the water, which can be pretty cold.
As this is a perfect place to bring the family for car-camping, an SUV tent might be a wise investment. This will allow you to set up the camp quickly and sleep as close as possible to the hiking trails.
For those who want a more rugged experience, there are hundreds of legal free camping sites throughout the forest.
Forest Service rules allow for a 14-day stay at a given campsite. Check the Forest Service website for Mt. Hood for details about where you can camp for free.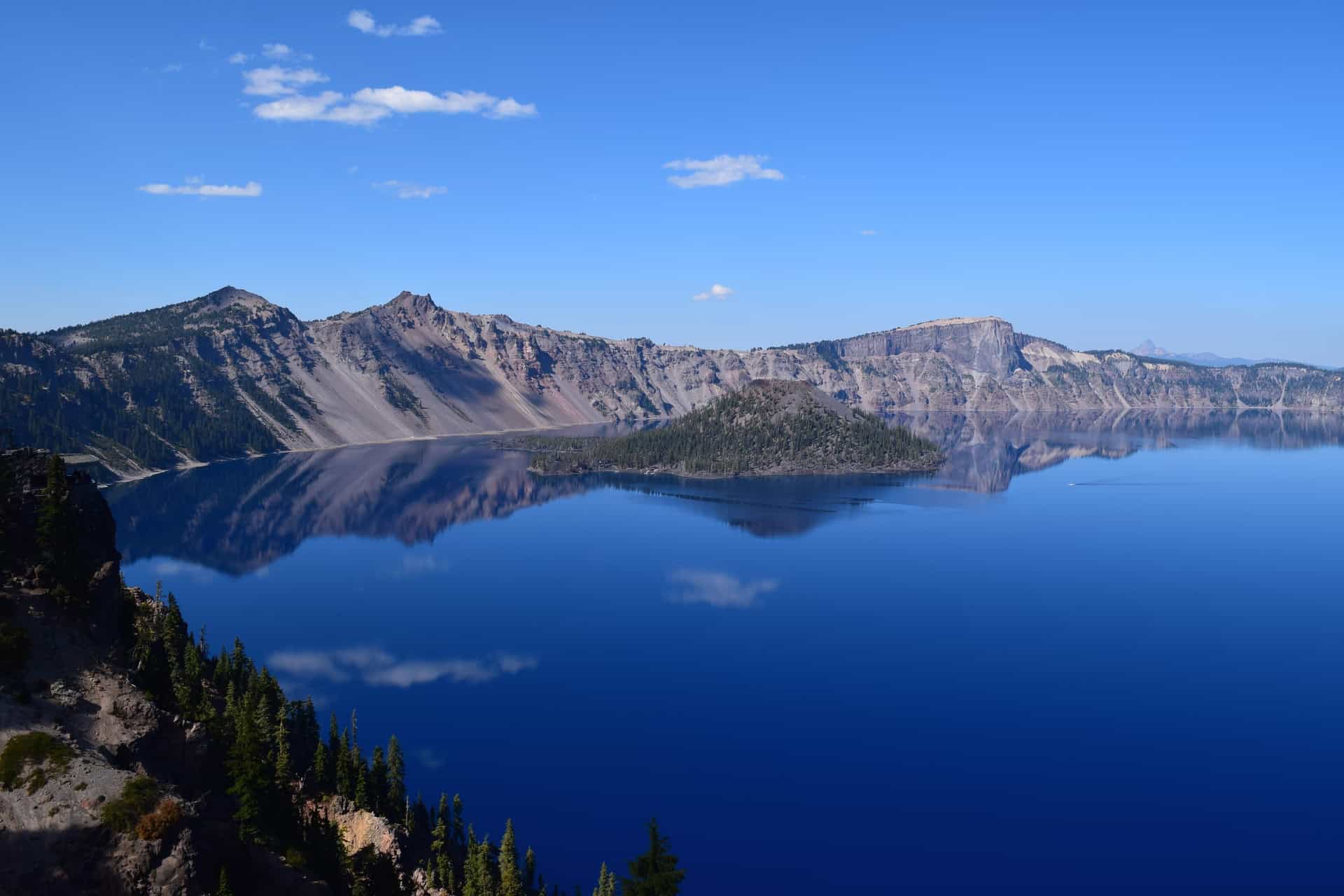 2. Crater Lake National Park
The deepest lake in the United States is found in a collapsed volcano that is now a national park.
Crater Lake National Park is a unique place to camp, with the deep blue lake and surrounding mountains making for an idyllic getaway.
Aside from enjoying the lake views, there are many hiking trails around the crater's rim and surrounding mountains.
The Pacific Crest Trail cuts through the park giving you the chance to meet thru-hikers if you are visiting in summer as they pass through.
The Mazama Campground has 214 sites with picnic tables, a fire ring, and a bear-resistant food storage locker. You're within a short walk of the camp store, bathrooms, and showers.
There are both tent and RV campsites and walk-in sites that have you more removed from other campers.
A quarter of the sites are kept open for first-come, first-serve camping but fill up quickly on busy weekends.
If you don't require as many amenities, the Lost Creek Campground is tent only and requires you to bring your water. These sites still have bear-resistant lockers.
While there are designated swimming areas, be warned that the lake is frigid, even in the warmest summer months. It can get busy like most national parks, so booking ahead is recommended.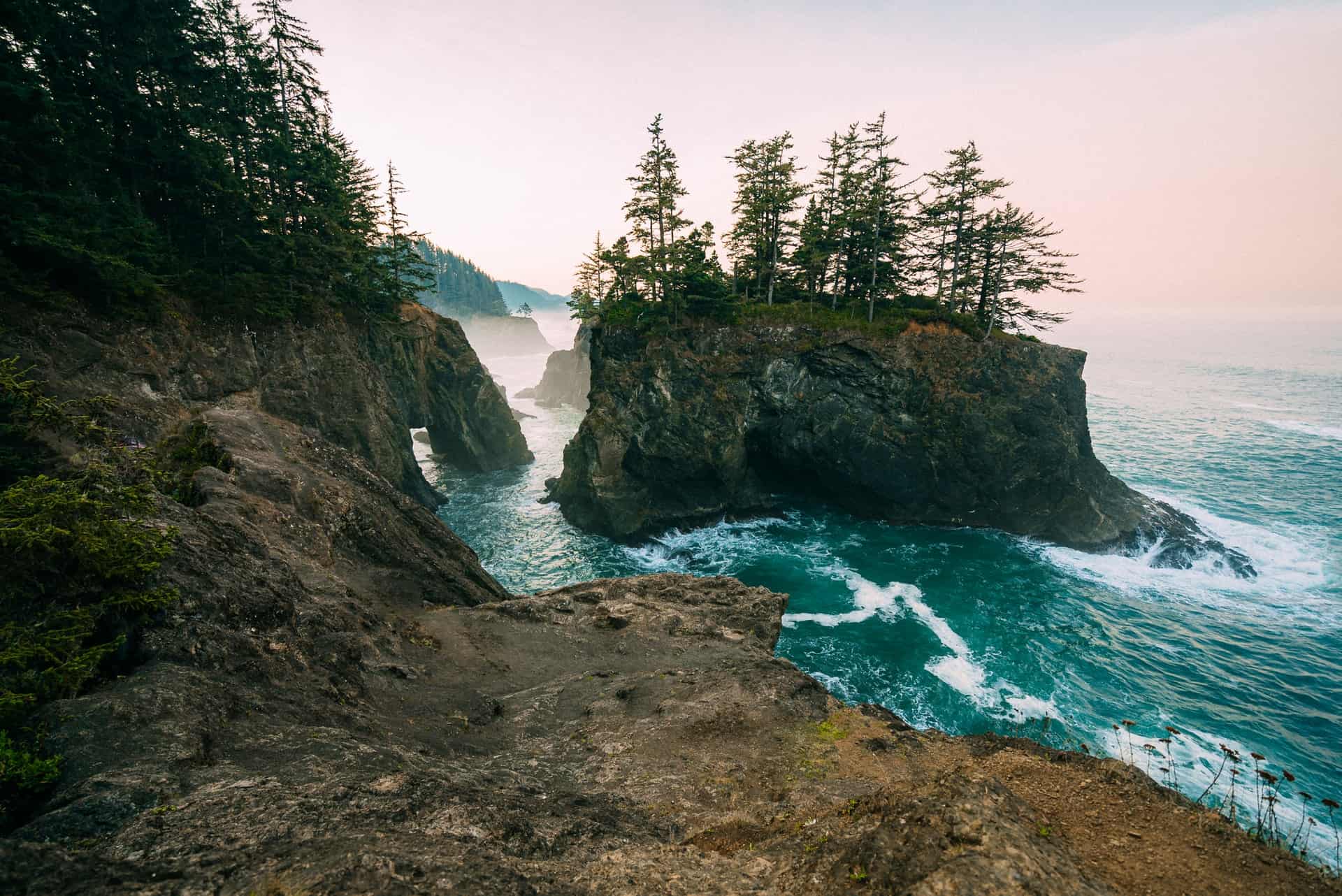 3. The Oregon Coast
With 360 miles of coastline, there are a lot of great beachfront places to camp in Oregon. Sand beaches and rugged cliffs make for a scenic setting to stroll, relax or even enjoy a bit of surfing.
Harris Beach State Park near the California border has miles of sandy beach on the Pacific Ocean. A mix of full-service RV and tent camping sites offers camping options for everyone.
Further north, in the middle of the coastline, you have South Beach State Park. Aside from the namesake beach, you have a jetty and marshlands, which are fun to explore by kayak or canoe.
When it comes to camping, you have campsites and yurt rentals, so you can rough it or live in luxury, whichever is your preference.
And for those who are coming from the Portland area, you will have easy access to Fort Stevens State Park on the northern coast.
The park is on a peninsula with a historic fort and shipwrecks on the shore, offering interesting things to explore.
With trails for hiking and biking, lots of calm water to paddle, and miles of beach, you have a great spot to take the family or have a romantic getaway for two.
After a day of playing in the saltwater, it is wise to bring a shower tent to rinse off afterward. They're indispensable in areas that are more remote or don't have public showers.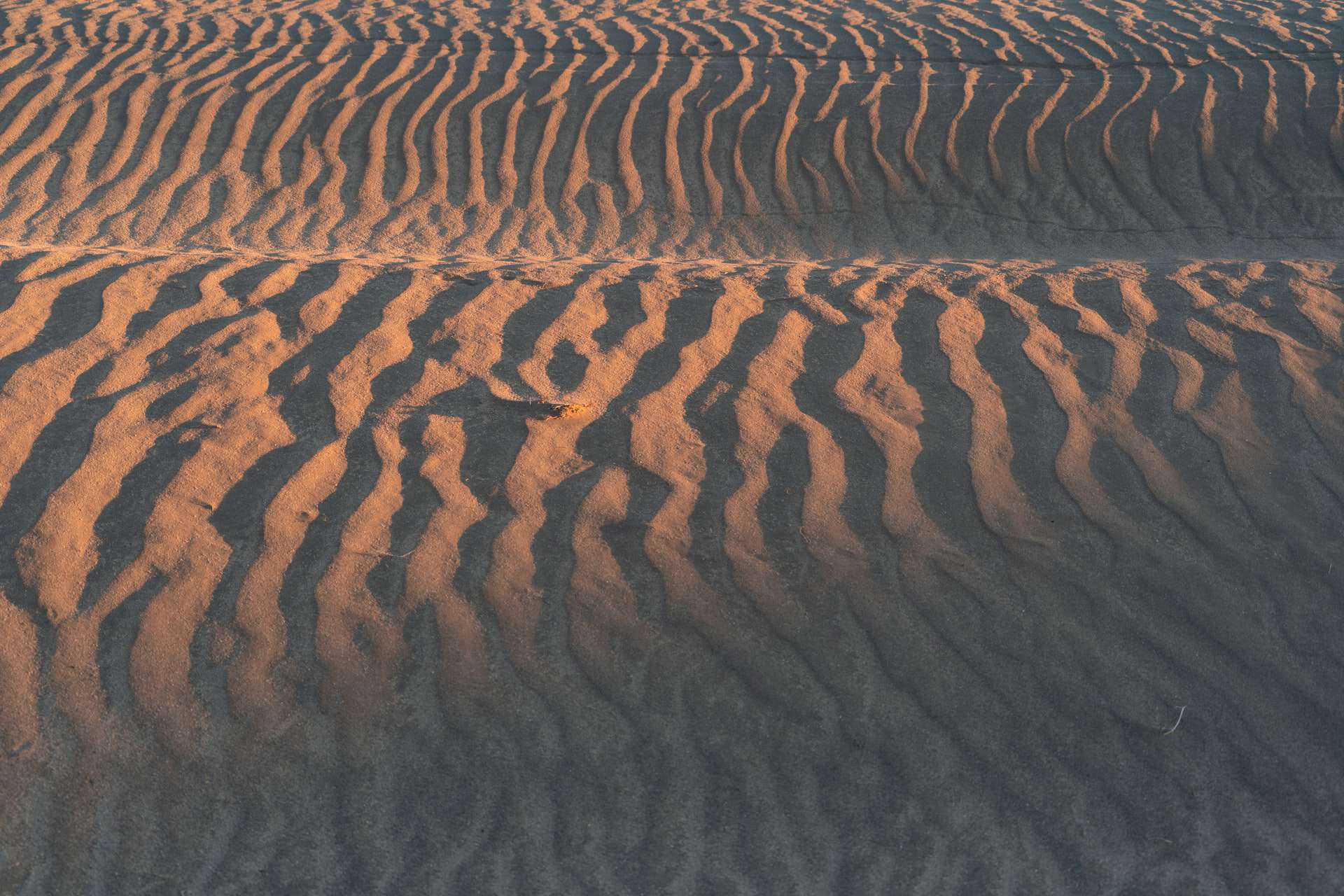 4. The High Desert
For a state with a lush coastline and snow-covered mountains, it might surprise you to hear the southeast corner of Oregon is a desert.
When looking for a unique landscape to camp, head to the barren rocks and steep canyons around the Steen Mountain Wilderness Area.
If the coast and mountains are forecasting rain, this is a pretty safe bet for a dry place to camp.
The area is open year-round as it gets little snow, but you might find it difficult to cross some of the mountain passes to get there in winter.
You have a high desert reminiscent of Utah or Arizona and Alvord Hotsprings to ease your tired muscles.
You can either camp for free in the wilderness area or pay to camp at the Alvord Hotsprings Campground.
The hot springs have maintained pools that stay at 105 degrees year-round. For a small fee, you can soak for the day.
Many hikes are available for all fitness levels but make sure to bring extra water as it is a desert.
Paid Vs. Free Campsites in Oregon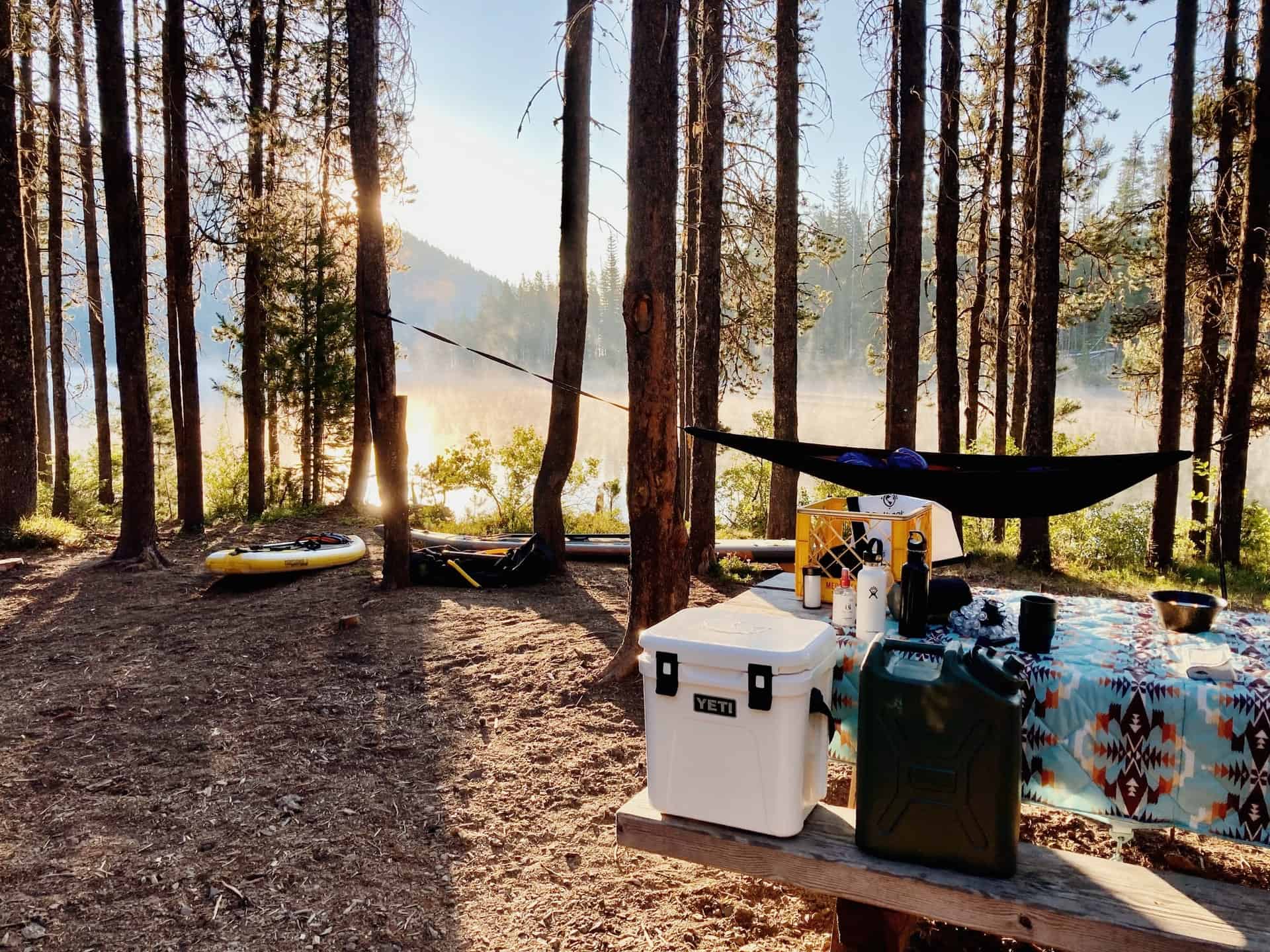 Paid Camping
There's a bounty of terrific places to camp in Oregon. They're a mix of private operations and state and national park-run sites.
The advantage of paid sites is that you are guaranteed a spot as you can usually book ahead of time.
Additionally, you will find paid sites that offer amenities such as bathrooms, showers, power hookups for RVs, potable water, picnic tables, and fire pits.
Most campgrounds will have a general store where you can get supplies and buy firewood.
If you are new to camping or out with your family, a paid campground is often the best choice as you get the relaxation of being away without the extra work and planning that comes with off-the-grid camping.
Since many of the campgrounds are in parks, you'll often find more to do, such as canoe and kayak rentals, hiking trails, and games areas.
Pros of Paid Camping
Usually easy access.
Amenities often include drinkable water, electrical hookups, and showers.
Guaranteed campsite if you book ahead.
Often have onsite recreational activities.
Cons of Paid Camping
It can be expensive.
Popular parks can be busy, especially around holidays.
Sometimes your neighbors can be loud at night.
Not an actual wilderness experience.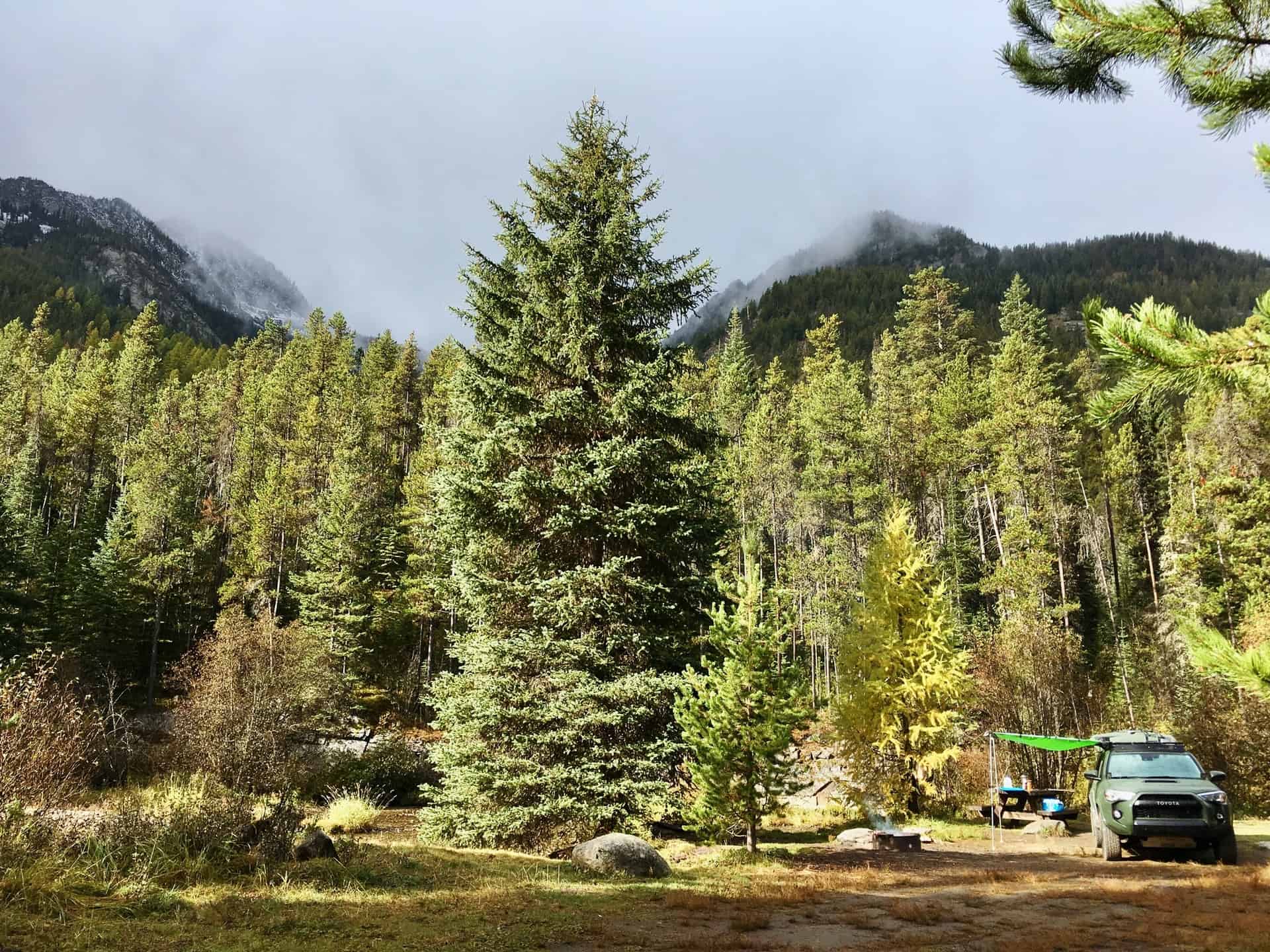 Free Camping
The United States Government has a very open policy regarding public land. After all, it is the people's land, so they should have access to it for multiple uses, including camping.
These areas are free, but there are no services such as clean water, power, or toilets.
You will have to manage all of these things yourself, but you will save money and usually get the solitude you may seek when camping.
Oregon is nearly half public land which means there is a lot of free camping.
Much of this is managed by the Bureau of Land Management (BLM) and has accessible free camping as long as you follow specific rules.
This means you have access to free car camping and backcountry camping in these areas.
While specific areas might have their own rules, check ahead of time because most BLM land allows free camping as long as you adhere to the following guidelines.
Before heading out to an area, order the Motorized Use Map from the BLM, as it will have the rules for camping and usually show where you can camp.
General BLM Camping Rules
You need to be one mile from any building or major road.
Campsites must be 100 feet from the access road or water source.
When parking, you must not restrict road access.
Pros of Free Camping
It saves you money.
It's usually quieter and feels more remote.
Open year-round for the avid adventurer.
Available to both car camping and backcountry options.
Cons of Free Camping
Sites are first-come, first-serve, so you might not get the place you want.
No services.
No garbage cans, so you have to carry everything out with you.
You have to poop in the woods or outhouse.
Conclusion
Oregon is an outdoor playground with various terrain and ecosystems that you could explore for years and not hit all the great camping spots.
From the beautiful beaches of the coast to the snow-capped mountains to the high desert of the southeast, there is a myriad of amazing places to camp in Oregon.
______
This story is brought to you in partnership with The Wise Adventurer.
Planning a trip? Go Backpacking recommends: