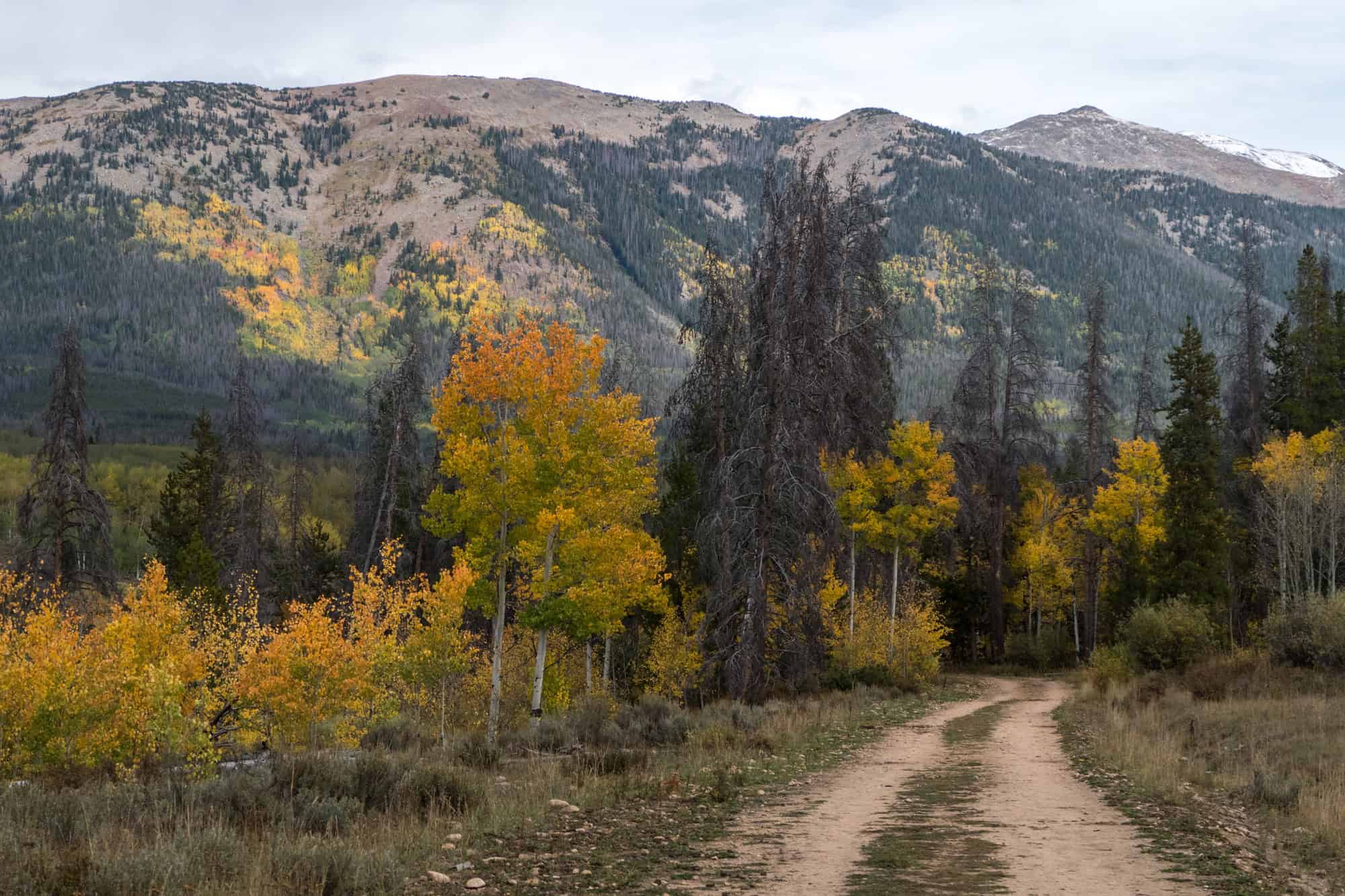 I'd never spent a night alone in the wilderness for all my travels, including high-altitude treks in the Himalayas and camping in the Okavango Delta. That was the challenge awaiting me in northern Colorado: to hike one mile with everything I needed for a night at North Fork Canadian Yurt.
Situated at the edge of State Forest State Park, at an altitude of 8,800 feet (2,682m), this yurt is one of many owned and operated by Never Summer Nordic.
Yurts, for those not familiar, are traditional circular shelters used by the nomadic tribesman of Mongolia.
Yurt Experience
Supplies
To prepare for my midlife wilderness adventure, I picked up the following before leaving Steamboat Springs:
5-6 liters of bottled water
Snacks (nuts and cookies)
Two delicious sandwiches from Backcountry Delicatessen
A cheap backup flashlight should my Petzl headlamp stopped working
Demo sleeping bag and air mattress from Big Agnes

(nightly temps were in low 30s Fahrenheit)
The yurt has a wood stove. However, I'd learned the hard way trekking in Nepal that it's better to be too warm than too cold.
Related: Packing for a Fall Trip to Colorado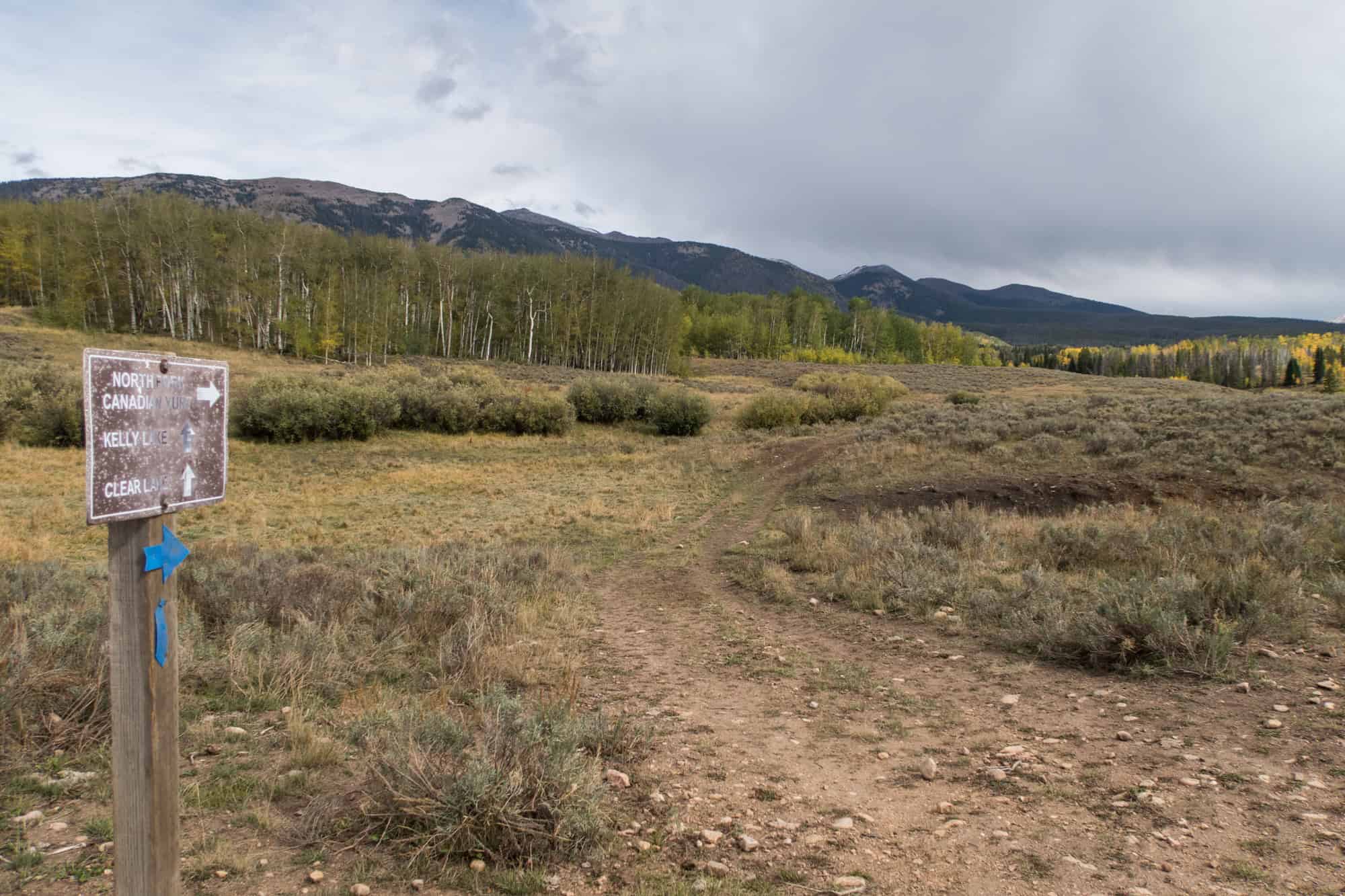 Getting to North Fork Canadian Yurt
The scenic drive from Steamboat Springs took about an hour and a half, starting with Route 40 leading southeast out-of-town and then veering northeast on Route 14.
The entrance to the park was marked from Route 14. At an unmanned gate, I stopped to fill out a vehicle pass for my Jeep rental.
Parking overnight cost costs $10. I left the cash in a sealed envelope that's provided.
It was a beautiful, flat 8.5-mile off-road drive from the gate to reach a roundabout used as a parking lot and campsite.
A signpost marked the reserved space by the restroom for guests staying at the yurt.
Nervous I was about to leave any sense of modern civilization behind, I took some solace in seeing campers and hunters around, should an emergency arise.
It'd begun to drizzle, so I put on a fleece and my Clothing Arts jacket, gathered my supplies for the night, and began walking down an old logging road now closed to vehicles.
It's a 1.1-mile hike over the mostly flat ground to reach the yurt; however, given all the water I was carrying and the 8,800-foot elevation, it took me 30 minutes.
I stopped several times to take photos and catch my breath.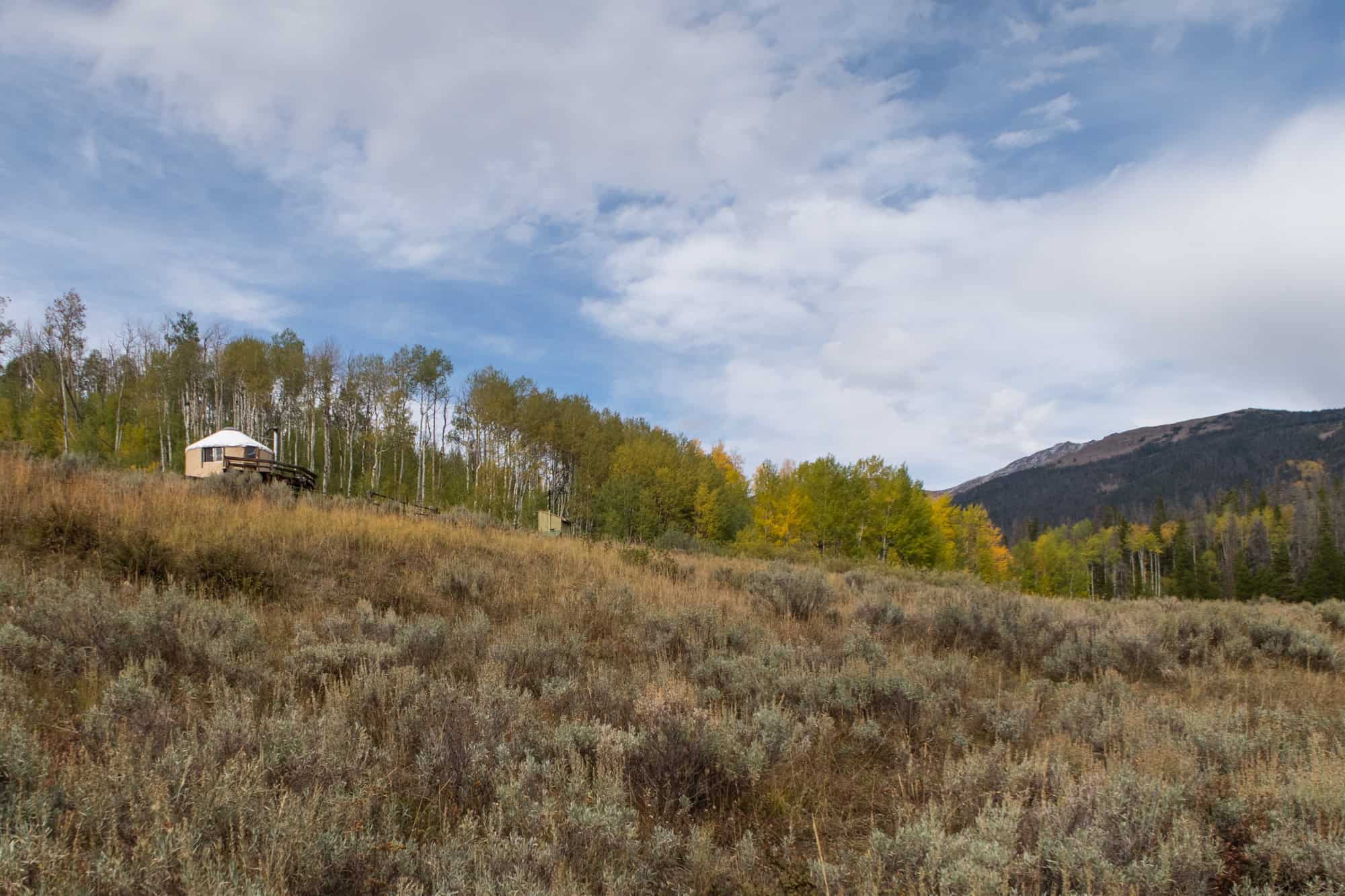 Arriving at the Yurt
The North Fork Canadian Yurt is perched on a small hill, offering terrific views of the surrounding landscape and the Never Summer Mountain range.
I opened the metal gate to the property and surveyed the exterior of my abode.
The yurt is elevated, leaving plenty of room for firewood and a propane tank underneath.
A wooden deck with benches offers guests the option to sit outside and enjoy the views.
And a small outhouse sits just inside the wood fence encircling the property.
As I walked up to the yurt's staircase, I was greeted by a large sign offering instructions on how to behave if you encounter a bear.
I knew I was in moose country, and moose can be aggressive, but my anxiety shot up another level when I realized there were bears around too!
I quickly read the advice, which included what to do in the event you come eye to eye with a bear:
"Back away slowly while facing a bear."
"Speak softly to the bear and try not to show fear."
"Fight back if a bear attacks you. Use rocks, sticks, binoculars, or any object that may be available."
I briefly wondered whether anyone could speak softly and fearlessly to a wild bear before trying to put the thought of one approaching the yurt's flimsy front door out of my mind.
Related: Fly Fishing in Colorado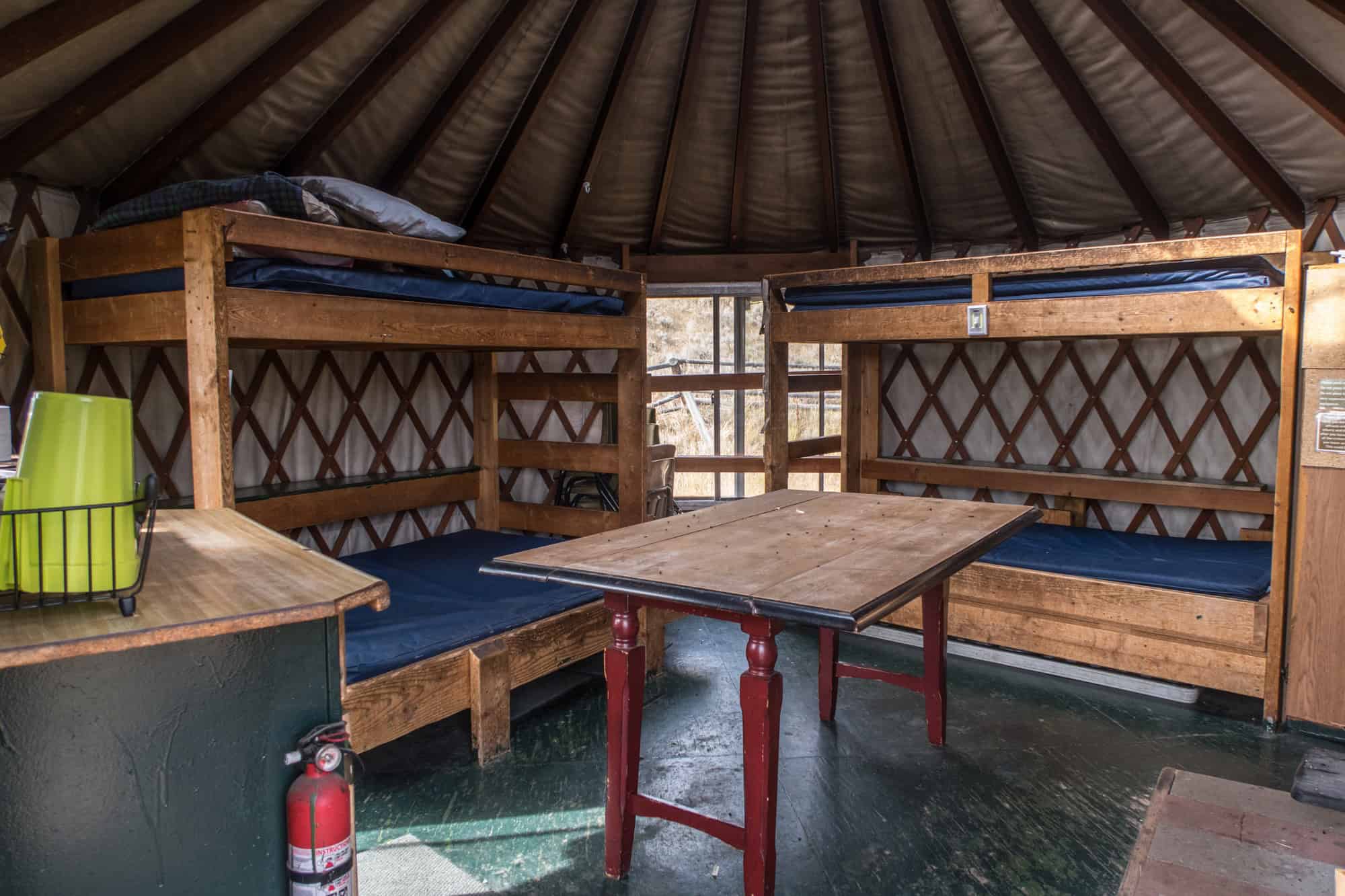 Accommodations
A few days earlier, upon confirming my booking with Never Summer Nordic, I'd received the combination to the door lock.
I spun the little wheels to the numbers provided, and it opened with ease. Inside, I took stock of my accommodations for the night.
Two sturdy wooden bunk beds with mattresses, a dining table, a gas stove for cooking, a wood stove for keeping the place warm, and plenty of matches, paper, kindling, and logs of varying sizes.
As I was only staying for a night, I'd already decided to pack my meals, eliminating the need to turn on the propane gas and cook. That said, instructions were posted in the kitchen to do so.
I'd been told there's a stream about 100 meters away for collecting water to purify. However, I figured it'd be easier to carry in my drinking water.
Guests must take everything they bring with them out when they leave, which means carrying out the empty plastic bottles (and all trash) when I go.
I'd forgotten to bring a plastic bag for used toilet paper, but as it turned out, I didn't need any during my short stay.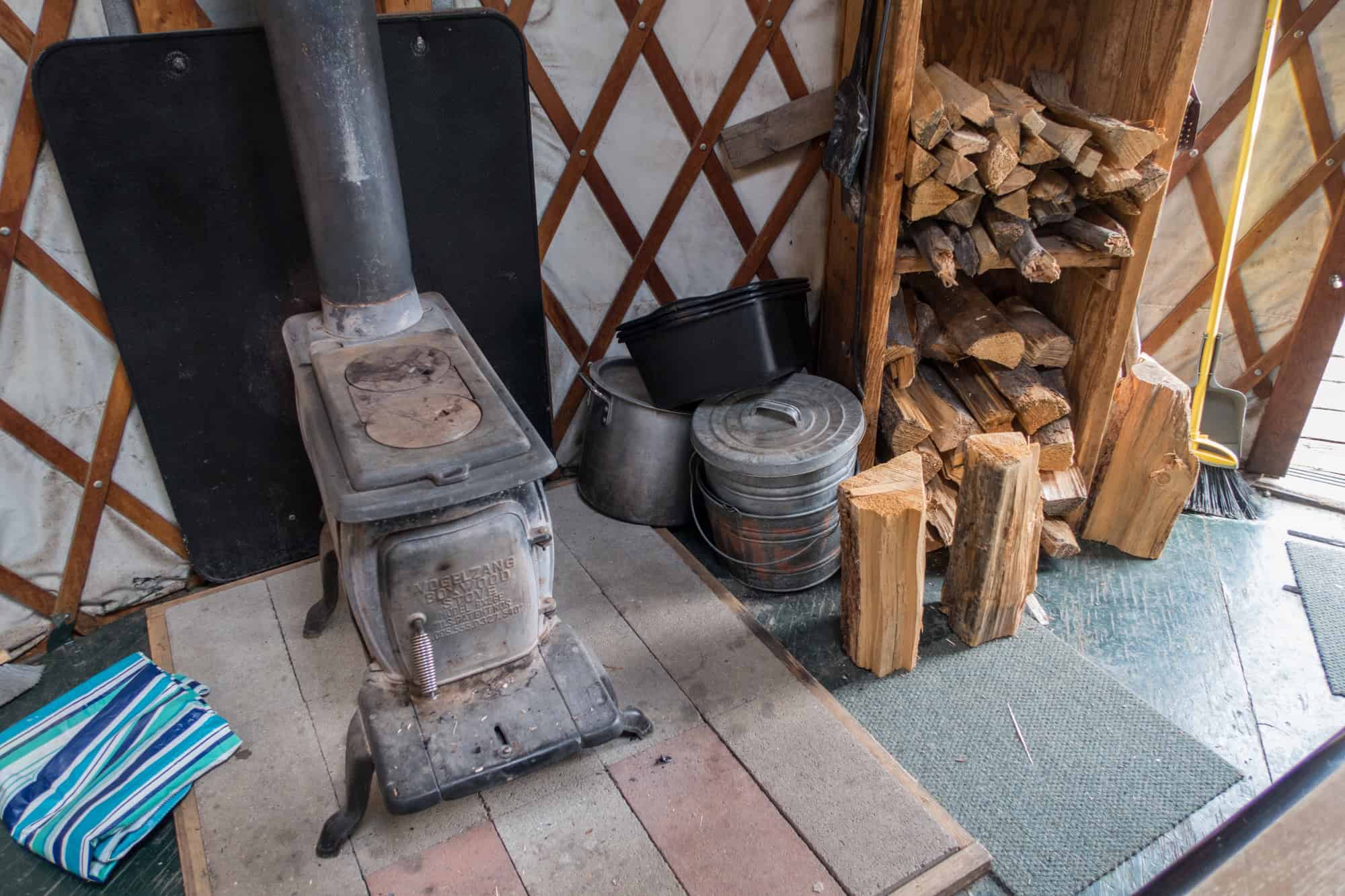 The Wood Stove: A Source of Warmth
Instructions for starting a fire were posted as well, and as it was already 3 pm, I wanted to get one going.
The sun goes down earlier in the mountains, and I also told myself if I had trouble, I'd still have time to hike back to the car.
Once I crumpled up some newspaper and small pieces of wood, I lit it up. Boom! I had a fire crackling to keep me warm and comfortable.
There's an art to keeping a wood stove going in a way that makes efficient use of the wood. It's based on how much air you allow in through the flue.
I'm not sure how well I was doing, though. The stove had a voracious appetite for wood, and I found myself feeding it a new log or two every hour.
Initially, the yurt warmed up too much, so I cracked the windows open to allow fresh air in.
By early evening, though, the windows were closed again as I tried to preserve all the heat I could.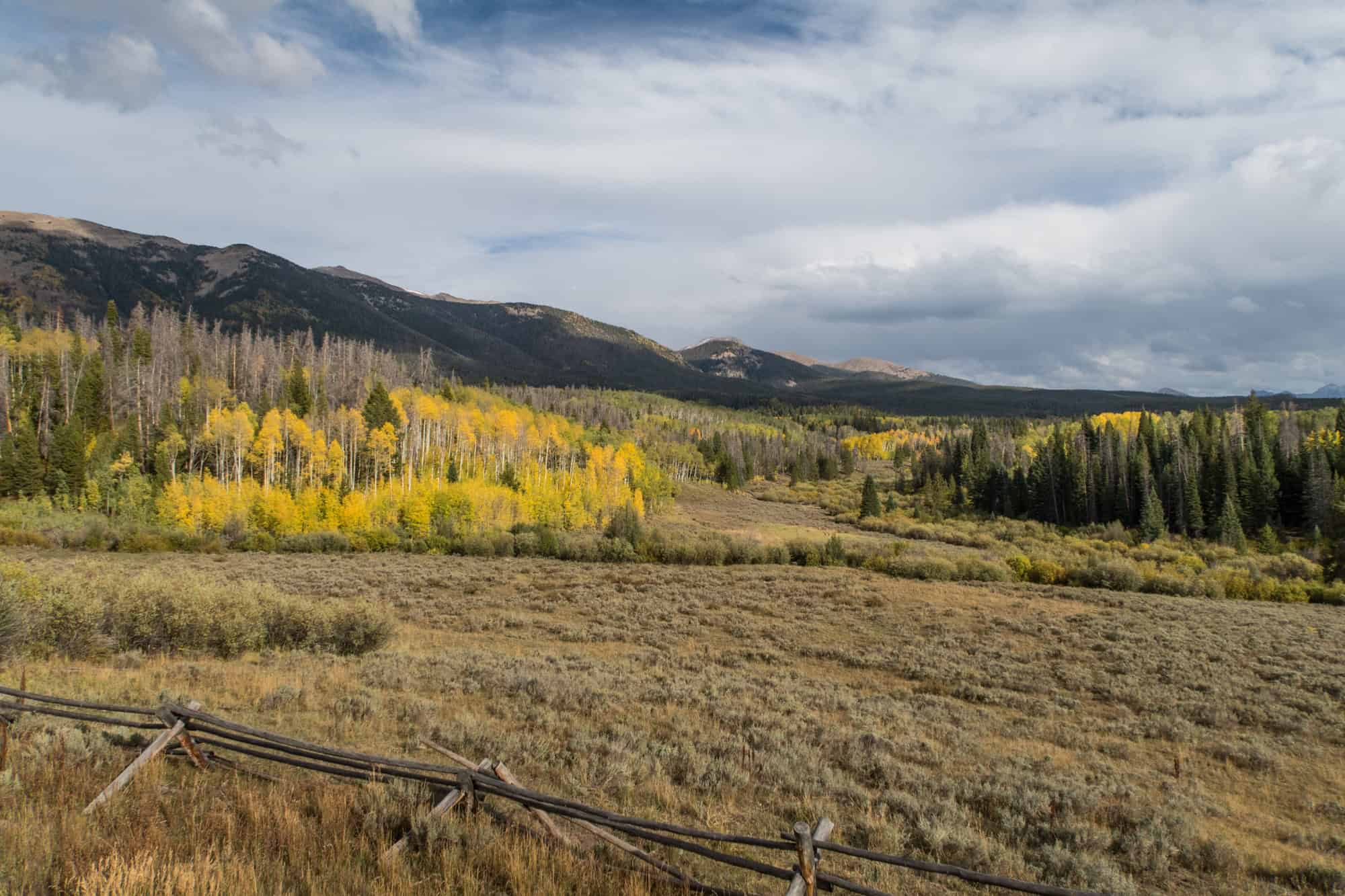 I spent the few hours of daylight that afternoon staring out at the fall foliage, taking photos, and enjoying the silence.
The leaves of select trees were a bright yellow, but the entire landscape turned to gold as the sun began to set.
Along with keeping the fire going, I was drinking a lot of water to stay hydrated, leading to frequent trips to the outhouse.
The rule of thumb is a liter of water per day for every 1,000 meters of altitude.
Given the possibility of encountering a bear and not wanting to leave the fire unattended, I didn't go on a hike.
I suppose that was by design, but I was already pushing my boundaries well beyond what was normal for me, so I was okay with the tradeoff.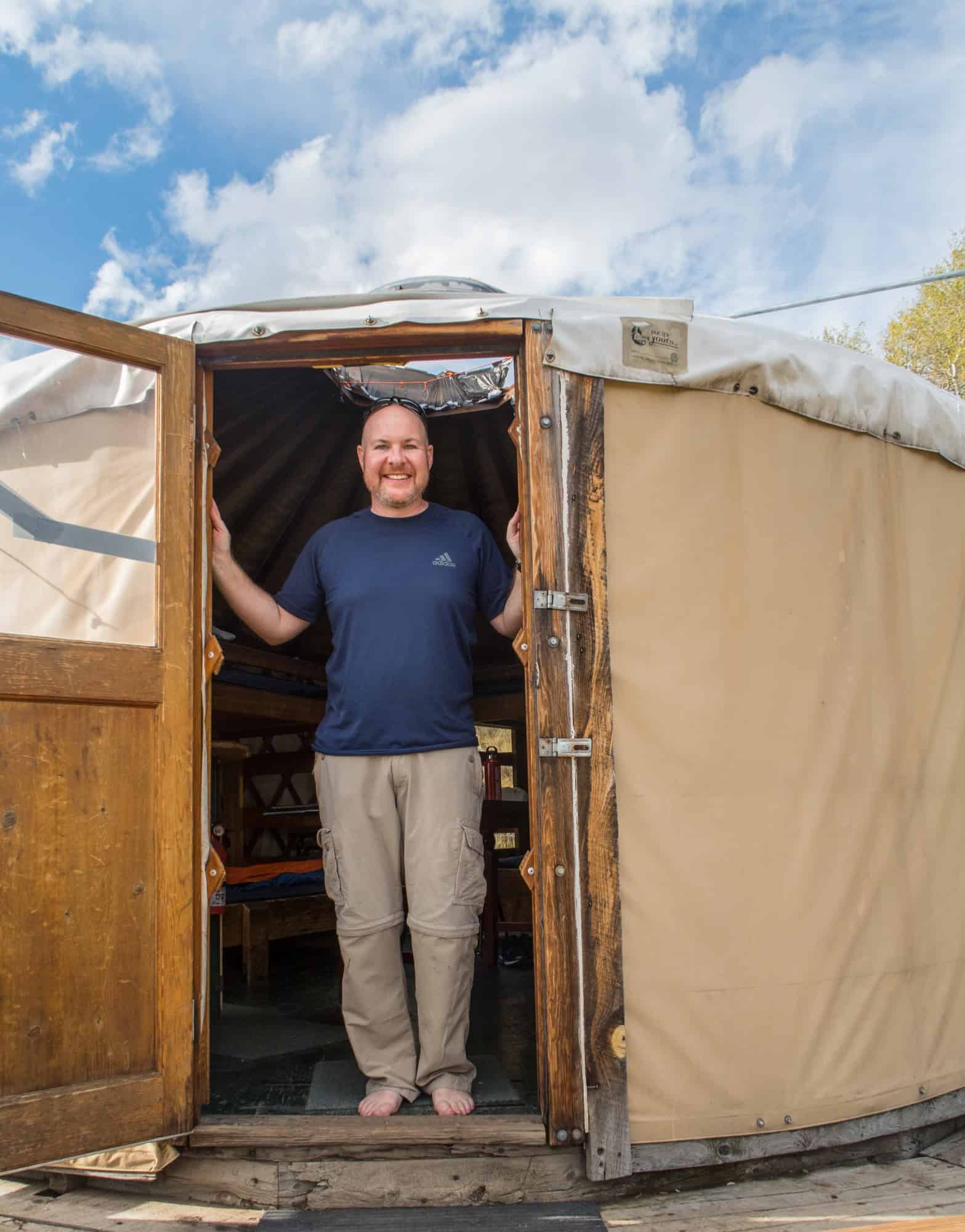 My nerves were high being out there by myself. I had trouble relaxing.
I had everything I needed, including shelter, fire, water, and food; however, I didn't have mobile internet access, only the intermittent ability to send brief text messages.
It sounds silly typing this now; however, at the moment, my mind was feasting on my insecurities.
I responded by telling myself it was only one night. I'd make it through okay, and feel proud of myself and animated by sunrise.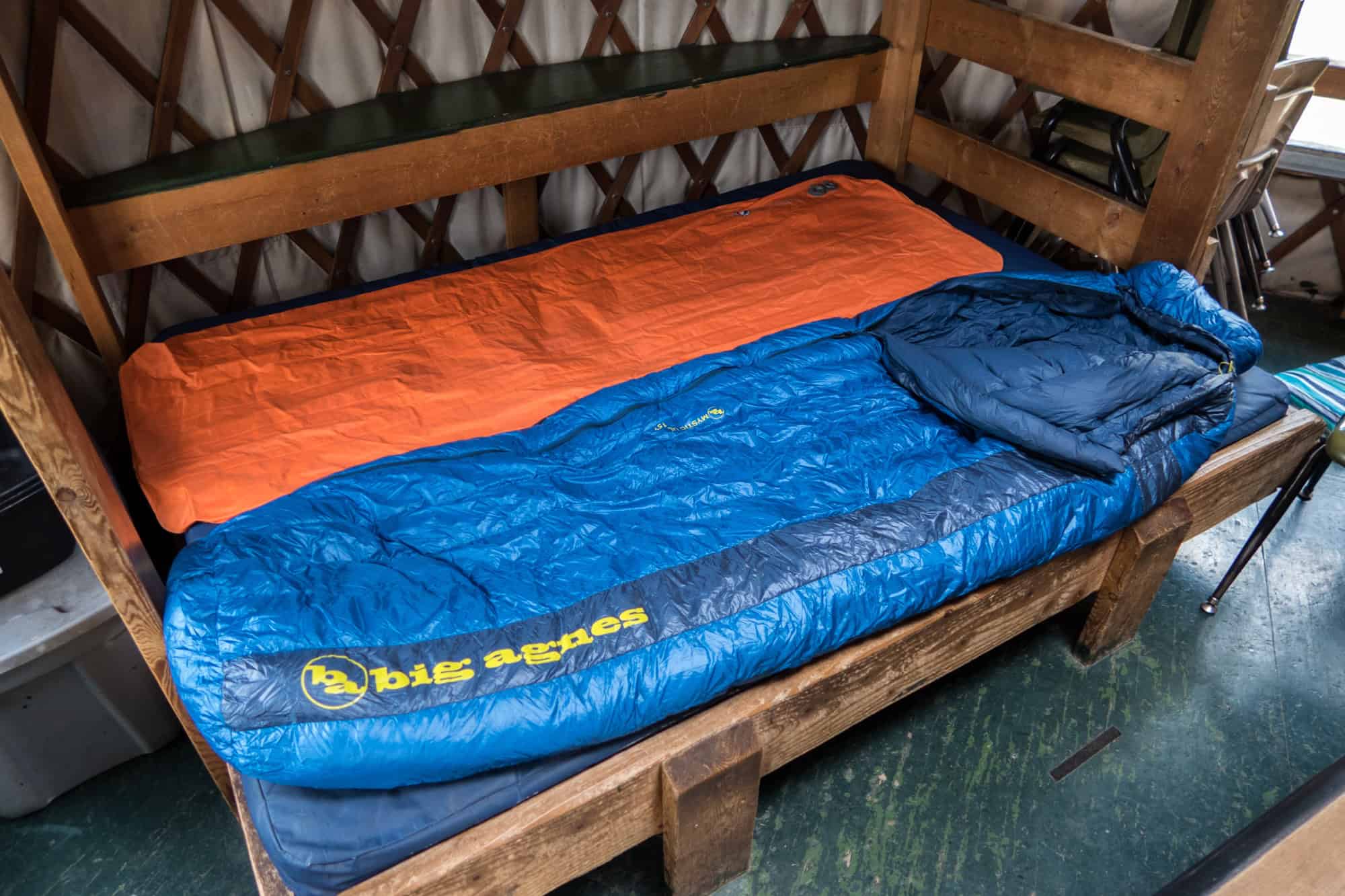 In addition to learning the importance of a warm sleeping bag in the mountains, I've also learned there's not much to do at night.
Given I was alone, that took having a conversation off the table.
I passed the hours tending to the fire, writing in my journal, reading an ebook on my phone, and listening to music.
And, of course, as I worked my way through the 5-6 liters of water I brought, I was going to the outhouse almost as often as I was feeding wood to the fire.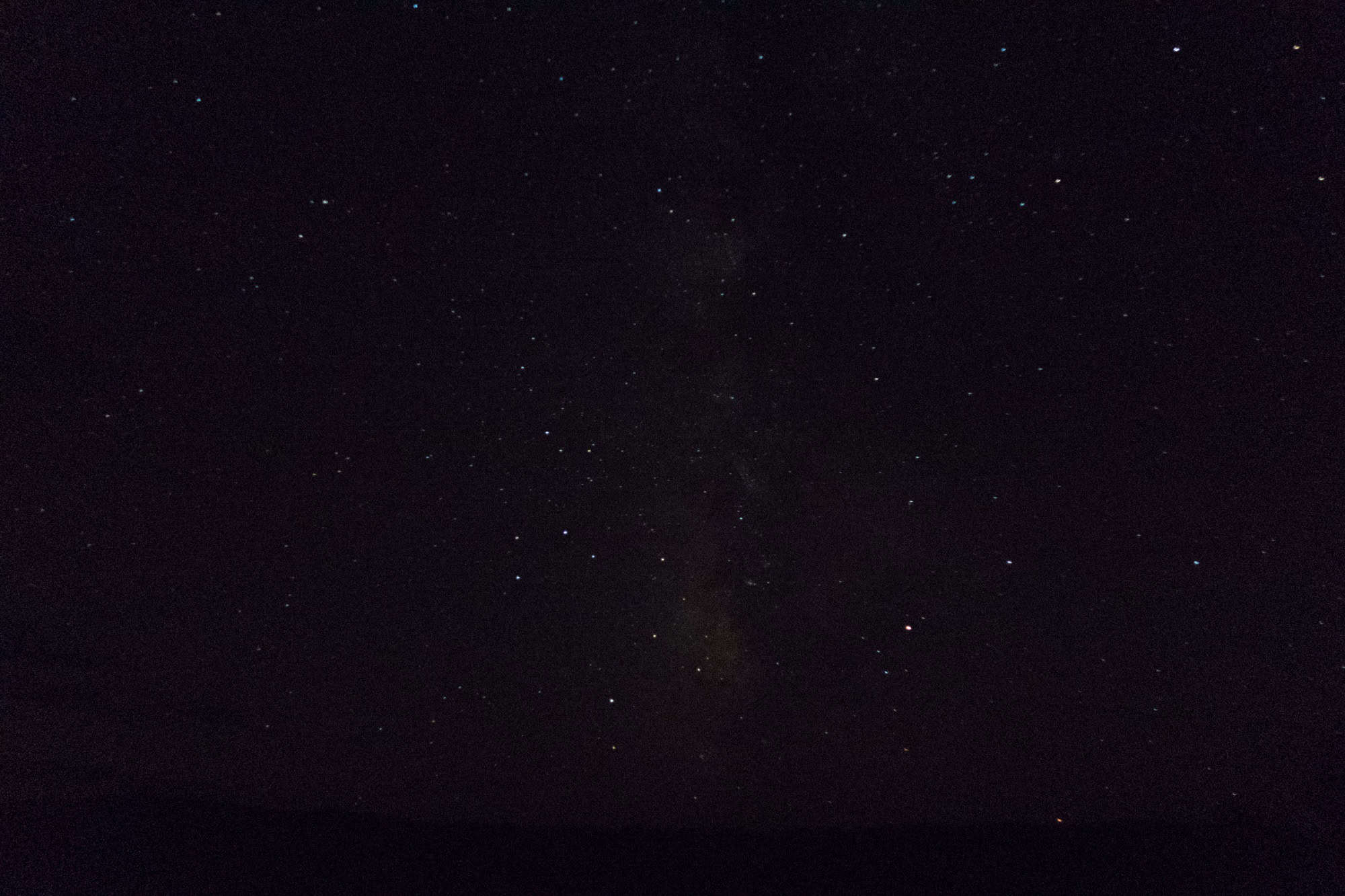 Starry Night
I could not fall asleep as I desired to keep the fire going, so the yurt was as warm as possible.
Every time I needed to pee, I'd put on my headlamp, step out onto the deck, and scan the perimeter.
It was pitch black, and I was looking for the glow of animals' eyes, a trick I'd learned on safari in South Africa.
Despite the grunting of some animals I'd heard, probably moose in the distance, I didn't see any glowing eyes peering back at me during my trips to the toilet.
What I did see, when I switched off my headlamp and craned my neck up, was one of the brightest, most beautiful night skies of my life.
The stars looked huge, and it was clear enough to see the Milky Way with the naked eye.
I didn't have a tripod, so I settled for merely pointing my Canon G7X point skyward. The photo above doesn't do it justice.
This night's sky ranked up there with what I'd seen in the Annapurna region of Nepal and the Atacama Desert of northern Chile.
At 3 am, my body's wish for sleep outweighed my anxieties, and I drifted off to sleep.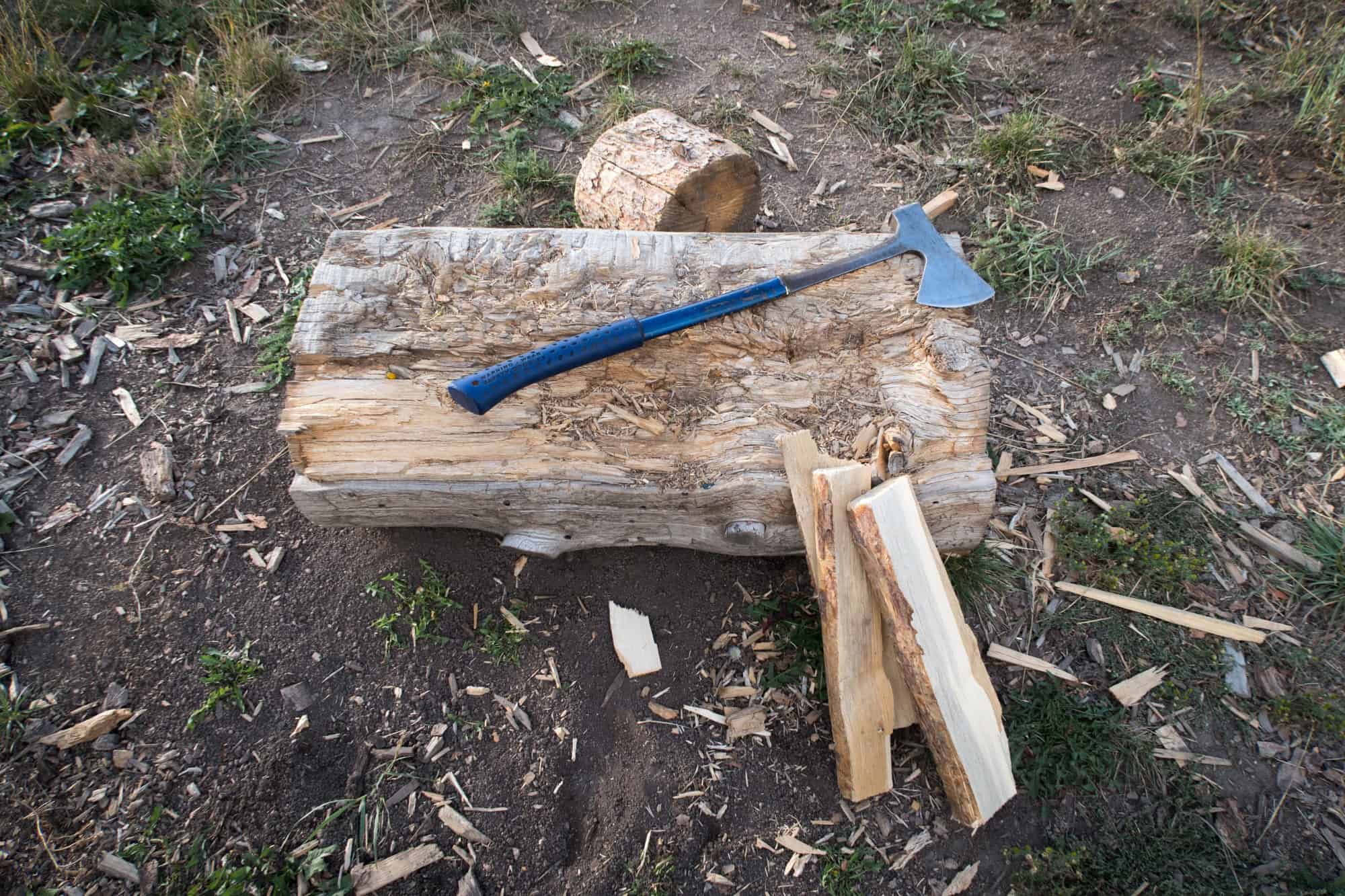 Sunrise
When I awoke three hours later, around 6 am, the first thing I noticed was how much colder it was inside the yurt.
The fire had been reduced to a few embers, and I was thankful to have been inside a sleeping bag.
Eagerly anticipating the warmth of the sun, I had a bite to eat and began packing up my belongings.
I had to replace the wood I'd used, so I carried up some of the pre-chopped logs from under the yurt.
To make smaller kindling, I also tried my hand at chopping some wood myself.
I'd started to split a log, and the ax was wedged in the top half, so I raised the thing, ax attached to log, and slammed it down on the massive log used for chopping.
The wood immediately splintered in two, with one of the pieces flying up and grazing my right cheek.
That explained why the rubber handle of the ax has the warning to wear goggles!
Related: 7 Reasons to Visit Kyrgyzstan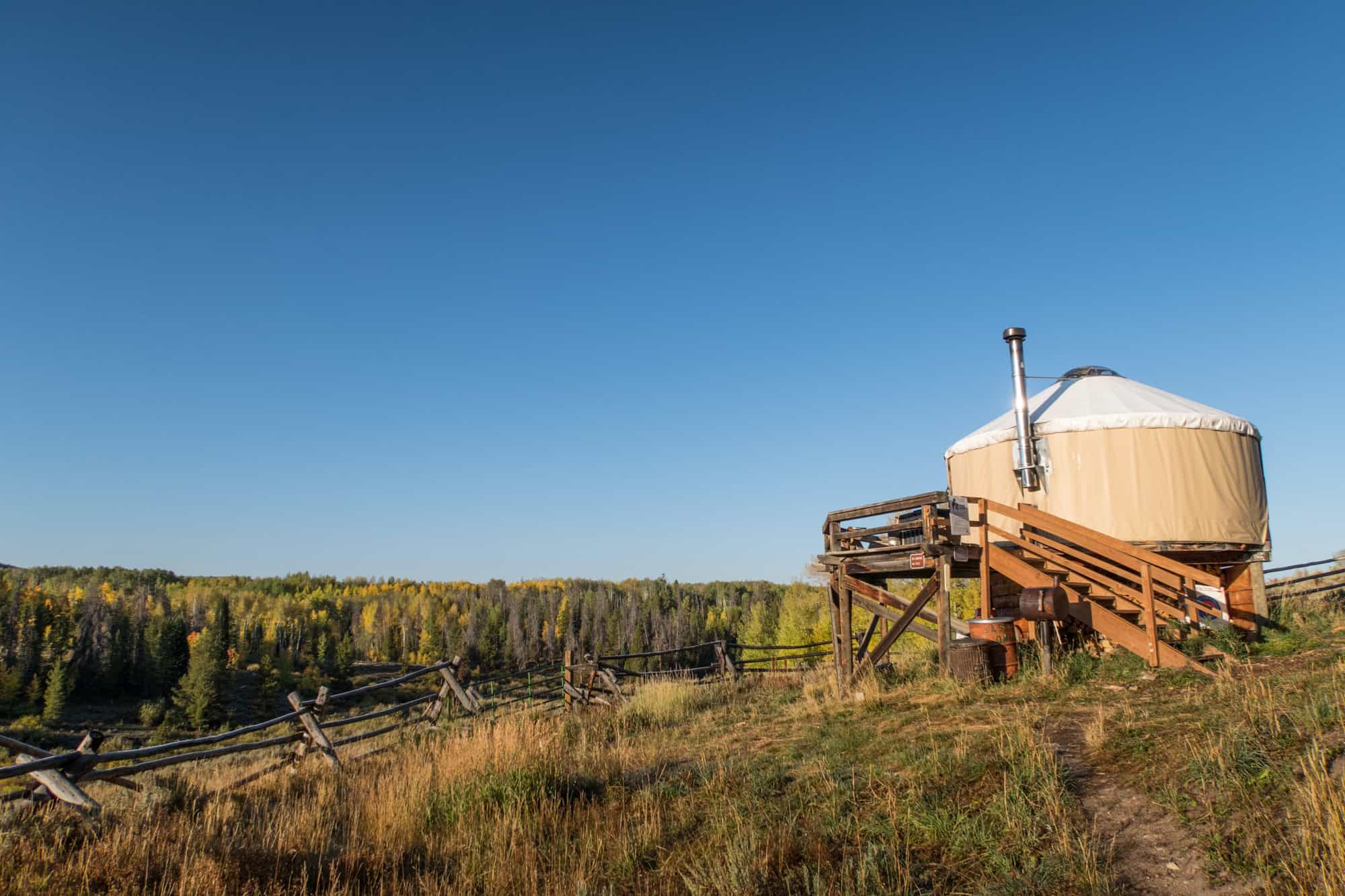 Hiking Out
With the wood restocked, my stuff packed, and the sun rising, I swept the floors, closed the flue on the woodstove, and closed the combination lock on the yurt's door.
Hiking back to my car, I felt triumphant.
I'd challenged myself to spend a night alone in the wilderness, in bear country no less, and survived.
____
My stay at the North Fork Canadian Yurt was courtesy of Never Summer Nordic and organized as part of my trip hosted by the Steamboat Springs Chamber Resort Association and Visit Fort Collins.
Dave is the Founder and Editor in Chief of Go Backpacking and Feastio. He's been to 66 countries and lived in Colombia and Peru. Read the full story of how he became a travel blogger.
Planning a trip? Go Backpacking recommends: