Bryce Canyon National Park in Utah is one of the most unusual and beautiful National Parks.
If you are planning a trip through Utah to some of the five National Parks in that state, consider a trip in the winter off-season for some relative peace and quiet.
Hiking in Bryce Canyon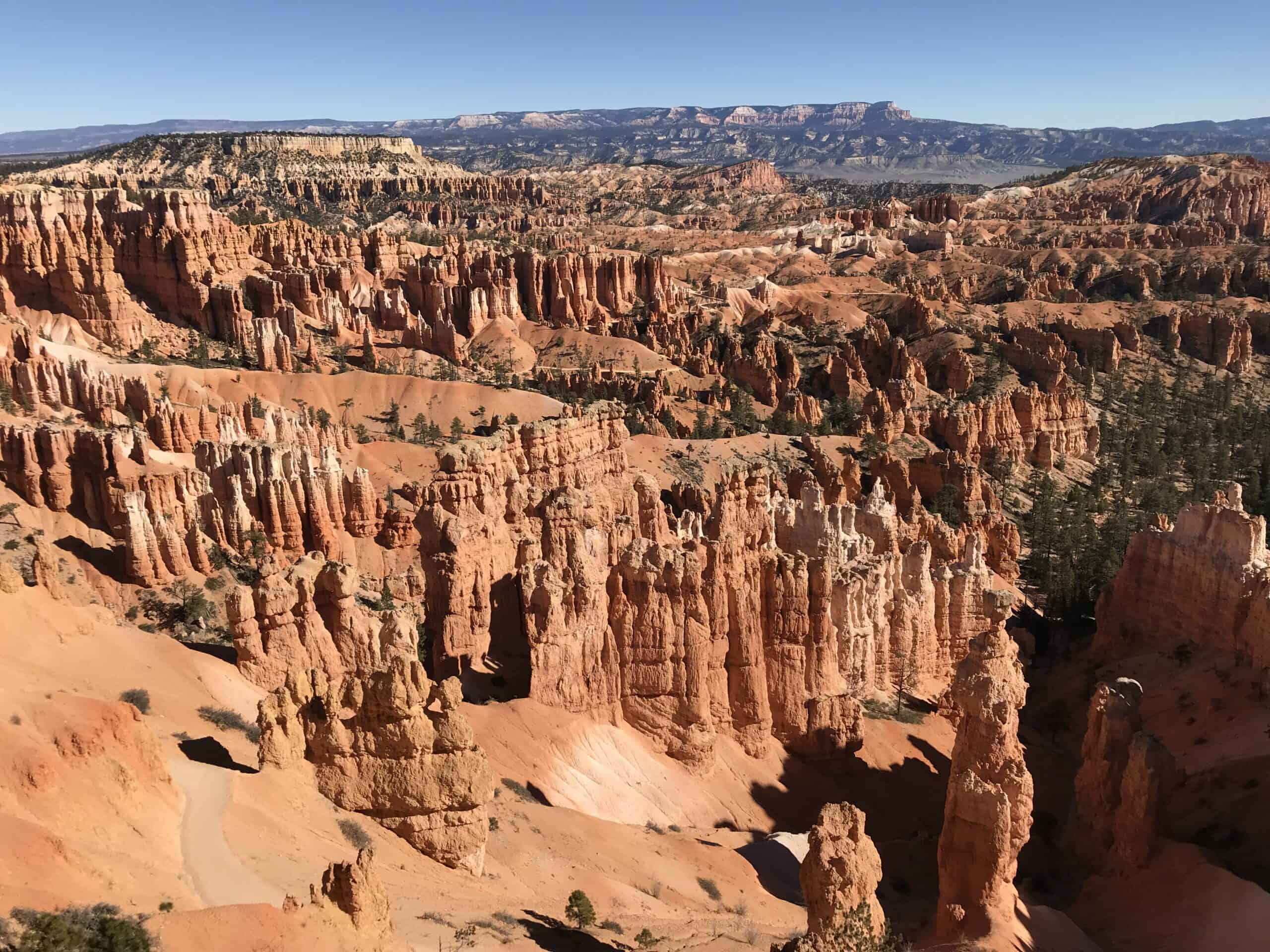 Winter Weather
It is winter, or winter like, for about seven months of the year in Bryce Canyon National Park.
It just so happens that this is the time of year that is not the heavily trafficked tourist season.
Sitting at an elevation of 8,000 feet (2,500 meters) it can be cold and snowy from October 1 to May 1 of any given year.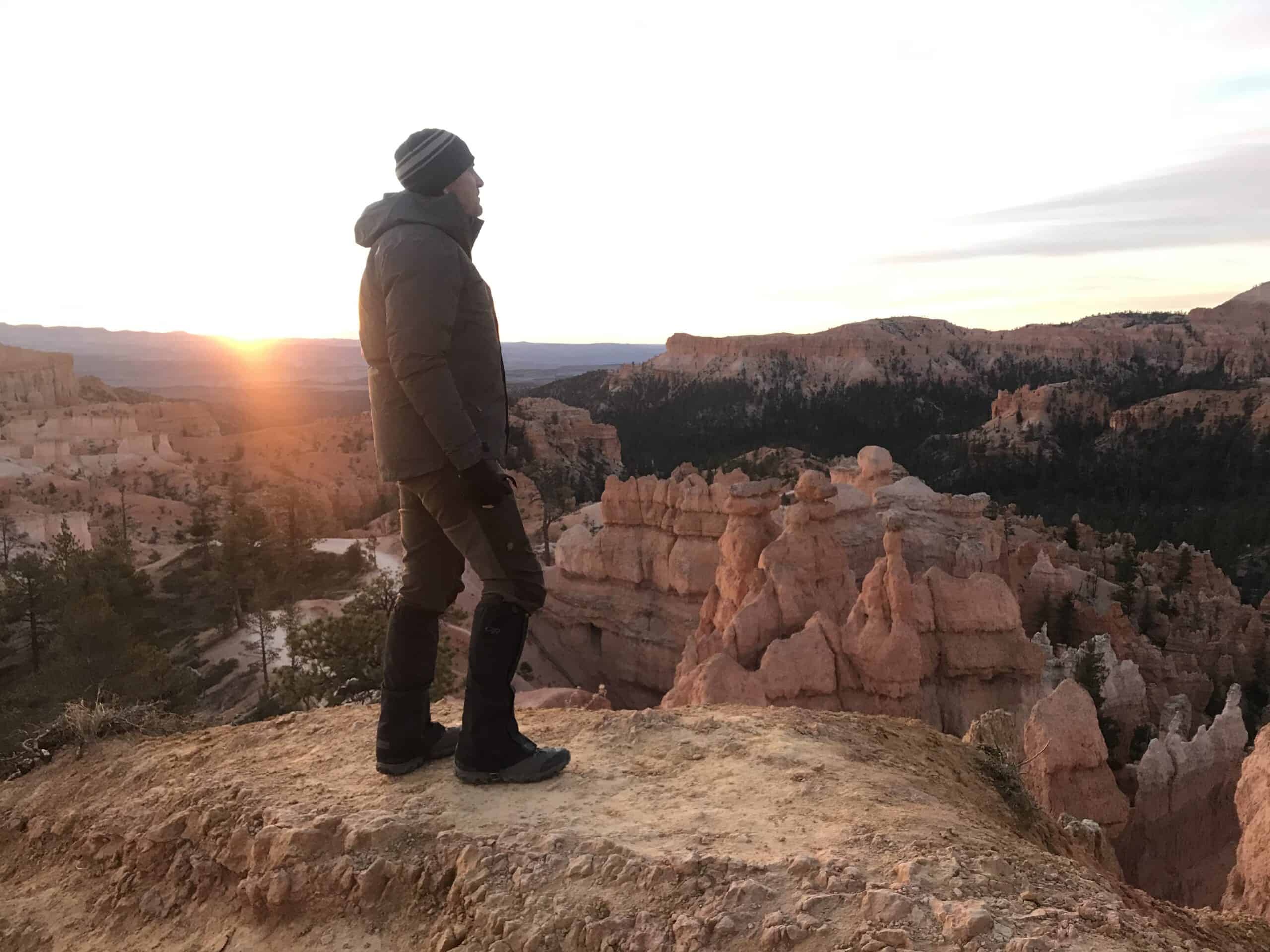 Our visit to Bryce Canyon National Park in Utah was in late November, two days before the Thanksgiving holiday.
While there was no snow on the ground yet, the weather had turned very cold even before the official start of winter.
The average temperature in November for Bryce Canyon National Park calls for a high of 44F and a low of 18F.
For us, it was about those temps on day one, but the following day at sunrise, it was just 7F (minus 14C).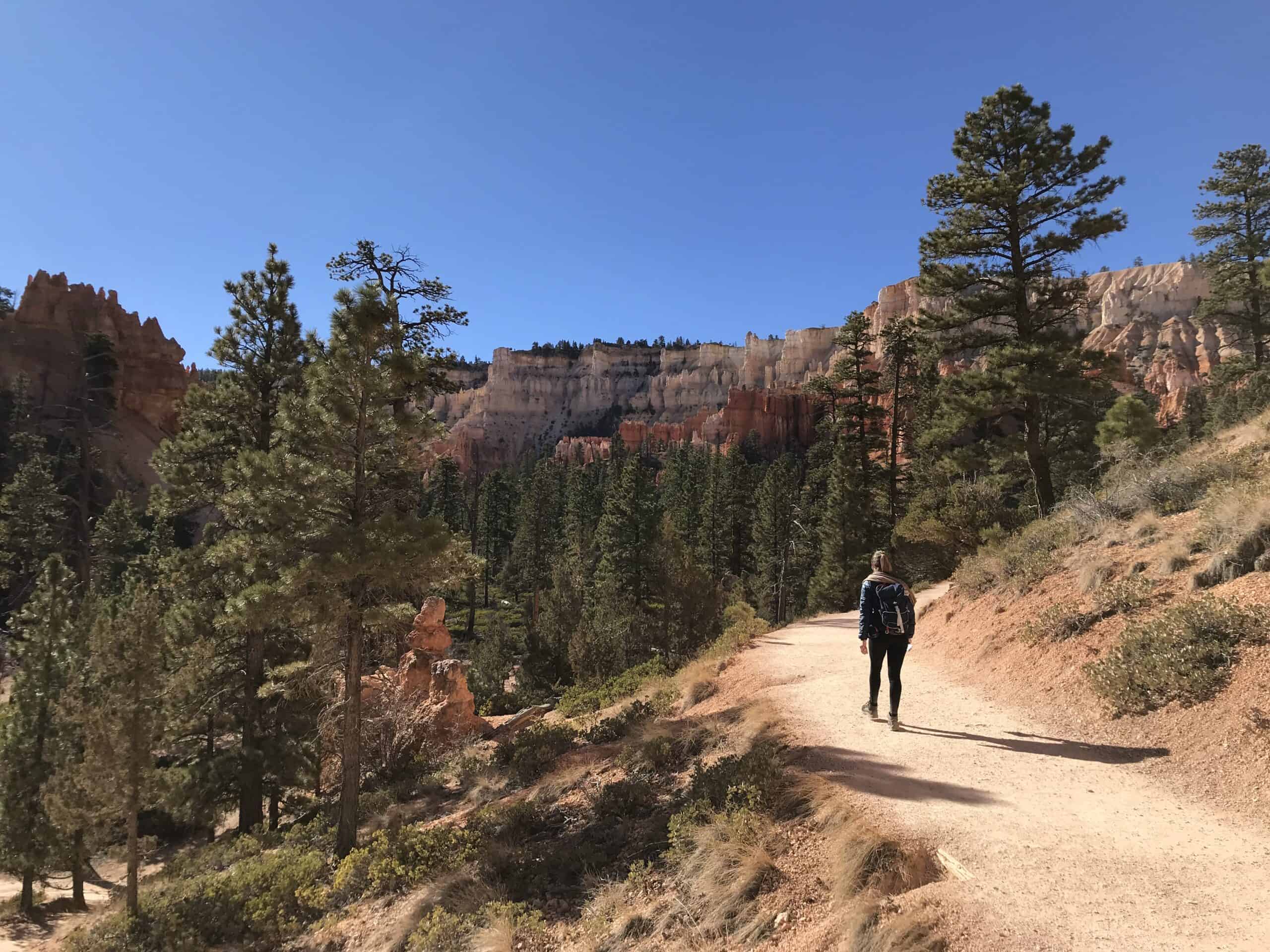 Empty Trails
As you may expect, this time of year is not crowded at the park.
Our hikes and explorations on foot were nearly people-free, and there was always parking available at each sightseeing parking lot.
We arranged an itinerary for two whole days at Bryce Canyon and an overnight stay at a motel just outside the entrance to the park.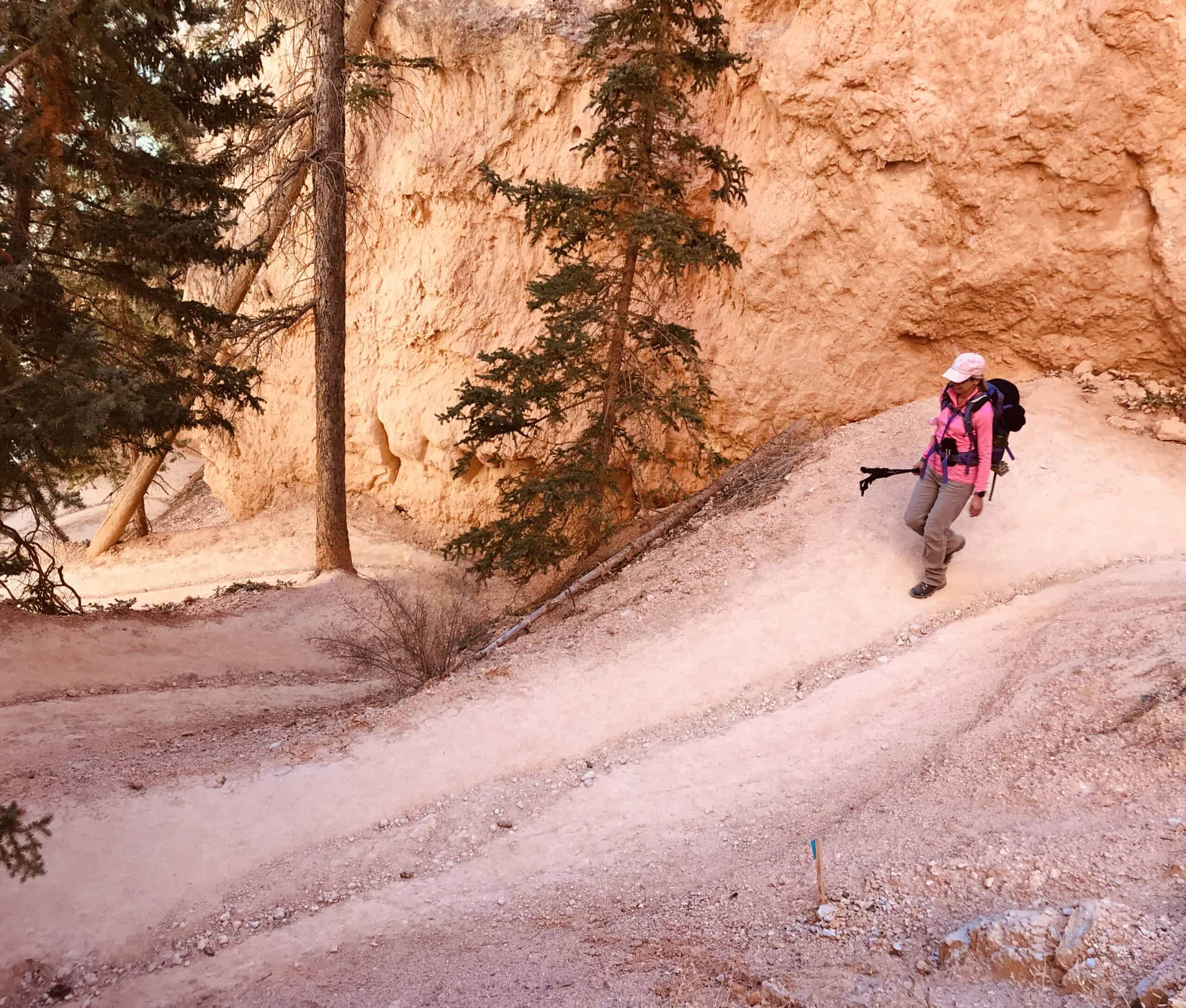 Bryce Canyon National Park is in a remote location, so planning is essential.
Some of the common locations where automobile travelers start their trip to Bryce are as follows:
St. George, Utah 2.7 hours
Beaver, Utah 1.4 hours
Zion National Park 1.5 hours
Arches National Park 4 hours
Salt Lake City, Utah 4 hours
We left St. George at about 6 am with plans to drive to Bryce Canyon National Park and start right away hiking down into the hoodoos.
Our research and hiking preferences guided us to create an amalgamation of two different trails, combining them for a 5-mile double loop.
We were convinced then that if you have one full day to spend in Bryce Canyon, this is the hike you should take.
Related: Where to Hike on a Road Trip to Zion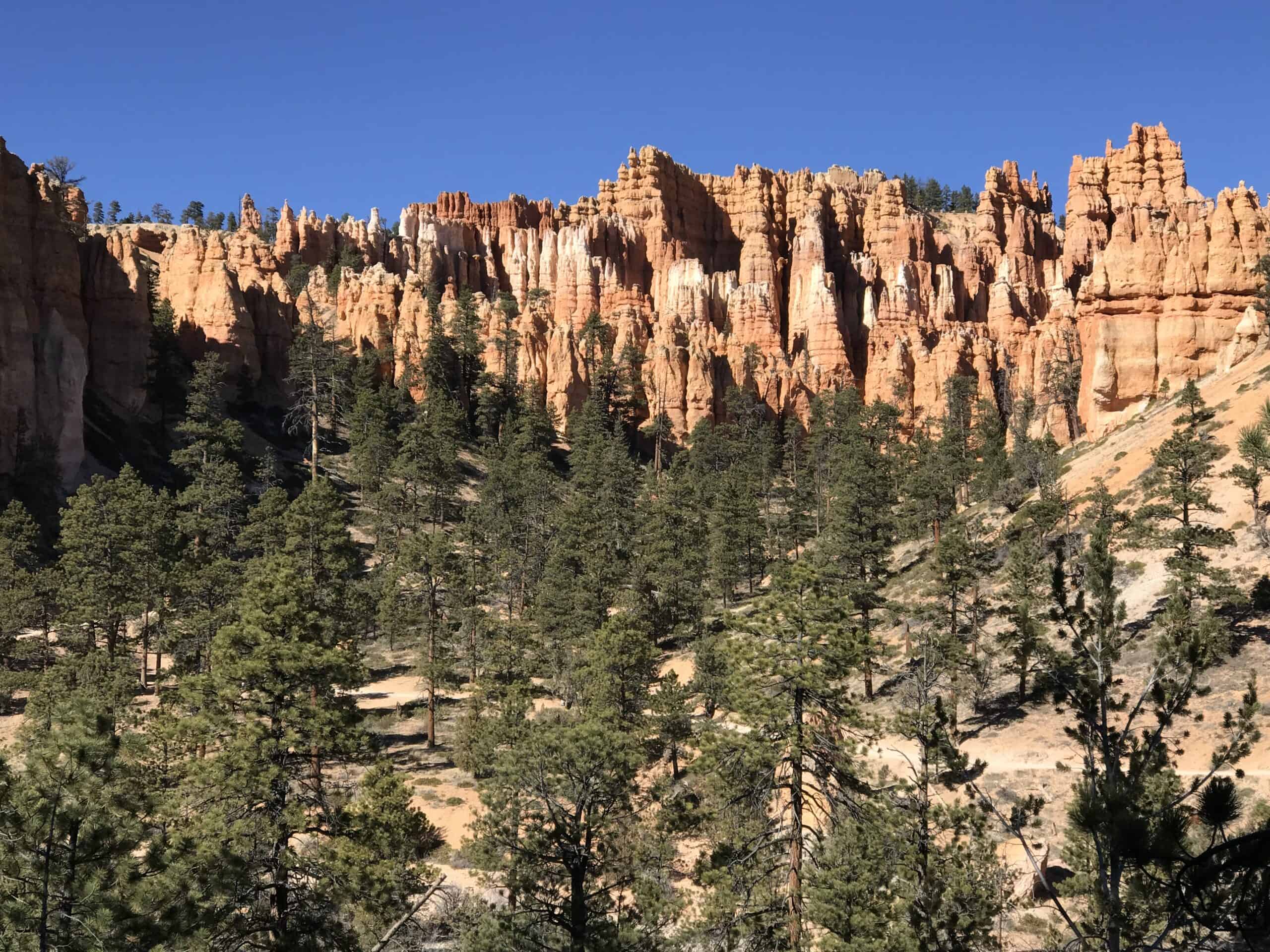 Red, White and Orange Rocks
It is an up and down trail with a total elevation gain of 1,581 feet or nearly 500 meters.
Plus, we were hiking at an 8,000 ft. elevation, so it was moderately difficult.
We came prepared for the cold weather and packed a big lunch to picnic on the trail.
Once we got hiking, it was not so cold, and we were thriving on the scenery.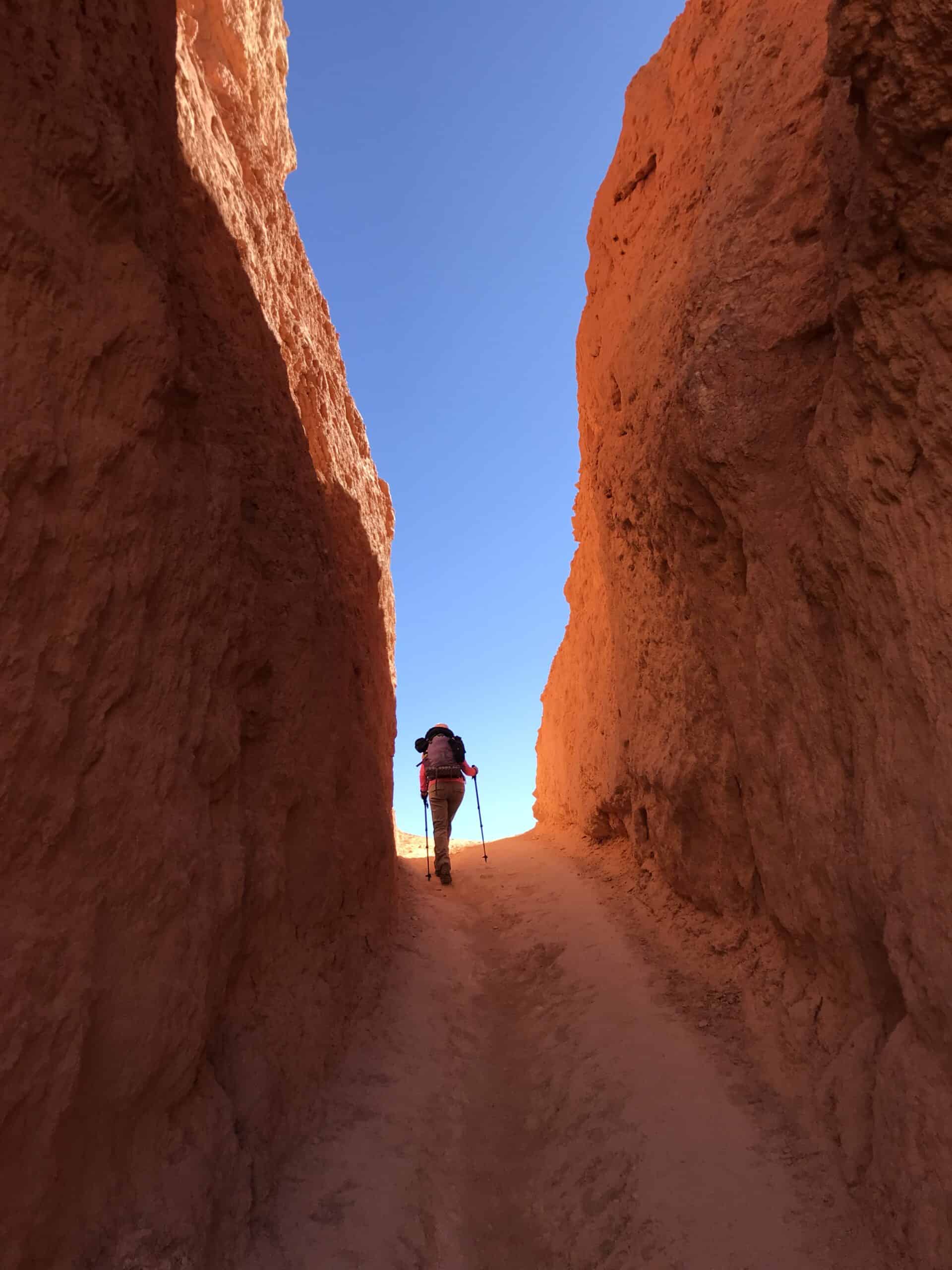 Our plans called for starting at Sunset Point and hiking down Navajo Loop Trail past Thor's Hammer and the Two Bridges rock formations.
Down, down we went on the winding human-made trail, which snakes between two sheer red rock cliffs.
Our hike took us through tunnels, some of the best slot canyons in Utah, in and out of hoodoos, through red rocks and red sand, and the green forests of Pinion Pines and Quaking Aspens.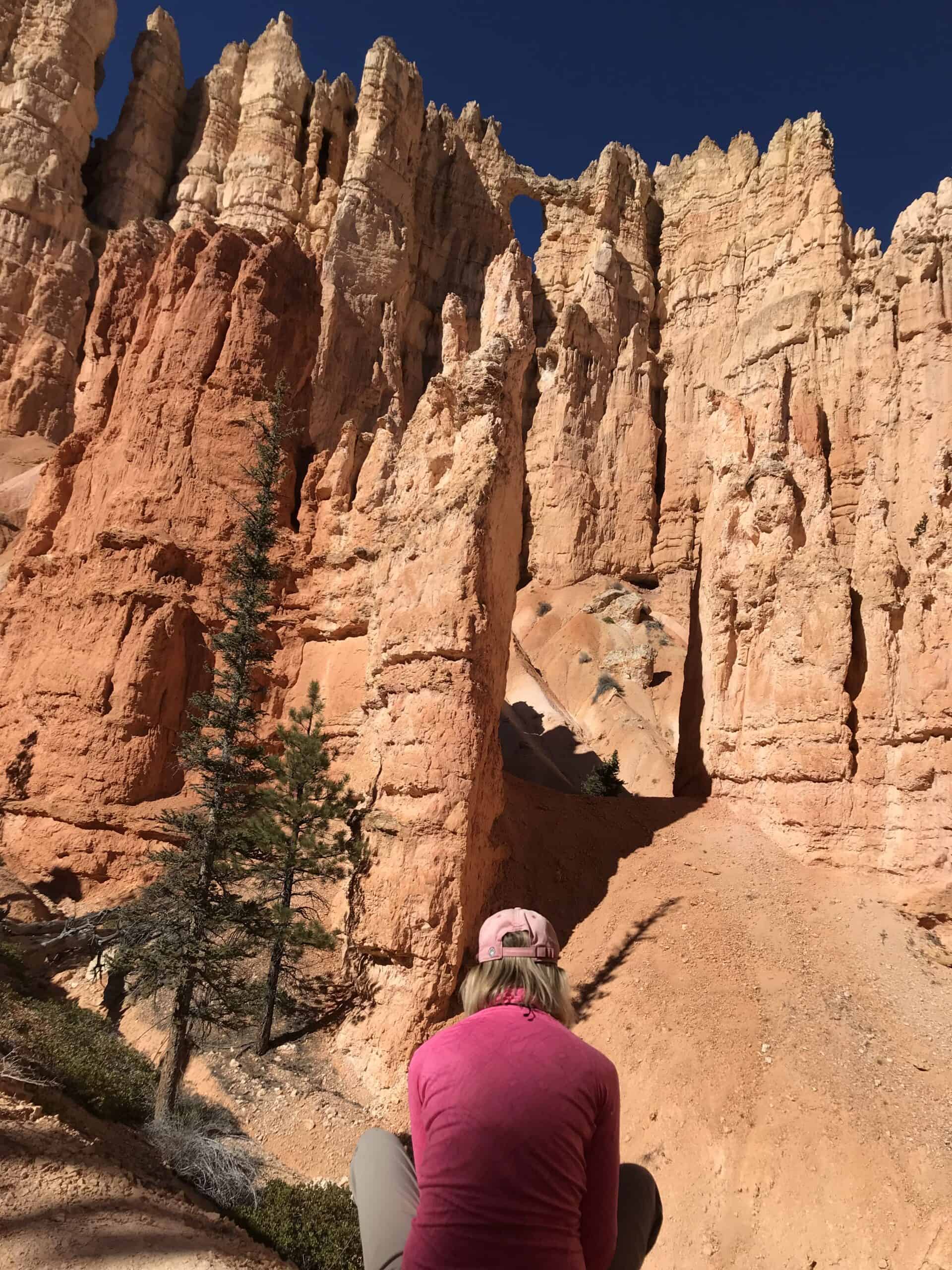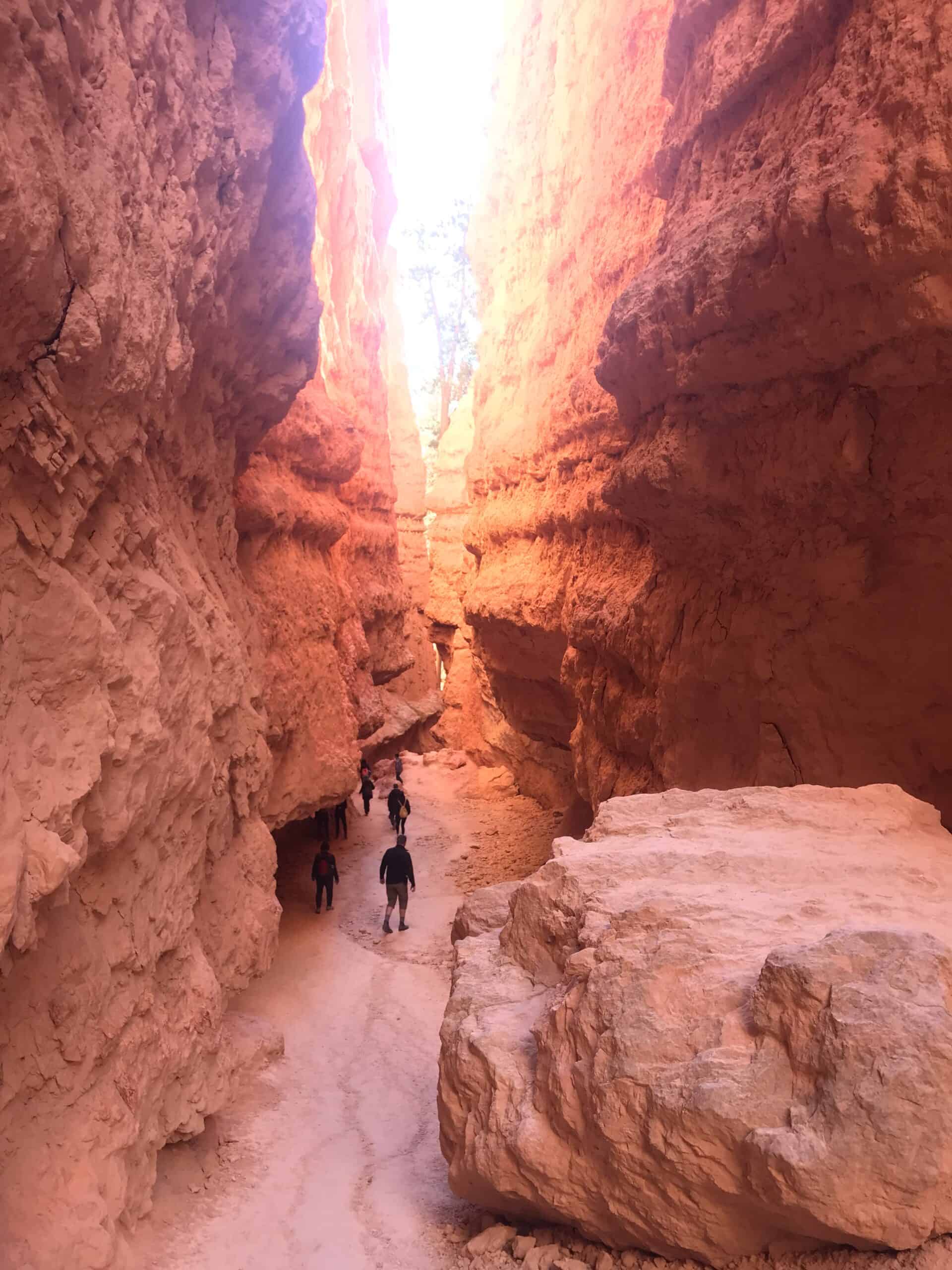 We stopped and marveled at the features known as The Alligator, the Wall of Windows, The Cathedral, and toward the end of our journey, Wall Street.
When our hike was completed, our day was just getting started.
We got in the truck and drove out to the lookout points called Inspiration Point and Bryce Point.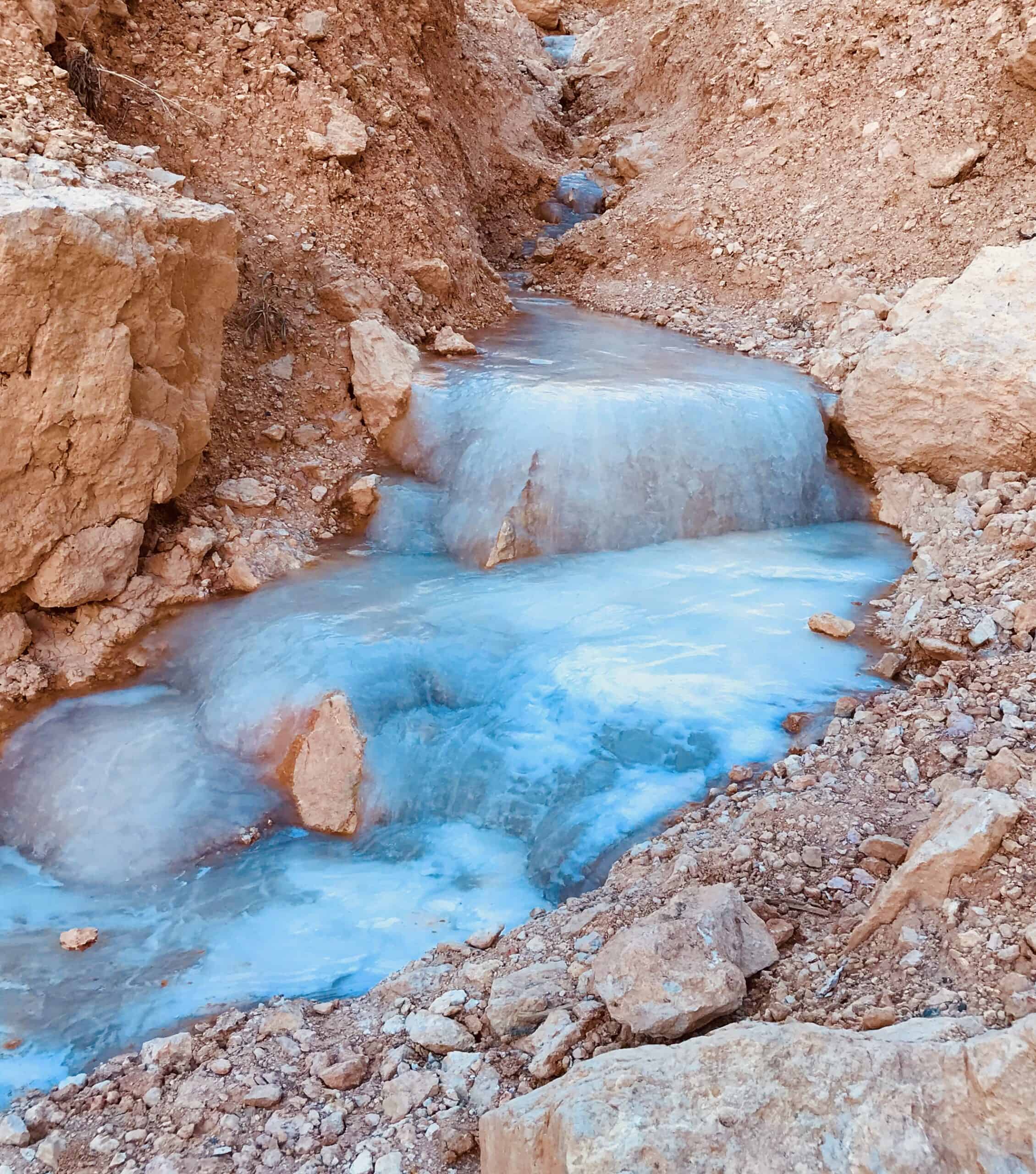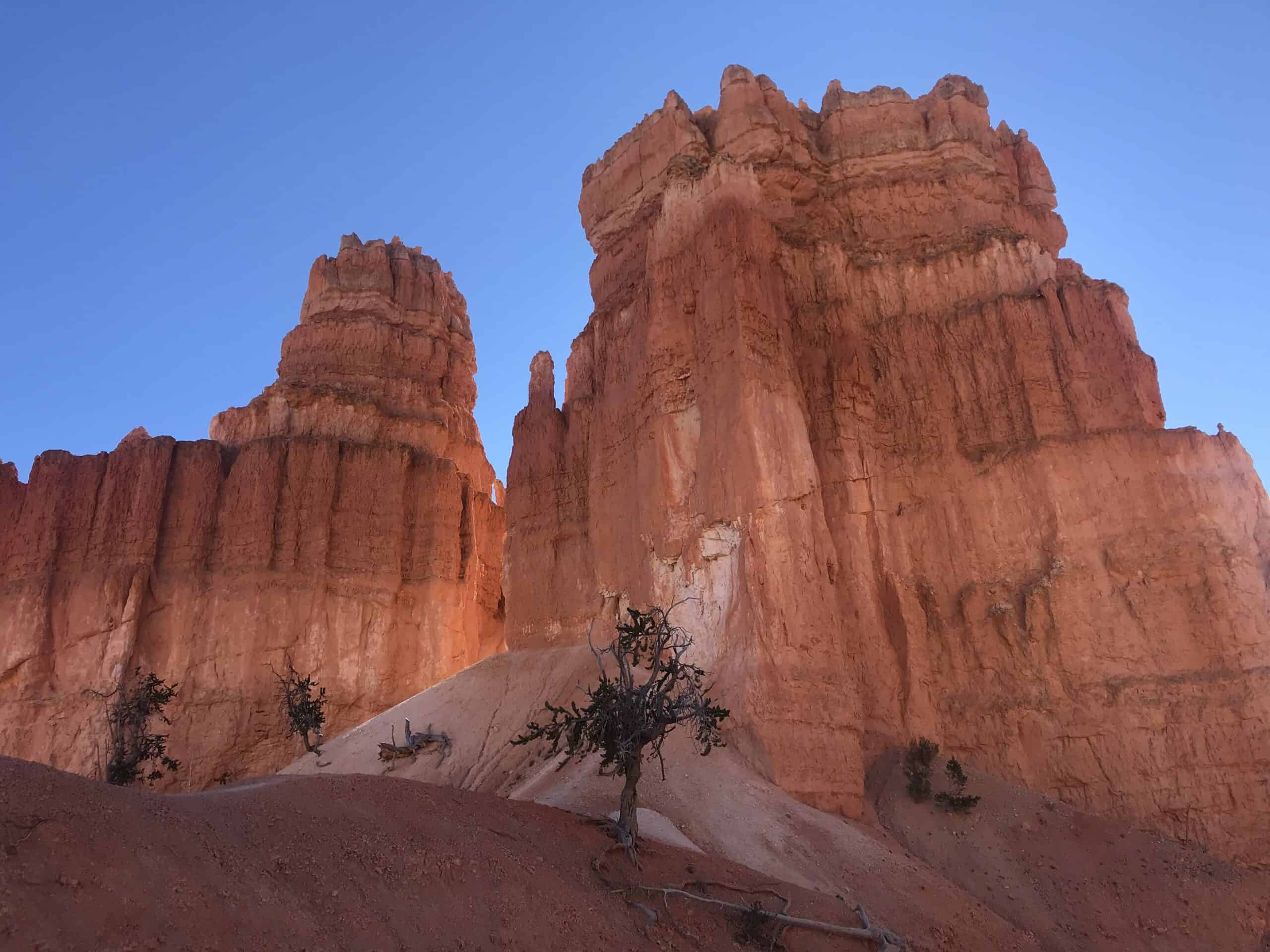 Arches and Windows
As the day wore on, we explored and hiked through the campground areas and around Bryce Canyon Lodge.
By this time of year, the lodge was closed and the camping sparse, but as we quietly strolled through the forest, we saw dozens of deer, who seemed oblivious to our presence.
We drove out to Fairyland Point for sunset, where we were the only car in the parking lot.
A short hike later, we settled on the vantage we were looking for and popped open a bottle of wine, and watched the sun drop beneath the horizon.
After checking into the motel, we walked over to another hotel with a buffet and a warm fireplace roaring away.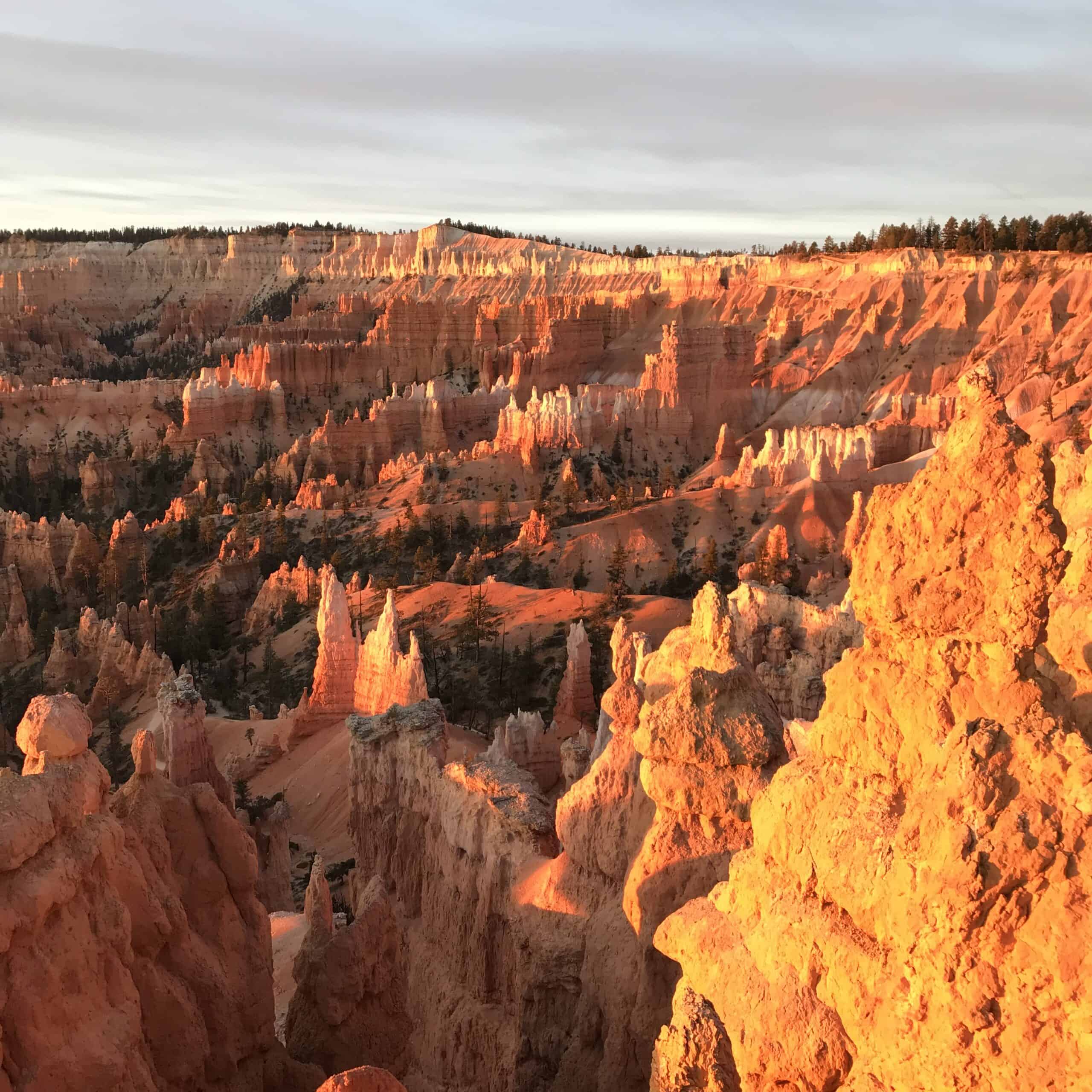 Seven Degrees
The morning coffee in the cozy bed of the motel room made us think twice about going out in the dark, pre-dawn to find a spot to see the sunrise at Sunrise Point.
I put on every piece of clothing I could find in my duffle, and we headed out into what we now knew was a super chilly seven degrees Fahrenheit.
Most of the other visitors to the park were not braving the cold, so we were mostly alone on the trails leading to the photographic vantage points.
I noticed later that each of my photos of the brightly colored hoodoos, bathed in the morning light, are clear of distant people on the other paths below.
It was just too cold – but not for us.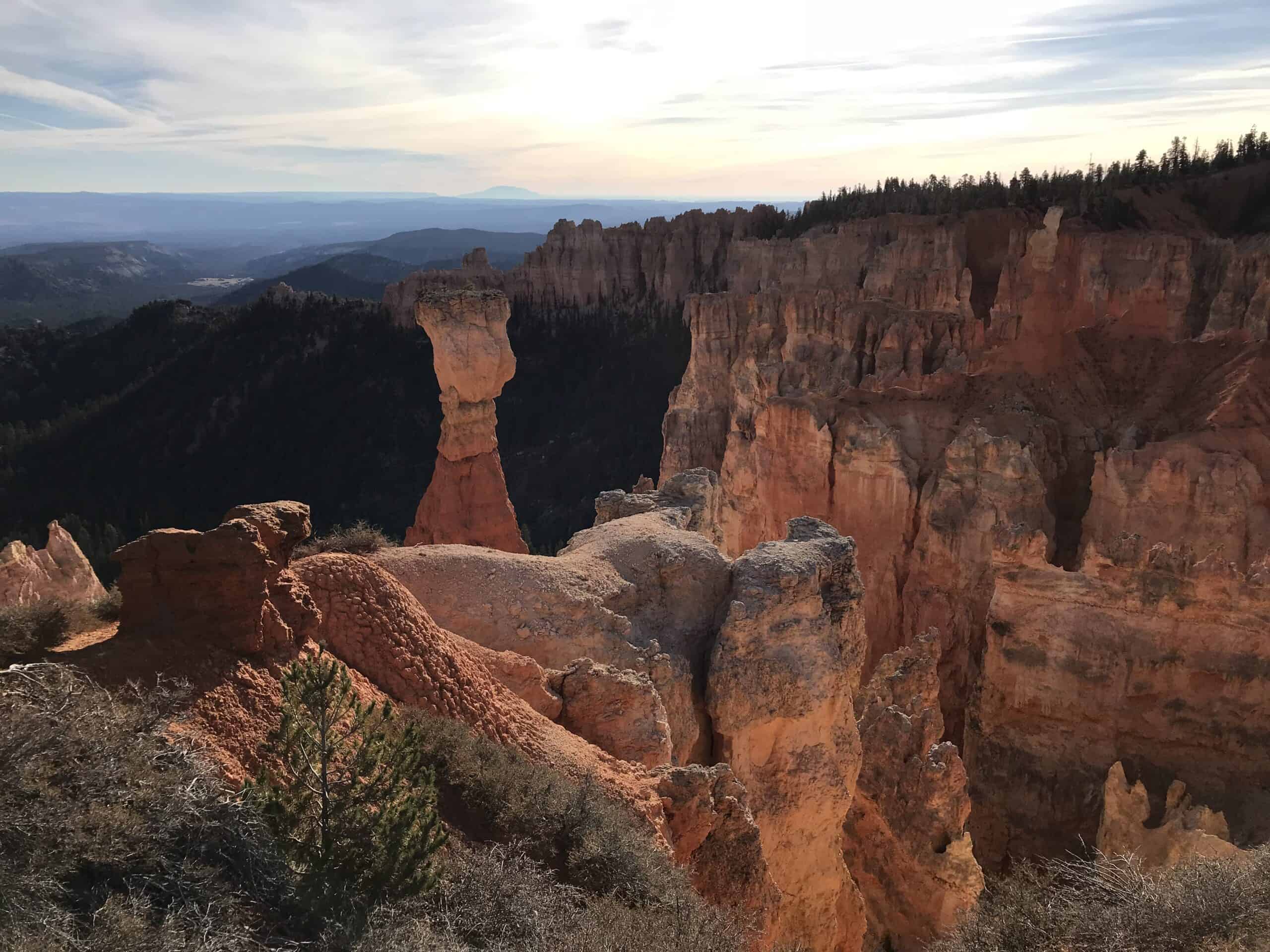 Rainbow Point
After a motel breakfast, we got back in the truck to visit Rainbow Point at the far end of Bryce Canyon National Park.
This road is paved and in great shape but may be closed during parts of winter when the snow is too deep to plow.
It is an 18-mile journey, one-way, and is lightly traveled.
We watched a furry bobcat walk in front of us and saunter down the side of the road before jumping into the brush.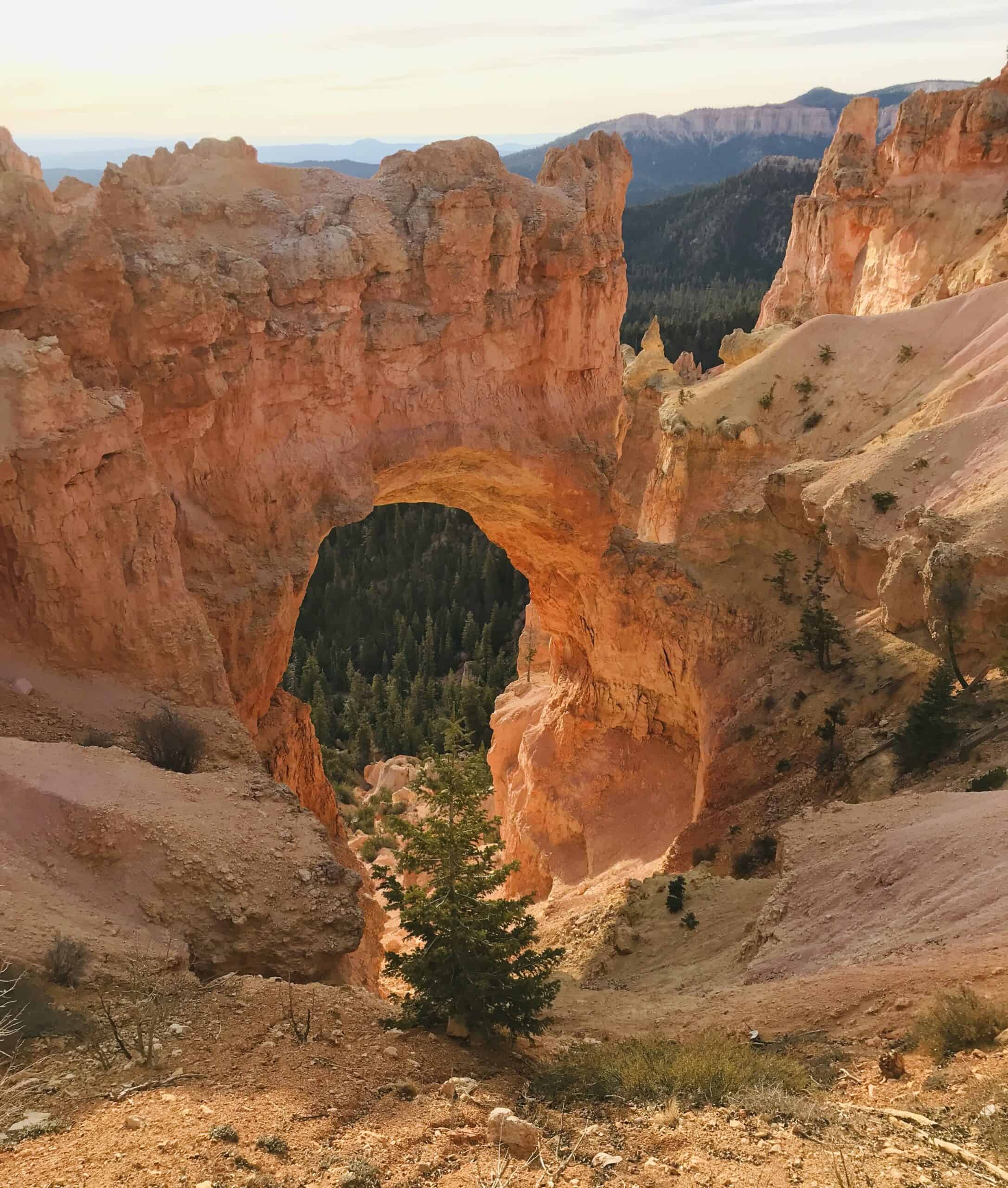 On the route, we stopped to look at Farview Point, Natural Bridge, and Ponderosa Canyon.
Rainbow Point is the highest elevation in the park at 9,115 feet (2,778 meters).
The views were endless, and the air was clean and clear. We loved Rainbow Point.
This end-of-the-road point is the start of the Under the Rim Trail, which is the route backpackers take to enjoy nearly complete solitude for a 2-3 day, 23-mile (37k) journey.
Backpacking in Bryce Canyon National Park requires a backcountry permit.
In summer, the trail is hot, and the water is scarce. In winter, water sources could be frozen solid.
Plan your backpacking trip in Bryce carefully.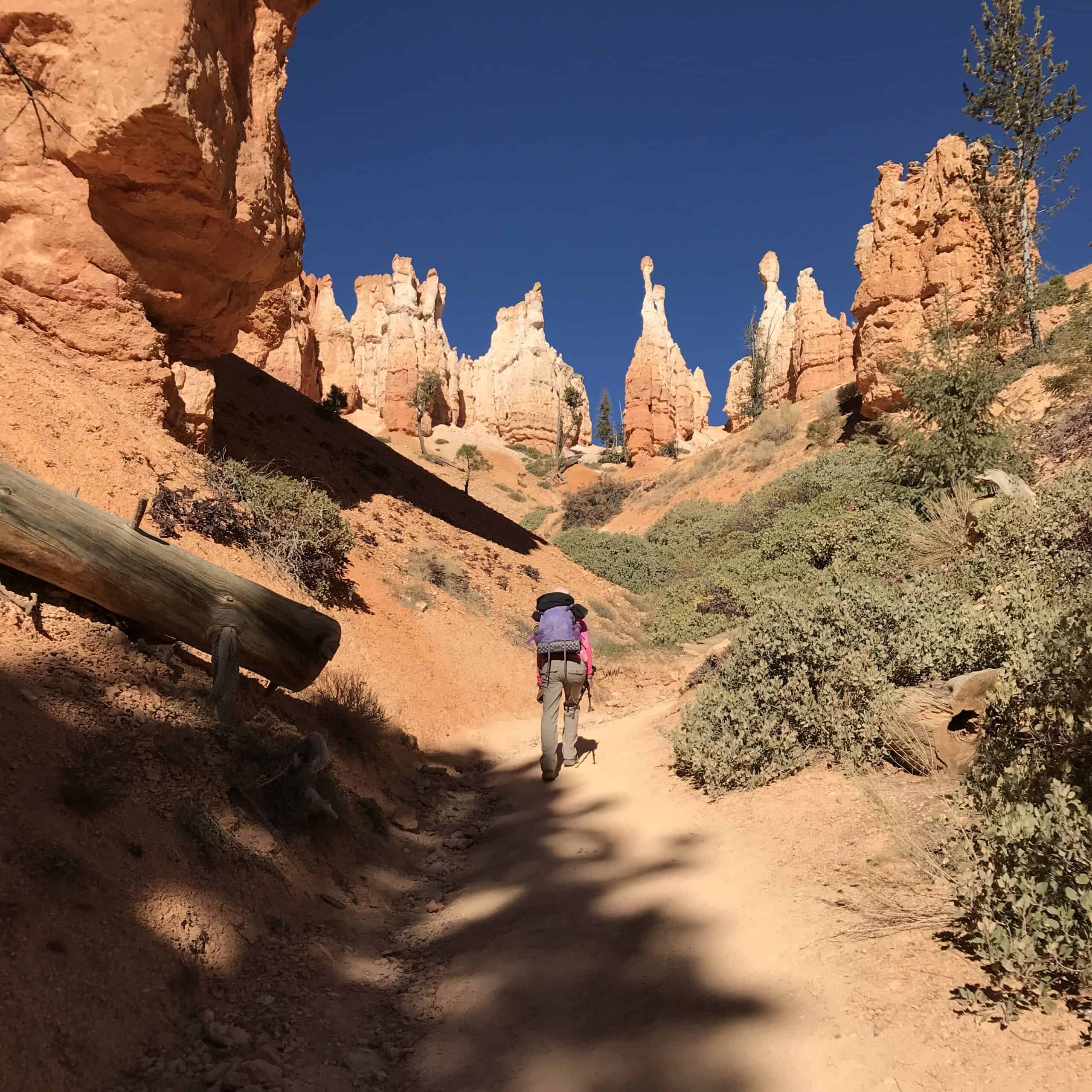 It was afternoon by now, and we drove back to the park entrance, out to Highway 89, and looked for a place to have a late lunch before going back to St. George.
If you are thinking about a trip to Bryce Canyon National Park in Utah, think about going in the winter months. You won't regret it.
Traveler, Adventurer, Writer, Photographer
Planning a trip? Go Backpacking recommends: