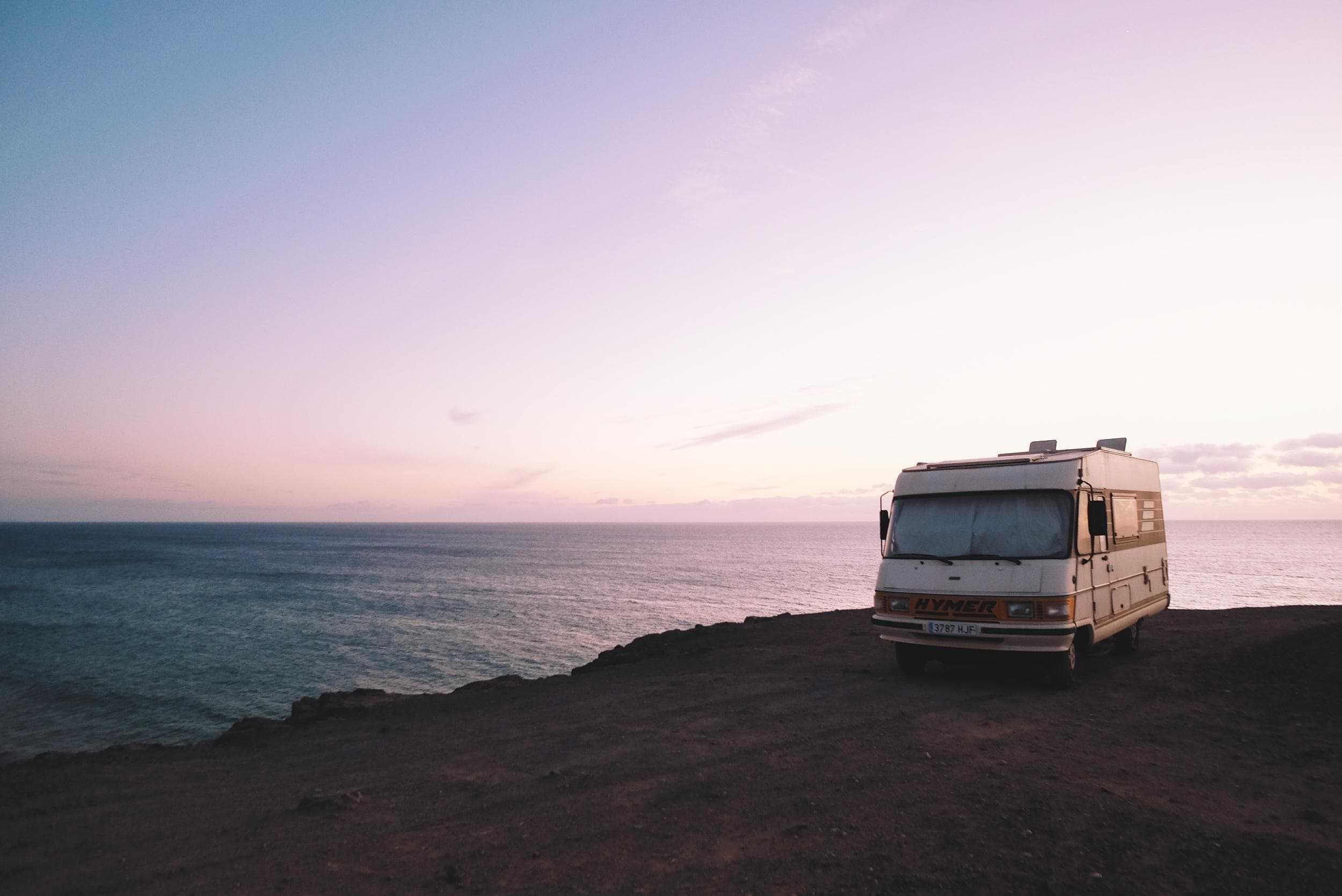 Just because you're backpacking doesn't mean you can't have a home base with electricity and running water!
In today's guide, I will show you how to plan and budget an RV road trip (even if you don't own an RV!). Let's dive in.
Why Should You Stay In An RV?
If you're into backpacking, why should you stay in an RV? It's a legitimate question—after all, this site is all about backpacking, not RVing.
Well, imagine this…
You're staying in the woods (boondocking) near Julia Pfeiffer Burns State Park in California.
You go for a day-trip to hike the Ewoldsen Trail. By the end of the day, you're sweaty and tired.
But instead of pitching a tent and calling it a day, you return to a nice and cool AC'd RV with running water.
The best part? You don't need to buy an RV to do it. There are loads of rental companies you can rent an RV from, and it only costs an average of $80-$150 per night. Some smaller trailers are even as low as $40 per night!
Plus, you can up and move to hit multiple trails during your outing. Heck, you can even take your camper down route 66.
Setting a Budget
Depending on the RV you get, whether you stay at a campground or boondock (camping without water or electric hookups on public property), and how far you're going, costs vary widely.
But here are some things to keep in mind.
RV Rental Costs
If you're renting an RV for your getaway, you'll need to budget anywhere from $40 per night to $250+, depending on the rig you decide to stay in.
To give you an idea, here are some average RV rental prices across the US:
Class A: Class A RVs are those big, driveable motorhomes with flat windshields.
Not to be confused with a Class C, which has the sleeping area above the cab.
Class A's are the most expensive RVs, averaging $200+ per night.
Class C: Class C RVs are the ones with the sleeping area over the cab.
Depending on the length and amenities you're getting, these average anywhere from $100-$200+ per night.
Class B: Class B motorhomes are the smallest driveable motorhomes aside from campervans. They're basically bigger campervans.
These also range from $100 to $200+ per night because they're typically built with higher-quality materials than Class A's and C's.
Bathrooms are one area where you won't want to sacrifice quality. Check sites like Kempoo.com for small campers with surprisingly nice bathrooms.
(Don't ask me why A, B, and C don't go in order of size. It seems silly to me, too.)
Trailers: Unlike driveable motorhomes, trailers don't have an engine and therefore must be towed.
Trailers range from tiny teardrop trailers to mid-sized travel trailers, massive fifth wheels, pop-up campers, and more.
There's a lot of variety and thus can cost anywhere from $40 per night to $250+.
A tiny trailer with a bathroom and room for two usually averages around $100-$150 per night.
Just make sure you are 100% positive your vehicle can tow the gross weight of a fully-loaded trailer!
If not, you can often get the owner to tow it and set it up/take it down anywhere you'd like (for an extra fee, of course). This usually costs an extra one-time $50-$100.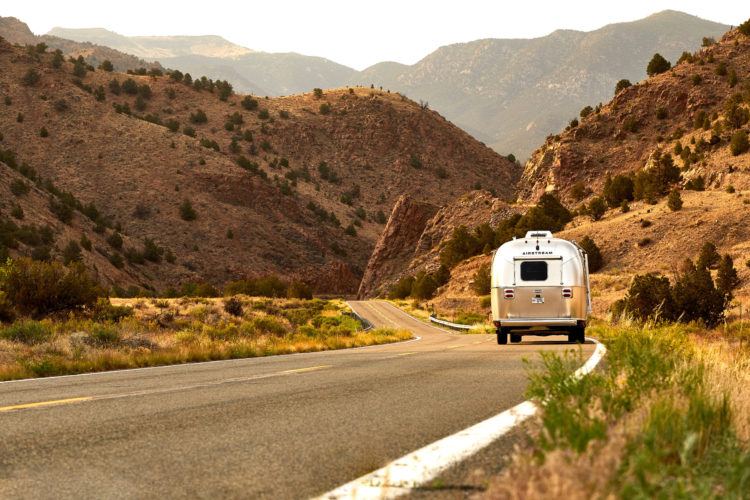 The cheapest option is to get a small travel trailer or a teardrop trailer. Some of the smallest ones can even be towed by a car.
Again, though, make sure you research how much your vehicle can tow (gross weight, not dry weight).
Gross weight is the weight of the trailer, including fuel, passengers, freight, etc.
Other fees to consider include:
Setup fees (if you're having the camper delivered to your campsite)
Gas
Additional mileage charges (if there's a mileage limit)
Cleaning fees
Not all rentals will have these fees, but keep them in mind while budgeting.
Campground Fees
If you're staying at a campground, there will be campground fees as well. Like RVs, campgrounds vary widely in their price.
You've got high-end luxury RV resorts with indoor and outdoor heated pools, gyms, and lots of other amenities; then you've got the lower-end places that might not even offer electric or water hookups.
It's just like hotels—you can find all sorts of different places to stay.
On average, however, I've found campground fees range from $40-$100 per night, more during peak season.
If you decide to go boondocking (AKA dry camping), on the other hand, you can stay in some incredible places—for free.
Boondocking means staying on public property (forests, mountains, deserts, beaches, you name it!) instead of at a campground.
Of course, this means you won't have access to water or electric hookups.
But you can still store fresh water in your RVs fresh water tank, and most rigs come with a generator and batteries for electricity.
Some people even go all-out and set up solar panels on their roofs so they can stay in the woods for weeks at a time without coming back to civilization.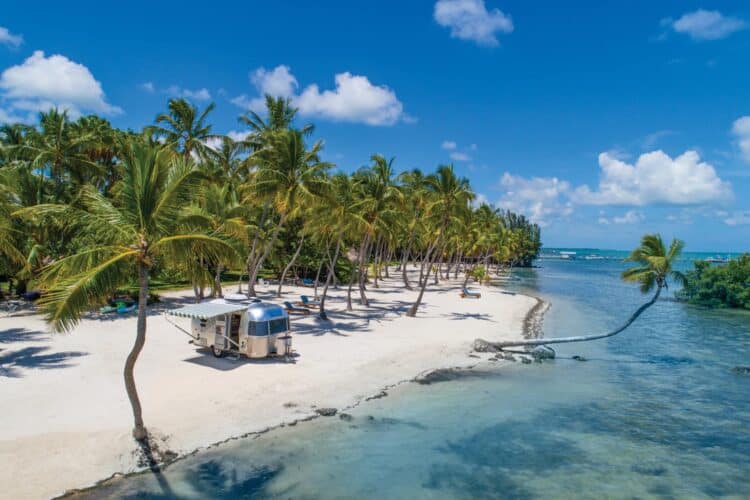 Everything Else (Food, Fun & More)
Now you should know how much your budget is for the RV and the campground (if you're staying in one).
But don't forget about everything else. Whether you're backpacking or not, you'll need a budget for food.
And there are almost always great things to do on or near RV campgrounds if you opted for that route.
I can't tell you how much to budget here. It depends on your personal preferences.
If you want help, check out these five cheap & healthy recipes.
Planning Your Trip
Once you've dialed in your budget, it's time to plan your actual trip. Let's dive in.
Finding a Place To Stay
If you're staying at a campground, you can use Google to find some great campgrounds wherever you've decided to go.
Check out this guide by Heath and Alyssa (two awesome full-time RVers) for extra help finding places to stay.
If you've decided to boondock instead, here are some ways to find places to stay:
Campendium – Use this to search by state and find thousands of free camping locations, including national forests, managed lands, and boondocking sites.
U.S. Public Lands App – Easily find the best spots right on your phone.
Planning Your Route
One of the most fun parts of RVing is planning your route (and stops).
You can do this in one of two ways…
Put your destination into Google Maps, then search for cool things to do along the route.
Use the RV Trip Wizard tool to plan your trip and see what there is to do along the way right from the app.
And that's all there is to it.
Some Parting Advice
When it comes to staying in an RV, regardless of the type and where you're staying, there are a few things to keep in mind.
Clean the RV before handing in the keys to get back your security deposit.
If you're driving the rig, create a checklist or find one online to make sure you don't forget anything when setting up and taking down your rig.
(Trust me, you don't want to smash your antenna off a bridge because you forgot to lower it.)
If you're going to cook anything with a lot of smoke (hello, bacon!), try to cook it on an outside grill.
Most RVs aren't well-vented, and the smell can linger for hours and even days.
When boondocking, don't forget to fill up your freshwater tanks and try to use them sparingly. Sponge baths are a godsend in the woods.
That said, unless you need the water, try to travel on an empty or only quarter-full water tank. Water is heavy and can seriously hurt your gas mileage.
There you have it — a simple guide to planning and budgeting an awesome RV road trip.
If you have any questions, feel free to leave a comment, and I'll get back to you as soon as I can.
For more RV advice, check out our blog at The Wandering RV.
Bill Widmer is a former full-time RVer and current travel lover. He and his fiance Kayla share their advice on traveling and living in RVs at The Wandering RV.
Planning a trip? Go Backpacking recommends: