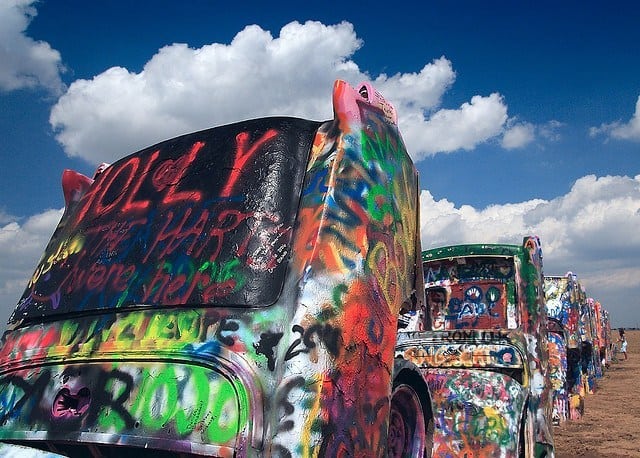 Few roads in the world resonate like Route 66 – filled with glamour, adventure and nostalgia; the route embodies everything that a road trip should be about.
In collaboration with Hayes & Jarvis' Roadtrip Recommender, here are five reasons why Route 66 is the journey of a lifetime:
It offers an unparalleled view of the United States
Being exactly 2448 miles long, Route 66 takes you through eight states and no less than three time zones.
No other route offers views of Illinois, Missouri, Kansas, Oklahoma, Texas, New Mexico, Arizona, and California, some of the most breath-taking and iconic states in the United States.
That said, Kansas only receives a slither of "the mother road," enjoying only 13 miles of the total.
The route has some of the biggest eats in the U.S.
People say that everything is big in the U.S., and when it comes to Route 66, like the road itself, you can expect things to be just that little bit bigger.
For those who fancy stopping by Kansas City in Missouri, the Hickory Pit is probably one of the most famous restaurants in the U.S.
Whether, for its smoking steaks or handcrafted beers, the Hickory Pit offers a good stop off for travelers searching for that all-American taste.
Moving further west, if iconic eating is your kind of thing, Bagdad Café in Newberry Springs, California, is one of the most iconic cafes in the U.S., after being used for the setting of the 1987 film, Bagdad Café.
Located just off the route, the quirky café is a great place to sample gigantic cheesesteaks and mouth-watering buffalo burgers.
It is home to Cadillac Ranch
To envision a car on Route 66 is to envision the Cadillac.
Perhaps as iconic as the road itself, there's no other vehicle (except for maybe the Harley Davidson (see Easy Rider)), which features on it more on television and in film.
Which is precisely why Cadillac Ranch is worth a bit of your time.
Created in 1974 as a unique sculpture park, guests are encouraged to add their artwork to the cars, which are planted nose-first into the dirt.
If you think you've seen Cadillac Ranch somewhere before, there's a chance you've been watching Pixar's animated film, Cars.
You can re-enact some of Hollywood's greatest films
There's a reason Route 66 is so iconic, and besides influence from music and literature, Route 66 features in some of Hollywood's greatest films.
From the desperation of Grapes of Wrath (1940) to the wild and chaotic Thelma & Louise (1991) and adorable Little Miss Sunshine (2006), Route 66 offers a remarkable and immortal backdrop for some of the greatest stories of the 20th century.
To see just where some of these great films were shot on the route, take a look here.
You get the chance to stay in Roy's Motel and Café
If you've watched a single road trip movie, there's a fair chance that you've seen one of those great little motels that sit on the side of nearly every highway in America.
And if you've seen one of those, there's a fair chance that you'll want to stay in Roy's Motel and Café, in California.
Wholly authentic, the motel was founded in 1938, and aside from one or two technological advances, not much has changed.
If you fancy giving it a stab, it's located just outside of the Amboy Ghost Town, which is a worthy venture all on its own.
______
This post was brought to you by Hayes & Jarvis' Roadtrip Recommender.
This post was written by a guest contributor. Please reference the author's byline in the post above for more information. If you would like to guest post on Go Backpacking, please read our submission guidelines. For information on advertising opportunities, go here.
Planning a trip? Go Backpacking recommends: