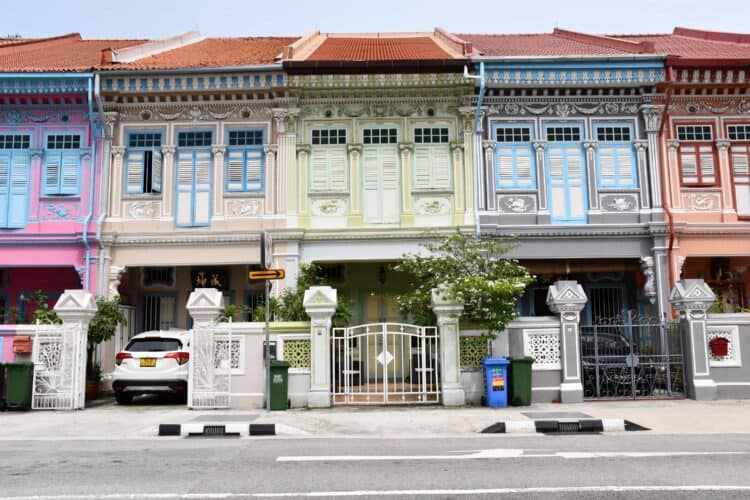 It may be one of the most expensive cities in Southeast Asia, but it's still possible to visit Singapore on a budget.
The cost of food, accommodations, and tourist attractions in this city-state is generally higher than in neighboring countries such as Thailand and Malaysia.
In some cases, prices are relatively close to those in the United States, so your expenses can add up quickly. That being said, Singapore is a fantastic place to visit.
It offers top-notch attractions, diverse culture, and world-famous cuisine, so high prices shouldn't deter you if you are trying to decide whether you should visit this place or not.
If you want to visit Singapore, but not sure how to cut your costs, I can tell you that you can still have a great time in the lion city without breaking your bank.
Here are some things you can do lower your costs of travel when visiting Singapore.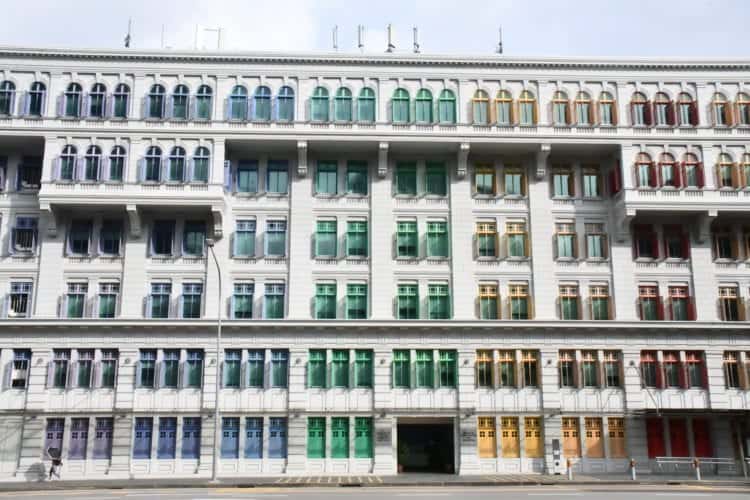 1. Choose budget accommodations
Singapore has many world-class hotels with panoramic views of the Marina Bay area.
While these accommodations provide incredible amenities with stunning overlooks, their prices start anywhere from a few hundred dollars an up.
Luckily, there are tons of cheaper alternatives in Singapore that range from mid-priced hotels to hostels where a night costs between $20-40. For example, Chinatown has many budget-friendly options.
And the good part about booking budget accommodation in Singapore is that you can easily get around on MRT ( Mass Rapid Transportation ) and get to downtown Singapore and other parts of the city within 20 minutes.
Another good rule to follow is to book your accommodations early, especially if your trip falls on the peak tourist season.
If you book your place months before your trip, you can save from tens to hundreds of dollars.
>> Check availability and prices on Hostelworld.
2. Use public transportation
Singapore has an excellent transportation system.
If you plan on staying in the city for three days, I recommend purchasing Singapore Tourist Pass at Changi Airport that is available for anywhere from one to three days. It can be purchased at one of the vending machines at the train stop.
A three-day pass costs 30 SGD ( Singapore dollars ). The pass allows access to trains and buses around Singapore and is a great way to save money.
As a rule, I would recommend skipping taxis. The rate for a single taxi cab ride could be pricey depending on where you want to travel.
Unless you are in a hurry or have to travel during the hours when public transportation is not available, you can also use Singapore's version of Uber that is called Grab.
All you have to do is download the app and request a ride. Grab is also popular in other destinations in Southeast Asia, but keep in mind that you always have to pay for your trips in cash.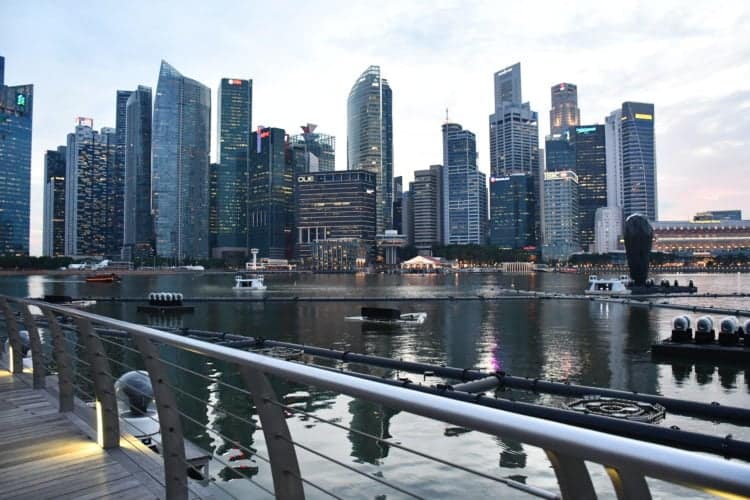 3. Skip fancy restaurants
Singapore's cuisine is known around the world.
If you travel on a budget, you might mistakenly think that you will not be able to indulge in those delicious dishes unless you are willing to spend tons of money. This assumption couldn't be further from the truth.
Singapore has tons of eateries for any budget that allow you to enjoy some of the most amazing food you've ever tried.
Check out the city's hawker centers, large food areas that are typically located in an open-air complex.
Hawker centers are common in Singapore, Malaysia, Hong Kong, and Indonesia and are excellent for those who want to try delicious food on a budget.
Similarly, you can find cheap meals in the ethnic neighborhoods of Singapore, such as Chinatown.
One of the most popular hawker centers in Singapore is the Maxwell Food Centre located in Chinatown.
And it's not just tourists who like to come here to get a taste of the traditional meal. You will also find plenty of locals enjoying the Chinese dishes.
However, if you don't want to wait in line, you can always grab a quick meal at one of the food kiosks throughout the city.
4. Choose free entertainment
Singapore has several landmarks that require you to pay entrance fees. However, if you want to save money, it also offers tons of free options.
For example, the Supertree Grove at Gardens by the Bay doesn't require an entrance fee.
Same applies to the famous light show that plays at 8 p.m. every night. However, if you want to visit the Cloud Forest, you will have to pay for the ticket.
Singapore Botanical Gardens, the city's only UNESCO site also has a free entrance. It's a fantastic place to walk around and enjoy free concerts on weekends.
Are you craving a break from the big city? MacRitchie Nature Trail and Reservoir Park is a perfect place to hike and unwind. And the good news is it's free to enter.
Singapore has no shortage of things to do. And the best part is that you don't have to spend a ton of money to enjoy them.
See also: How to Save Money for Your Next Trip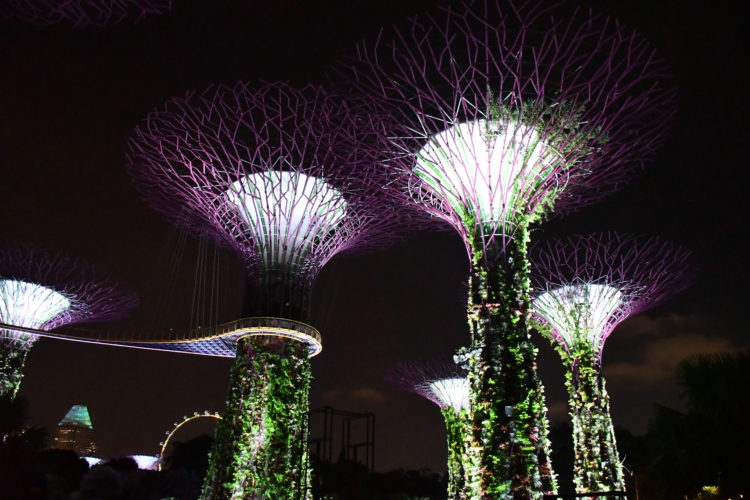 5. Visit cultural sites
Singapore is an incredibly diverse country full of contrasts, traditions, and history.
It's made up of Malay, Chinese, Indian, Middle Eastern and many other cultures as can be seen through the city's ethnic neighborhoods.
After you explore the Marina Bay, take some time to explore the city's impressive museums.
A good number of them offer a free entrance, so you don't have to spend a single penny to learn about the culture and history of Singapore.
Among the free museums are:
National Museum of Singapore, the oldest museum in Singapore that offers an overview of the Singapore history
National Gallery Singapore, which houses an extensive collection of contemporary Singaporean and Southeast Asian artworks
Singapore Art Museum that boasts a large collection of modern art from around the world
And if you want to learn more about the culture, make sure to visit at least a few temples that are scattered throughout Singapore.
For example, Buddha Tooth Relic Temple and Museum located in Chinatown offers guided tours that showcase Buddhist artifacts and history.
The temple is one of the most prominent landmarks in Chinatown thanks to its impressive style featuring five stories.
Not far from Buddha Tooth Relic Temple sits Sri Mariamman Temple, Singapore's first Hindu Temple.
You will easily spot it from a distance thanks to its entrance tower featuring dozens of mythological sculptures from the Hindu culture.
If you happen to visit this temple in the evening, you will have an opportunity to observe one of the colorful rituals that take place every night.
6. Skip bottled water
Singapore water is perfectly safe to drink, and water fountains can be found in many places throughout the city.
And with high humidity, refilling your water bottle several times daily will quickly add up to significant savings.
Doing so will also cut back on single-use plastic and help the environment.
7. Hit the beach
While Singapore doesn't boast the idyllic beaches like neighboring Thailand or Malaysia, you can find a decent size beach on Sentosa Island and other places about 30 minutes from the city.
While you have to hop around on MRT, you will be able to find a decent-size stretch of the beach and take a refreshing swim.
Visiting the beach is free. All you have to do is pay for the transportation.
8. Save the tips
Tipping is not common in Singapore culture. Whether you are in a taxi or restaurant, you are not required to leave tips.
This might come as a surprise to American travelers who are used to leaving tips for customer service workers.
9. Shop smart
Singapore is known for its big shopping scene. Orchard Road, The Shoppes at Marina Bay Sands and Raffles City Shopping Center have tons of stores that attract locals and tourists alike.
No need to say that you will probably not find too many deals there unless you shop during sales or special events.
An excellent alternative to pricey malls of Singapore is the Mustafa Center located in Little India.
While the quality of certain things might be questionable, you will surely find virtually anything here at very low prices.
10. Learn Singapore laws
Singapore is famous for its strict rules, so it shouldn't come as a surprise that some of them carry hefty fines and even more severe punishments.
To avoid getting in trouble, and ultimately ruining your dream vacation, make sure to do some research on Singapore laws before visiting the country.
Conclusion: Singapore is a great place to visit whether you travel on a budget or not.
The city has a myriad of restaurants, accommodations, and attractions for every price point, so if you are trying to save up, don't think that you will be priced out.
Careful research and planning ahead are the two main ways to enjoy your trip on a budget.
So don't be afraid, go ahead and book your trip to Singapore!
Planning a trip? Go Backpacking recommends: