Growing up in the northeast United States, California seemed as far away as Thailand the first half of my life. Much of what I knew came from skate videos and TV.
In 2010, I visited my friend Stephanie (Adventure Girl) in Los Angeles for a long weekend.
At my request, we went celebrity-spotting and visited famous spots, including the Sunset Strip, Griffith Observatory, Beverly Hills, and Malibu.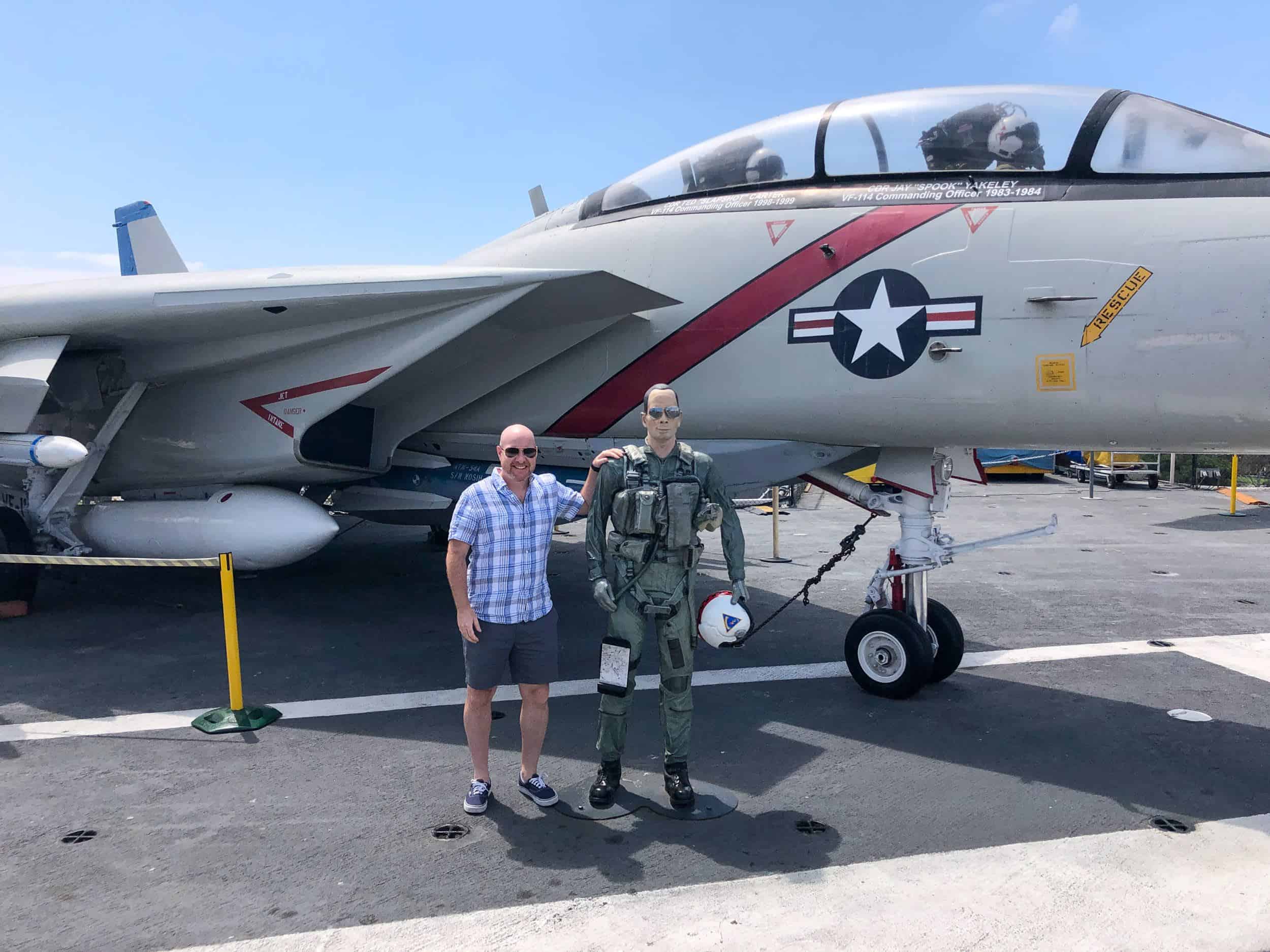 It has taken me eight years, but I finally returned to California to explore another city I've long been curious about, San Diego.
Once again, I could stay with a friend, saving money and benefiting from a local's knowledge of the city. To get around when he wasn't available, I used Uber.
Here are my top ten things to do in San Diego, plus a few hostel recommendations if you don't have someone to stay with.
San Diego Attractions
USS Midway Museum
Anchored at Navy Pier in downtown San Diego, the immense USS Midway is a must-see attraction for first-time visitors of all ages.
Built over 18 years without a computer, it was the United States' longest-operating aircraft carrier of the 20th century.
It was in service from 1945-1992 and opened as a museum in 2004.
Adult tickets cost $21 online, and you'll want to allow at least a half-day (3-4 hours) to explore this floating city, including the airplanes on the flight deck, control tower, and cavernous world below deck.
Each year, among the many events hosted at the USS Midway, are Top Gun movie nights, where viewers can watch the classic movie on the flight deck.
I'd love to go back and experience that one day.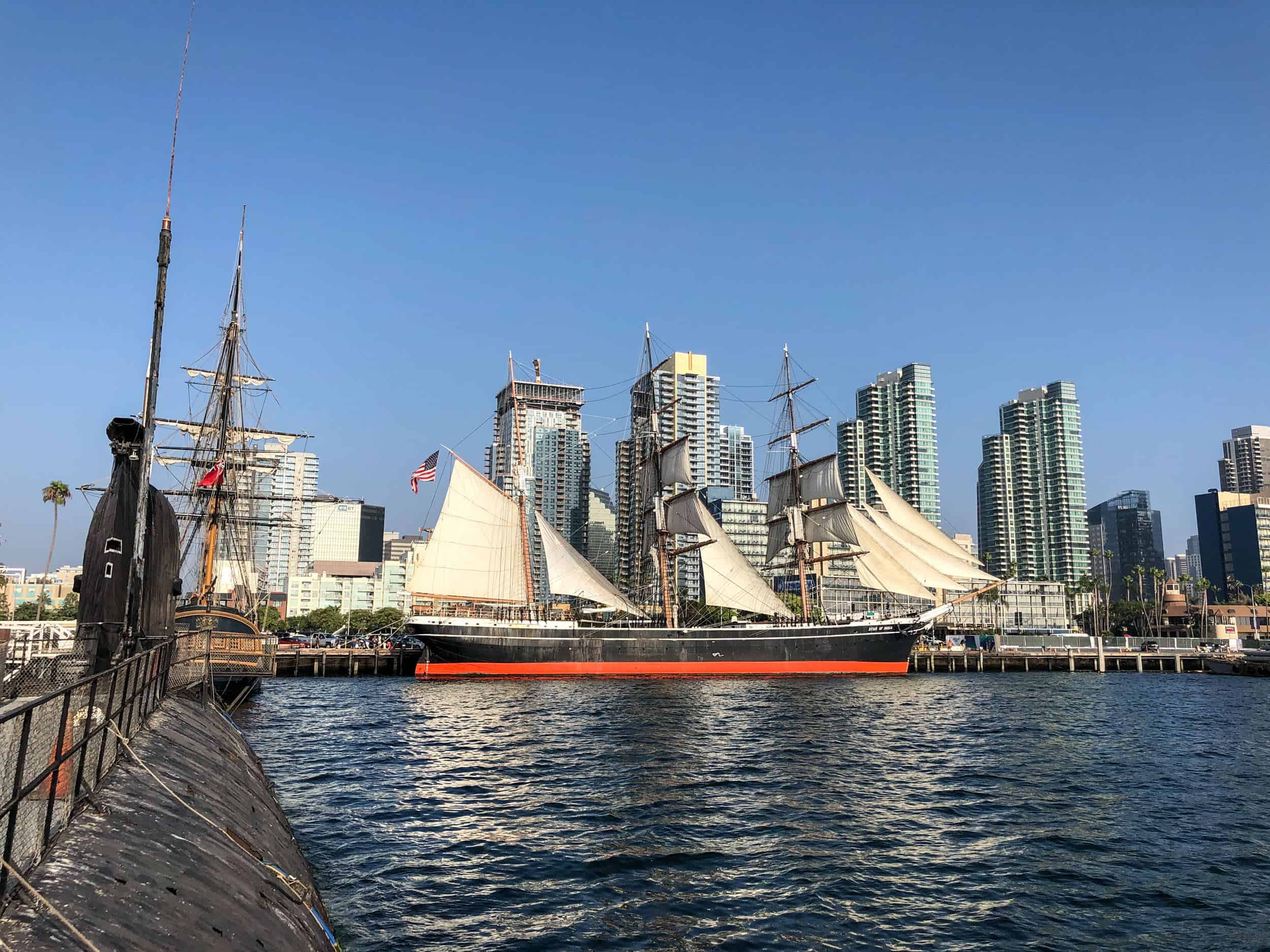 Maritime Museum of San Diego
A few blocks north of the USS Midway is the Maritime Museum of San Diego, a floating museum of nine ships and two submarines.
I've never been on a submarine, so it was with great curiosity that I bought a ticket ($18 for adults) and boarded the 300-foot Russian B-39 submarine, which once carried a nuclear warhead as close to the US as Cuba during the Cold War.
The experience of crawling through the four large portholes of the diesel-electric sub was worth the price of admission alone.
Seeing the bunk beds just feet from torpedos gives you a sense of the confined living space and how uncomfortable it must've been to spend weeks down there.
I also toured the USS Dolphin, an American research submarine far less interesting, and the Star of India, the world's oldest active sailing ship (built in 1863).
Related: Visiting Pearl Harbor in Hawaii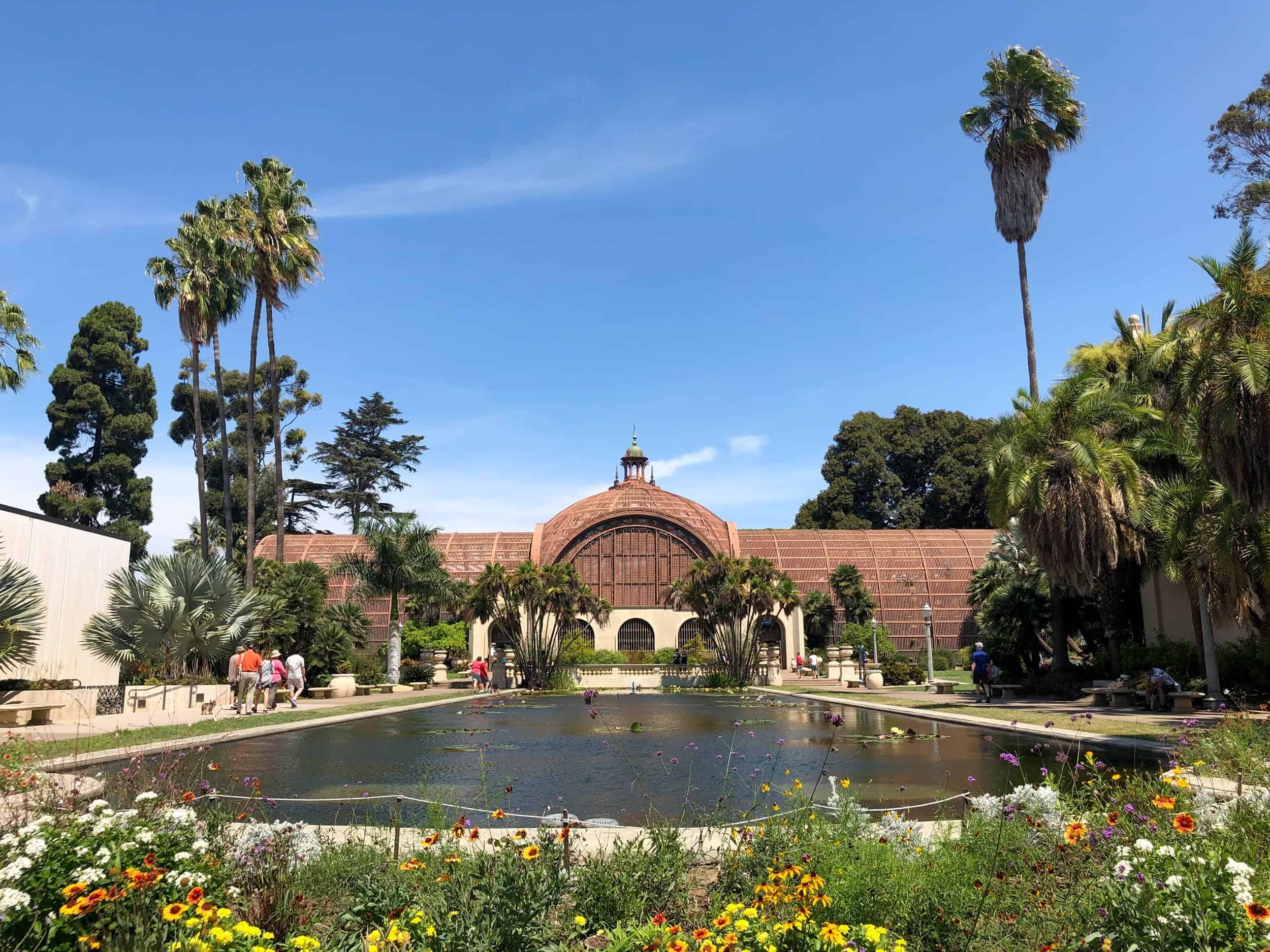 Balboa Park (Japanese Gardens)
Balboa Park is to San Diego, as Central Park is to New York City.
Home to the world-famous San Diego Zoo, over a dozen museums, and many gardens, it'd be impossible to see it all in a single day or even several days.
I began my visit to Balboa Park with a leisurely walk around the iconic Botanical Building.
I also visited the Timken Museum of Art (free) and the more extensive San Diego Museum of Art ($15) before stopping for a casual lunch at Panama 66, which has a nice view of the latter museum's sculpture garden.
After lunch, I continued west to see the exteriors of the Old Globe Theater, San Diego Museum of Man, and California Tower.
Usually, I'd climb any tower for the view. However, I was getting the sense this could turn into a costly day if I didn't skip some attractions.
I walked through the Alcazar Garden and then headed south to the Japanese Friendship Garden, which I had been looking forward to experiencing ($12 adults).
It was an even more peaceful park within the larger Balboa Park, full of bonsai trees, koi ponds, and waterfalls.
There's much I didn't get to see, including the zoo and San Diego Air and Space Museum. Next time!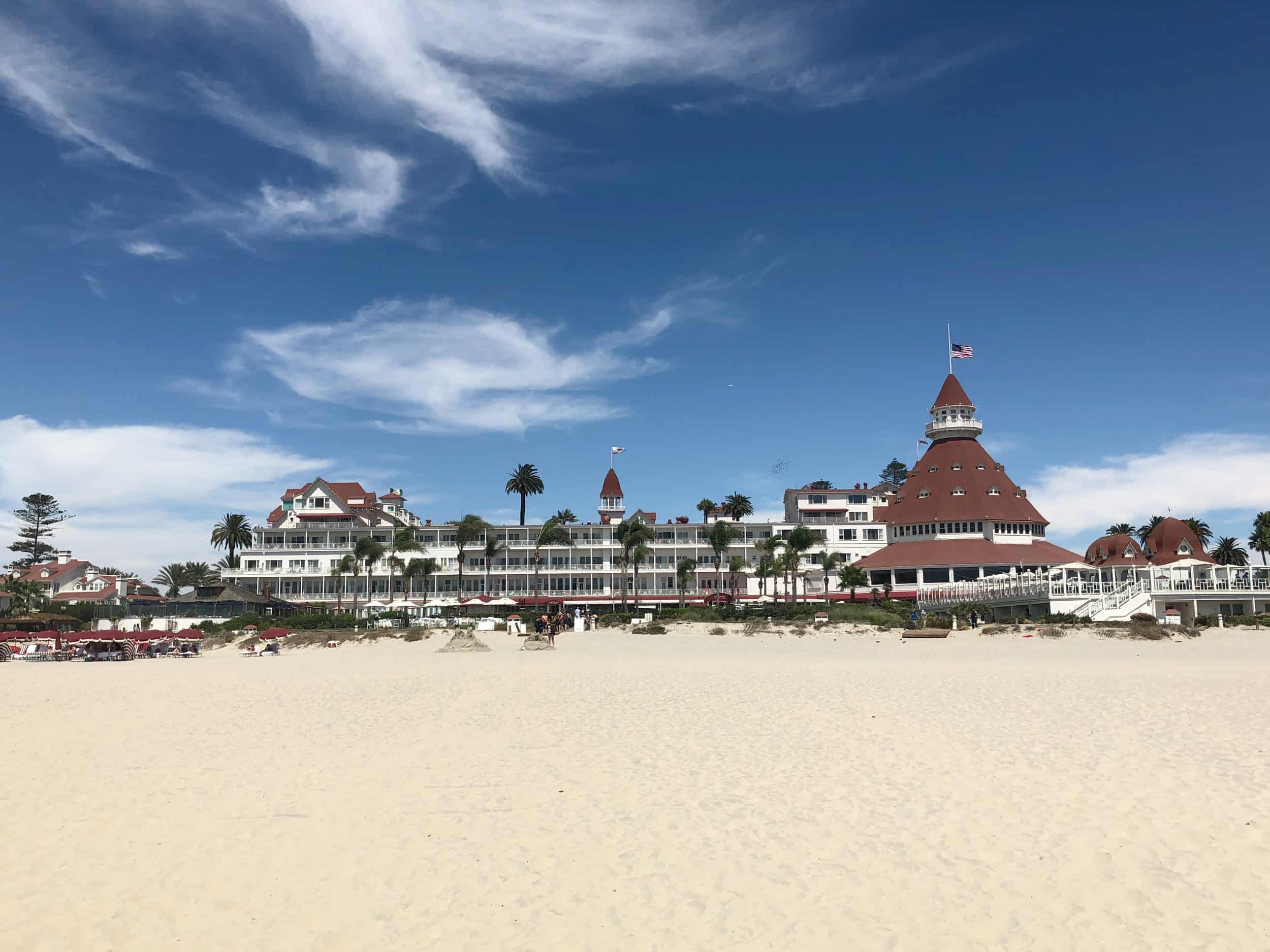 Hotel de Coronado
The beautiful beachfront Hotel del Coronado is a National Historic Landmark and is reportedly haunted.
Opened in 1888, it has hosted multiple US Presidents, celebrities, and foreign royalty.
Just because it's beyond the backpackers' budget doesn't mean you can't walk around the grounds, including the central courtyard, and grab an ice cream, beer, or bite to eat.
The hotel also offers direct access to Coronado Beach, where you can go for a walk.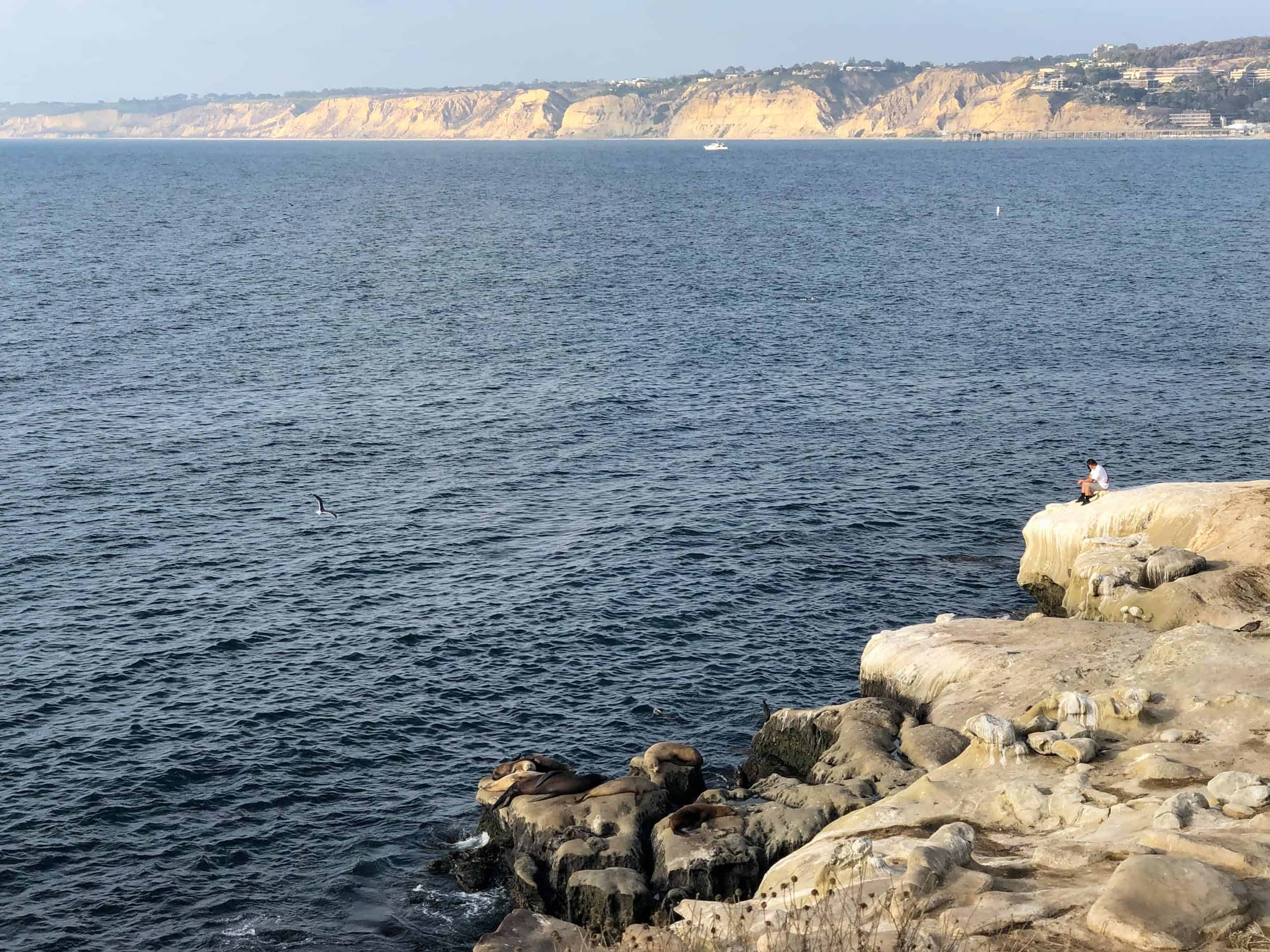 La Jolla Cove (sea lions)
Swimming with sea lions in the Galapagos is a wildlife highlight from my years of travel, so I didn't want to miss the opportunity to see these marine mammals in La Jolla Cove.
I wasn't alone. Onlookers got close to them on the beach and along the sandstone cliffs.
The constant attention probably stresses them out, so I gave them plenty of space.
Related: Book a Cruise to the Galapagos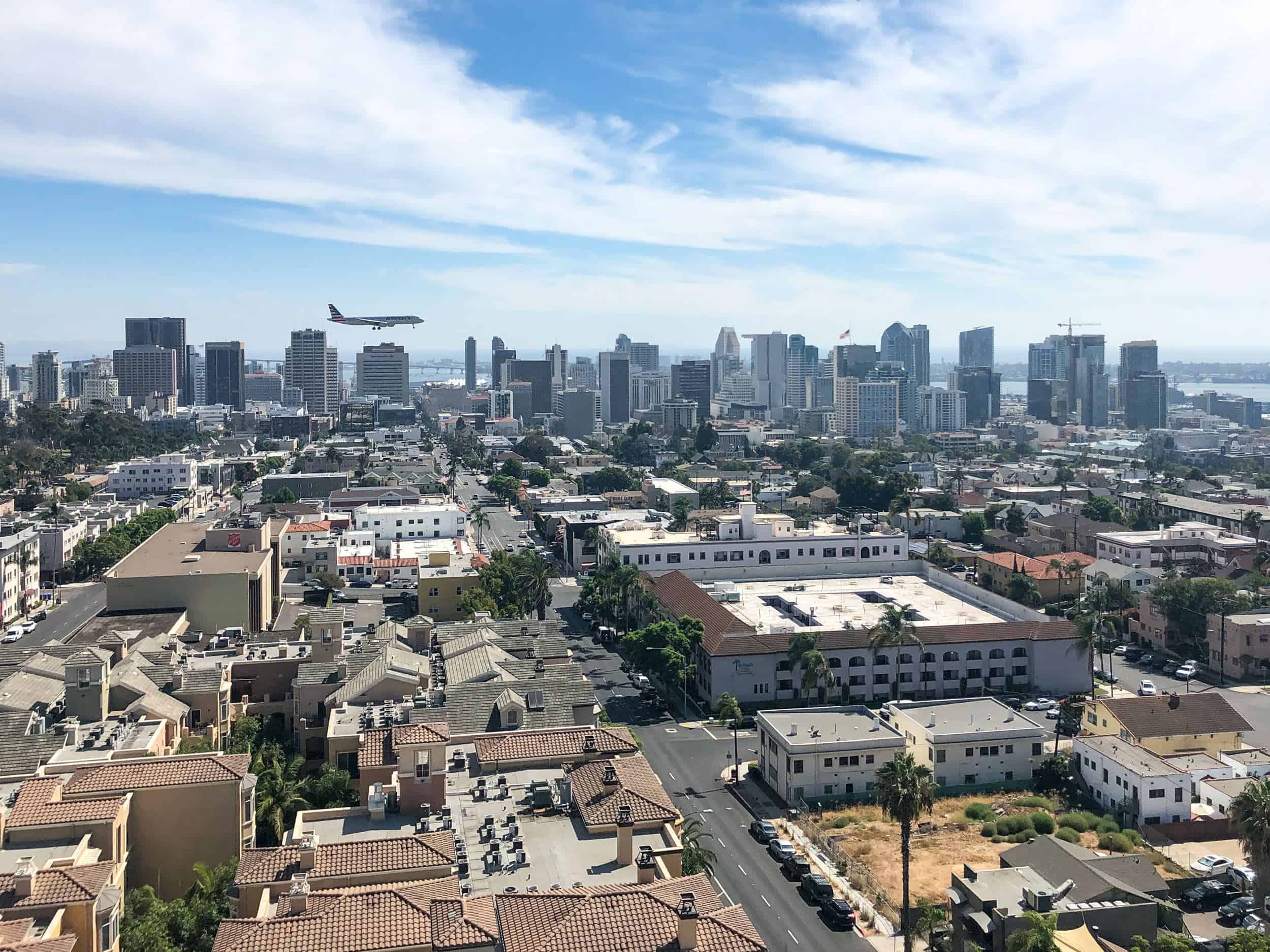 Happy Hour at Mister A's
My friend Christine Amorose, a San Diego local, recommended drinking at Mister A's for the rooftop views.
I expected a nice view of the skyline. However, I was also surprised to find you have a perfect look at planes approaching and landing at the airport!
The outdoor patio is well worth a visit. I dropped by mid-afternoon, which meant it wasn't crowded, but the sun was intense. Be sure to check the dress code on their website before you go.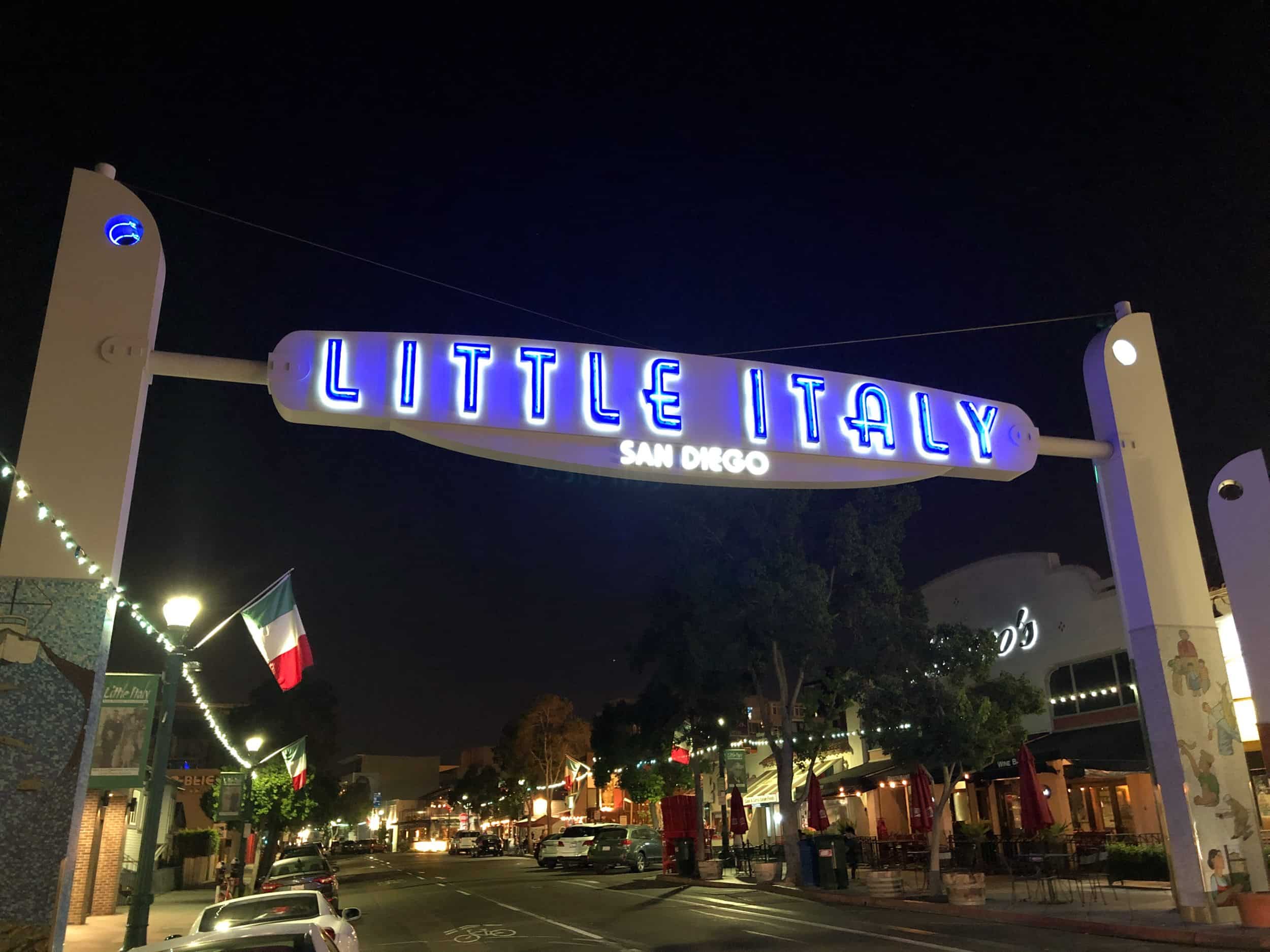 Dinner in Little Italy
Located downtown, the historic neighborhood of Little Italy is at the epicenter of San Diego's dining scene, with restaurants like Born & Raised and Kettner Exchange attracting locals and visitors alike.
If you can't find a restaurant that appeals to you, go for a coffee and people-watching or ice cream at Salt & Straw, the famous Portland ice cream shop.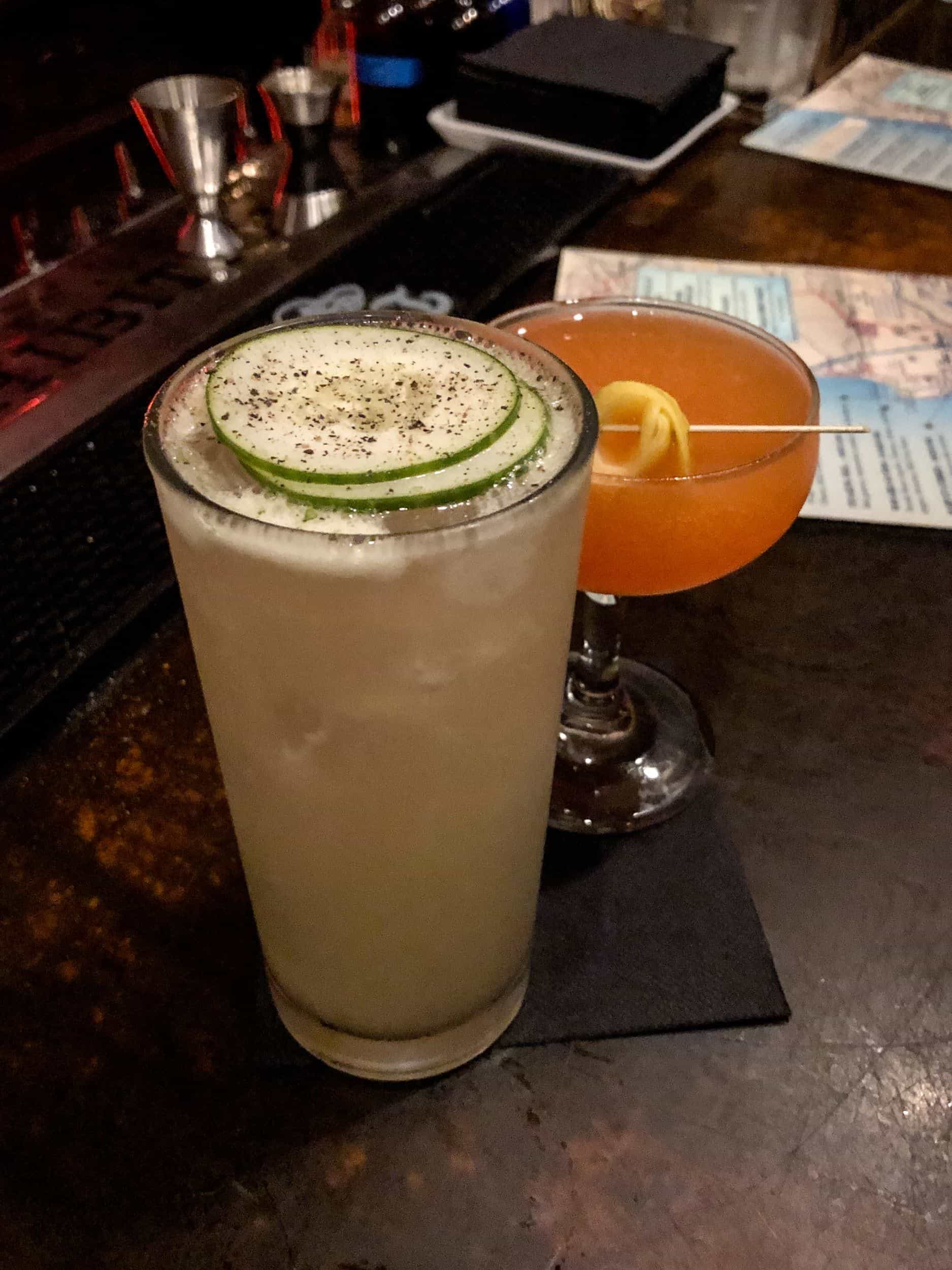 Drinks in Gaslamp Quarter
Once you've got your delicious food in Little Italy, it's a short walk to the Gaslamp Quarter, where bars and nightclubs draw everyone in for a drink (or three).
I only had one Saturday night in San Diego, and my friend made sure we took advantage of it by taking me to the Gaslamp Quarter for drinks, first at a rooftop bar and then across the street at Prohibition, a 1920s-style speakeasy.
Read more: Best Speakeasies in San Diego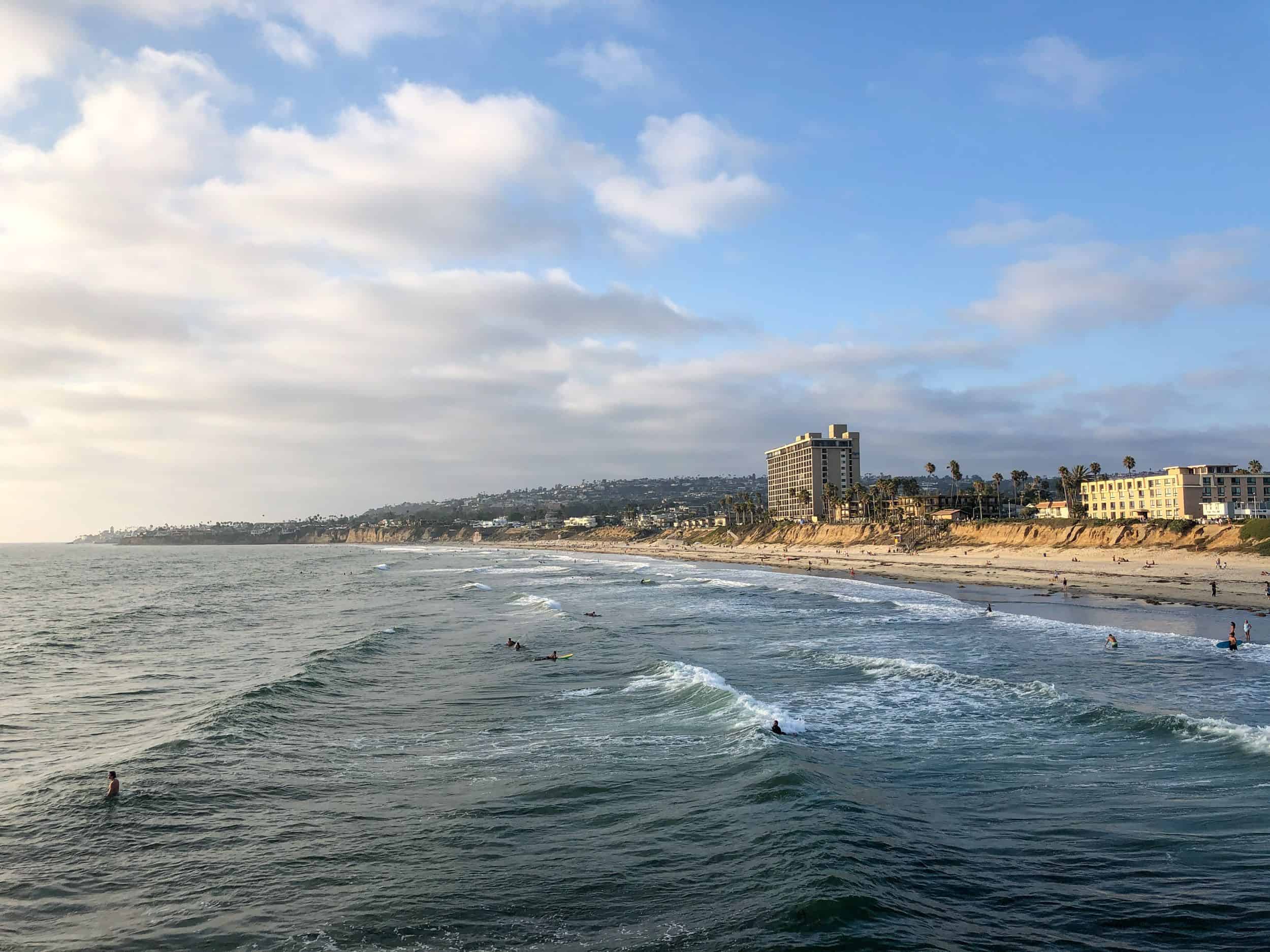 Beaches: Pacific Beach Pier, Mission Bay
Beach culture is a big part of what makes San Diego an attractive place to visit and live.
There are plenty to choose from, and while I didn't go swimming (or surfing) during my stay, I did enjoy a walk down the Pacific Beach Pier and boardwalk late one afternoon.
There's also the nearby 4,600-acre Mission Bay for watersports fans, where you can learn or practice your stand-up paddleboarding, wakeboarding, kitesurfing, and more.
Mission Bay is also home to SeaWorld San Diego.
Related: Hiking California's Lost Trail
Explore Point Loma
The Point Loma peninsula is further south along the coast from Pacific Beach and Mission Bay.
Home to lighthouses, tidal pools, and scenic sunset views, it's most easily accessible via car, though public buses can also get you there.
For Top Gun fans, the new Point Loma Lighthouse at the southern tip of the peninsula is where the scene with Maverick visiting Viper after Goose dies was shot.
The nearby cottages house members of the Coast Guard, so you'll have to view the whole complex from afar.
***
Where to Stay: Hostels
San Diego is a sprawling city, and while I stayed in the north with a friend, if I were traveling solo, I'd have chosen a hostel near the beach or downtown. Below are my picks from Hostelworld.
USA Hostels Ocean Beach: 2 blocks from the beach, free shuttle downtown, and a 9.6 customer rating through 2,000+ reviews. $31 dorms.
USA Hostels San Diego: Gaslamp Quarter. This is a good option if you want to walk to the city's best bars and clubs. 9.2 customer rating with 2,700+ reviews. $29 dorms
HI San Diego Point Loma: Further inland than USA Hostels Ocean Beach, but still walking distance to the water. 9.5 customer rating with 950 reviews. $25 dorms.
Are you planning to turn your visit to San Diego into a permanent stay?
A smooth transition is essential. Look no further than the best movers in San Diego, your reliable partner in embracing the vibrant California lifestyle. With their professional help, you can focus on exploring your new city instead of the hassles of moving.
Are you ready to embark on your San Diego adventure as a visitor or resident? Embrace it, and let your new Southern California story unfold.
Dave is the Founder and Editor in Chief of Go Backpacking and Feastio. He's been to 66 countries and lived in Colombia and Peru. Read the full story of how he became a travel blogger.
Planning a trip? Go Backpacking recommends: