My first trip to Sweden began on the east coast in Stockholm and ended on the west coast in Gothenburg at the Adventure Travel World Summit.
I discovered plenty of fun things to do in Gothenburg on a budget between official conference events and my wanderings.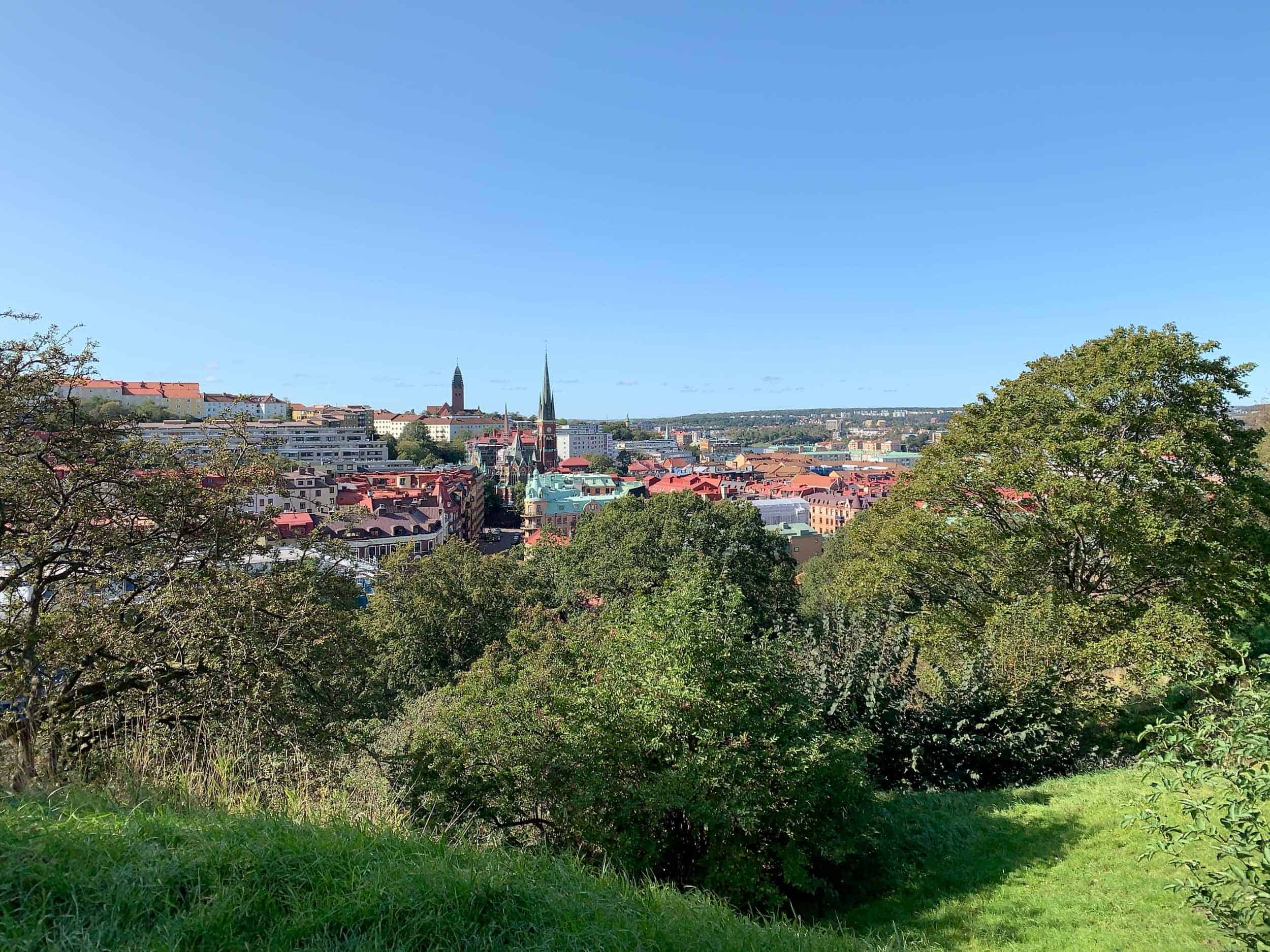 This list is mainly made up of the places I visited firsthand, and I included a few I wanted to check out but didn't have time to give you a fuller picture.
What is there to do in Gothenburg, Sweden's second-largest city? Let's find out!
Pro Tip: Save money on sightseeing in Gothenburg with an all-inclusive pass by Go City. Pay once for a 1, 2, 3, or 5-day pass, and then simply show the QR code in the app at any of the included museums, tours, or activities.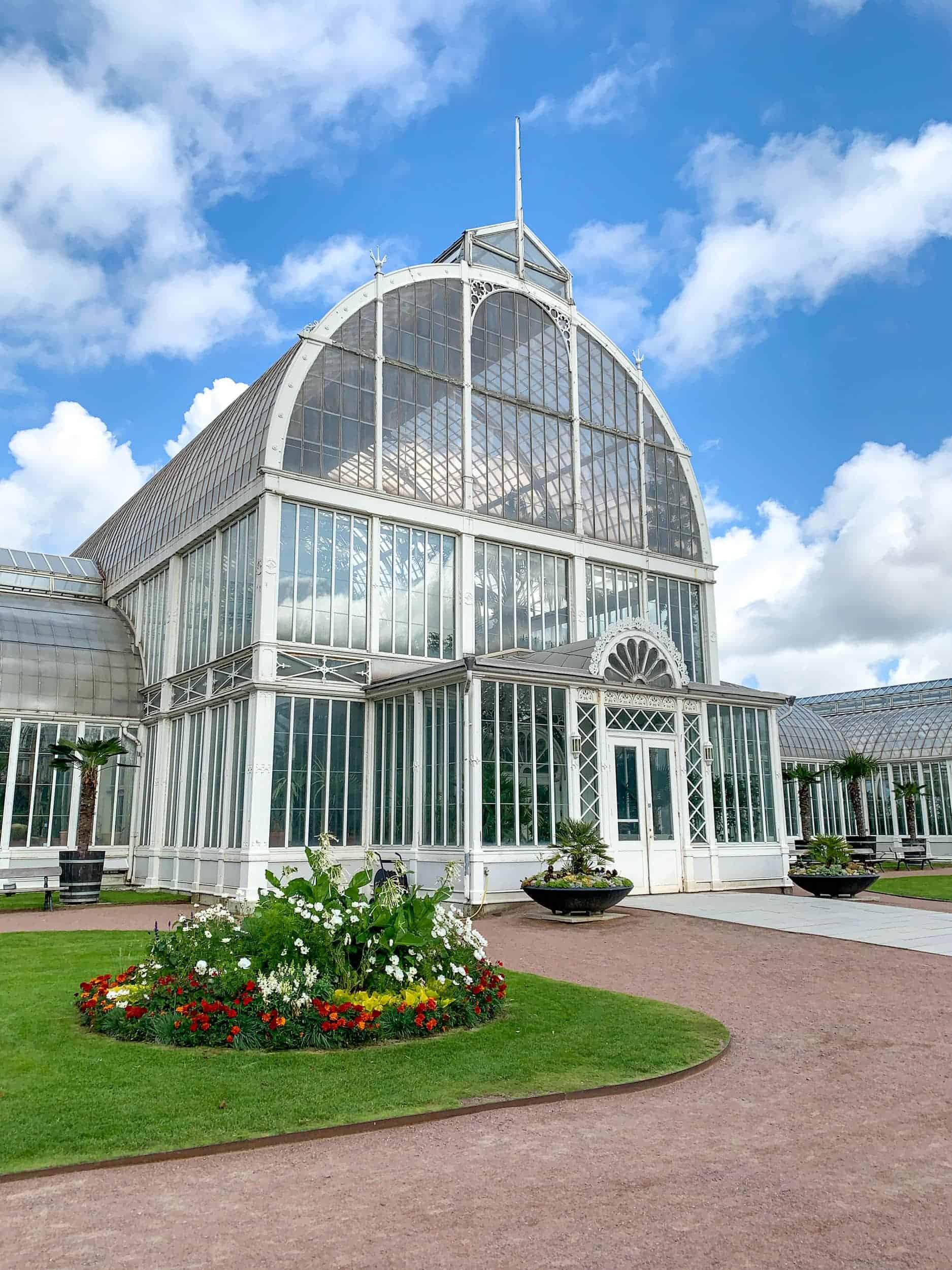 Parks in Gothenburg
When it comes to trip planning, I'm a man of extremes. Either I'm flipping through a guidebook on the plane hours before arriving, or I'm approaching Google Maps from home like a CIA operative researching his next mission. Sweden was the latter.
Zoom in on central Gothenburg, and you'll notice a lot of green space, especially to the south and southwest of the city center.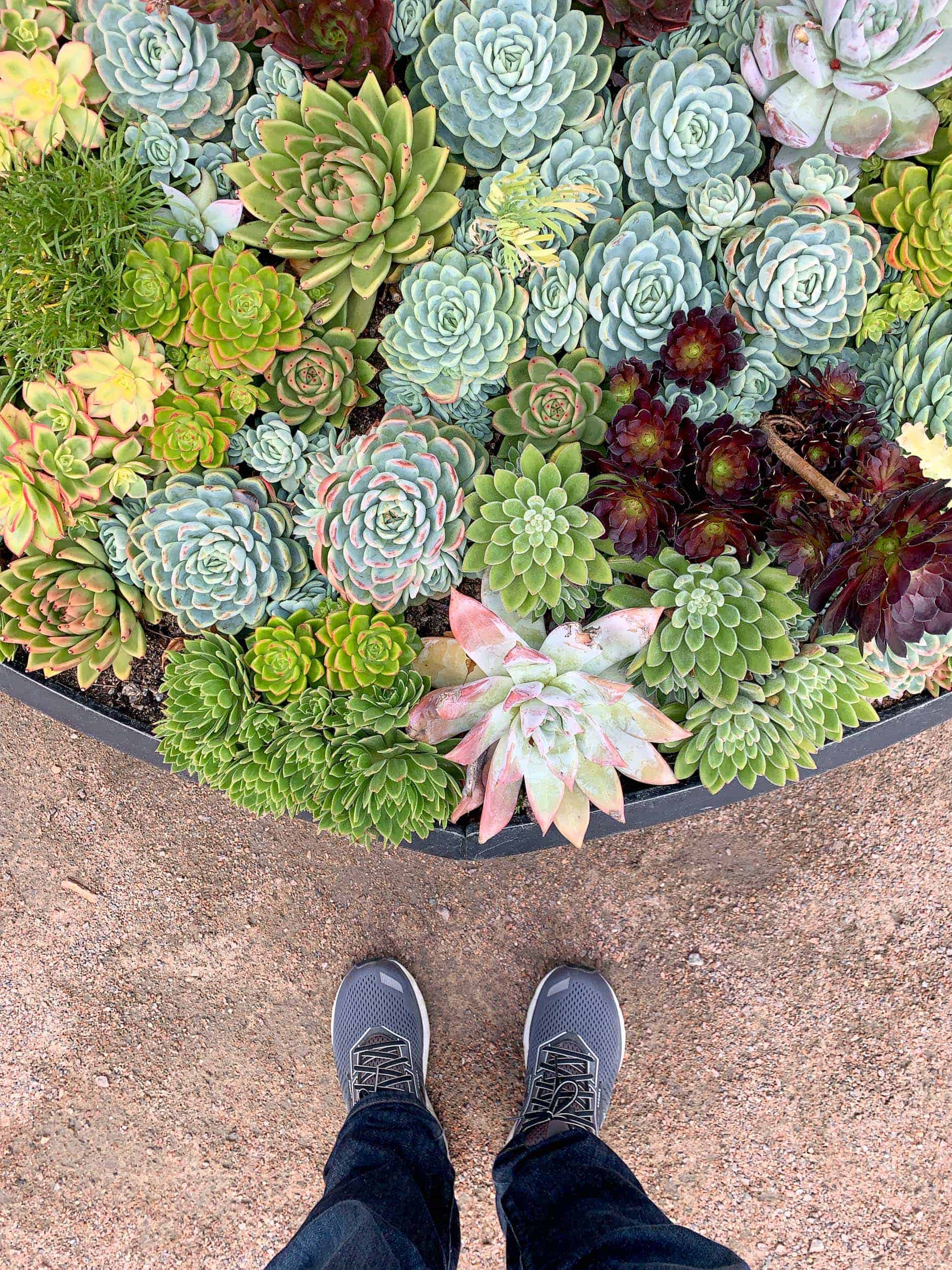 1. Explore the Horticultural Society and Palm House
A block south of the central train station, across a canal, is the Horticultural Society (Trädgårdsföreningen).
This 19th-century park spans several city blocks and features lovely views across the canal, a rose garden, and the Palm House.
The Palm House is a greenhouse that's free to visit.
Before I even stepped inside, I became enamored with the potted succulents near the entrance. Inside is worth a look, too.
For accommodation, I rented a room through Airbnb near Gothenburg University, which allowed me to walk through this park on my way to and from the conference (at the Clarion Post Hotel).
2. Take a Walk in Slottsskogen Park
The much larger Slottsskogen park is a 20-30-minute walk from the city center.
The park is home to the Gothenburg Museum of Natural History, the city zoo, an observatory (telescope), and plenty of trails for walking or running.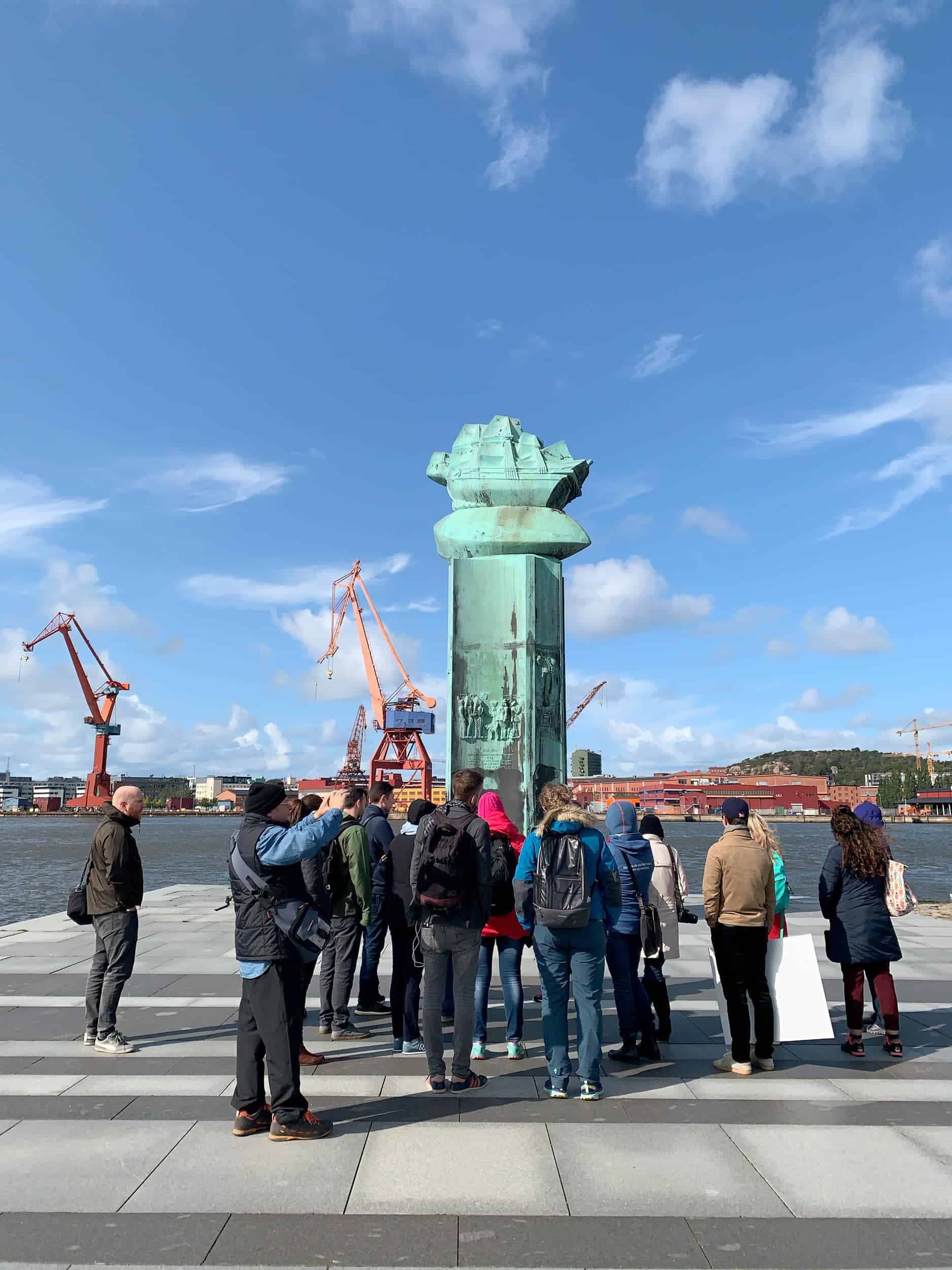 Scenic Views in Gothenburg
3. The Delaware Monument
Here's a fun fact most Americans probably don't know. In the autumn of 1637, two ships left Gothenburg for the New World.
They arrived in Delaware in March 1638 and set up a Swedish colony. But the Swedish explorers' foray didn't last long.
In 1655, the Dutch established colonies further north and sent their army to kick the Swedes out.
The Deleware Monument in Gothenburg was installed in 1958 to commemorate the Swedish effort.
It's a replica of the original, unveiled in Delaware in 1938 to celebrate the 300th anniversary of the expedition.
The sculpture features a pillar with inscriptions and a ship atop it. The spot offers terrific views of Gothenburg's port.
Address: Enter "Delawaremonumentet" on Google Maps to pinpoint the waterfront location.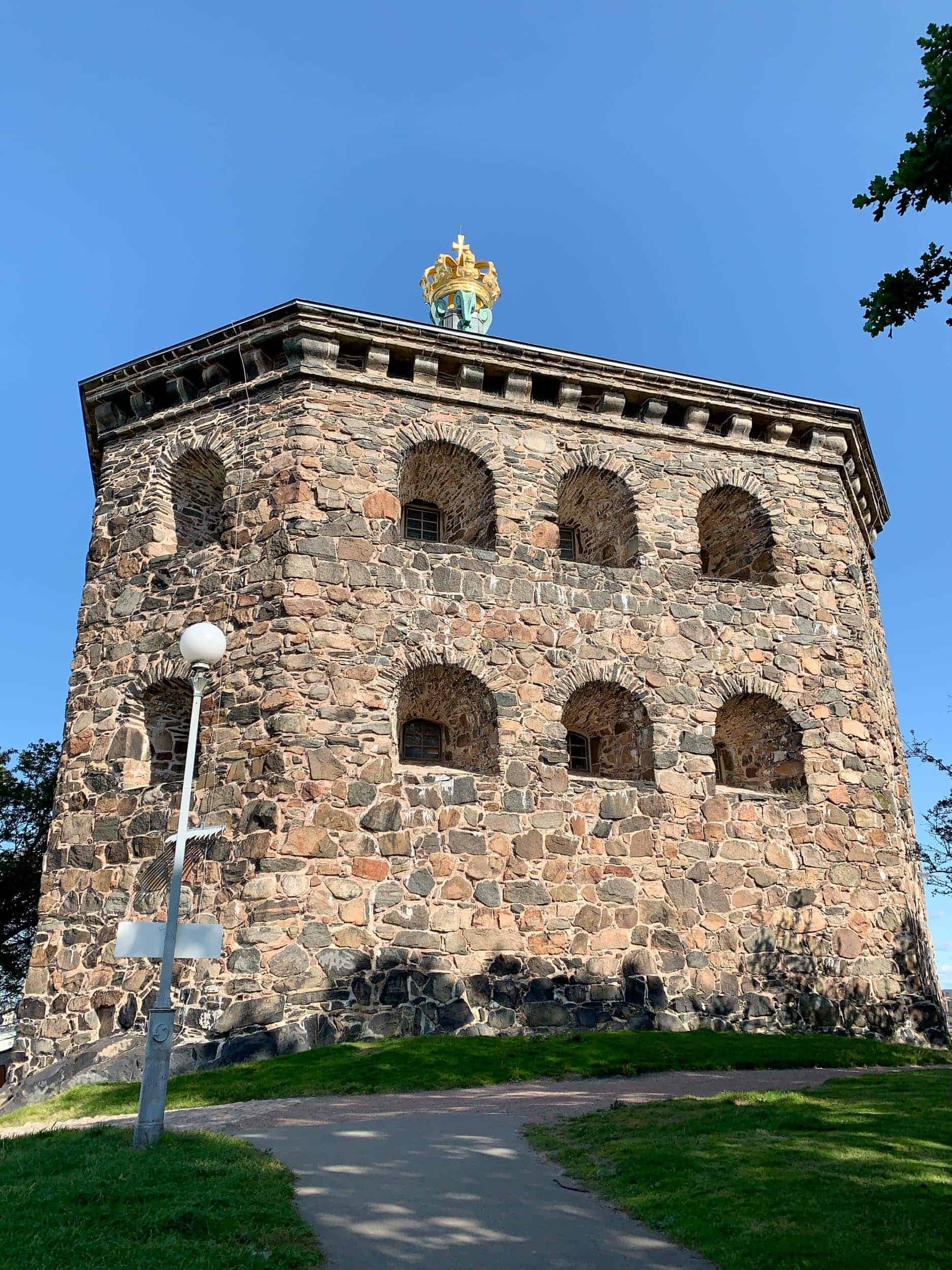 4. Climb Up to Skansen Kronan
Constructed in 1687, Skansen Kronan is a small stone fortress built atop a hill halfway between the city center and Slottsskogen park.
It's a short but steep walk up the hill. It was worth the effort for the scenic views.
Today, the site is primarily used for special events like weddings and conferences.
Address: Skansberget, Leijonsparres Väg 15, 413 01 Gothenburg or enter "Skansen Kronan" on Google Maps.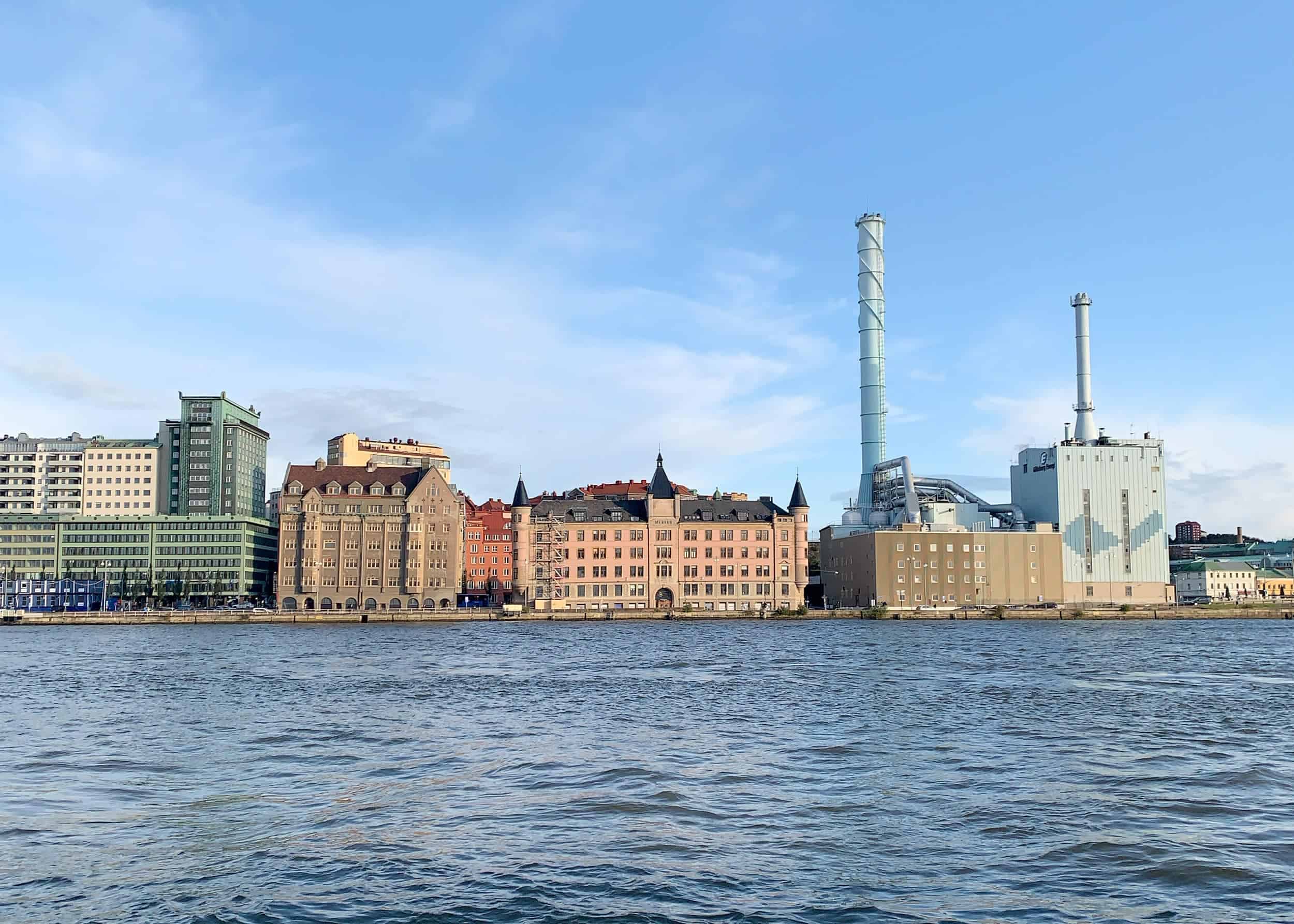 5. Go for a Boat Ride
On the first night of the conference, we went to the opening party by ferry, leaving Lilla Bommens Hamn (ferry terminal).
It was a short sunset ride, lasting about 30 minutes, yet it helped expose a whole other side of the city I wouldn't have seen on foot alone.
For example, due to their limited autumn/winter hours, I didn't have time to visit the Maritiman Museum but could still see the retired Swedish destroyer Småland as we passed by on the ferry.
Whether you take a public ferry or a cheap guided tour, find a way to spend some time on the water in Gothenburg.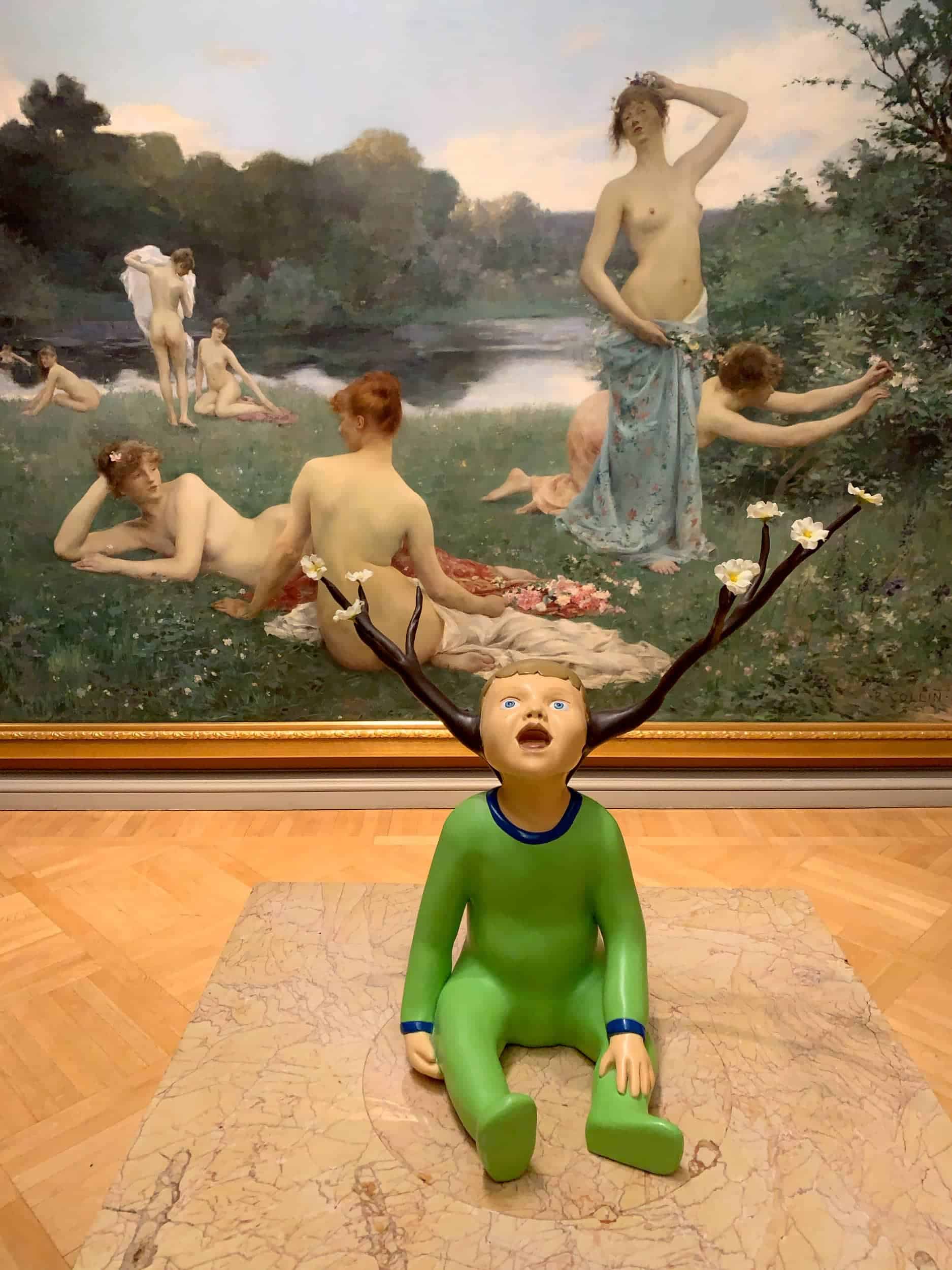 Top Museums
Gothenburg is full of museums. Of the ones listed below, I only made it to the first one, which I highly recommend.
6. Gothenburg Artmuseum
About seven blocks south of the city center is the Gothenburg Artmuseum, which features a permanent collection of works by Pablo Picasso, Vincent Van Gogh, Claude Monet, and Edvard Munch.
I enjoyed the masters, but the juxtaposition of "The Child" by Norwegian artist Fredrik Raddum against an older painting of female nudes in a field captured my attention.
According to the sign, "The Child" refers to an old myth "that if you swallow a seed, a tree will grow inside you." In this case, an almond tree.
There's also a hall with modern works, including a larger-than-life stripper rotating upside down on a floor-to-ceiling pole called "Seconds in Ecstasy" by Cajsa Von Zeipl.
Admission is free if you're under 25. Otherwise, it's $6.25.
Address: Götaplatsen 6, 412 56 Gothenburg
7. Gothenburg Museum of Natural History
As mentioned above, the Gothenburg Museum of Natural History is located southwest of the city center in Slottsskogen park.
Established in 1833, it's Gothenburg's oldest museum. It's been at its current location since 1923 and features a collection of 10 million animals!
Admission is free for everyone.
Address: Museivägen 10, 413 11 Gothenburg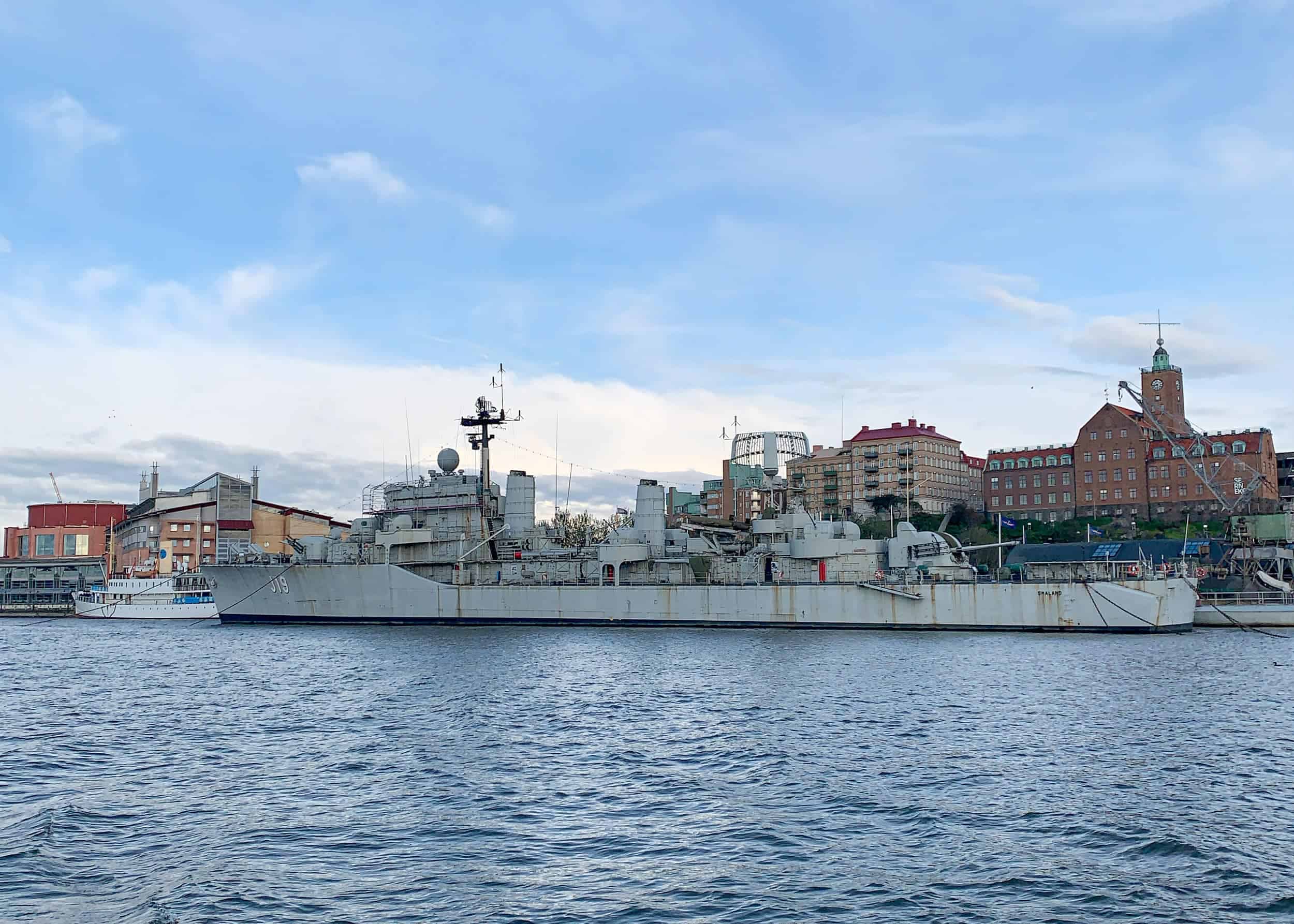 8. Maritiman Museum
The Maritiman Museum was high on my list of things to do in Gothenburg; however, it is only open on the weekends in autumn, and my stay was during the week.
This maritime museum showcases the Swedish destroyer Småland (pictured above), in service from 1959 to 1979.
This 121-meter ship was the world's first to feature sea-to-sea missiles. It required a crew of 272.
Additional vessels you can visit at the museum include the Nordkaparen submarine, a patrol boat, a minelayer, and a Flodsprutan II fireboat.
The Maritman Museum is closed in winter. Adult admission is $14.60.
Address: Packhusplatsen 12, 411 13 Gothenburg
9. Universeum
The Universeum is an interactive museum with exhibits on everything from health and wellness to our oceans, rainforests, and space.
Whether you're traveling with kids, a kid at heart, or merely curious to learn more about our natural world, this is the museum for you.
Admission is $23.45 for adults, $18.25 for kids ages 3-16, and free for children under three.
Address: Södra Vägen 50, 412 54 Gothenburg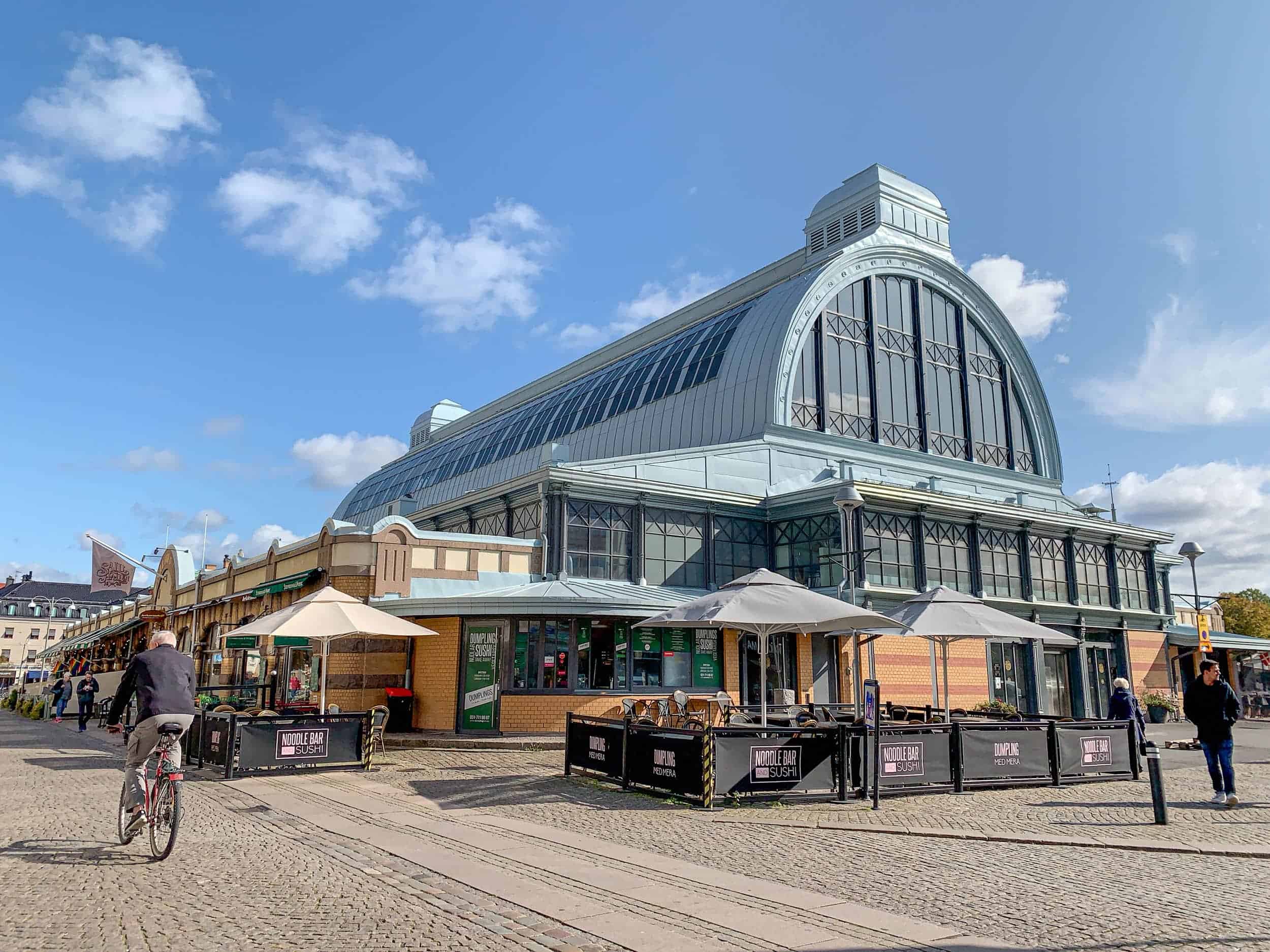 Budget-Friendly Food Ideas
Food, glorious food! Sweden was my introduction to not only traditional Swedish food but Nordic food in general.
10. Stora Saluhallen (Food Market)
Stora Saluhallen is a 19th-century food market in central Gothenburg.
Established in 1888, it has been well-preserved and recently renovated.
The interior is immaculate and full of natural light. It's the perfect place to stop for breakfast, lunch, or sweets.
Stora Saluhallen is open from 9 am – 6 pm, Monday through Friday, and 9 am – 4 pm Saturday. It's closed on Sundays.
Address: Kungstorget, 411 17 Gothenburg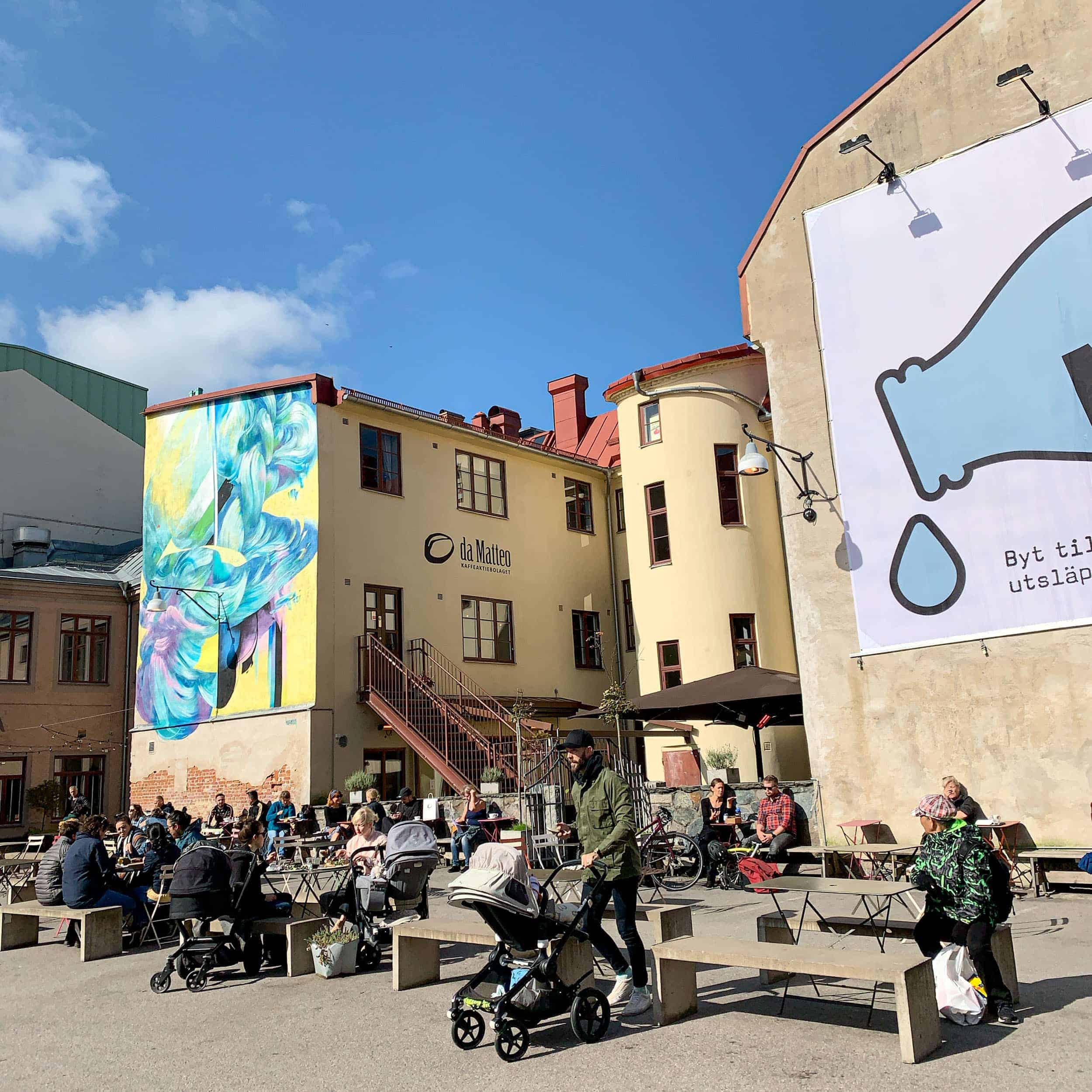 11. Enjoy a Fika
Fika is a traditional Swedish coffee break that allows people to stop whatever they're doing, grab a drink (usually coffee or tea) and pastry, and relax.
Fikas are often a social occasion, whether with coworkers in an office or friends, family, or date around town.
da Matteo
One of the best places to enjoy a fika in Gothenburg is da Matteo, a cafe and coffee roaster with multiple locations in the city center.
Pictured above is the patio at the Vallgatan location, which I'm happy to recommend based on my experience with their lattes, chocolate balls, and cardamom buns.
Address: Vallgatan 5, 411 16 Gothenburg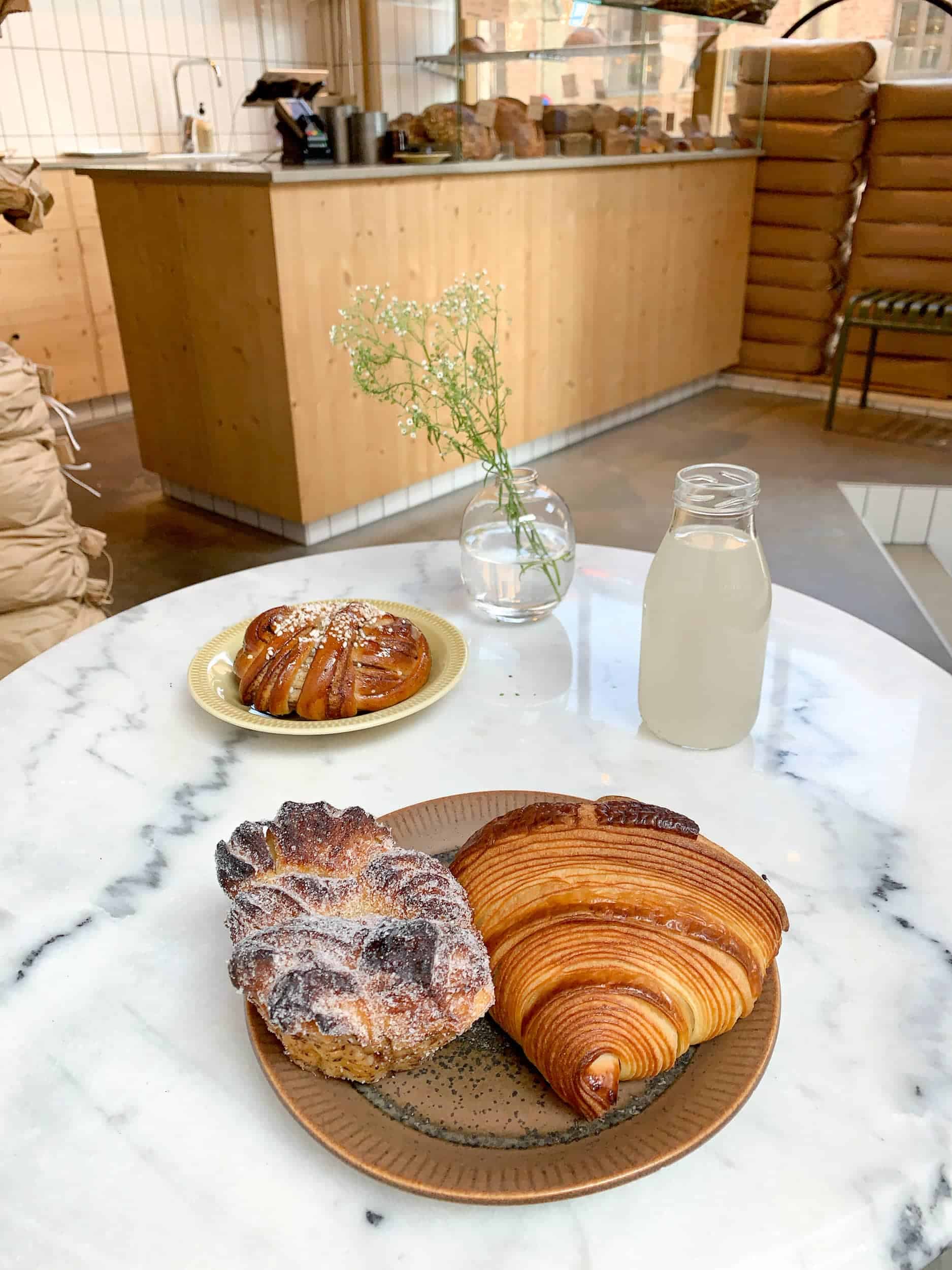 Broderi Borgskog
Another excellent spot for a fika is Broderi Borgskog, one of the city's best bakeries.
Inside, space is limited; however, there are a few tables where you can sit down and overeat, as I did.
Pictured above are an incredibly well-made croissant, a sweet muffin-like pastry made from the leftovers of the croissant-making process, and a cinnamon bun for good measure.
Address: Prinsgatan 3, 413 05 Gothenburg
***
There you have it, my recommendations for fun things to do in Gothenburg on a budget.
Stockholm may be Sweden's best-known city, but Gothenburg has been recognized from 2015-2019 as the world's leader in sustainability by the Global Destinations Sustainability Index.
Where to Stay in Gothenburg
Airbnb – I rented a room from a Swedish woman for my five-night stay
Hostels – There are a handful of hostels, with dorm beds starting at $22 per night
Hotels – Hotel prices in central Gothenburg can be high; you might be able to find a good deal on Booking.com
_____
As a media member of the Adventure Travel Trade Association, I attended the Adventure Travel World Summit in Gothenburg at a reduced ticket price. A free walking tour and the ferry ride to the opening party were included in the event.
Dave is the Founder and Editor in Chief of Go Backpacking and Feastio. He's been to 66 countries and lived in Colombia and Peru. Read the full story of how he became a travel blogger.
Planning a trip? Go Backpacking recommends: