Since I was a kid learning to ski in northern New Jersey, I have dreamed of skiing in Colorado.
I even toyed with the idea of applying to the University of Colorado Boulder so that I could pack in more ski days per year.
At age 19, I switched from skiing to snowboarding but never made it to Colorado before giving up the latter to start saving for my round-the-world trip.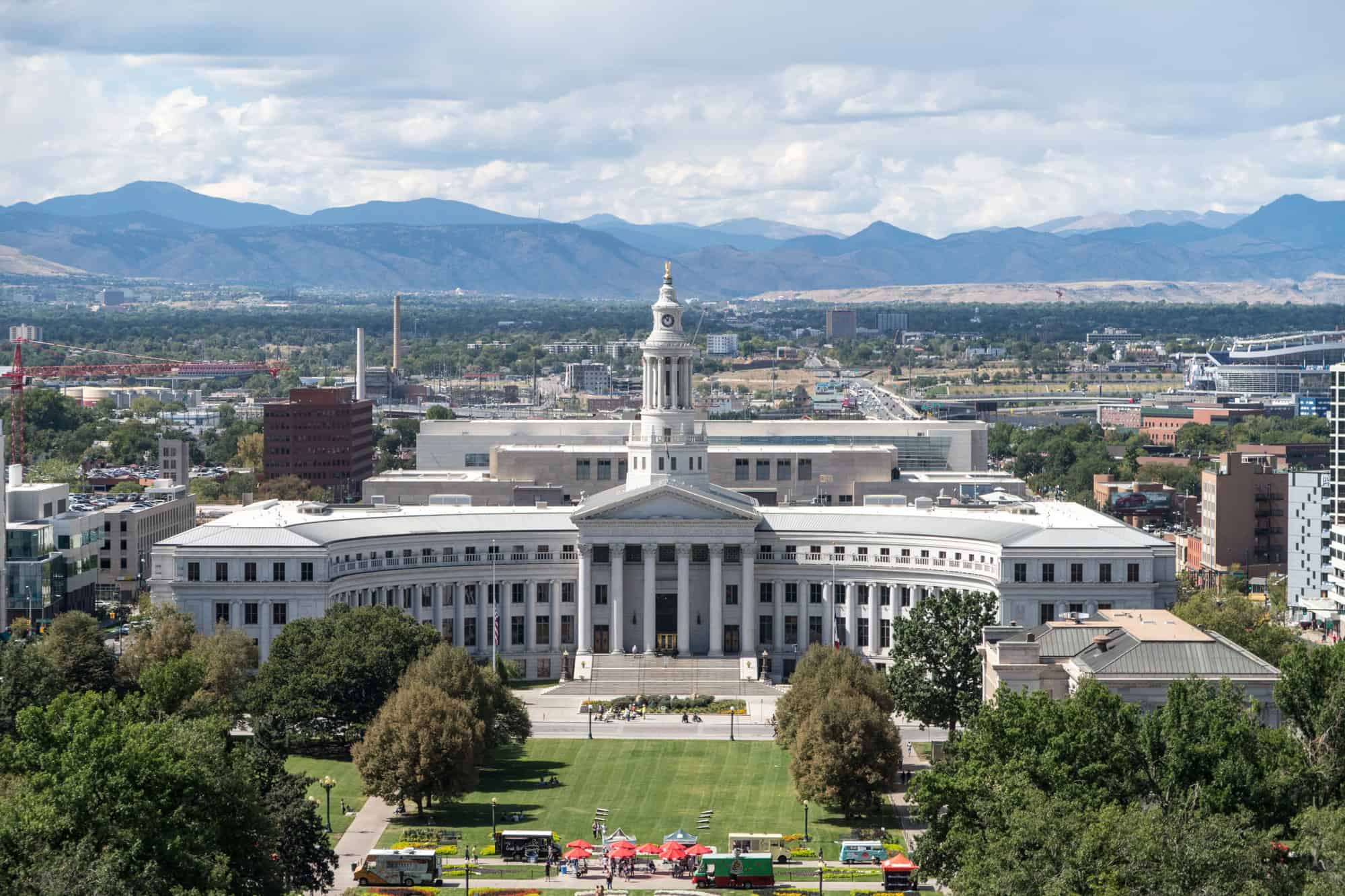 So when the opportunity arose for me to visit Colorado this Fall, I didn't hesitate to pack my bags for the short two-hour flight from Austin to Denver.
Upon arrival, I picked up a rental car and drove to the ART, a hotel in the heart of the city. As the name suggests, it's an art-themed hotel surrounded by no less than four museums.
If you'd rather avoid a rental car, you can book transfers using a Denver car service.
I grabbed a quick lunch at the hotel restaurant and went for an afternoon walk around the nearby Civic Center Park to get my bearings. The clock was ticking, and I had a long list of things to do in Denver.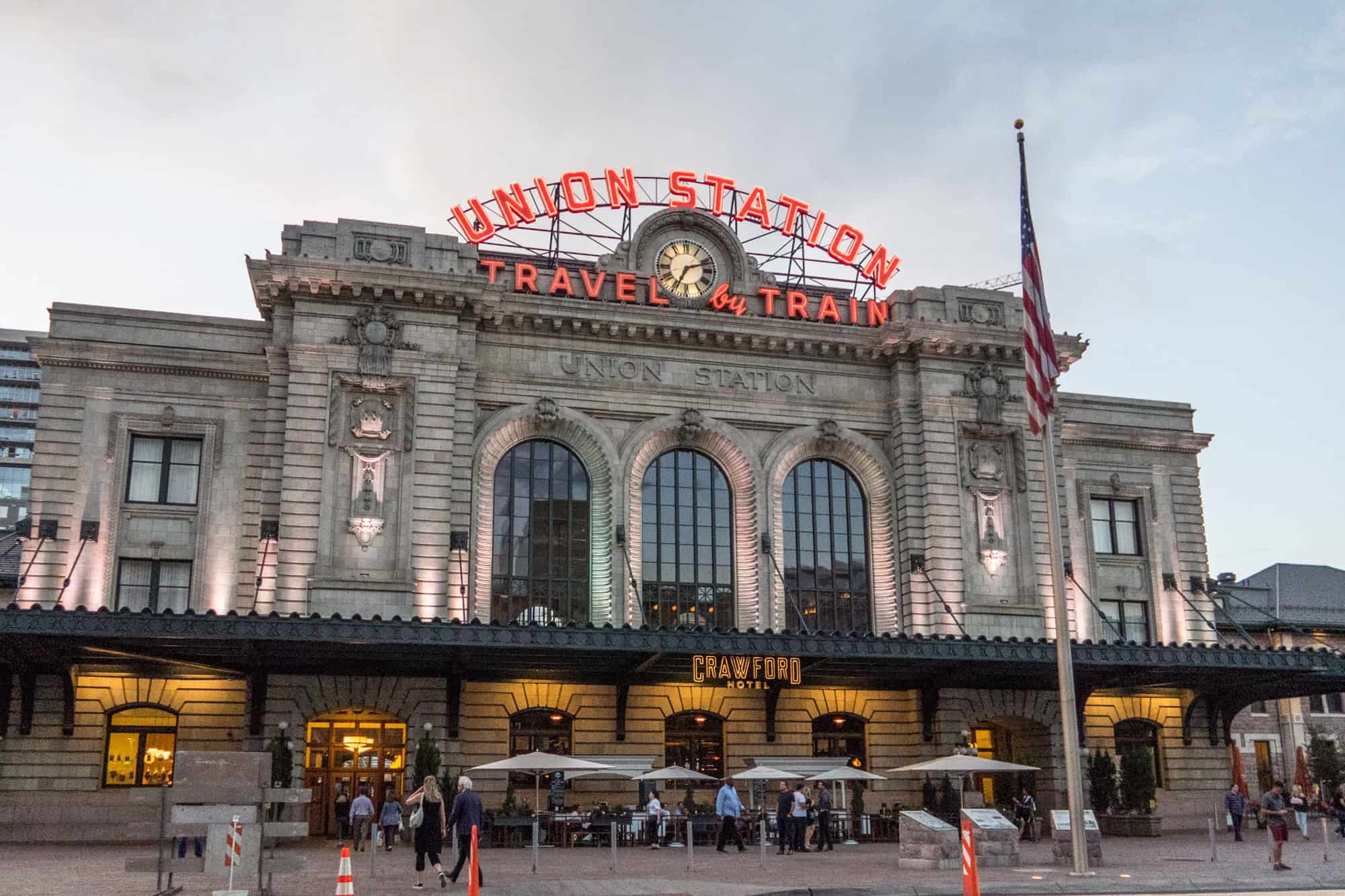 Things to Do in Denver
Dinner at Union Station
Originally opened as a train station in 1881 and has undergone significant renovations since 2014, Denver's Union Station has evolved from an old transportation hub to an attractive entertainment district.
The interior of the main building is beautiful; indeed one of the best-looking train station waiting rooms I've ever seen.
This is partly because it also acts as the lobby for The Crawford Hotel, a 112-room luxury hotel that occupies the upper levels. If you take the train from the airport, it'll drop you here.
In the winter, you can also catch an Amtrak train to Winter Park for a day of skiing or snowboarding. For more info on the best ski resorts in Colorado and the U.S., check out Bluehouse Skis.
If you're in town for spring or summer, you'll want to check out one of the many Colorado Springs white water rafting excursions, which can also be accessed via Amtrak.
I wandered through the spacious lobby to the bustling Mercantile Dining & Provision, where I sat at the bar and splurged on Creekstone Farms BBQ short ribs with grits and fried green tomatoes and milk chocolate pot de créme for dessert.
There are eight additional dining options within the station, including a deli, cafe, ice cream shop, and several bars, with many more options surrounding it.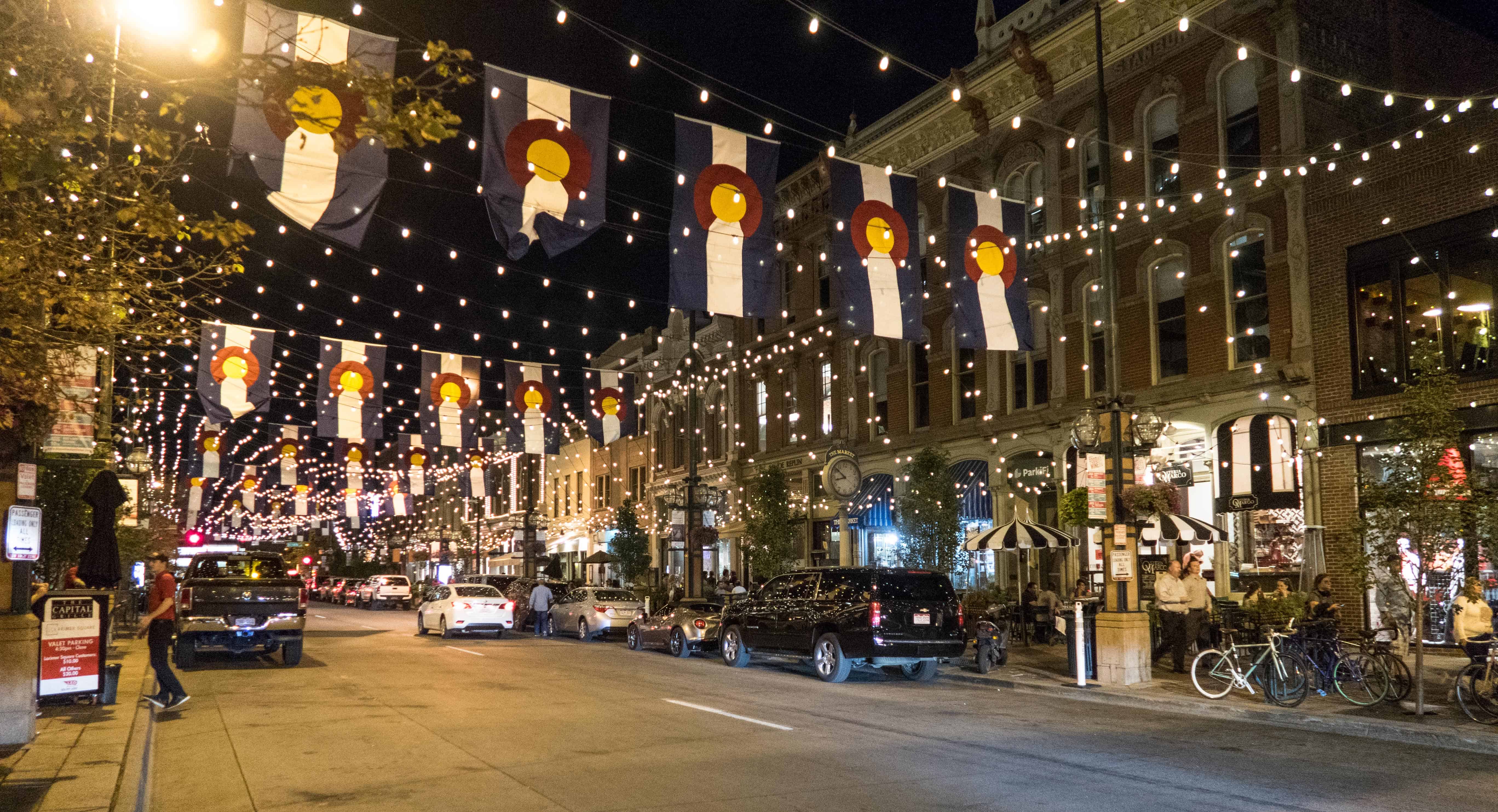 Walk Larimer Square
To burn off dinner, I walked four blocks up 17th Street to Larimer Square, Denver's main street, when the city was founded in 1861.
I found a quaint scene, the street lined with lights and state flags in the air and bustling restaurants and bars on the ground.
Chic independent shops filled the gaps between restaurants. It was mid-September, yet still warm enough for diners to enjoy their food al fresco.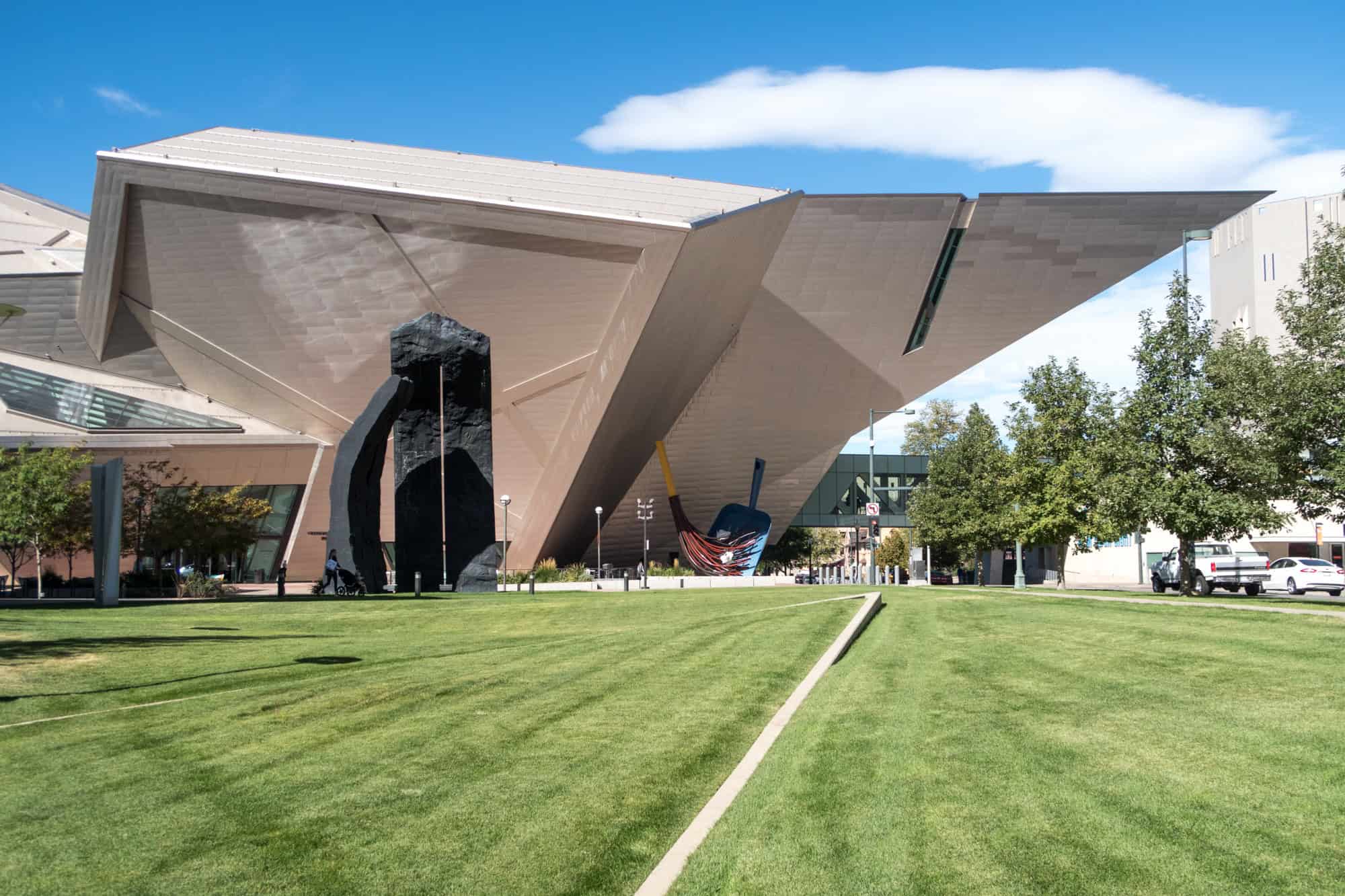 Enjoy the Denver Art Museum
The following day I awoke ready to kick off my only full day in Denver with a visit to the Denver Art Museum (DAM).
Founded in 1893, with over 70,000 works of art, the museum is one of the largest between the West Coast and Chicago.
Polish-American architect Daniel Libeskind designed the Hamilton Building (shown above).
The website "recalls not only the mountain peaks that provide a powerful backdrop for the city but the intricate and geometric rock crystals found in the foothills of the Rockies."
Due to limited time, I only visited the Hamilton Building, where I saw a very touching exhibit called "Common Ground: Photographs by Fazal Sheikh 1989-2013."
His black-and-white photography highlighted the plight of the poor and abused in countries like India.
Later that day, a friend in Denver mentioned he prefers the North Building, meaning I have more to look forward to next time.
Adult entry costs $13 for non-residents of Colorado and $10 for residents. Children 18 and under are free, regardless of residency, and admission is free on the first Saturday of each month.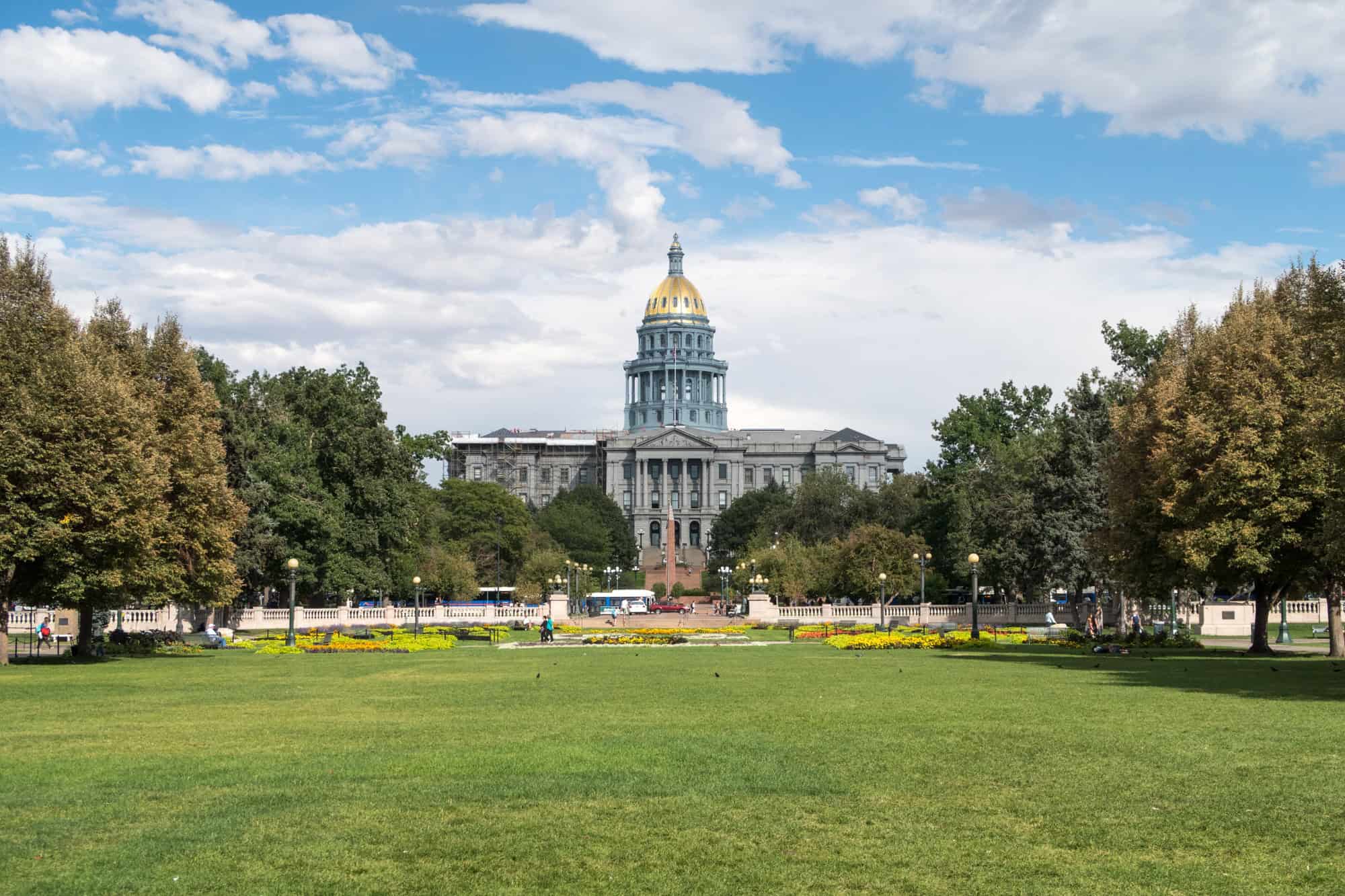 Tour the Colorado State Capitol Building
As seen from across Civic Center Park, the grandeur of the Colorado State Capitol Building beckoned me to step inside and learn more.
Built in the 1890s, architect Elijah E. Myers purposefully designed it to evoke the U.S. Capitol Building in Washington, DC.
Highlights of the tour included looks at the chambers of the State House of Representatives and State Senate, the interior of the gilded dome, and the scenic views from the top of the building.
Free tours are offered hourly from 10 a.m. to 3 p.m., daily, Monday through Friday.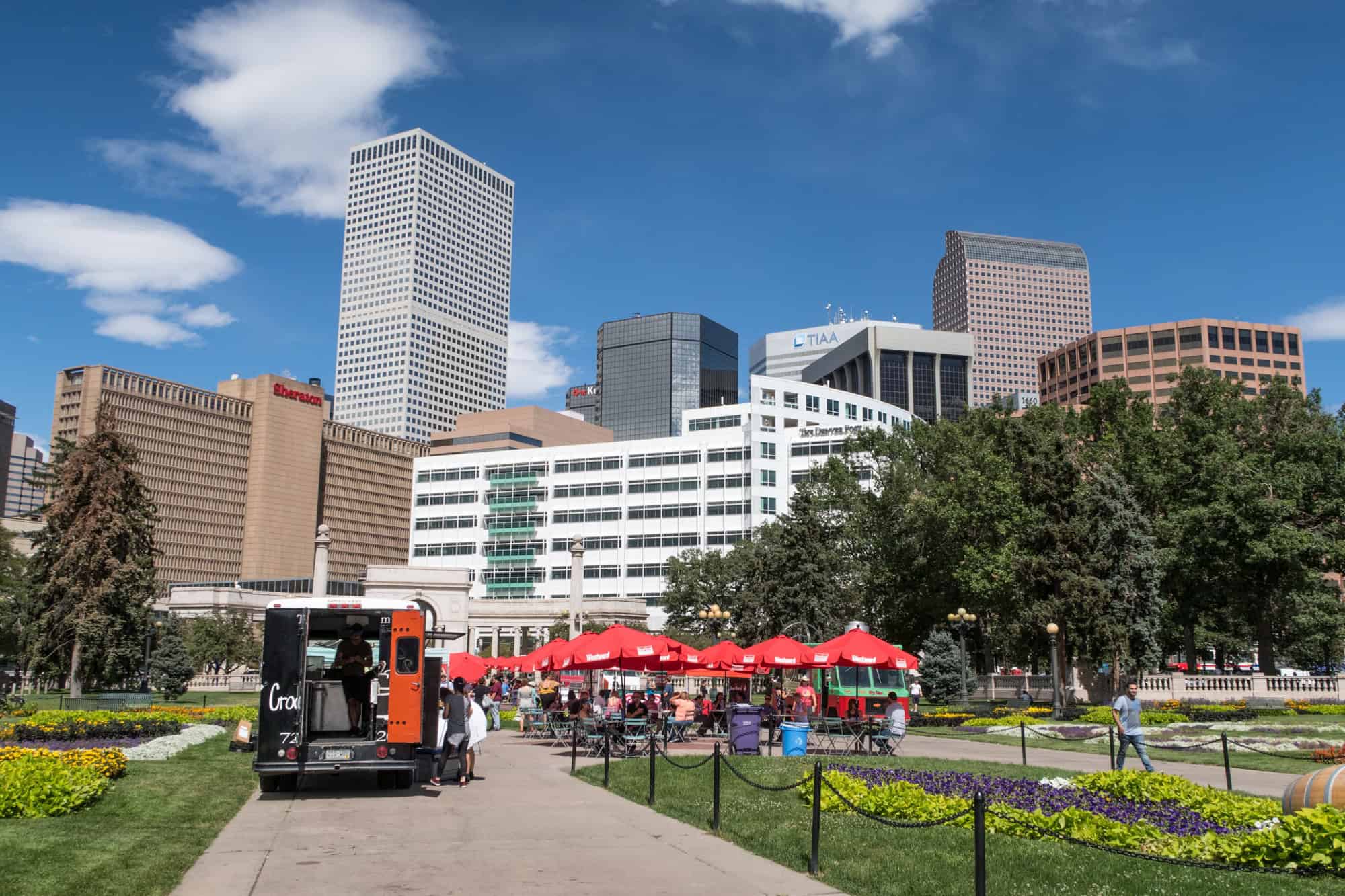 Lunch at Food Trucks in Civic Center Park
Civic Center Park lies at the heart of downtown Denver. The east end is dominated by the Capitol Building, while the Denver City and County Building occupies the opposing west end.
Additional government buildings surround the park, including the United States Mint (one of the few that makes coins), museums, and The Denver Post.
During the warmer months, from Spring to Fall, food trucks congregate to offer cheap eats from 11 a.m. to 2 p.m., Tuesday through Thursday.
After perusing a dozen delicious options, I opted for a Kansas City-style pulled pork sandwich with mac 'n cheese from Smokestack 70, followed by two scoops of organic salted caramel and mint chocolate chip ice cream from Em's Ice Cream.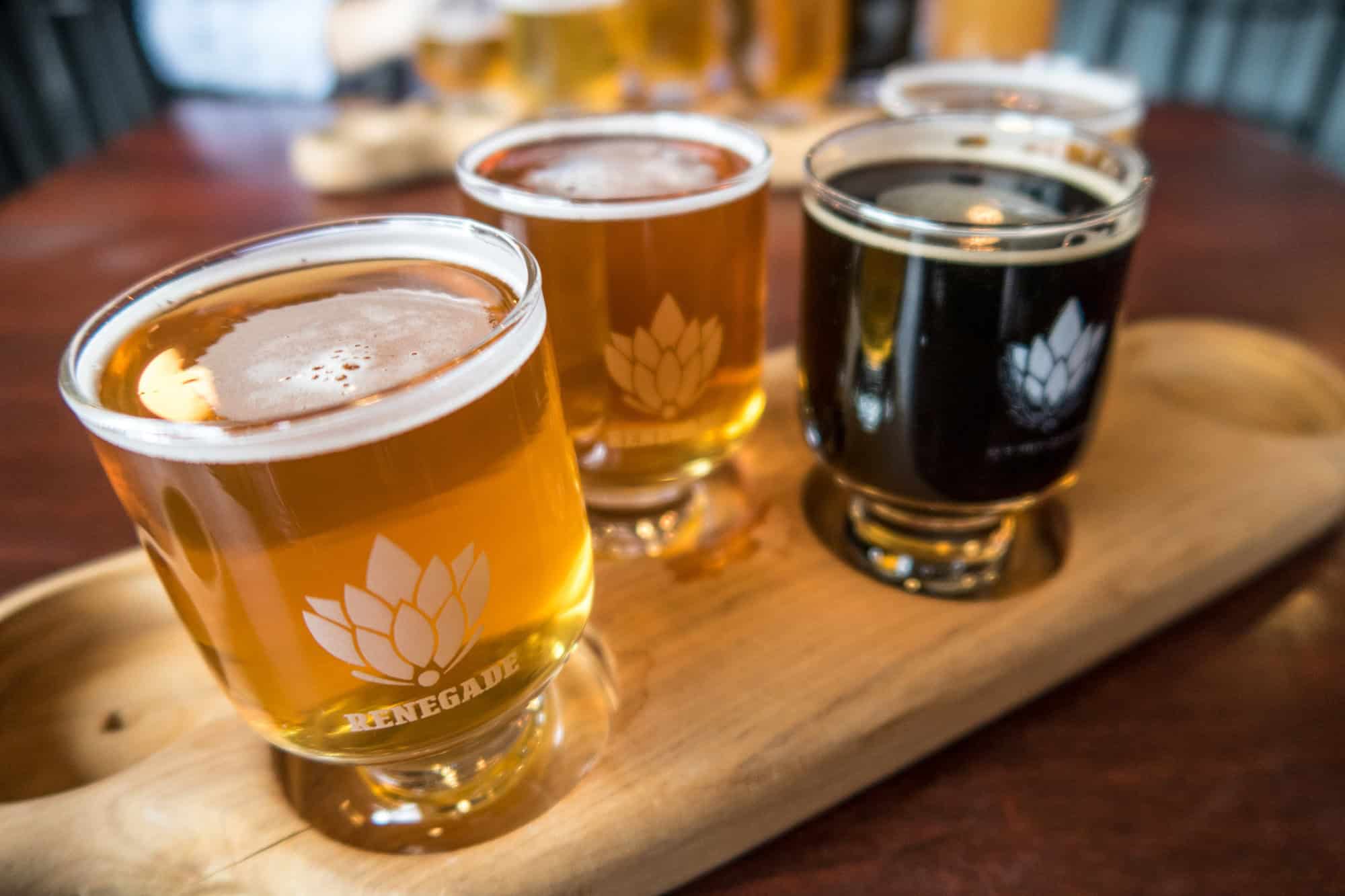 Happy Hour at a Craft Brewery
Following my late lunch in the park, I took a short siesta back at the ART hotel before meeting up with one of my college roommates who'd moved to Denver with his wife over ten years ago.
He'd since learned to brew beer and even won awards for his brews, so I knew I could trust him to pick a fantastic brewery for our happy hour.
Renegade Brewing Company bills itself as "offensively delicious" and was a short 5 to 10-minute Uber drive southwest of my hotel.
We each ordered a flight of beers to sample. I liked that you could order a 4-ounce beer for $1.75 versus having to commit to a pint of something you may not thoroughly enjoy. I wish this were an option at regular bars, not just craft breweries!
The Swashbuckler was sea salt and caramel porter I didn't care for, while the Pancakes maple porter tasted like maple syrup had been poured into the beer.
Related: Fort Collins Bike and Beer Tour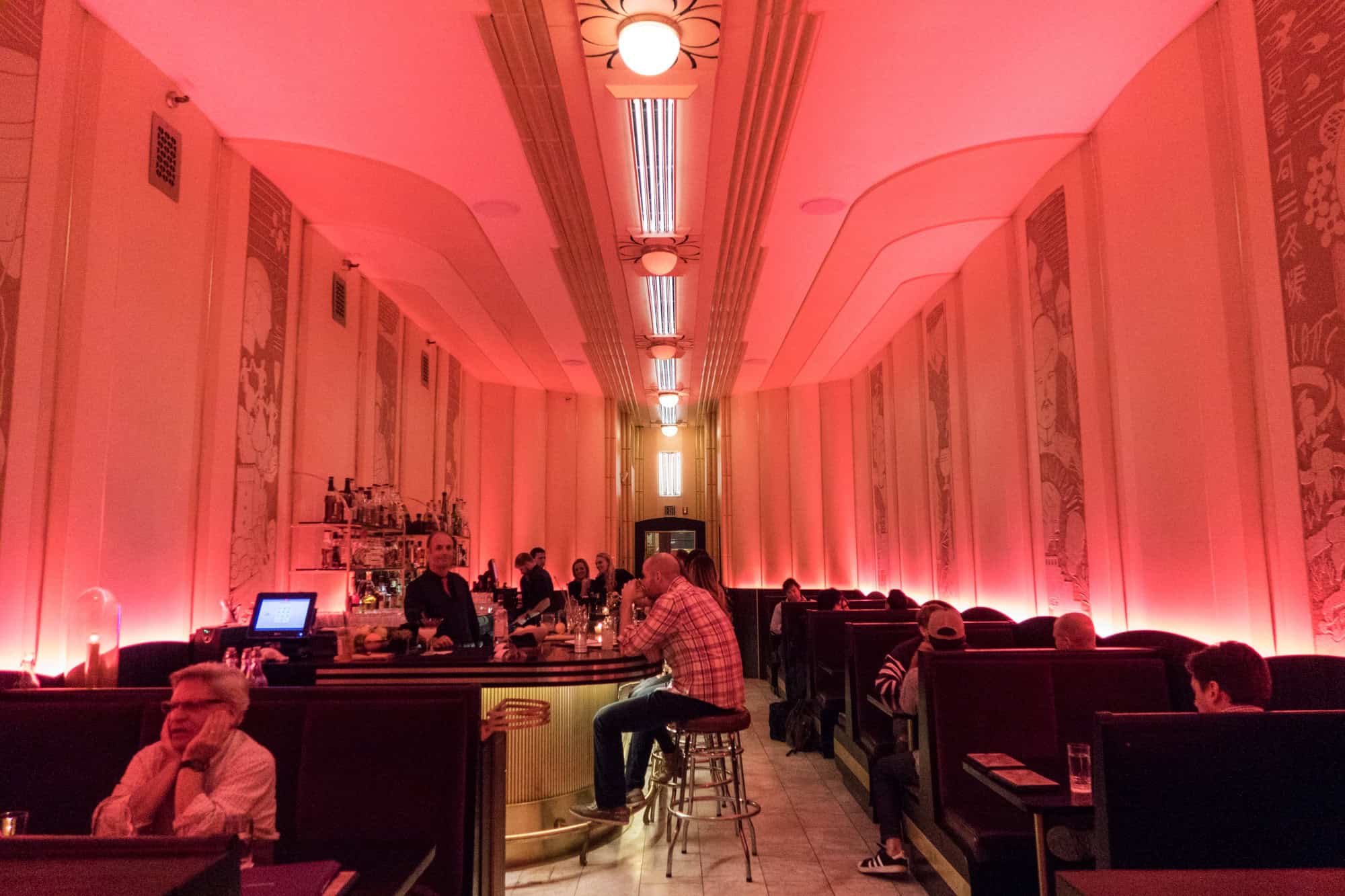 Cocktails at a Prohibition-era Speakeasy
My experience in Denver turned out to be filled with more historic buildings than I'd expected.
Following our beer flights at Renegade, my friend offered to show me The Cruise Room, the city's oldest speakeasy.
Located off the lobby of The Oxford Hotel, near Union Station, The Cruise Room opened in 1933, immediately after Prohibition ended.
For dinner, we walked a block to Wynkoop Brewing Company (I had the buffalo meatloaf and an espresso Cowtown milk stout cheesecake).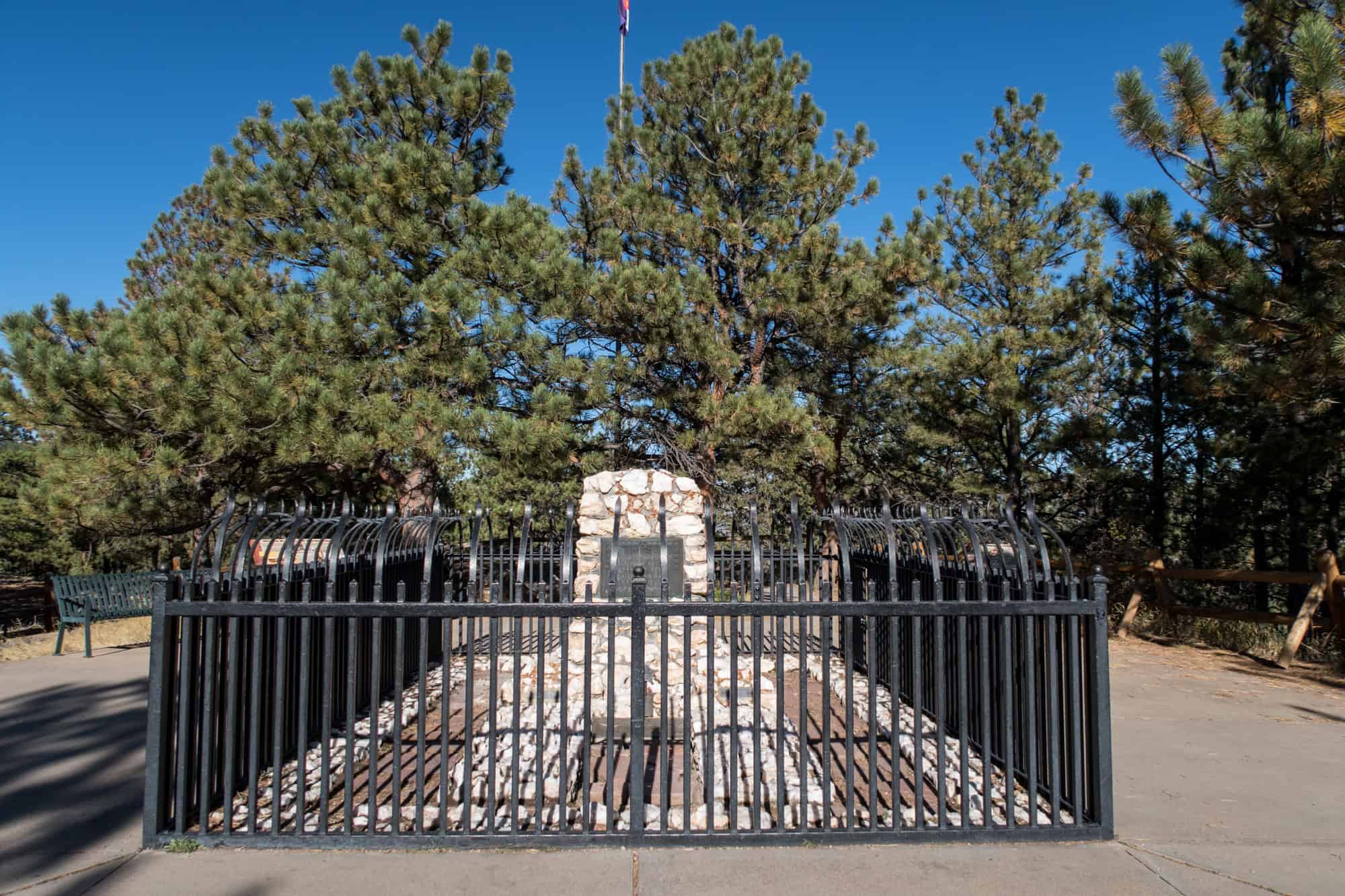 Buffalo Bill's Grave and Museum
On the morning I departed Denver for Steamboat Springs, I made a pit stop at The Buffalo Bill Museum and Grave, located about 30 minutes west of Denver in Golden, Colorado.
The grave and museum are perched atop Lookout Mountain and offer a quick and easy way to get to know the man who helped save the American buffalo from extinction.
Museum admission is $5 for adults, $1 for children 6 to 15, and free for kids five and younger. It's free to visit the grave.
If I had more time…
There are at least a dozen more things I would've wanted to do had I been able to stay in Denver longer, including a tour of the U.S. Mint, visiting more museums, catching a show at the famous Red Rocks Amphitheater, watching a baseball game at Coors Field, and touring Coors Brewery.
_____
My stay in Denver was in partnership with the Colorado Tourism Office.
Dave is the Founder and Editor in Chief of Go Backpacking and Feastio. He's been to 66 countries and lived in Colombia and Peru. Read the full story of how he became a travel blogger.
Planning a trip? Go Backpacking recommends: