The Dominican Republic is much more than sandy beaches and resorts, it also has mountains, desert lands, colonial architecture, city nightlife and famously welcoming people.
Here are some of the things you should consider doing and seeing while visiting the Dominican Republic.
1. Explore Santo Domingo
You'll likely fly into Santo Domingo so why not see what the capital has to offer.
It's the oldest city in the Caribbean and has plenty of cobblestone streets to remind you of that fact.
Old plantation mansions can be found in the landmark quarter.
You can see how Santo Domingo used to be and see its history.
You can see the charming old buildings and architecture, from which it began.
2. Relax at Playa Rincon
Outside of the city, you'll want to go to Playa Rincon. If you like the beach, it doesn't get any better than this one.
It's big, but not always crowded, so you can carve out your own piece of this beautiful beach and not have to be close to anyone else.
3. Escape to Las Galeras
Go out a little further and you'll want to visit Las Galeras. It's a small fishing village and a great escape from the big city.
There aren't that many tourists, so you'll feel like you're in the real Dominican Republic.
And when you get hungry, go to Restaurante El Cabito.
You'll get great food and likely see some whales or dolphins while you eat.
4. Take a Boat to Bahia de Las Aguilas
If you want to go farther out the beaten path, you'll have to take a boat. Take it to Bahia de Las Aguilas.
It's a huge six-mile sandy beach that is so isolated you might be one of only a few tourists.
It's worth it to see this beautiful beach and feel so far away from the busy and stressful world.
5. The Nightlife
Go back to the city to experience its nightlife.
Eat a traditional Caribbean dinner and then go out and experience the clubs and dancing that Santo Domingo is famous for.
You might even learn a few new dance moves.
The Dominican Republic has a unique Caribbean culture, and that includes a unique style of dancing.
It's hot and sensual so be ready to have more fun than you've ever had before.
Other things to do in the Dominican Republic include whale watching, waterfalls, white water rafting, mountain climbing, and baseball (something of a religion in a country that produces so many Major League Baseball stars).
When you've decided on one of the Dominican Republic hotels available, decide on what you want to do once you get there. Your hotel can help you organize your trip and help with the cost and travel to do it.
You'll have a great time there and we recommend you see some of the things we've talked about in this brief guide.
If you want to practice these Instagram tips in one of the Barcelo Hotels, you should check out Dominican Republic Hotels.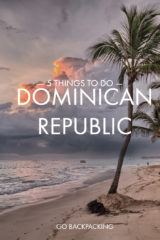 _______
This post was brought to you in partnership with Barcelo Hotels.
This post was written by a guest contributor. Please reference the author's byline in the post above for more information. If you would like to guest post on Go Backpacking, please read our submission guidelines. For information on advertising opportunities, go here.
Planning a trip? Go Backpacking recommends: