When it comes to packing, space in our backpacks is at a premium. Therefore it's no wonder we're always on the hunt for the best travel essentials.
Most travelers struggle with everyday tasks and surprises of being out on the road.
Just this morning, I had to find my hostel with no charge on my phone.
I managed to make it to my hostel, but it would have been a hell of a lot quicker if I had my usual gadgets to lead me there.
It's these moments that spurred this piece. Here are the travel essentials I use to make my trips as stress-free as possible.
Essential Travel Accessories
1. External charger (solar power)
An external charger is something I have traveled with ever since my first backpacking trip in 2015.
Sometimes, I will carry it on me even when not traveling.
Extra battery power is just one of those resources you never know when you'll need.
It is almost inevitable, though, you will encounter a time while traveling when the extra phone charge could come in handy (like me this morning while trying to find my hostel).
I have had several external chargers in the past.
Some work better than others, but I tend to prefer a decent solar powered external battery over the ones which need to be charged themselves.
In my opinion, the purpose of an external battery source is for emergencies, and having a battery source that can be charged by the sun is the safest bet.
Right now, I am traveling with this Ryno Tuff Solar Charger, and it has held up well through all conditions and never let me down.
It has been about six months, and I would highly suggest having it.
2. Airtight bags
I was always curious about airtight packing bags.
I have known about them for a long time, but it wasn't until recently (Christmas of 2018) I decided to give them a try.
I'm glad I did; they have been a pleasure; both to save space and as organizers in my backpack, which has traditionally been an unorganized mess.
It feels like I have been traveling with a new nifty backpack ever since I started using the airtight bags. It does make a difference.
The only thing I wish I did was to get bigger bags. Right now, I use them mostly to transport smaller items such as socks, underwear, and swimwear.
It is hard to find a combination of the right size of bags on Amazon, but I've been traveling with these Spacesaver Premium Vacuum Travel Bags this year.
I don't suggest traveling with six of them. I usually bring along two to three, but six was the smallest quantity Spacesaver offers.
3. Headphones (especially for digital nomads)
I spend a lot of my days out on the road working. I know, it sounds boring, but hey — I've got to pay for my travels somehow!
A lot of times, I am working in not-so-ideal conditions. Usually, it is loud or busy with a lot of things going on around me.
To focus, I use my noise-canceling headphones, which I splurged on because it's important I be able to focus on the road.
Beyond digital nomads, many people (myself included) can only sleep in hostels or on airplanes, busses, or trains with earphones in.
A good set of earphones/headphones for your purpose is always worth the investment.
Right now, I use the COWIN E7 Pro Noise-Cancelling headphones, which are a cheaper alternative to BOSE products (in my opinion).
It is a bit of a splurge, but compared to market value for headphones, this isn't a bad deal.
We also recommend you check out the xFyro Wireless and waterproof earbuds.
The award-winning engineers at xFyro audio created the most advanced pair of best Bluetooth earbuds on the market, bringing next-generation technology today's active listener.
Bonus Headphone Recommendation
Before I wrap up, I have one more pair of headphones to recommend — ReduxBuds, one of the best noise cancelling wireless earbuds that comes with an AI Powered Active Noise Cancelling (ANC) feature.
Made by a group of sound engineers and audiophiles, ReduxBuds are the perfect fit if you don't want to worry about charging your earbuds.
These wireless earbuds push the boundaries with a 90-hour charging case! You definitely want to check these out.
4. Miniature flexible tripod
I will admit, I no longer travel with a tripod. It is on this list because it used to be one of the handiest travel essentials in my backpack.
However, I no longer focus my travels on smartphone photography or taking photos, in general.
It has become less of a priority, and the tripod did get to be pretty bulky in packing.
With that being said, if you are remotely into photography or respect the art more than a dorky selfie, you may want to consider one of these.
I couldn't tell you how many times it helped me out in my years of traveling.
I liked the UBeesize Tripod, in particular, for its foam-like grip. It seemed to grip more sturdy than others I have used in the past.
See also: How to Choose the Best Travel Camera

5. Tile
Tile is a travel gadget I have just recently started using as a precaution. Looking for a little peace of mind? This is your product.
Tile is a "find my phone" kind of product that uses little tile tracking devices on all your valuables while traveling.
Connect one to your keys, camera, laptop, phone, wallet, passport — whatever you can.
Using an app on your phone, you can track down the location of all your belongings.
If you lose your phone, by pressing the button on your Tile Mate, it will automatically make your phone ring out loud so you can find it if nearby.
6. Anti-Skimming Passport Wallet
Everyone generally keeps their passport in a safe case, but how safe is yours?
There are tactics that scammers use out on the streets, which make it as easy as bumping into you to rip off all your passport and credit card information.
Your passport and credit cards don't even need to be in plain sight. Scary, right?
Well, you can protect your information from this type of scams with this waterproof Passport Wallet Holder.
You never know when it might come in handy.
7. Battery case
Another option to solve your lack of phone battery while traveling is a case that charges your phone itself.
It can, at least, provide a few extra charges to your phone.
There are a ton of different options available for all models of phones.
8. Packing Cubes
Packing cubes are a travel product that can help keep your backpack organized while on the road.
The cubes would also come in handy while situated in a hostel for a few days.
I haven't personally used this product yet, but have been recommended several times. I will purchase these for my next trip to see how helpful they are.
However, since several fellow travelers have already recommended them, I'm sure there is some effectiveness to them.
9. Vapur
Vapur is a company I have supported from the get-go.
They specialize in reusable, super convenient, and portable drinking solutions.
Their innovation is top-notch, and their mission is even more honorable. Not to mention, their product is super useful for eco-friendly travelers.
I would 100% recommend this product to every traveler.
10. Kindle Paperwhite
For all readers out there, this product will save you space and, in the long run, probably money.
If you have a passion for reading, the Kindle Paperwhite is the best e-reader for you.
Admittedly, I don't read as much as I need to. Generally, I only have a desire to start reading as soon as I start traveling. Please don't ask me why.
However, the Kindle Paperwhite is perfect for traveling, and if you also read at home, you will only get more value from it.
It is super reasonably priced, and I love it!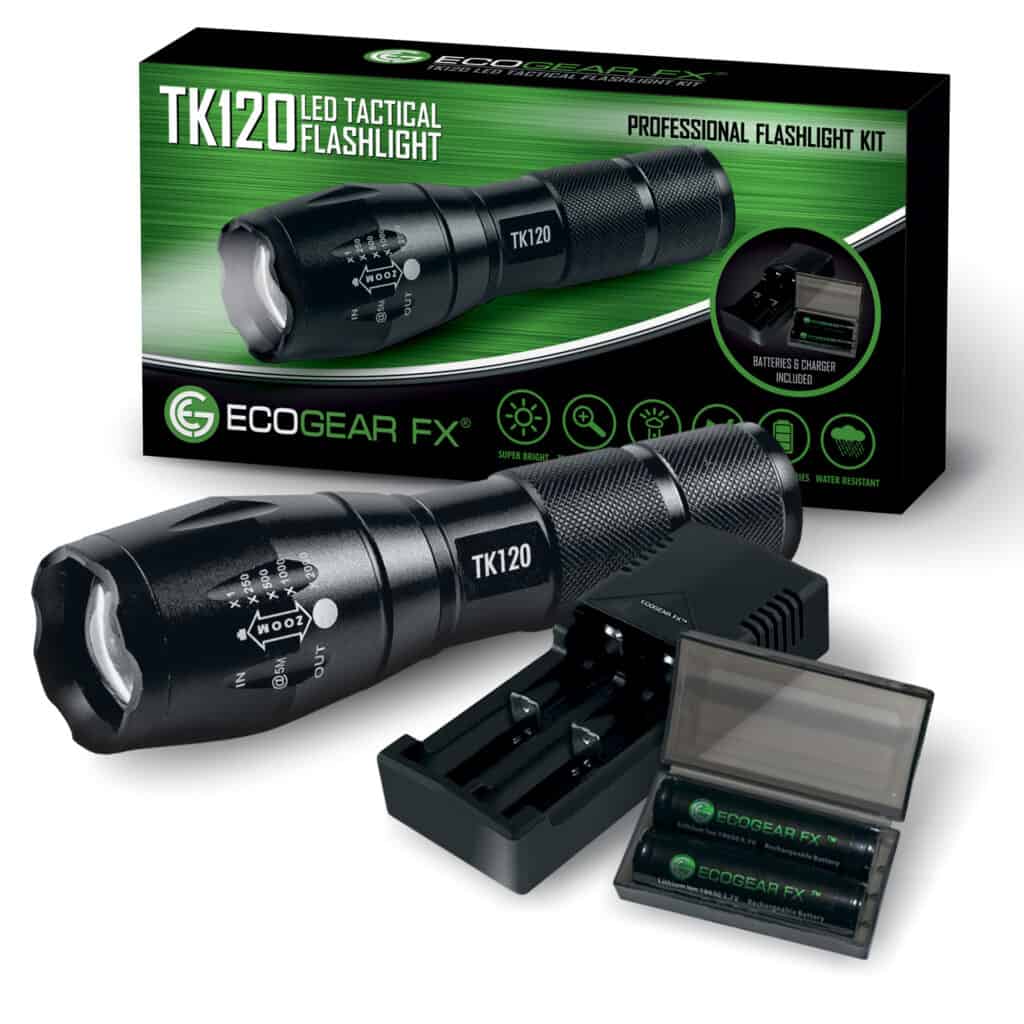 11. TK 120 Tactical Flashlight by EcoGear FX
It is always a good idea to have a flashlight with you when traveling.
This tactical flashlight from EcoGear FX has a water-resistant design and is compact and lightweight. It is built with high-quality aluminum alloy.
It can be seen from 4,000 yards and also has a tactical strobe light. They cost $39.99.
Travel Essentials to Make Life Easier
I could name more handy items I have seen other backpackers with during my travels.
I could also name things I have seen, which, to me, seem completely unnecessary. But, to every man/woman, their own.
I don't take all of these travel essentials with me on every trip. It certainly matters where you are going and for how long.