Guayaquil is Ecuador's largest city and seaport. Travelers are most likely to visit Guayaquil on the way to the beaches on the Pacific coast or the Galapagos Islands.
While the city can be skipped altogether, should you have a free day to spend here, there are some noteworthy things to do and some decent dining and nightlife.
In our Guayaquil travel guide, we'll cover the basics of how to get around the city, where to stay, and what's worth seeing.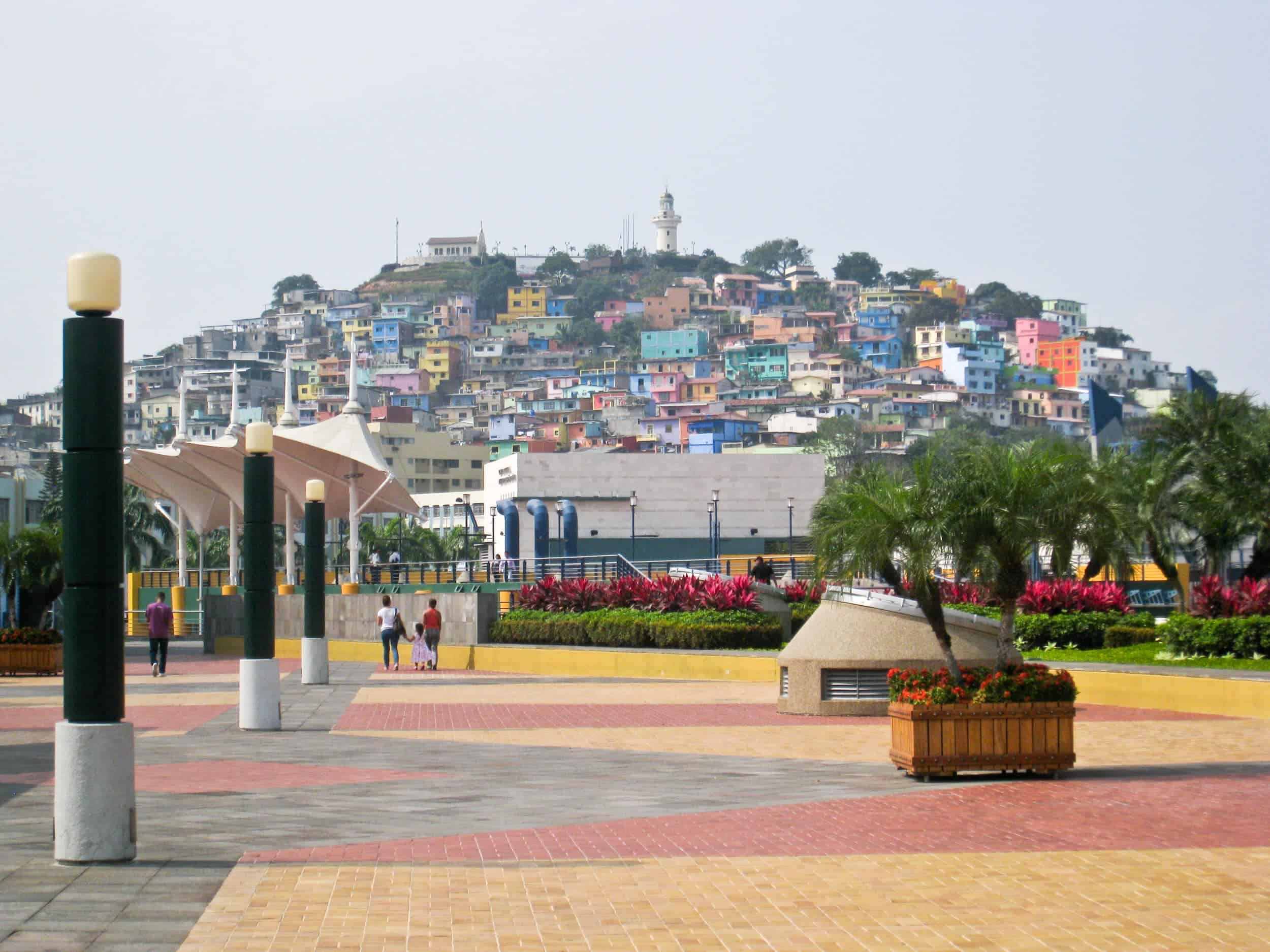 FAQ
Where is Guayaquil?
Guayaquil is located in southwest Ecuador along the banks of the Guayas River, which flowers into the Pacific Ocean.
How safe is Guayaquil?
Guayaquil continues to bear the reputation as Ecuador's most dangerous city and should be approached cautiously.
Whenever possible, use Uber or private taxi services, which often use black SUVs with tinted windows.
If using a taxi, have your hostel or hotel call for you, and get a business card from the driver to contact them on your own as needed.
The prices are higher at night. However, you're at less risk of being robbed than if you hail the yellow taxis on the street.
When walking around, stay aware of your surroundings to protect against pickpockets. Common street crime is the biggest risk to the average traveler in Guayaquil.
So, is Guayaquil safe for tourists? Yes, the bottom line is as long as you exercise safety precautions typical of any large Latin American city.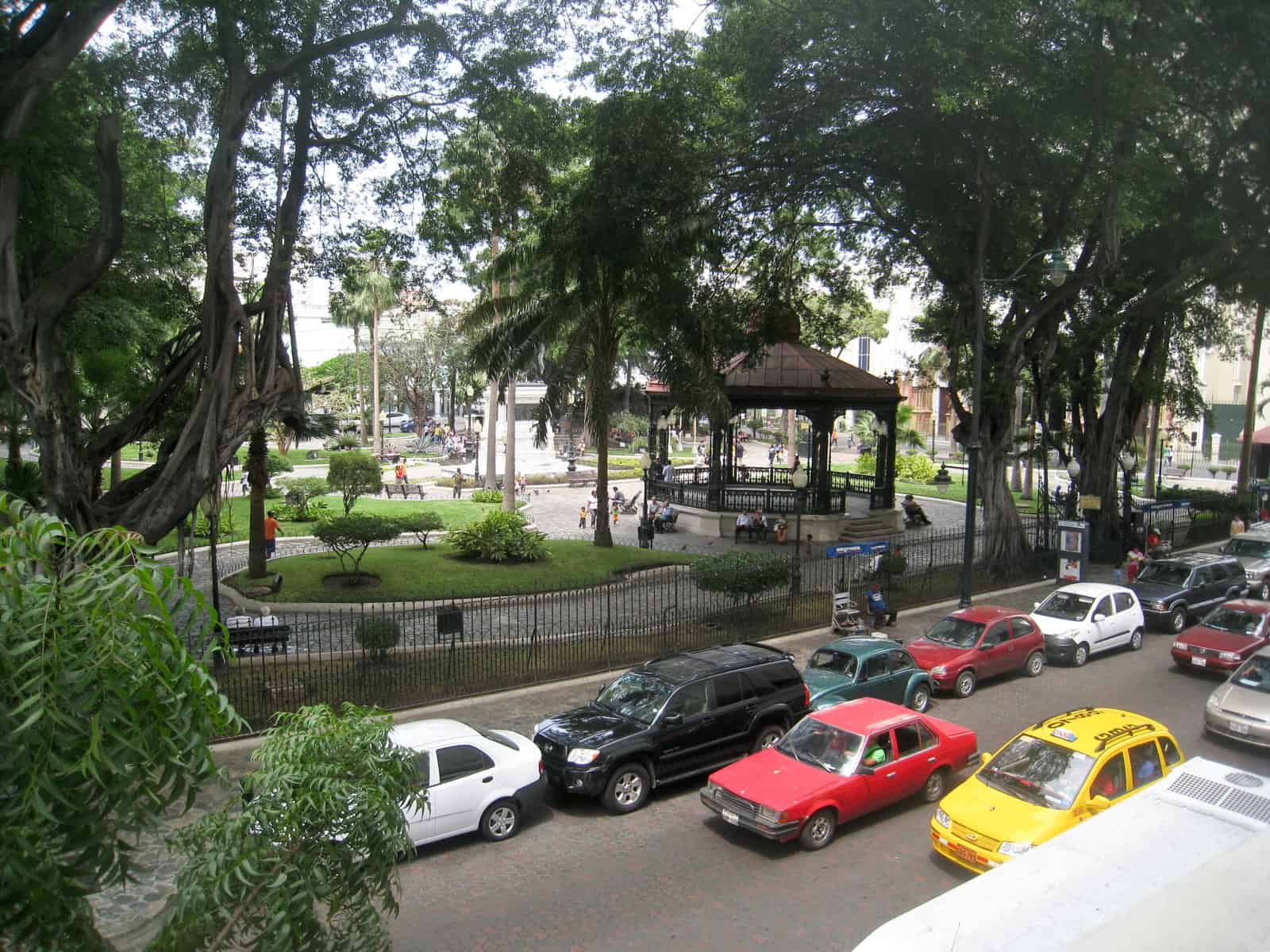 Getting There & Away
By Air
The new Jose Joaquin de Olmedo International Airport (GYE) is one of the best in South America and as nice as any U.S. airport.
If you're entering the country through Guayaquil, the Immigration and Customs process is organized and efficient. Flights are available to/from a variety of major cities throughout North and South America.
The airport is located in the northeast part of the city, adjacent to the new international bus terminal. Taxis to the northern suburbs, or the hotels near the Malecon, cost $3-$5.
By Bus
Guayaquil's new bus station is located next to the airport and is very well-organized and easy to get around.
Ticket booths for the buses are located on the first floor, along with a mall. Departures occur on the 2nd and 3rd floors.
Buses in Guayaquil leave for cities around the country day and night. The bigger the city, the more frequent the departures.
Buses to/from Quito and Cuenca depart hourly. A direct bus to Cuenca is $8.25 and takes 3.5 hours. A direct bus to Montanita is $6 and takes 2.5 hours.
Getting Around Guayaquil
By Foot
While Guayaquil is a major urban center, the relatively few points of interest for tourists are all within walking distance in the downtown area.
You're generally safe to walk within (the fenced part of) the Malecon (boardwalk) day and night, as there are plenty of security guards present.
Avoid walking around elsewhere at night, especially if you're alone.
By Uber
Uber should be your first choice for getting around the city as you'll know the cost of your trip up-front, and there's an electronic record of your whereabouts, journey, and who drove you.
Take an Uber if you need to go more than a few blocks.
By Taxi
Taxis are relatively inexpensive, but they're not metered, making it easy for foreigners to be ripped off.
Get an estimate from a local, and do your best to negotiate before entering the cab.
Whenever possible, use a private taxi service. Ask your hostel or hotel to call.
Unfortunately, yellow taxis are much more prone to robberies, many of which involve taking the victims to an ATM where they're forced to withdraw the largest amount allowed.
Sample Costs
$4 – daytime ride between the bus terminal or airport and hotels near Malecon.
$8 – late-night ride in a private taxi (SUV) from bars and clubs in northern suburbs to hotels around Malecon.
By Bus
Metrovia is a modern bus in Guayaquil that can help you get around the city for much less than Uber or taxis. The main routes run North-South and East-West. Single rides cost $0.25.
The local bus system is another option, with single rides costing about 25 cents as well.
Related: How to Protect Against Petty Theft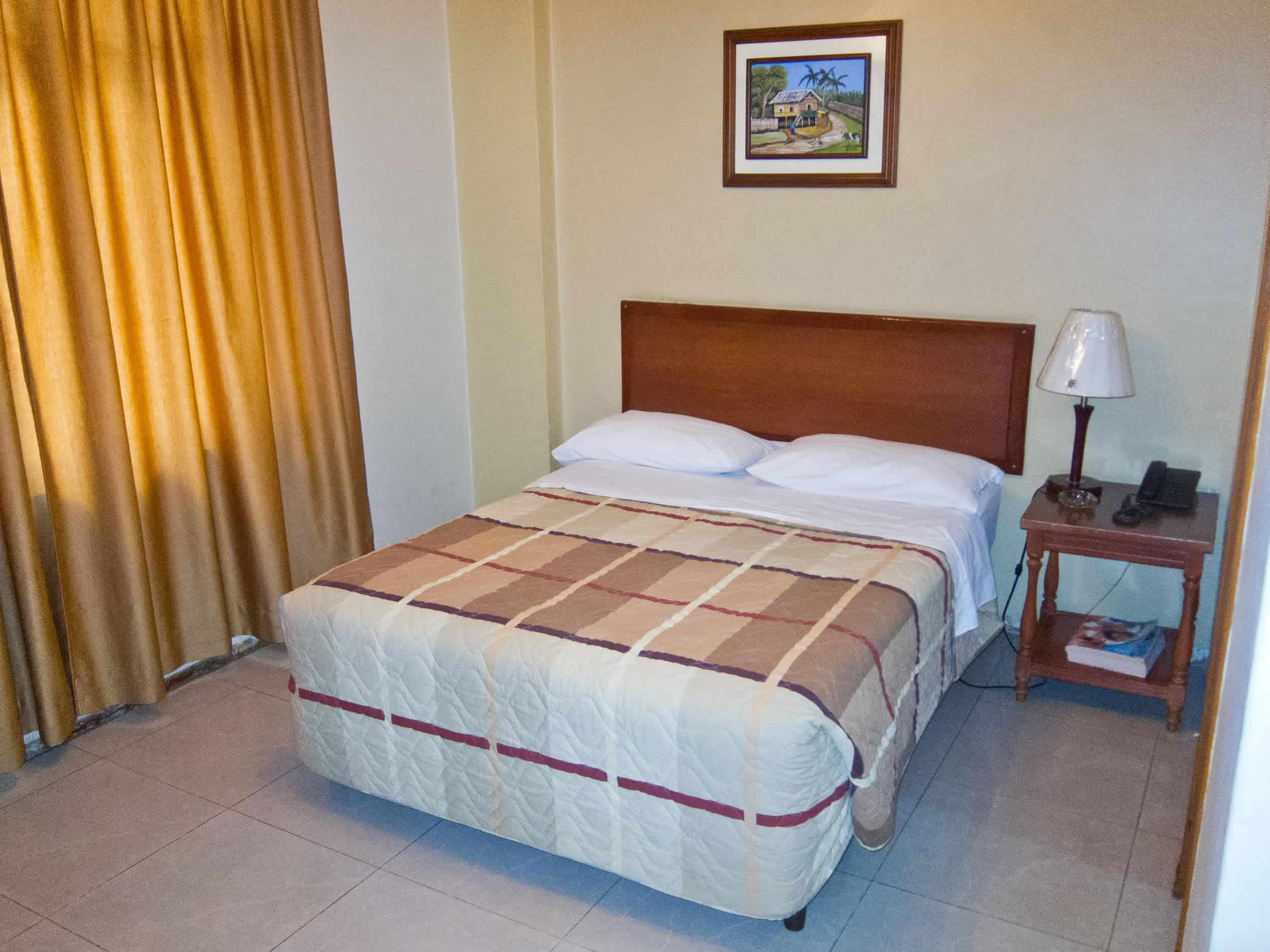 Where to Stay in Guayaquil
Hostels
Guayaquil's lack of tourist attractions means far fewer hostels catering to budget travelers and backpackers than in Quito and Cuenca.
The two ideal places to stay are in the downtown area, within a few blocks of the Malecon, or in the northern suburbs, where you'll have easy access to the bus terminal, airport, and shopping malls.
Regardless of which neighborhood you choose, you can always hop in an Uber to get to the other.
Quick Recommendations
Related: Best Hostels in Guayaquil and Ecuador
Hotel Plaza St. Rafael (Editor's Pick) – Av. Chile 414 y Clemente Ballen. Excellent location adjacent to the Parque Seminario (Iguana Park) and a short three-block walk to the Malecon.
The city's Zona Rosa, several blocks of bars and discotecas, is about a five-block walk. A private room with a bath is $35/night. Breakfast included. Good Wi-Fi in rooms.
Short Term Housing
If you plan to spend a few weeks or months in the city, then you'll want to rent a room or apartment. Try negotiating a rate with your hostel, or Airbnb, or asking around for rooms or apartments for rent.
Couchsurfing
Couchsurfing is also an option in Guayaquil and can allow you to stay with a local in a part of the city you might not otherwise experience.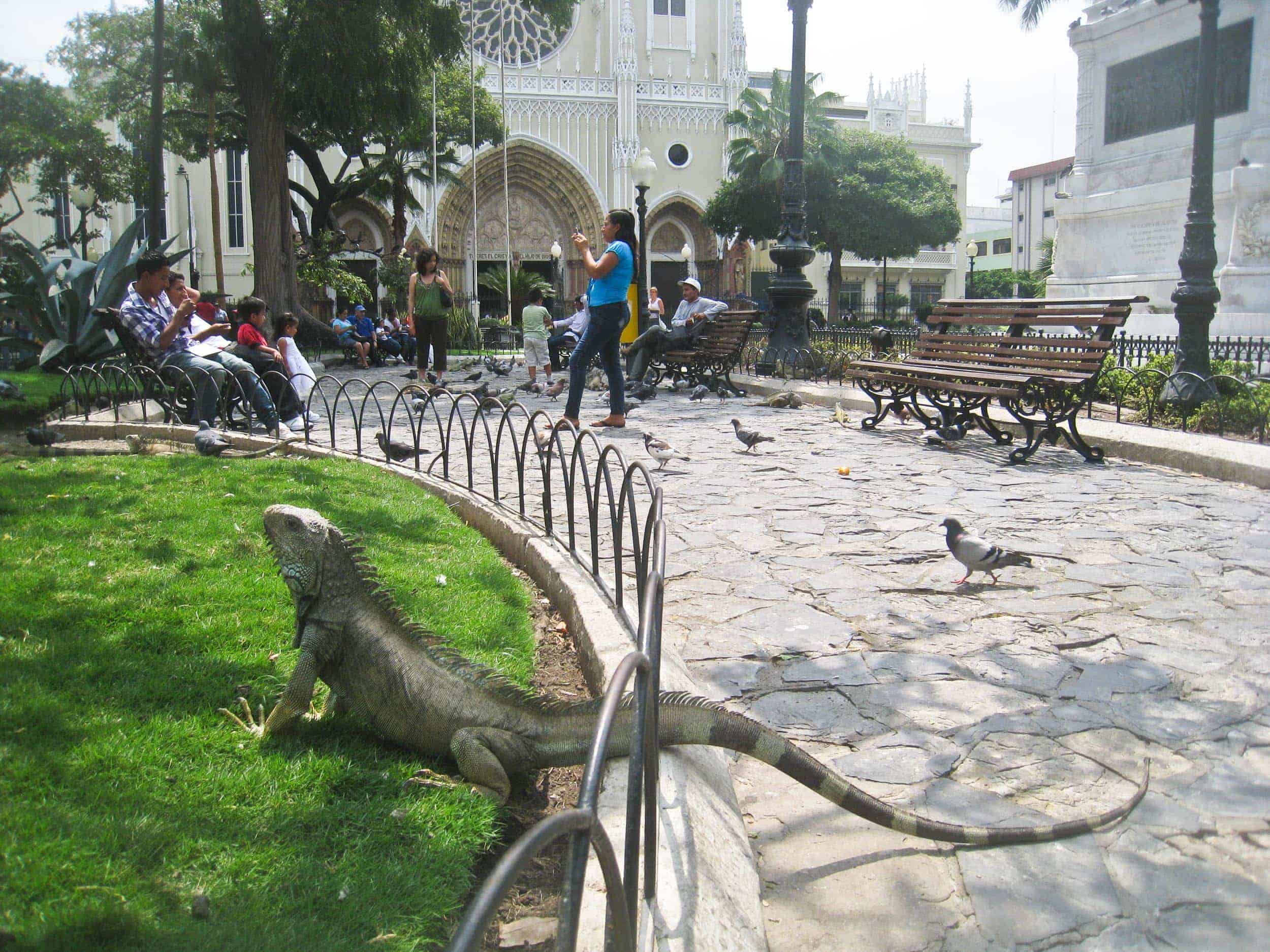 Things to See & Do
We'll keep this short, like most people's time in Guayaquil.
Las Penas
At the north end of the Malecon is a hill with old, colorfully painted buildings. Walk the 400 steps to the lighthouse at the top for excellent views of the city.
The neighborhood is filled with cafes, bars, restaurants, and art galleries. It's especially fun on a Friday or Saturday night and is relatively safe.
Malecon 2000
This massive urban development project has brought new life to the riverside in Guayaquil's city center.
At 1.5 miles long, it's best to walk in the morning or late afternoon to avoid the heat.
Along the way, you'll see a shopping mall, small restaurants, parks, playgrounds, and an IMAX theater.
Parque Seminario
Located at 10 de Agosto Ave & Chile Ave. From a distance, this park looks like any other, filled with fountains and trees; however, once you walk inside, you'll notice the abundance of iguanas hanging out.
It's an odd sight to see such giant iguanas in an urban environment among more common pigeons.
Related: 24 Hours in Guayaquil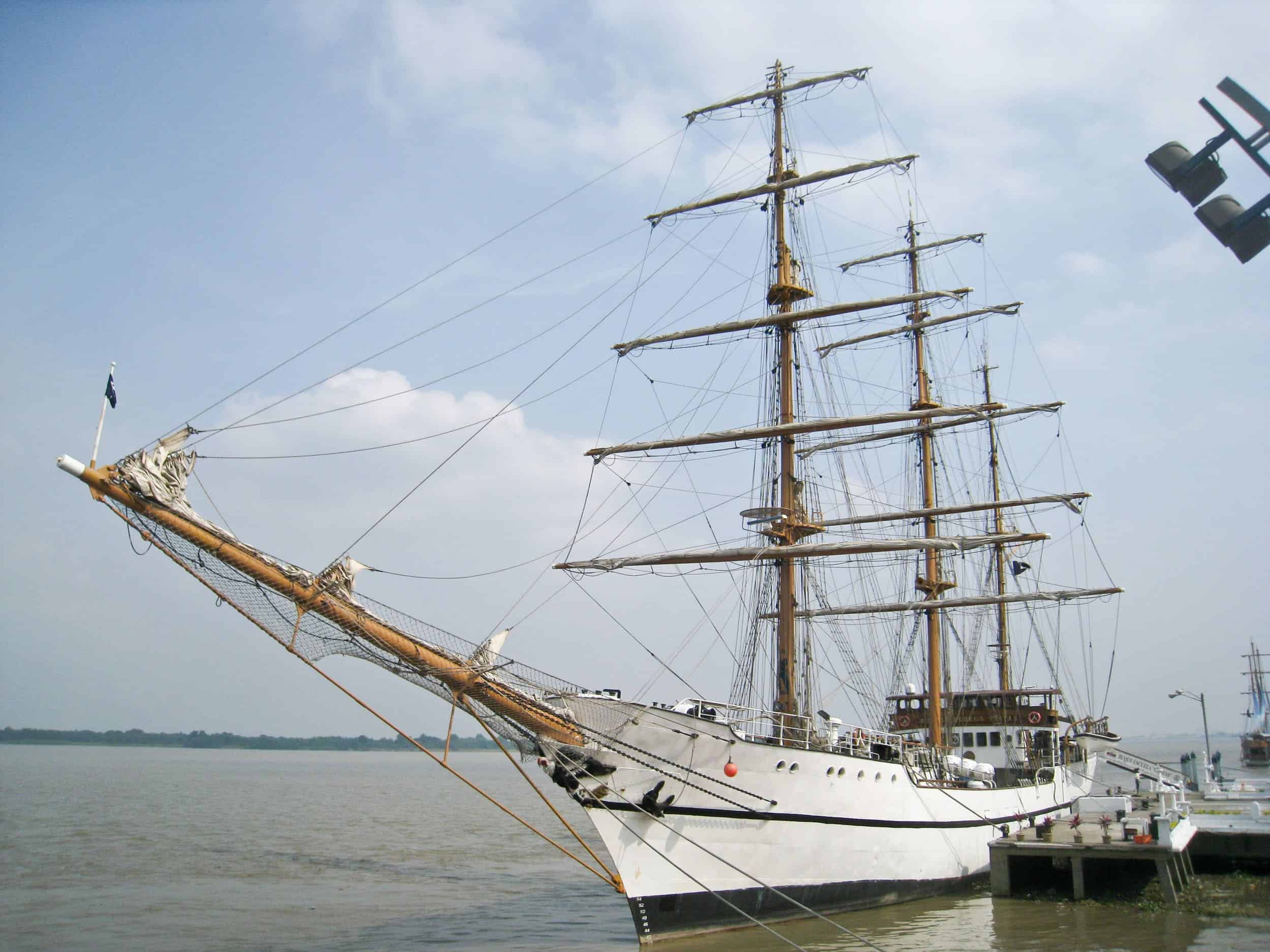 Food & Drink
As Ecuador's largest city, Guayaquil has no shortage of restaurants to suit all budgets.
The modern malls in the northern suburbs feature high-end options, while typical meals can be had on a budget just about anywhere.
Regional Dishes
Ceviche – A coastal favorite throughout Latin America, ceviche consists of raw seafood (fish, shellfish, etc.) marinated in citric juices, such as lime juice.
Churrasco – Grilled steak seasoned with chimichurri and served along with plantains, rice, French fries, a fried egg, and avocado.
Encebollado – Fish stew containing cassava and red onion.
Pan de Yuca – Bread made of cassava starch and cheese.
Restaurants
La Canoa – Chile & 10 de Agosto, inside the Hotel Continental. A good place to sample classic Ecuadorian dishes. Moderately priced.
Noe – Francisco de Orellana, Centro Comercial San Marino. Located in the northern suburbs, this is a well-rated sushi restaurant.
Pique y Pase (Editor's Pick) – Alejo Lascano 1617 & Carchi. Typical Ecuadorian food and excellent ceviches.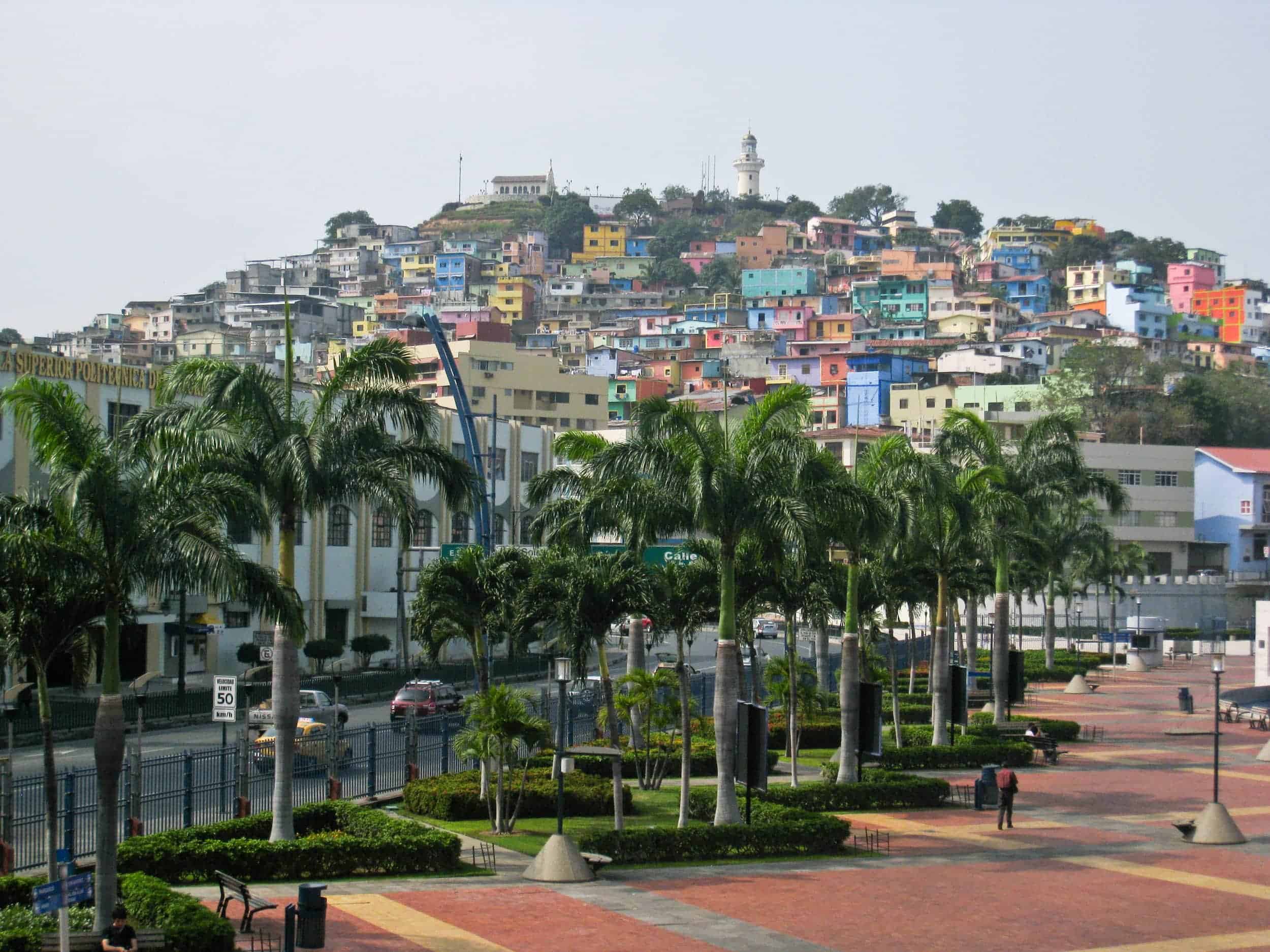 Nightlife
What Guayaquil lacks in tourist attractions, it makes up for with nightlife options.
However, when given a choice, many of Guayaquil's partiers prefer escaping the city altogether on the weekends for the beach scene in Montanita.
Bars & Clubs
Kennedy Mall – Ave. Francisco de Orellana, in Kennedy Norte district. A handful of bars and discotecas to choose from here.
Las Penas (Editor's Pick) – Neighborhood on the hill at the north end of Malecon. An assortment of restaurants, bars, and clubs make this a fun area to experience the local nightlife. Relatively safe too.
Zona Rosa – A strip of bars and discotecas that runs parallel to the northern section of the Malecon but about two blocks west. Any taxi driver or hostel/hotel reception can give you precise directions.
***
As you can see from our Guayaquil travel guide, Ecuador's largest city is short on must-see places. However, that doesn't mean you can't find a good time here.
However, most backpackers and travelers that come here are en route to the Pacific beach towns like Montanita or the Galapagos Islands.
Last Updated on April 17, 2023 by Dave Lee
Dave is the Founder and Editor in Chief of Go Backpacking and Feastio. He's been to 66 countries and lived in Colombia and Peru. Read the full story of how he became a travel blogger.