Ask anyone who has done it, and they'll tell you that traveling is one of the most amazing things you can do in your life.
It's an opportunity to explore natural landscapes and bustling cities, try exotic cuisines, immerse yourself in different cultures, and meet new friends along the way.
However, one thing that isn't really spoken about — and one of the trickier parts of backpacking — is the troublesome topic of traveling on your period.
Periods are a pain, even in the relative comfort and safety of your own home and "normal" life; that's a fact.
But add periods to your travels around South America (or anywhere else, for that matter), and things get more complicated.
Painful cramps on hiking trips, heavy flows when you're on a night bus, and unexpectedly coming on just as you're heading to that remote, untouched beach.
Combining menstruation and backpacking can be a nightmare.
Luckily, there are things you can do (and information you can learn) that will make traveling on your period much more manageable — take it from someone who had to learn along the way (and sometimes the hard way!).
Read on for a South America survival guide to traveling on your period.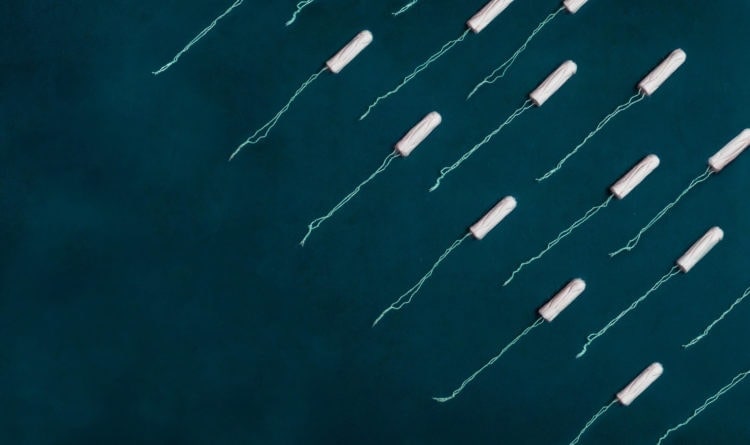 Be prepared: pack period supplies
First things first, it's essential to be ready and pack supplies.
Depending on where you're going in South America, the period product situation can vary, and you don't want to be caught out.
Pads are generally readily available in pharmacies and supermarkets across all South American countries.
In bigger cities like Rio or Buenos Aires, you'll be able to find tampons relatively easily too (though most tampons you come across won't have applicators, so if you prefer tampons with applicators, then definitely pack your own).
However, finding period products can be harder in remote areas and small towns.
Most places will have a pharmacy or supermarket where you'll be able to find sanitary towels (and rarely, tampons), but if you're going off the beaten track, then don't expect to see a stocked-up pharmacy waiting for you.
If you think you're going to get your period during your travels, then it's wise to pack at least some supplies before you jet off.
You can always buy extra along the way if you run out, but they may be slightly different from what you're used to.
Obviously, if you're going on a six-month trip, packing what you need will be more of a challenge — after all, you don't want your rucksack full to the brim with hundreds of pads and tampons.
In this case, investing in reusable (and compact) period products like menstrual cups and period panties could be your answer, saving you valuable space in your rucksack.
Pack a period survival kit
Next up: pack a period survival kit. So you've got your tampons and your towels, and you can always pick up extra in stores if you need them.
But what happens when you're cramping and suffering from excruciating period pains in a 12-bed dorm in the middle of the night? Or you suddenly come on your period halfway through a 40-hour bus journey across Argentina, and you feel gross?
This is where your period survival kit comes in. Fill it with:
Painkillers like ibuprofen: if you're on the road, just arrived at a new destination, or it's the middle of the night, you might not be able to find a pharmacy to help ease those painful cramps. Painkillers are a must.
Heat pads: like portable mini hot-water bottles, you can place heat pads or wraps (like these by ThermaCare) on your stomach for pain relief. Once "activated," they heat up in five minutes to soothe cramps. I wish I'd discovered these before my South America travel trip!
Feminine wipes: traveling on your period can make you feel icky. Feminine wipes can help you to sort out all sorts of situations and leave you feeling fresh and clean.
Period underwear: a godsend if you're worried about leaking or a surprise attack from your period on long bus journeys or hostel dorms. Brands like Knix do a variety of menstrual underwear that is leak-proof, absorbent, and anti-odor — perfect for traveling on your period.
Hand sanitizer and tissues: while some are great, some South American bathrooms can be gross and often may not have soap or toilet paper. My advice? Always take hand sanitizer and tissues with you.
Packing a mini menstrual kit full of helpful stuff can make getting your period while traveling much, much easier, so I'd highly recommend it.
Know the bathroom logistics of the countries you visit
One key thing you need to know when you're visiting South America on your period is the toilet situation.
Like menstruating itself, it's not something that anyone ever wants to bring up or thinks to ask when they're planning a trip, but knowing the bathroom logistics of a new country can save you from some pretty awkward situations.
The fundamental rule when it comes to South American toilets is that you cannot throw toilet paper or anything else in the bowl, including tampons.
Even in big cities and developed areas, the systems really can't cope with anything extra flushed down them (even paper), and you will block the toilet or worse (which is extremely embarrassing when someone has to come to your room to fix it).
A waste bin is provided in bathrooms, so you will have to chuck stuff in there instead, although it will feel a bit weird and gross to start with.
The second thing worth knowing is that you'll probably need to bring your own toilet paper if you're using public toilets or bathrooms in bars (hostels tend to be fine) because there often isn't any.
There also may or may not be someone in the bathrooms giving out paper, but you are expected to "tip" if you want to use this.
The good news is that "Western-style" sitting-down toilets are widespread across the continent (but if you come across a squat toilet, fear not — you can use this guide).
Always have an accessible emergency stash
Packing the period products you need is great, but if your period suddenly appears mid-journey or during a day trip, and they're back at the hostel or buried in your big rucksack in the hold of a bus or plane, then they're not any use to you.
It's always good to have an emergency stash of tampons and towels that is accessible at all times.
Keep some in the top compartment of your rucksack for easy access — you don't want to have to empty your whole bag looking for a tampon, especially if you're on the move.
And if you're going on a long journey and your big bag is going in the hold, or you won't be able to get to it during transit, then pack some in a purse.
I always bring a small backpack on long bus journeys full of snacks, water, extra layers, and anything else I might need, as well as any valuable possessions like passport and money.
(If you haven't been traveling before, you should keep stuff like this on you while making bus/train/plane journeys in case your big rucksack gets lost or stolen).
The same goes for any day trips you do; it's easy enough to shove a few tampons or pads in your bag, and you'll thank yourself if your period unexpectedly starts when you're halfway through a rainforest hike or on a beach miles away from any stores.
Track your period & plan accordingly
Getting your period when you're traveling can be incredibly difficult and frustrating in certain situations.
For example, if you're thinking about trekking through the mountains in Patagonia or wild-camping under the stars in Chapada Diamantina, your period can be a serious hindrance.
Not only can it be challenging to hike when you're cramping up and struggling with a heavy flow, but you also need to think about the practicalities; if you're wild-camping out in a national park, then there is no toilet for you to use.
The same goes for beach days — those gorgeous untouched stretches of golden sand are much less appealing when you're in a panic about where you can change a tampon and worried you might leak on your beach towel.
But this doesn't mean that your period has to get in the way of all the fun things you want to do; it just means you may have to plan accordingly.
I found that tracking my period was super useful when I was traveling (God bless the many period trackers out there these days, making life easier for female backpackers).
Planning activities around your cycle means you can avoid any menstrual mishaps.
Due next week? Head to the hustle and bustle of a fun city where there are bathrooms and pharmacies a-plenty.
Period-free? Then that day-long boat tour of that nearby tropical island has your name written all over it.
Traveling on your period can be a pain, but there are many ways you can do to make it easier.
Follow the tips and advice in this South America survival guide, and you'll be prepped for your period.
Laura May is Digital Editor at Just Another Magazine. We write about beauty, fashion, lifestyle, relationships, travel, trends and anything else that matters to you. Name throwing you off? Don't take it too seriously – we intend to stand out from the crowd.
Planning a trip? Go Backpacking recommends: