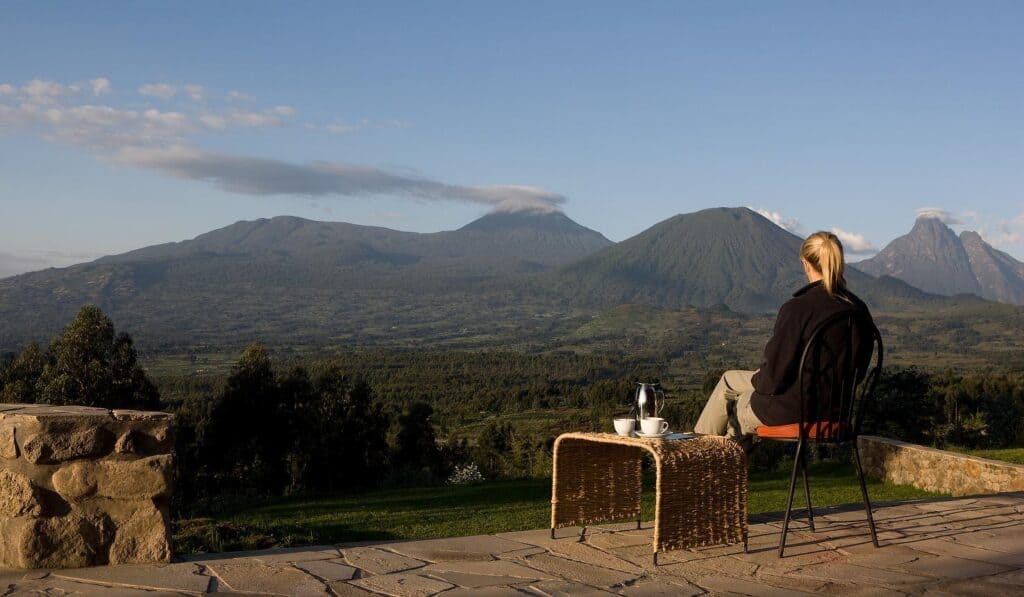 Rwanda is a must-visit destination in Africa and receives thousands of tourists from different parts of the world.
It's a small landlocked country located in East Africa, bordered by Uganda to the north, Tanzania in the East, Burundi in the south, and the Democratic Republic of Congo in the West.
Kigali is the capital city, which is accessible via the Kigali International Airport.
The country has several principal attractions.
It has a diversity of wildlife found in the three national parks (Akagera, Nyngwe, and Volcanoes National Parks).
History buffs will revel in the historical and cultural sites. On a somber note, you can learn about Rwanda's sad recent history at the genocide memorial museums.
That aside, the people are friendly, the culture unique across the world, and the country itself as picturesque as they come, filled with greenery and rolling hills.
What more could you ask for?
Volcanoes National Park is the top tourist destination in Rwanda. Here's what you can expect from a visit to the park.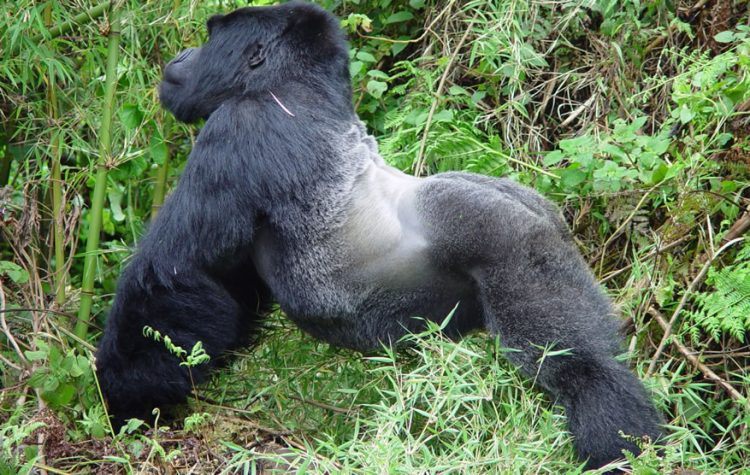 1. Mountain Gorilla Tracking
Gorilla tracking in Volcanoes National Park Rwanda is second to none in attracting tourists into the country.
The mountain gorillas are critically endangered, with fewer than 900 left in the wild worldwide.
Time is running out to see these gentle giants in their natural habitat, which is why this experience is at the top of most visitor's lists.
Volcanoes National Park has 11 habituated gorilla families.
In visiting the park, you may come to meet any of them – Susa, Amahoro, Sabyinyo, Ugenda, Hirwa, Umubano, Karisimbi, to name a few.
Each gorilla group can be seen by a maximum of eight people per day. To visit, you must book a gorilla permit in advance, which is priced at $750 each.
A maximum of 88 gorilla permits are on offer each day and are given on a first-come, first-serve basis.
Mountain gorilla trekking starts in the morning with assembly at the park headquarters for a briefing about the activity.
This is followed by a hike through the bamboo forests of Volcanoes National Park, keeping an eye out for the gorillas in their natural habitat.
The trek can take anywhere from one to six hours, depending on the movement of the mountain gorillas across their habitat.
You'll spend a maximum of one hour with the gorillas, where you'll be able to take photos and videos.
Trekkers are accompanied by trained Tour Guides who are well-informed about different wildlife in the park and will lend a hand along the trek.
They could carry your daypack or offer you a helping hand if you were to get stuck in the mud!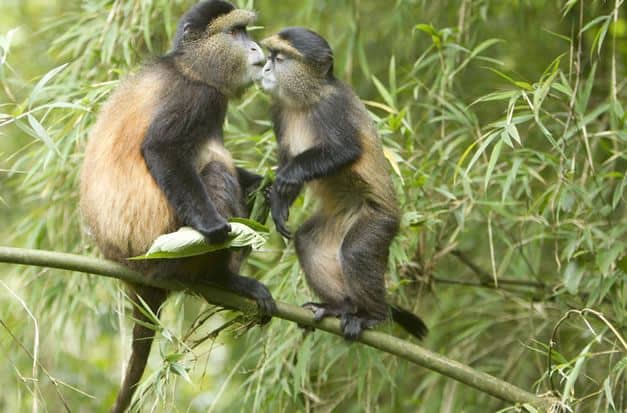 2. Golden Monkey Tracking
Rare golden monkeys have been sighted in the magnificent Virunga Mountains.
Tracking the beautiful golden monkeys is another popular tourist activity in Volcanoes National Park, Rwanda.
A glimpse of these creatures is considered to be a wonderful lifetime experience.
Most visitors book a 3-day gorilla safari package to experience the golden monkeys in Volcanoes National Park.
Like gorilla tracking, this activity starts in the morning with an assembly at Kinigi Park Headquarters.
However, golden monkey tracking is less strenuous than to gorilla trekking, so you'll be finished by around midday.
At the time of writing, a golden monkey permit is priced at $100.
3. Adventurous Hike to Dian Fossey Tombs
A visit to Volcanoes National Park Rwanda can be mixed up with a hike to the tomb of the late Dian Fossey.
Dian Fossey was an American primatologist who spent close to two decades in the park, studying the mountain gorillas.
A biopic of her life was made into a movie in the late eighties, titled Gorillas in the Mist.
She was murdered by poachers in 1985. Her grave is nestled between the beautiful volcanic peaks of Bisoke and Karisimbi, near Karisoke Research Center.
The hike through the forest to the tomb takes about six hours (there and back).
Along the way, you may be lucky enough to see elephants, buffalo, primates like golden monkeys, and sometimes even the mountain gorillas that Dian dedicated her life to.
4. Mountain Hiking Adventures
Adventurous travelers can combine gorilla trekking with mountain hiking.
Mount Bisoke stands at 3,700 meters above sea level, with a deep crater lake on the top.
Hiking Mount Bisoke does not require prior hiking experience; you only need to be physically fit, due to the high elevation and length of the climb.
The whole trek takes five to seven hours, depending on your speed and the frequency of stops.
Mountain Karisimbi is the second highest volcanic peak in the Virunga ranges and takes two days and one night to experience.
While at the top of the volcano, you will enjoy fantastic views of the other five volcanoes and the beautiful Twin Lakes.
Near the summit is the Crater Lake, which features drier vegetation than other parts of the park, with giant heather growing all over the slopes of the volcano.
See also: Independent vs. Overland – What's Best in Africa?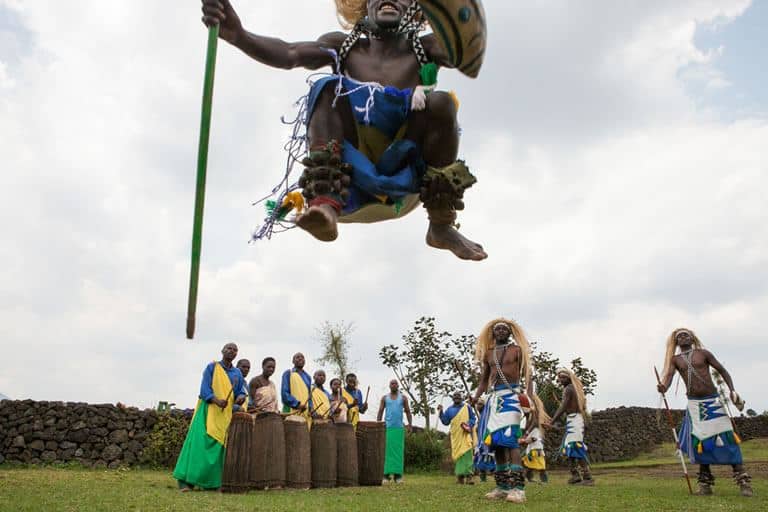 5. Guided Walks and Mountain Bikes Excursions
There are many guided and unguided walks around Volcanoes National Park, Rwanda.
One of the most popular walks will lead you to the Musanze market, where visitors can interact with the local people.
The park features a nature walk to the beautiful Twin Lakes of Burera and Ruhondo.
You can stroll around the lakes, snapping photos and videos of the scenery as you go.
If you don't fancy a journey on foot, you'll have the option to go via canoe.
The Nyange Community walk is designed to show all aspects of village life in Rwanda.
A guided walk through the Nyange community will allow you to see how locals work and earn a living.
You'll tour the homes of ironsmiths, mat weavers, local banana-beer brewers, and carpenters.
You'll also witness, and if you choose, partake in the preparation of traditional Rwandan food – not to mention sample the meal at the end!
Another option is a guided visit to Iby' 'iwacu Cultural Village, on the edge of Volcanoes National Park.
There are many cultural performances held here, where you can take part.
The Iby' ' Iwacu Cultural Village convinced ex-poachers to turn their back on gorilla poaching. They now make their living performing for tourists.
A tour to Iby' 'Iwacu Cultural Village allows you to see the traditional house of a local king as well as the preparation of an herbal mixture by a traditional medicine man.
You can take part in arrow and bow shooting, or enjoy Kinyarwanda cultural music, dances, and drumming performed by local people.
You'll have the option to explore local areas on mountain bikes through different routes with a guide.
Click here to make a booking, or read more information about visiting Volcanoes National Park and Rwanda in general.
_____
This story was brought to you in partnership with African Jungle Adventures.
This post was written by a guest contributor. Please reference the author's byline in the post above for more information. If you would like to guest post on Go Backpacking, please read our submission guidelines. For information on advertising opportunities, go here.
Planning a trip? Go Backpacking recommends: