The ideal camping kitchen gear should be tough enough for outdoor cooking but small enough to fit into your backpack.
This article will share a list of excellent campfire cooking kit equipment you cannot live without.
Yes, it's a bold claim. However, this gear is so incredible that you'll wonder how you ever cooked without these brilliant kitchen gadgets.
Cooking over a campfire is a must-do activity for many families who go camping — who doesn't want to roast hot dogs and marshmallows?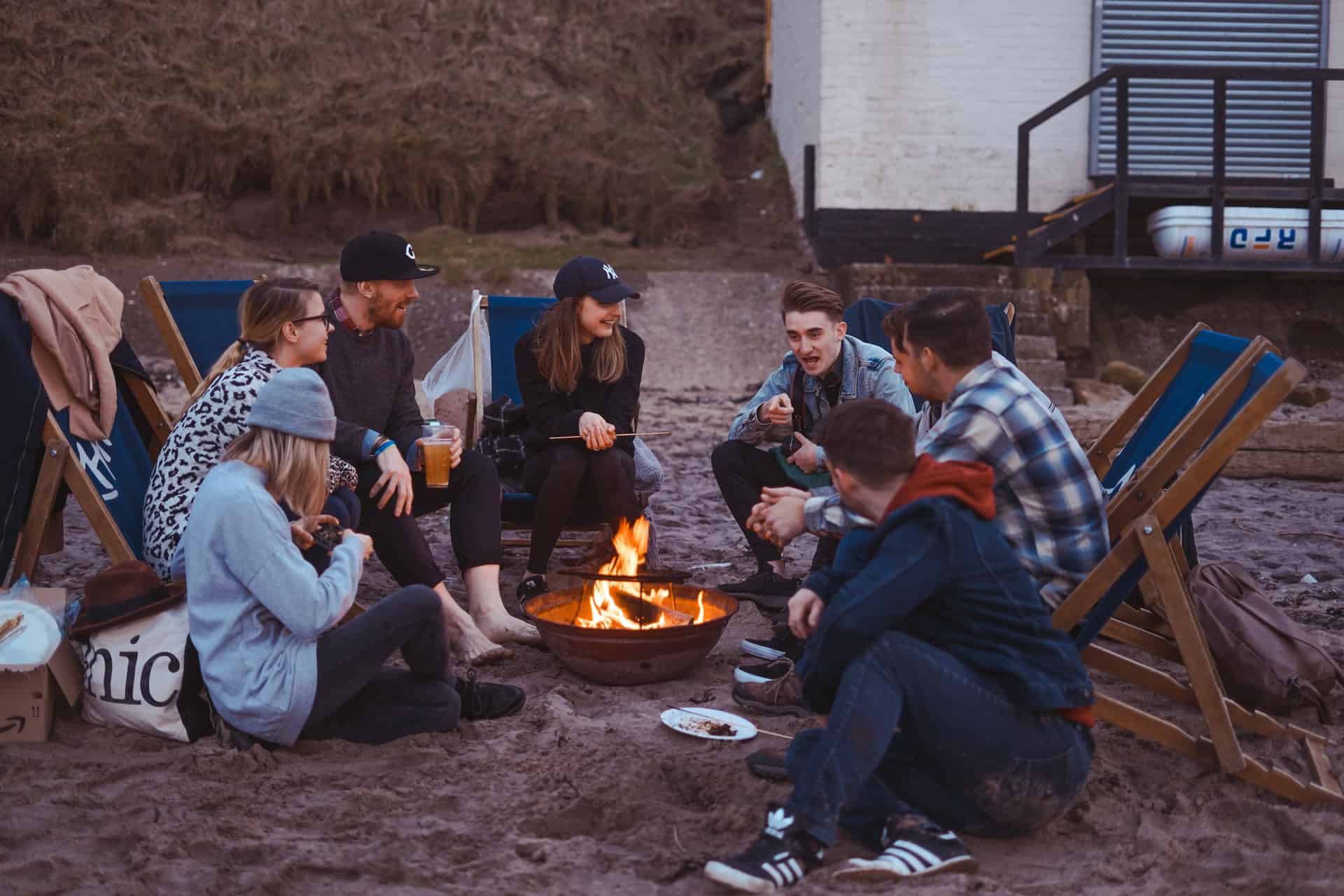 Campfire cooking is also helpful when hiking, pitching a tent in the woods, or preparing a backyard meal.
It's simple to prepare gourmet food while camping if you have the right equipment.
Putting together your ultimate campfire cooking equipment list is essential to make sure you're prepared.
This article will highlight a variety of accessories to add to your bag. We'll also address some of the most frequently asked topics about outdoor cooking.
First, let's speak about safety before getting to the good stuff. Fire safety is an important consideration when cooking over a fire in the woods, whether it's a state park or the backcountry.
A campfire's open flame is typically unpredictable, and if not carefully managed, it can swiftly hurt those in charge of tending to it (along with a lot more people).
No matter where you camp, using fire rings will help you keep an open fire under control. And don't forget to keep an eye on your campfire.
Always keep enough water on hand in case of a fire. Before going to bed for the night, ensure the fire is completely out.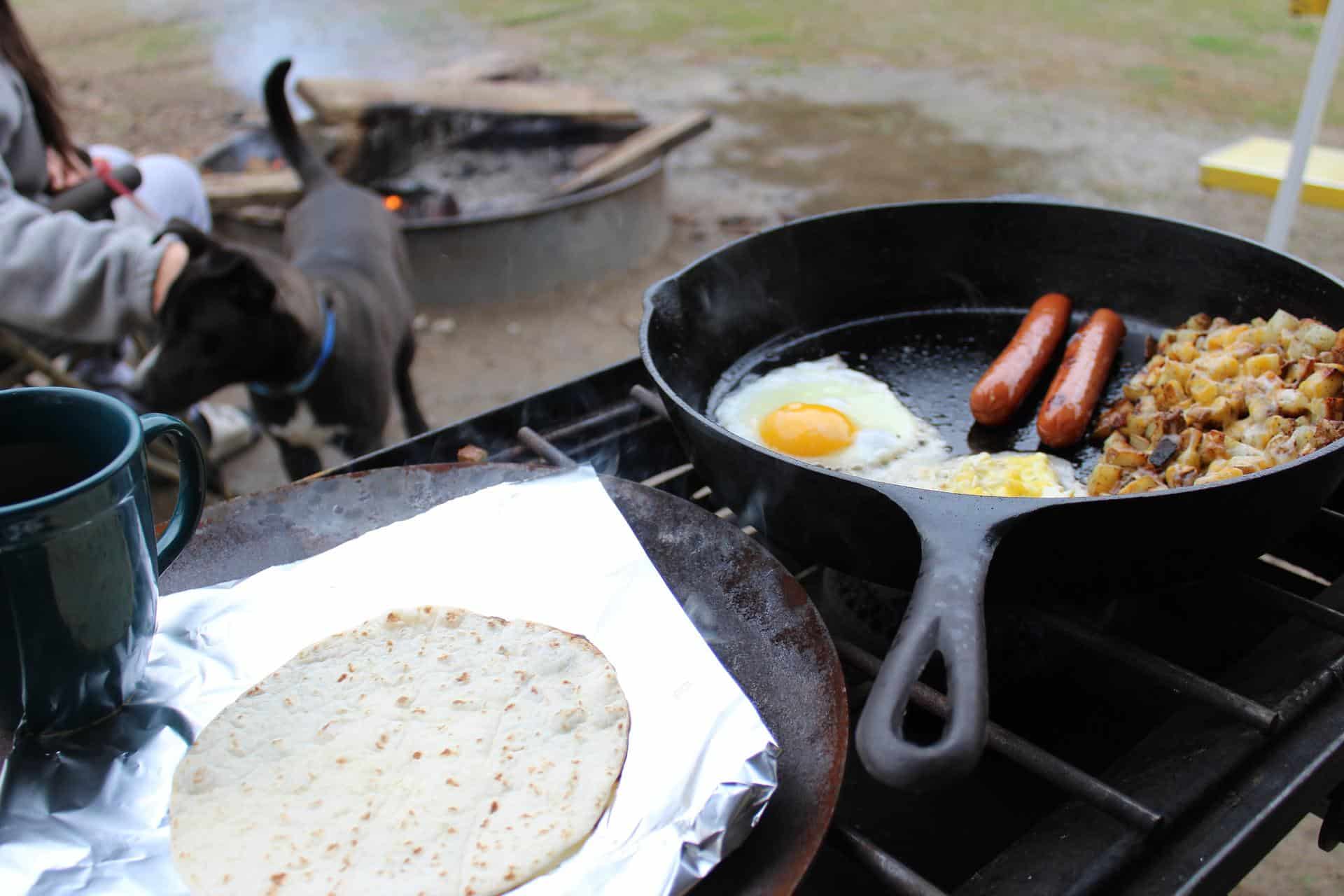 Reasons to Buy Cooking Gear for Camping
Upgrading your camping supplies to include the best campfire cooking kit makes a lot of sense.
Rather than hauling your entire home kitchen with you on every trip, portable equipment gives you more freedom and less to worry about while packing.
A proper kit includes everything you'll need for campfire or stovetop cooking. If you travel by RV, you can keep it in your kitchen instead of packing it up every time you change locations.
And, cooking at your campsite saves you money versus eating out at restaurants.
While you may be tempted to stop at a restaurant on your way to the campgrounds, keep in mind how cooking over a campfire can be enjoyable and delicious.
We believe it will provide many memories and add spice (pun intended) to your camping trips.
Best Campfire Cooking Equipment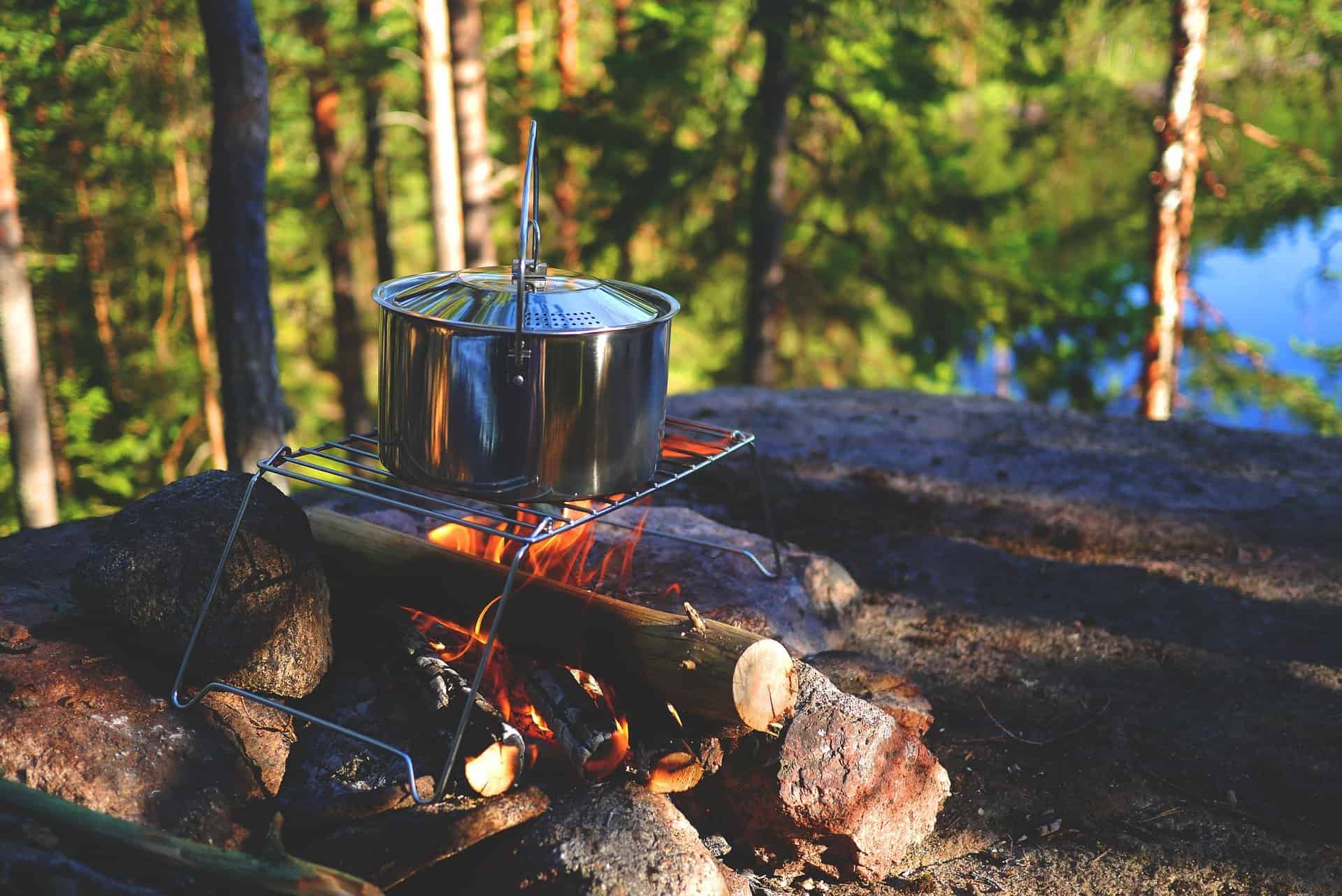 1. Over Fire Camp Grill
If you're staying at a campsite with grill grates above the campfire pit, you're in luck. Otherwise, you'll have to fend for yourself.
A heavy-duty camp grill is an excellent option to act as a campfire grate. Foldable legs add stability and portability.
For the record, despite what my friends and family members claim, I am not a pyromaniac. I just enjoy preparing our meals over an open flame.
2. Rotisserie Grill & Spit
Because one of the best things about camping is the slower pace, it's the ideal time to try slow-roasting if that's your thing.
A multi-purpose campfire rotisserie grill and spit allow you to perform many functions simultaneously.
Food can be placed directly on the grate or in a pan set. Coffee kettles and kitchen equipment can be hung from the side arms.
3. Swivel Grill
Swivel grills are fantastic because they allow you to turn the grill over an open flame and then turn it away from the heat for stirring, flipping, and serving.
The stake's triangular shape ensures its stability in the earth. For optimal heating, you can change the height of the cooking surface vertically and rotate it horizontally 360 degrees.
4. Camp Chef Dutch Stand
This cook platform elevates your campfire ovens off the ground and can accommodate one 14-inch range or numerous smaller ovens.
It's another item of open-fire cooking gear that can serve multiple purposes, such as keeping your bag of charcoal off the ground and dry in the event of rain or dew.
5. Log Grabber
You want the fire to cook your FOOD, not your hands. These log tweezers are an excellent addition to any toolkit.
They allow you to keep your hands and arms away from flames, so you don't get burned.
The "grabbing action" provides the power to move your logs and coals to create the ideal cooking environment.
6. Battery-Powered Bellows Charcoal Starter
If you can't start a fire on the first try, you might invest in BBQ Dragon fire lighter gadgets.
You can create a campfire or charcoal briquettes with the battery-powered bellows instead of lighter fluid and stacks of old newspapers.
For readers who didn't acquire the campfire scout badge as a kid, this gadget falls under "proper campfire tools."
See also: 8 Places for Free Camping in California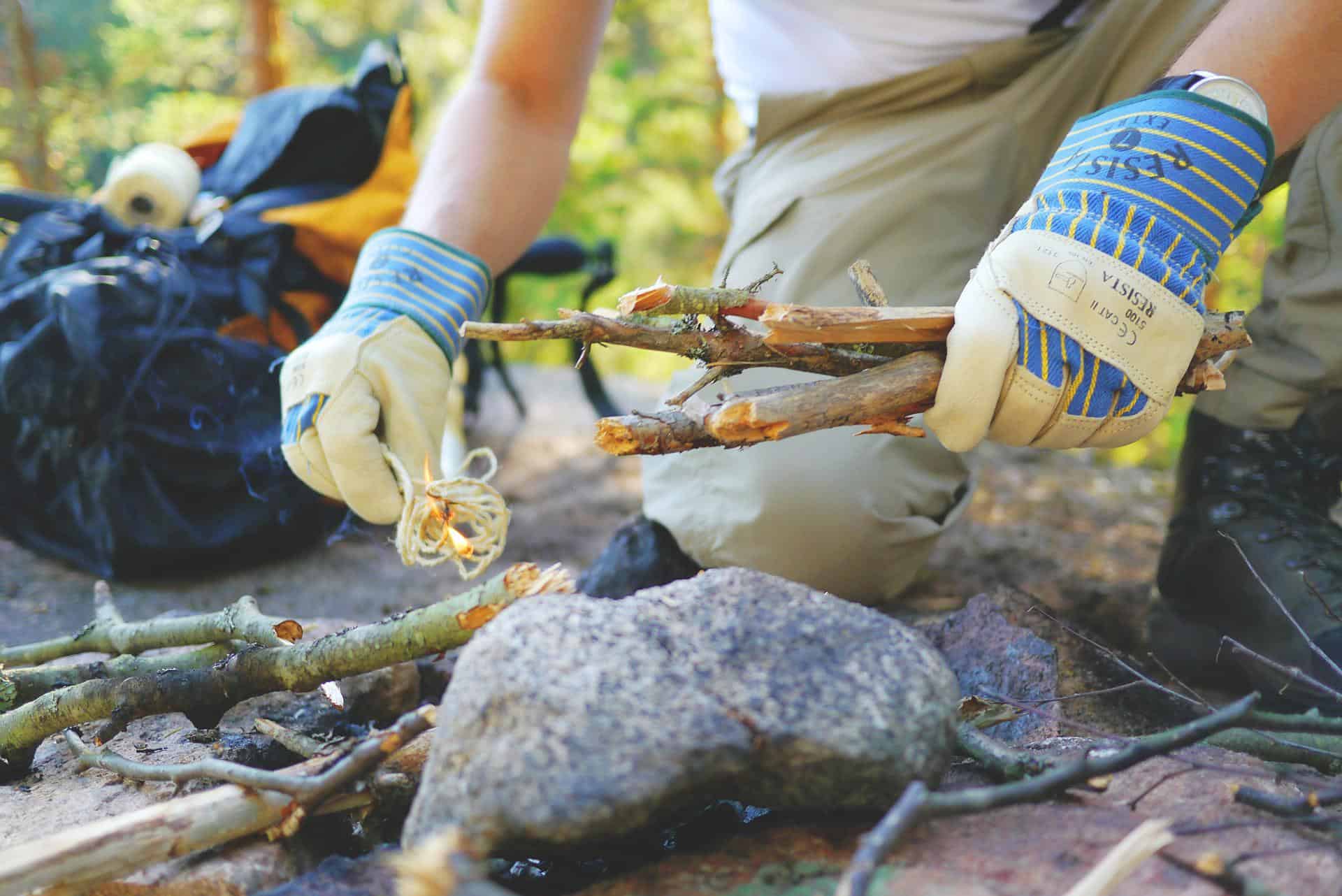 7. Suede Grill Gloves
Extra long suede grill gloves will keep you safe from sweltering conditions. They're 18 inches long and can withstand up to 475 degrees Fahrenheit.
The material of a grill glove should be soft and malleable to grip and allow you to hold your cooking equipment firmly.
8. Locking Tongs
Sixteen-inch stainless steel locking tongs are a must-have for any camp cook.
They keep you safe from the hot coals and hold well, so you don't have to worry about one of your delicious t-bone steaks dropping into the fire.
9. Stainless Steel Wire Grill Brush
If you're cooking directly over a fire, make sure you're using the correct wood. Cooking over oak or mesquite will enhance the flavor of most dishes.
Cleaning campfire grills with a wire brush helps remove old food and grease, so you're cooking on the cleanest surface possible.
10. Digital Thermometer
Some people can reliably identify if their meat is cooked to the desired temperature using the "touch test," while others require assistance.
The use of an instant-read digital meat thermometer eliminates the guesswork in answering the question, "Is it done yet?" The digital displays are quick and easy to read.
11. Fire Pit Collapsing Steel Mesh Fireplace
The firewood is held in a woven stainless steel mesh net suspended above the ground by this lightweight and portable campfire setup. The legs can be folded for easy transport and storage.
Roll the trap, fold the stand, and place it into the carrying bag when you head home. This is a terrific way to cook meals over a campfire tripod and on sticks.
______
This story is brought to you in partnership with TripZtour.com.
Planning a trip? Go Backpacking recommends: