Hiking Bell Rock in Sedona, Arizona, was an impromptu decision while waiting to check in at our hotel.
It was about 3 p.m. on a Friday in September when we arrived in Coconino National Forest from Prescott, Arizona, via Highway 179.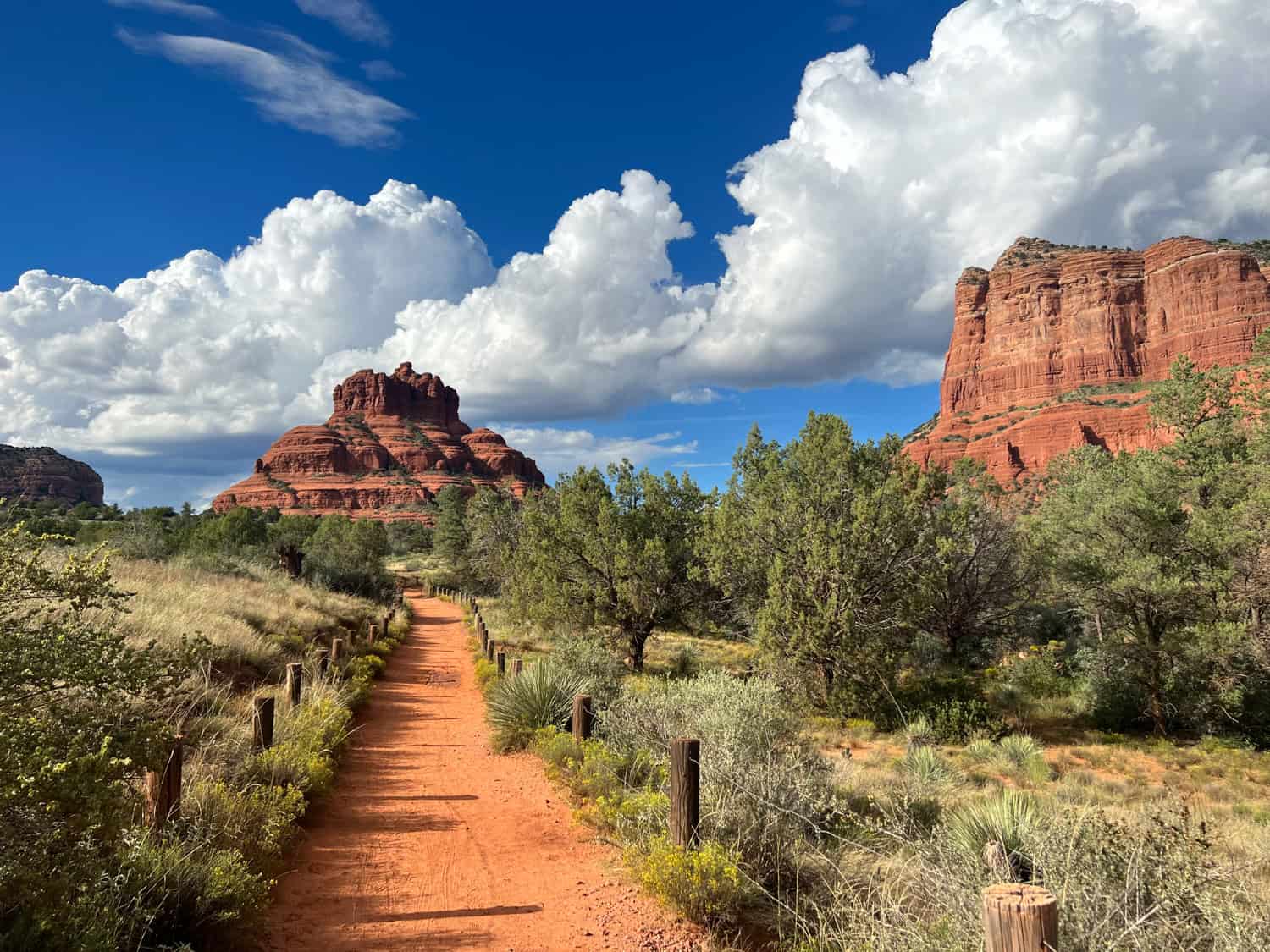 The drive from Prescott took a little over an hour, while driving from Phoenix requires about two hours.
After stopping by the Hilton Sedona Resort at Bell Rock in the Village of Oak Creek and confirming our room wasn't ready, we drove a few minutes further north.
Bell Rock Trailheads and Parking
There are two trailheads for hiking Bell Rock:
Bell Rock Trailhead North, closer to Sedona.
Bell Rock Trailhead South, closer to the Village of Oak Creek.
Each has a small parking area and is accessible from Highway 179. The northern trailhead and parking lot can be found by searching for Courthouse Vista on Google Maps.
Pull into the Courthouse Vista parking lot for the shortest walk with direct access to Bell Rock; the Bell Rock Access Trail will get you there.
Unless you arrive early in the morning, you're taking your chances on getting a parking spot.
The spaces are often full; however, as some visitors only stop for a quick photo (not a hike), the turnover can be higher here than at other lots.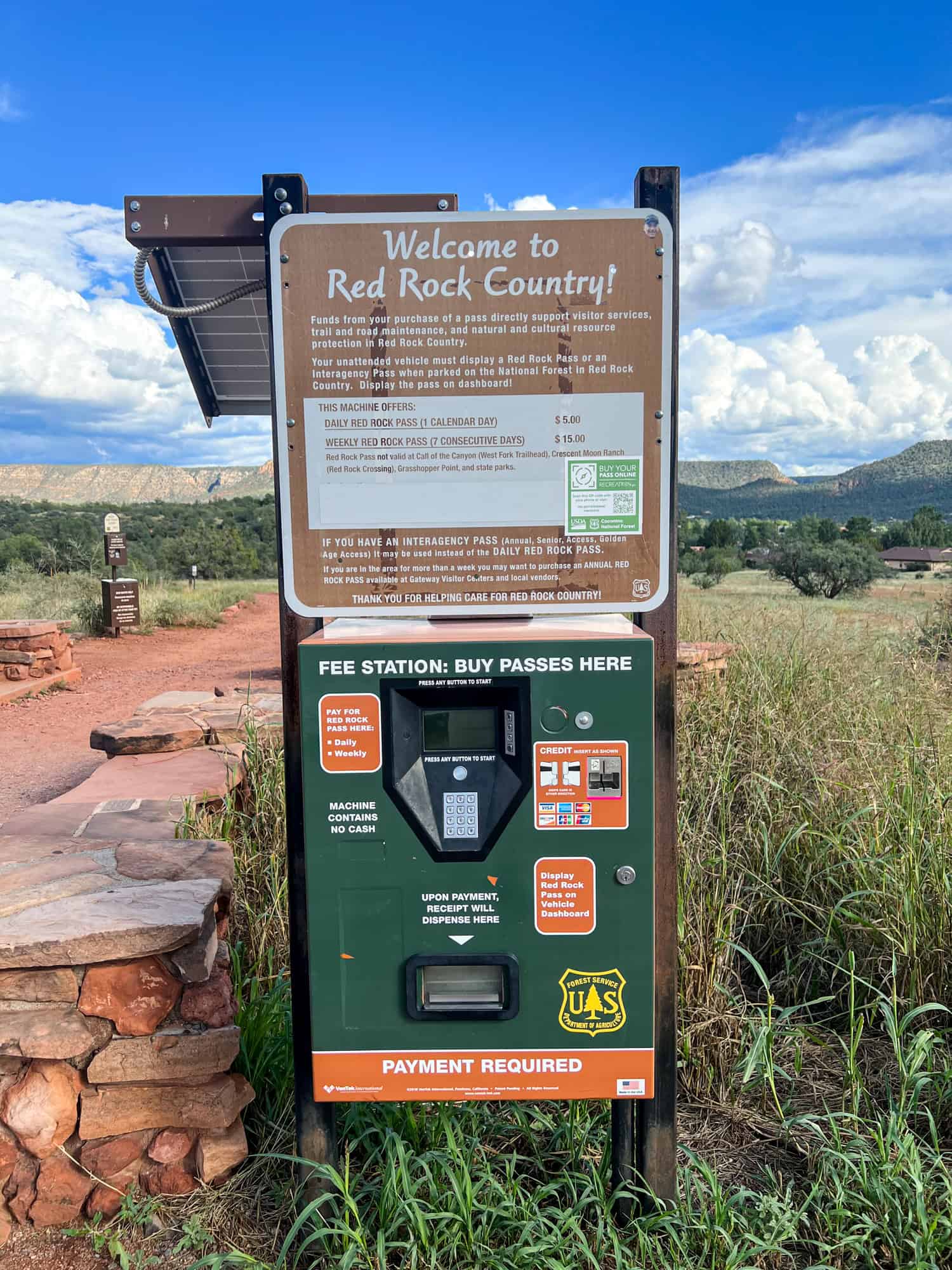 Buying a Parking Pass
Since Bell Rock was our first hike of my birthday weekend in Sedona, I used a credit card to buy the $15 weekly Red Rock Pass to display on the dashboard of our rental car.
Purchasing a pass is a requirement; otherwise, you risk getting ticketed. A daily pass is $5.
Kel used the bathroom facilities to change clothes and shoes while I began putting on sunscreen.
Even though it was now 3:30 p.m. and partly cloudy, there was no shade on the Bell Rock Trail, and I didn't know how long we'd be gone.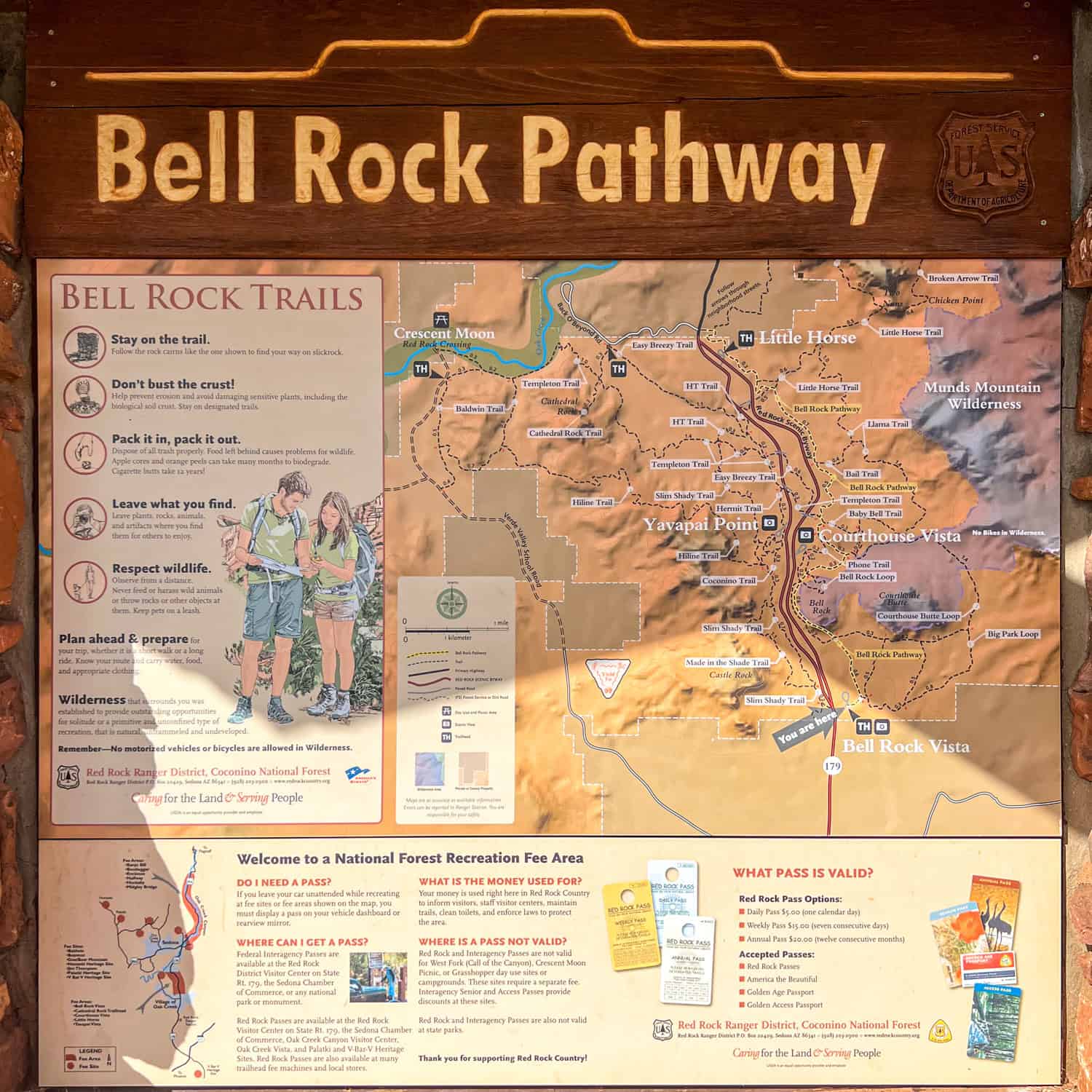 Before we began hiking, we got our bearings from a park map. A lot is going on amid the red rocks here, so allow me to break it down.
If you're approaching Bell Rock from the south trailhead and parking lot, you're starting on the Bell Rock Pathway, a 3.6-mile trail that runs north-south parallel to Highway 179; it'll take you past the base of Bell Rock.
From Bell Rock Pathway, you can do the Bell Rock climb via the one-mile Bell Rock Loop Trail.
The climb has an elevation gain of about 700 feet. However, only experienced climbers should attempt to reach the top of Bell Rock. The lower levels of Bell Rock are more accessible to kids (and pets).
A third popular option is the Courthouse Butte Loop Trail which encircles both Bell Rock and the larger Courthouse Butte adjacent to it. It's also possible to see the Chapel of the Holy Cross.
This 4.5-mile hike is moderately challenging. While we didn't have time for it then, it's one of the best ways to take in the gorgeous views.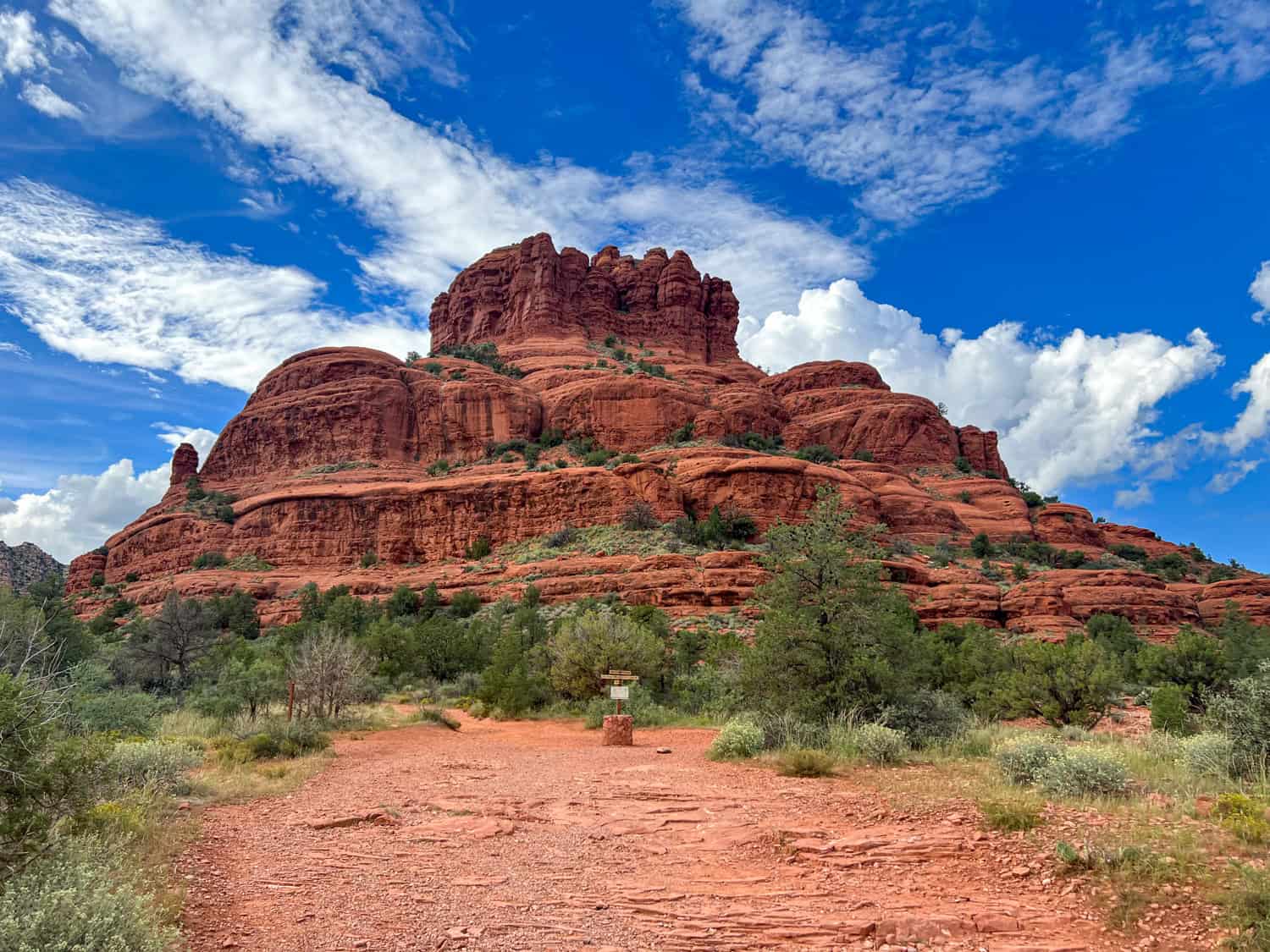 Hiking Bell Rock Pathway
We began walking on Bell Rock Pathway a few minutes before 4 p.m., and I couldn't get enough of the views. Courthouse Butte was impressive, making Bell Rock appear small by comparison.
The trail was mostly flat and easy to follow. We saw several mountain bikers ride by us as we headed north to Bell Rock.
As we got closer, details of the iconic red rock formation came into focus. A few people were climbing up Bell Rock, and they looked tiny from below.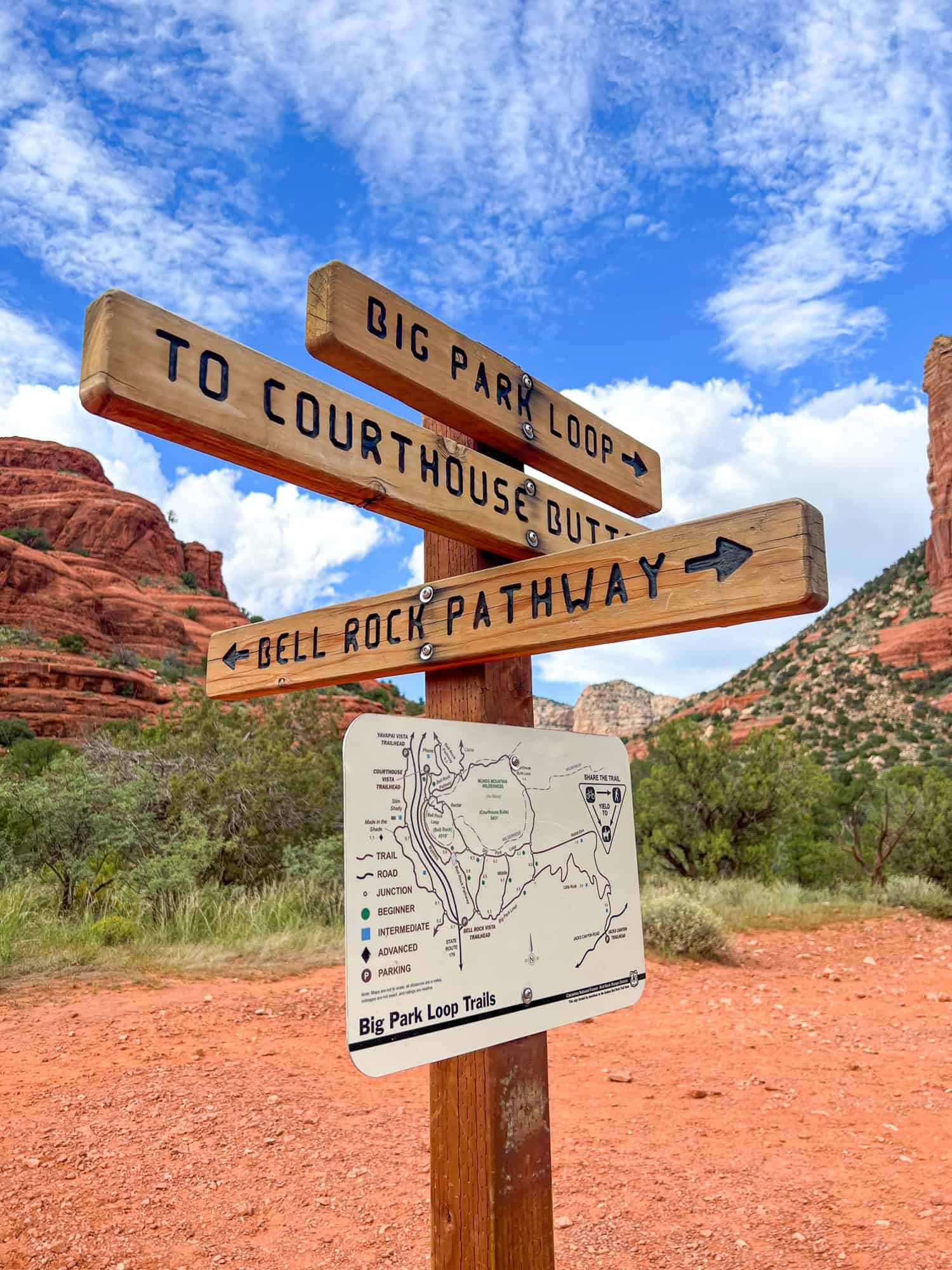 The first basket cairns we encountered had a Big Park Loop Trails map and signs pointing north-south for Bell Rock Pathway and two pointing east for the Big Park Loop and Courthouse Butte.
I hadn't researched Bell Rock and these hiking trails, so I wasn't keen to attempt the climb.
The running sneakers I had were fine for flat trails. But, as I'd learn the following day at Devil's Bridge and the more difficult Cathedral Rock, they're not suitable for hiking up and down the smooth, hard surfaces of Sedona's red rock formations.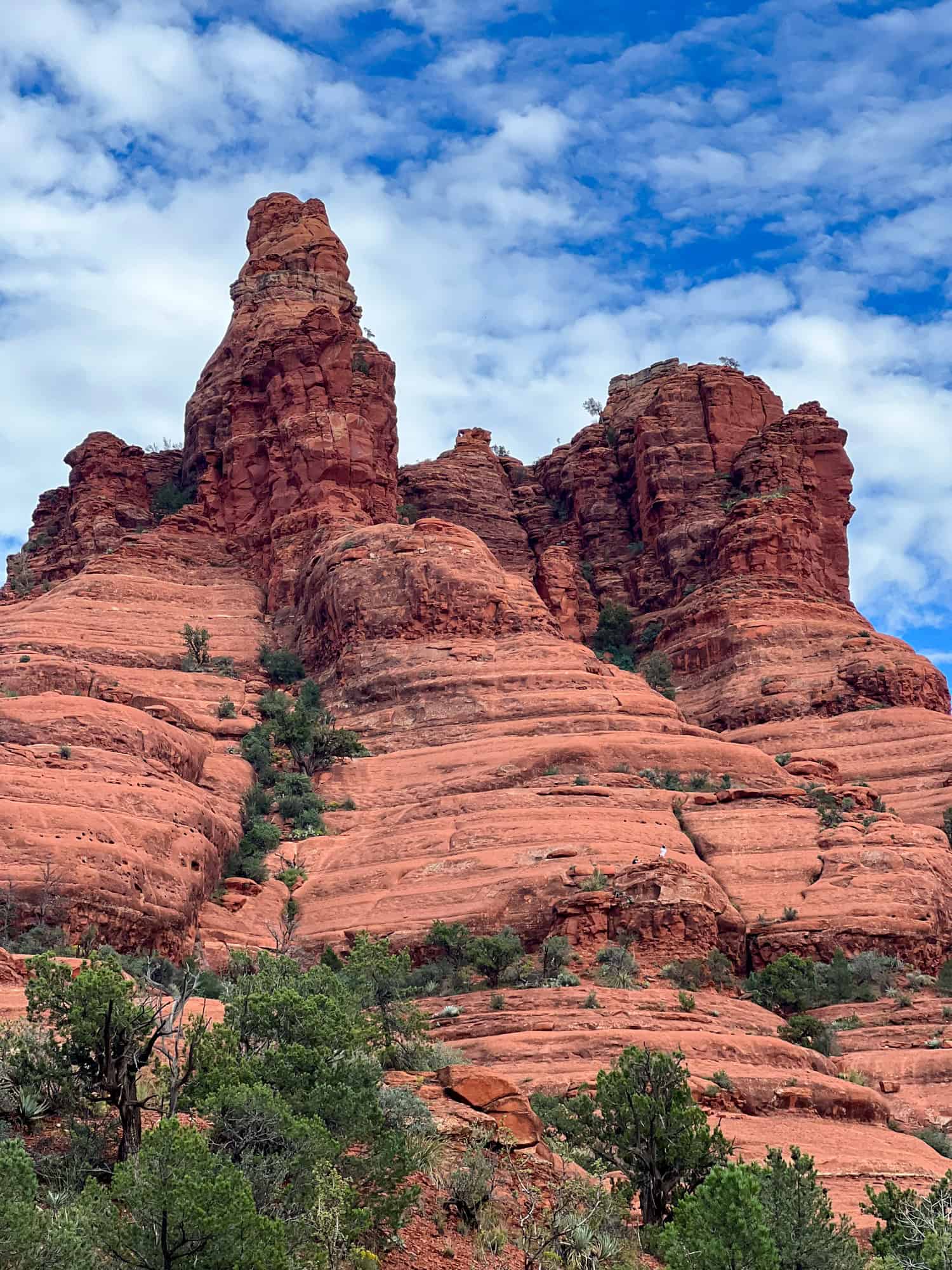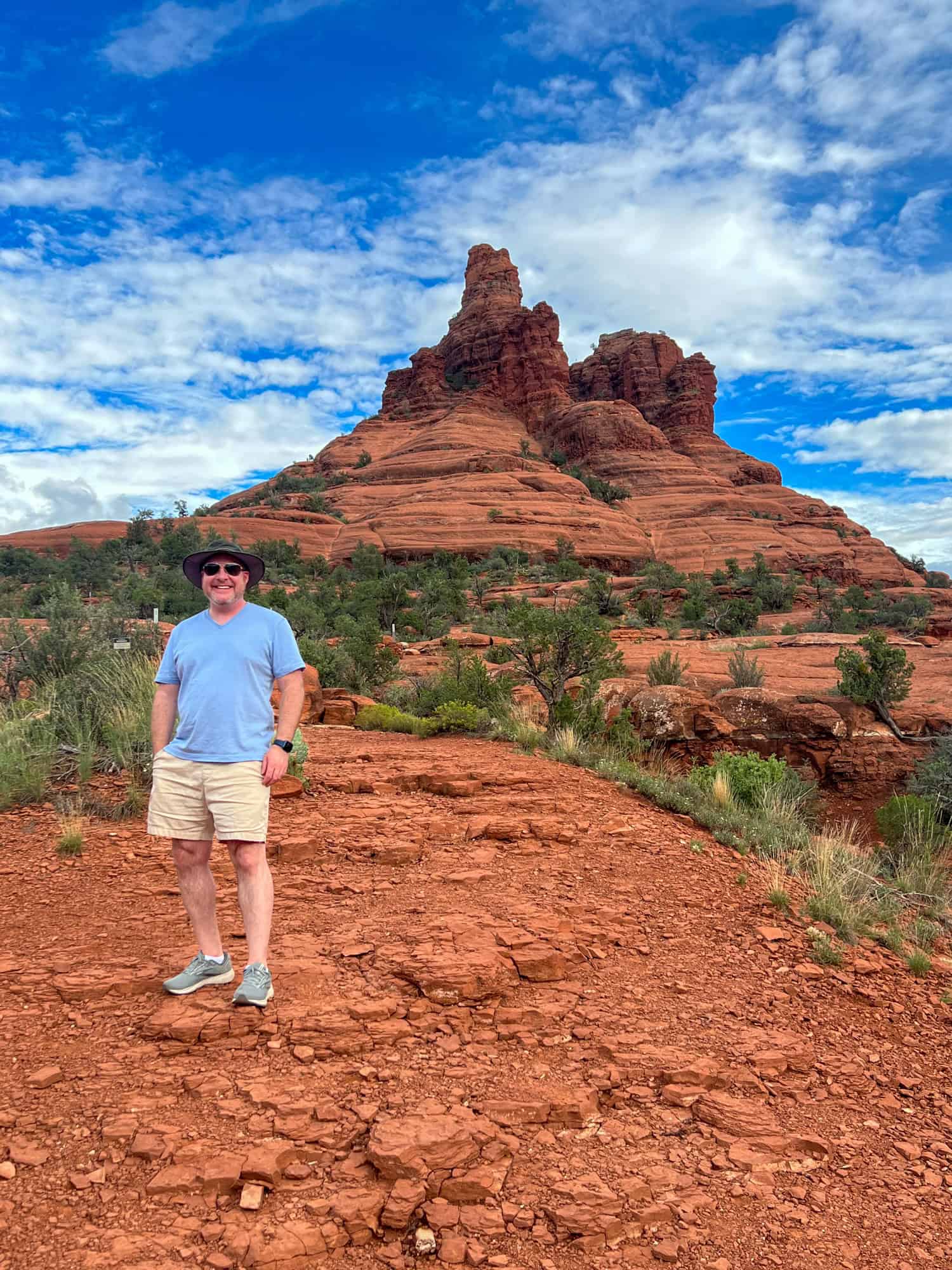 Returning to the Car
So, instead of hanging a right and climbing Bell Rock, I was content to take some pictures and enjoy the view from below.
It was about 4:30 p.m., and rain showers were visible to the north. I didn't want to get caught in the rain, especially if there was lightning, so we headed back to the parking lot.
Related: Hiking Santa Elena Canyon in Big Bend National Park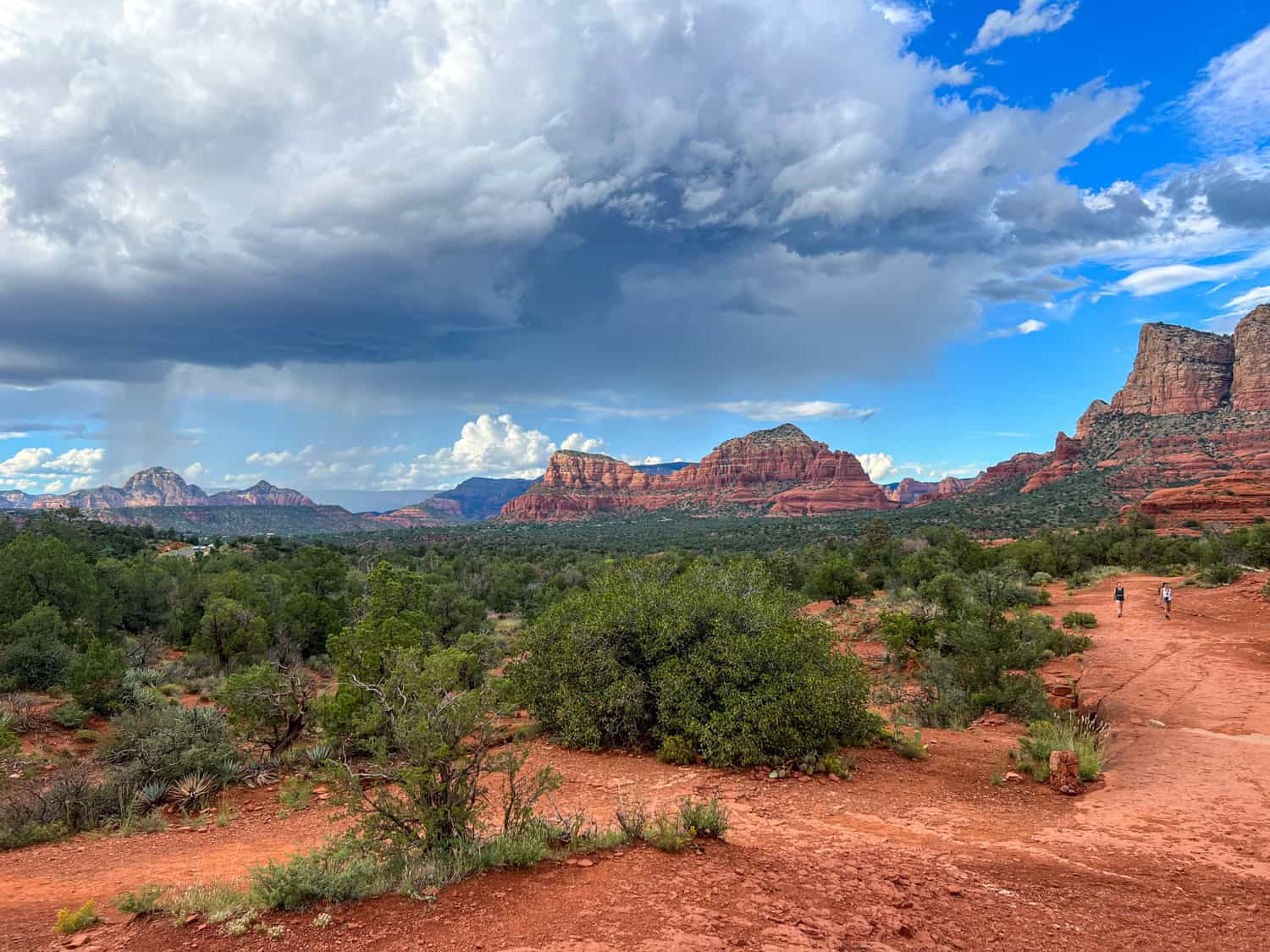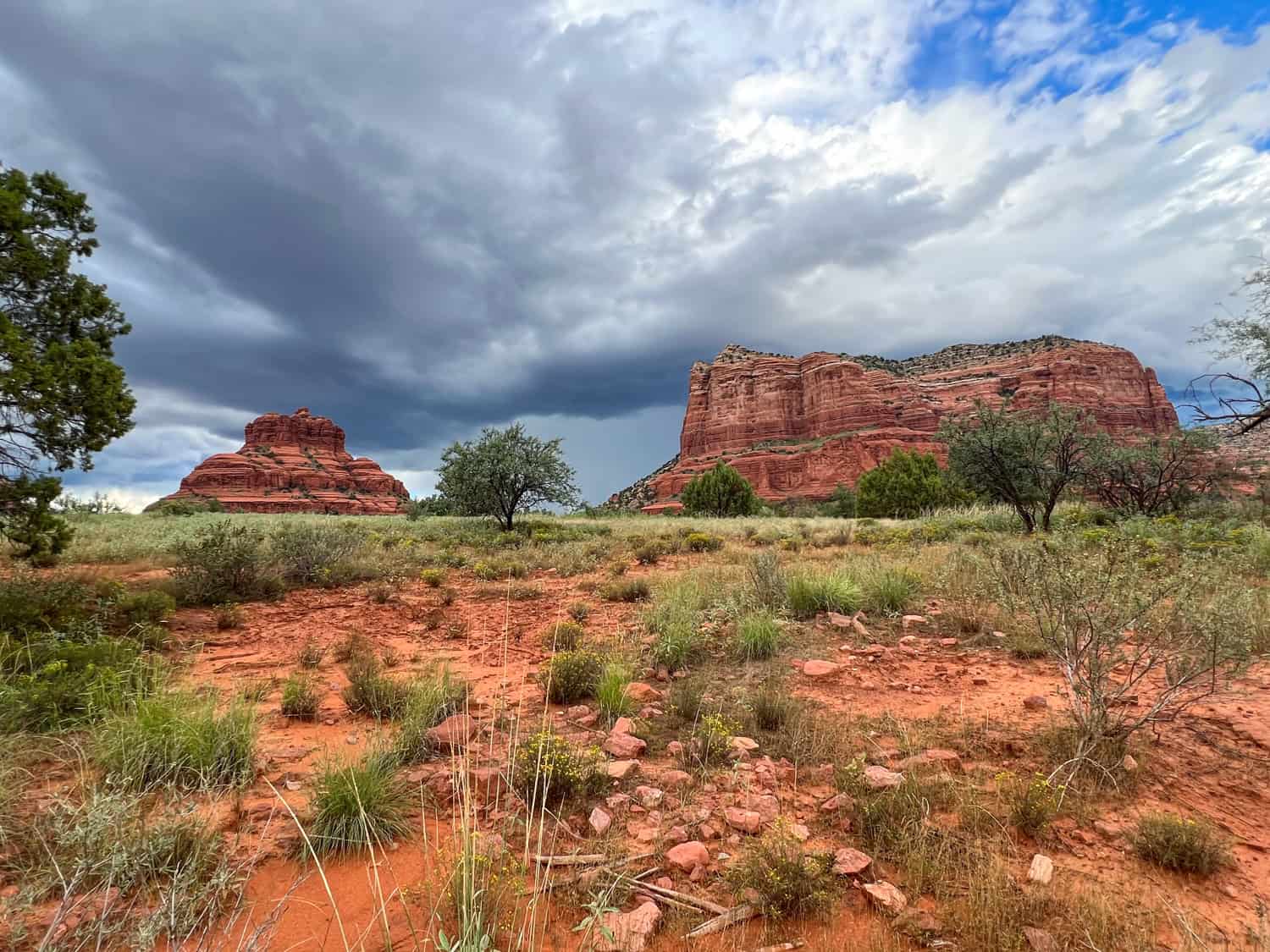 The walk to the south trailhead parking lot was another 30 minutes, making for a one-hour roundtrip hike to the base of Bell Rock in Sedona.
It was an easy hike with plenty of trail markers and an excellent way to eat up some time before checking into our hotel.
The skies opened up when we unpacked in our room, and it was raining hard. It didn't last long, though, as an hour later, on our way to dinner, I could see a lovely double rainbow.
Dave is the Founder and Editor in Chief of Go Backpacking and Feastio. He's been to 66 countries and lived in Colombia and Peru. Read the full story of how he became a travel blogger.
Planning a trip? Go Backpacking recommends: