Walking onto Devil's Bridge in Sedona, Arizona, felt like a test of faith. The largest natural sandstone arch in the Sedona area is 57 feet tall and looks exceptionally narrow.
For some, who preceded me, it was enough space to dance around, sit, stand up again, and do so for the camera.
I felt a little more nervous but up for the challenge despite a longstanding fear of heights.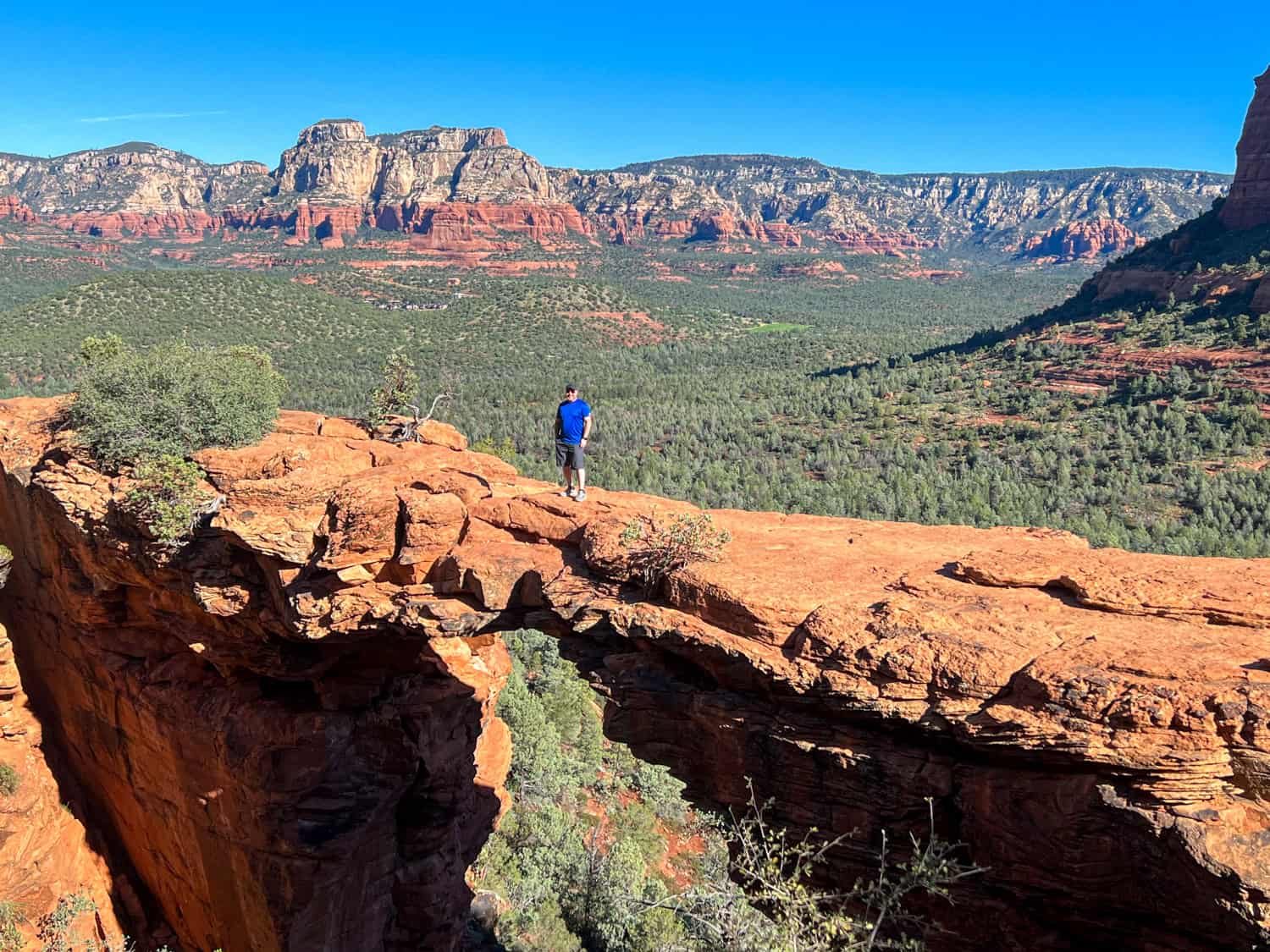 Just because I have a fear doesn't mean I don't actively challenge it regularly. Travel has come in handy for this.
Twenty-five years earlier, I inched my way to the edge of the Cliffs of Moher in Western Ireland, 700 feet above the North Atlantic Ocean.
Seventeen years ago, I jumped off a 30-foot waterfall in Montezuma, Costa Rica. And seven years ago, I floated above the clouds in a hot air balloon ride in Cappadocia.
Returning to Arizona, the Devil's Bridge Trail is one of the most popular hikes in Sedona. It's a relatively easy hike and offers beautiful views of the surrounding red rocks landscape.
That well-deserved favor also means parking challenges, many fellow hikers, and a potentially long wait for your turn to cross the Bridge.
I'm not a huge fan of waking up early for sunrise hikes, but there are times when it's called for, and hiking to the Devil's Bridge in Sedona is one of them.
Devil's Bridge Guide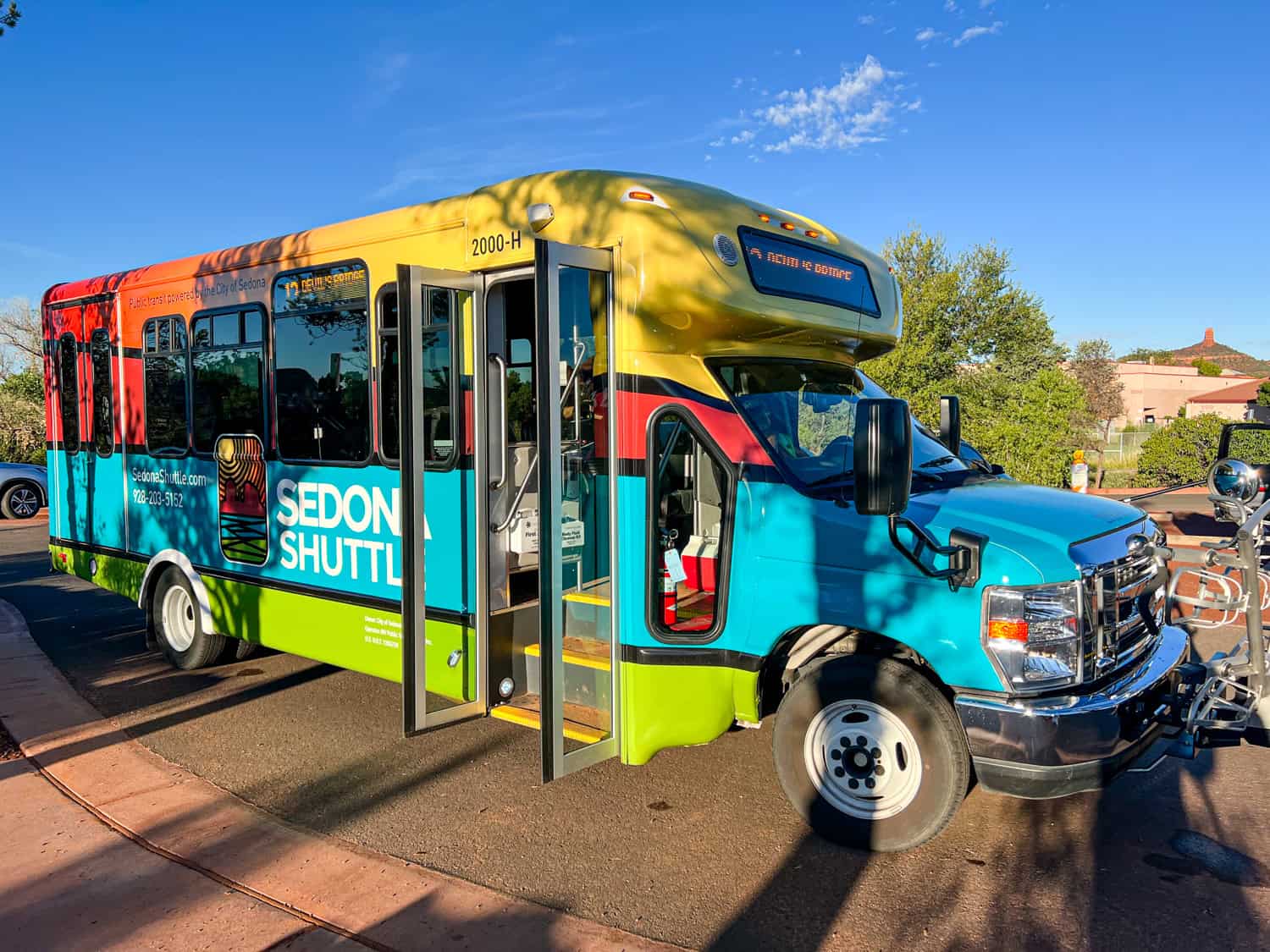 Parking and Shuttle
Kel and I woke up at 6 a.m. on a Saturday in late September and drove our rental car to the Dry Creek Trailhead. The small parking area was packed when we arrived at 6:45 a.m.
As I later learned, visitors will park along the side of the road once the lot fills up, a practice discouraged by local authorities.
The activity can damage the soil and plants and be dangerous for pedestrians and dogs (which must be on a leash).
Nobody was doing that yet, and we didn't want to be the first. Instead, we drove back to town while I searched for info about the free Sedona Shuttle on my iPhone.
We made our way to the Posse Grounds Park and Ride (20 Carruth Drive) and caught the 7 a.m. Route 11 shuttle back to Dry Creek Vista Trailhead. We arrived at about 7:20 a.m., a delay of about 45 minutes.
Along the way, the driver informed us that the free shuttle had launched about four months earlier. It's comfortable and air-conditioned, and they provide free bottled water.
Tip: To minimize your wait time for a photo at Devil's Bridge, the best time to arrive at the parking lot is by 6 a.m.; otherwise, catch the first Sedona Shuttle.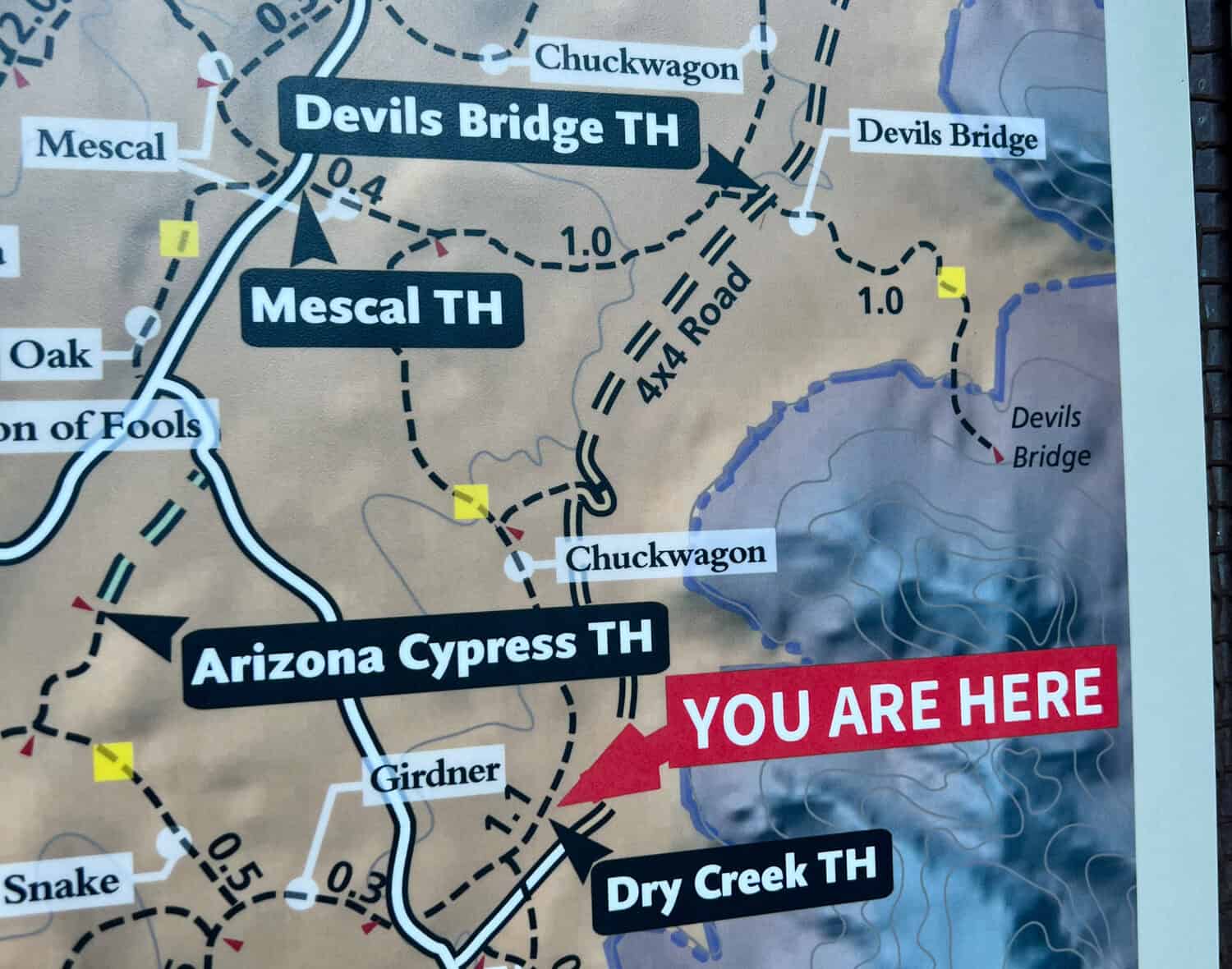 Dry Creek Road (FR 152)
You can access the Devil's Bridge Trailhead from the Dry Creek parking several ways. The fastest is by 4×4 on a dirt road; however, this depends on local conditions.
If Dry Creek Road is open, and you have a high clearance vehicle and off-road experience, you can take it to save time walking.
It's a short distance, only about 1.1 miles from the forest road entrance to the Devil's Bridge Trailhead.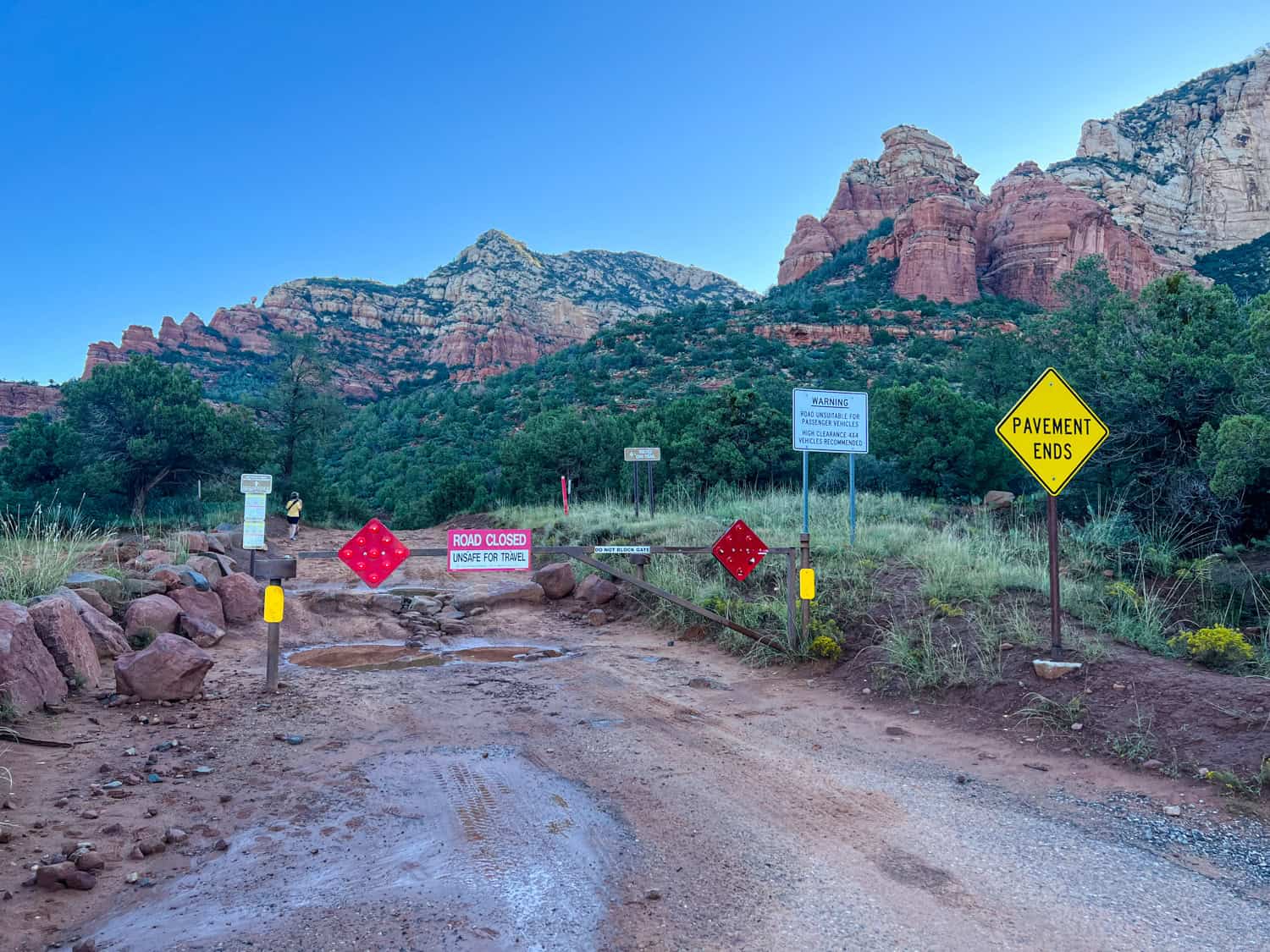 Having walked this road, even if I had a typical SUV rental, I wouldn't have felt like I had the skill to navigate the deep ruts and rocks, which would only erode further with each new rainfall.
The road was closed due to heavy rain the night before we arrived, so it wasn't an option for anyone, which I appreciated as a hiker.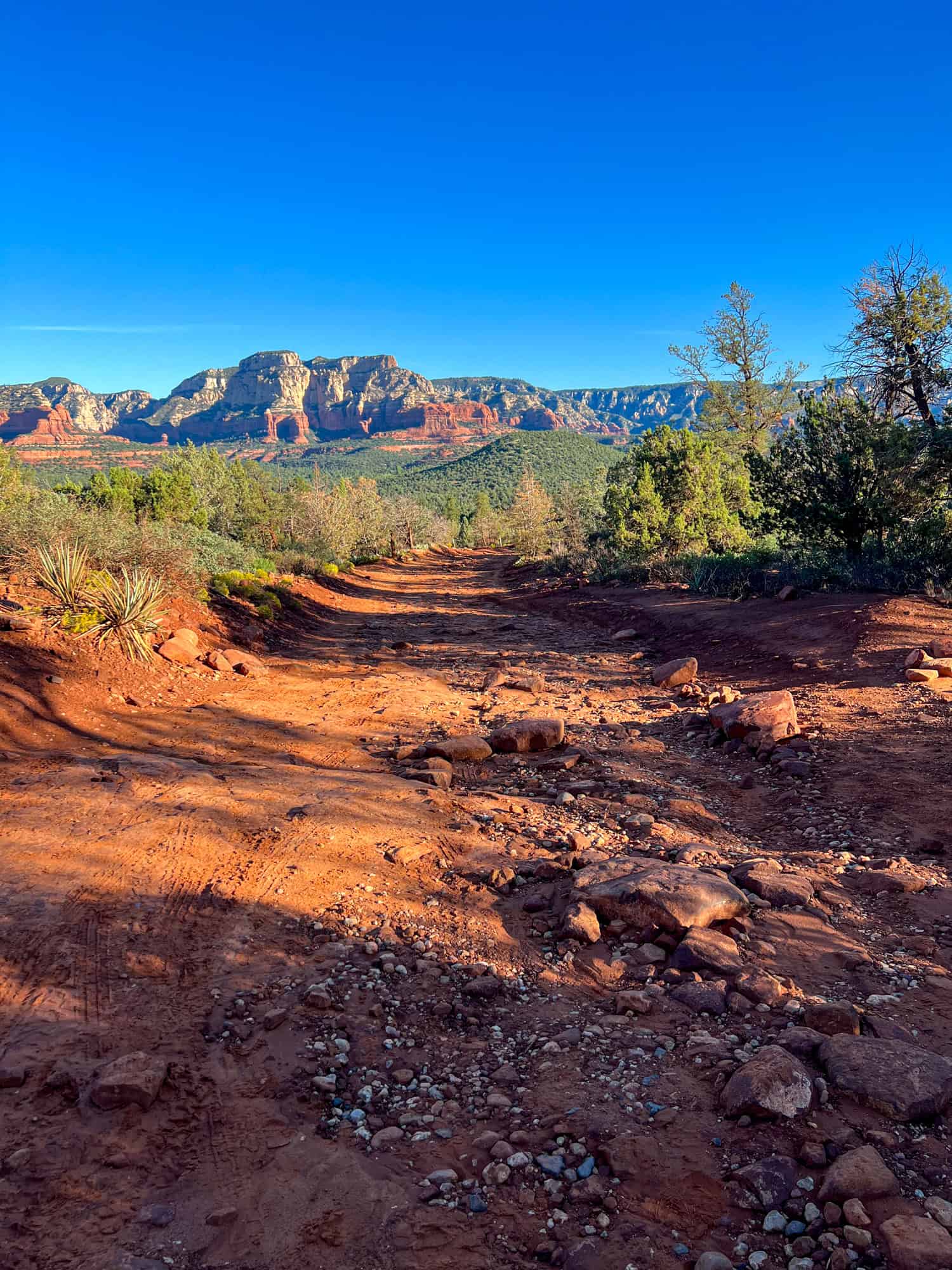 The most efficient way to walk from the Dry Creek parking lot to Devil's Bridge Trailhead in Sedona is to take the dirt road, which is what we saw most people doing.
It's wide, with gentle ups and downs and potentially large puddles to walk around.
It took us about 30 minutes of walking at a relaxed pace while stopping for photos to reach the Devil's Bridge Trailhead.
Another hiking option from the parking lot, if you prefer to avoid the dirt road, is to take the Chuckwagon Trail, which is west of the road but runs parallel going north, before veering east.
This is the more scenic route, but it'll take longer to reach the Devil's Bridge Trail, which might mean a more crowded trail once you get there.
A compromise would be to take the road there and the Chuckwagon Trail back to the parking lot (and Sedona Shuttle pick-up).
Related: Hiking Bell Rock in Sedona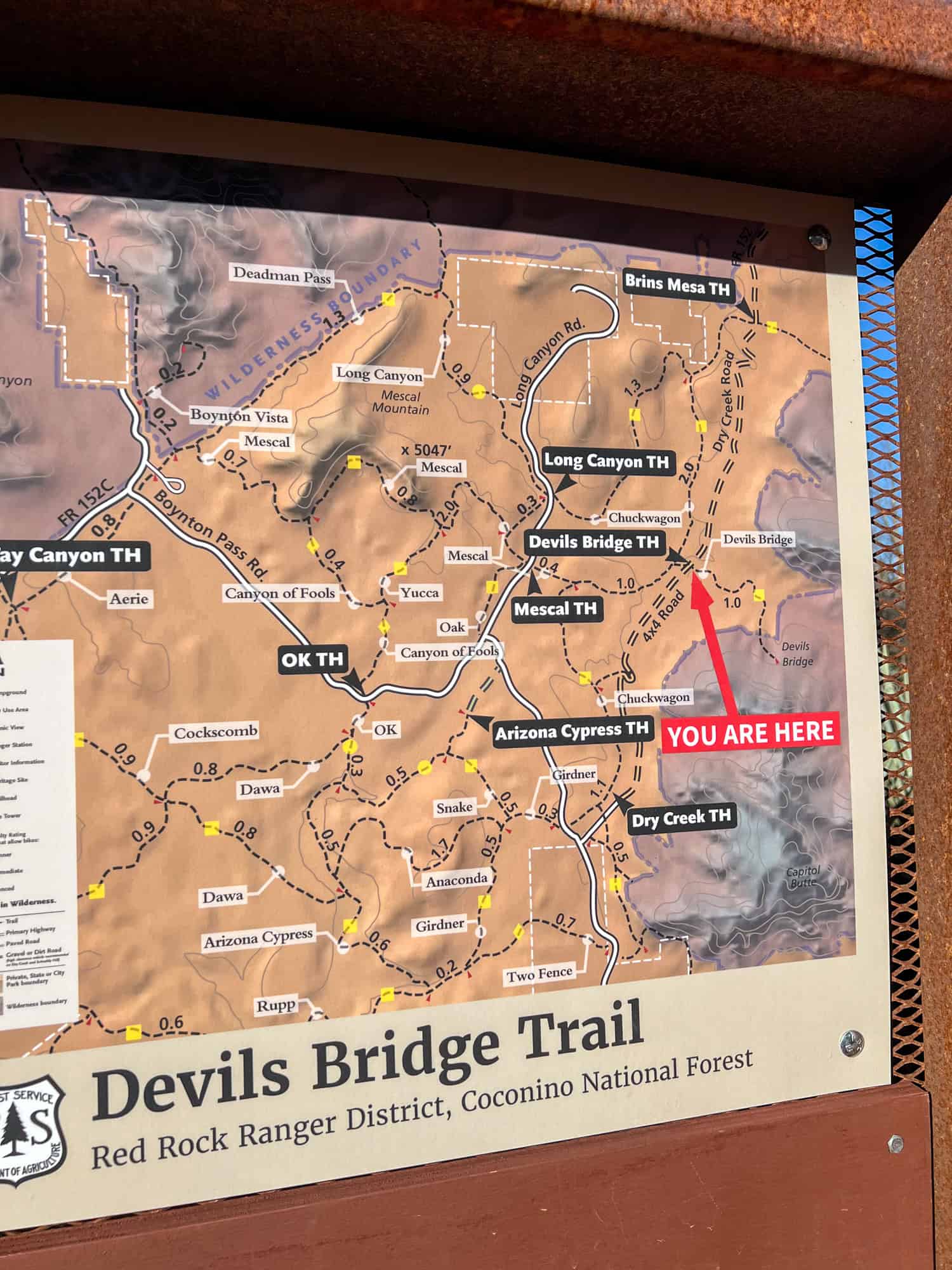 Devil's Bridge Trailhead
Whichever way you reach it, the Devil's Bridge Trailhead is well-marked, with a map showing that it's only one mile further to the famous sandstone arch.
The Devil's Bridge Trail, one of the most popular trails in Sedona, is a short hike with some rocky sections that may require putting your hands on the rock to ascend.
The starting elevation is 4,600 feet above sea level, and there's a 400-foot elevation gain to the top of the arch.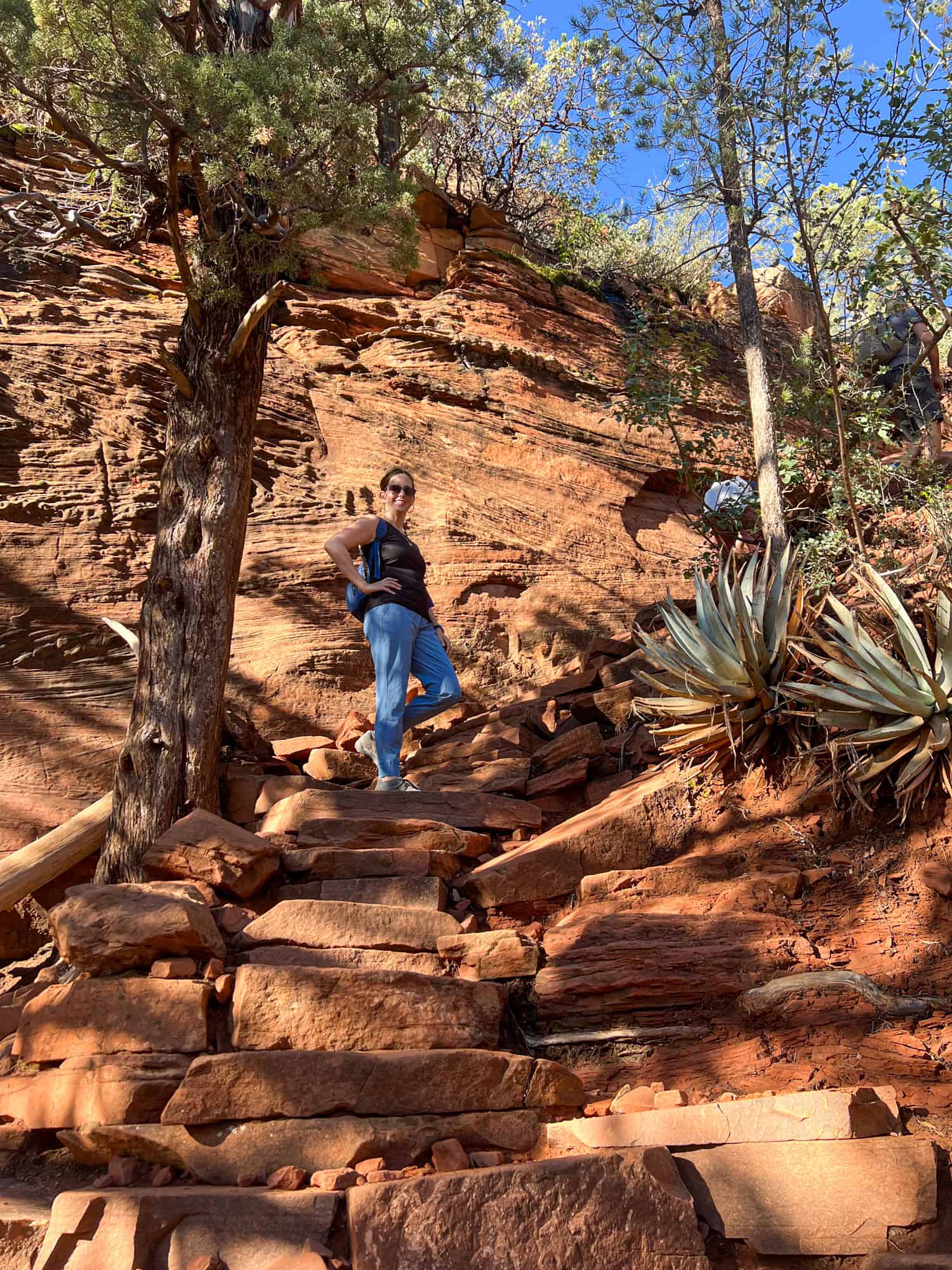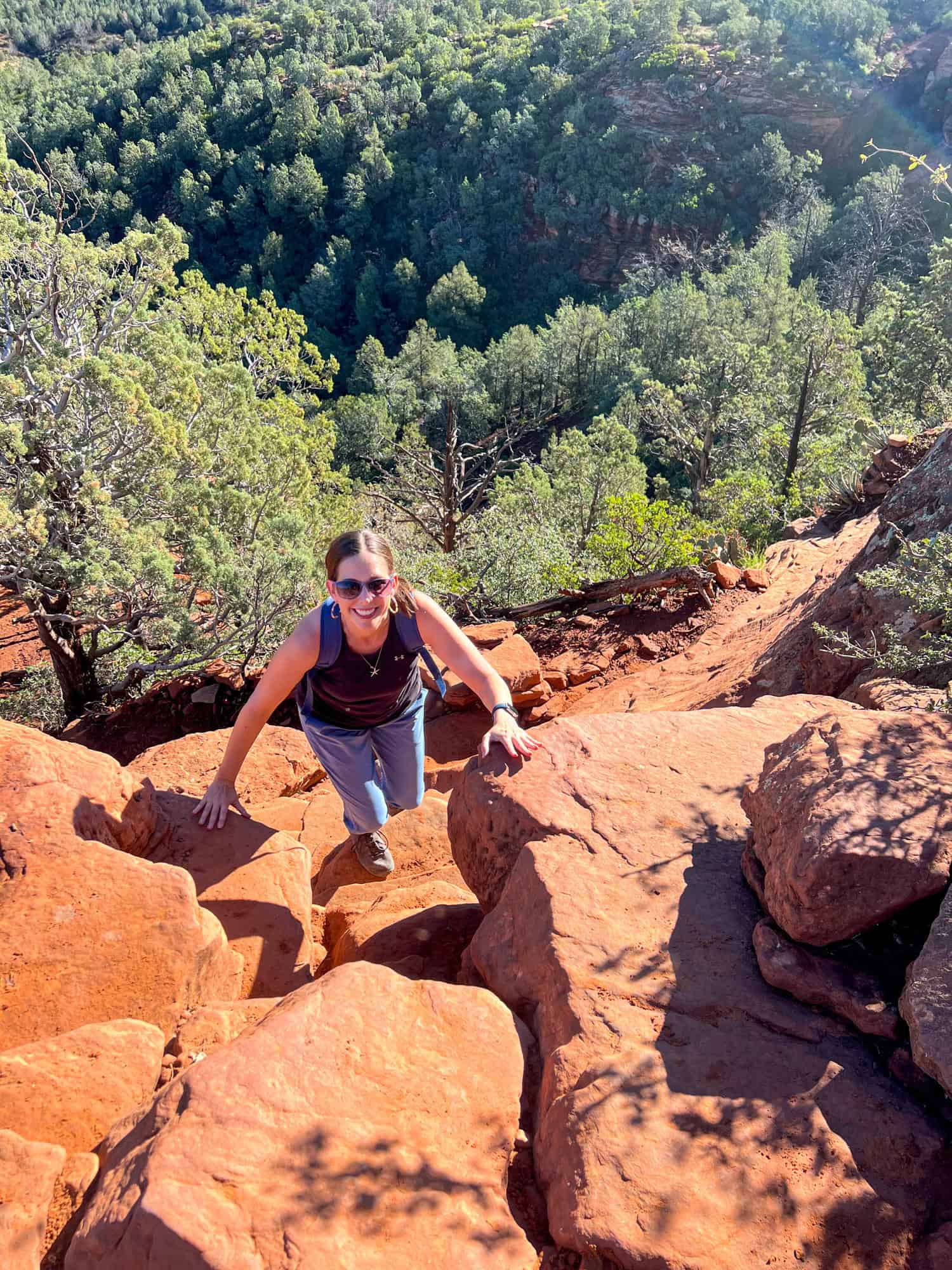 This isn't too high (a little less than the altitude in Denver, CO); however, less fit hikers may feel the effects on their heart and respiration rates.
Parents carrying babies, heavy hikers, or the physically disabled may also find climbing up (and later, down) a little challenging.
Whatever your fitness level, take it slow, and I'm confident you'll enjoy this great hike. We saw hikers of all ages, from kids to older adults. And plenty of dogs, too!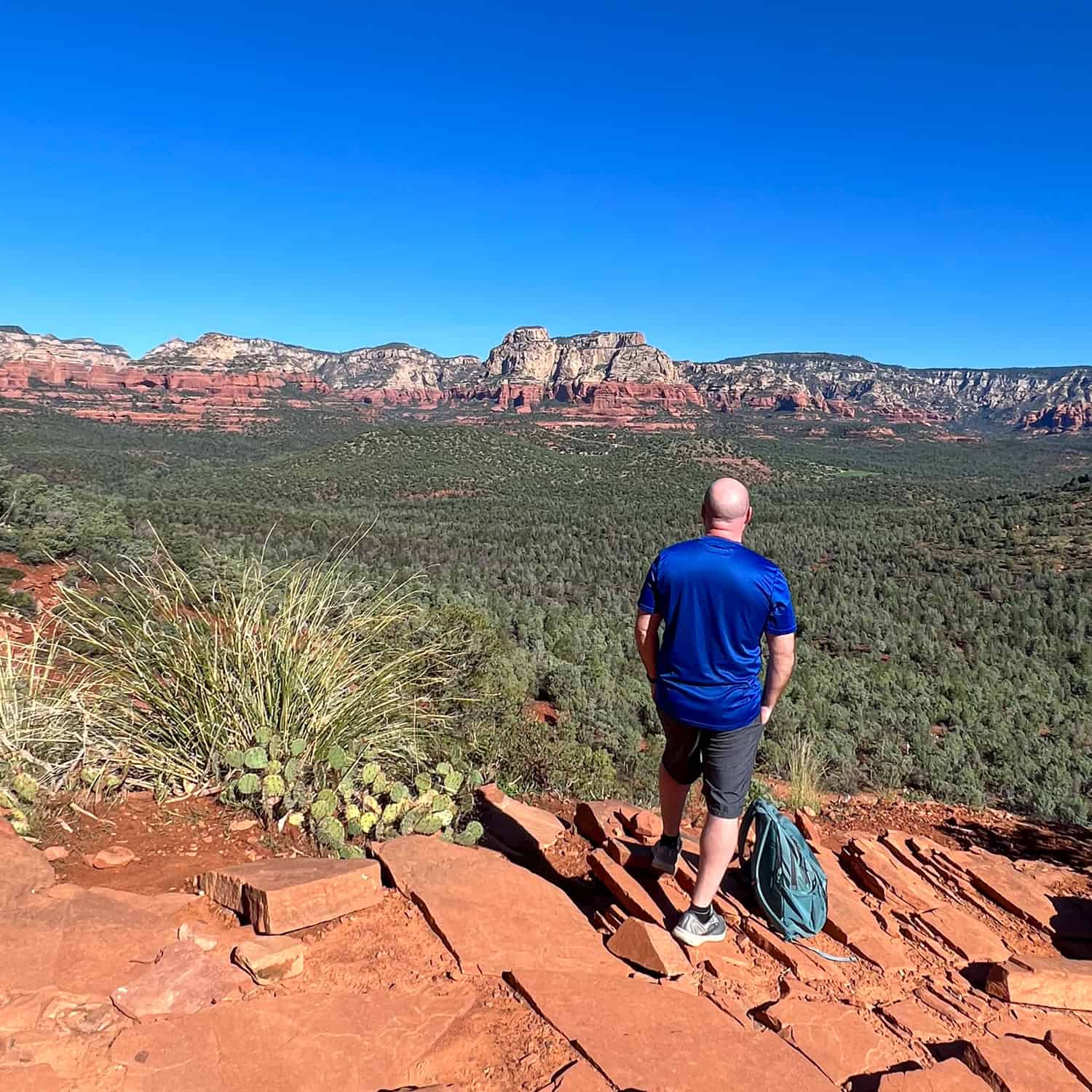 The gorgeous views along the Devil's Bridge Trail on a clear day in Sedona are breathtaking. It's hard not to stop for photos at every turn.
Even in the morning, drinking plenty of water while hiking is a good idea.
The entire route to and from the Devil's Bridge is exposed to the sun once it has risen above the surrounding mountaintops (an excellent reason to avoid this hike between 11 a.m. to 3 p.m.).
The Dry Creek Trailhead sign recommends one gallon per person; my 20-ounce Steamboat Springs bottle and a few snacks were sufficient.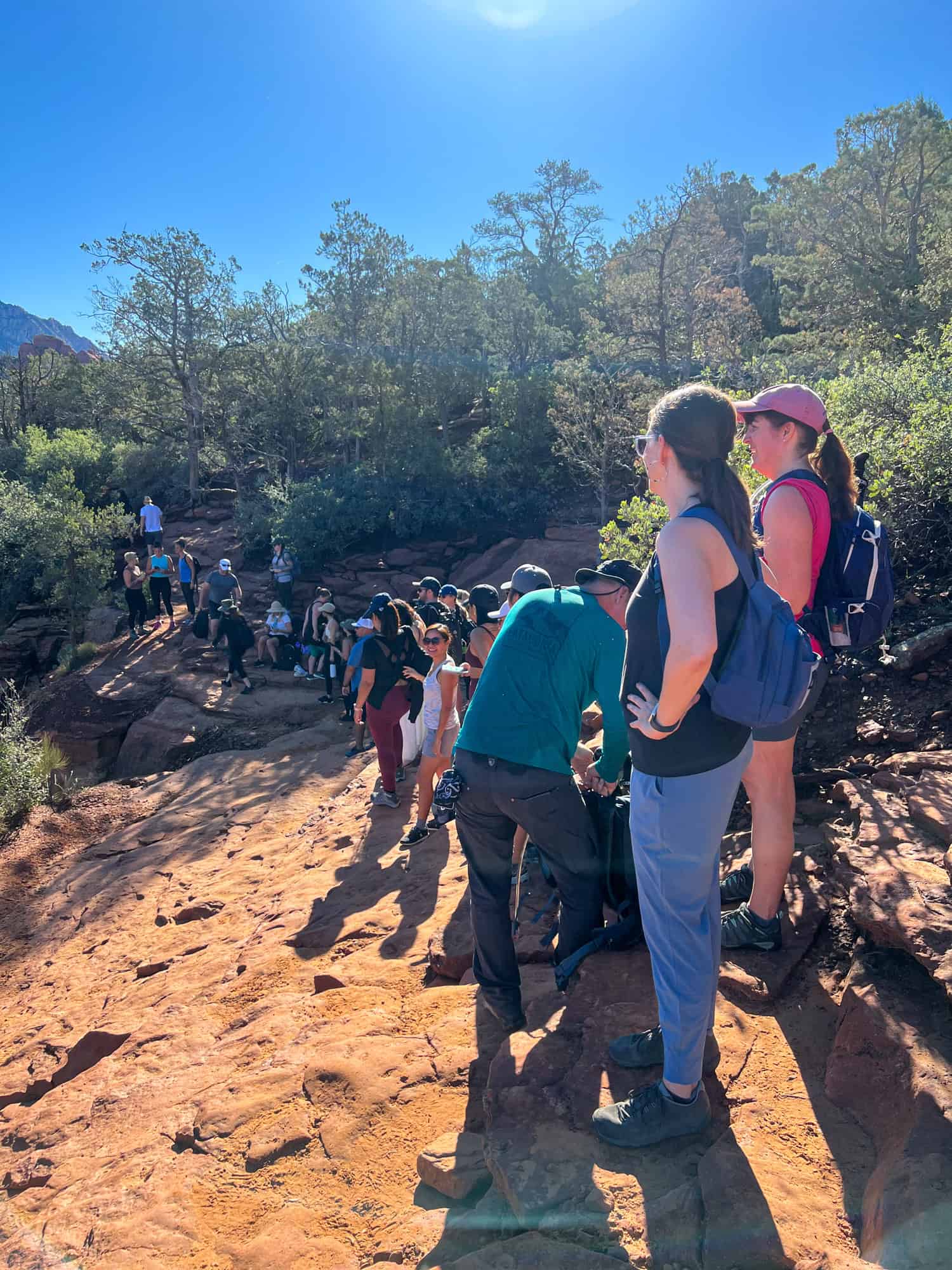 The Line at Devil's Bridge
From the Devil's Bridge Trailhead, it took us about 30 minutes to hike the one mile to the arch. For those keeping track, that put us there at about 8:30 a.m., an hour after we began at the parking lot.
It didn't feel like many people were walking ahead of us. However, dozens of hikers were waiting for a photo once we arrived.
We took our place at the back of the line and prepared to be patient. I found it easier to pass the time by enjoying watching others walk out over the tall natural bridge.
This also helped calm my nerves (though not the women doing handstands!).
Nobody got in line behind us for five to ten minutes after we arrived. Then, a middle-aged couple walked up and asked if this was the line for the Bridge. Yes, obviously.
The impatient man then proceeded to complain and make fun of others enjoying their moment on the arch, which I found rude. Please, readers, don't be that person in such a stunning place.
Related: How to Prevent Overtourism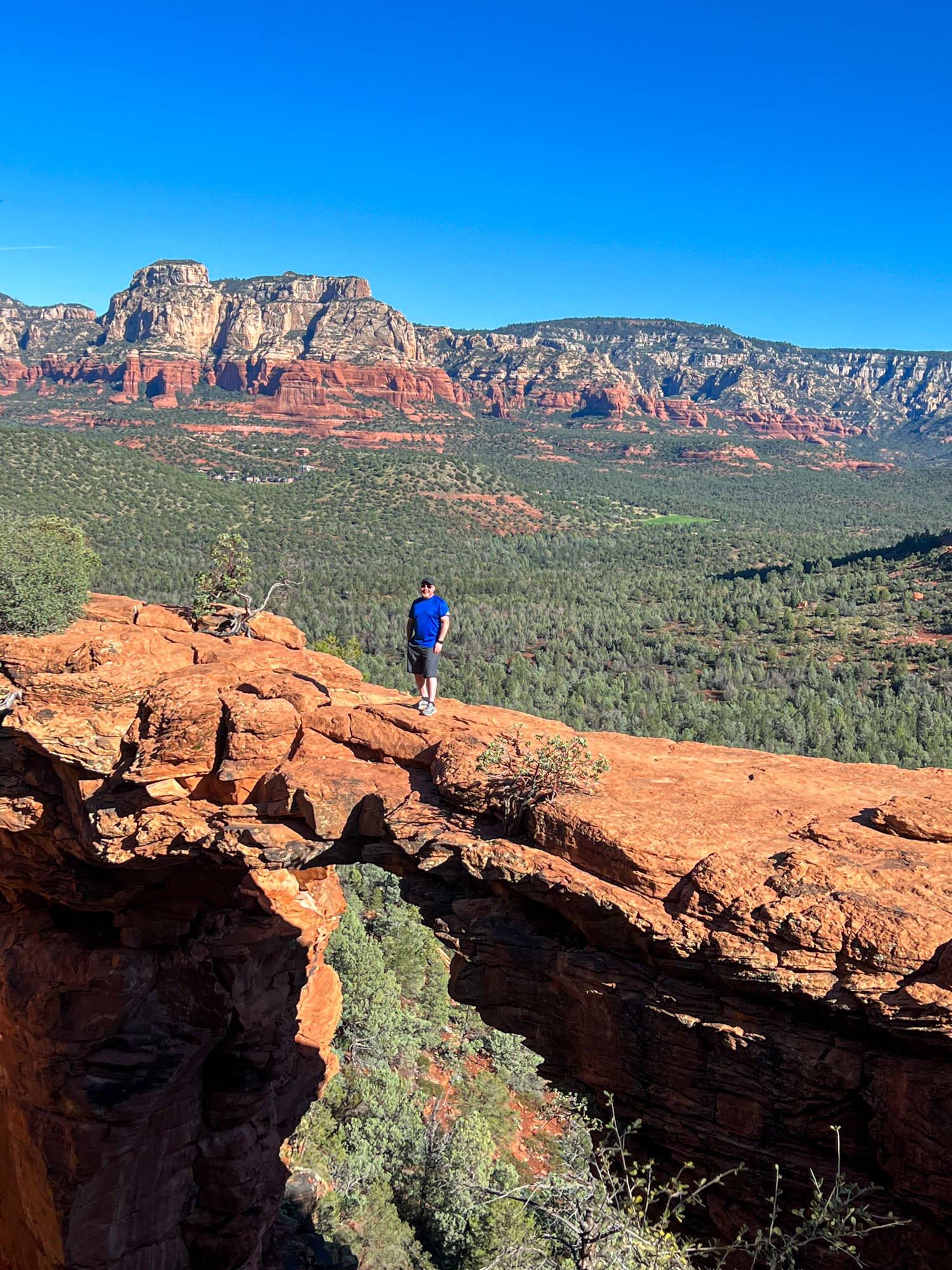 Walking the Bridge
About 20 minutes after we'd joined the end of the line, I gingerly walked out onto the Devil's Bridge in Sedona.
I felt more confident than I expected once I'd turned the corner and seen how wide the Bridge was in the beginning. Nervous but feeling like "I got this," I pushed myself to walk to the narrowest point.
Once there, Kel took some photos of me before leaving her DSLR and my phone with a kind couple that had gone before us. They were happy to take our pictures, as we did for them.
Kel skipped out quicker than I did, and after a few photos, I walked back and got some of her solo on the Devil's Bridge.
Related: Best Hike Near Phoenix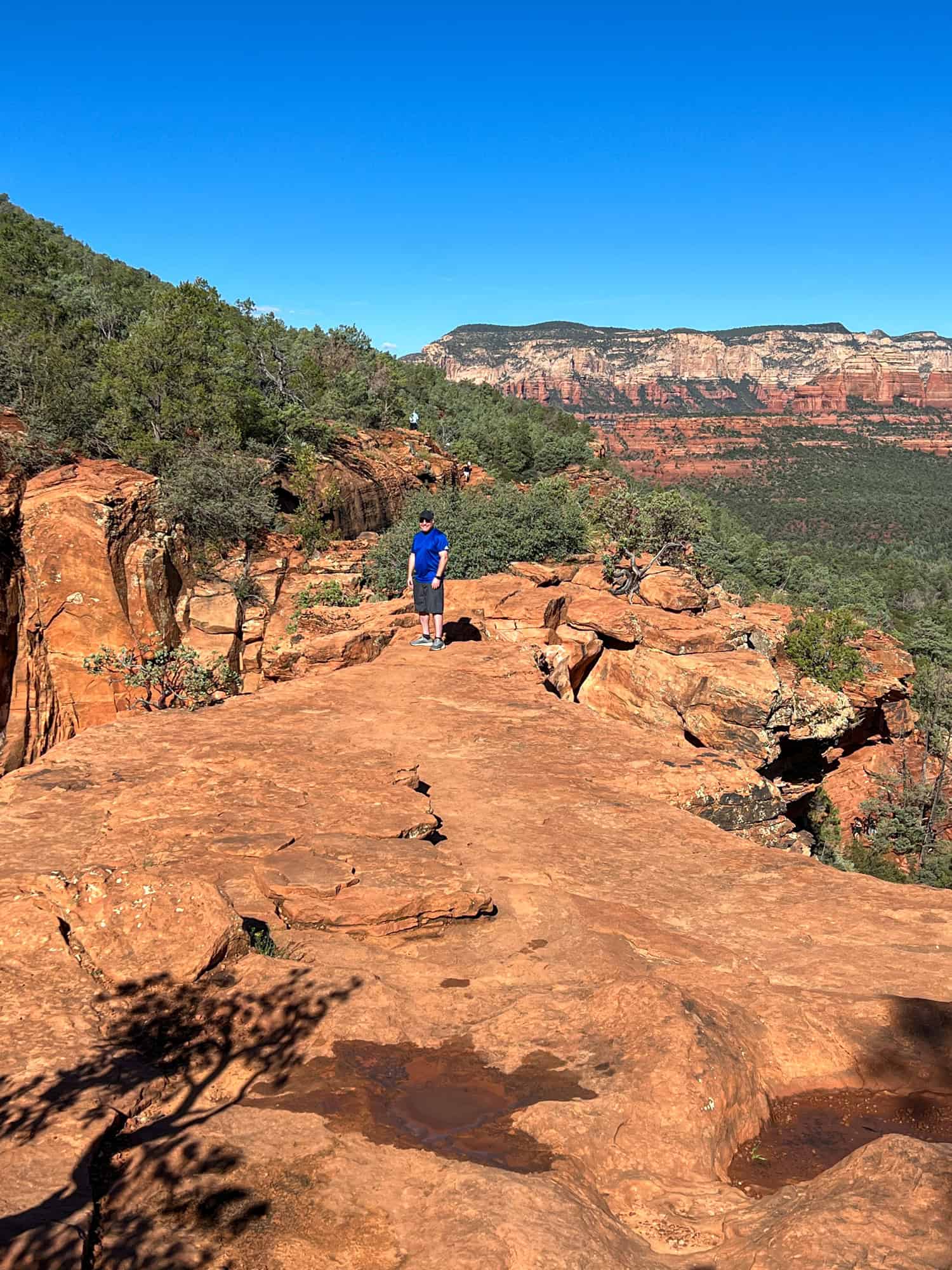 While taking them, I could hear the man behind me continue complaining, only this time, it was about me and my girlfriend, which pissed me off.
I spoke up, telling him we all had to wait in line, an implicit suggest he "suck it up" and stop behaving like a child.
In addition to being distasteful and annoying those around him, I also considered it dangerous to disparage others while they stood on a cliff, about to walk out on a 57-foot high rock arch.
He didn't take into account that others might be nervous, to begin with, let alone bothered or feeling the need to hurry up because he complained. It's not inconceivable someone could get hurt as a result.
Hiking to the Parking Lot
After taking a few more photos, we completed the Devil's Bridge hike by walking back to the Dry Creek Trailhead and paved parking lot to catch the Sedona Shuttle.
We were satisfied with the experience thus far and didn't feel the need to take the scenic Chuckwagon Trail.
I think a relaxing brunch back in Sedona was on our mind, and we'd find it at Hideaway House, an Italian restaurant with great views that opens at 11 a.m. daily.
Final Thoughts
Overall, I enjoyed hiking to Devil's Bridge in Sedona, though not the early wake-up time required.
The hike took 2.5 hours, with 30 minutes spent waiting in line and taking photos at the Bridge.
If I were to do this bucket list hike again, I'd have gone straight to the Sedona Shuttle for the 7 a.m. shuttle instead of trying to beat the early birds to the parking lot.
I suspect the free shuttle will become much more popular in the coming years as Sedona cracks down more on parking outside the lots and tourism continues to grow.
After brunch, we took the shuttle on Route 15 to hike Cathedral Rock in the afternoon.
Dave is the Founder and Editor in Chief of Go Backpacking and Feastio. He's been to 66 countries and lived in Colombia and Peru. Read the full story of how he became a travel blogger.
Planning a trip? Go Backpacking recommends: