Staring up the steep and narrow red rocks on Cathedral Rock Trail in Sedona, Arizona, I was at the edge of my comfort zone.
Losing your balance on this section could easily result in a painful, potentially fatal fall, as there's nothing to slow your momentum.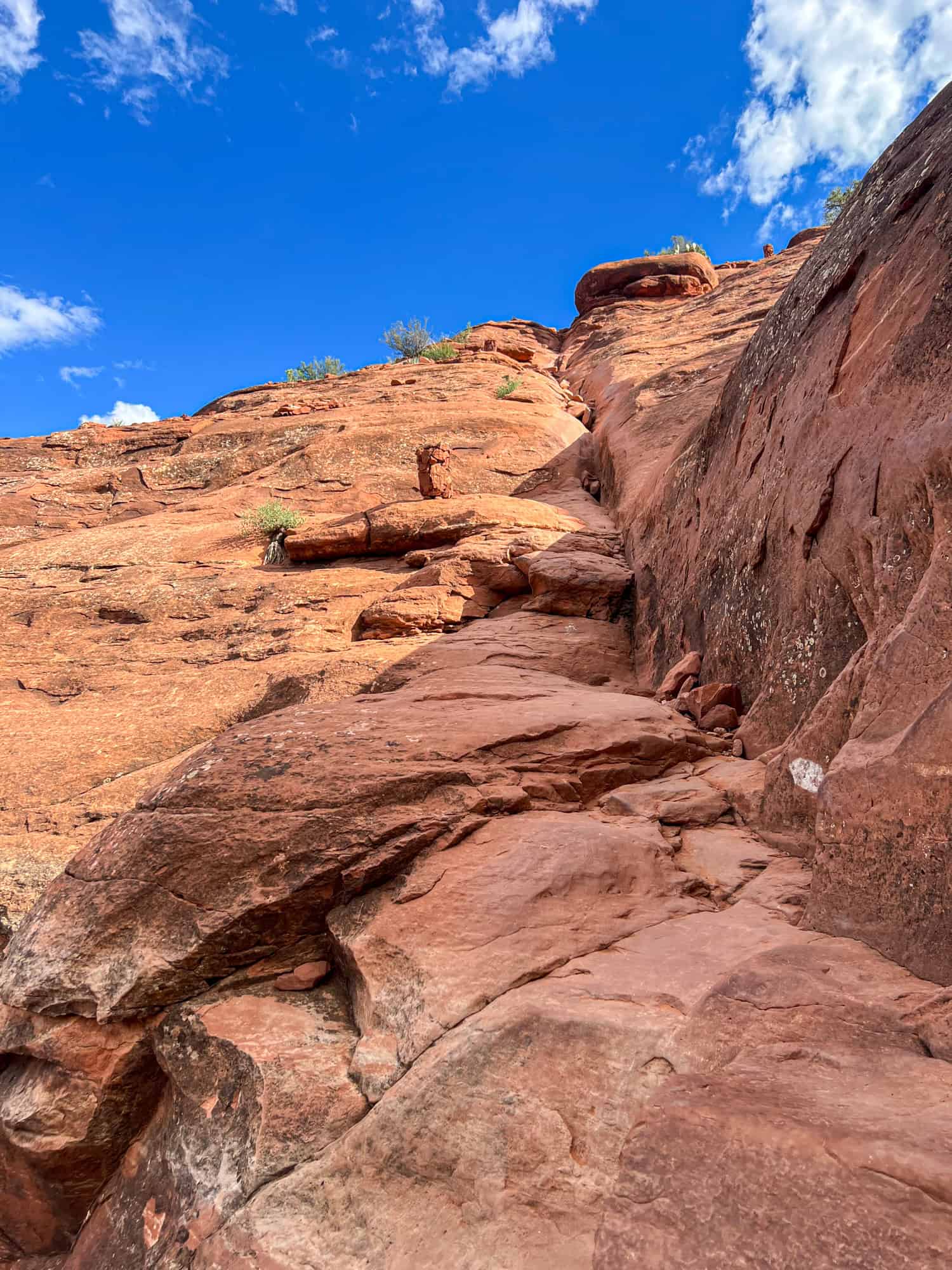 We'd already climbed higher than Kel had the first time a year earlier when she wore running sneakers that lacked grip on the smooth rock.
Despite her recommendation that I buy hiking shoes, as she'd since done, I figured I could get by as I had during our hikes in Big Bend National Park.
I was wrong, and it was more than evident. I hadn't considered the slick rock we'd be traversing, let alone a vertical scramble with few obvious handholds and lots of loose rock.
The Cathedral Rock Trail was among the most popular hikes in Sedona. How challenging could it be, I'd thought?
Unlike the Devil's Bridge hike, I didn't even read about it. And now I was wondering if I'd make it to the top.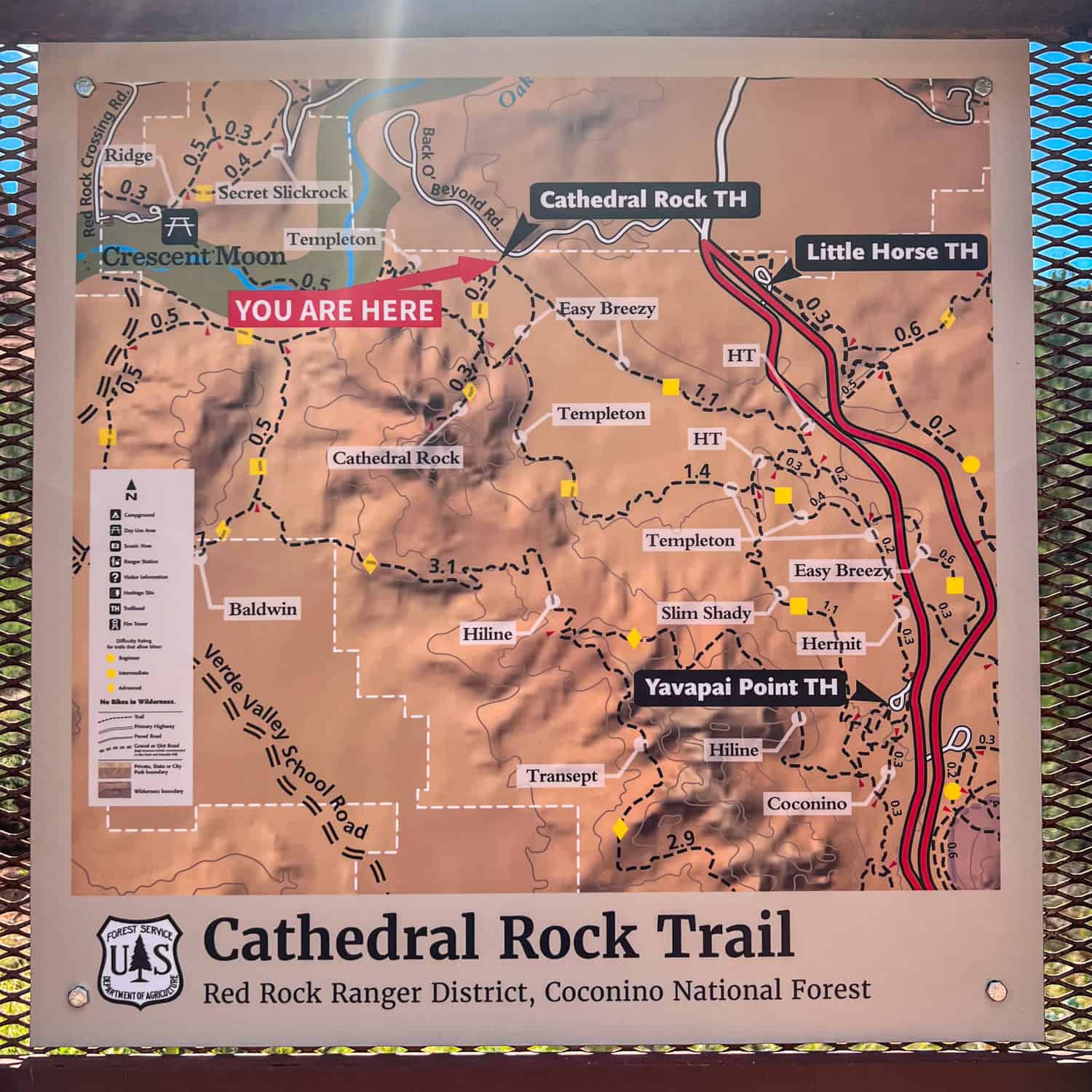 Getting to Cathedral Rock Trail
Following a terrific brunch with pizza and cocktails at Hideaway House after our sunrise hike to Devil's Bridge, we visited V Bar V Ranch to see petroglyphs before driving toward the Cathedral Rock Trailhead.
The best times to visit Cathedral Rock in the Coconino National Forest are sunrise and sunset when the sun is low in the sky and (hopefully) the temperatures are cooler.
But we didn't have the luxury of time, as we only had one full day in Sedona and wanted to make the most of it.
Parking and Shuttle
The day before, we'd used a credit card to pay $15 for a weekly Red Rock Pass, which allows you to use the small parking lots at trailheads. Purchasing a pass is required; the day pass is $5.
Unfortunately, but predictably, there were no parking spaces available in the two Cathedral Rock Trailhead parking lots, so we again had to rely on the free Sedona Shuttle to get us there.
The departure point for Cathedral Rock Trailhead is the North SR-179 Park and Ride on Google Maps.
The shuttle departs every 15 minutes from 7 a.m. to 4:30 p.m., Thursday through Sunday, for the 10-minute drive.
To return, the Sedona Shuttle departs the Cathedral Rock Trailhead every 10 minutes from 7:10 a.m. until 5:12 p.m.
Keep these times in mind if you're aiming to watch the sunset from atop Cathedral Rock, as you'll need to rely on your own transportation or plan for a longer hike if you can't park close by.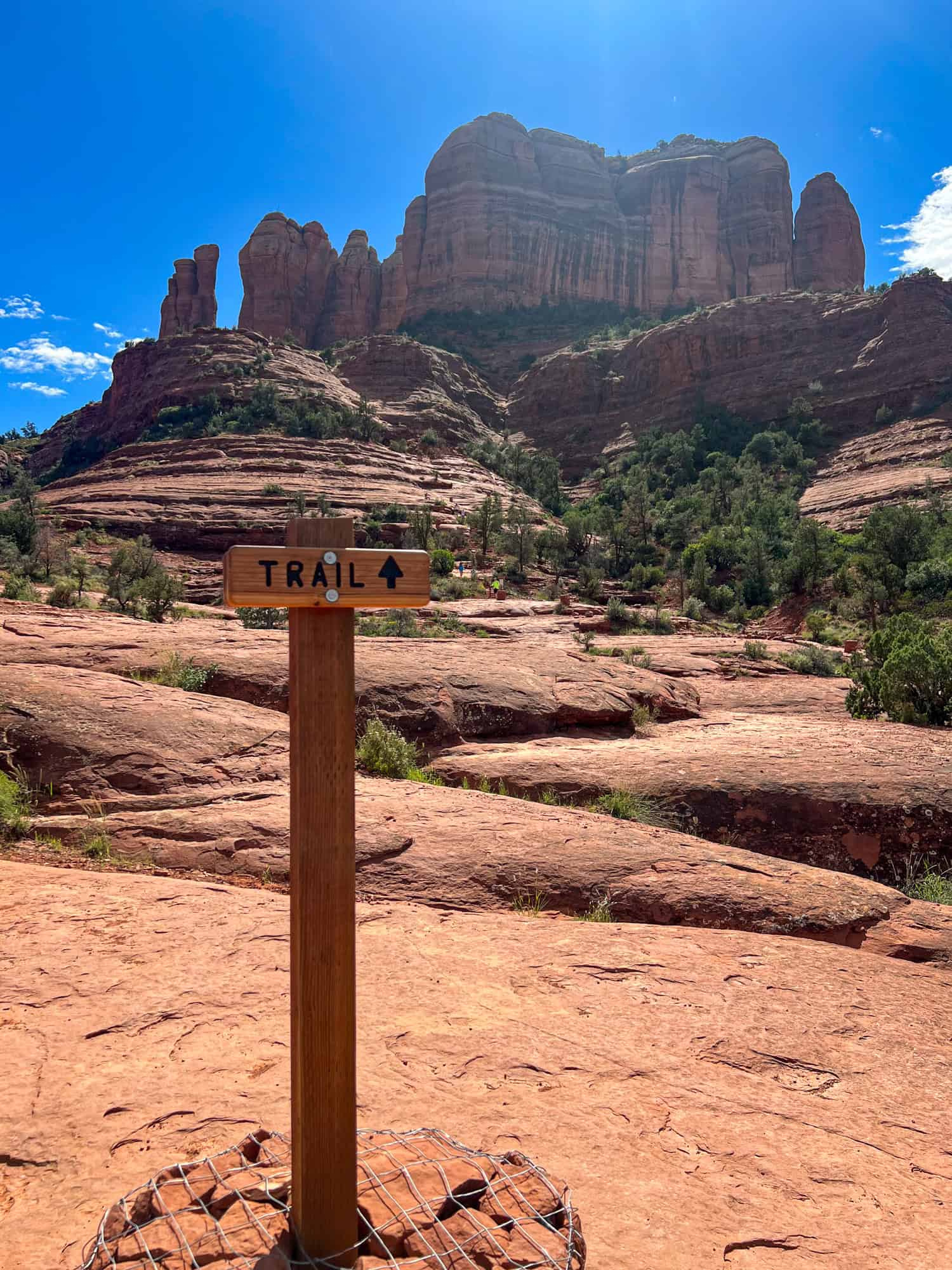 The Hike
The Cathedral Rock Trail is only a 1.2-mile roundtrip hike. The challenge is in the 741 elevation gain, including one steep climb that requires both hands to be free.
It feels like a walk in the park when you're starting at the base of Cathedral Rock. Keep an eye out for the trail signs and rock-filled basket cairns leading the way in this first section.
Given the hike's popularity, you'll likely see other people on their way up or down, though, so it'd be hard to get lost during daylight hours.
Bring a headlamp to ensure a safe descent if you're heading up in the late afternoon for sunset.
The sun sets on the opposite side of Cathedral Rock Trail, so you begin to lose sunlight mid-afternoon.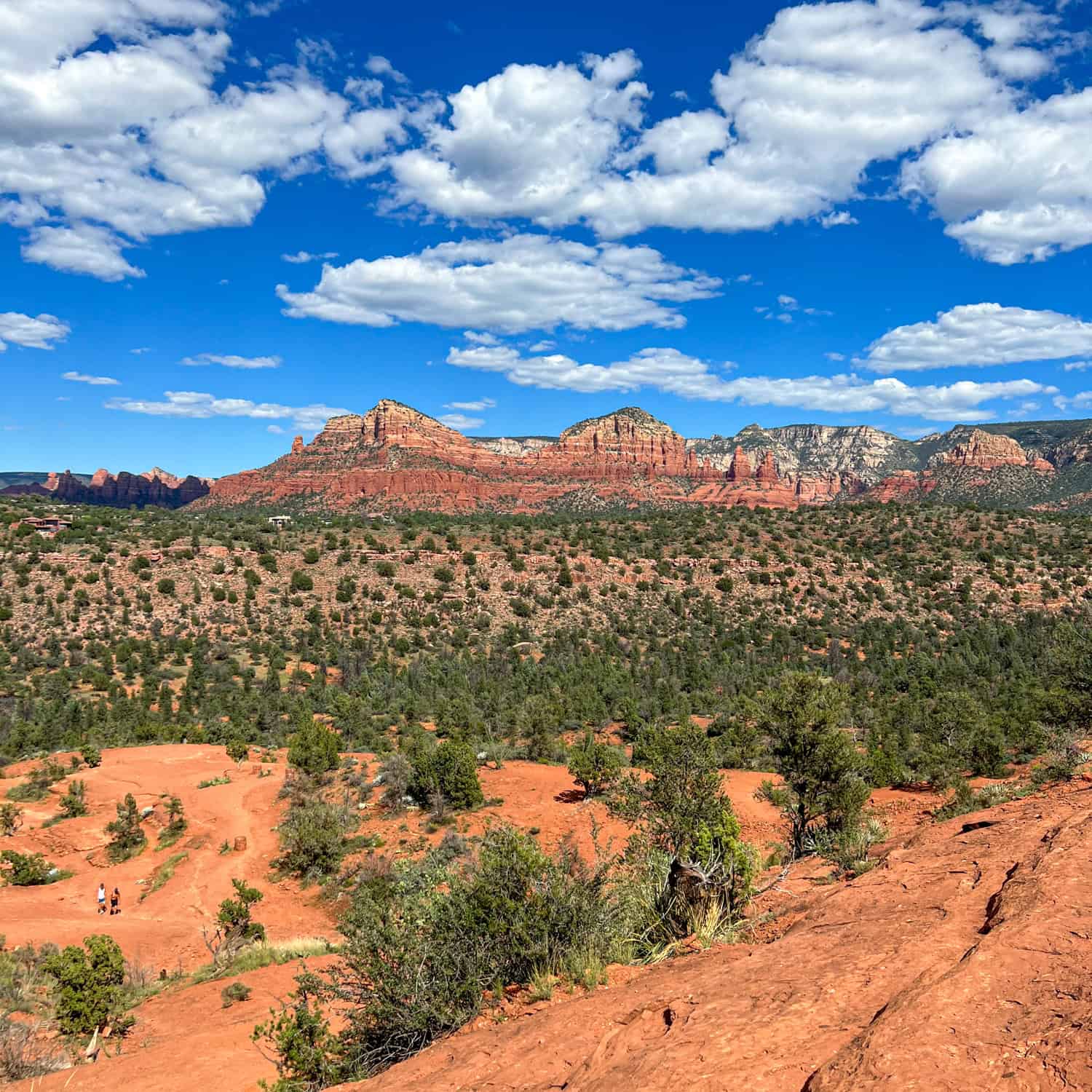 After only 10 minutes on the hiking trail, we walked up the gentle slopes of red rock and reached a plateau with spectacular views toward the east and south.
If you know where to look toward the east, you can spot the Chapel of the Holy Cross, a church constructed amid the red rocks in the 1950s, which is beautiful to some and controversial to others.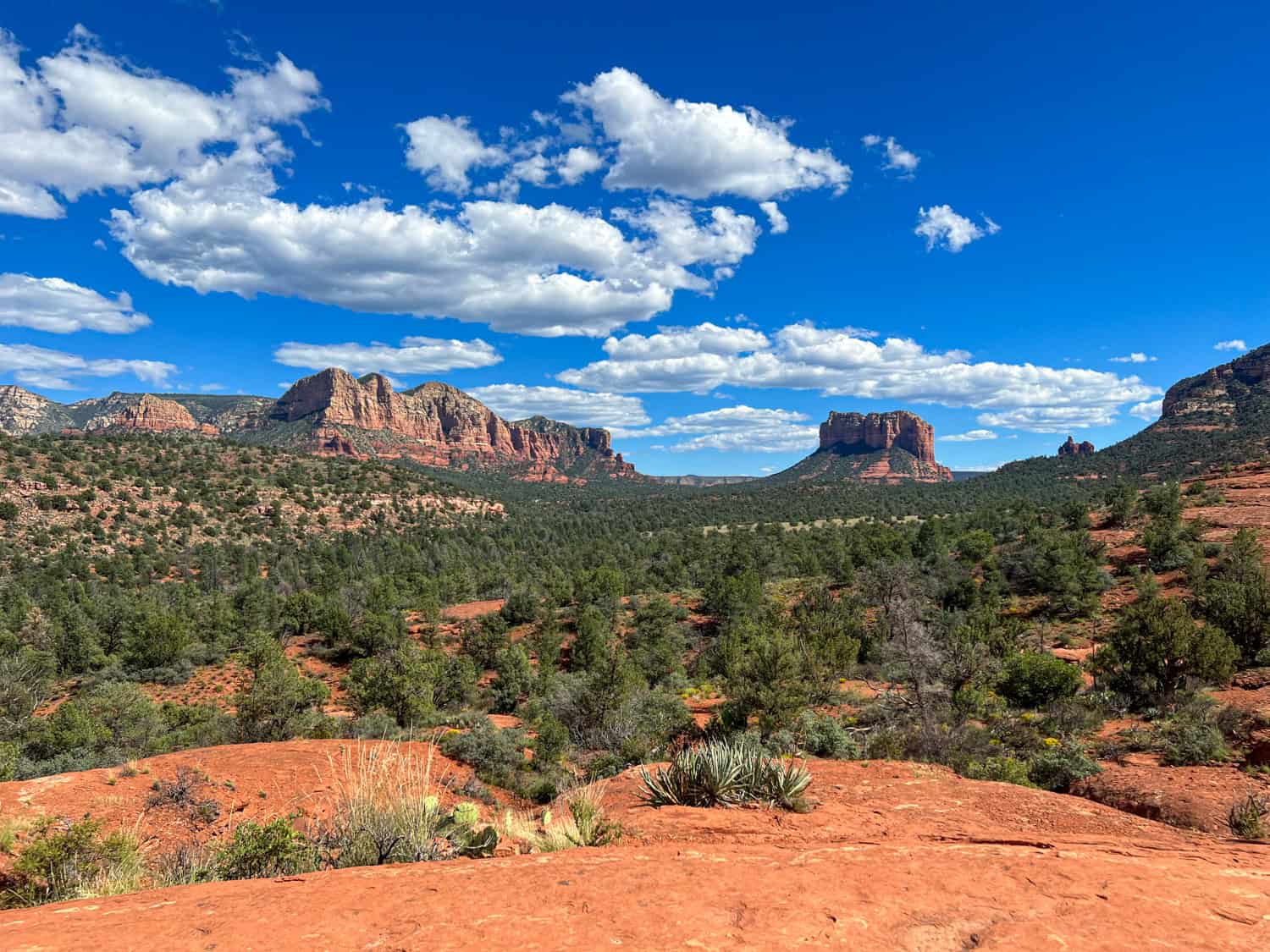 Looking toward the south, we could see Courthouse Butte and the tippy-top of Bell Rock, which we'd hiked around the day before.
I'd have been satisfied with the views if this was as far as we went. Therefore, if you're afraid of heights and what you read next, I'd suggest you not write off Cathedral Rock altogether.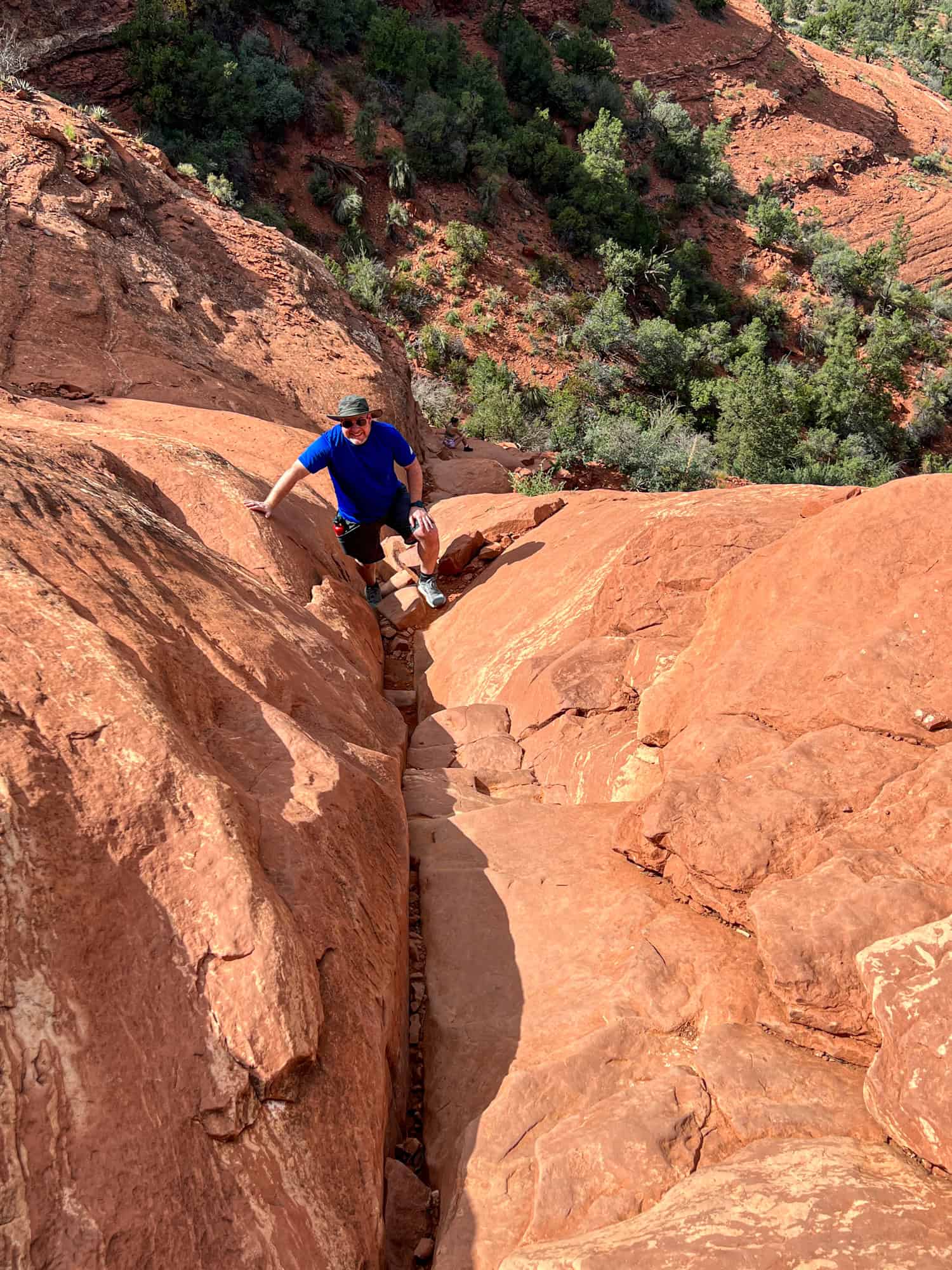 The Steep Part
Lacking a technical climbing term, let's say this next section of Sedona's Cathedral Rock Trail was challenging.
The intrusive thought of slipping, falling, and bouncing off the rocks on my way down quickly entered my mind as I stared upwards.
We were there long enough to watch some hikers descend, most using both their hands to steady themselves on the rocks.
One guy was wearing gloves which I realized makes a lot of sense when you have to use your hands on rocks that've been soaking up the sun all morning.
An older woman (perhaps in her 50s) encouraged us, saying this short climb was the most challenging part and that "if I can do it, so can you!"
Kel went first to her credit and scrambled up the red rocks like a champ. I followed soon after, heart pounding. At one point, I took a break so she could snap a photo of me smiling nervously.
I was frustrated by the lack of grip on my new running sneakers. Also, while I'd brought plenty of water in a 20-ounce metal bottle, it was cumbersome.
I hadn't realized I'd need both hands to be free for the Cathedral Rock hike and was forced to awkwardly carry my metal bottle in the pocket of my Prana shorts; thankfully, it fit.
Encouraged by my girlfriend's ascent, I slowly made my way up the vertical section until I reached its top. The views were similar to what we'd experienced at the plateau below.
My heart continued to pound, and my thoughts turned to whether the descent would be more complicated than the ascent.
I was tired from a long day and worried about a potential slip on the way down.
Despite the knowledge that the hard part was over and the rest of the hike up Cathedral Rock was more manageable, I felt I'd gone as far as possible.
Memories of exhaustion on day three of my Annapurna Sanctuary trek in Nepal 14 years ago still affect me.
So does the time a Swiss man with whom I was doing the Indrahar Pass trek in Northern India tripped and almost fell off a precipice above 13,000 feet (4,000 meters).
Not that hiking in Sedona is as extreme as multi-day treks in the Himalayas. But those experiences still tend to trigger my anxiety.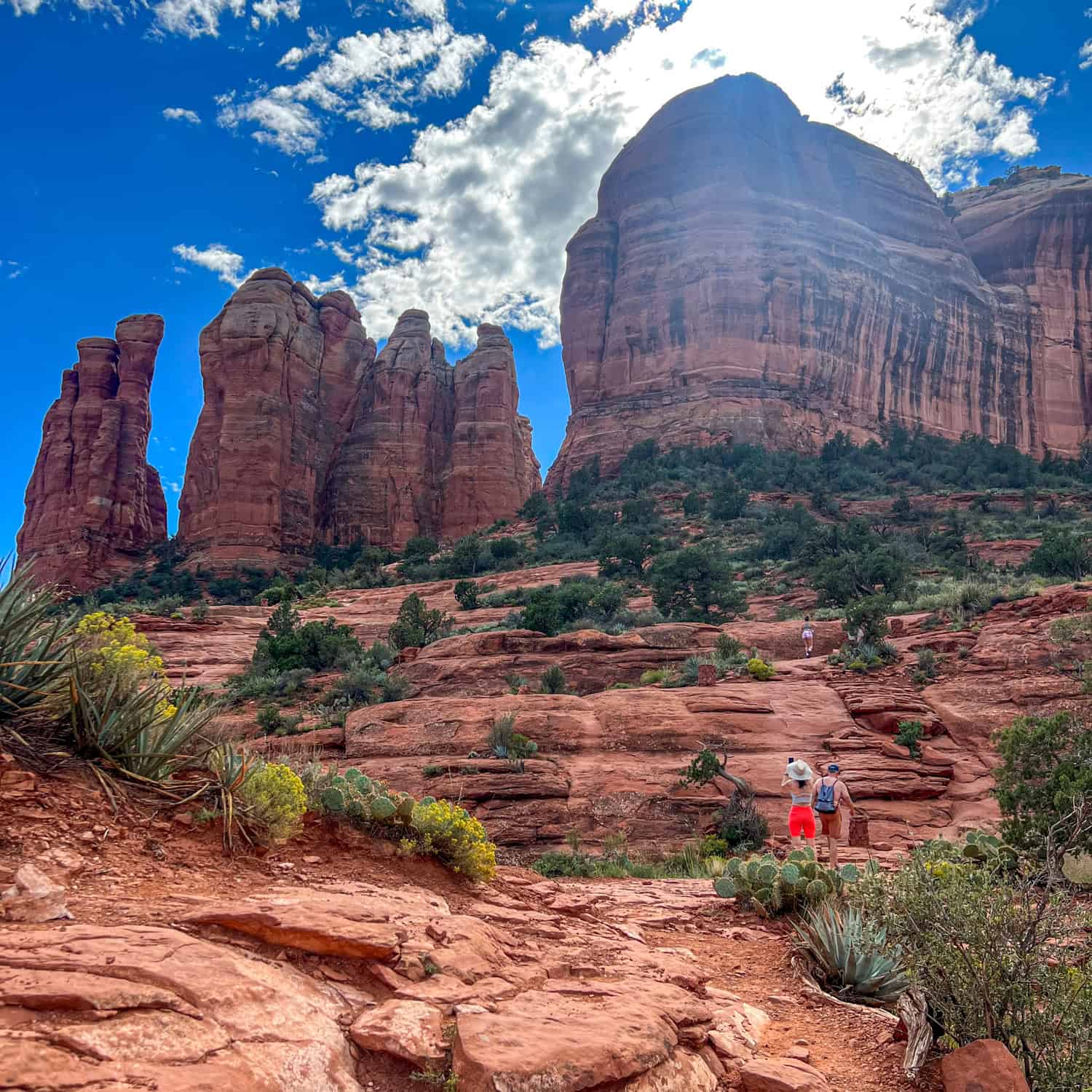 Kel continued to hike higher toward the towering rock formations but decided not to go to the very top due to the amount of time it might've taken (about 30 minutes roundtrip).
In retrospect, continuing with her would've taken my mind off the steep slopes. Instead, I sat down and enjoyed the view where I was until she returned.
Since we didn't reach the end of the trail, I've included a few images from others below.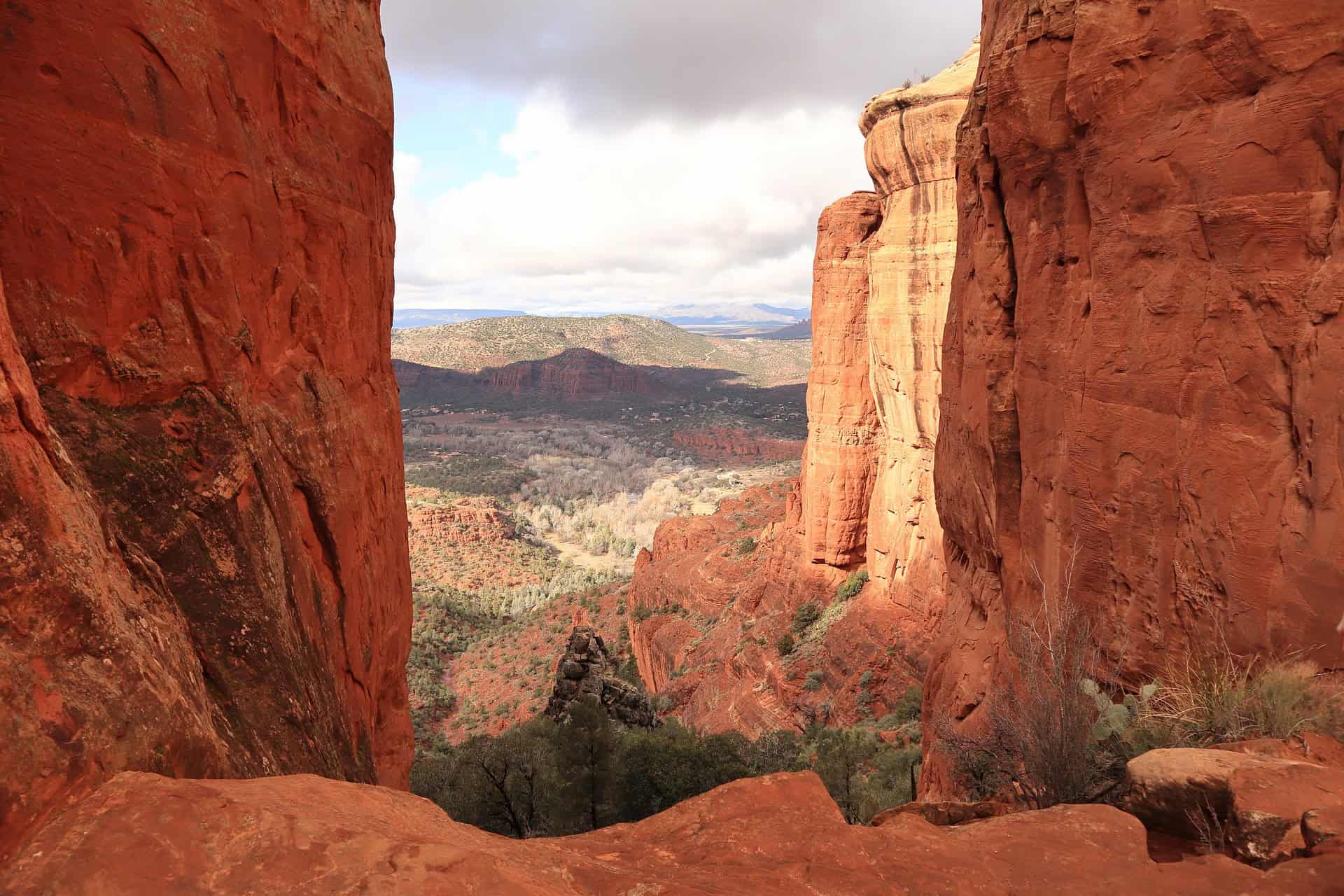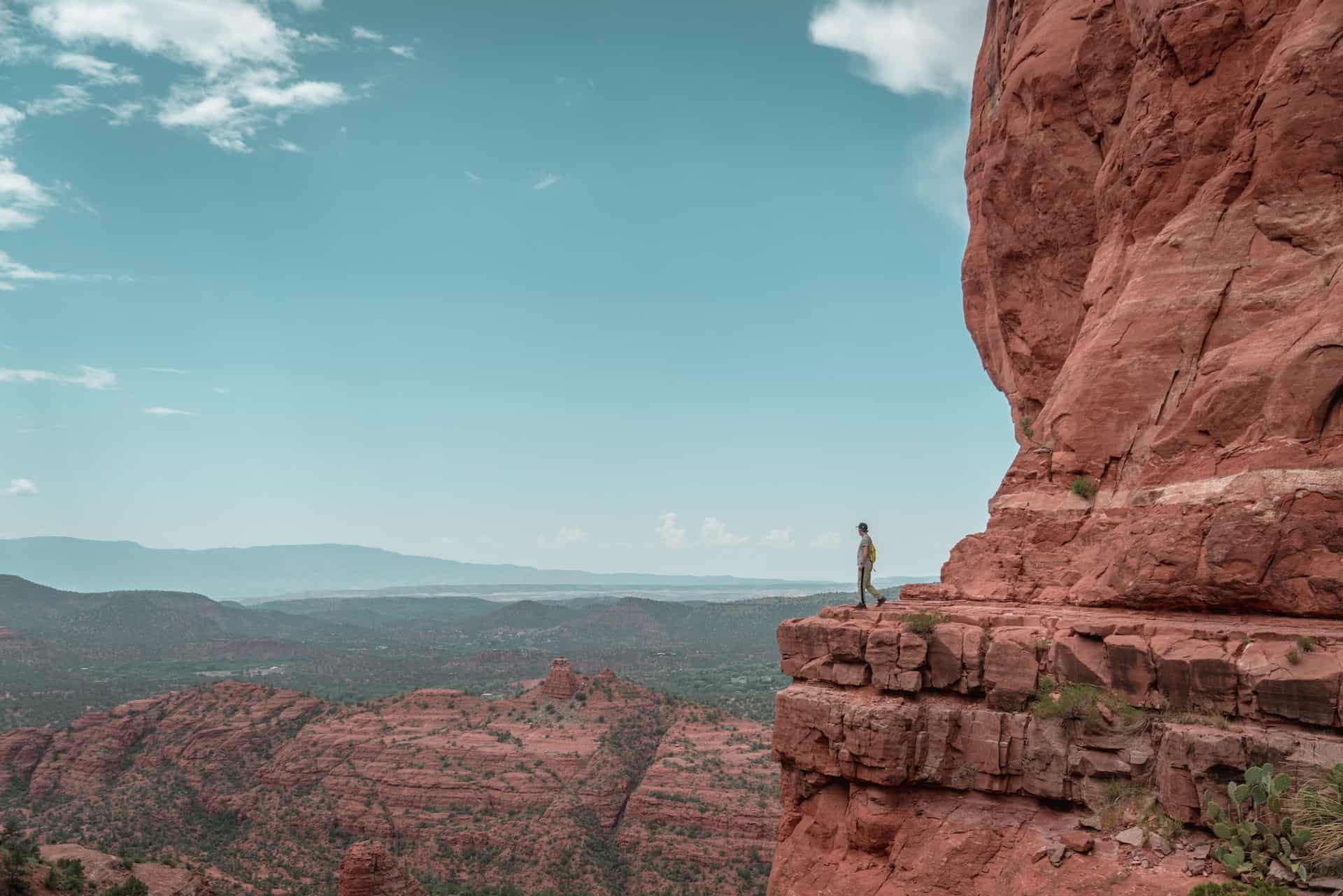 Going Down
When we reunited, Kel began down the steep section of Cathedral Rock Trail. The best way down it is to use both hands to steady yourself.
To my great surprise, it felt easier to move down this section than to climb up it.
I didn't have the same pounding heart and wasn't as dependent on finding suitable handholds as before. And, worst case, I knew I could always slide down on my butt.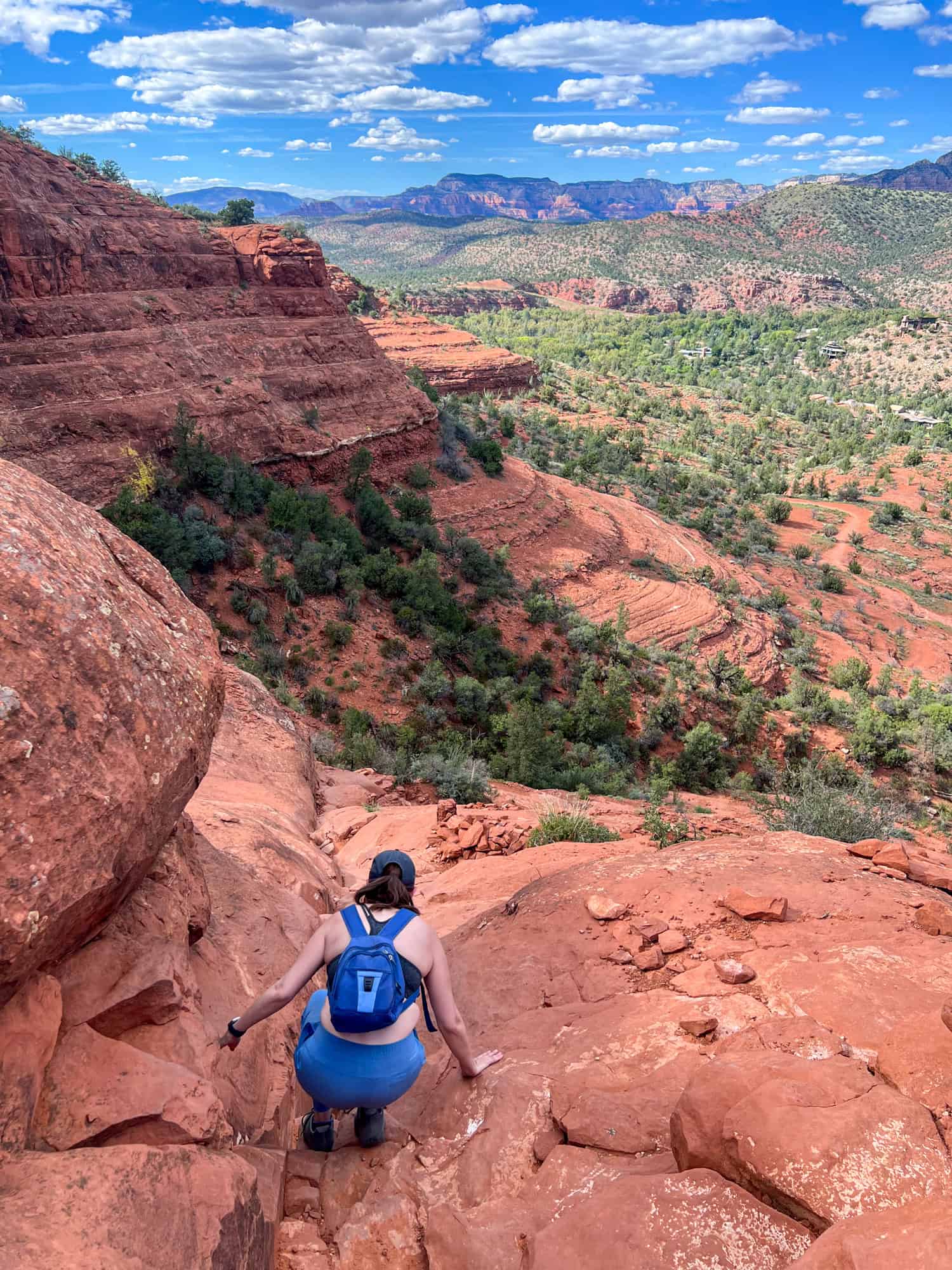 When we reached the bottom of the steepest section, we paused for a photo. I was feeling grateful to have made it back down without incident.
Here, we ran into a pair of hikers with a small dog who said they'd need to go back and drop their dog off before returning to do the climb.
As we hiked back to the parking area to catch the Sedona Shuttle, we passed more hikers starting out.
Some asked about what lay ahead, and we did our best to encourage them as others had done for us.
Related: Hot Springs Canyon Trail in Big Bend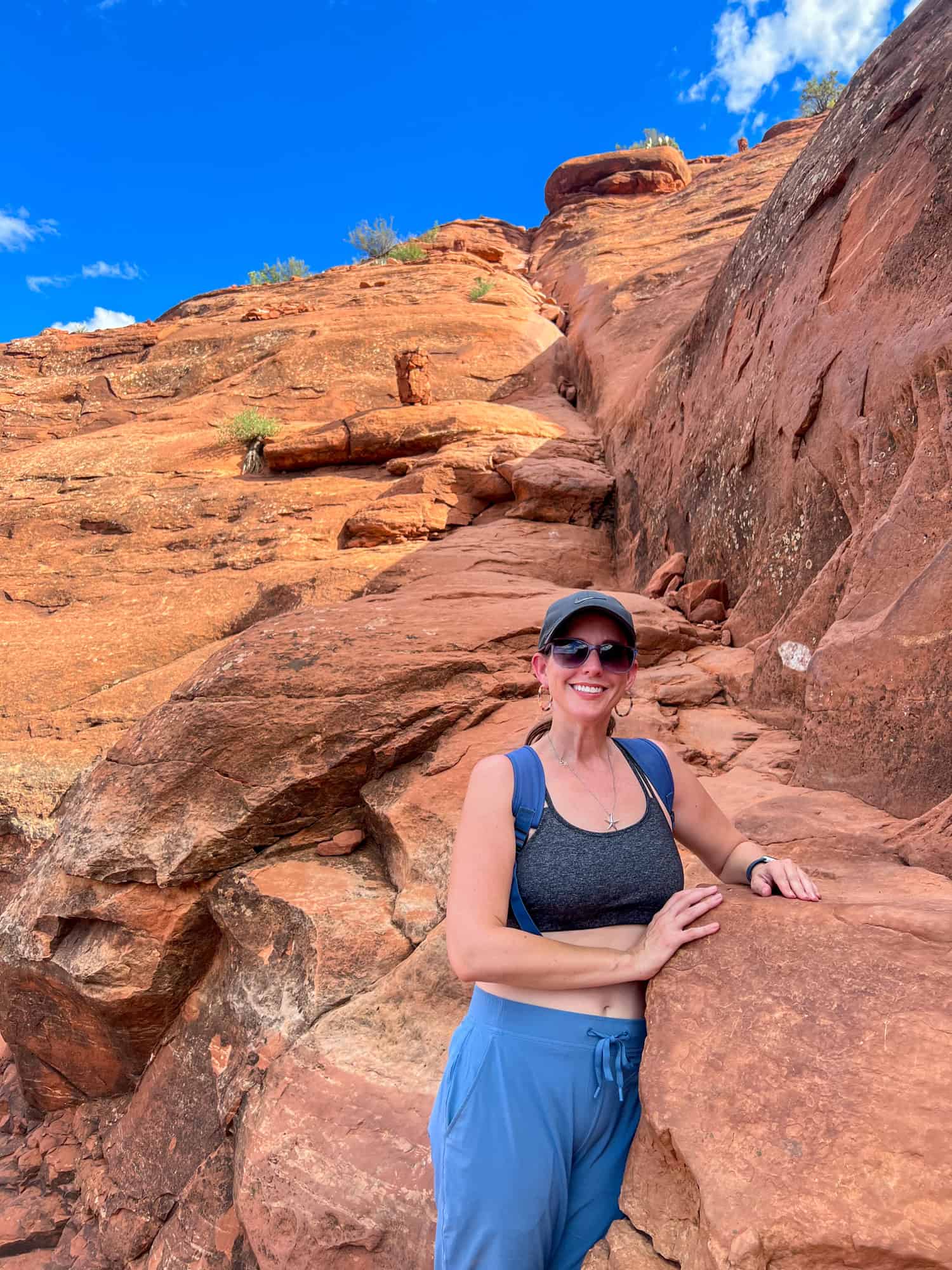 Final Thoughts on Cathedral Rock
I learn something new from every hike, especially the ones that don't go as planned, whether because of the weather, my anxieties, or some other factor.
My key takeaway for Cathedral Rock in Sedona is to bring proper hiking boots. They don't have to provide full ankle support, but they should have a grippy tread.
Since some scrambling is required for this moderate hike, it's better to bring a small backpack for water, snacks, a camera, etc.
I had one but left it in our rental car, thinking I could carry the water bottle as it was a short trail.
Wear gloves to protect from rock faces that've heated up in the sun; they also provide extra grip when moving up/down steep sections.
Lastly, bring an LED headlamp if you're bold enough to take in the beautiful views of Cathedral Rock at sunset. You don't want to be scrambling down the trail in the dark.
Dave is the Founder and Editor in Chief of Go Backpacking and Feastio. He's been to 66 countries and lived in Colombia and Peru. Read the full story of how he became a travel blogger.
Planning a trip? Go Backpacking recommends: