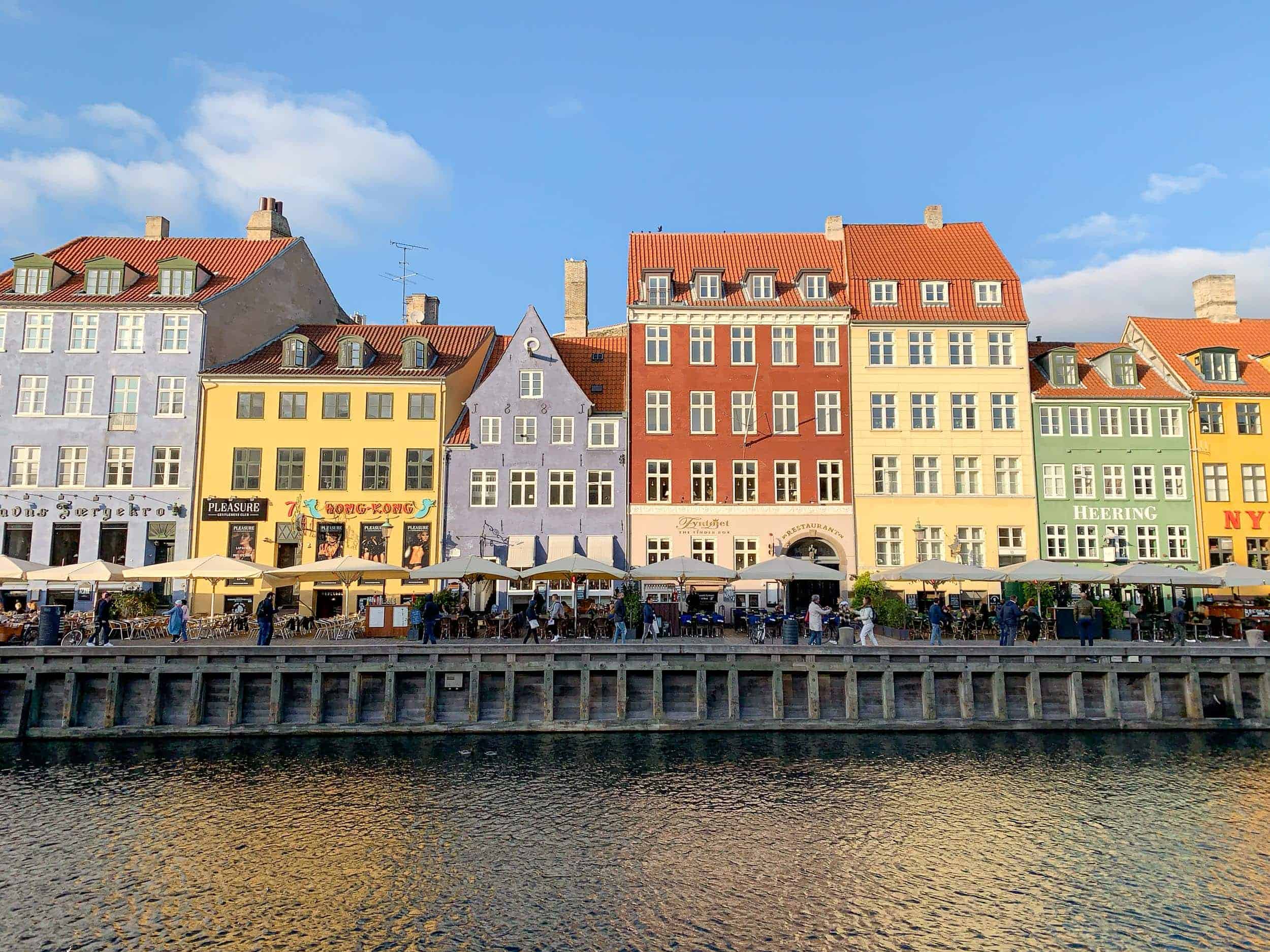 The best things to do in Copenhagen include visiting royal palaces, castles, world-class museums, and colorful neighborhoods.
I was blown away by just how much there is to see and do in the Danish capital. Thankfully, it's easy to get around the city on foot.
I also used the occasional Uber at night, though, to my surprise, rides in Copenhagen were even more expensive than Stockholm.
Copenhagen is famous for its bicycle culture, but I felt a little intimidated seeing how locals effortlessly cruise up and down the bike lanes, especially during rush hour.
The city also has an extensive underground metro system I all but forgot about. Oops. Next time.
I included two places on this list, outside Copenhagen city limits but easily accessible by train, are Kronborg Castle and the Louisiana Museum of Art.
Everything else is within the city. I've included the current adult cost of admission, which is subject to change. Let's jump in!
Canal Tour to Get Your Bearings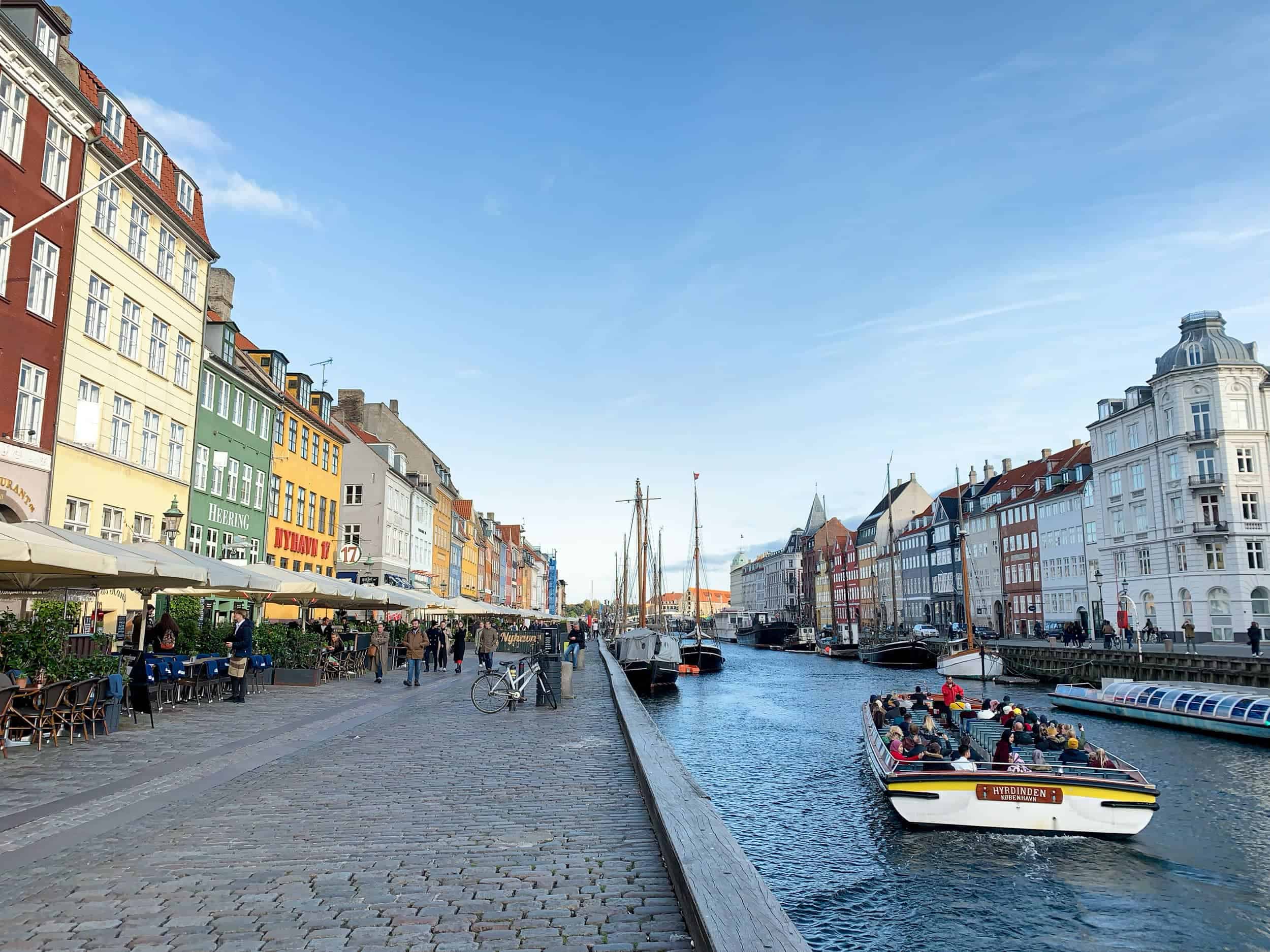 One of the easiest ways to see Copenhagen is to join a boat tour.
These canal tours are cheap, effortless, and offer unobstructed views of some of the city's most exemplary modern architecture, including The Playhouse (theater), Opera House, and Royal Library.
Additional points of interest include the Peder Skram Frigate (a naval ship and museum) and The Little Mermaid statue.
Tours depart hourly from the canal in front of Christiansborg Palace and Nyhavn and last about 75 minutes.
If you're taking the tour during fall or winter, wear warm clothes as it'll feel colder once you're moving, especially if it's a windy day.
Royal Palaces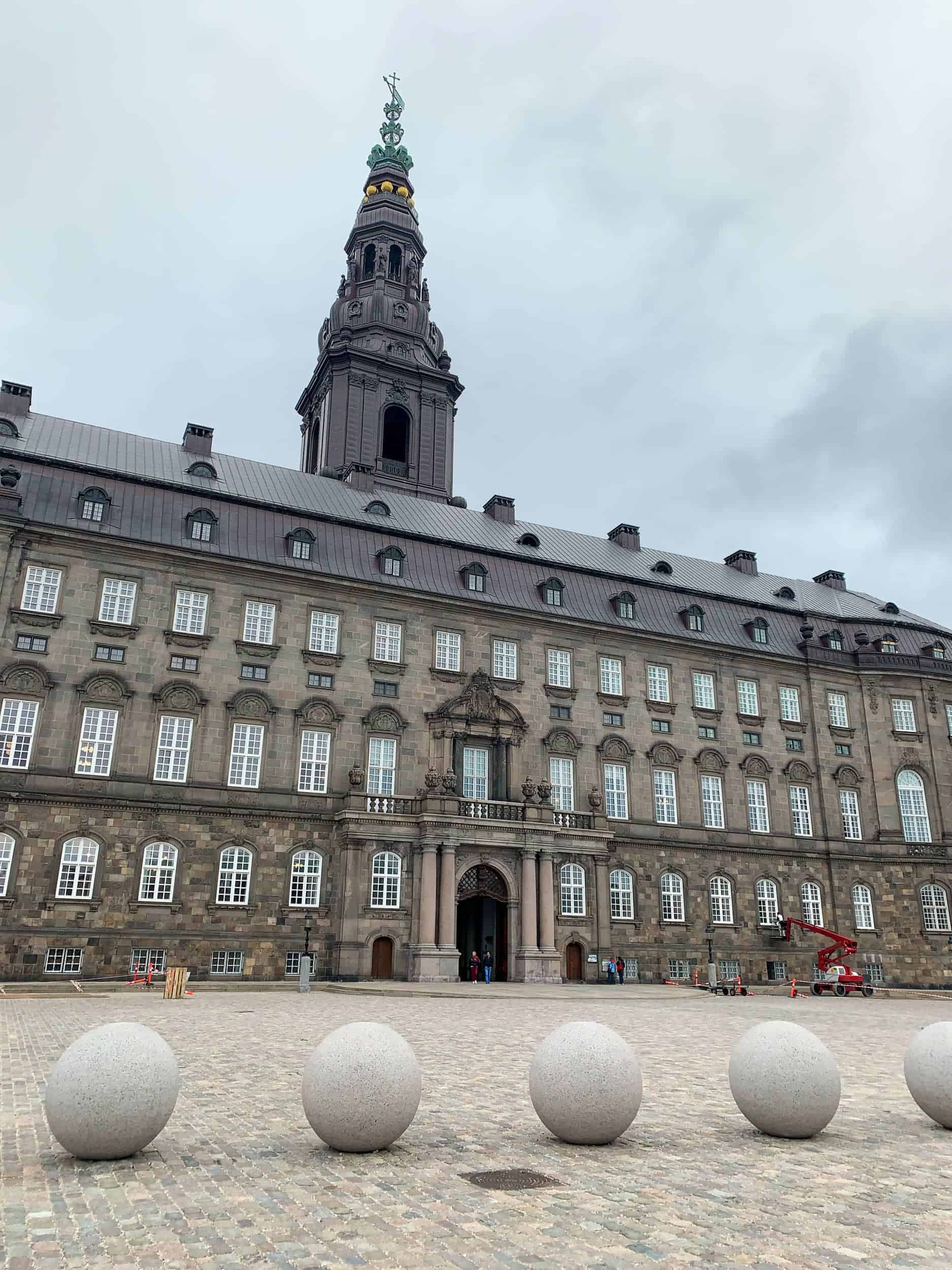 Christiansborg Palace
The immense Christiansborg Palace occupies a healthy chunk of Slotsholmen island in the center of Copenhagen.
This plot of land has been the epicenter of Danish political and royal power since Absalon's Castle was built here in 1167.
Over the centuries, a succession of castles and palaces have been constructed. The current building was completed in 1928.
Christiansborg Palace is the home to the Danish Parliament, Prime Minister's office, and Supreme Court. Plus, it's still used for official royal functions.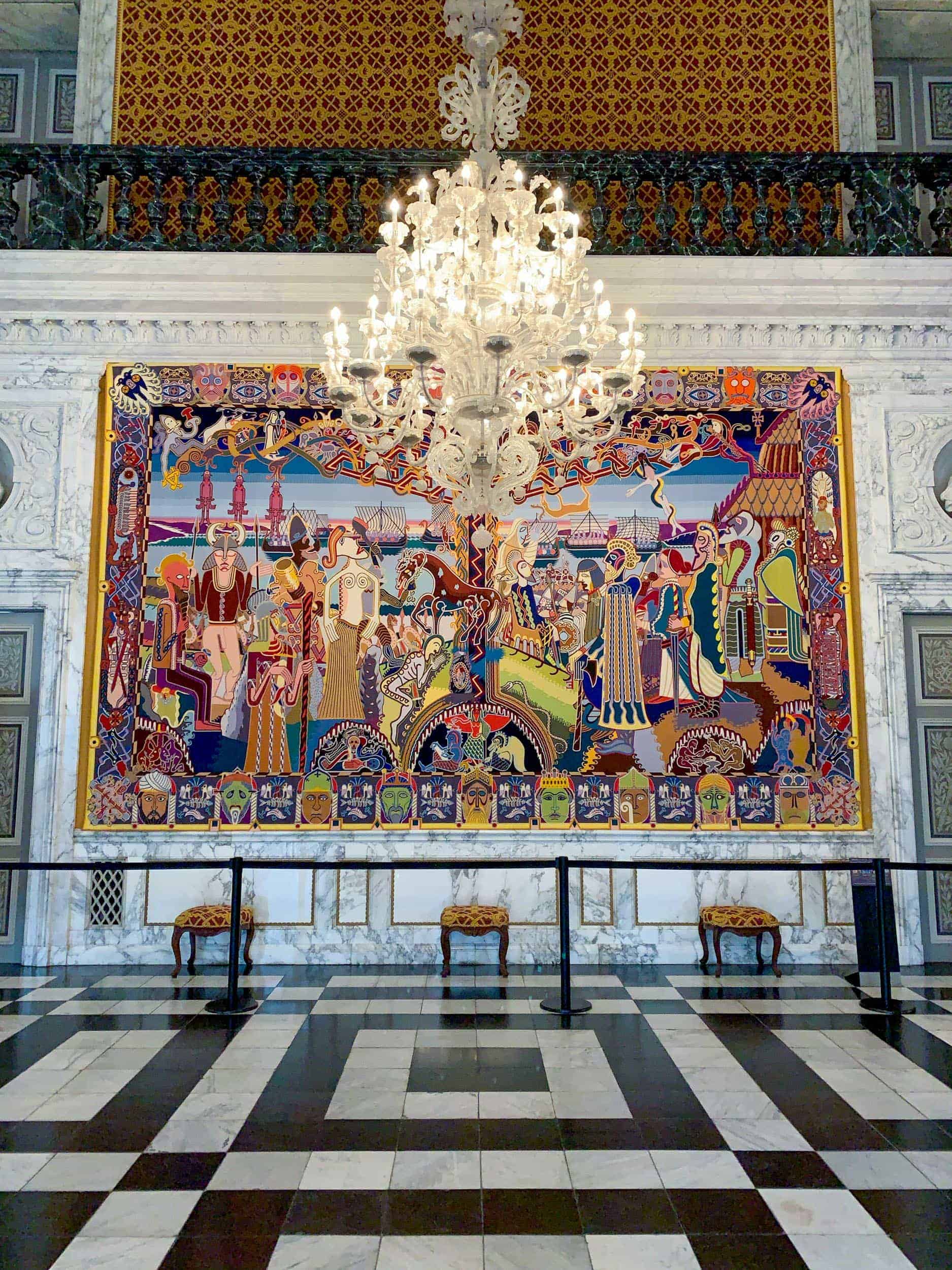 Royal Reception Rooms (9 am – 5 pm, daily)
Start with the Royal Reception Rooms, where you can get a sense of the luxe interiors.
Highlights include the Throne Room and The Great Hall, which is home to 17 tapestries documenting the history of Denmark. They were given as a gift to the Queen for her 50th birthday.
The Royal Stables (1:30-4 pm, daily)
The Royal Stables are home to the horses used for ceremonial purposes by the Danish Royal Family. Old carriages are also on display.
If you're lucky, you'll get to see a few of the horses cantering around the Show Grounds behind the palace.
The Royal Kitchen
The Royal Kitchen was completed in 1928 as part of the third iteration of Christiansborg Palace.
Original pots and pans are on display. However, the kitchen is no longer used for cooking.
The Ruins
Go under the palace to see an archaeological exhibit exposing elements of the previous buildings that once stood here.
The Tower
During limited hours, it's possible to take an elevator up the tower for scenic 360-degree views of Copenhagen. Don't miss this!
Adult admission: $24 for a combined ticket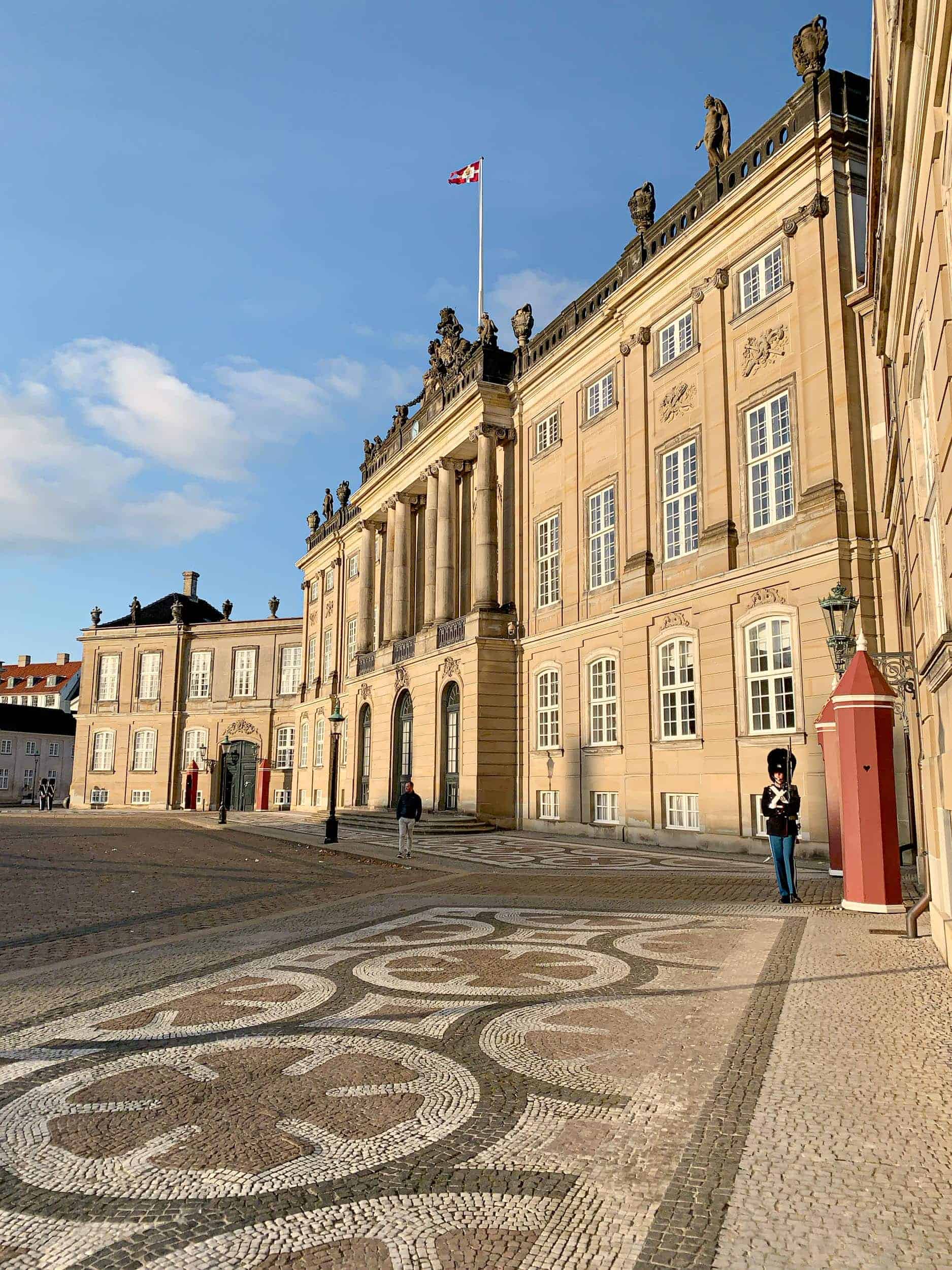 Amalienborg Palace
The 18th century Amalienborg Palace is the Queen's winter residence.
The complex comprises four individual palace buildings, all of which surround a large square with a statue of King Frederik V at the center.
Only one of the four palaces is open to the public. Christian VIII's Palace is home to the Amalienborg Museum, which documents 150 years of royal history.
The Royal Guards change every two hours.
Adult admission: $14
Frederiksberg Palace
Built from 1699-1735, Frederiksberg Palace served as the summer home of the Danish royal family.
Located in western Copenhagen, it features extensive gardens and is adjacent to the Copenhagen Zoo.
Guided tours are offered on the last Saturday of every month.
Castles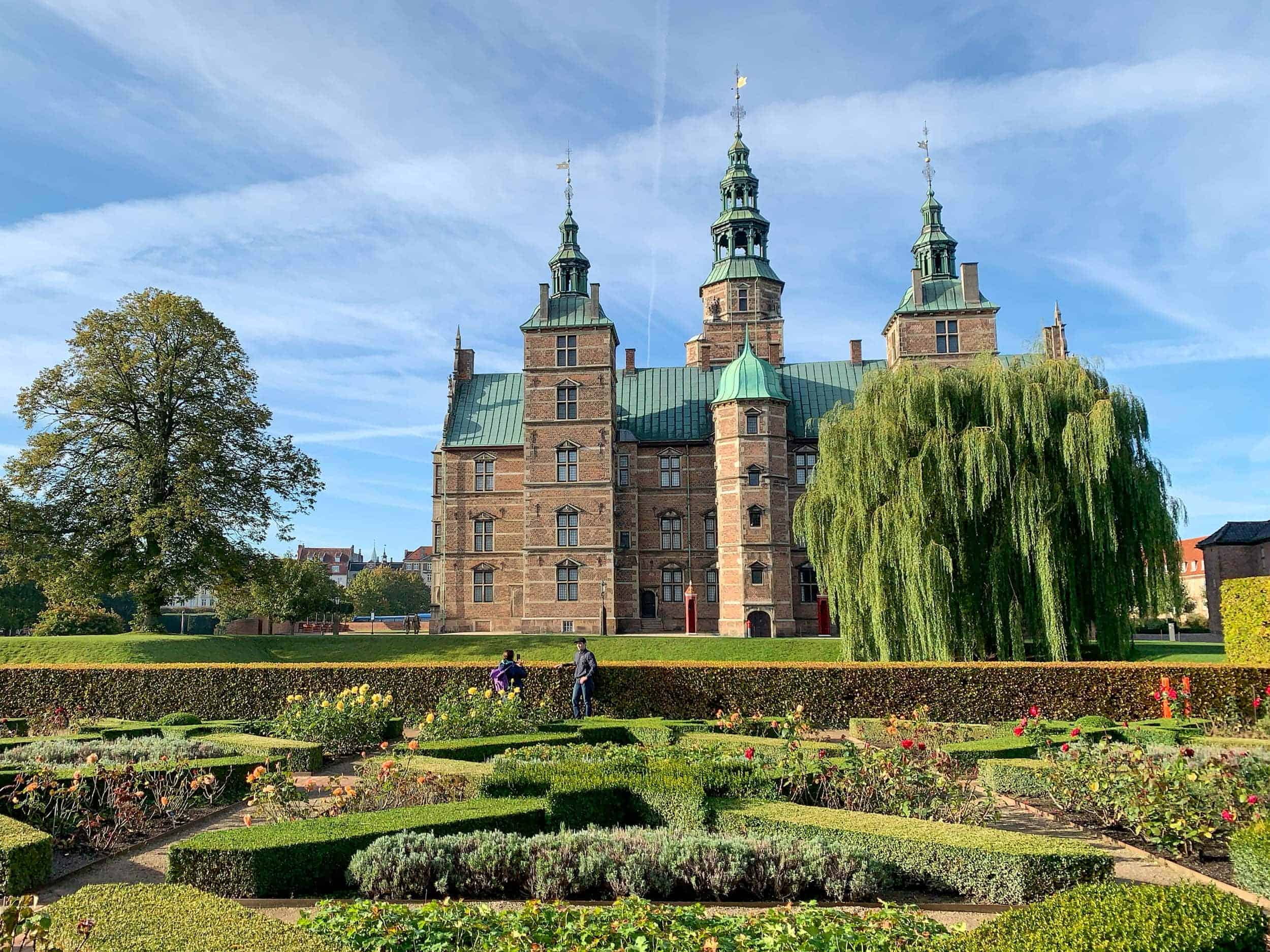 Rosenborg Castle
Centrally-located Rosenborg Castle is a 400-year old Reinassance castle built by Christian IV.
It's set within the King's Garden, Denmark's oldest royal garden.
The castle's interior is ornately designed and full of original furniture, art, and incredibly intricate clocks.
Highlights include the Throne Room, royal toilet (incredible tilework), ivory carvings, and royal jewels.
Adult admission: $17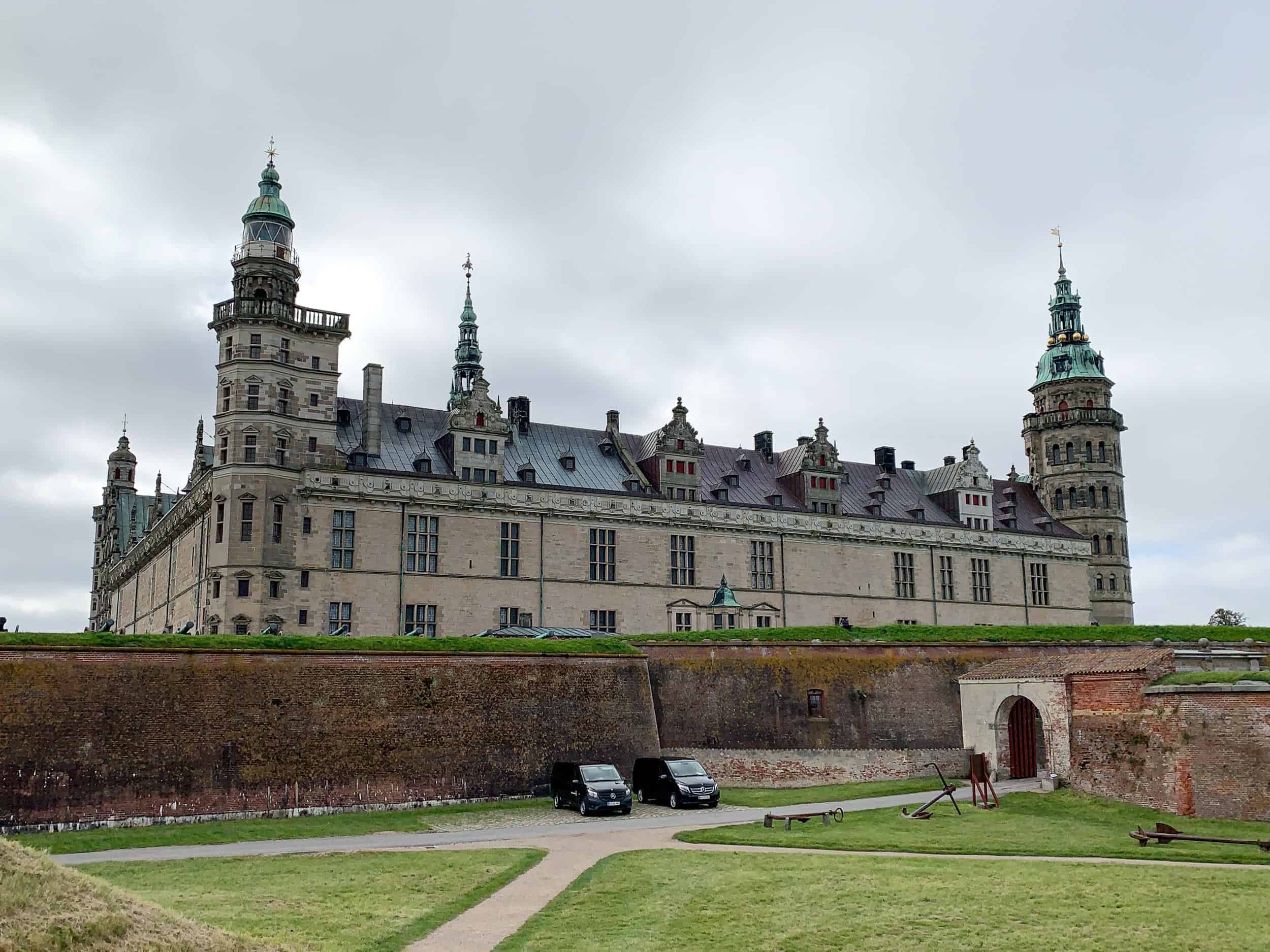 Kronborg Castle (Hamlet's Castle)
An hour north of Copenhagen by train, on the eastern coast of Denmark, lies 16th century Kronborg Castle.
Kronborg is also known as Hamlet's castle, as it was here that Shakespeare set his famous play.
The earliest live performances of Hamlet held at the castle date back to 1816. Kronborg is a UNESCO World Heritage Site.
I recommend pairing a visit to Kronborg with a stop at the Louisiana Museum of Art on the same train line.
Adult admission: $14, except June to August when it's $21
Museums in Copenhagen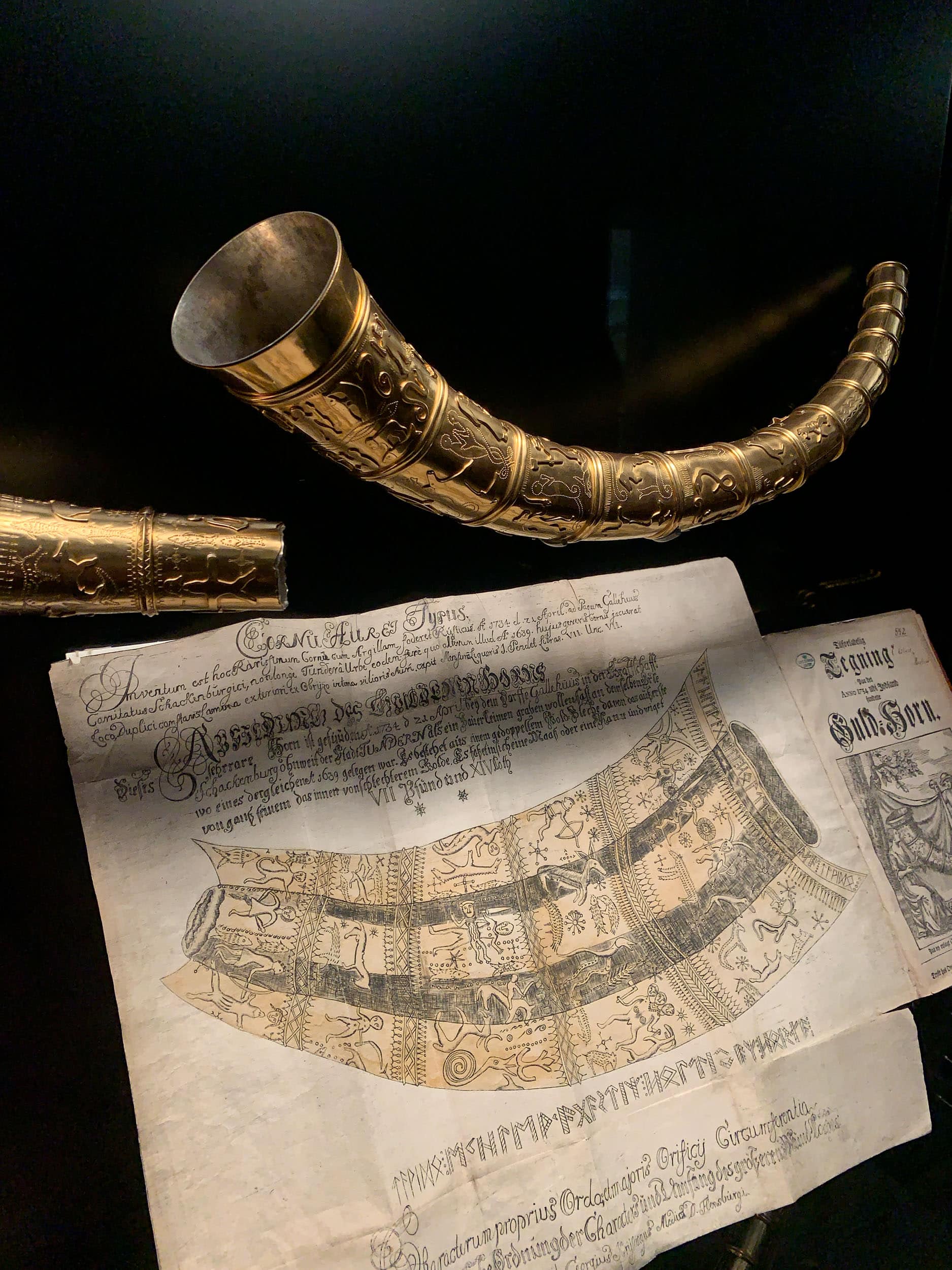 National Museum of Denmark
The National Museum of Denmark is centrally located across the canal from Christiansborg Palace.
The museum is housed in a former royal palace and covers 14,000 years of Danish history.
Due to its size, I relied on the museum brochure to see the most important artifacts, such as the Golden Horns of Gallehus (pictured above).
The original horns dated back to the 5th century. However, they were stolen and melted down in 1802. The horns on display are replicas.
Adult admission: $14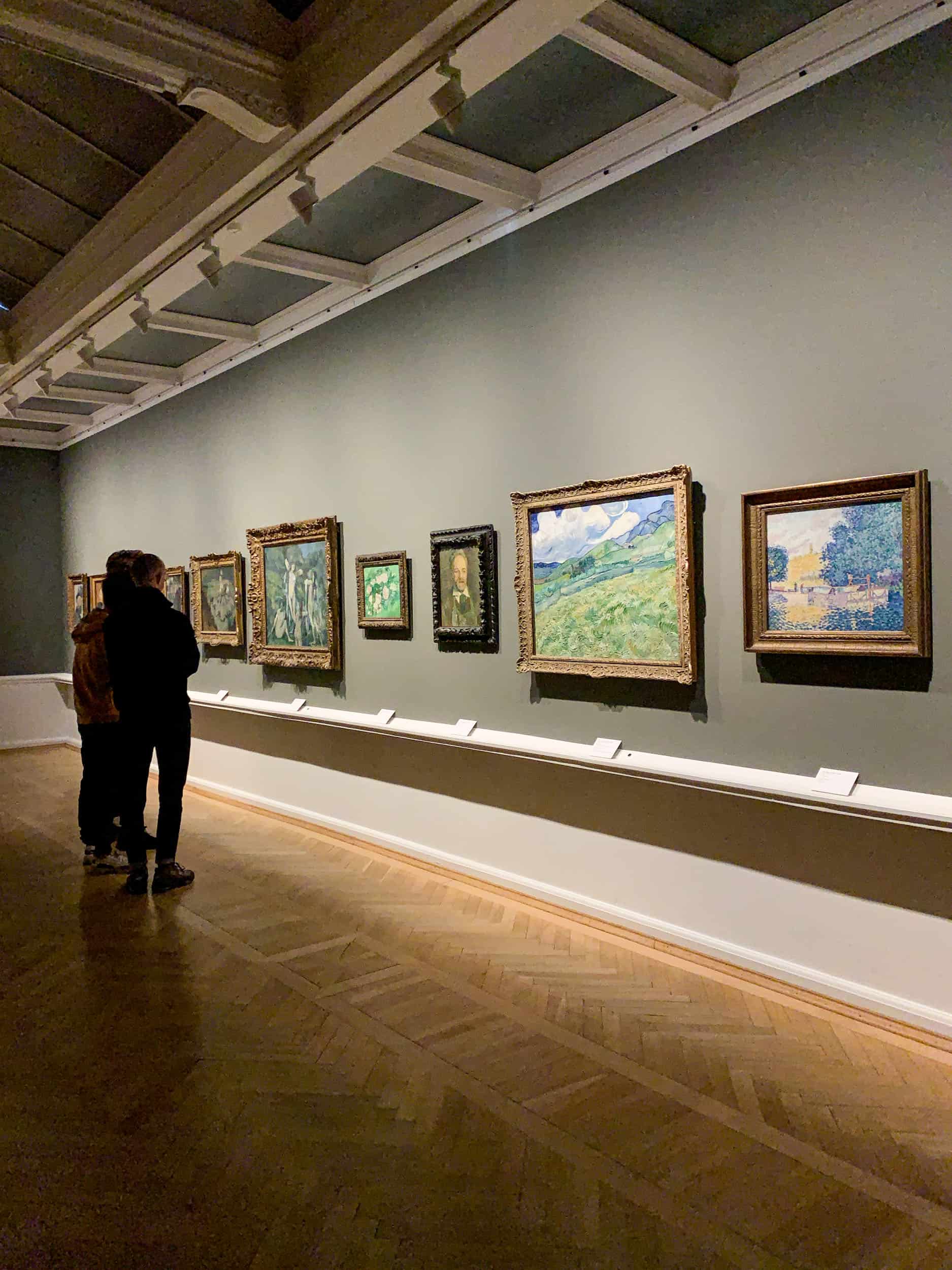 NY Carlsberg Glyptotek
The Glyptotek is an art museum founded in the late 19th century by Carl Jacobsen, son of the founder of Carlsberg Brewery.
The museum houses over 10,000 artifacts and works of art, covering 6,000 years, from Egyptian mummies to French Masterpieces by Claude Monet, Auguste Renoir, and Vincent Van Gogh.
It was primarily the French impressionist and post-impressionist works that drew me to the museum.
Adult admission: $17, Tuesdays are free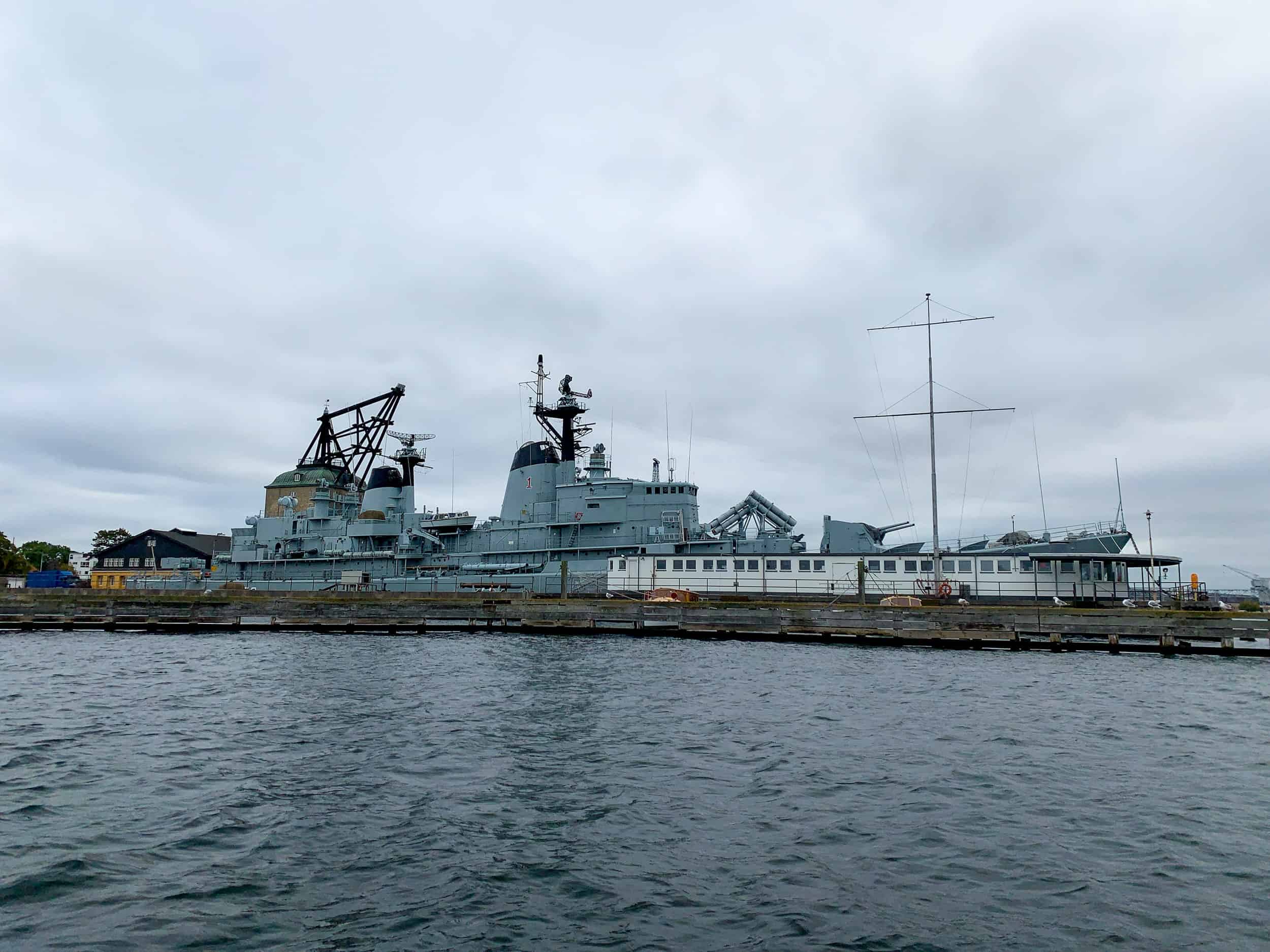 Peder Skram Frigate
During my canal tour, we passed by the Peder Skram frigate built for the Royal Danish Navy at the height of the Cold War in the mid-1960s.
The frigate was decommissioned in 1990 and today serves as a museum.
Ever since visiting the USS Midway aircraft carrier and a Russian submarine in San Diego, I've become a fan of naval museums.
If I had more time, I would've loved to have toured the Peder Skram Frigate.
Adult admission: $13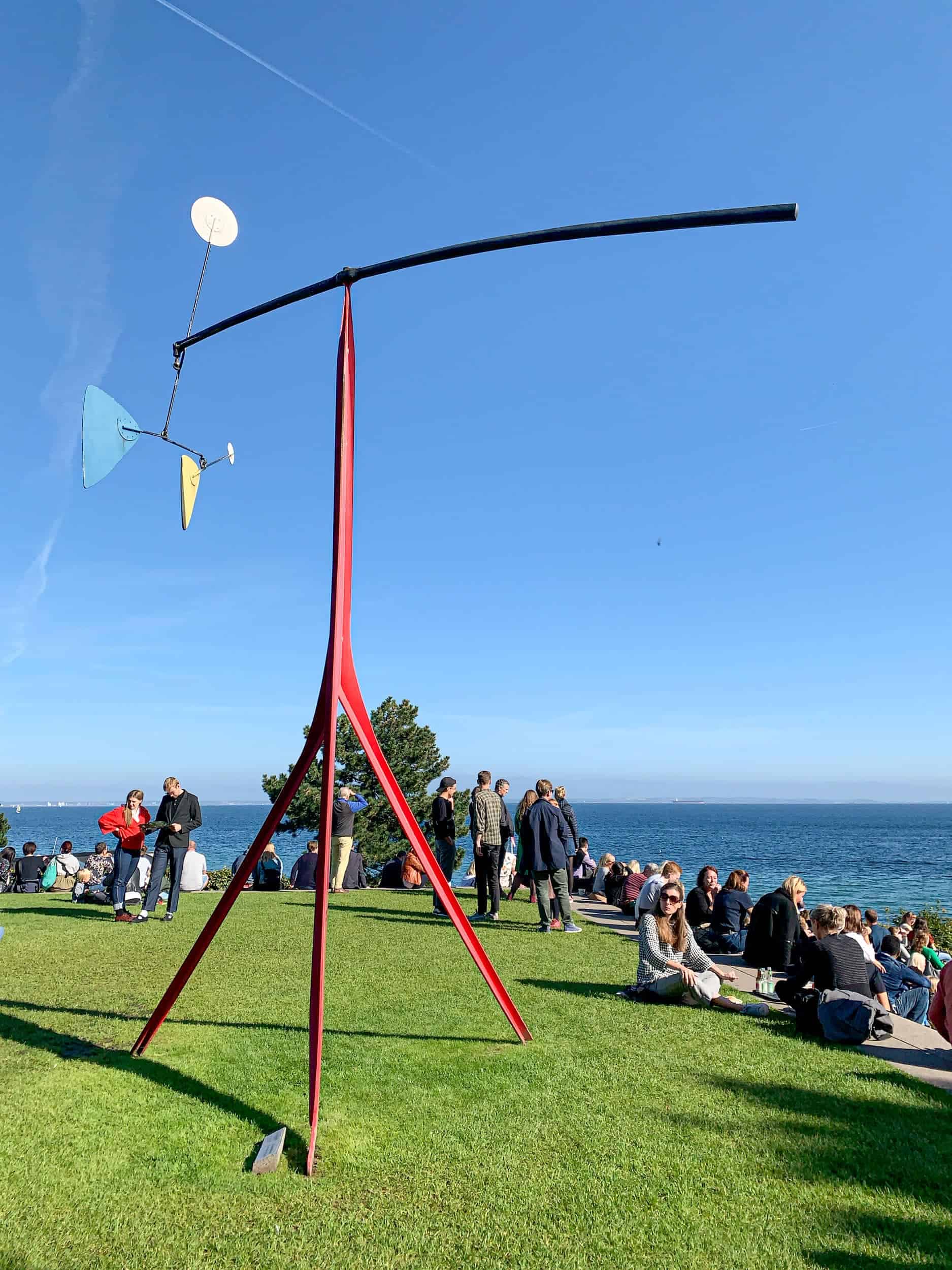 Louisiana Museum of Art
The Louisiana Museum of Art is a seaside modern art museum recommended to me by someone I met on my trip to Swedish Lapland.
I was thankful for the tip, as it was a scenic setting to experience art on a sunny autumn afternoon in Denmark.
Located 25 miles north of Copenhagen, it takes about 45-50 minutes to arrive by train and another 10-15 minutes to walk from the station to the museum (taxis are pricey but available).
I chose to visit Kronborg Castle first and stopped by Louisiana on the way back to the city.
I began by walking through the sculpture garden. People were sitting and lying down on the grass, enjoying the beautiful weather.
A cafe perched on a hill overlooks the water, offering an idyllic place to eat lunch or sip a coffee.
Once I'd perused the garden, I stepped inside the museum and got lost in a string of galleries featuring selections from Louisiana's 3,500-piece permanent collection.
The museum's architecture is fascinating, too. There was an effort to incorporate the buildings into the natural surroundings.
Plenty of glass windows and walls ensure you never forget where you were.
Adult admission: $19
Parks and Cemeteries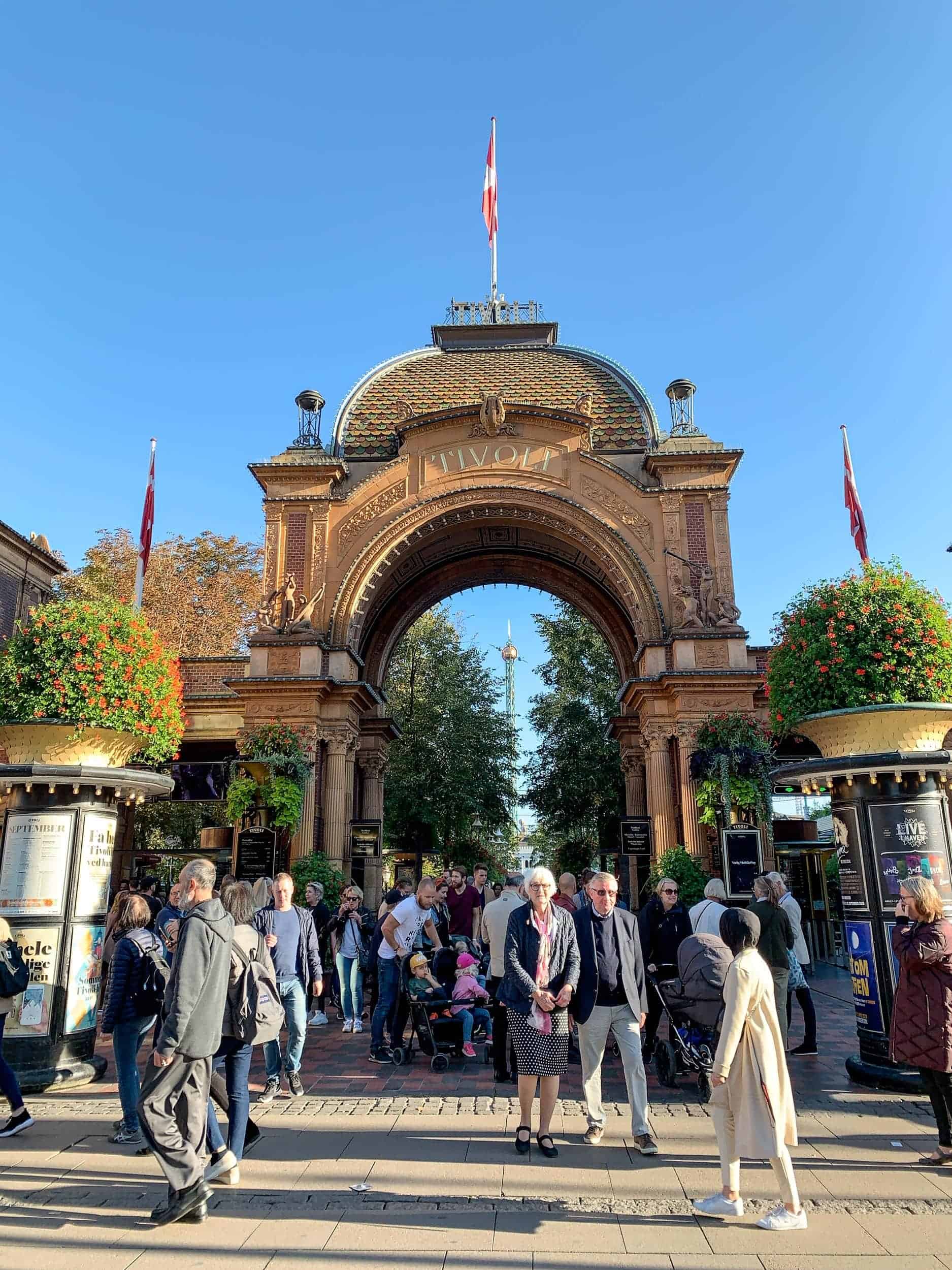 Tivoli Gardens
Opened on August 15, 1843, Tivoli Gardens is the world's second-oldest amusement park.
The park occupies several square blocks adjacent to the central train station and receives over four million visitors annually.
Tivoli is open for three seasons: winter, summer, and Halloween, plus six weeks leading up to Christmas. It's best to check the website for specifics.
I happened to visit on the last day of the summer season and walked around the grounds.
There are stages for musical performances, four roller coasters, and plenty of rides for kids. Tons of restaurants and souvenir shops fill in the gaps.
It's a little expensive if all you want to do is take a look around out of curiosity as I did.
Adult admission: $20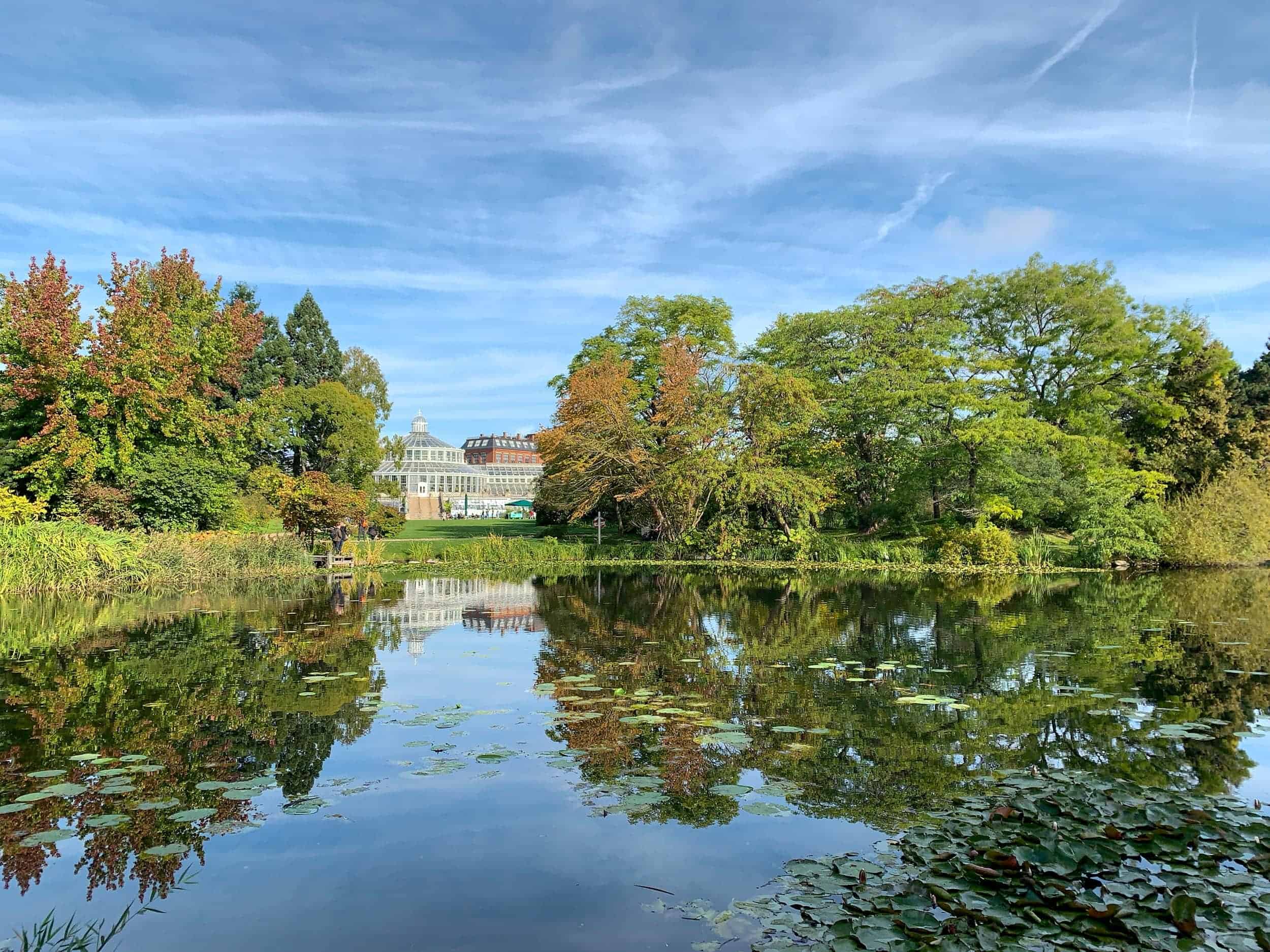 Botanical Gardens
Fancy a free and leisurely walk through nature?
Check out Copenhagen's Botanical Gardens, which are centrally located on 25 acres in the heart of the city.
Founded in 1600 and moved twice before settling at its current location in 1870, the Botanical Gardens are part of the Natural History Museum of Denmark at the University of Copenhagen.
The gardens feature 13,000 species and are notable for their use of glasshouses, the largest of which is the Palm House at 52-feet (16 meters) tall. It was built in 1874.
A ticket to the Palm House includes a walk through the Butterfly House, a highlight of my visit.
Adult admission: free to walk the grounds, the Palm House costs $9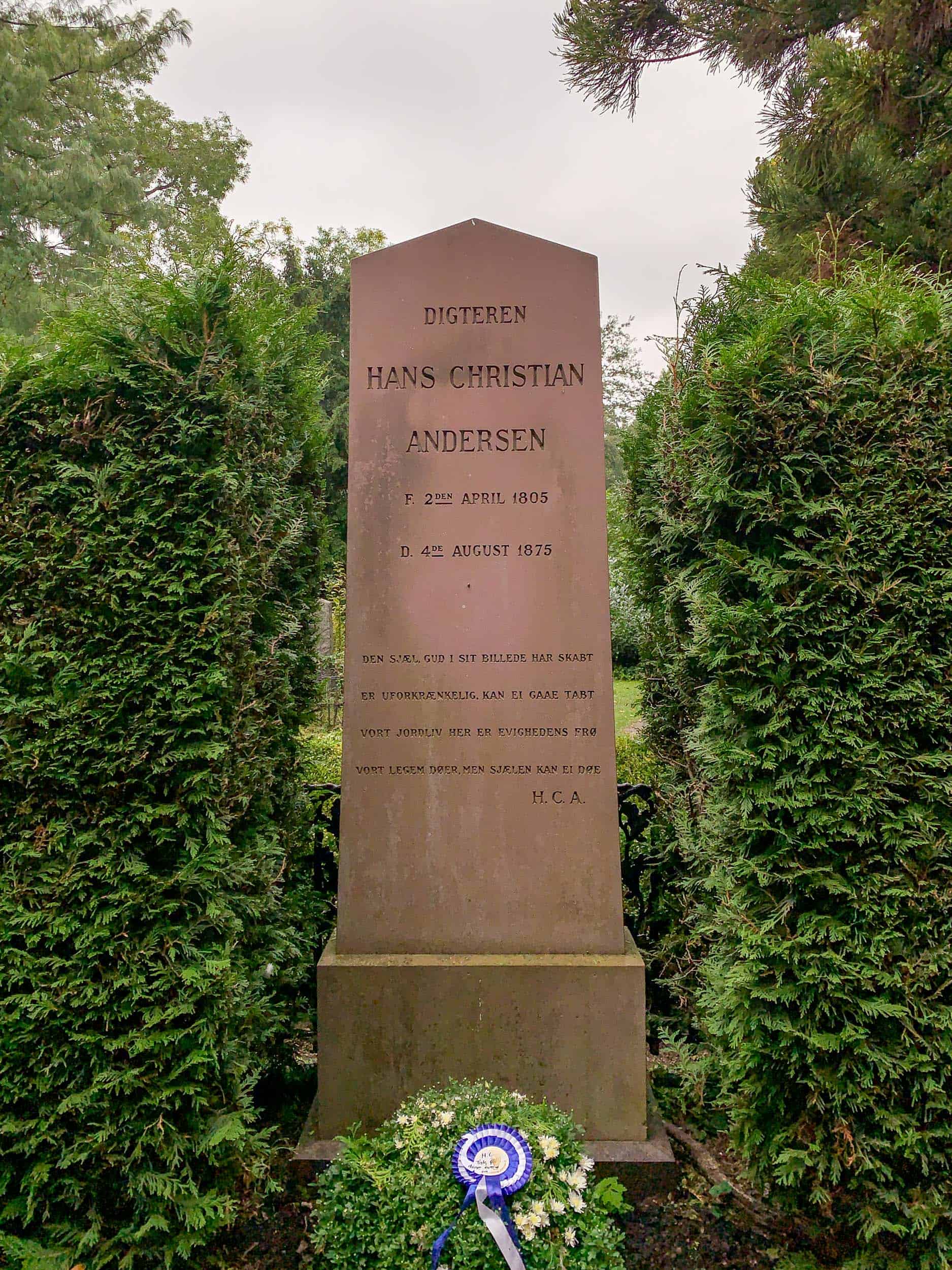 Hans Christian Andersen's grave
Established in 1760, the Assistens Cemetery is the final resting place of the famed Danish fairy tale writer Hans Christian Andersen (1805-1875).
Today, HC Andersen is best known for The Little Mermaid, The Ugly Duckling, and The Emperor's New Clothes.
Another notable Dane buried in Assistens is Søren Kierkegaard (1813-1855), considered the first existentialist philosopher.
I also visited his grave, though I'm not familiar with his work, at least not directly.
It's free to visit the cemetery, and maps on the grounds make it easy to locate HC Andersen's and Kierkegaard's graves. They're also marked on Google Maps.
Cool Neighborhoods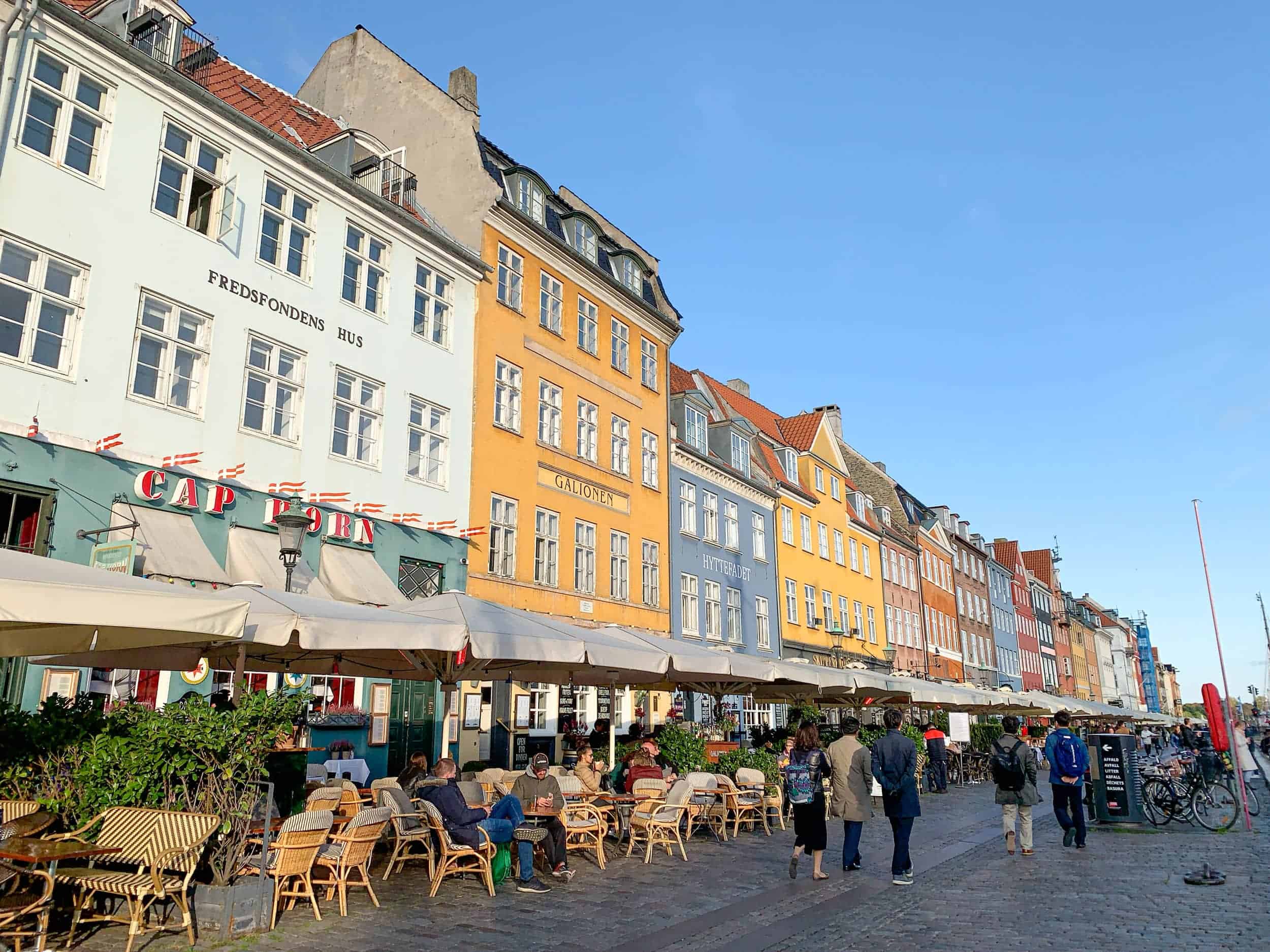 Nyhavn
Nyhavn is a canal and entertainment district in central Copenhagen featuring picturesque 17th and 18th-century townhouses.
I first entered the canal by boat on my tour and returned the next day when the weather was better to take photos at sunset.
You can make a loop around the canal in about 20 minutes.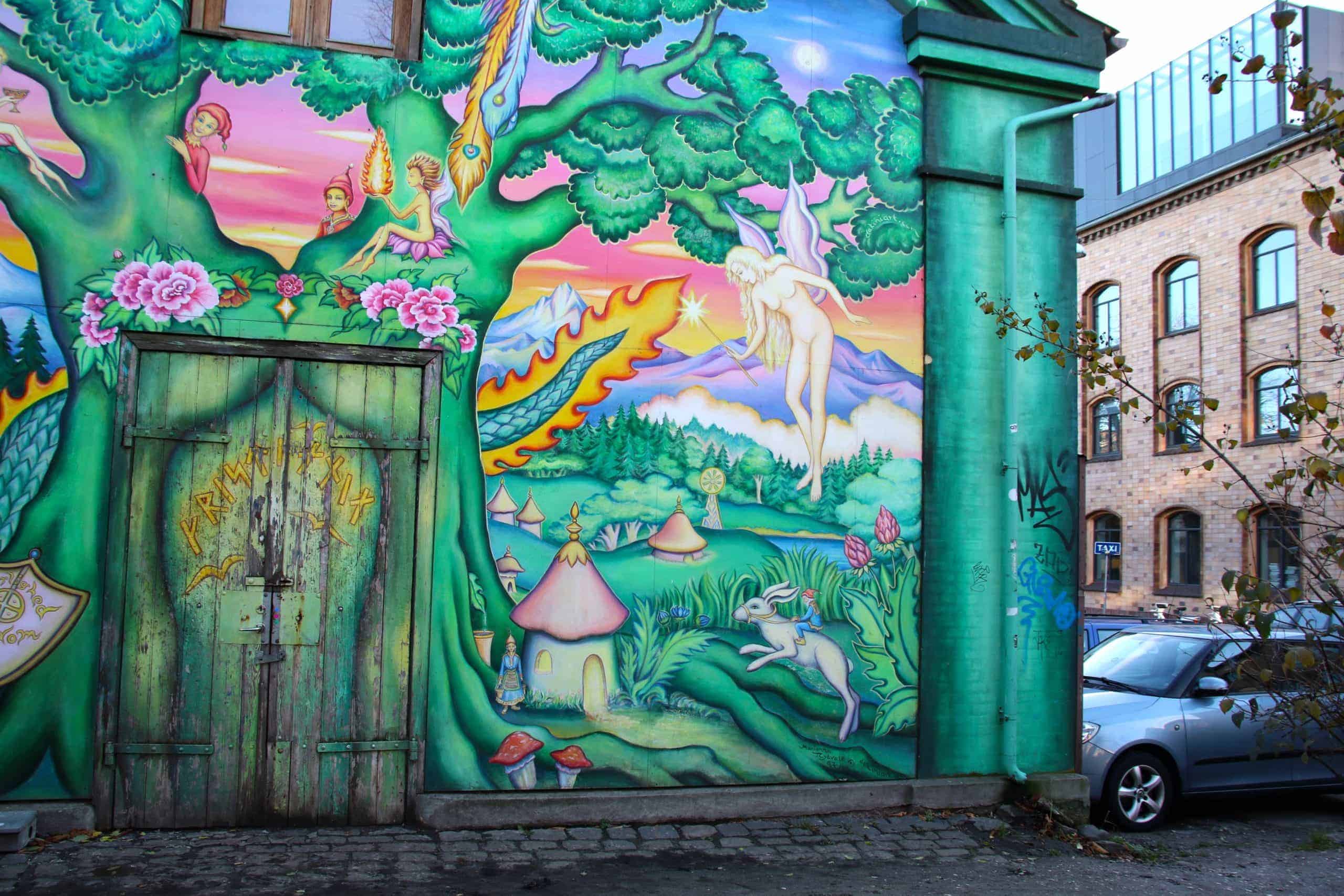 Freetown Christiania
All I knew of Copenhagen for a long time was that it was home to Christiana, a 17-acre self-governing commune established in 1971 in a former military area southeast of the city center.
The Danish authorities allowed the residents of Christiana to co-exist despite the commune's open sales of marijuana.
Over the years, the drug trade has resulted in several violent incidents, the latest in 2016, according to the Wikipedia page.
It sounds like an interesting place for a walk; however, I ran out of time in Copenhagen before visiting.
Additional Points of Interest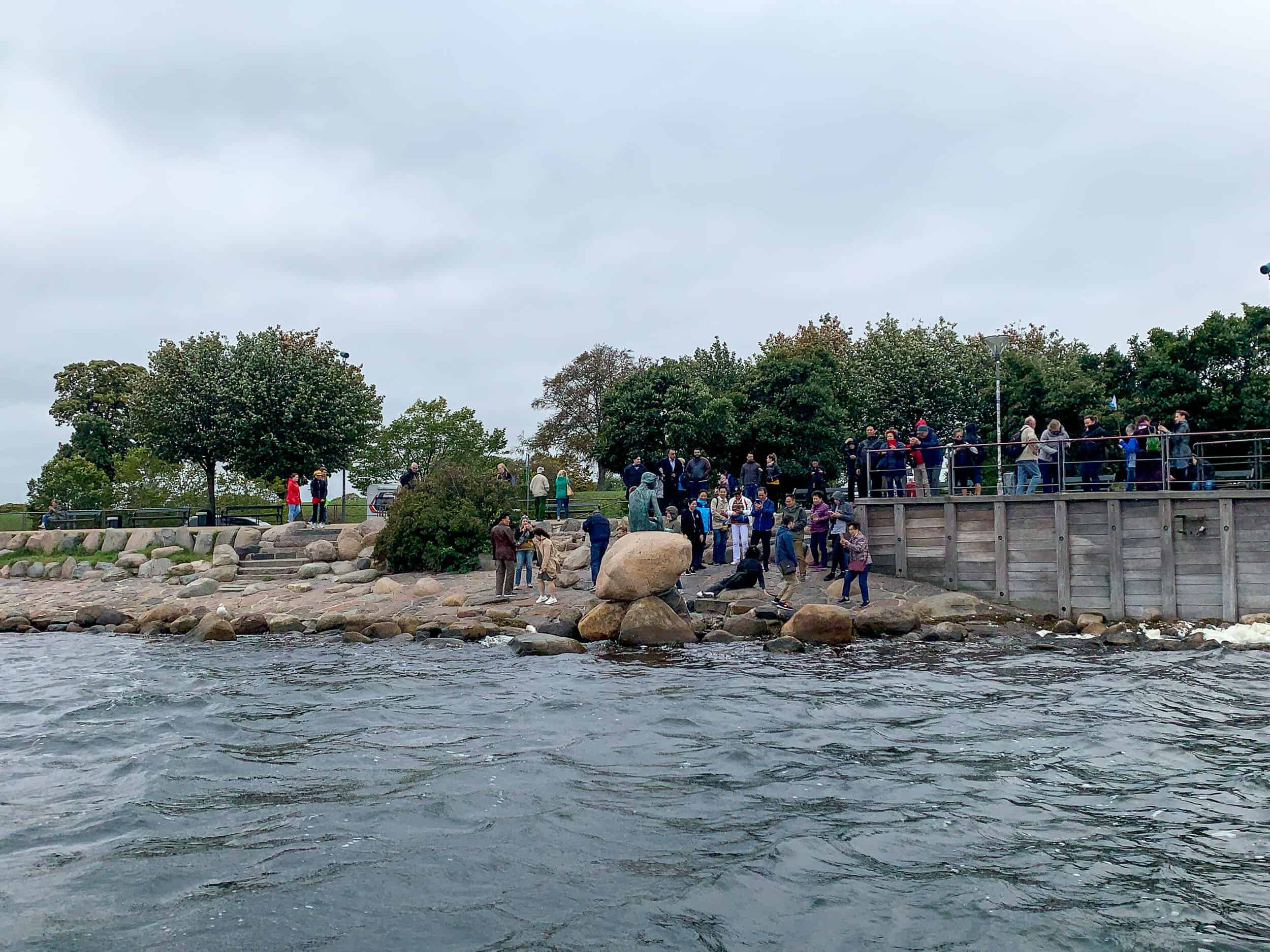 The Little Mermaid Statue
A bronze statue of The Little Mermaid by Edvard Eriksen is a mecca for fans of the HC Andersen fairy tale further popularized by Disney.
I saw the back of the sculpture during my canal tour and deemed that sufficient.
Those wanting to see it from the front can get there on foot, by bicycle, or as part of a bus tour. Be prepared for a crowd.
The statue's location is marked on Google Maps.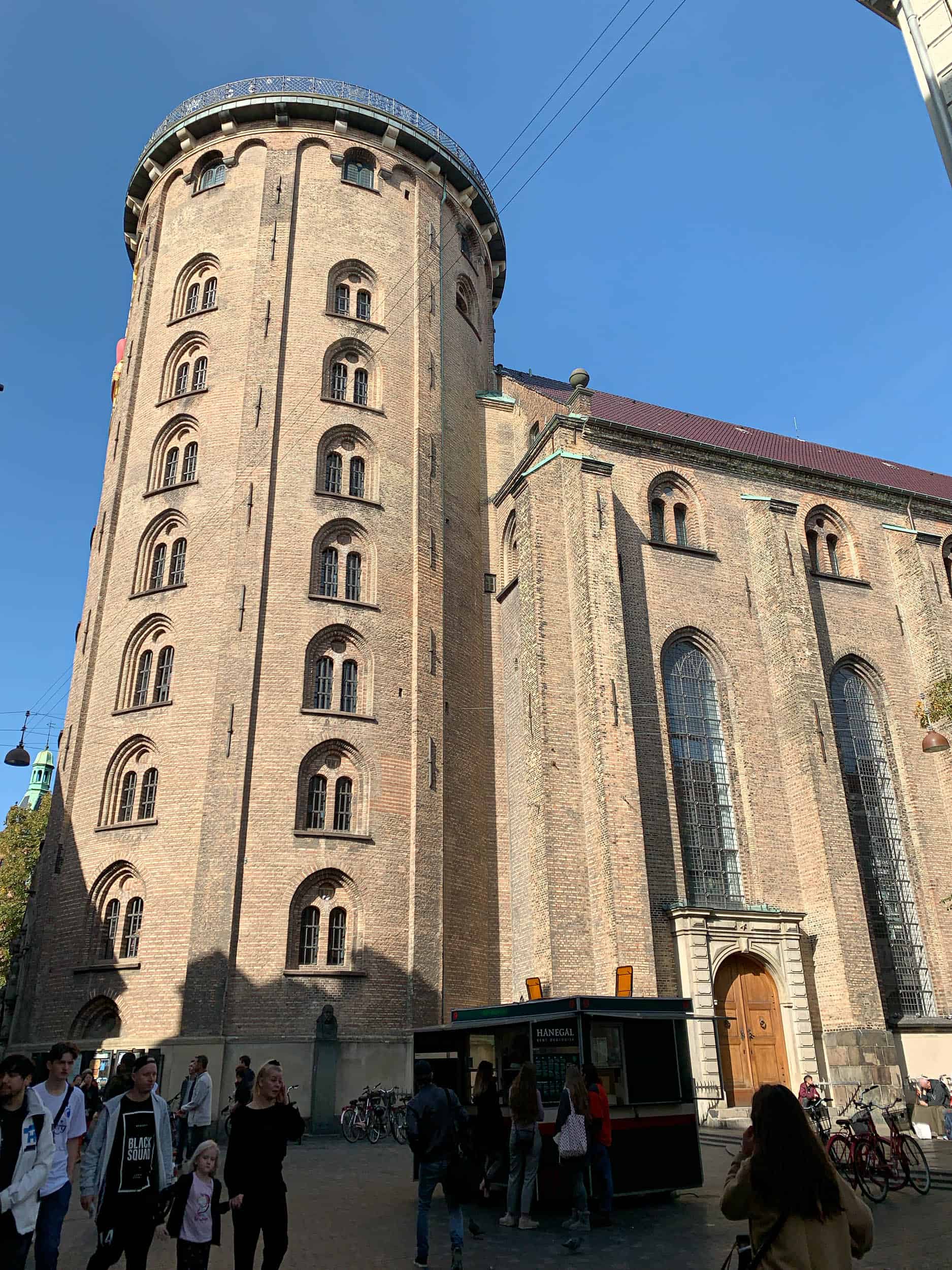 The Round Tower
Dating back to 1637, The Round Tower was built by King Christian IV to house a church on the ground floor, a church library above it, and an observatory on the top floor.
Instead of a staircase, The Round Tower features a spiral ramp that winds its way up the structure. The walk-up includes seven full turns.
The walk isn't too strenuous and is worthwhile for the experience itself, as well as the city views from the top.
Adult admission: $3.75
Foodie Favorites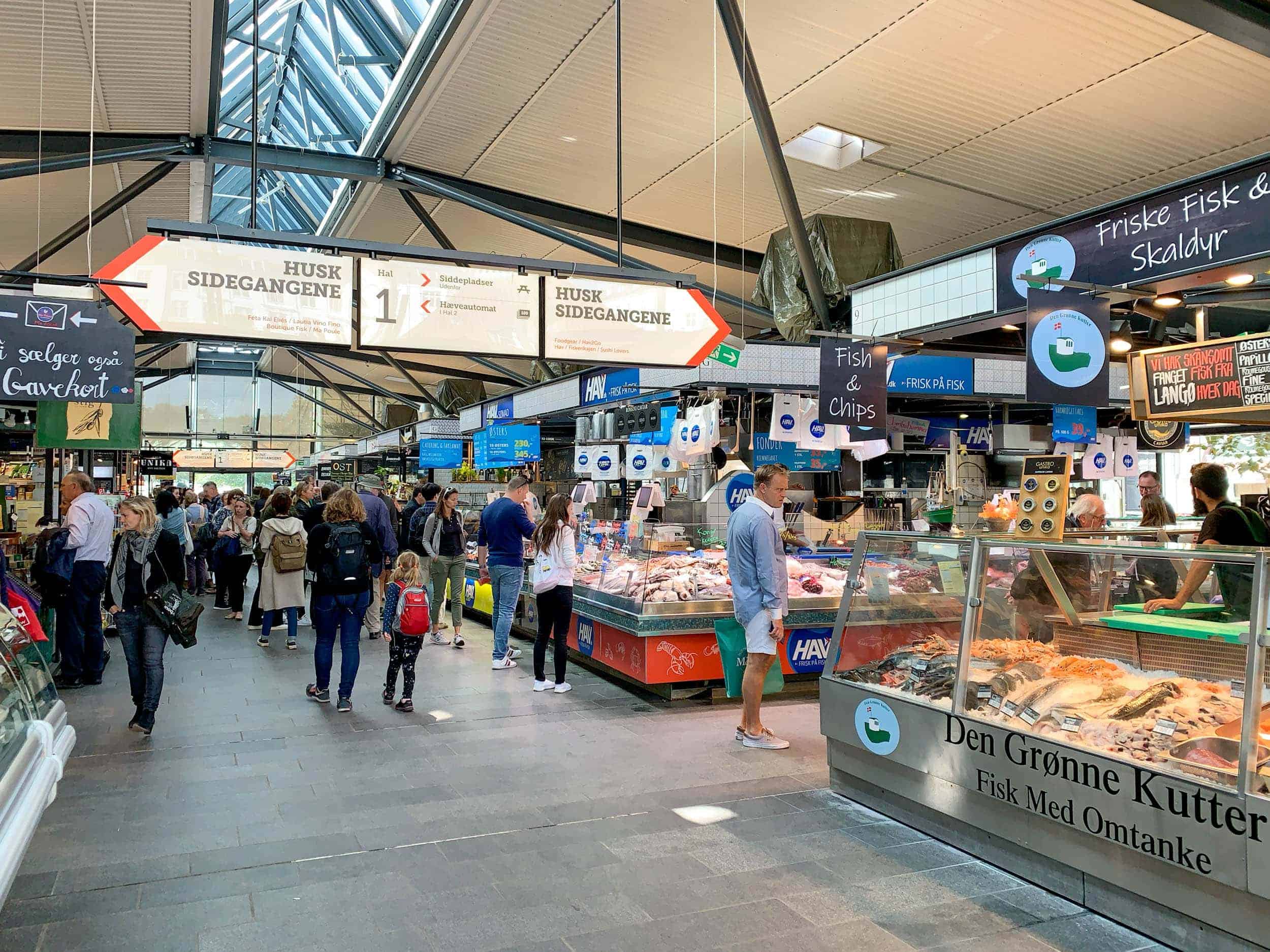 Torvehallerne Food Market
I try to visit at least one food market per country. I chose Torvehallerne Food Market in Copenhagen, conveniently located a block and a half from the Botanical Gardens.
Everything looked amazing in this large, modern market. I had trouble deciding where to eat until I noticed the display case of a tapas bar. Problem solved!
I sat down and began pointing at various tapas with ham, chorizo, and salmon. Taking a seat at the bar also forced me to stop walking and observe the people around me.
After the tapas, I tried a few traditional Danish pastries from other vendors.
If you're looking for a relatively inexpensive meal in a social environment, check out Torvehallerne.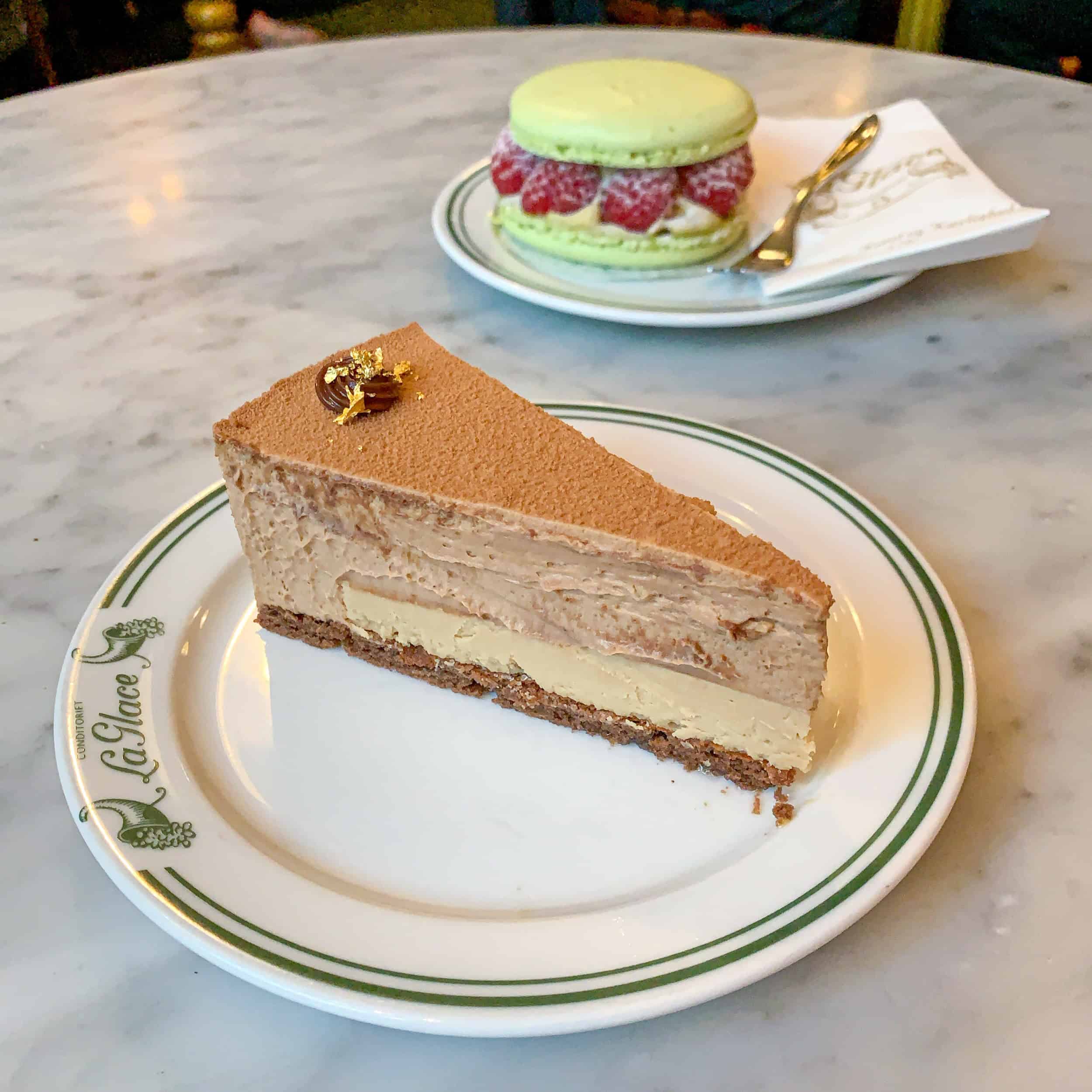 Conditori La Glace
Opened in October 1870, Conditori La Glace is Copenhagen's oldest bakery and one of the oldest bakeries in Europe.
Centrally located a block from the Copenhagen Cathedral, La Glace has sold pastries and cakes for 150 years!
Far be it from me to pass up the chance to devour their creations while in town.
After waiting in a short line to get in, I ordered the HC Hat (caramel mousse, lemon-caramel ganache, and chocolate sponge cake) and the Harmonie (two pistachio macarons filled with fresh raspberries and pistachio cream).
Prices aren't cheap here. The slice of caramel mousse cost $9.25 (62 Danish kroner). But, if you have someone to share with, you can split the cost, and it's not so bad.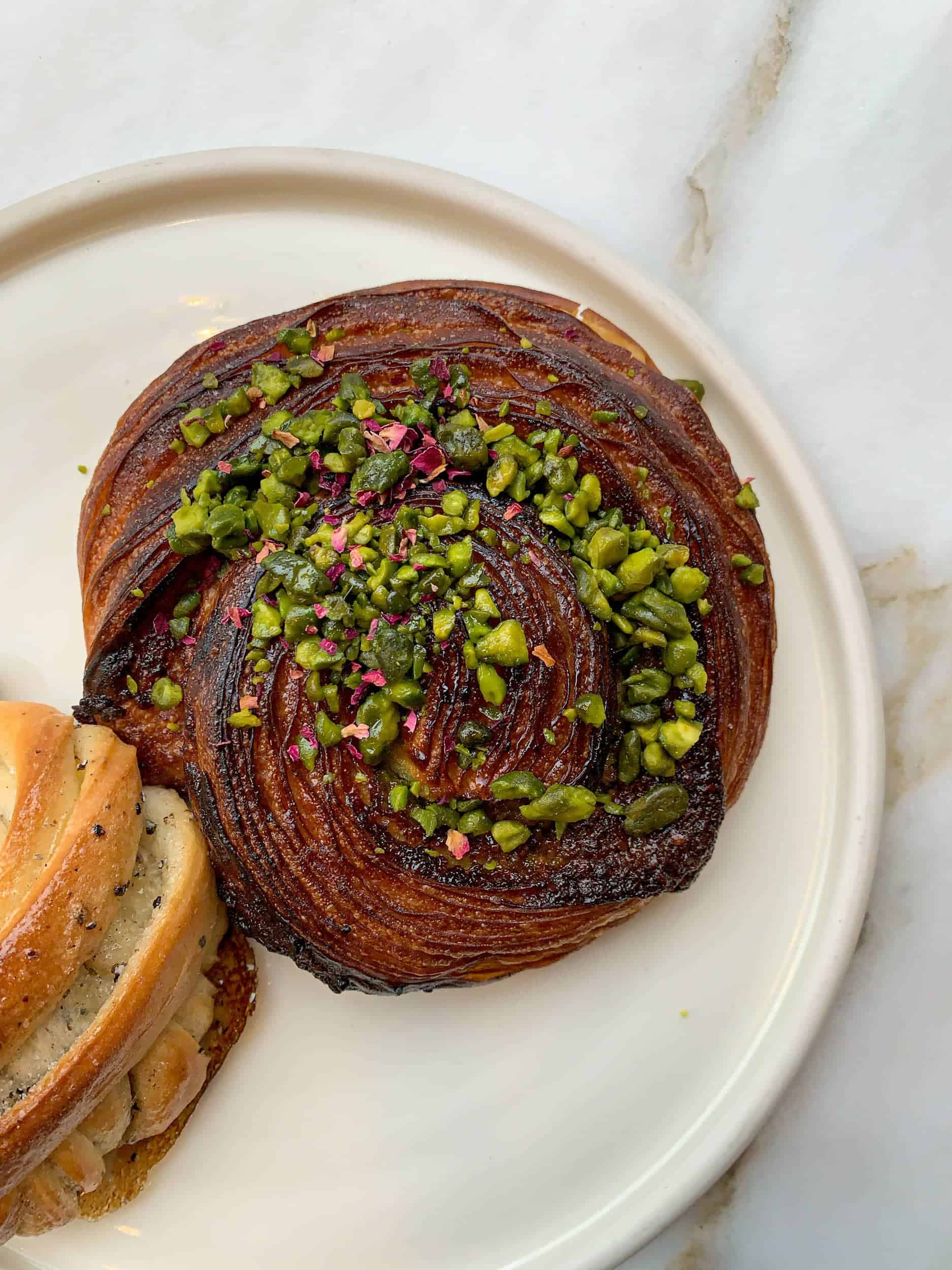 Juno the Bakery
Following two weeks of fikas in Sweden, I was still hungry for more baked goods.
My research turned up plenty of well-regarded bakeries; however, Juno the Bakery was consistently mentioned as one of the best bakeries in Copenhagen.
This little bakery is a bit out of the way from everything else mentioned on my list. But it's worth going out of your way for an hour.
I ordered a cardamon bun and pistachio croissant, both of which were stellar.
You'll wish you could eat pastries like this every day. And, I'm guessing, the customers nearby do eat them every day!
***
And there you have it, my recommendations for the best things to do in Copenhagen.
I can't say it enough. I had a wonderful time in this city and wouldn't hesitate to return for another week or more.
Where to Stay in Copenhagen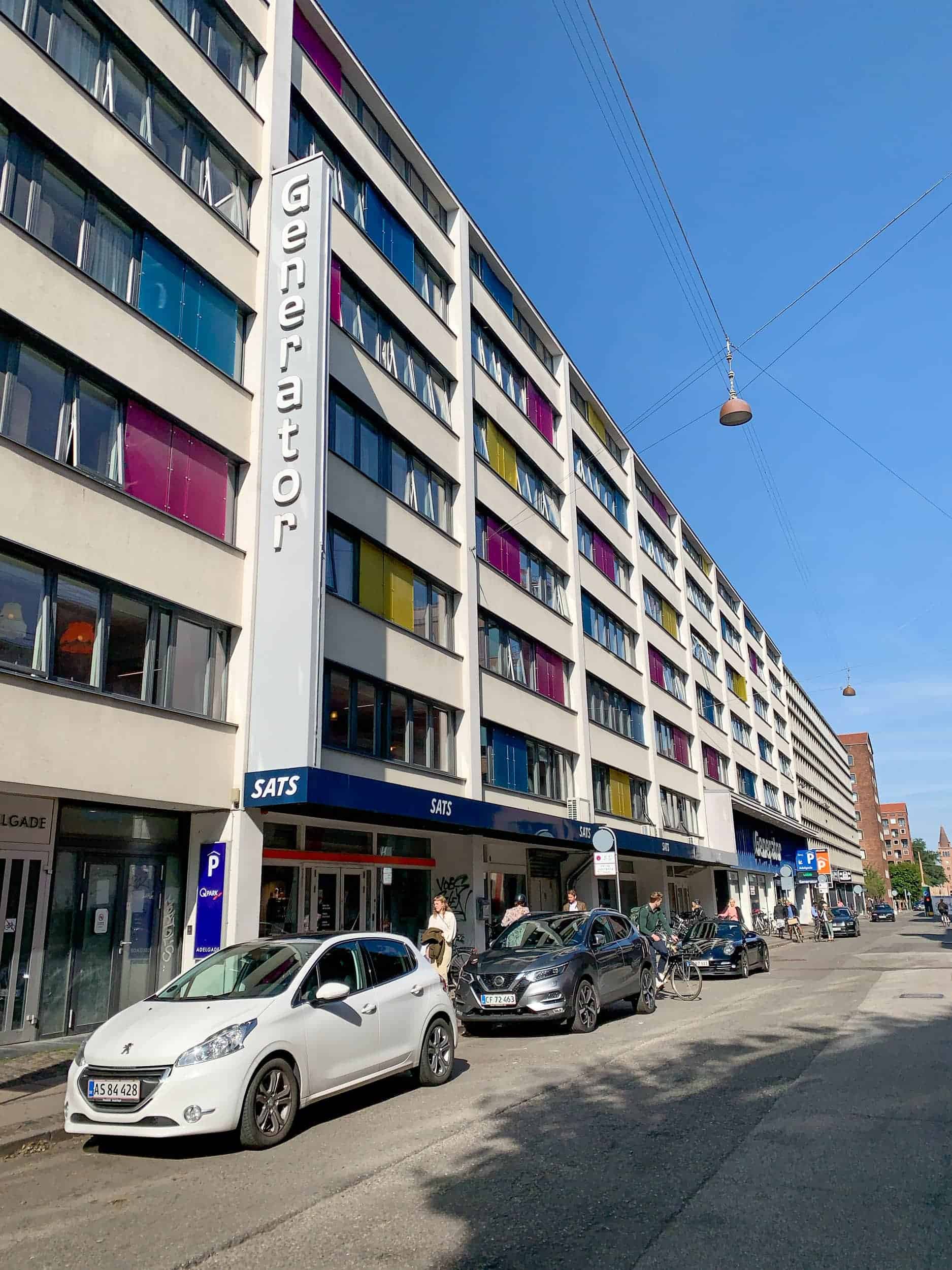 Generator Copenhagen
I chose Generator Copenhagen for budget accommodation, which is a cross between a hostel and a hotel.
Positives
Low prices
Dorms available
Comfortable beds
Huge bar area and outdoor deck
Centrally located (many major sites are within walking distance)
Friendly staff
Easy to meet other travelers
Negatives
They charge for almost everything
Only three washers and three dryers in the laundry room
There's no good place to refill a water bottle (aside from the handicap bathroom on the main floor)
Overall, I had a very positive experience at my first Generator property and would stay here again.
Dave is the Founder and Editor in Chief of Go Backpacking and Feastio. He's been to 66 countries and lived in Colombia and Peru. Read the full story of how he became a travel blogger.
Planning a trip? Go Backpacking recommends: