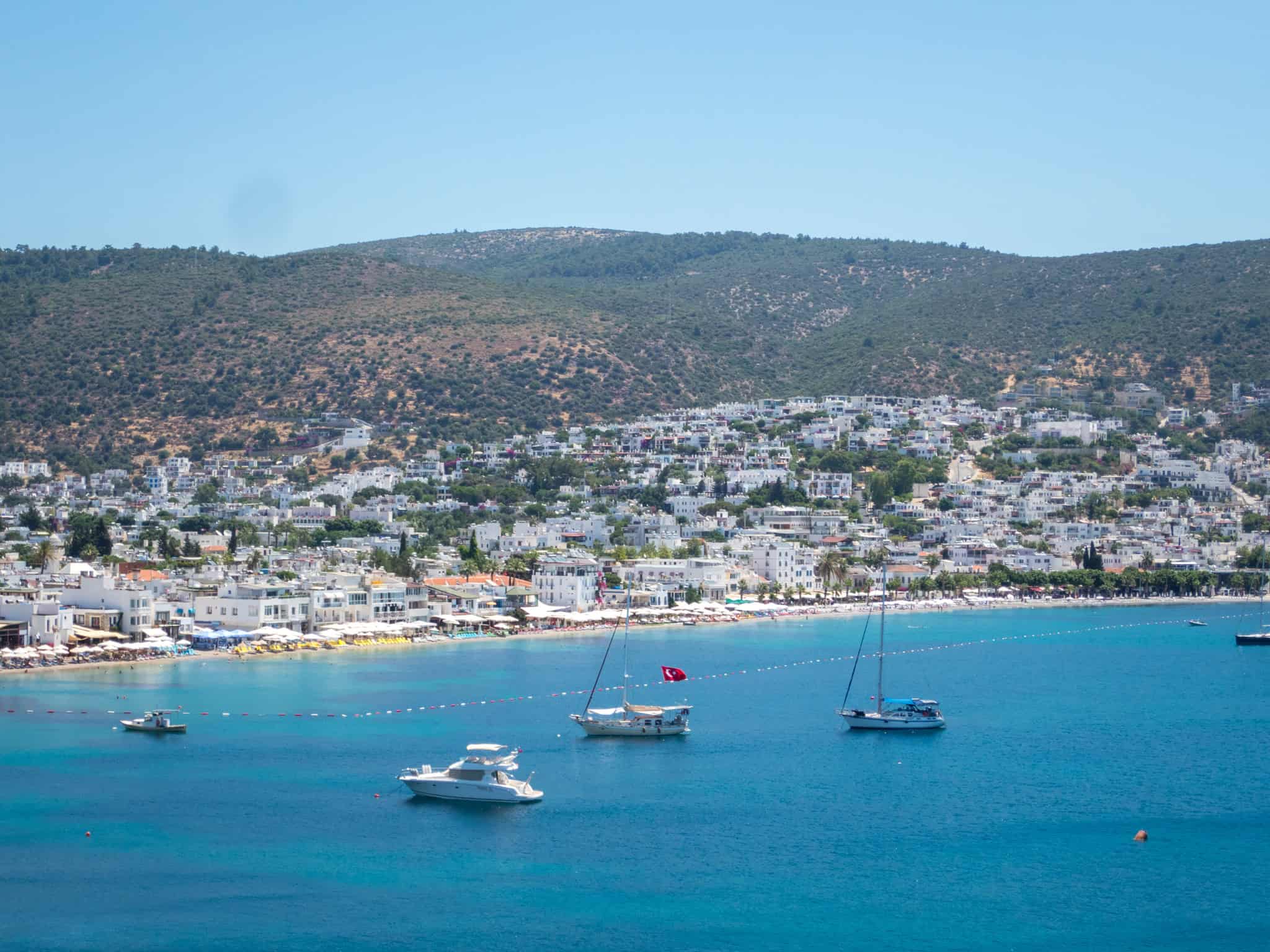 In this Bodrum travel guide, we'll share our top recommendations for visiting one of the best places in Turkey.
Bodrum is a district of Mugla on the Mediterranean coast of Turkey.
Bodrum is home to the House of Heredot, the father of historical places in the Aegean coast, and the Mausoleum Halikarnassos, one of the Seven Wonders of the Ancient World.
Bodrum is a heaven in the visitors' minds thanks to its combination of the sea, sun, and beach.
In Bodrum, you will see beautiful settlements, history, the sea, and lively entertainment.
It's got everything for the making of unforgettable memories.
The Bodrum Peninsula consists of Aegean and Mediterranean climates.
Since humidity is rare in summer and very low in winter, hot and arid summers and very warm and rainy winters occur.
The History of Bodrum
Bodrum has an incredibly rich historical background. Bodrum has hosted many civilizations from ancient to modern.
According to Heredot, born in 484 BC, Bodrum is an ancient region founded by the Dorlars and later conquered by the Carians and Lelegians.
In 650 BC, the name of the city was changed to Halikarnassos.
Bodrum Castle, also known as St. Peter's Castle, was built in the 15th century by the Knights of Jean.
The city joined the Ottoman Empire in 1522, and its name was changed to Bodrum after the Republic's proclamation.
The name Bodrum is thought to have developed from the town's medieval name, Petrium, over time (Petrum, Potrum, and ultimately, Bodrum).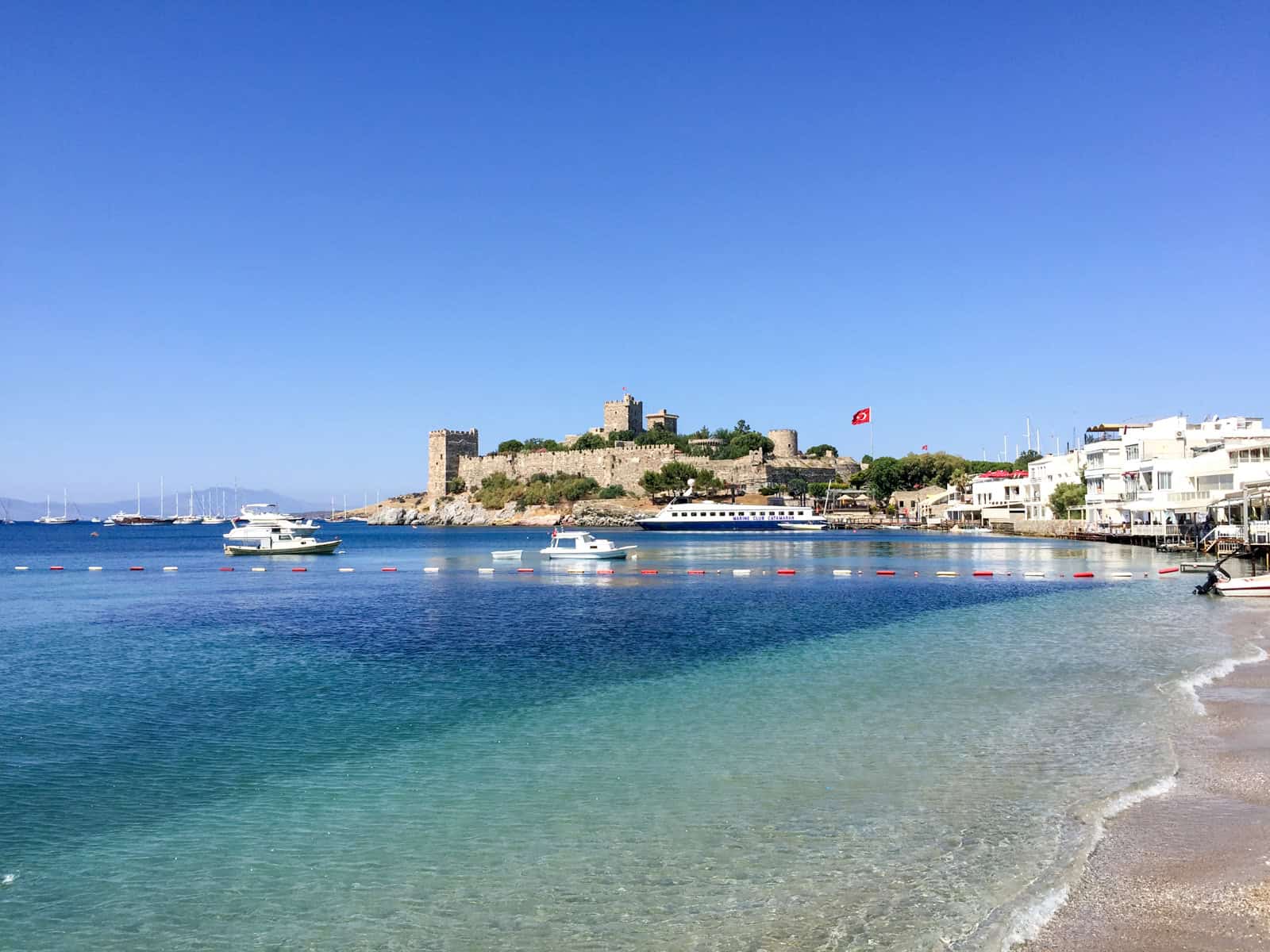 Historic Places
The Bodrum Peninsula is full of historical, natural, and touristic sites to be visited and explored.
In Bodrum's city center, there are many places to be visited, from ancient ruins to modern architecture.
Bodrum Castle
Bodrum Castle is an ancient building built on a rocky peninsula surrounded by sea and connected to the land from the north.
While visiting Bodrum Castle, you will see five main towers: the British, French, German, Italian, and Spanish towers.
Underwater Archeology Museum
Bodrum Castle is home to the Museum of Underwater Archeology, which was established in 1979.
Artifacts from underwater excavations and research around Bodrum are displayed.
The Underwater Archeology Museum also has the largest Eastern Mediterranean amphora collection in the world.
In the Serce Harbor Glass Shipwreck Hall, the world's largest Islamic glass collection is presented due to the sinking of a boat in the year 1025.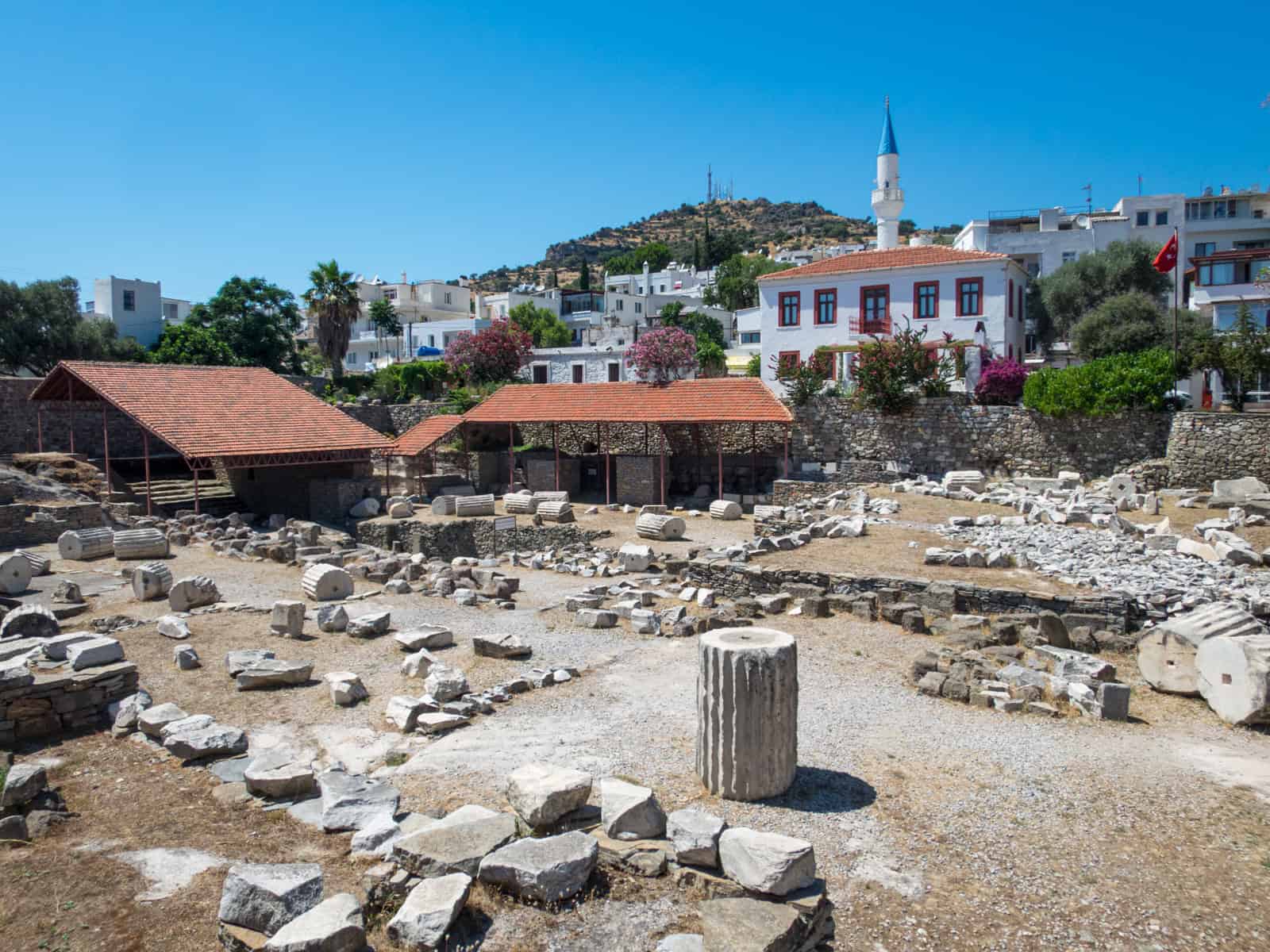 Mausoleum at Halicarnassus
The Mausoleum at Halicarnassus is considered one of the Seven Wonders of the Ancient World.
A huge monumental tomb, crowned by a 21-step 46-meter high pyramid decorated with 36 columns in the Ionic order, with four horses pulling a chariot on top.
An earthquake first destroyed the ancient tomb, and then its stones were used in the construction of Bodrum Castle.
Unfortunately, many reliefs and sculptures belonging to this tomb were taken to the British Museum by British archaeologist C. Newton in 1856.
For this reason, you can find most of the pieces of this monument in the British Museum.
Ancient Theater
The Ancient Theater is one of the important remains from the Hellenistic period.
The theater with a long rectangular structure has a capacity of 13,000 people and consists of three main sections.
The Antique Theater was organized as an open-air museum.
It was built in the 4th century and has a wonderful view overlooking Bodrum and Bodrum Castle.
The theater is on the Bodrum-Turgutreis road and still hosts many concerts and festivals in summer.
Zeki Muren Museum
The Zeki Muren Museum was created by transforming the house of the famous singer.
Items on display from Zeki Muren include his stage costumes, paintings he made, awards, and everything related to his life.
In the museum garden, you can also see a giant statue of the artist.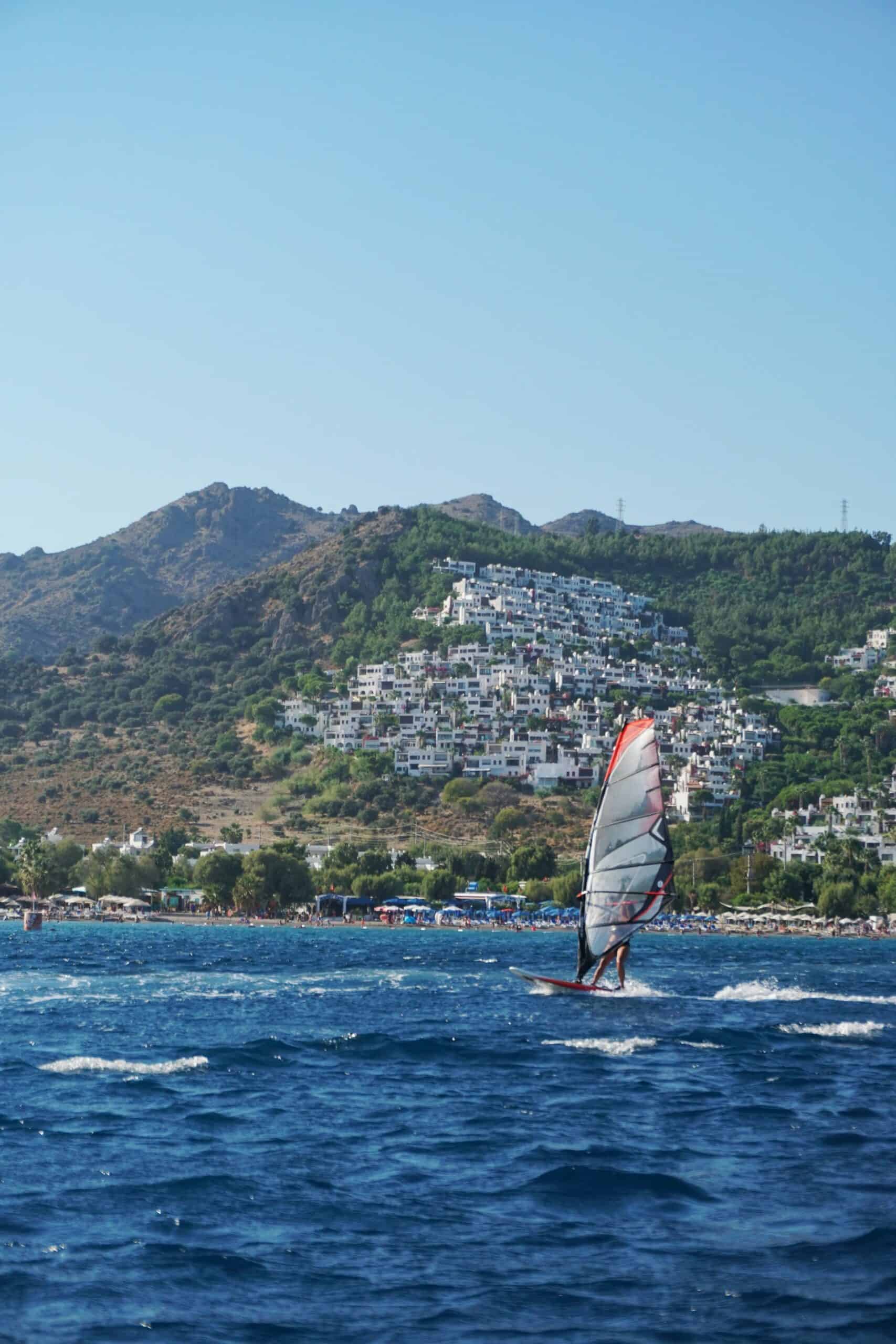 Entertainment Spots
Outdoor Sports
Bodrum is a paradise for sports enthusiasts.
You can do water sports such as diving, sailing, surfing, water skiing, and windsurfing, plus trekking, jeep safaris, camping, and cycling.
Boat Tours
One of the most enjoyable activities in Bodrum is exploring the sea and bays with a daily boat tour.
While experiencing these fun rides, you can enjoy the sea, sun, and coastal scenery. Longer, multi-day boat tours are also available.
Nightlife
Bodrum nightlife offers many options for entertainment on the Aegean and Mediterranean coast.
Restaurants that offer the most delicious examples of Turkish and world cuisines, charming and pleasant cafes, nightclubs where entertainment lasts until morning, countless bars where you can find all kinds of music, and the best drinks are waiting for you in Bodrum.
On Bodrum Bar Street, the fun continues until sunrise!
Bodrum Marina Yacht Club
The Bodrum Marina Yacht Club offers a unique view overlooking the harbor and the castle. For this reason, it's a popular nightlife spot, too.
Bodrum Marina Yacht Club is the only establishment that offers live music performance every day during summer and winter on its seafront stage.
There are three restaurants and four bars in Bodrum Marina Yacht Club that you can visit.
Water Parks
Water parks are an ideal option for families and children looking to have some fun.
There are two water parks on the Bodrum peninsula that are independent of the hotels, plus others belonging to high-quality hotels.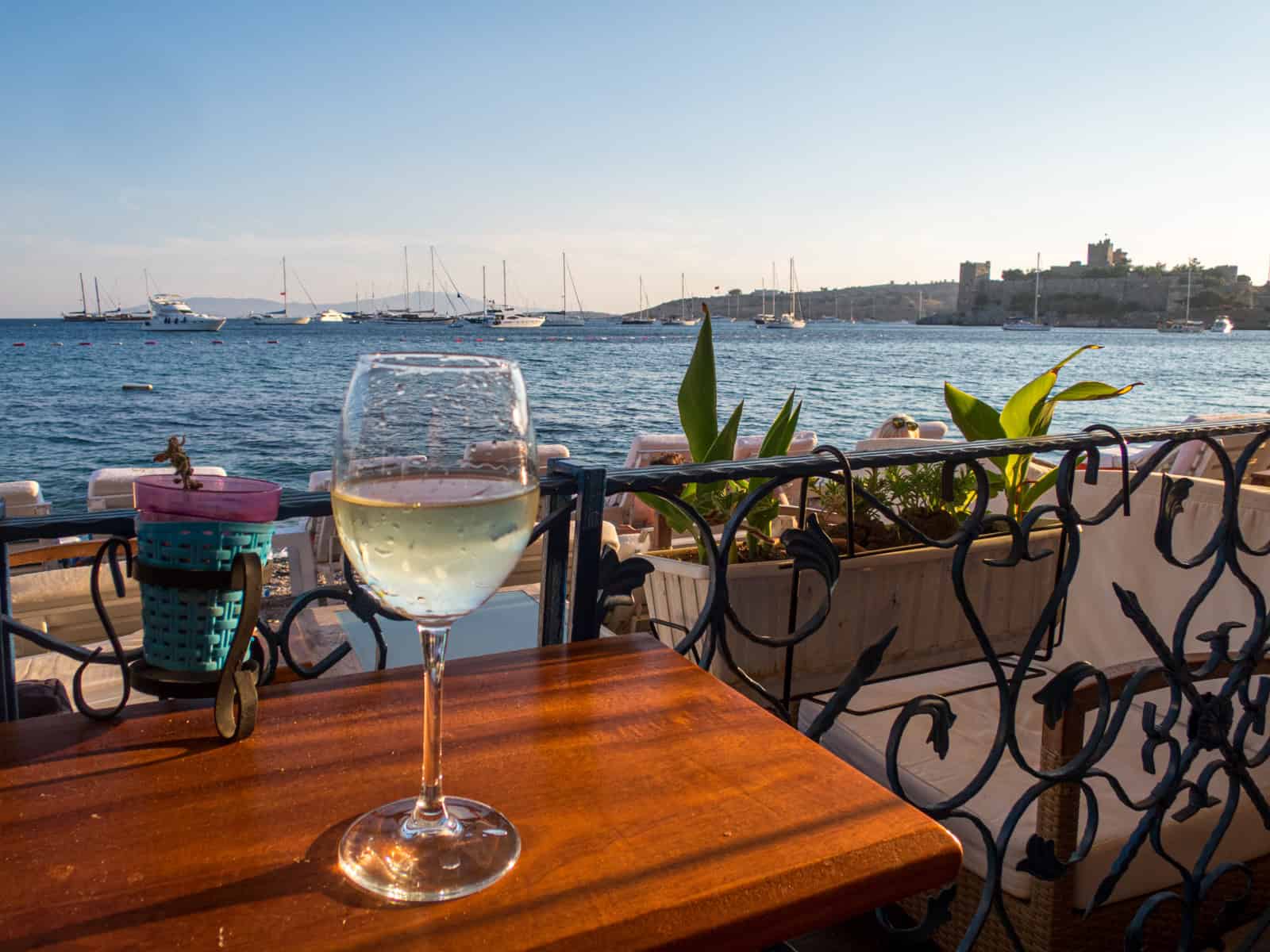 Food and Drink
Delve into the unique tastes of Turkish, Mediterranean, and world cuisine in Bodrum.
Seafood and herbs are especially popular, as are the Kopoglu appetizer made from yogurt, herb roasting, and stuffed zucchini flowers.
Bergamot jam and sage oil are among the special flavors you have to try; both are unique to the region.
Shopping
For those who love shopping, Bodrum is one of the best places in Turkey.
You can find every brand that you would find in a metropolis and other big cities in Bodrum.
Bodrum is a holiday destination famous for its handicrafts and souvenirs. You can shop for handmade jewels and accessories.
Also, shopping malls are available in Bodrum for those who want to shop for specific brands.
Amusement and Theme Parks
The amusement and theme parks are ideal for families with children seeking a fun activity during their vacation.
Fun Town Yahsi Park in Ortakent and Countryranch Equestrian Sports Club in Turgutreis are among the popular amusement and theme parks in Bodrum.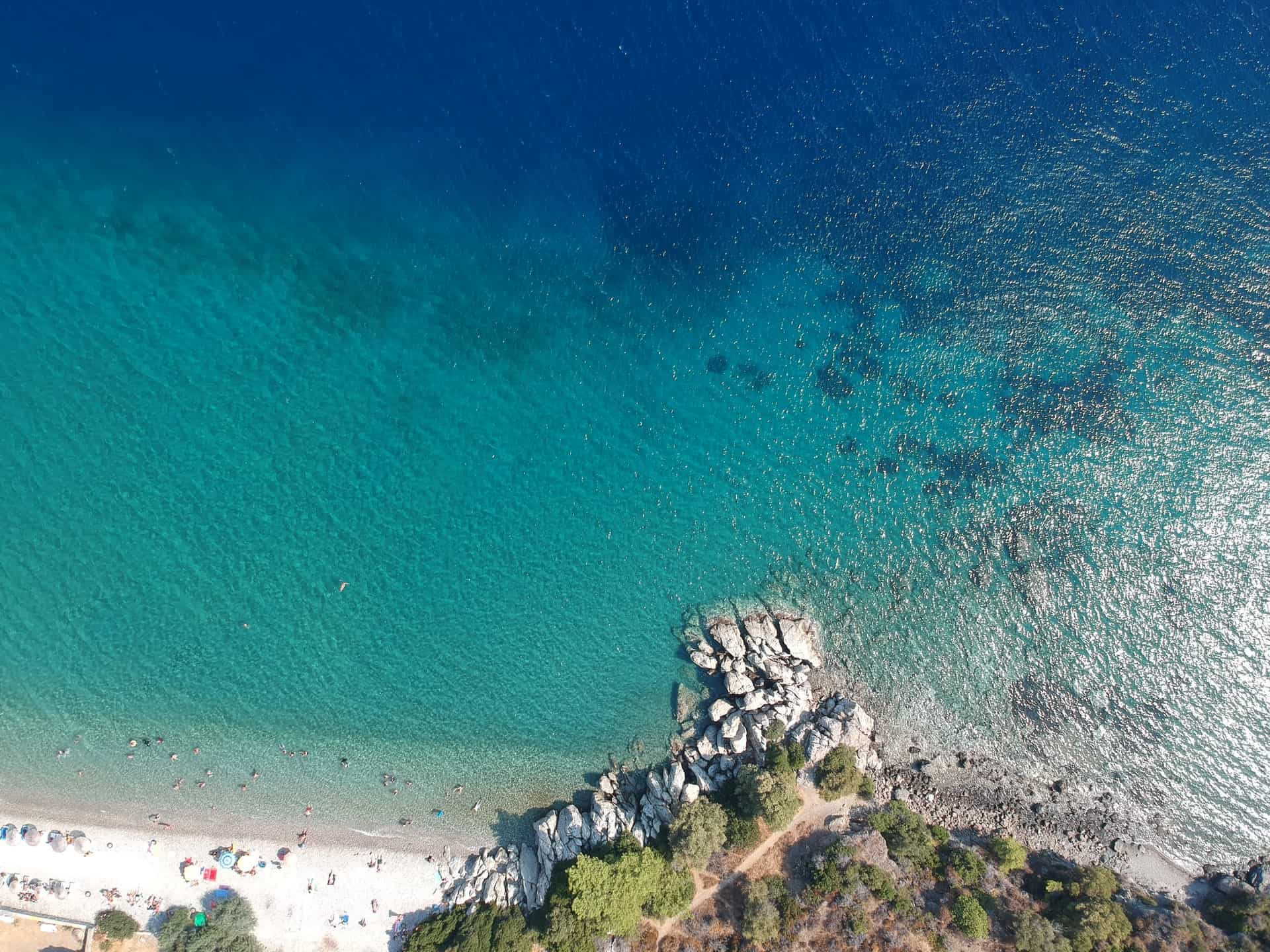 Beaches
In the Bodrum Peninsula, there are many beautiful bays and popular holiday resorts with magnificent beaches.
Beach clubs are indispensable in enjoying the sea during the day and participating in colorful entertainment that lasts until the morning.
The most outstanding beaches in Bodrum are:
Bardakci
Gumbet
Bitez
Guvercinlik
Yalikavak
Turgutreis
Golturkbuku
Aktur
Ortakent
Karaincir
Gumusluk
Bagla
Akyarlar
Places to Stay in Bodrum
In Bodrum, you can stay in luxurious holiday resorts, five-star hotels, small boutique hotels, or even hostels to enjoy your humble holiday.
According to your needs and desire, you can choose a place to stay among the wide range of accommodation options.
We recommend you book your hotel before arriving due to the high demand.
Bodrum, with its serene days and dynamic nights, offers visitors a wide variety of experiences. There's something for everyone!
Bodrum carries all the elements expected from a holiday region in the Mediterranean and more.
No matter your purpose or how many times you go, you will discover new things to enjoy every time.
For more details about Bodrum, check this page: https://otelleri.net/bodrum-gezi-rehberi
______
This story was brought to you in partnership with otelleri.net.
Planning a trip? Go Backpacking recommends: