The Turkish Riviera may not be the first region we think of when it comes to vacationing in the Mediterranean; however, I hope you'll see the appeal by the end of this story.
My experience along Turkey's Turquoise Coast came toward the end of my six-week stay in the country.
The beautiful blue waters were calling me after adventures in Central Turkey, including Mount Nemrut and a hot air balloon ride in Cappadocia.
I traveled on the Southwest coast by bus to Antalya (via Konya). This is the best way if you're on a tight budget.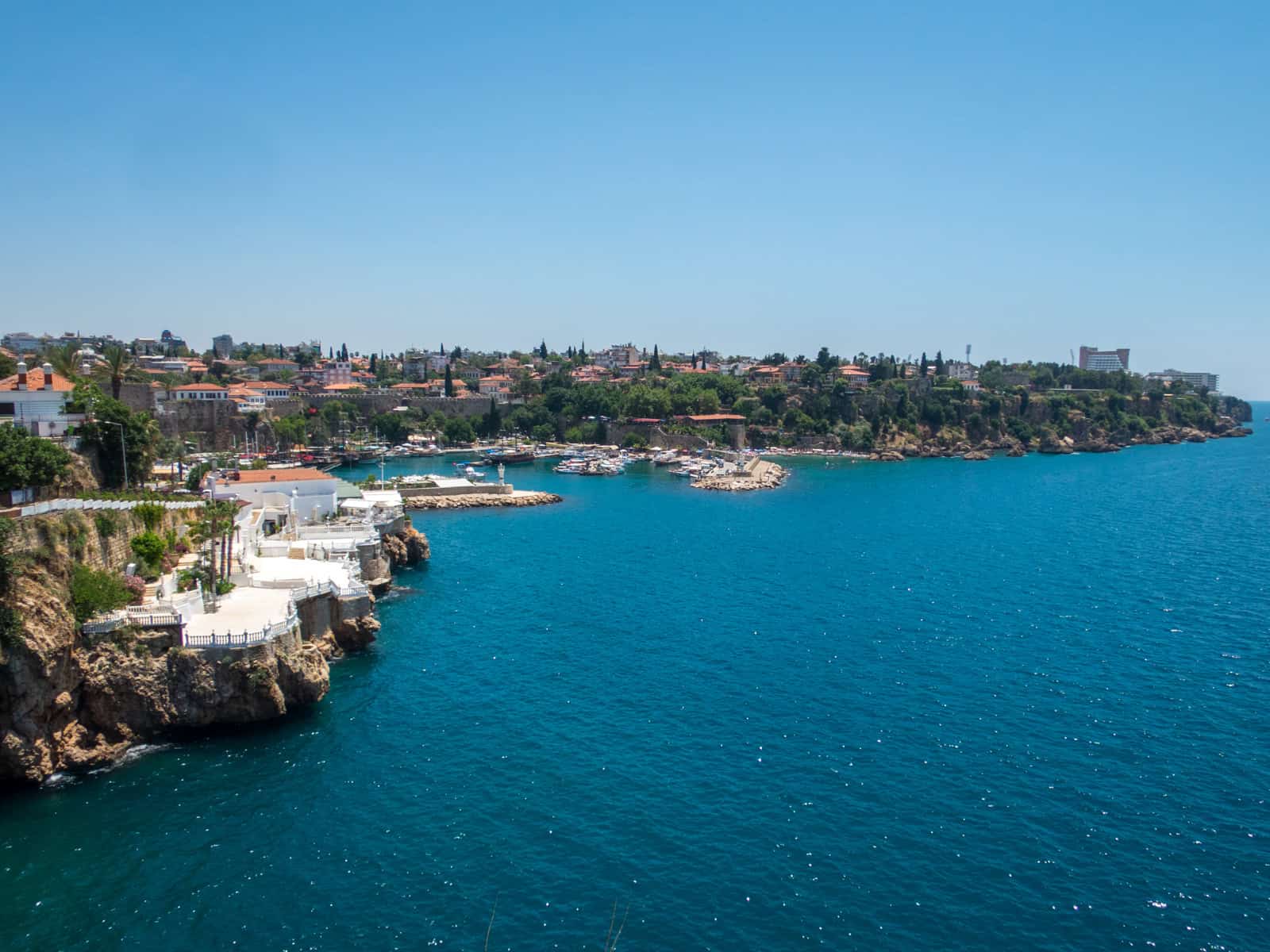 Over two weeks, I backpacked from Antalya to Bodrum, with stops in Kas and Oludeniz.
I hopped a ferry from Bodrum to Rhodes, kicking off my first visit to the Greek islands.
I'll be sharing more about island-hopping in Greece soon, but first, let's take a closer look at the underrated Turkish Riviera.
Where to Go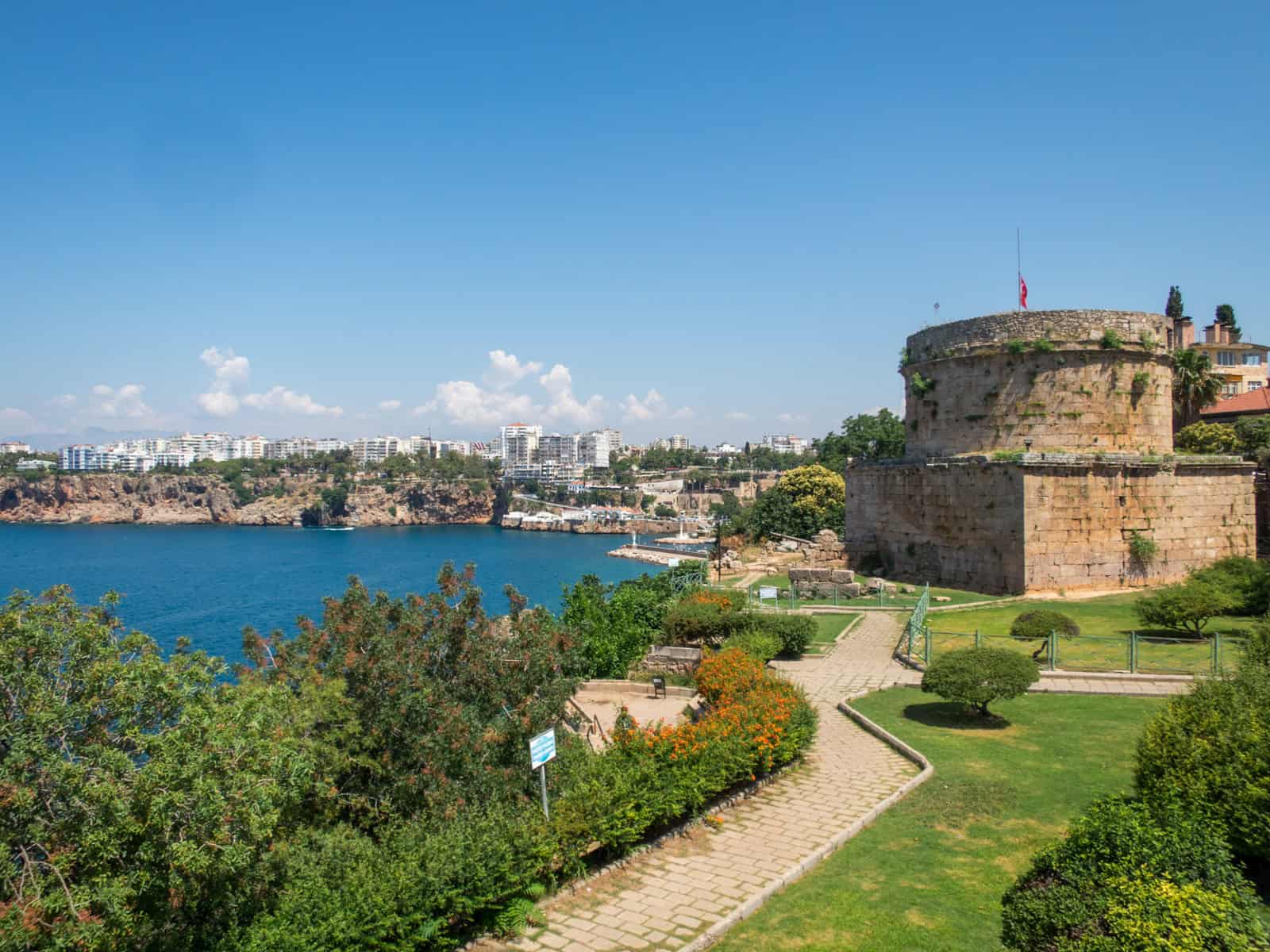 1. Antalya
Antalya is the capital of the Antalya Province, with a population of one million people, and its airport is one of several international airports on the Turkish Riviera.
The coastal city is Turkey's most popular summer destination; tourism reached a record 13.6 million people in 2019.
The old town dates back 2,000 years and is pedestrianized, making for a more relaxing experience as you stroll the stone streets. This is where I chose to stay and recommend it to readers, too.
On my first day, I walked to Hadrian's Gate, named after the Roman emperor who visited Antalya in AD 130.
I then walked to Hidirlik Tower to view the Turquoise Coast and the Mediterranean Sea.
The Romans built the 46-foot (14-meter) tower in the 2nd Century BCE. Nearby, canons are aimed toward the water; mountains are visible in the distance.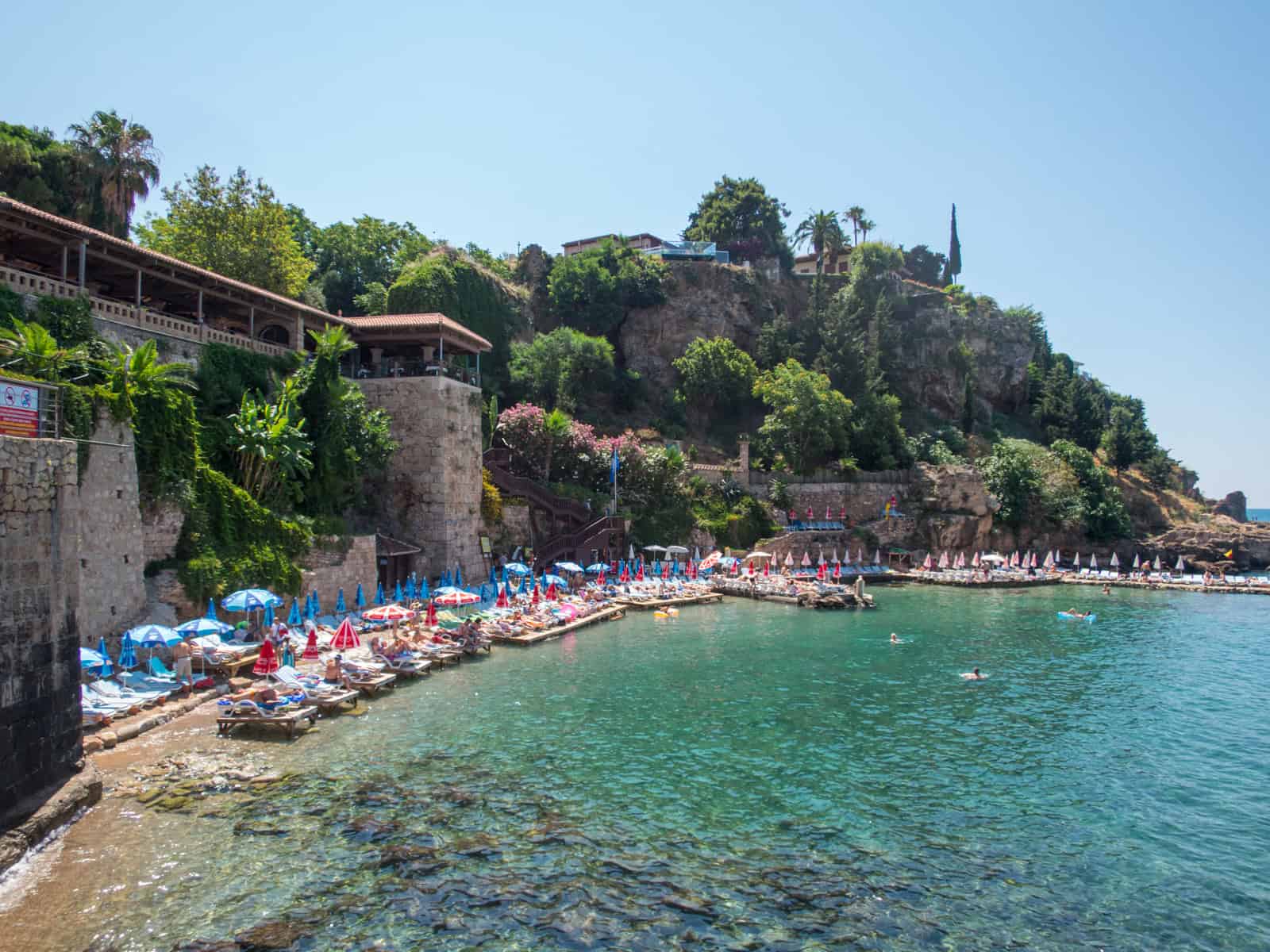 From Hidirlik Tower, it's a short walk to the city's old port, full of sightseeing boats.
Walk along the edge of the port, and you'll catch a glimpse of the small but picturesque Mermerli beach.
Continue walking west along the coast past the port, and you'll encounter the cliffside Yavuz Ozcan Park as well as restaurants and cafes with scenic views.
Eventually, you'll reach Konyaalti Beach, one of Antalya's two larger beaches; it's a pebble beach. If you're looking for sandy beaches, check out the other, Lara Beach.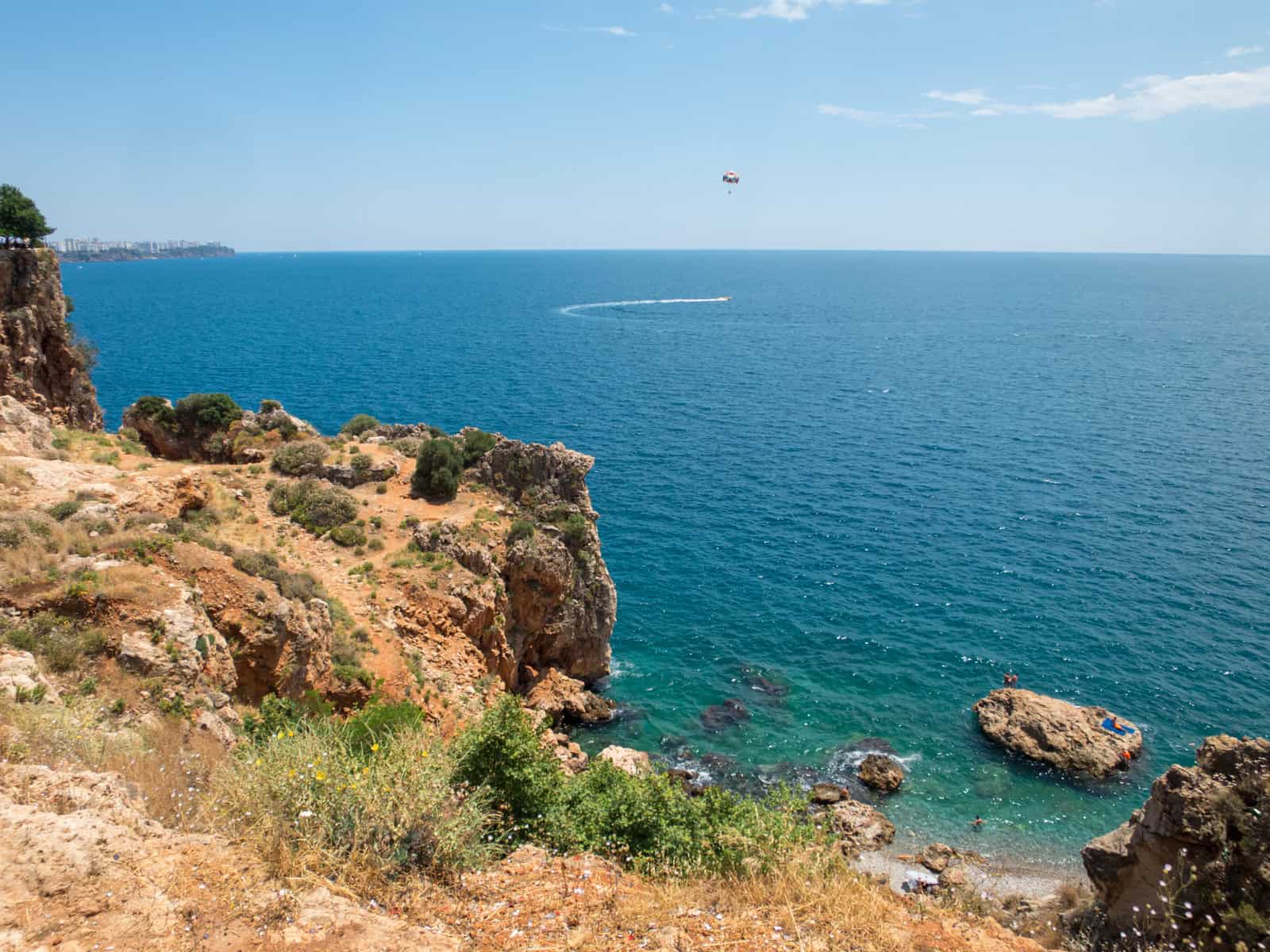 As I approached the edge of Konyaalti Beach from above, I saw a parasailer towed by a speed boat while paragliders flew overhead.
I stopped at an outdoor restaurant to get some shade under an umbrella and food to go with the view.
I'd read there are nicer beaches elsewhere on the Turkish Riviera, so I didn't use my time in Antalya to hang out there.
The Antalya Museum is conveniently located near the cliffs at the east end of the beach.
It features over 5,000 archaeological items, including sculptures and ornately carved sarcophagi dating back to Roman times.
Where to Stay in Antalya: Sabah Pension is the charming option I chose in the old town due to its excellent location a block from the sea.
Related: 13 Best Places to Visit in Turkey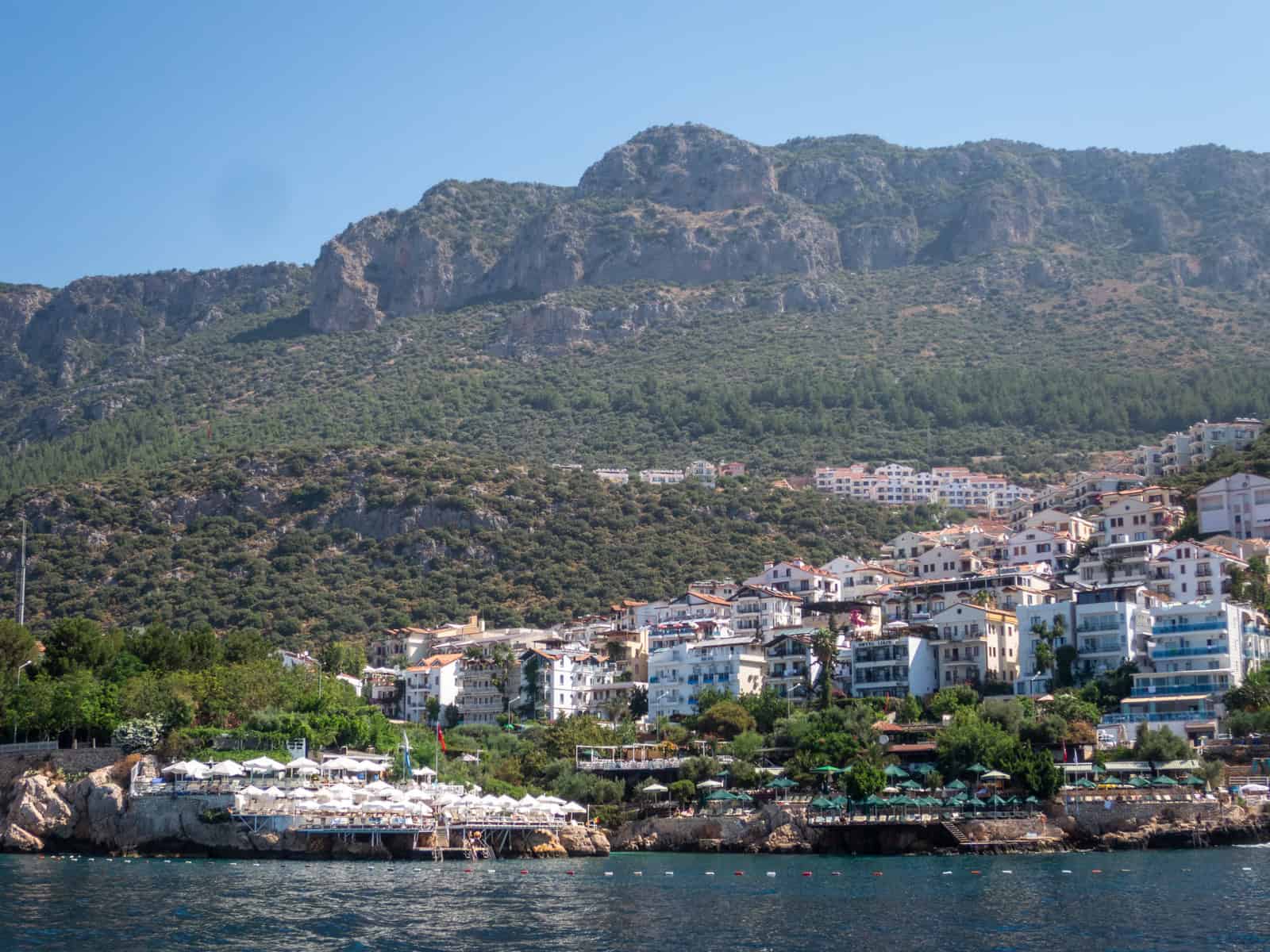 2. Kas
After getting my bearings in Antalya, I boarded a bus for the 3.5-hour drive southwest along the Turkish Riviera to the former fishing village of Kas (pop: 50,000).
Now a predominately tourist-driven town full of boutique hotels and outdoor pools, Kas has the look and feel of a Mediterranean vacation destination.
On my first afternoon in town, I wandered through the bougainvillea-lined streets to the main square, where I got a greater appreciation for Kas' location.
The village occupied a narrow area between the sea to the south and the towering mountains to the north.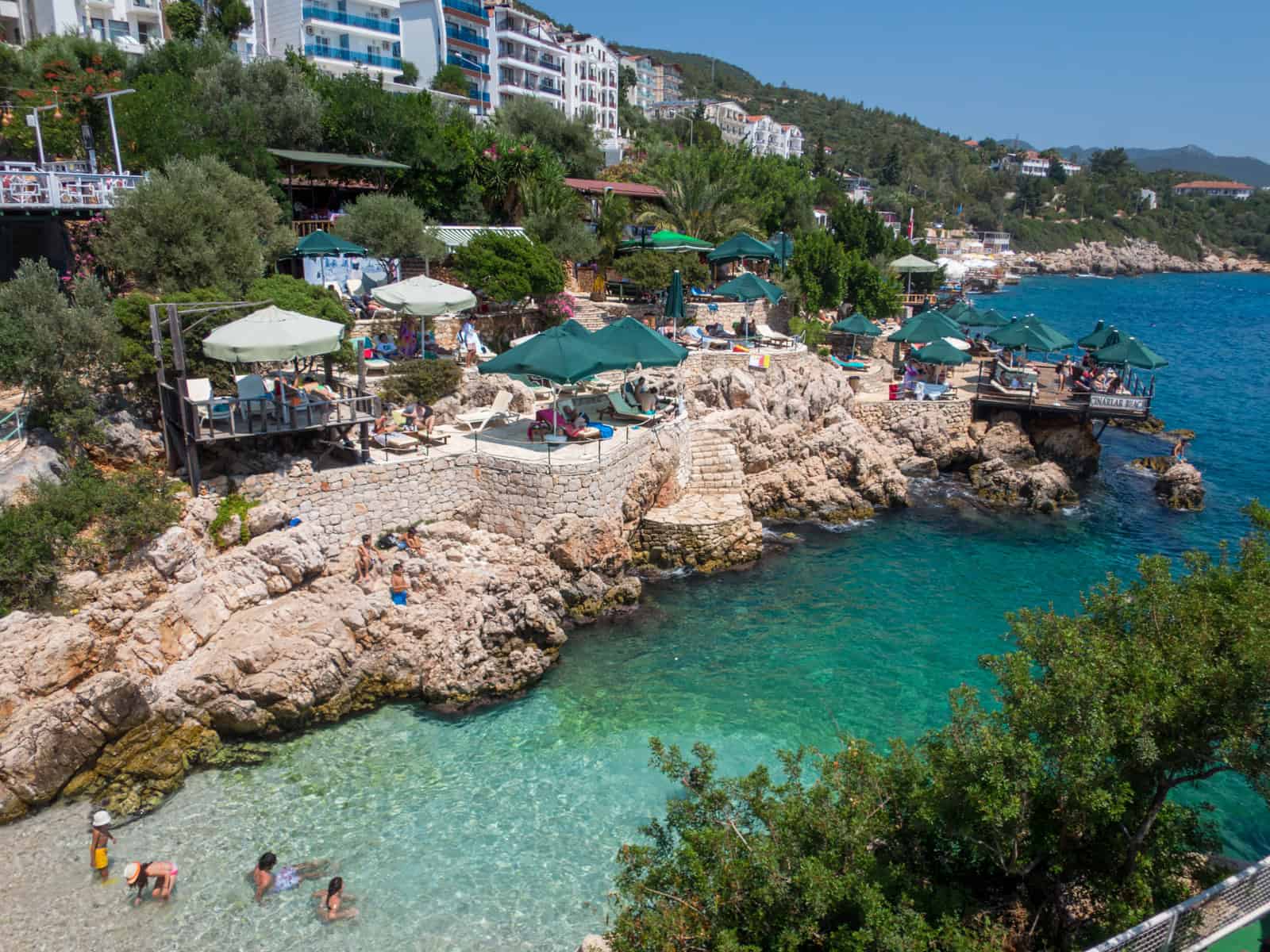 Walking through the marina, I booked a $26 gulet (boat) tour for the following day. Lunch is included in the price.
I stumbled upon the picturesque and rocky Derya Beach east of the marina. Little more than an inlet, the waters here epitomize the beauty of Turkey's Turquoise Coast.
Several places cater to those who want to relax and enjoy this spot with food and drink, including Derya Beach Restaurant and Cinarlar Plaji.
I finished my day with fresh whole fish served at sunset on the rooftop of the Hideaway Hotel, where I was staying.
Kekova Boat Tour
The following day, I returned to the marina for a Kekova boat tour on Bermuda, a gulet that advertised no music (for a more relaxing experience).
Kekova is the name of this region of Southwest Turkey and an island just off the coast. These boat trips are super popular, and for a good reason.
You'll spend the day cruising through crystal clear waters, swimming in quiet coves, and catching glimpses of a Sunken City on the north side of Kekova Island.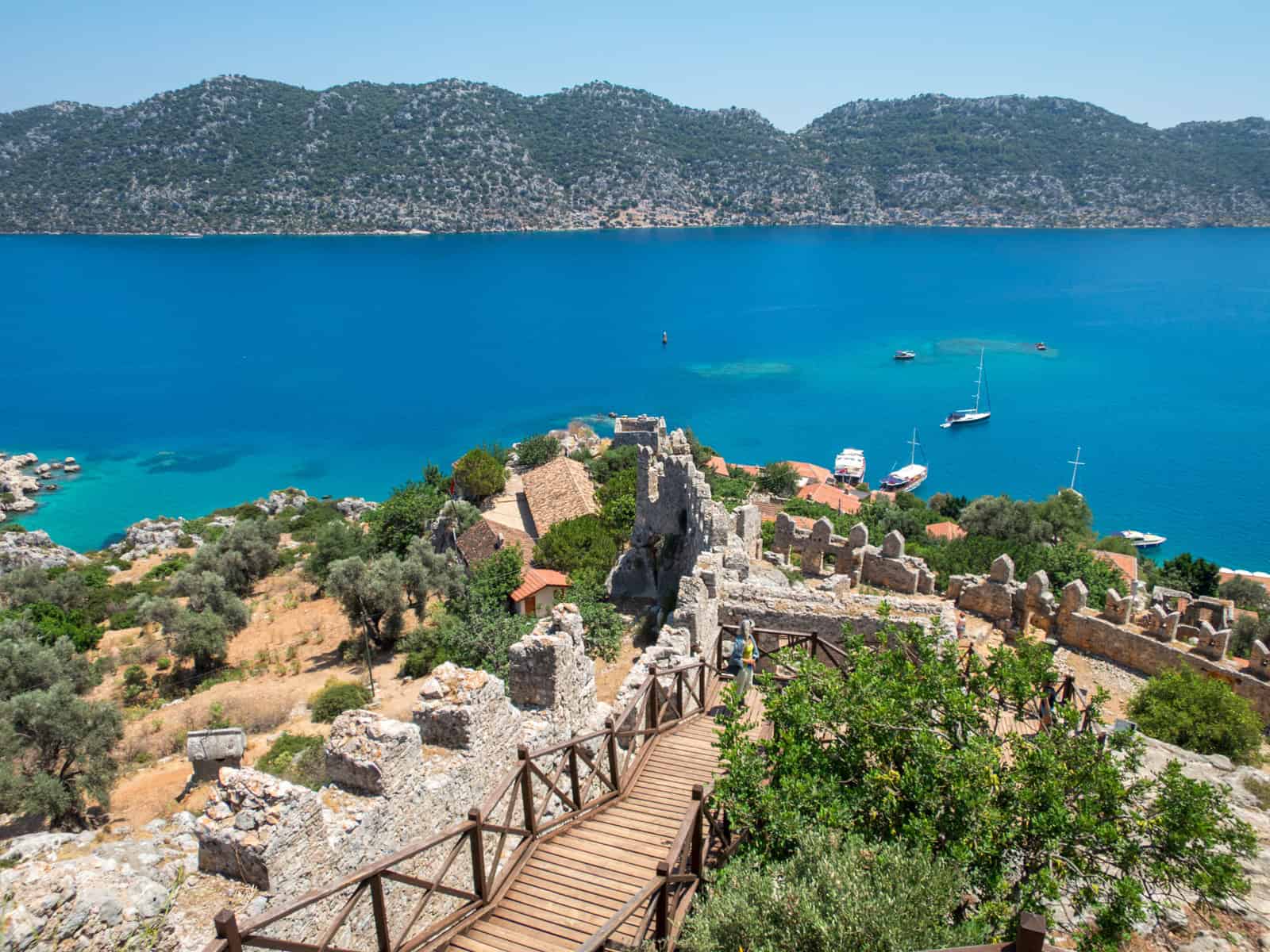 The last stop is Kalekoy (formerly Simena), a small village on the mainland opposite Kekova island, which dates back to the 4th Century BC.
Here, you'll have free time to wander around and climb Simena Castle.
A wooden staircase makes ascending easier. However, prepare to be fully exposed to the Turkish sun while up there. The views are worth it, though.
Once everyone's back on the boat, you'll motor home to Kas, where you can enjoy another fantastic sunset.
Additional activities available from Kas include diving, paragliding, hiking, canyoning, and cultural tours.
Where to Stay in Kas: I stayed at the Hideaway Hotel, which offered a good balance of cost and comfort. The rooms are comfortable, and a fantastic rooftop terrace offers sea views and a 24/7 bar.
Related: My Travel Year in Review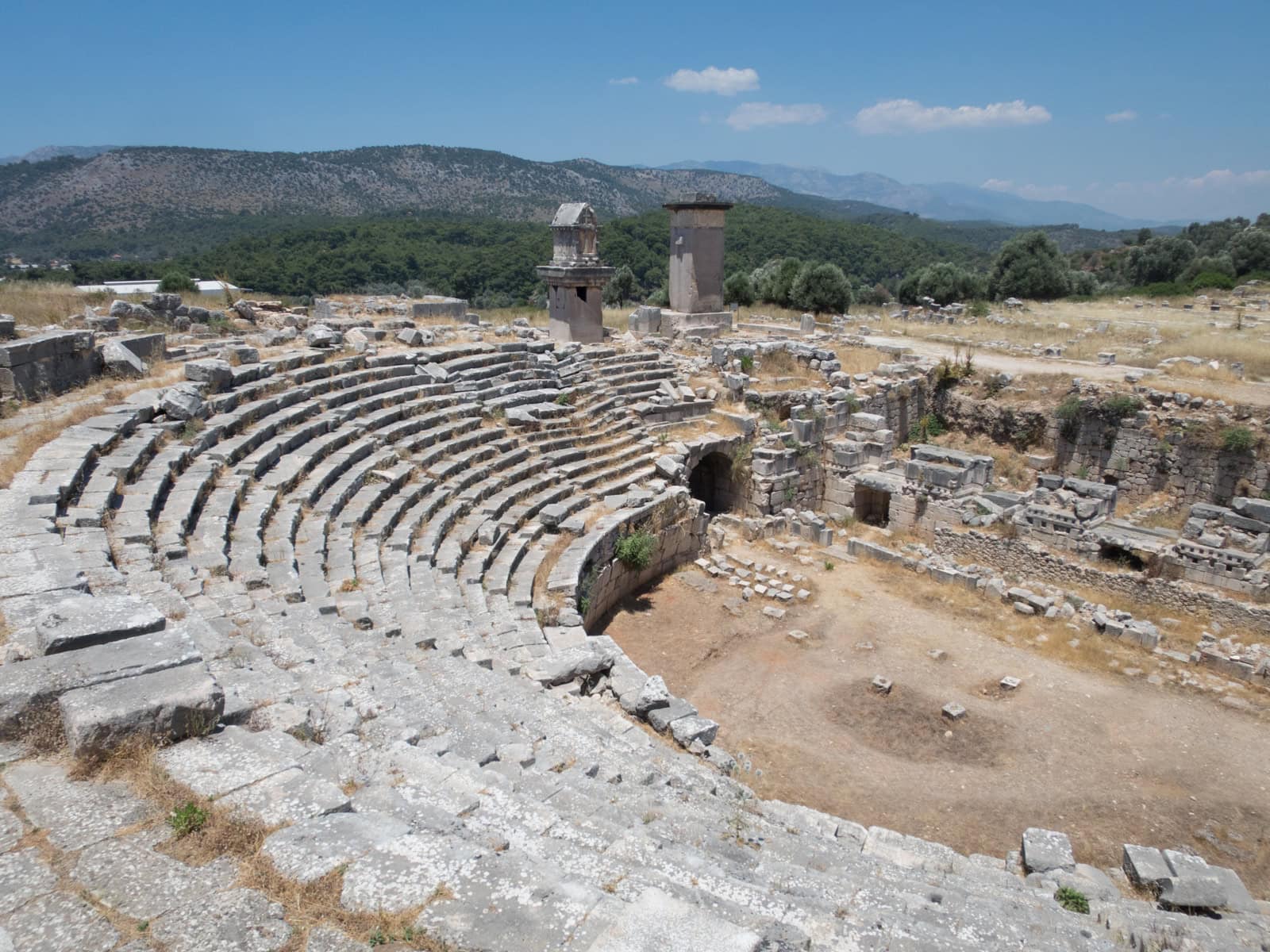 3. Xanthos
Halfway between Kas and Oludeniz on the Turkish Riviera lies the archaeological ruins of Xanthos-Letoon, a UNESCO World Heritage Site.
Xanthos-Letoon is a remarkable archaeological complex. It represents the most unique extant architectural example of the ancient Lycian Civilization, which was one of the most important cultures of the Iron Age in Anatolia. The two sites strikingly illustrate the continuity and unique combination of the Anatolian, Greek, Roman, and Byzantine civilizations.

– UNESCO
As Xanthos is located near the highway, just north of Kinik village, it makes for an easy side trip whether traveling by bus from Kas to Oludeniz or vice versa.
The amphitheater is the most impressive feature the ancient Lycians built here.
The Harpy Monument, a sarcophagus built from a single massive 26-foot (8-meter) hunk of rock, is also noteworthy.
Letoon lies a short drive southwest of Xanthos, so I didn't bother to visit. If you've already had your fill of ruins in Turkey, feel free to skip these.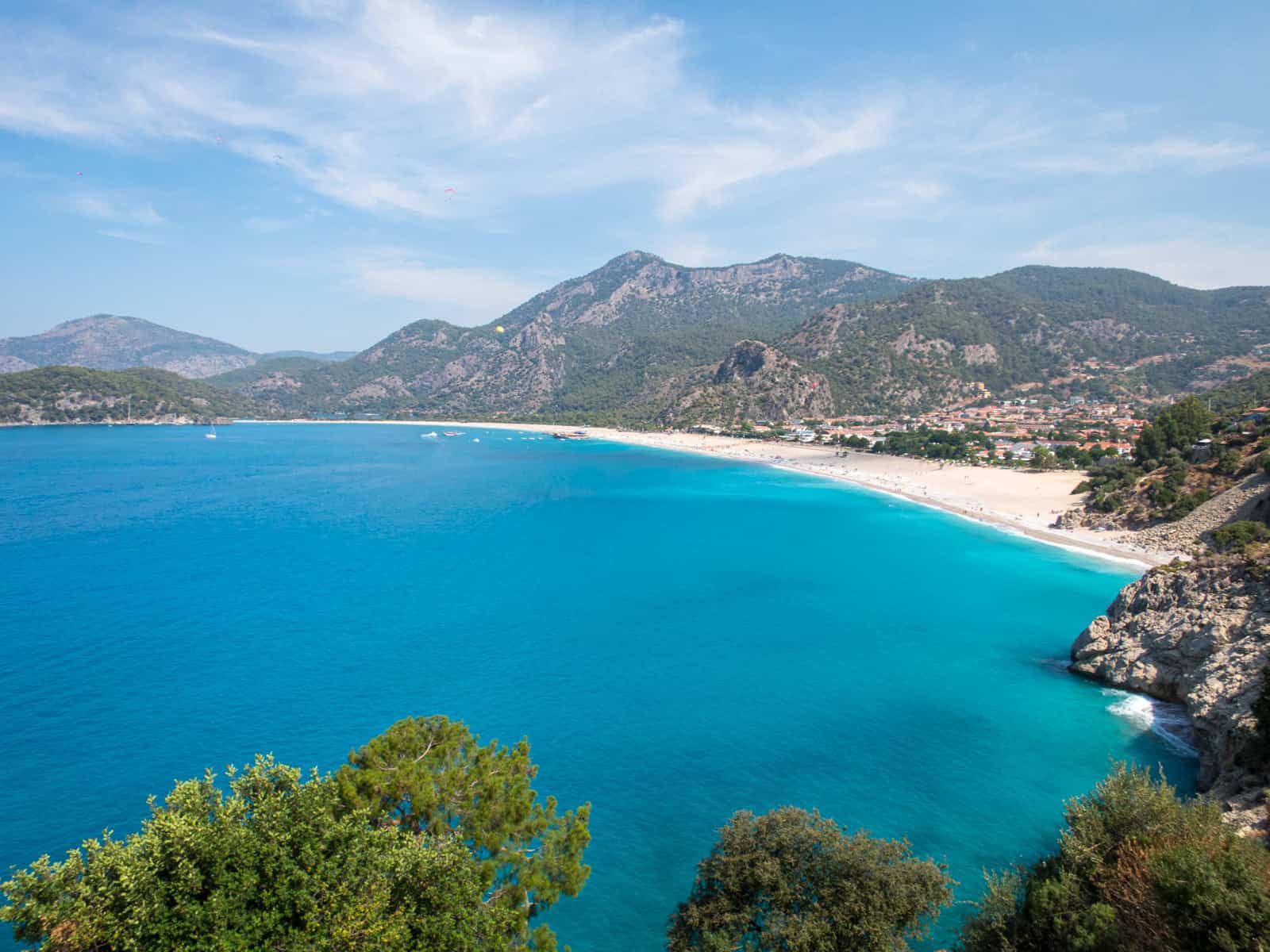 4. Oludeniz
After all, it's hard to think about ancient sites when gorgeous Oludeniz Beach is calling for your attention. A national park was established in 1978 to protect this remarkable place.
Oludeniz (translation: "Blue Lagoon") is deserving of all the superlatives, though this beautiful beach consists of rocks, not sand (a pet peeve of mine).
Here, you can relax and enjoy the Turquoise Coast in all its glory. Sunbathing, swimming, scuba diving, water sports, and paragliding are all options to pass the time.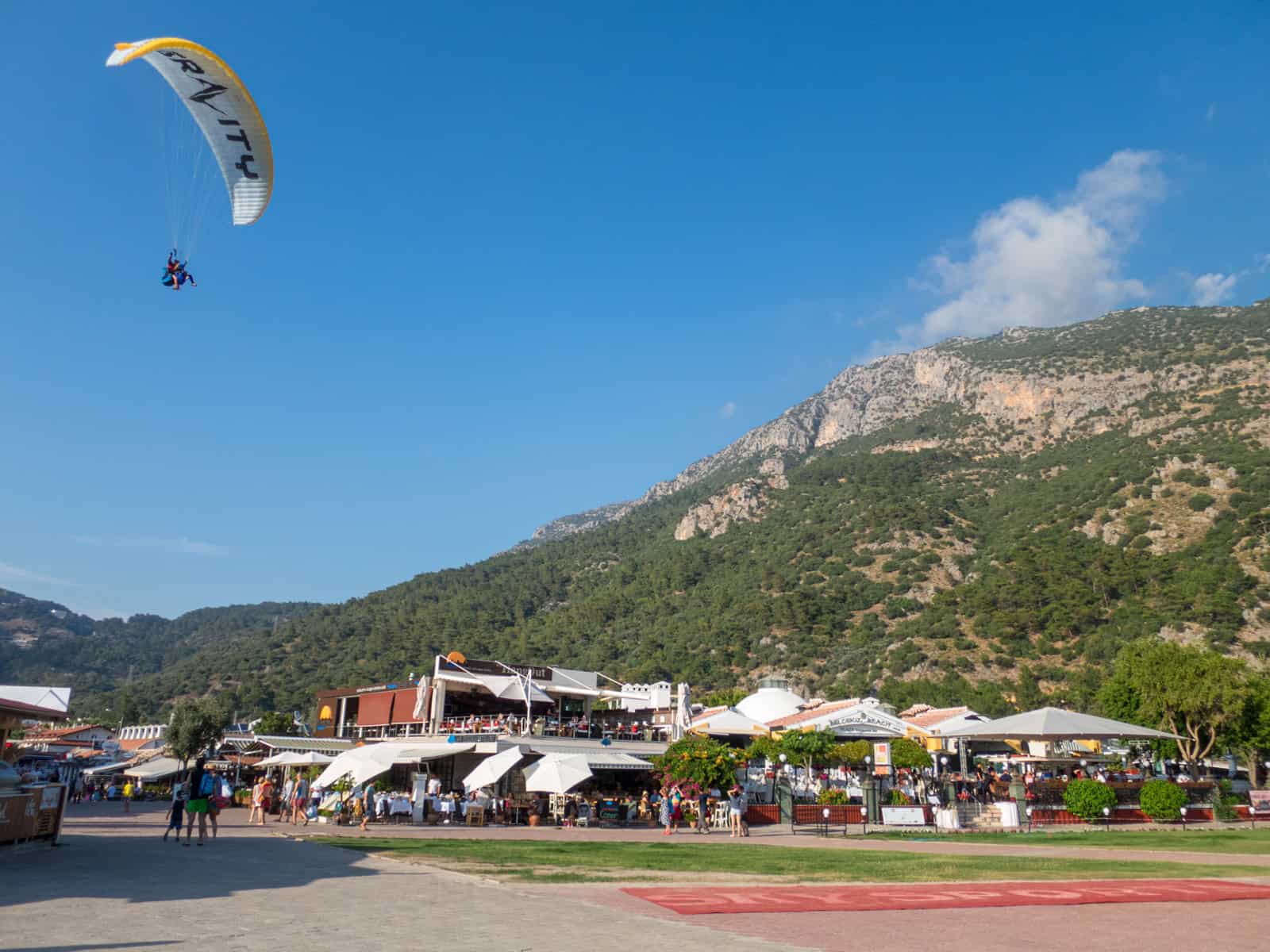 Oludeniz is one of the world's most famous places for paragliding, with flights taking off daily from nearby mountains and ending at a landing zone next to the beach.
I'd already been paragliding a handful of times in Nepal and Colombia, so I didn't go in Oludeniz, though it was tempting. The photos I saw of tourists flying over these aquamarine waters were incredible.
Instead, I watched paragliders land while enjoying lunch from the rooftop deck of a beachside restaurant.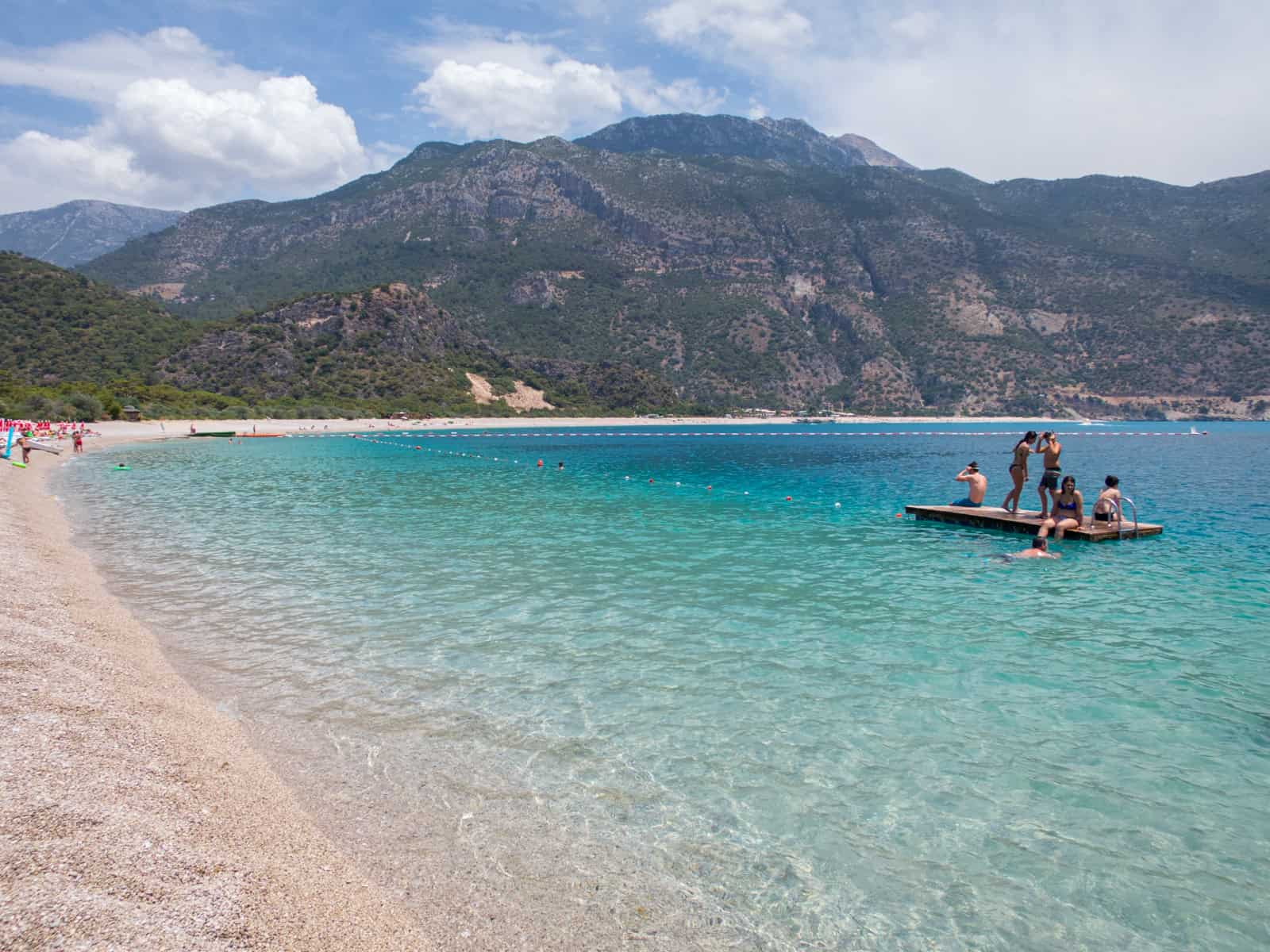 At the far northwest end of the main beach is an inlet into a lagoon, where the water is even calmer.
The nightlife in Oludeniz lends itself well to whatever you prefer, whether relaxing conversations on the beach or dancing late into the night.
In my third month of a backpacking trip through Eastern Europe, and not knowing anyone, I was content to retire to my hotel early.
Where to Stay in Oludeniz: I only spent two nights here, so I splurged on the modern Sundia Oludeniz, a comfortable hotel two blocks from the beach. Cheaper accommodation is available if you stay further north and don't mind taking a shuttle to the beach.
Side Trips: A six-mile (11-kilometer) drive south of Oludeniz is Butterfly Valley, a nature reserve known for its variety of butterflies. The valley features a small beach, several 200-foot (60-meter) waterfalls, and a handful of restaurants, B&Bs, and campgrounds.

A six-mile (11-kilometer) drive north of Oludeniz is the Gulf of Fethiye, one of Turkey's critical nesting grounds for loggerhead sea turtles.
See also: Ephesus – An Ancient City Full of Surprises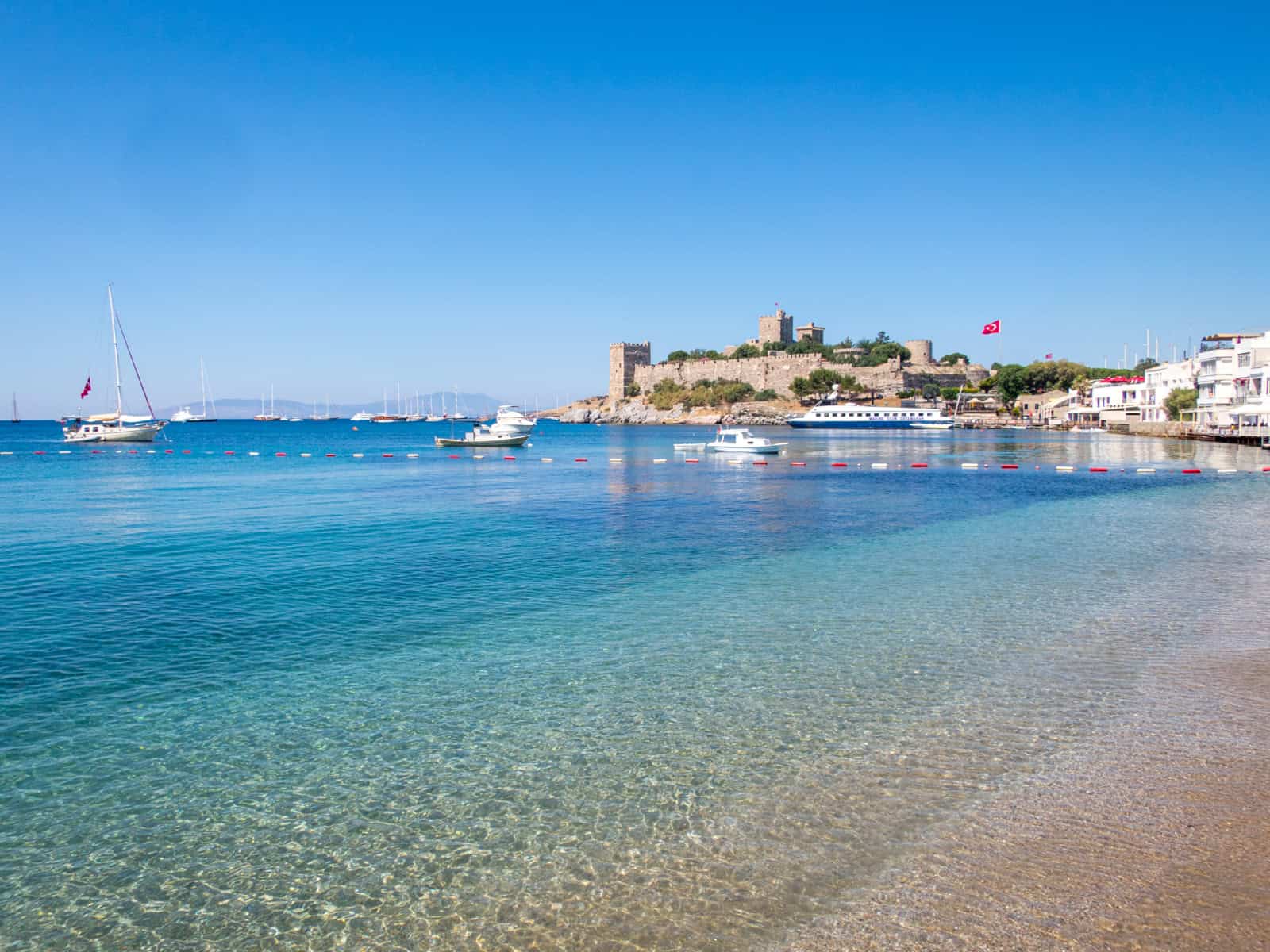 5. Bodrum
My fifth and final stop on the Turkish Riviera was Bodrum, a popular destination for sailing trips to Greece. Of the ancient cities on this list, it's the only one on the Aegean Sea.
Ferries are also available, and I ultimately took one to Rhodes. But not before seeing a little of what Bodrum has to offer.
I began with a glass of white wine at sunset on a rocky, restaurant-lined beach with a view of the 15th-century Bodrum Castle.
The following day, I walked over to Bodrum Castle, which offers excellent views of the town, marina, and blue water.
It's also home to the Bodrum Museum of Underwater Archaeology, which features items recovered from ancient shipwrecks in the Aegean Sea.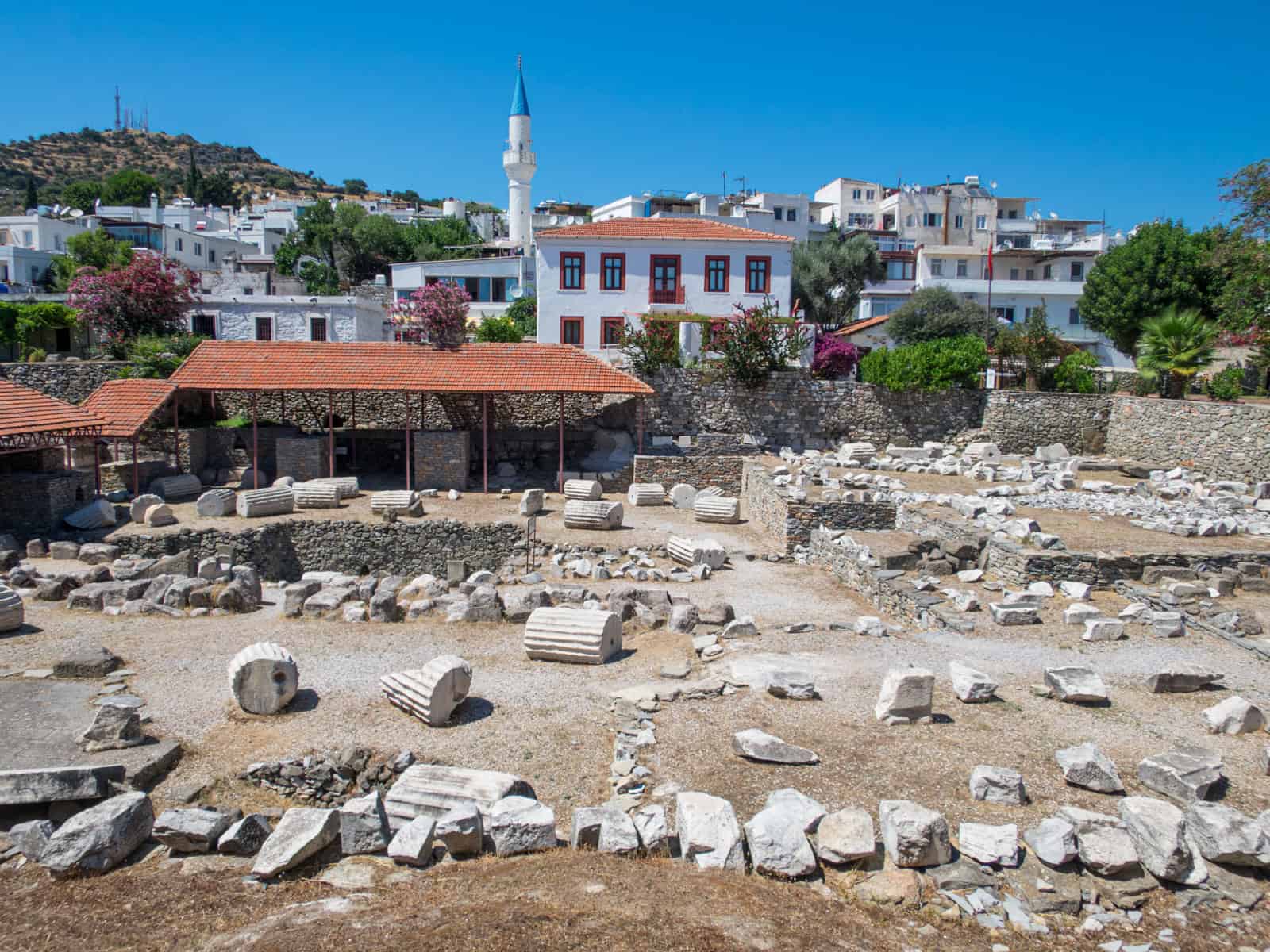 Next, I visited the Mausoleum at Halicarnassus, one of the Seven Wonders of the Ancient World.
The towering structure was built for a ruler, Mausolus, in 350 BCE and likely lasted until the Middle Ages, when an earthquake brought it down.
In the 15th century, the remains were used as a source of stone for the construction of nearby Bodrum Castle.
Today, you'll find little left to appreciate at this archaeological site; however, it's still worth a visit. Sections of columns and statues are strewn about the former foundation.
***
The Turkish Riviera is a stunning stretch of the Mediterranean coast, easily visited by bus or car. There are ancient ruins and beautiful beaches, big and small, to explore.
Budget-friendly accommodations exist for backpackers, and plenty of mid-range hotel options exist, too.
The best time to visit are the shoulder seasons of April to May and September to October; the temperatures aren't as hot as the summer (high season), and it's not as crowded.
I hope this story gives you a taste of the experiences that await you on Turkey's Turquoise Coast.
Dave is the Founder and Editor in Chief of Go Backpacking and Feastio. He's been to 66 countries and lived in Colombia and Peru. Read the full story of how he became a travel blogger.
Planning a trip? Go Backpacking recommends: