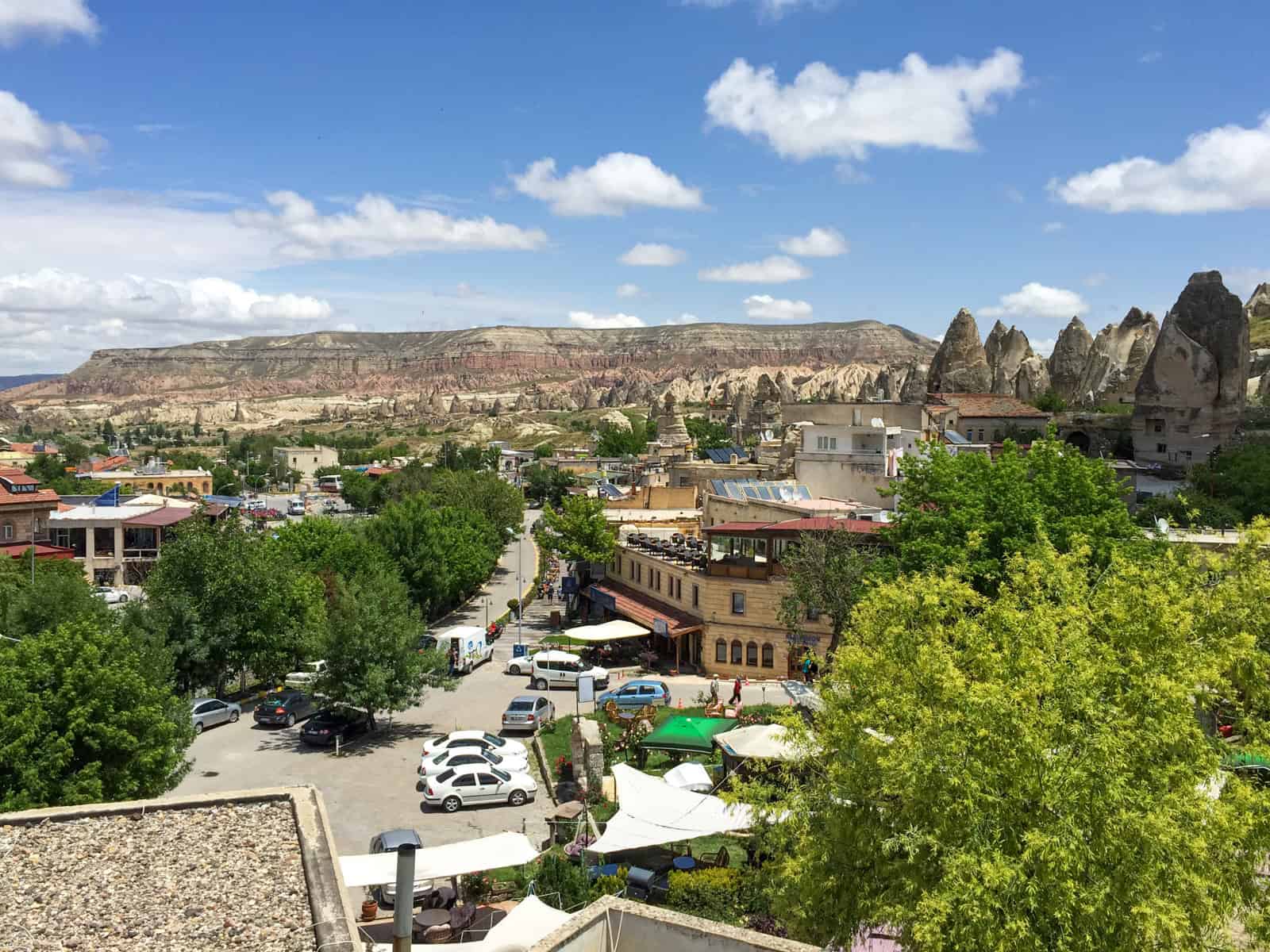 Cappadocia is a city in central Turkey famous for its unique natural landscapes, cultural heritage, and sunrise hot air balloon rides. But, there are many more things to do in Cappadocia than ride in a balloon.
I arrived by bus after a day-long trip from Kahta, where I'd visited Mount Nemrut the day before.
The initial bus broke down en route, causing delays. I didn't get into Cappadocia until after nightfall.
The views I missed on arrival were waiting for me the following day when I began to acquaint myself with the spectacular scenery all around me.
Cappadocia is the kind of place where signing up for cheap sightseeing tours is an efficient use of your time and money.
They're big business, run daily, and are easy to book on arrival if you're trying to keep your plans flexible.
In this article, I'm sharing 13 things to do in Cappadocia based on my five days in the city.
Best of Cappadocia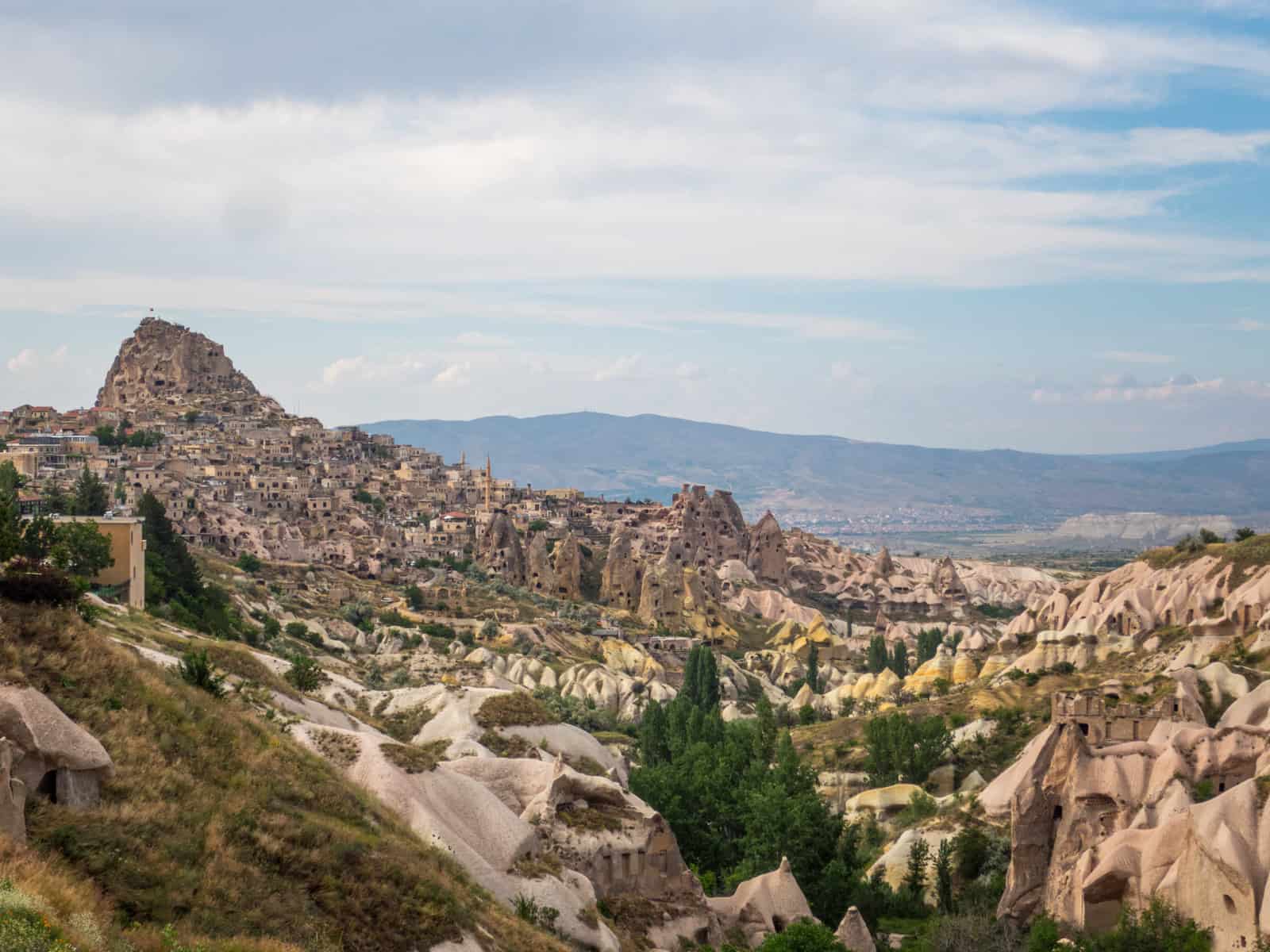 1. Uchisar Rock Castle
Carved out of volcanic rock, Uchisar Rock Castle is 197 feet (60 meters) tall and a dominant feature in Cappadocia.
During Byzantine times, this multi-level castle held up to 1,000 residents in rooms connected by tunnels, all of which were carved out of rock.
Due to erosion, many parts of the castle are no longer open to visitors.
However, if you go to the top, you can still enjoy panoramic views of Cappadocia and the surrounding landscape.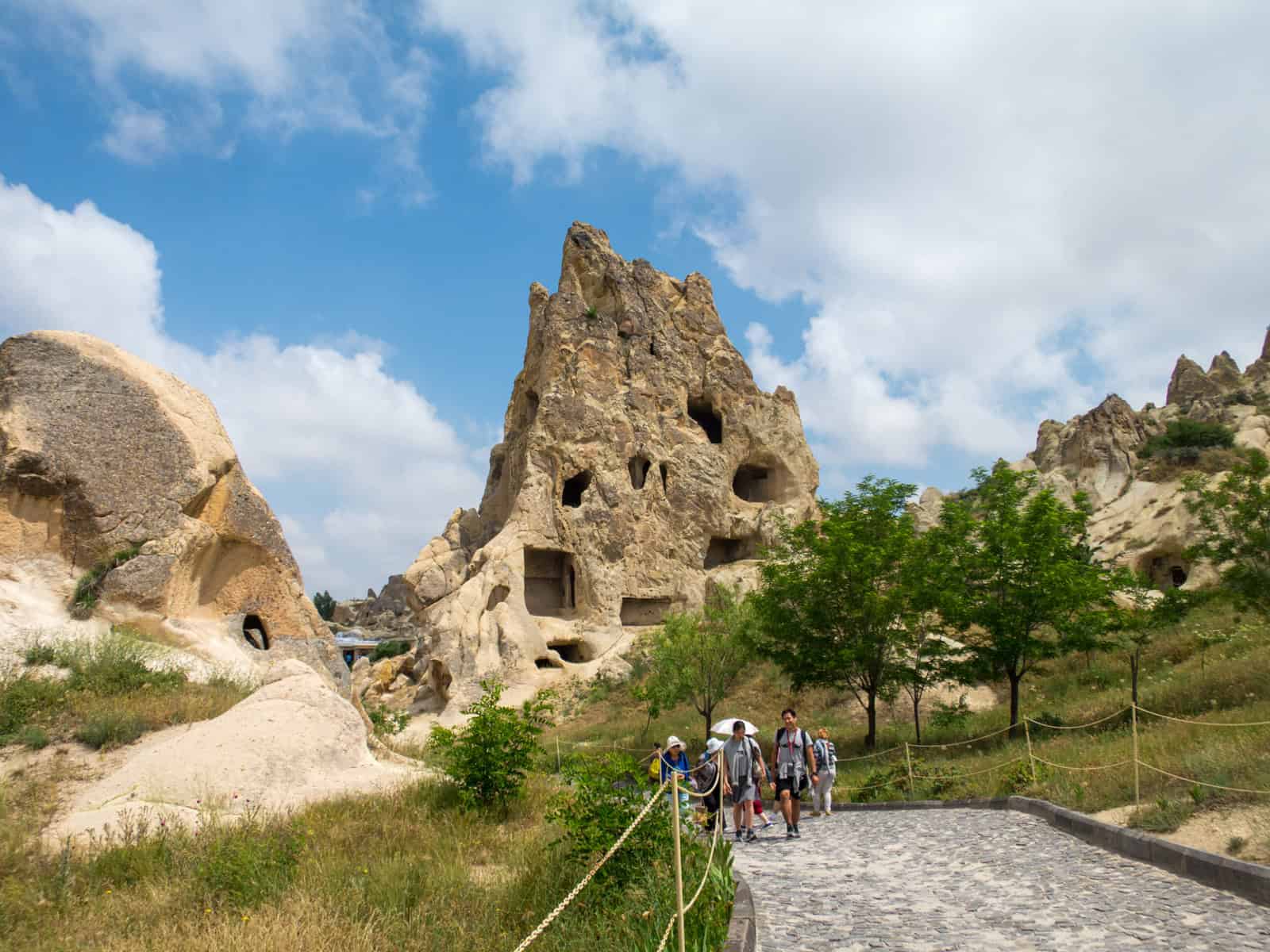 2. Goreme Open Air Museum
The first significant site I visited in Cappadocia is Goreme Open Air Museum, part of Goreme National Park, a UNESCO World Heritage Site since 1985.
In a spectacular landscape, entirely sculpted by erosion, the Göreme valley and its surroundings contain rock-hewn sanctuaries that provide unique evidence of Byzantine art in the post-Iconoclastic period.

Dwellings, troglodyte villages and underground towns – the remains of a traditional human habitat dating back to the 4th century – can also be seen there.

— UNESCO
The Goreme Open Air Museum is a monastic complex featuring living spaces and churches carved into soft volcanic rock.
Related: 13 Best Places to Visit in Turkey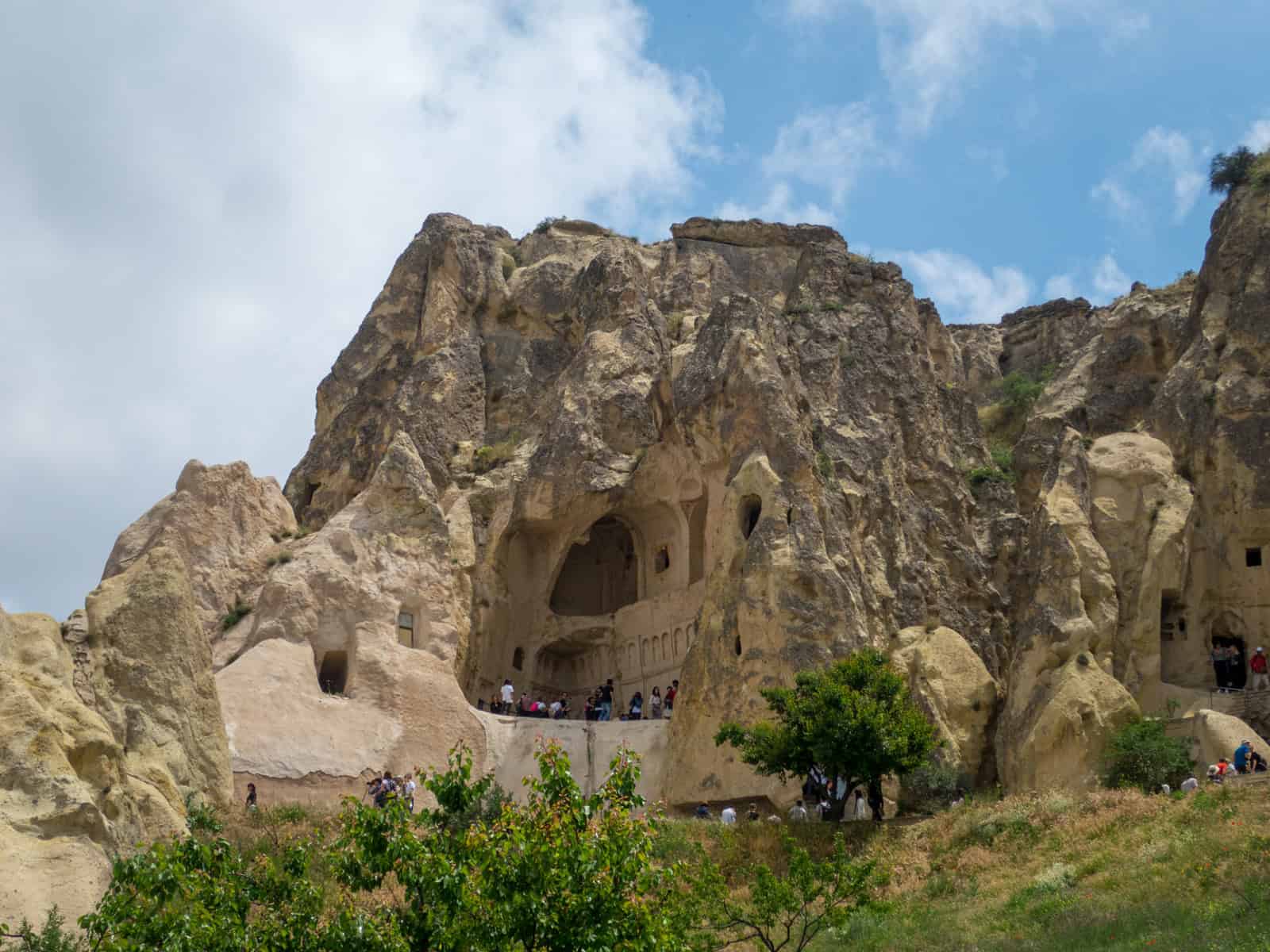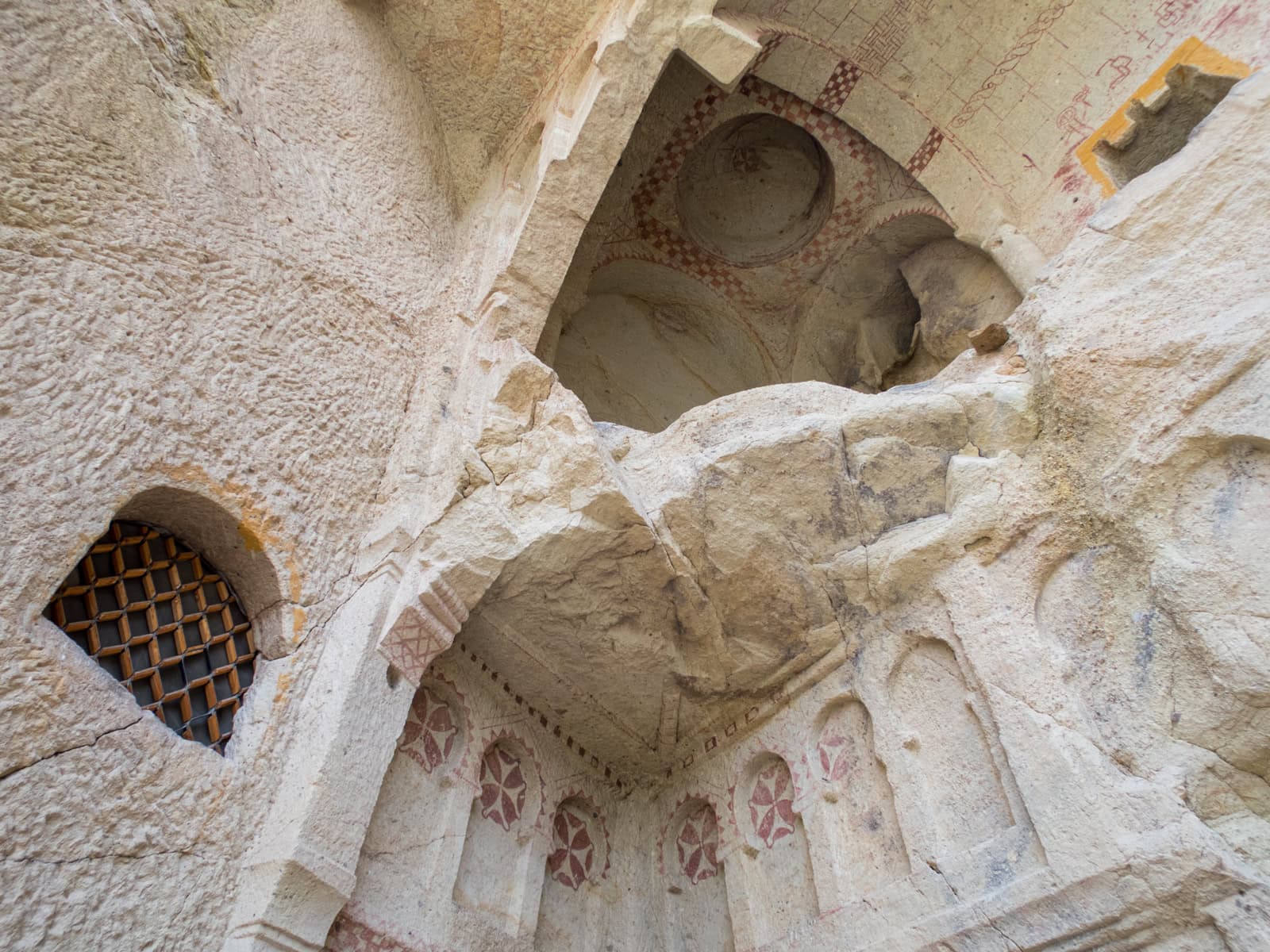 Walking around the outdoor museum is a fascinating experience, as you're allowed to enter some of the rock churches and view their features and paintings up-close.
Earlier decorations were kept simple, such as the crosses pictured above. Subsequent development included more sophisticated works of art.
Unfortunately, erosion and vandalism have damaged all but the best-protected paintings over the years.
If you like Goreme Open Air Museum's look, the Zelve Open Air Museum is not as well known and therefore receives fewer visitors.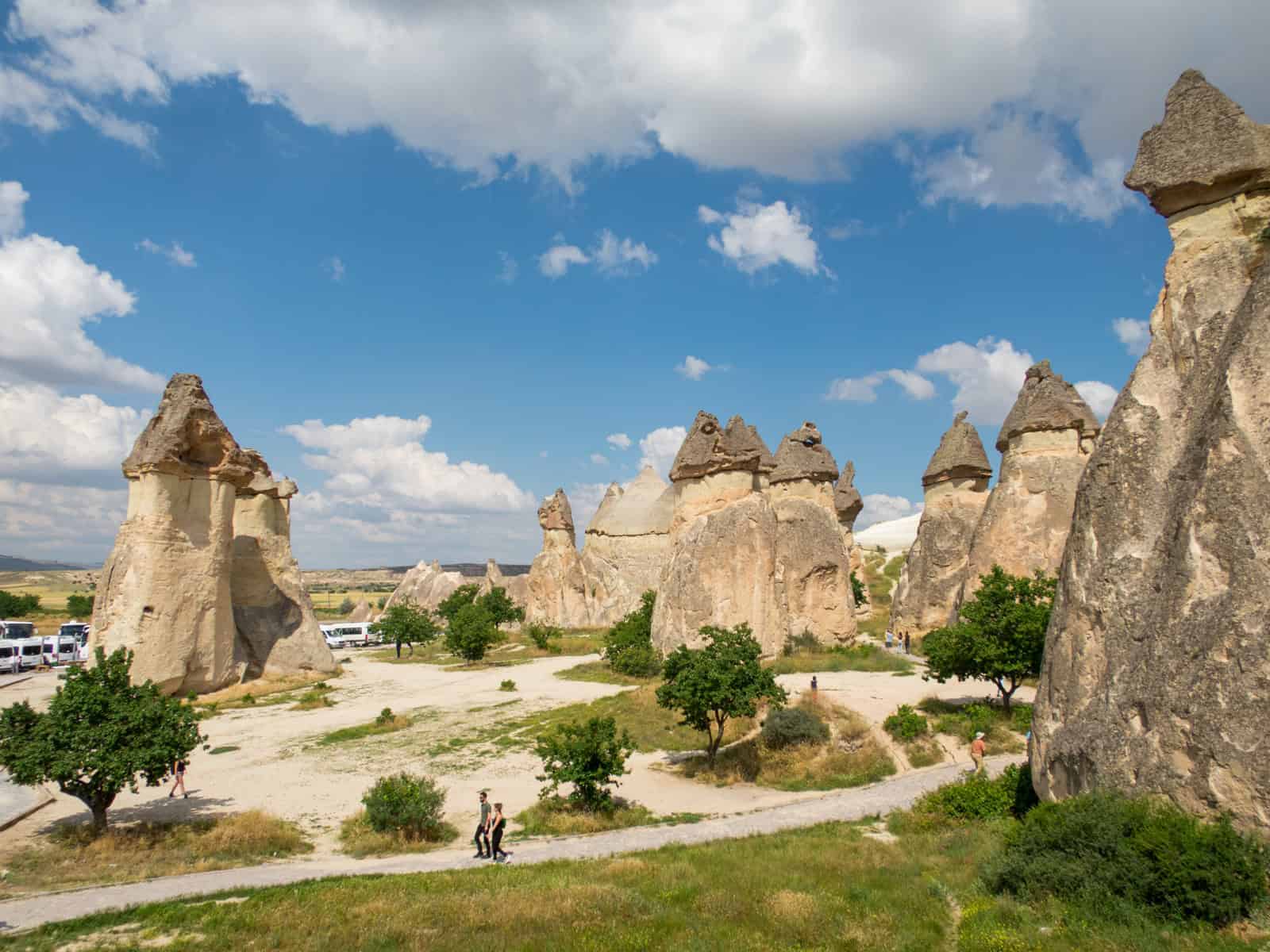 3. Fairy Chimneys
Following my walk around Goreme Open Air Museum, my tour took me to Pasabag ("Monks Valley").
Pasabag is home to some of the best examples of mushroom-shaped fairy chimneys in Cappadocia.
These phallus-shaped geological formations, known as hoodoos, are formed by the soft rock in the column protected by a harder rock at the top.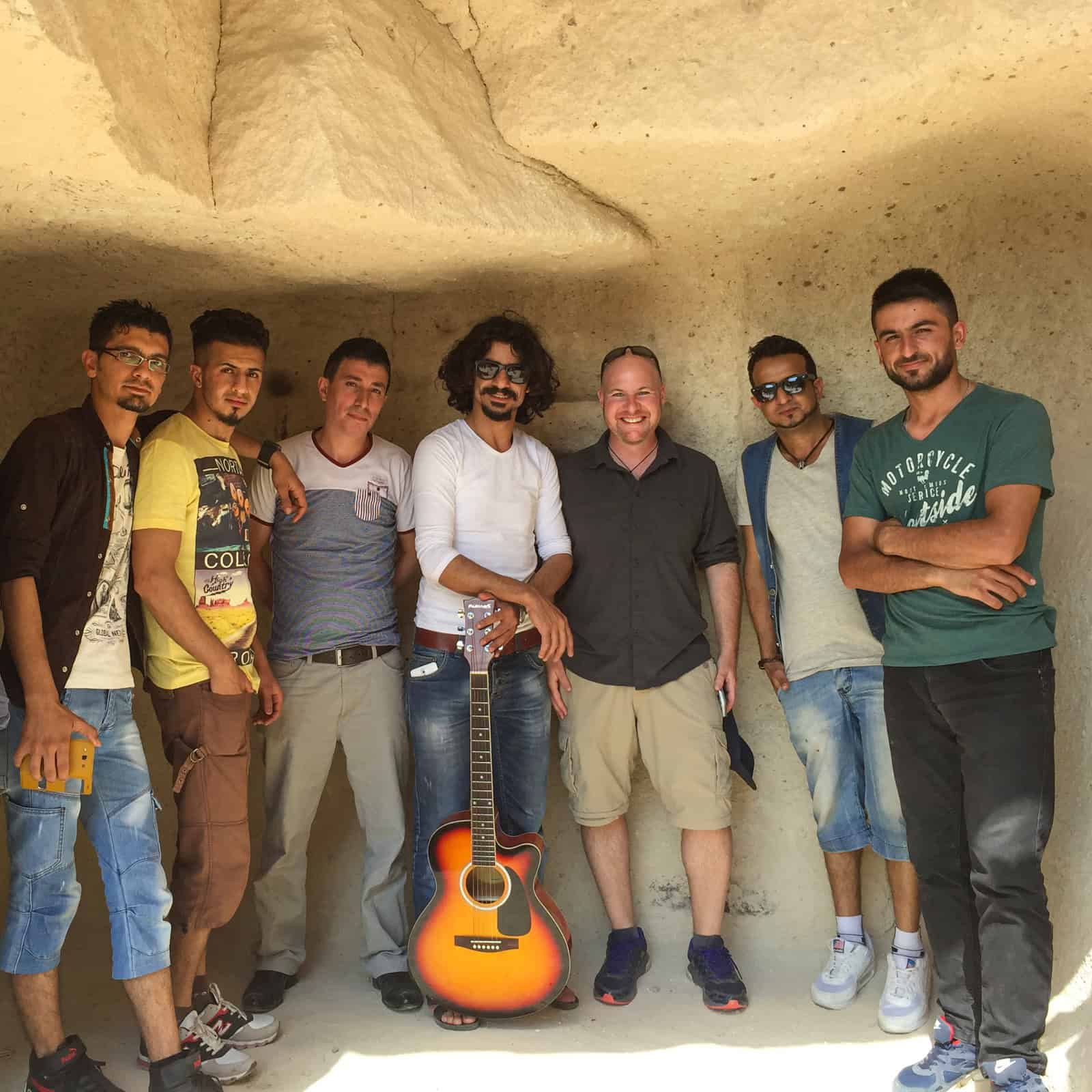 Hoodoos are not unique to Cappadocia, although they're heavily associated with the city.
They can also be found in the United States, Mexico, France, and Japan, among other countries.
While I was exploring the fairy chimneys of Pasabag, I ran into a group of Turkish travelers who asked for a photo. Far be it from me to turn them down!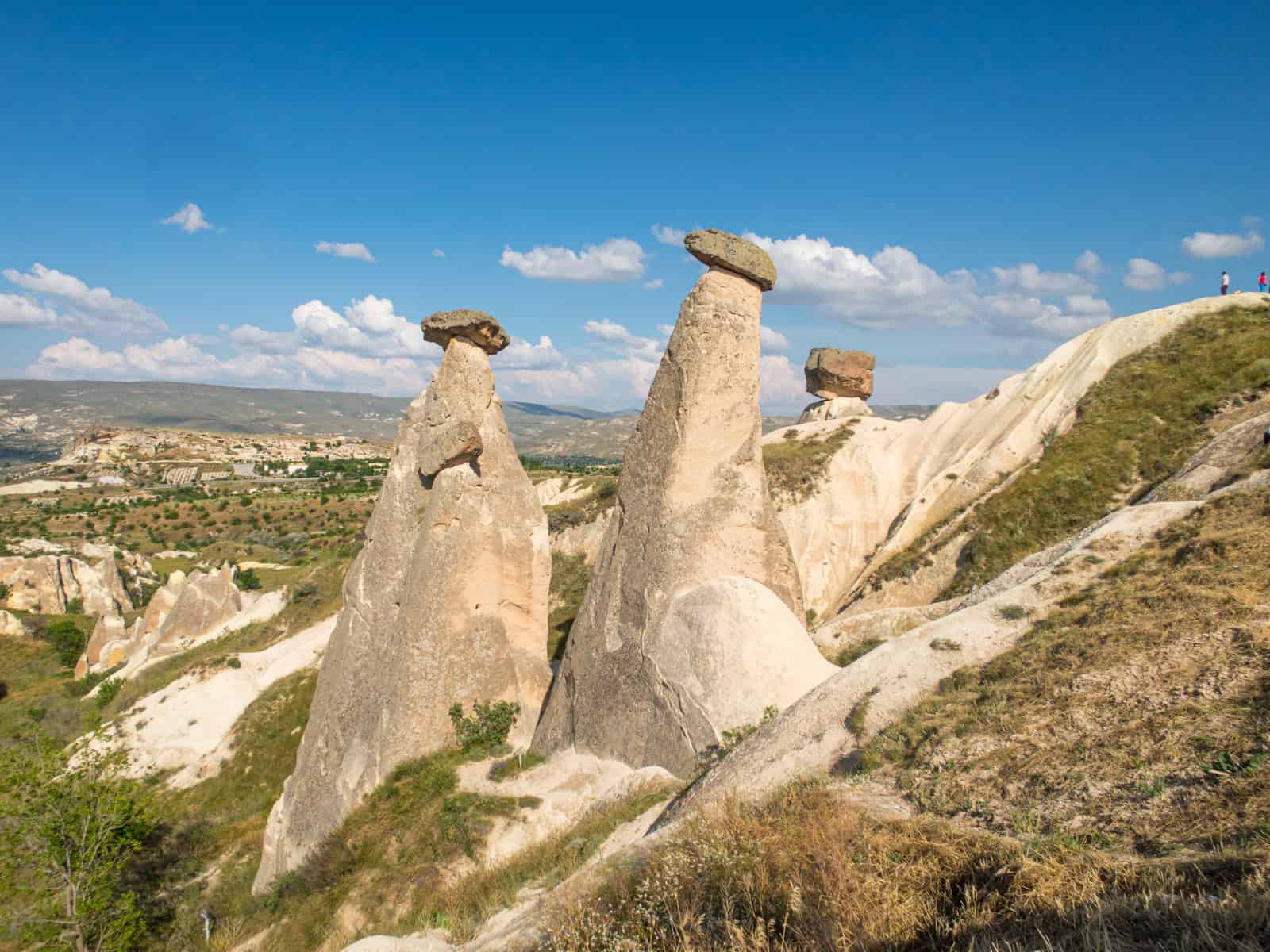 4. Other Notable Rock Formations
There is no shortage of interesting rock formations around Cappadocia. The Three Beauties is a worthy stop.
You can get a sense of scale by noting the humans in the upper right of my photo above.
One wonders at what point the stronger rock at the top will topple over.
Another spot worth considering is Devrent Valley ("Imagination Valley"), which features animal-shaped rocks. I didn't make it to that one.
So many rock formations to see, so little time!
See also: Top 10 Things to Do in Istanbul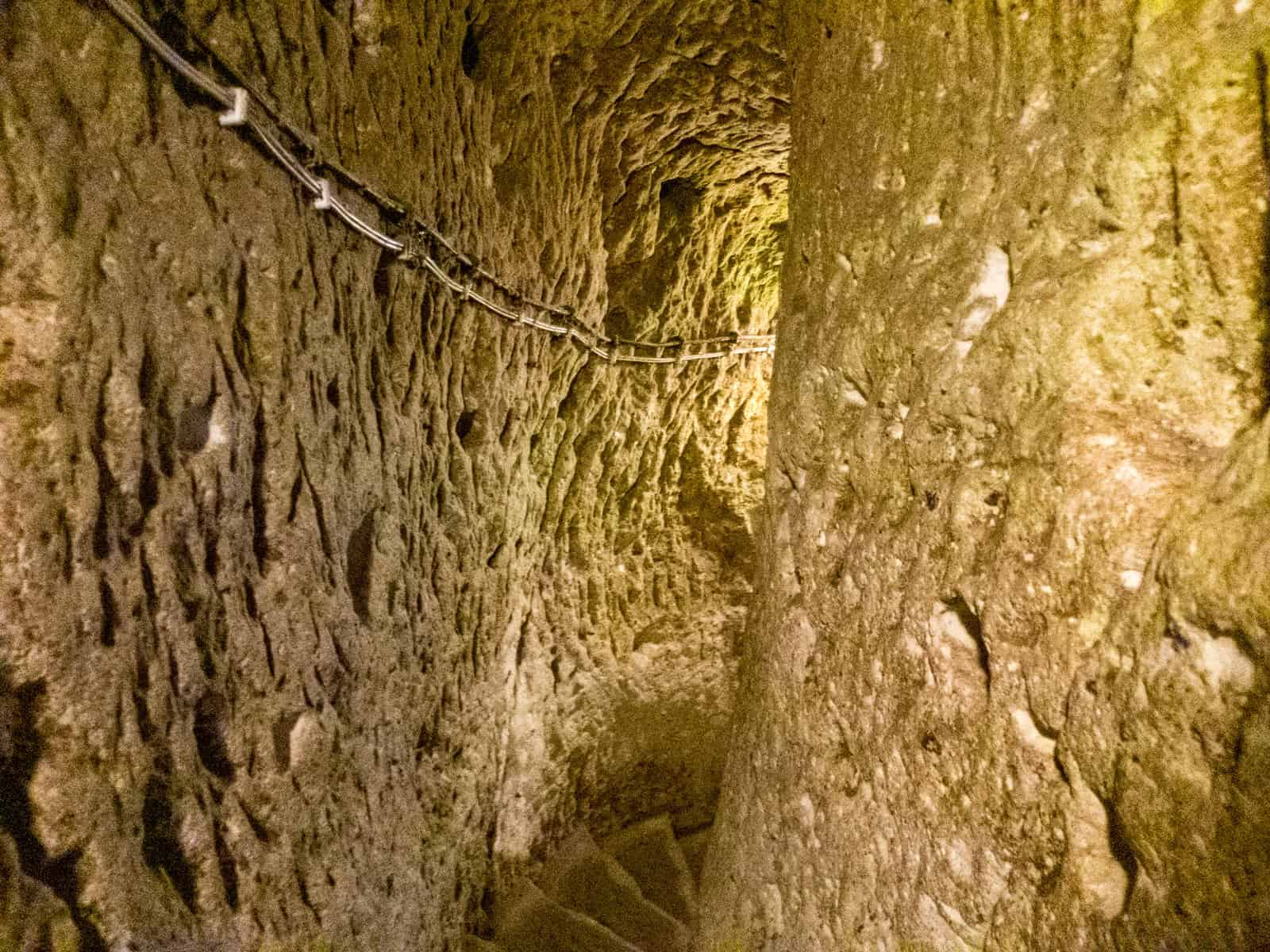 5. Derinkuyu Underground City
There's more to Cappadocia than what you see above ground. Below the surface, there are at least 250 underground cities.
Built in the 7th or 8th century BC, Derinkuyu is the largest, with an estimated capacity of 20,000 inhabitants!
Carved out of the volcanic rock 279 feet (85 meters) below ground, the Derinkuyu Underground City is a maze of tunnels, vertical staircases, living and religious spaces, and rooms for animals.
Approximately 15,000 ventilation ducts provide fresh air to the city from above ground, including a 180-foot (55-meter) tall vertical shaft, which also functioned well. This feature is visible to visitors.
Large, moveable, circular stone doors were carved as defensive measures against potential invaders.
These rudimentary yet effective doors evoke scenes from The Goonies and Indiana Jones movies.
I feel a little claustrophobic in tight spaces, such as the silver mine in Potosi, Bolivia.
However, I'm glad I went underground to see Derinkuyu, as it's astonishing to believe an entire society developed down there.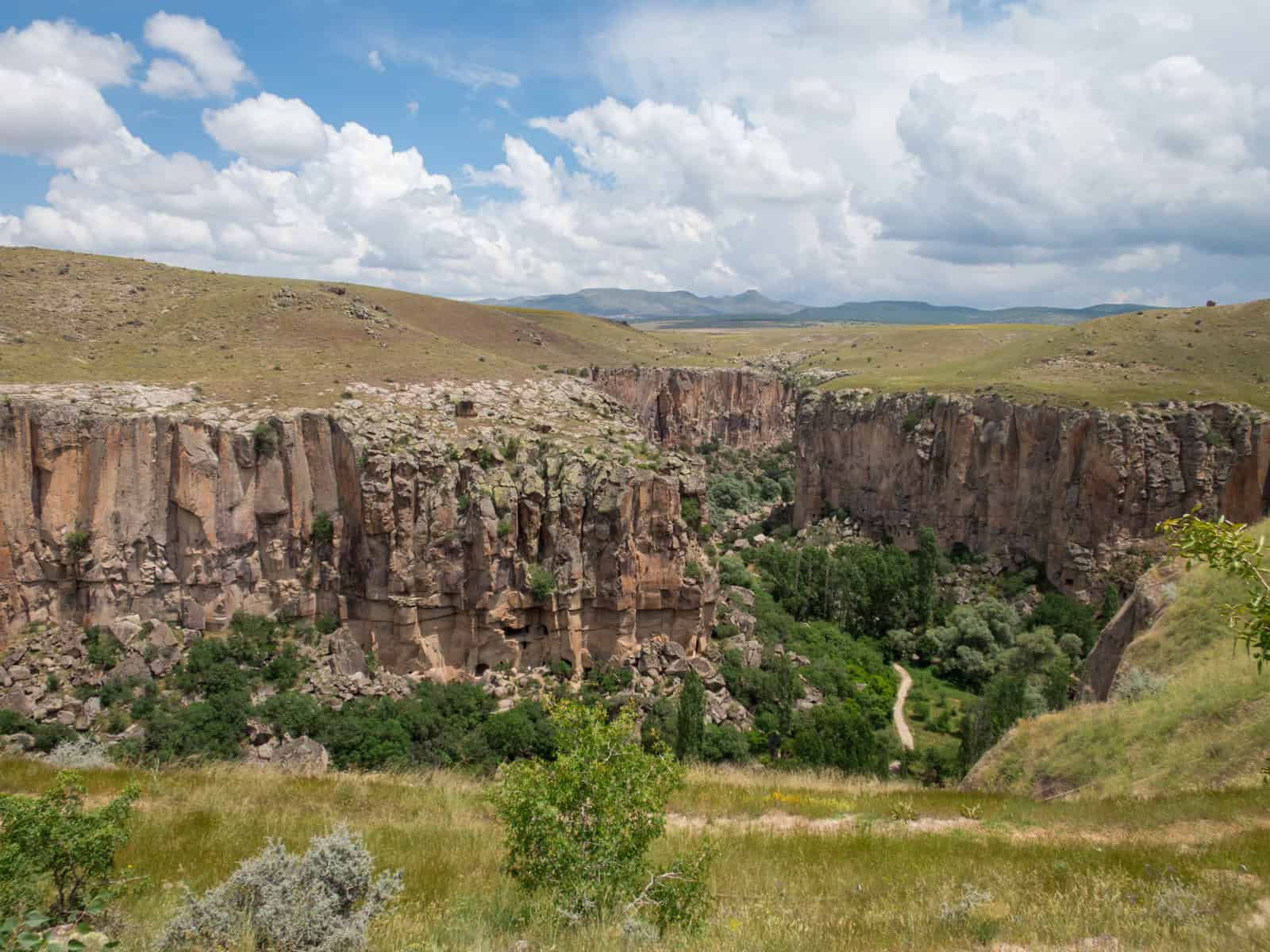 6. Ihlara Valley
Following the underground city, the tour I was on took us to the Ihlara Valley.
Carved by the Melendiz River over thousands of years, the valley is 328 feet (100 meters) deep and 8.7 miles (14 kilometers) long.
The valley was used by priests and monks after the 4th century and became a center of monastic life. There are 105 rock churches and 10,000 caverns.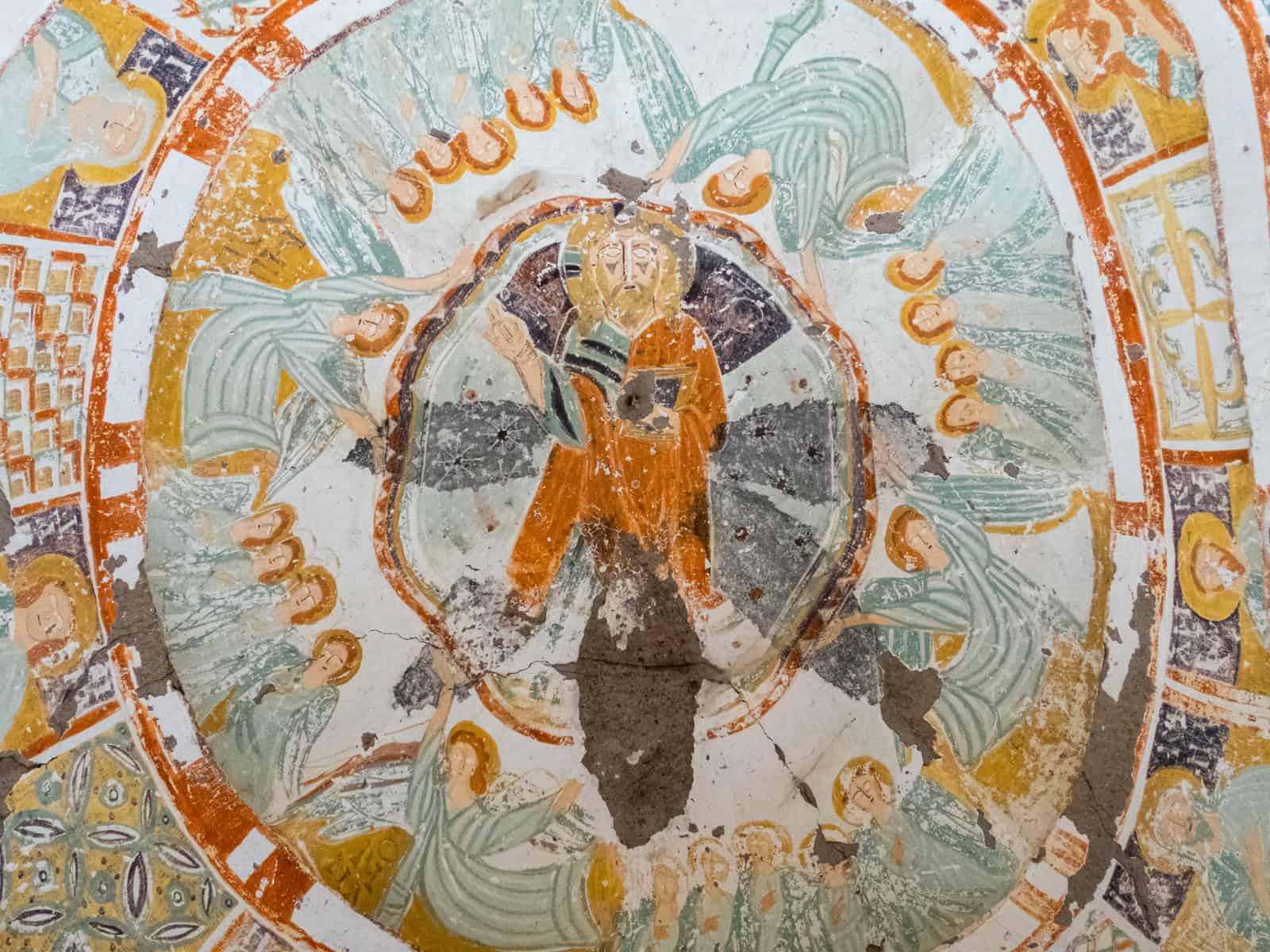 Descending the valley by a wooden staircase is easy, and once down there, the well-marked path is flat and follows the river.
There are many notable stone churches you can visit. One of the best church frescos I saw was Daniel in the Lion's Den at Agacalti Kilise (Church Under the Tree).
Toward the end of the walk, my tour group stopped for a lunch of fresh fish at a riverside restaurant.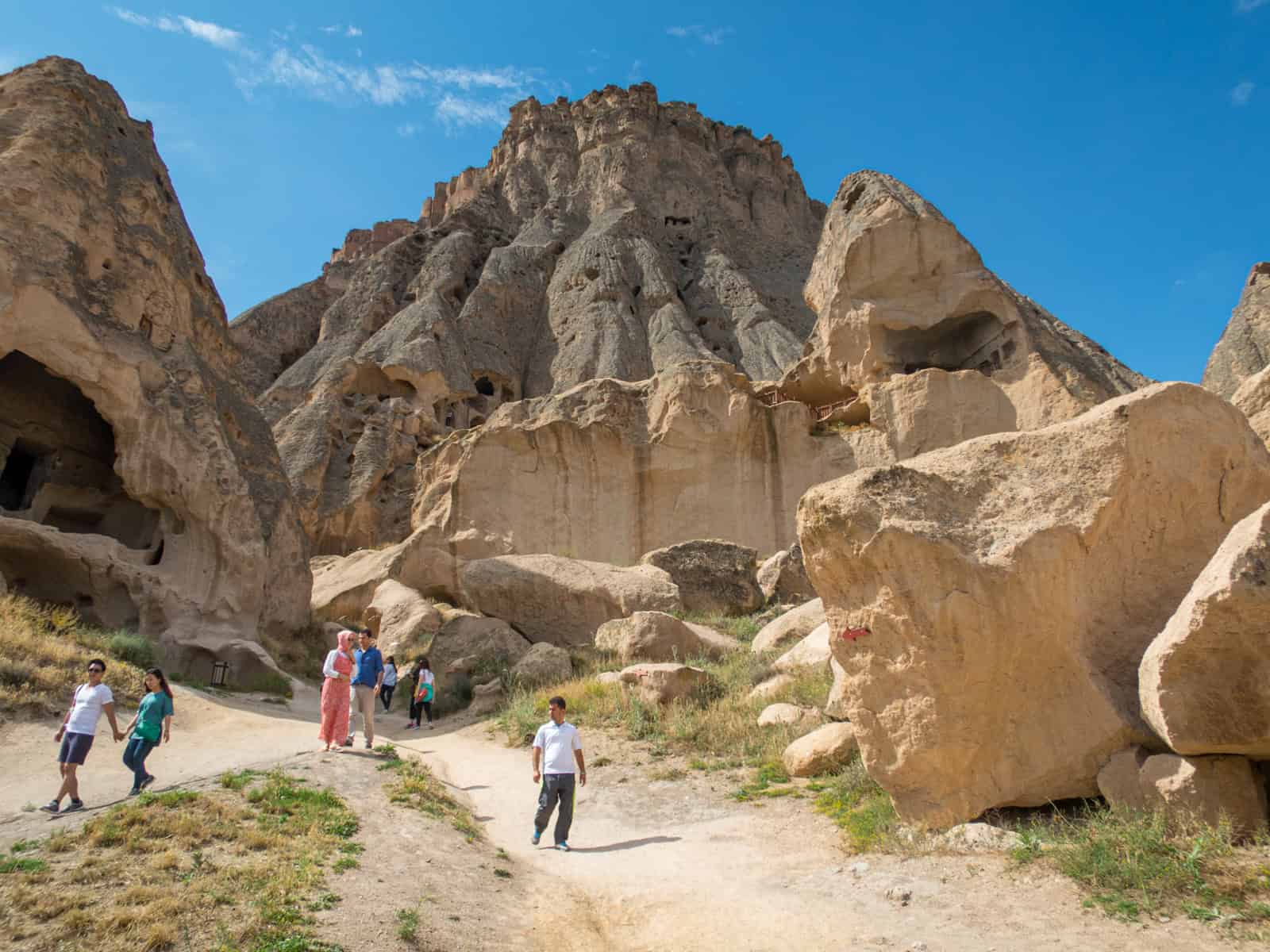 7. Selime Monastery
At the end of the Ihlara Valley is Selime Monastery, one of my favorite rock dwellings to explore in Cappadocia.
While it may be possible to walk there, my tour group drove about 15 minutes by paved road in the interest of time.
Walking up to the Selime Monastery is a theatrical experience, as you can see in the photo above.
Monastic rooms, a church, and a cathedral were carved into the rock facade by Christians in the first century AD who escaped persecution by the Romans.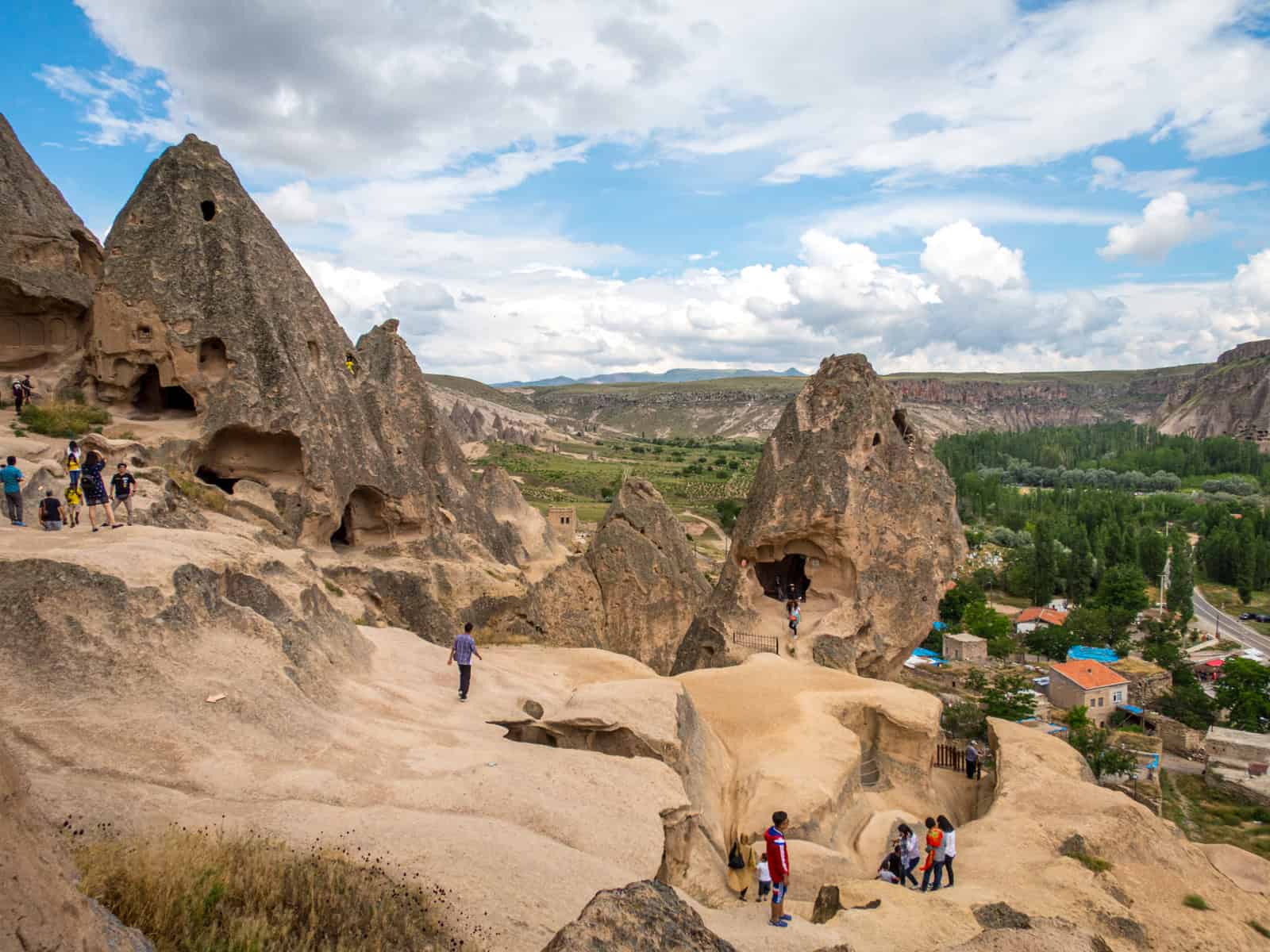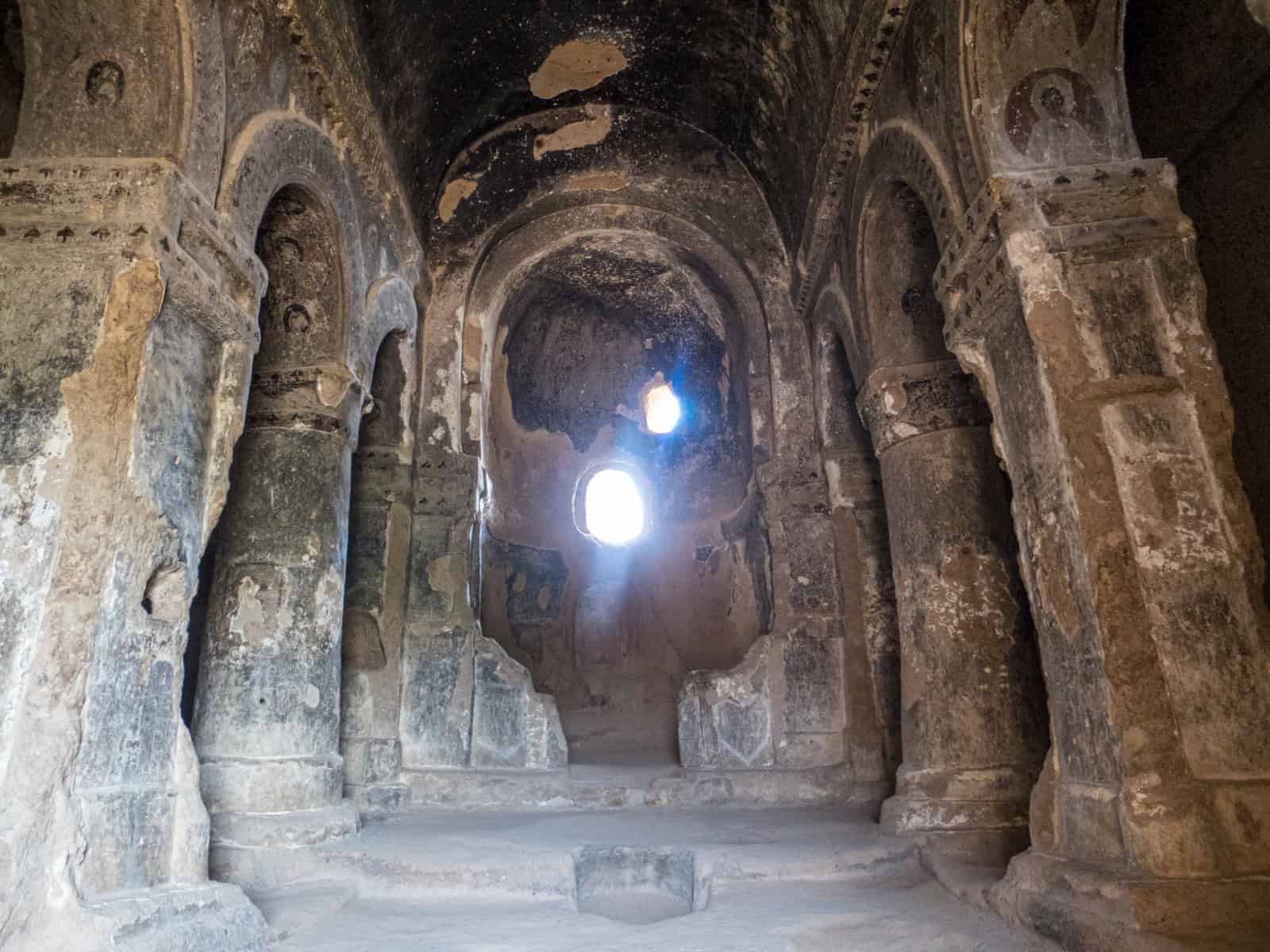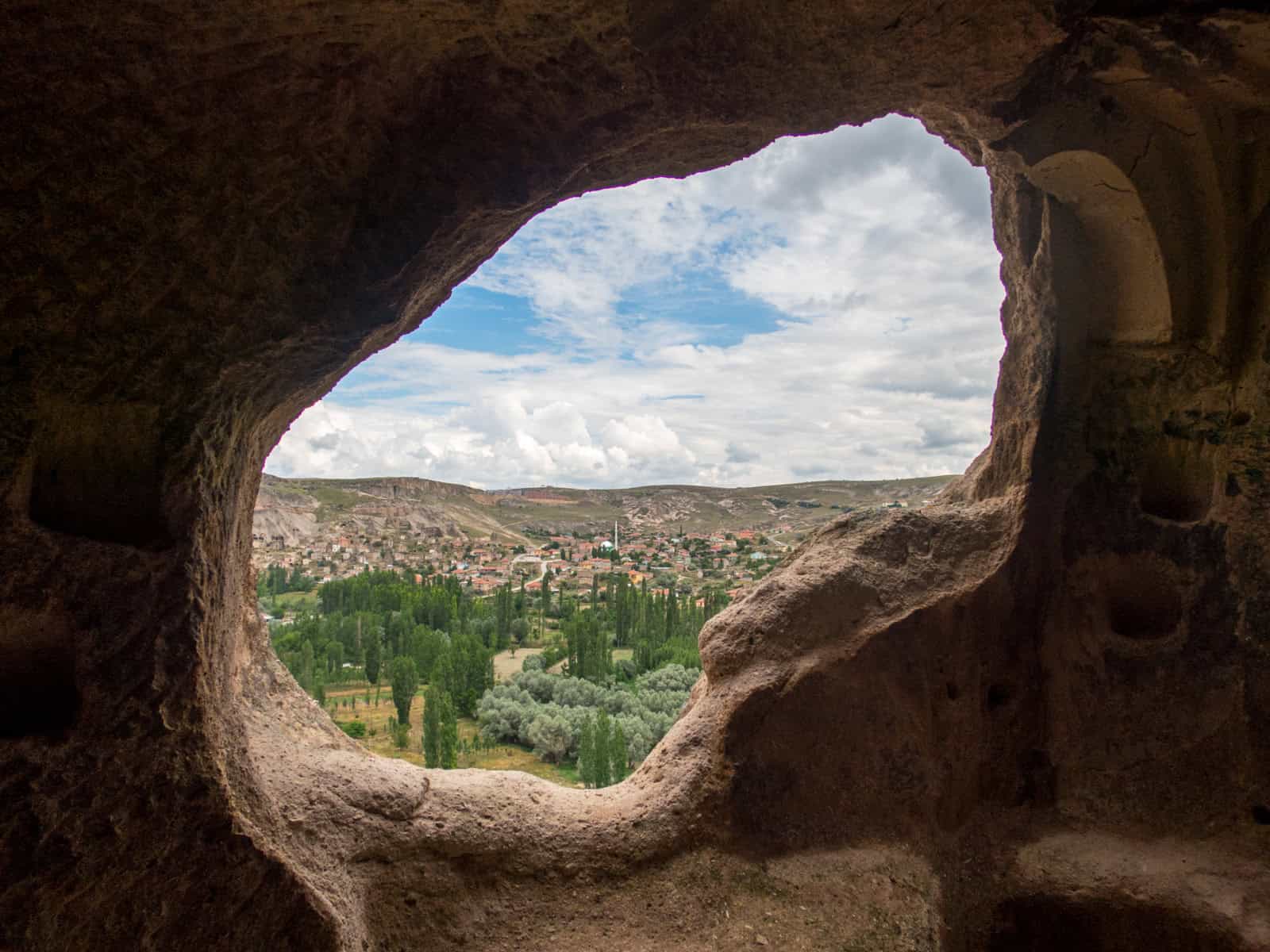 My tour group spent about 40 minutes at Selime Monastery, which was plenty, though I could've easily doubled that if I were on my own.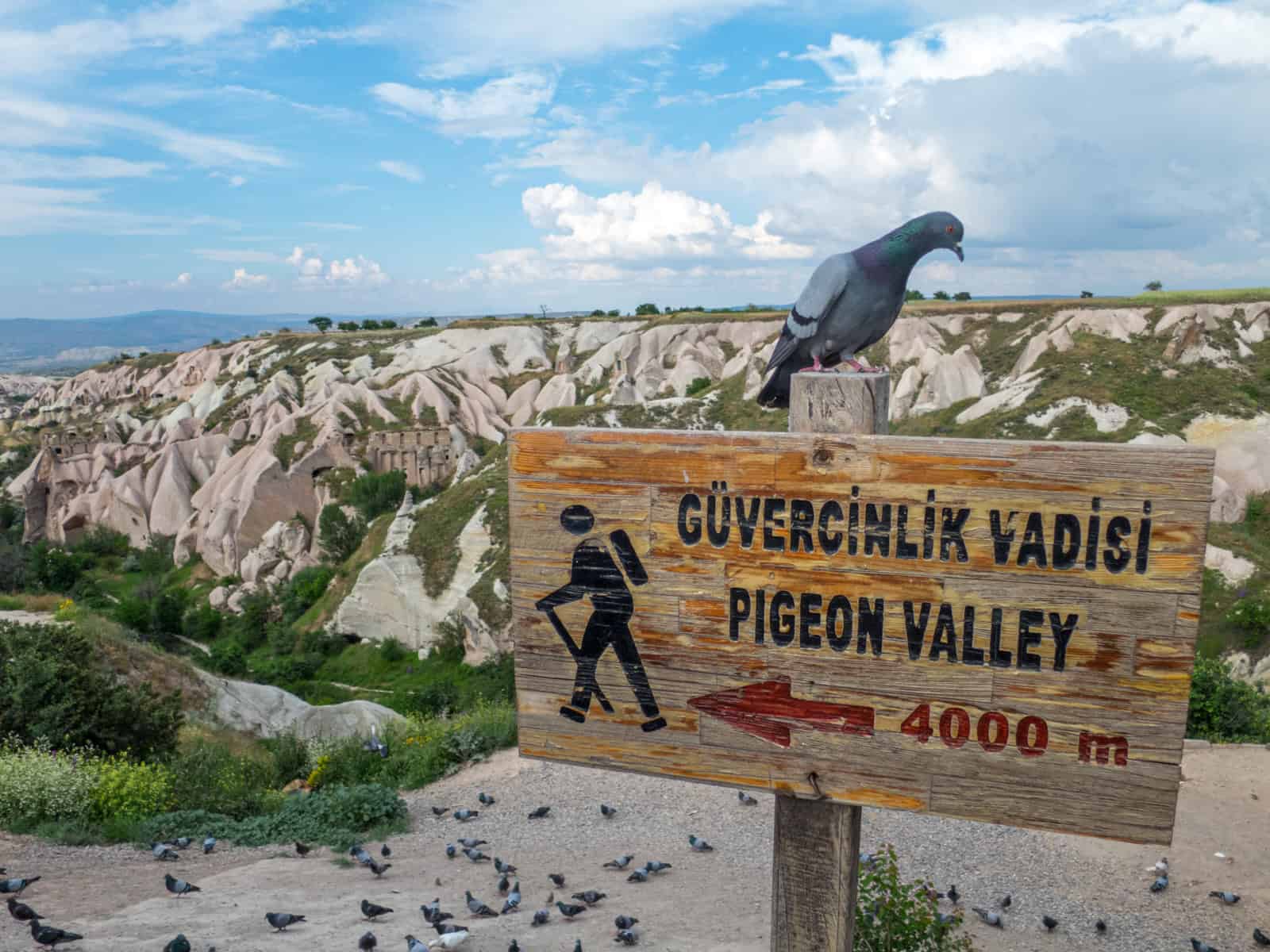 8. Pigeon Valley
The last stop of my second full-day tour was Pigeon Valley, about an hour's drive from Selime Monastery.
Here, as the name suggests, you'll see lots of pigeons, an important bird in the lives of those who lived in ancient Cappadocia.
Pigeon droppings were a valuable resource. They were used as fertilizers for crops and grapes for winemaking.
Plus, they were used in the production of cave frescoes.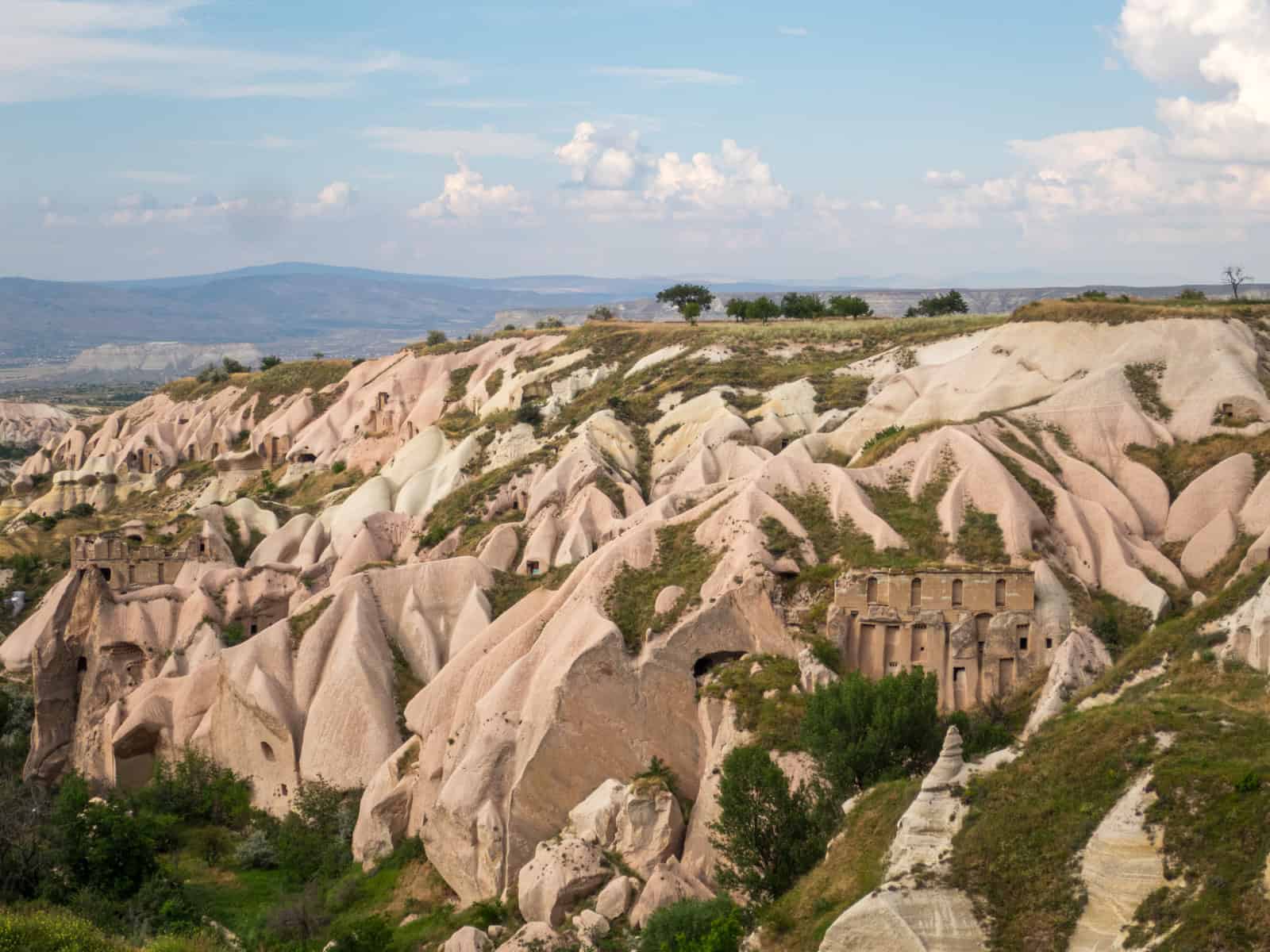 Pigeon houses are carved into the rocks in this valley and throughout Cappadocia to attract the pigeons and their precious droppings.
There are also some remarkable stone facades carved into the rock here.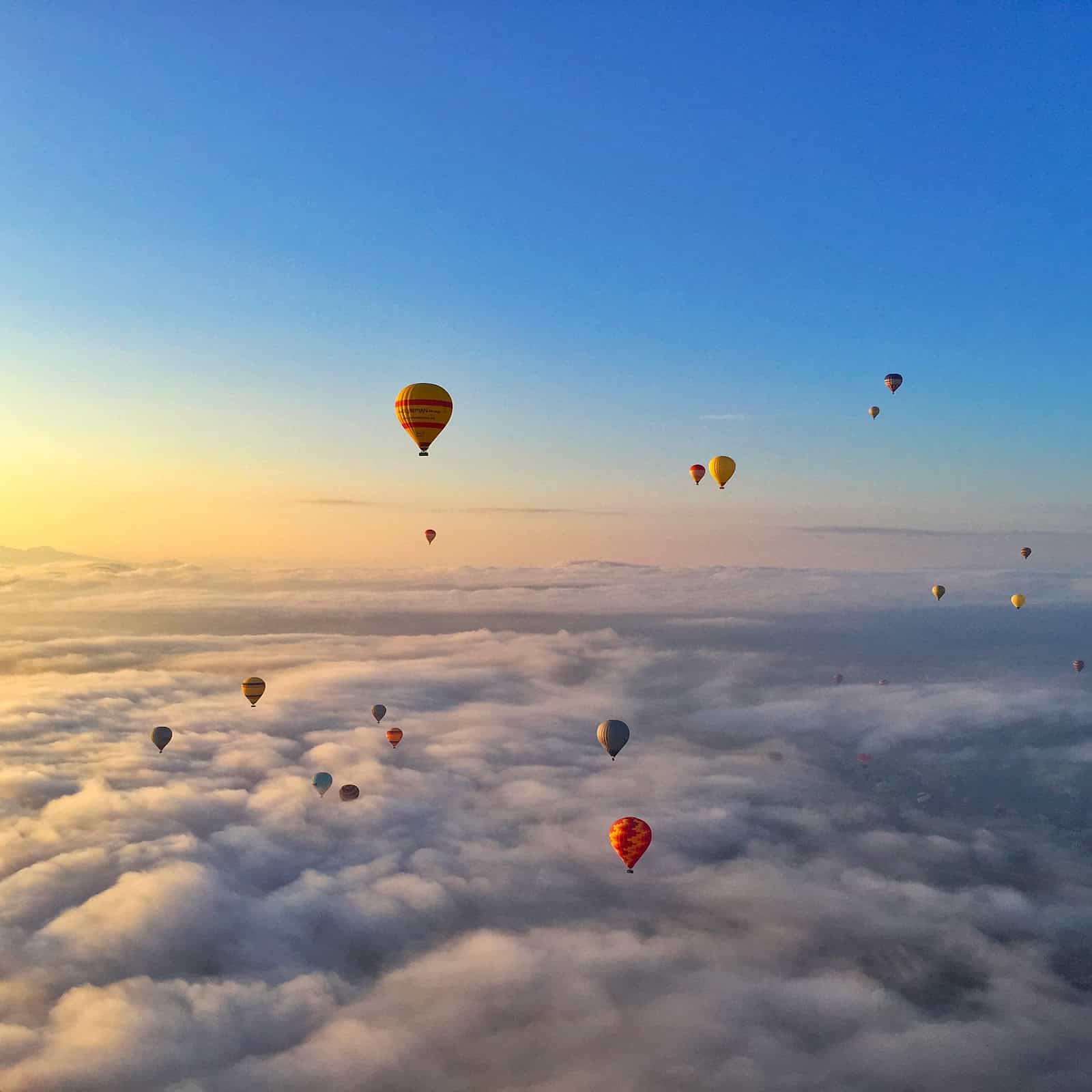 9. Sunrise Hot Air Balloon Ride
I know you've been waiting for me to mention it.
Magical sunrise hot air balloon rides draw travelers worldwide to Cappadocia every year, including me.
My fear of heights was about to be put to the test like never before.
I'd challenged myself many times over the years — skydiving at 23, jumping off a 30-foot waterfall in Costa Rica, a 100-meter canyon swing in Queenstown, and paragliding in Nepal and Colombia.
But, giving up total control and lifting above the clouds in a hot air balloon with no way down but to wait, well, that was a challenge.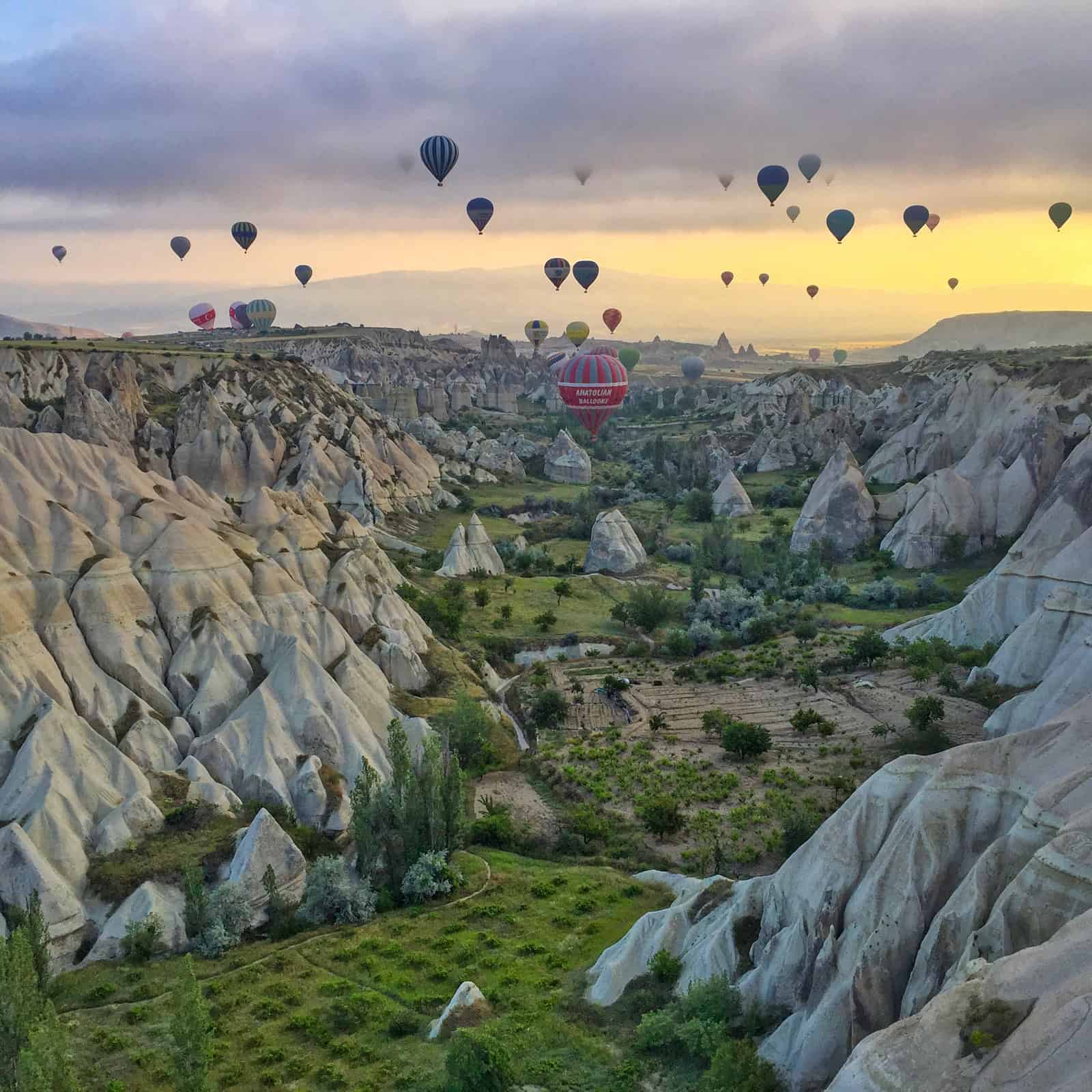 Thankfully, I stuck with it. Of course, there was no alternative once you committed. It's up, up, and away!
In retrospect, the whole experience was a rush, from watching and listening to a hundred balloons fire up before dawn to gently drifting back to earth based on the pilot's years of skill and experience reading the winds and terrain.
It's worth paying extra for a highly reputable balloon company.
I went with Butterfly Balloons after reading that Rick Steves used the same company. I'm happy to recommend them, too.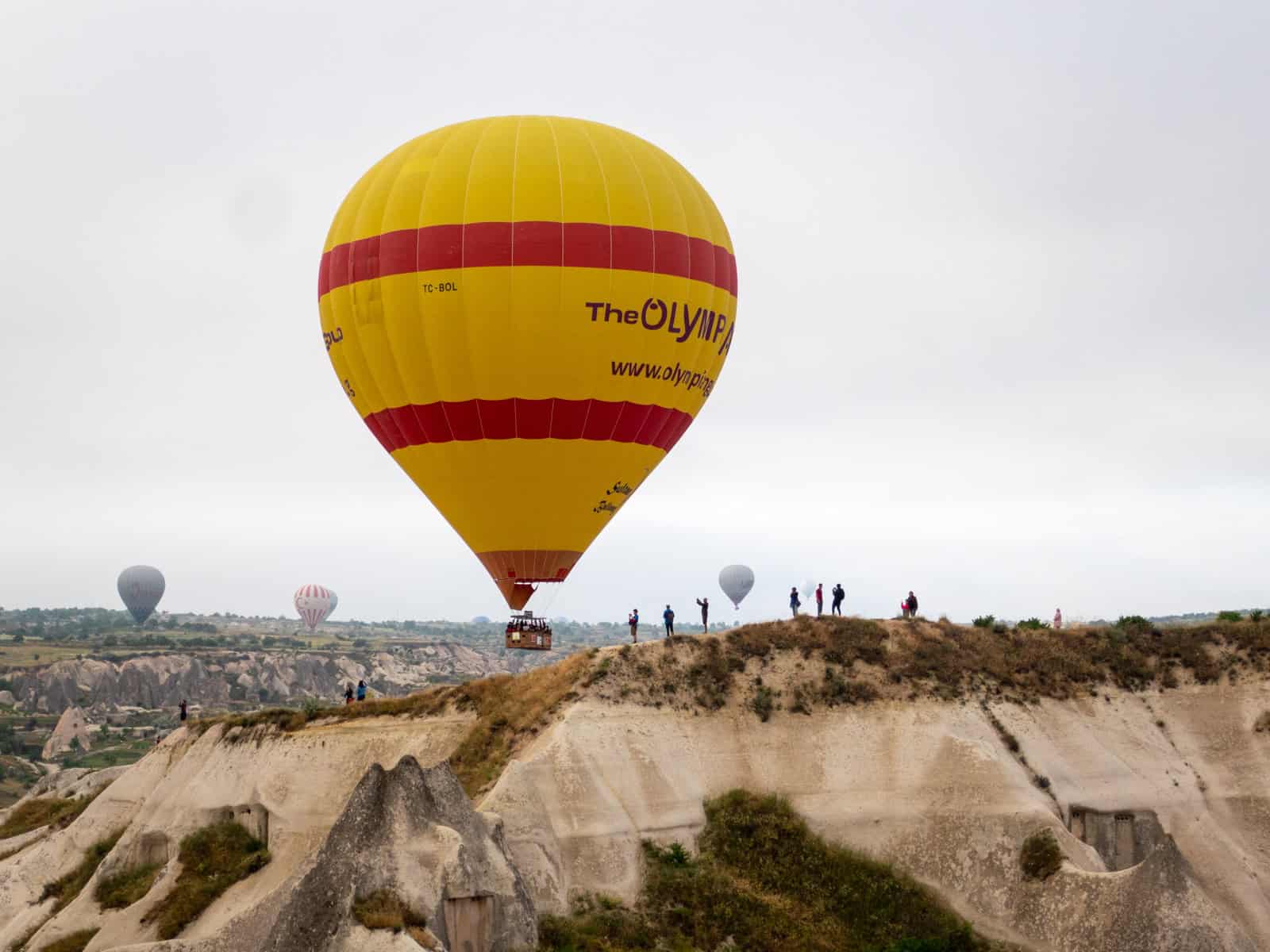 10. Watch Balloons from Aydn Kiragi viewpoint
Whether or not the idea of waking up before dawn to board a balloon for the heavens sounds appealing, you can still catch them en masse from around town.
For the best views, shuffle up to Aydn Kiragi, the ridge pictured above.
Be sure to give yourself enough time to get up there, so you're not feeling rushed as the balloons begin to descend.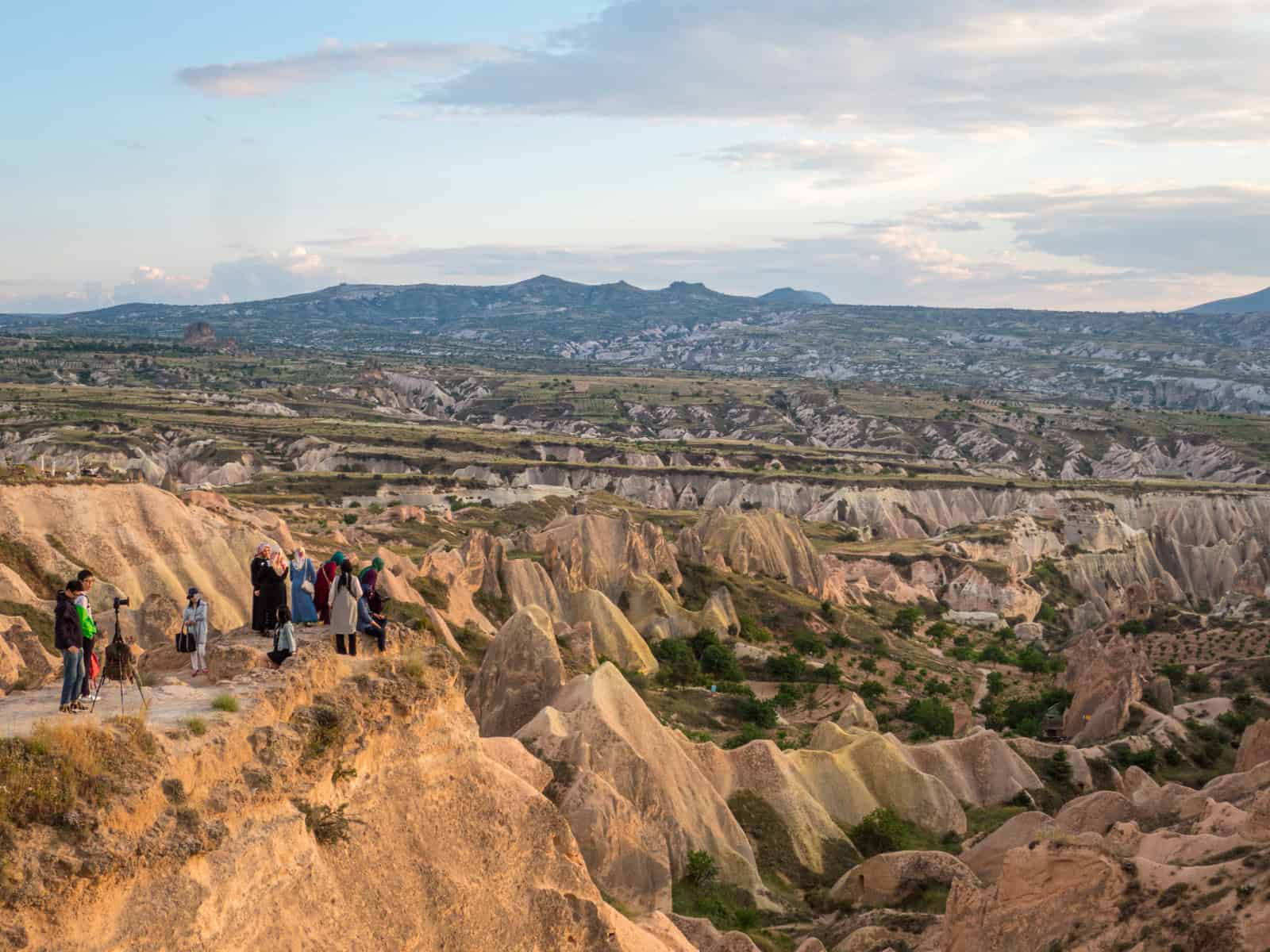 11. Watch Sunset
At this point, I hope it's evident how spectacular the scenery is around Cappadocia.
There are plenty of places to view the sunset over this unique landscape, including the Aydn Kiragi ridge I mentioned above for balloon-watching.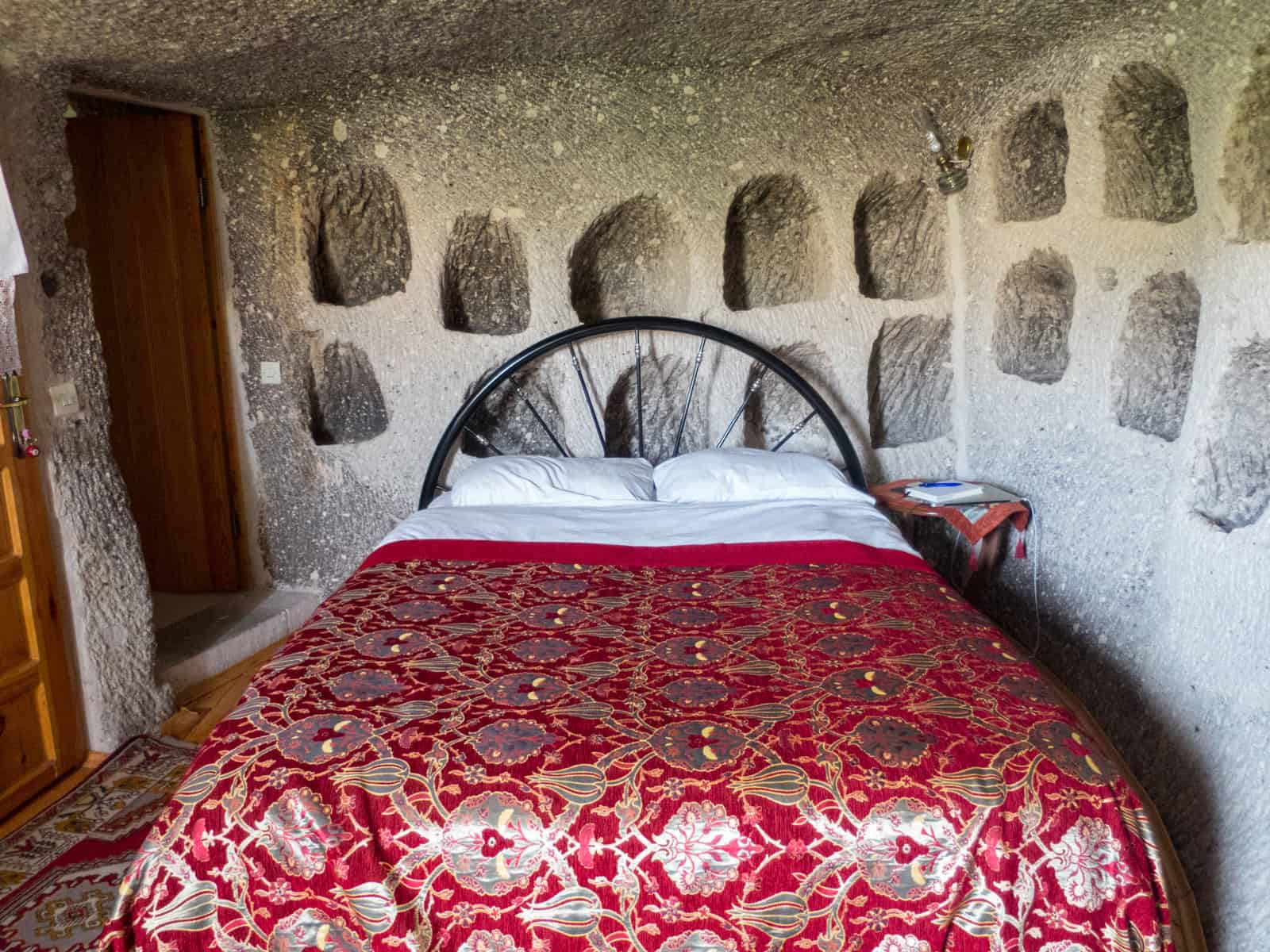 12. Sleep in a Cave Hotel
I highly recommend staying in a cave hotel in Cappadocia to further your immersion in this beautiful little world.
There are budget-friendly options for backpackers, so you won't have to break the bank.
I got a private room with a bathroom at Elif Star Cave Hotel (pictured above) and had a pleasant stay.
Each of the rooms in my hotel had different stone carving motifs. Mine was full of pigeon houses.
13. Eat in a Cave Restaurant
Last but not least, I suggest eating in at least one cave restaurant during your stay in Cappadocia.
They're all over the place and offer a unique dining experience.
There are also some terrific rooftop restaurants too. Places like Topdeck Cave Restaurant are multi-level, offering diners the option of eating underground or with a view.
***
There you have it, my 13 recommendations for incredible things to do in Cappadocia, Turkey.
Between your time spent sightseeing in caves and underground cities and sleeping and dining in caves, you might start to get a feel for what life would've been like for Cappadocia's inhabitants over the last few millennia.
Dave is the Founder and Editor in Chief of Go Backpacking and Feastio. He's been to 66 countries and lived in Colombia and Peru. Read the full story of how he became a travel blogger.
Planning a trip? Go Backpacking recommends: