An eery silence filled the sky as my Cappadocia hot air balloon ride had us ascending through the clouds over central Turkey.
The quiet was only punctured by the occasional whoosh sound made whenever our pilot, Mustafa, released the flame to heat the air, keeping us aloft.
Outwardly, the 360-degree scenery was straight from a fantasy novel, with ethereal balloons dotting the sky while the rising sun cast a golden glow over everything.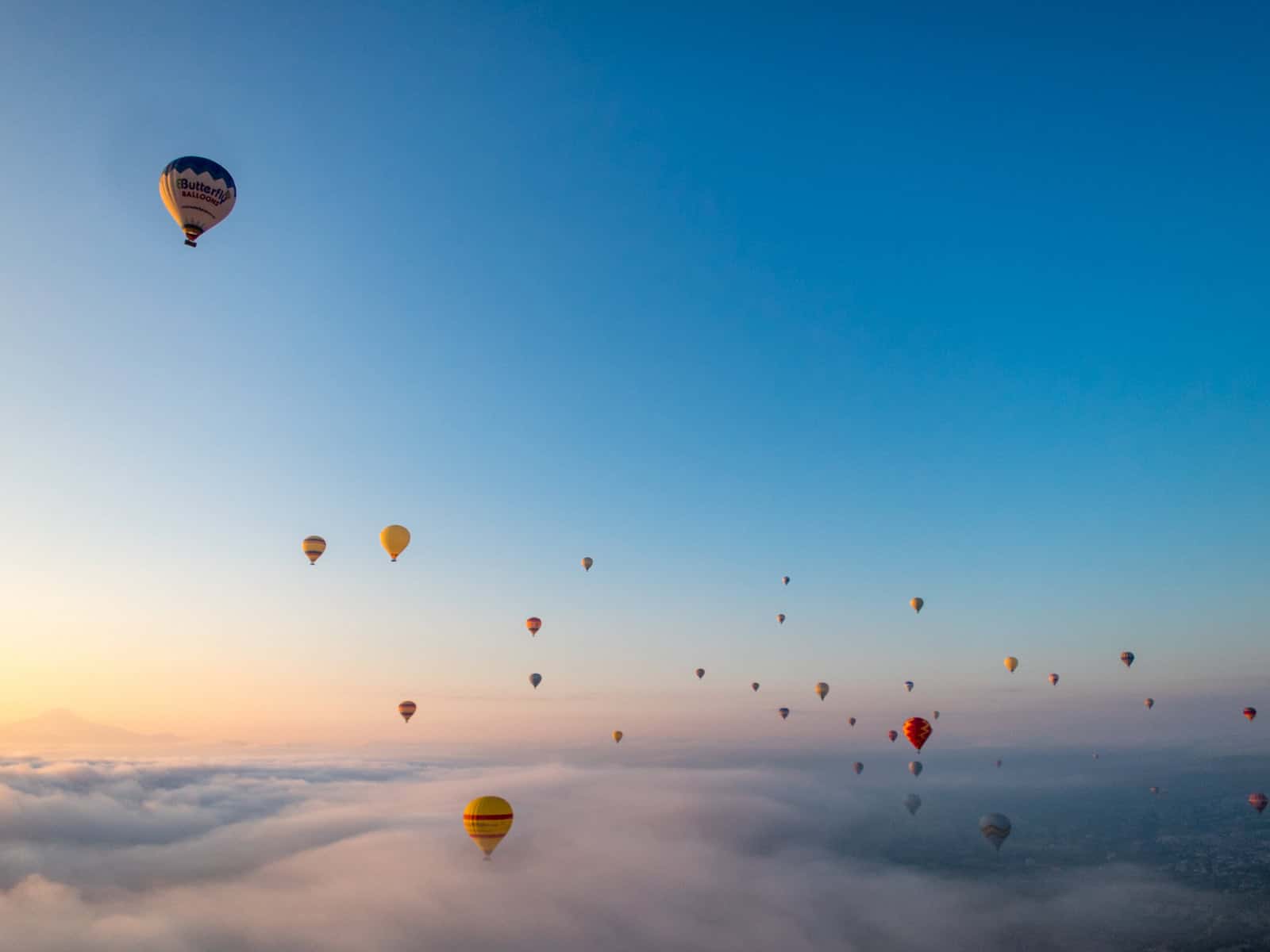 Internally, I was panicked. I may have signed up for this of my own free will, but I was increasingly petrified as the balloon continued to rise.
Unlike paragliding or skydiving, which I'd done before, there was no harness securing me to the pilot or parachute for protection. Nothing was connecting me to the balloon's basket other than gravity.
My life was in the hands of a pilot who admittedly had no way to steer the balloon once we took off.
How did I get here, and more importantly, why was I purposefully doing something that I knew would scare me?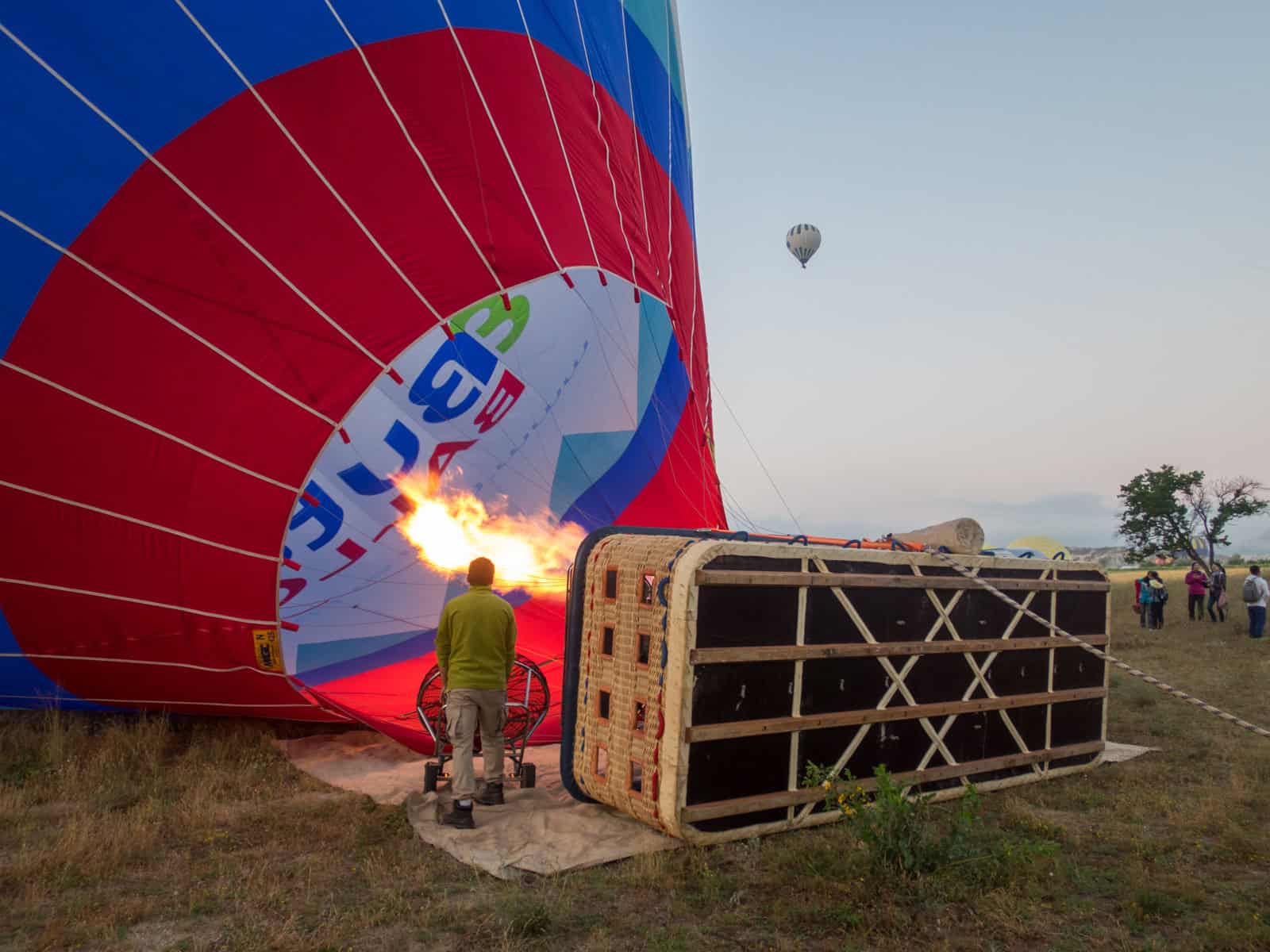 Balloon Ride in Cappadocia
Facing Fears
One of my favorite things about travel is the endless opportunities it presents to face your fears.
At home, in the United States, it's easy for me to feel comfortable and secure. On the road, halfway around the world, less so.
I am inherently more adventurous when away from home, which becomes a springboard from which I push my edge even further.
I'd been saving the experience of a hot air balloon ride for Cappadocia, having seen the photos of what it looked like amidst an ancient landscape of fairy chimneys and rock castles.
The flip side of those years in waiting was the anticipatory anxiety that had room to grow.
In general, it's easier to face one's fears if you treat them like ripping a band-aid off and do the thing that scares you as quickly as possible.
I was stubbornly committed to doing this activity whenever I finally found myself in Cappadocia.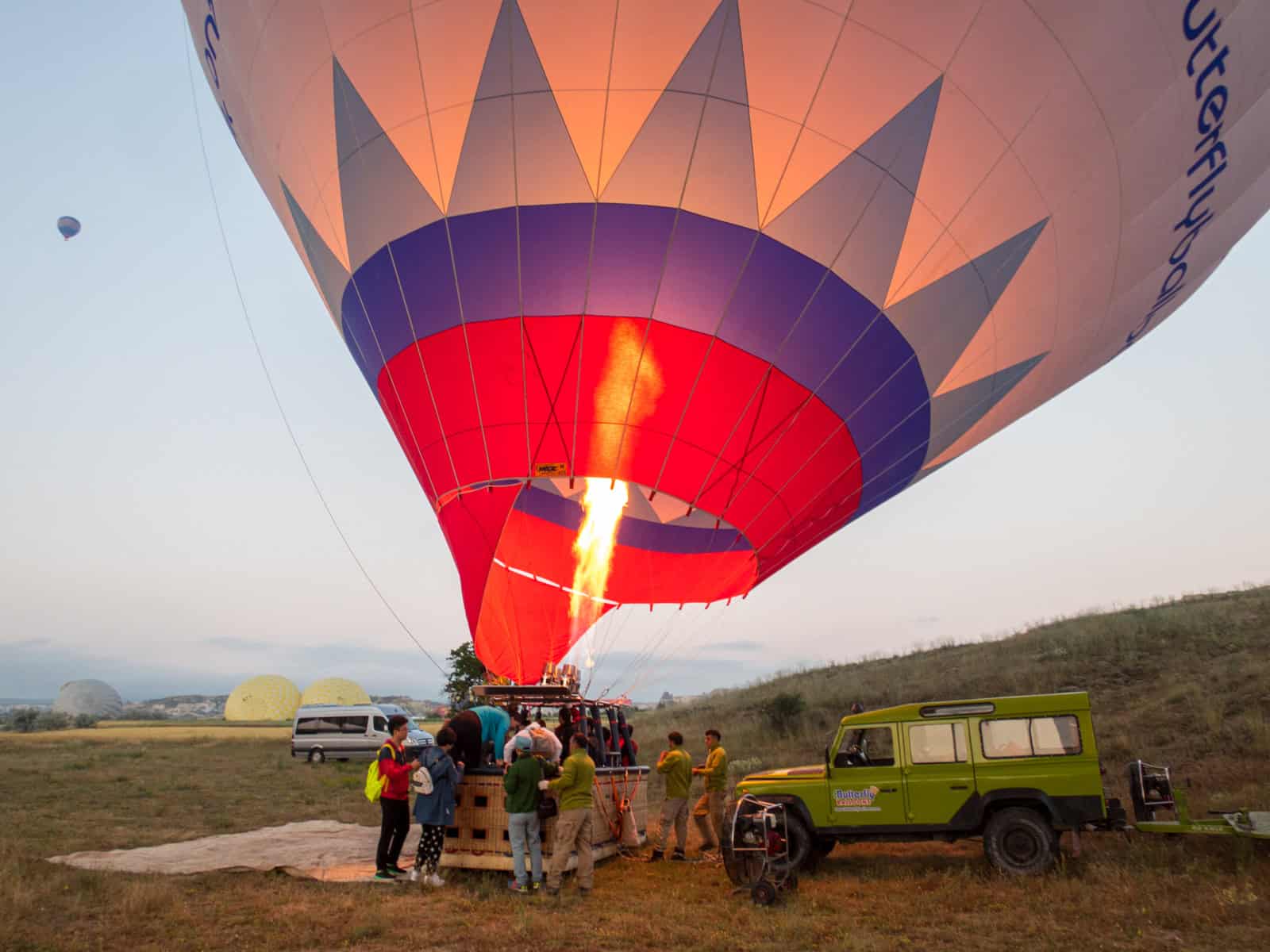 Choosing a Balloon Company
It wasn't until I arrived in the town of Goreme, following my visit to Mount Nemrut, that I began researching which company to use for my sunrise hot air balloon ride.
As a backpacker traveling in Turkey, it's easy to fall into the routine of always looking for the cheapest guide or tour company.
I've done that in the past, but I wanted the added sense of security I'd feel by paying a premium.
After doing some online research, I chose Butterfly Balloons for my virgin balloon flight after seeing it was the same company used by Rick Steves.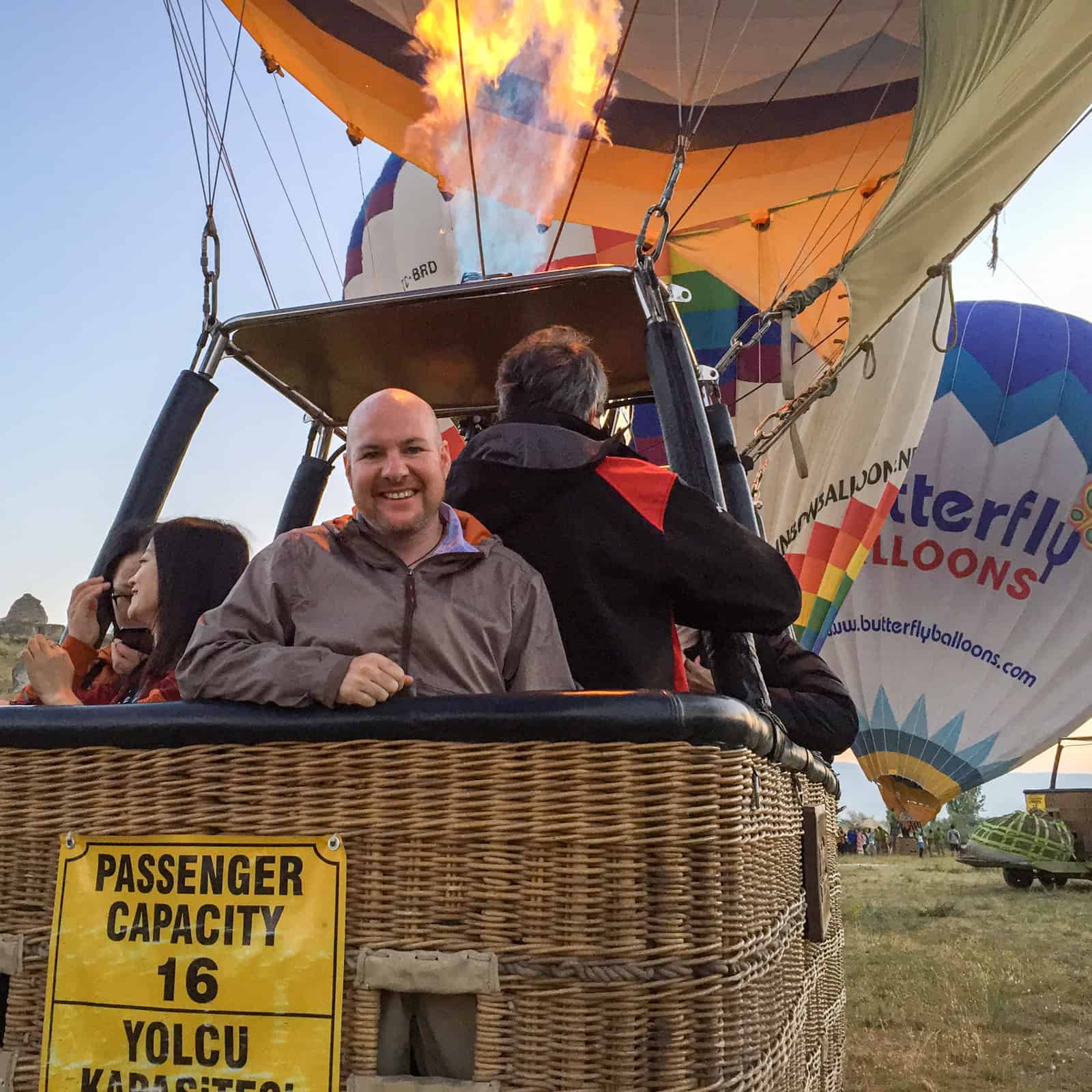 The cost was about $120 for a minimum one-hour flight, including ground transportation, buffet breakfast, and Champagne toast after landing.
Ballooning is big business in Cappadocia, so there's a lot of competition for your attention and money. Low prices are one way of attracting customers.
A week after leaving town for the coast, I saw a news article about a different balloon company crashing into power lines, sending some tourists to the hospital.
My advice is to do your research and pay a little extra to ensure you're going with a company that has an excellent safety record.
Note: I paid for my ride, and this article is not affiliated with the company I used.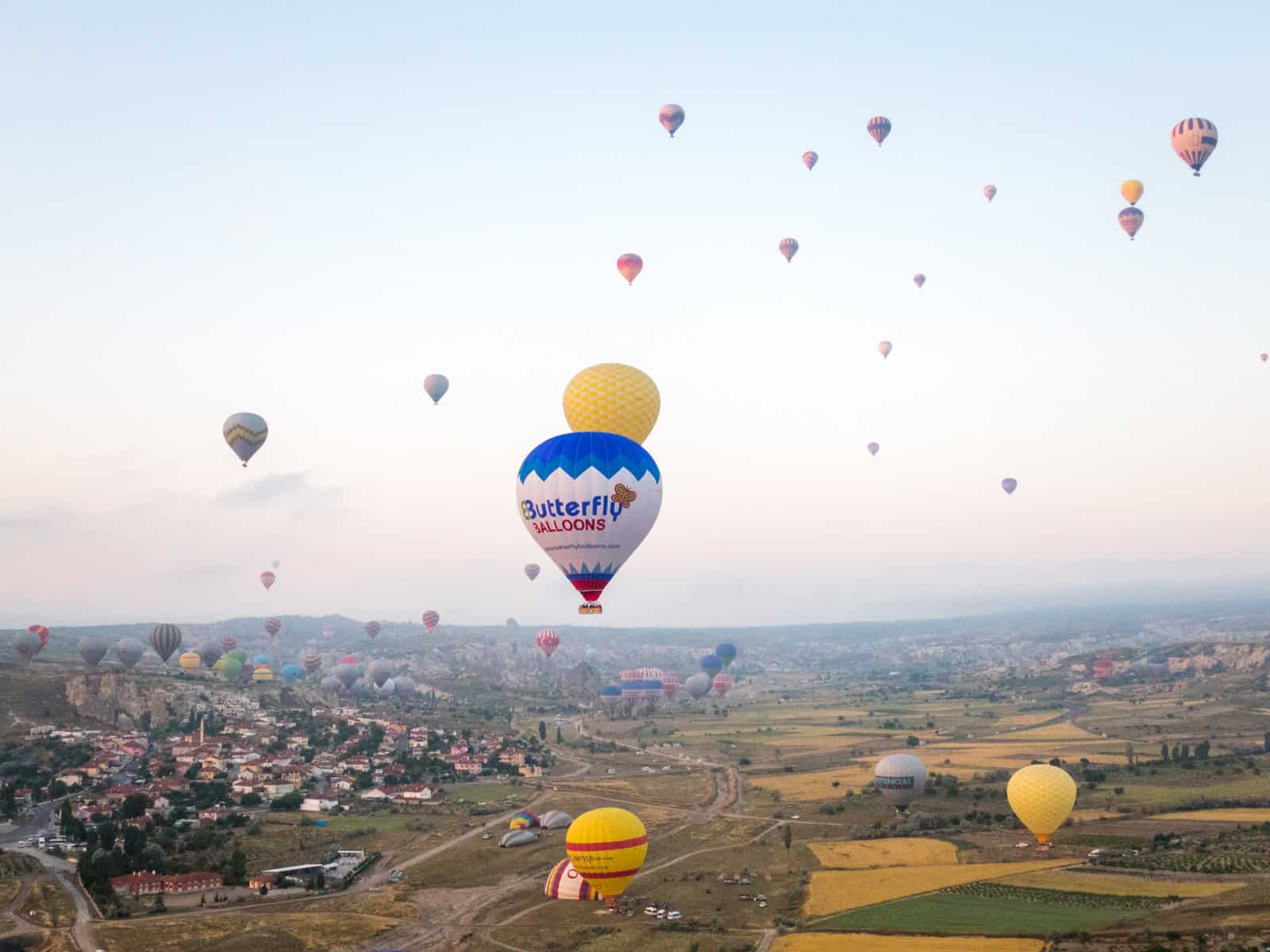 Take-Off
The morning began early, with me waking up well before dawn in my cave hotel.
I wore a long-sleeved shirt, a light Prana jacket, and the Pickpocket-Proof Pants I love. I brought my Oakley sunglasses, camera, and iPhone.
It was a short walk to the Butterfly Balloons office, where about 30 other tourists and staff had gathered for a light buffet breakfast of fruit and pastries.
Once everyone was there, we were shuttled to our respective balloons in minivans.
All around us, balloons were inflated on the ground, their baskets then tilted upright for passengers to board.
I nervously posed for a quick picture after climbing aboard my balloon. As a safety measure, Butterfly Balloons has a 16-passenger limit.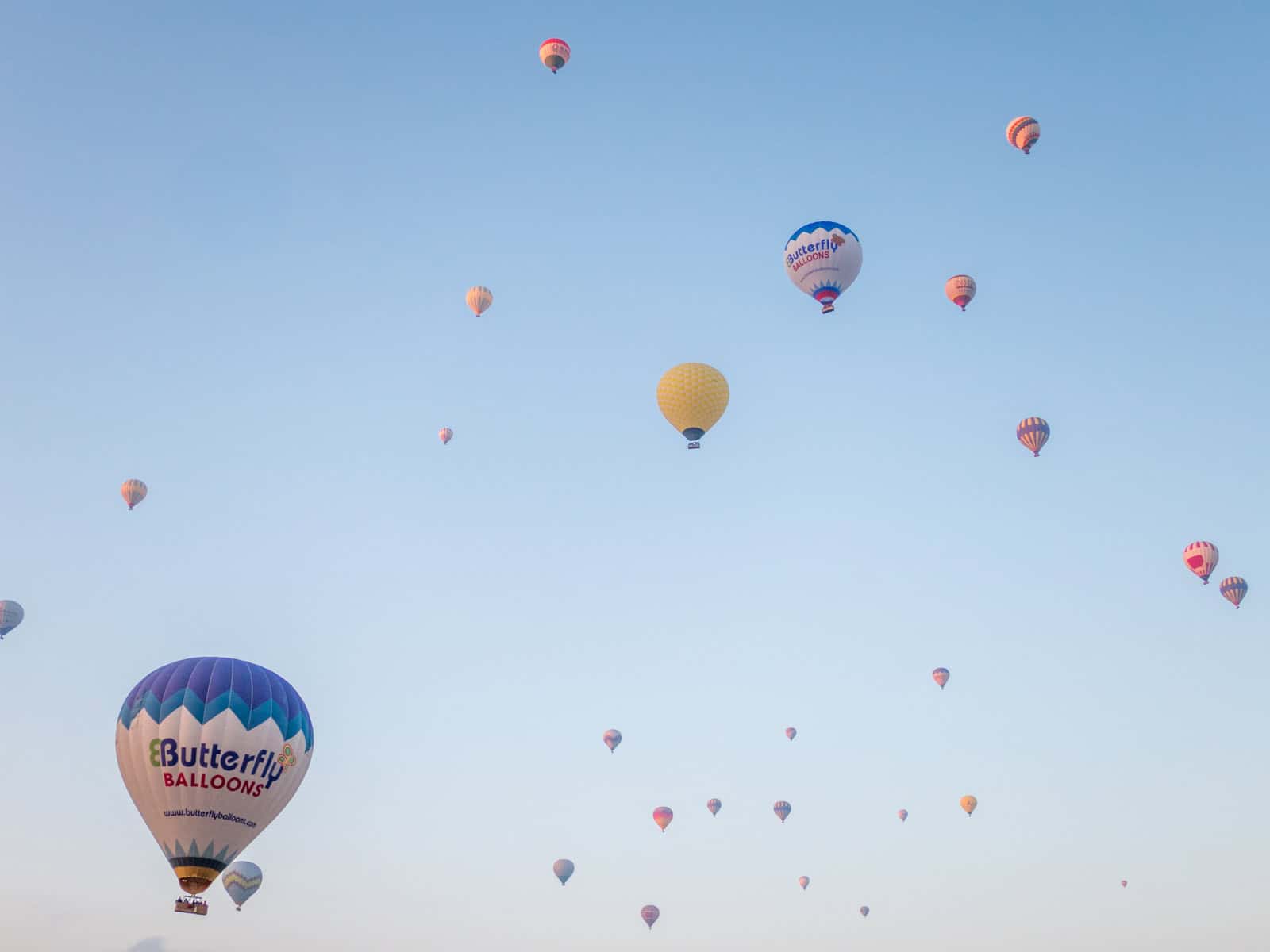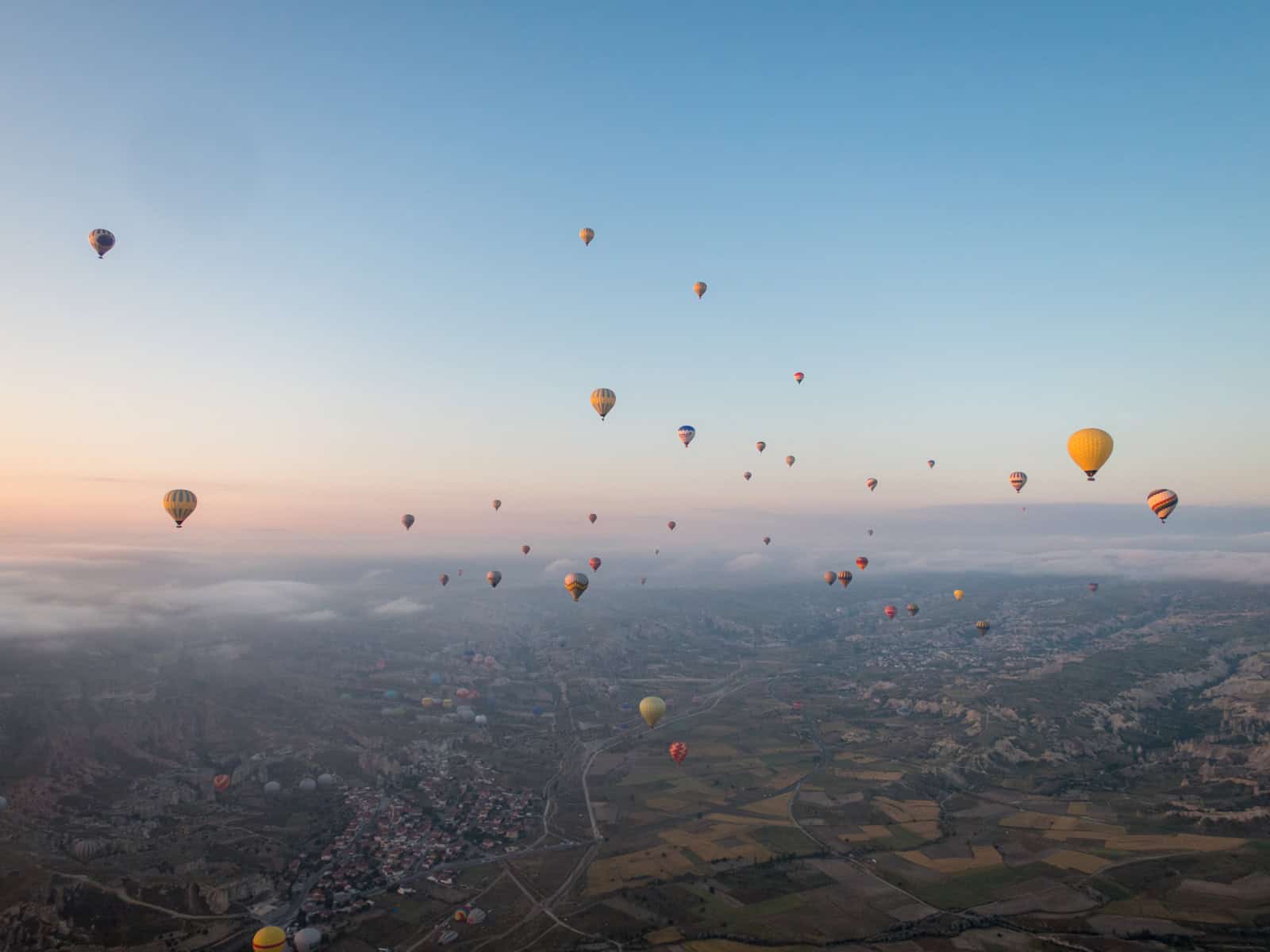 Above the Clouds
The sky had already begun to brighten significantly; I was a little worried we would miss the sunrise.
I wanted us to get moving. However, as the hot air balloon began rising, I felt my anxiety go up! There were dozens of balloons higher than us and looking down, just as many still waiting to take off.
The whole situation felt surreal, unlike anything else I'd ever seen or done. Despite being in a basket floating gently upward, I looked for ways to ground myself and ease my anxiety.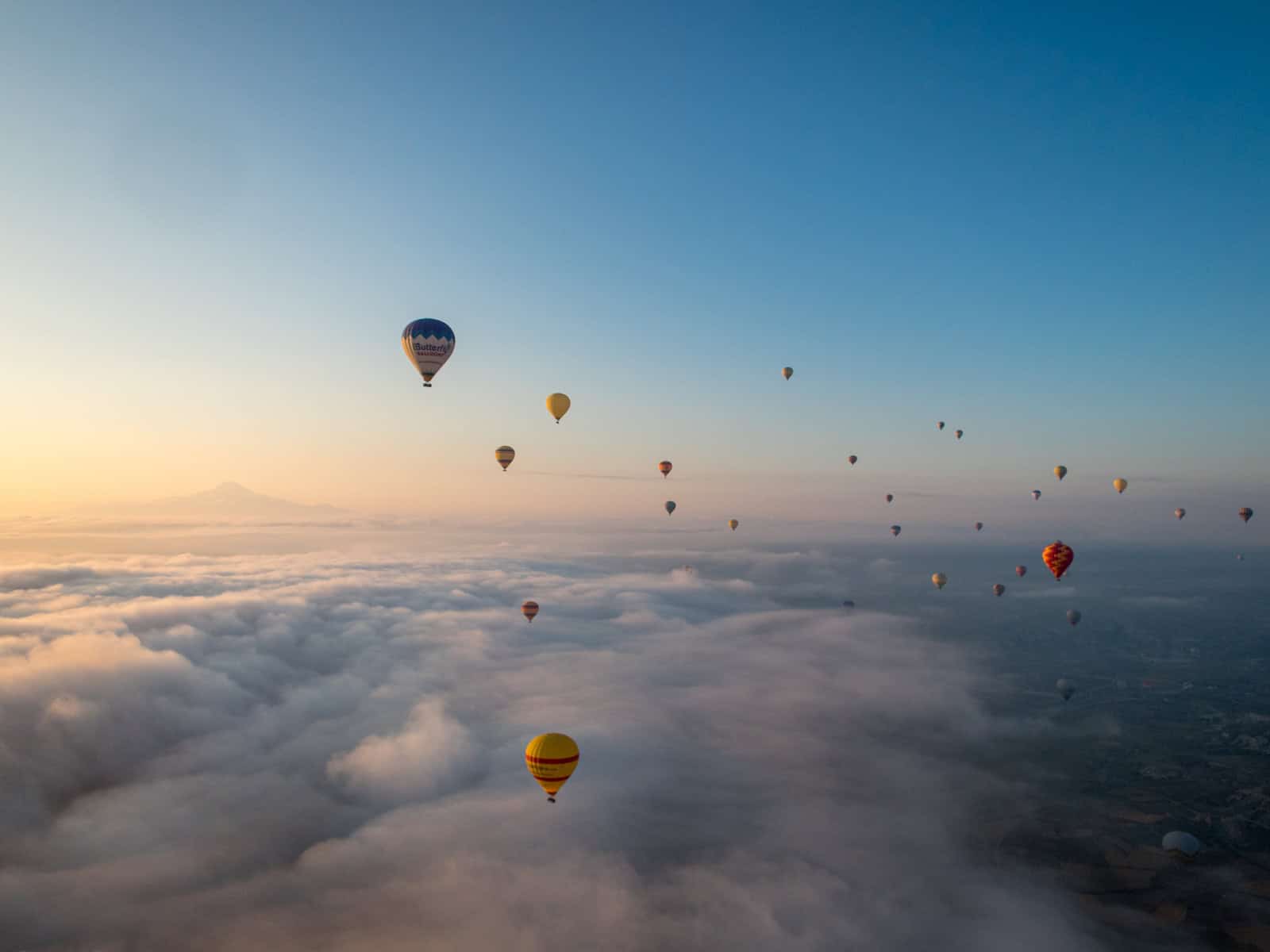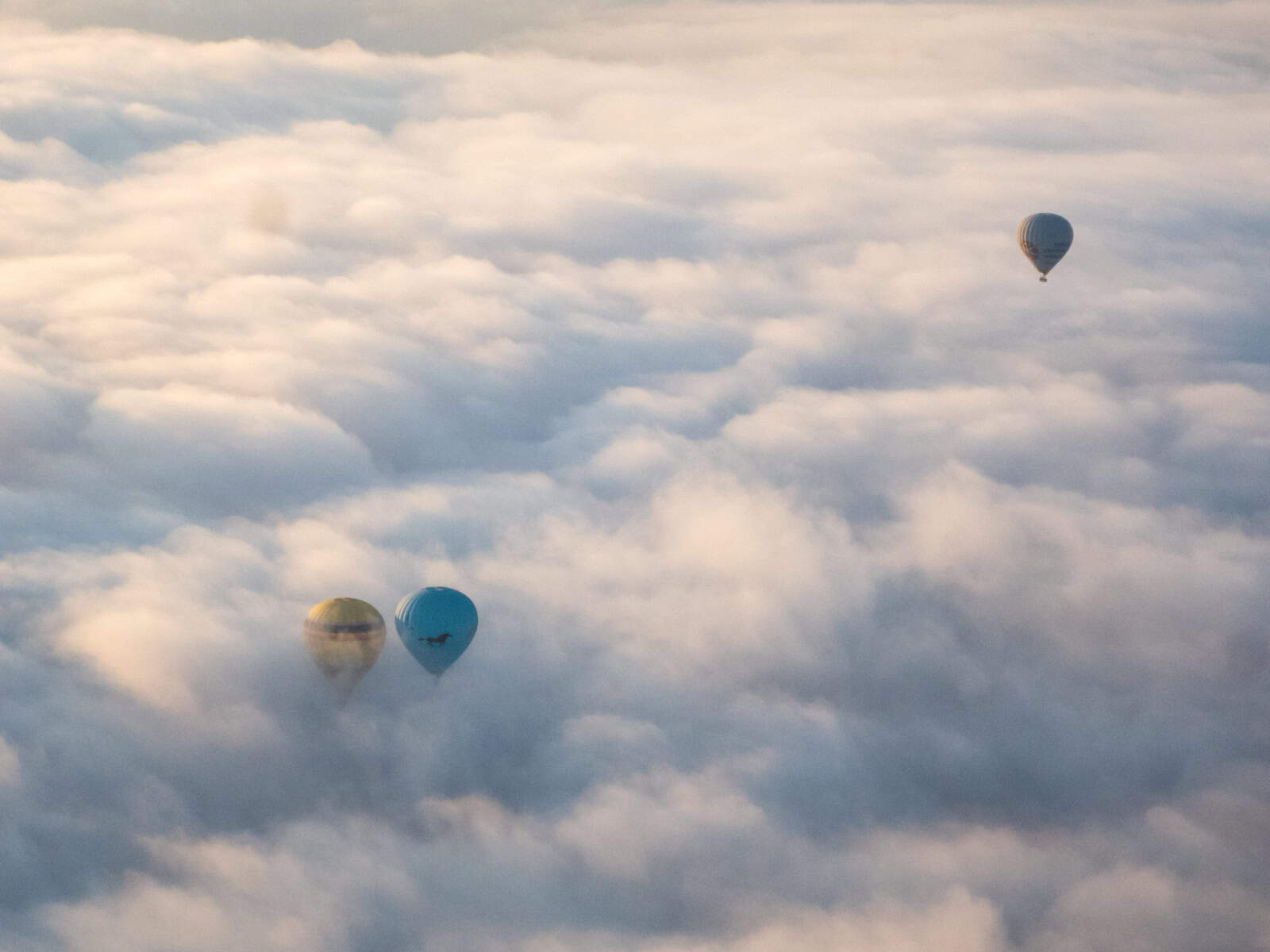 I turned inward toward the center of the basket and watched the pilot. If Rick Steves could trust Mustafa, who trained in Albuquerque, New Mexico, so could I.
I made small talk with other travelers, including an Iranian couple. I asked for someone to take a few photos of me (not knowing at the time that I had some food stuck in my front teeth–doh).
After fifteen minutes, my anxiety began to ease. If you're familiar with exposure therapy, you know why. I'd been in the fear-invoking situation long enough to sense I'd be okay.
My body began to relax a little, and I was better able to appreciate the beauty of this unique perspective.
Related: Best Places to Visit in Turkey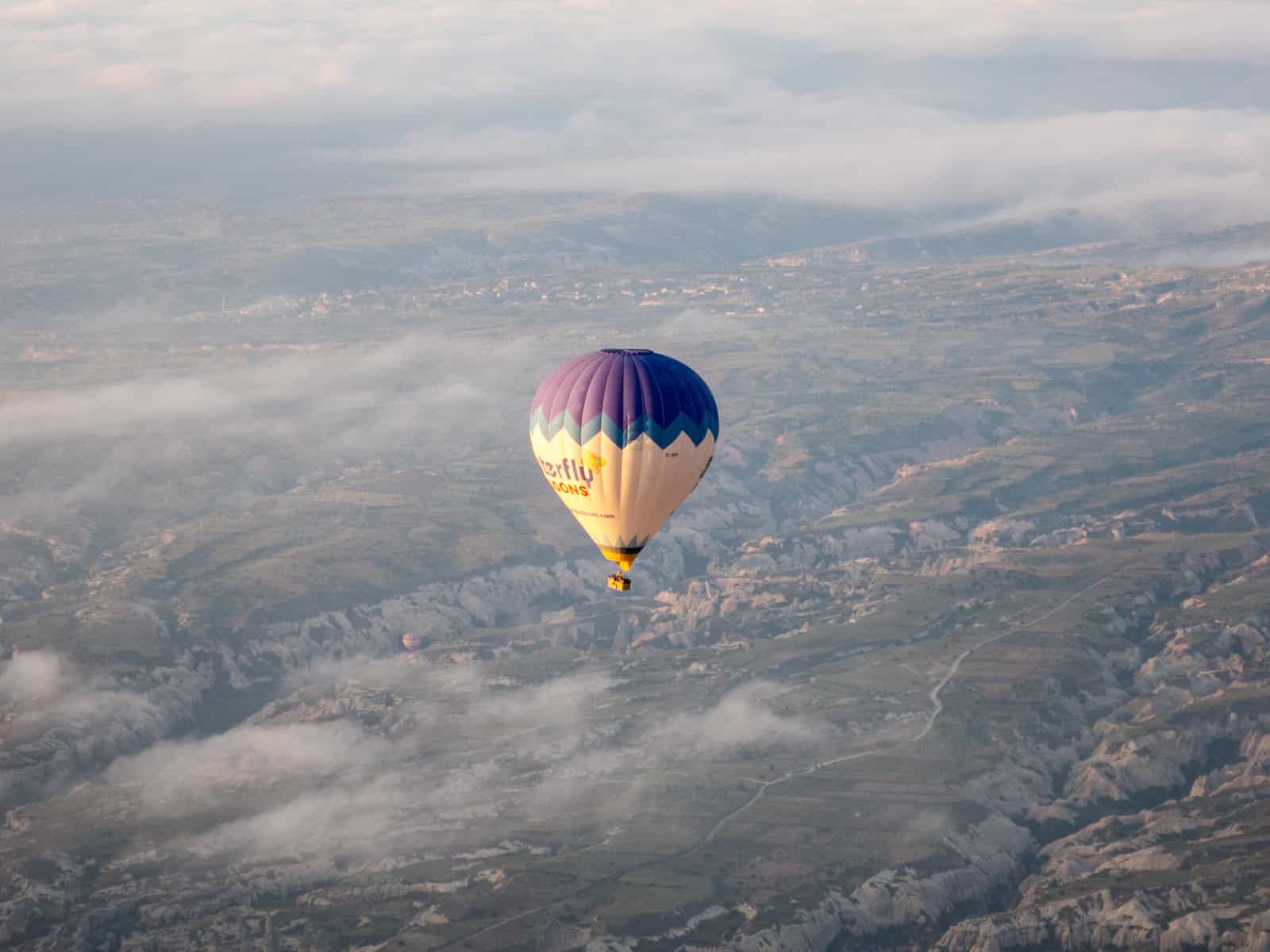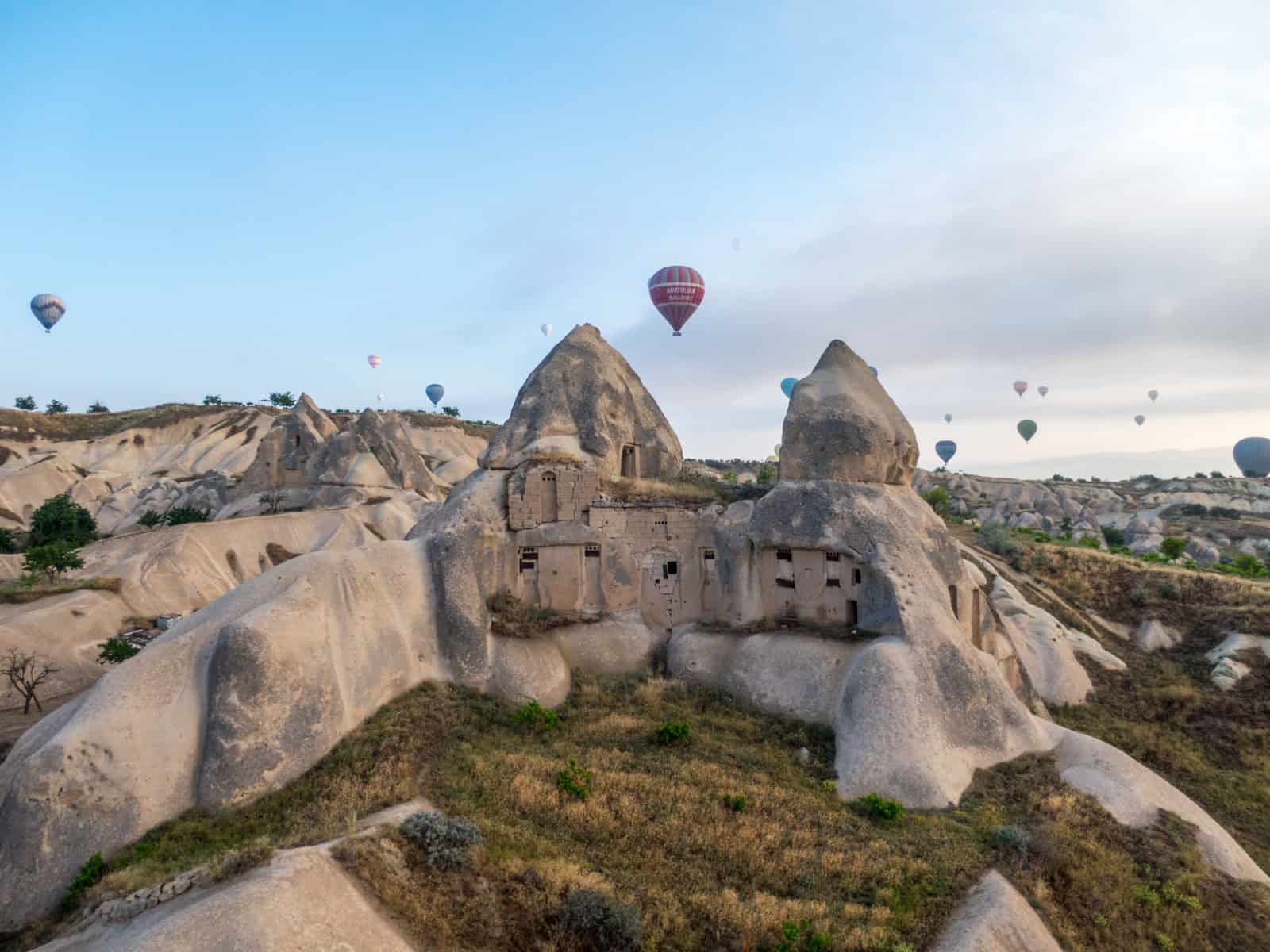 What Goes Up, Must Come Down
We were above the clouds just long enough for my anxiety to ease, and then it was time for our return to Earth. This is where our pilot's skill was critical, as there's no steering wheel on a hot air balloon.
Instead of gently floating down and landing in a spacious field, Mustafa guided our balloon through the unique landscape of Cappadocia.
Gliding through tight valleys past fairy chimneys was a different kind of thrill. I was grateful to be closer to the ground and amazed at how skillfully the balloon could be maneuvered.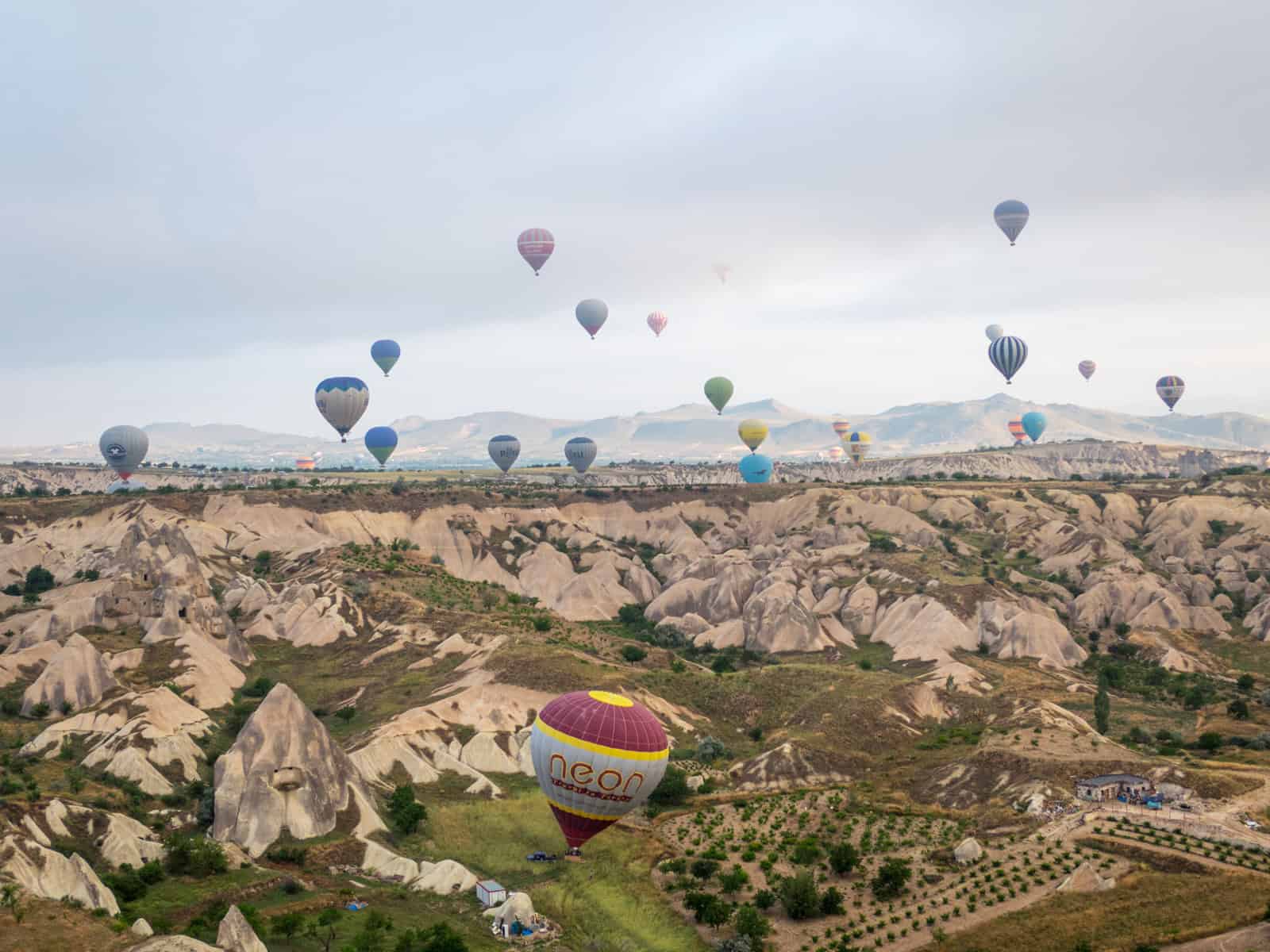 I'm presenting the photos in chronological order, which I hope provides a sense of how our altitude increased and decreased, especially in the second half of the flight when we watched other balloons land.
As much as I tried to appreciate the view above the clouds, I found it fascinating to ride closer to the ground, where more details could be seen.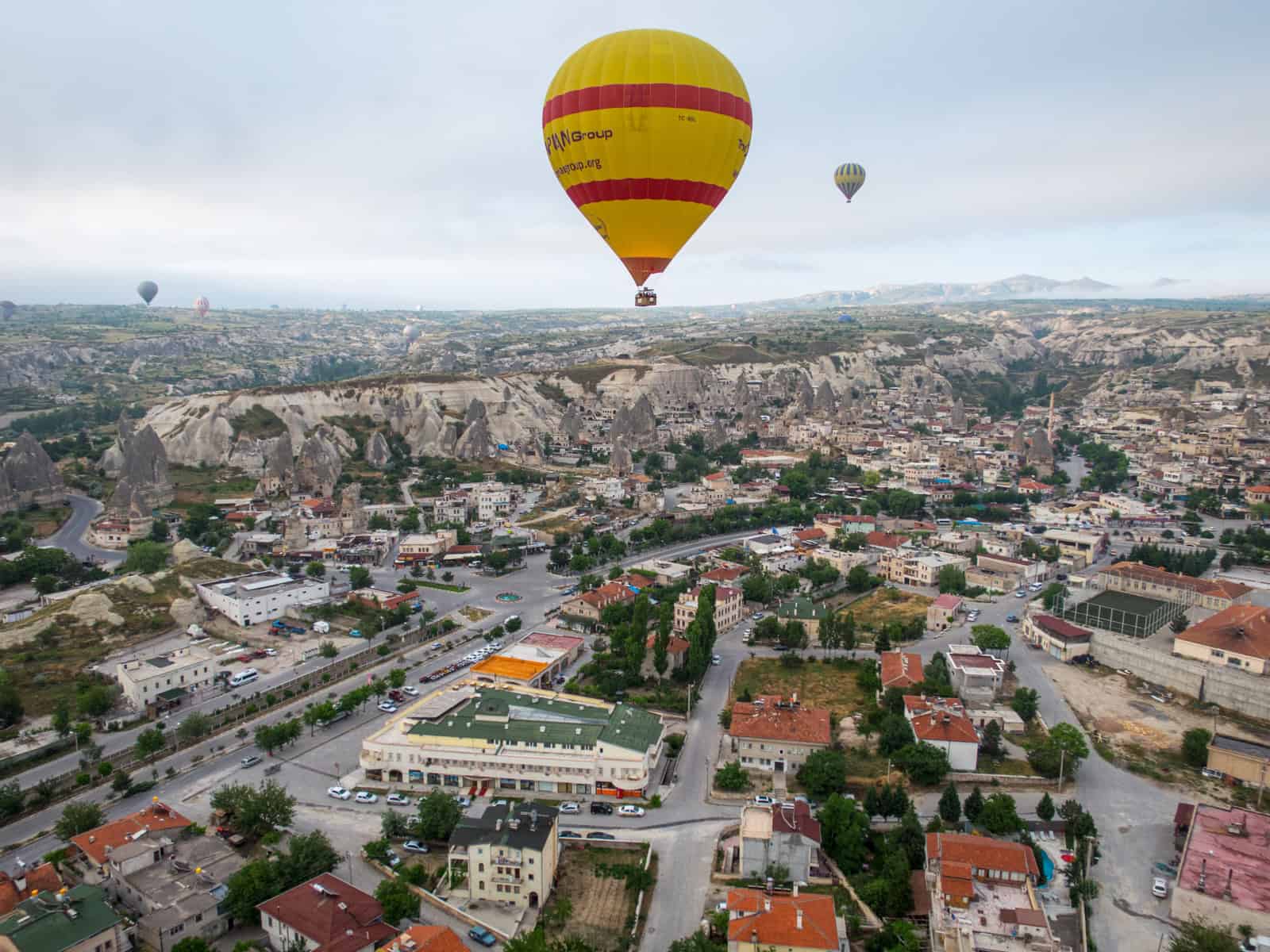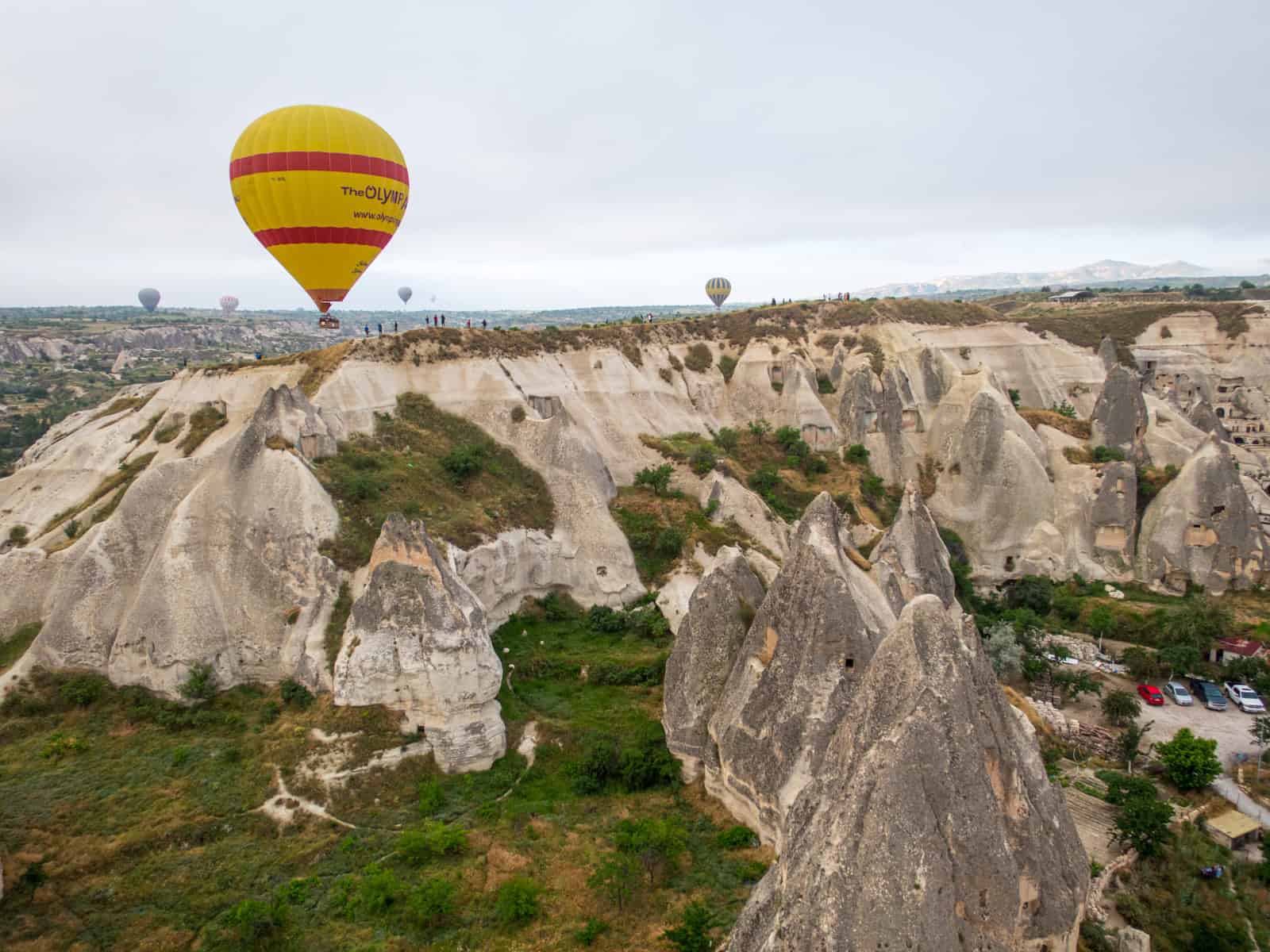 It was especially neat to fly over Goreme and past a ridge where other tourists gather to take photos of balloons every morning.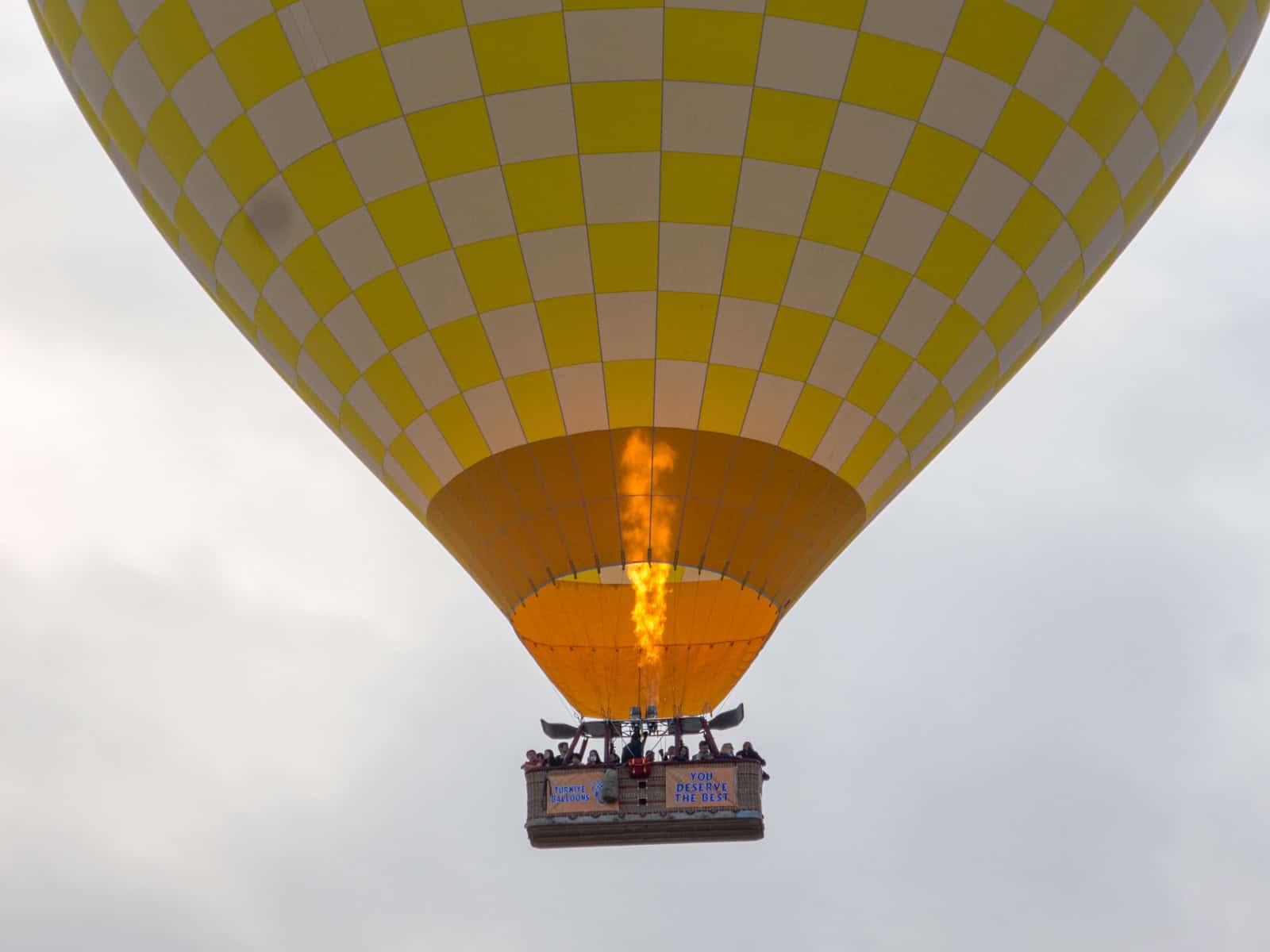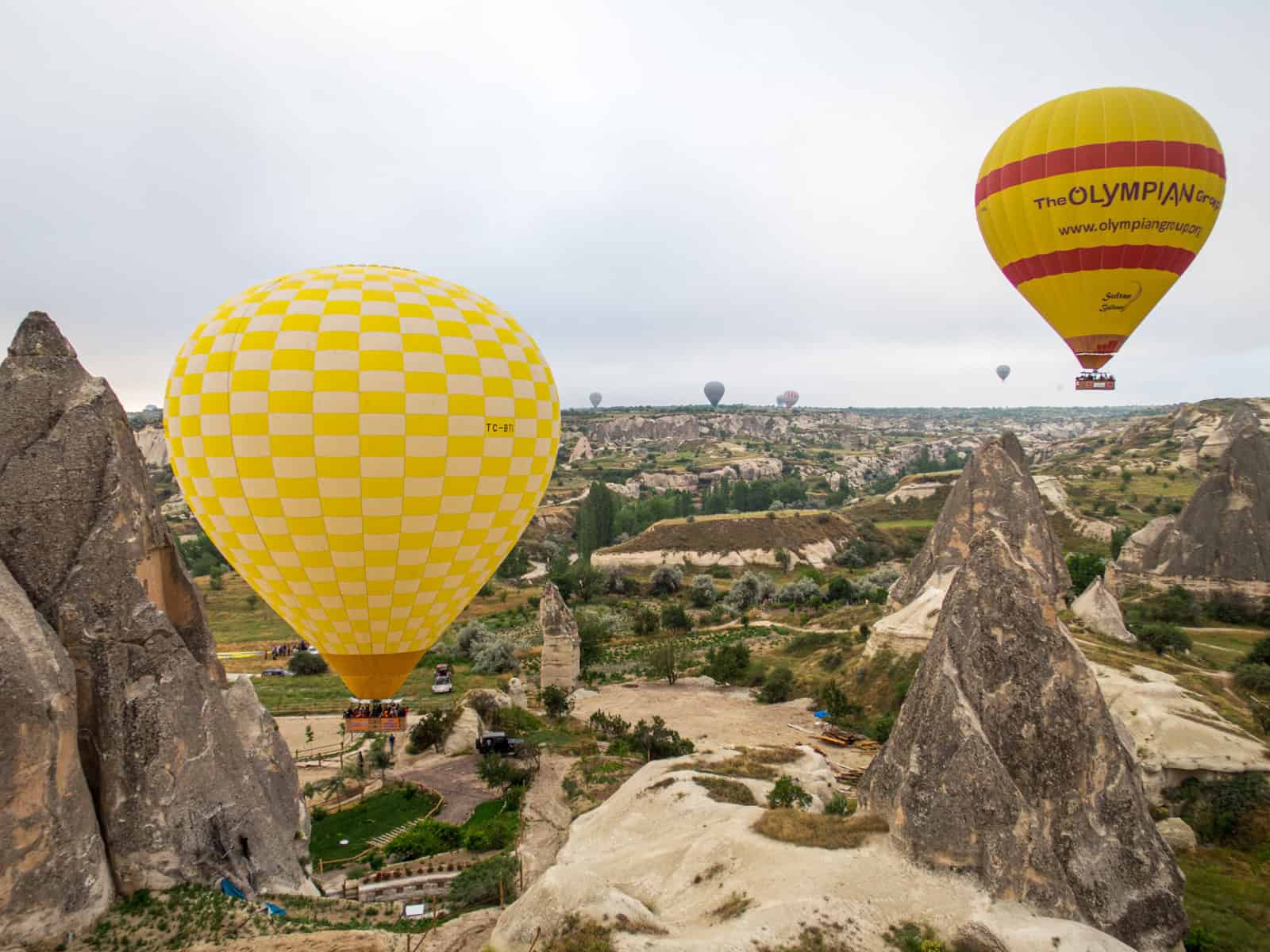 The Landing
After watching many other balloons land in the fields around Goreme, our time came too.
Incredibly, Mustafa guided our balloon to a gentle landing squarely on the trailer towed by a Butterfly Balloons pick-up truck. That's the level of skill many of these pilots possess.
Once we'd exited the basket, it was time to exhale fully, relax, and revel in what we'd just experienced.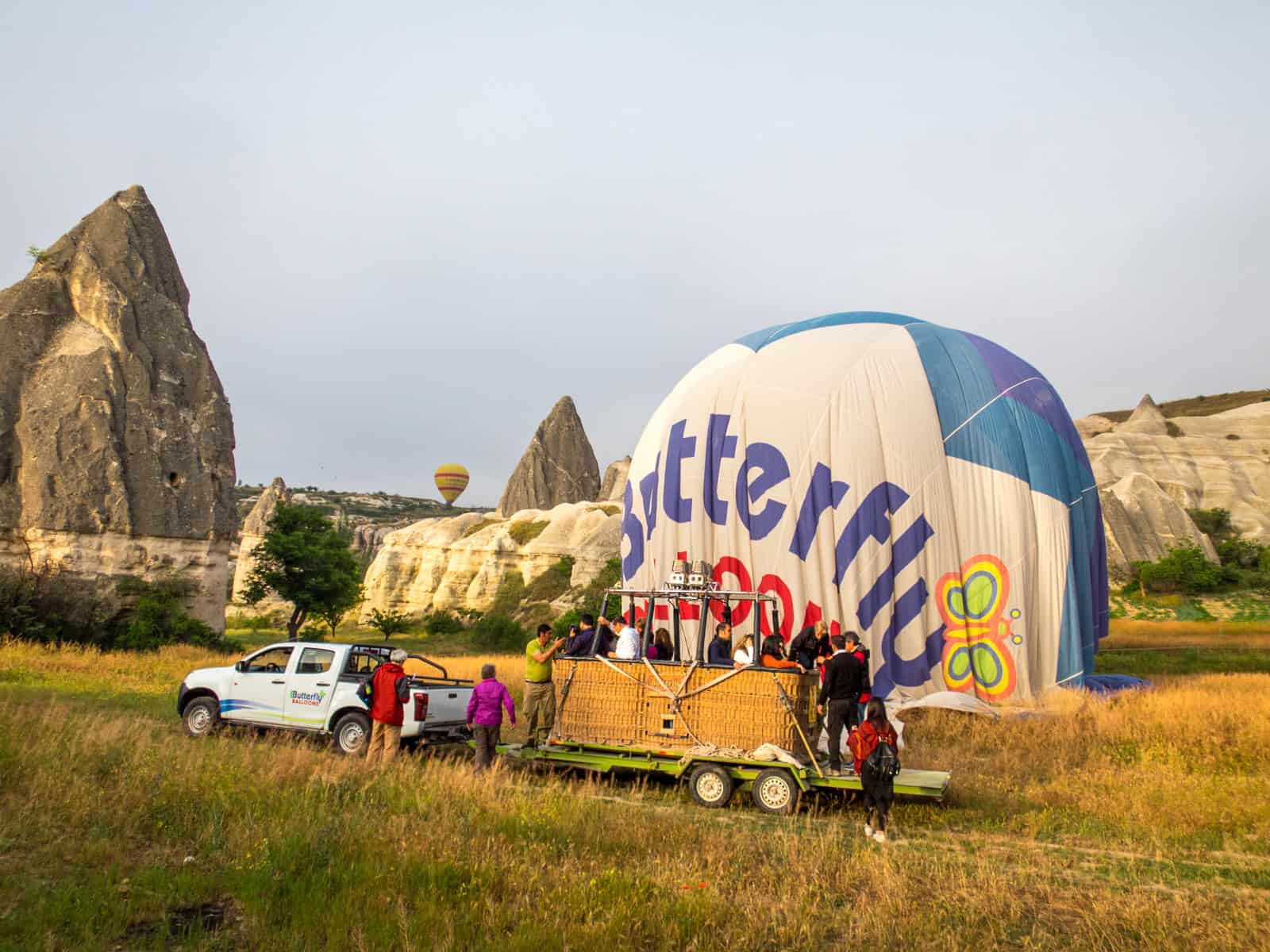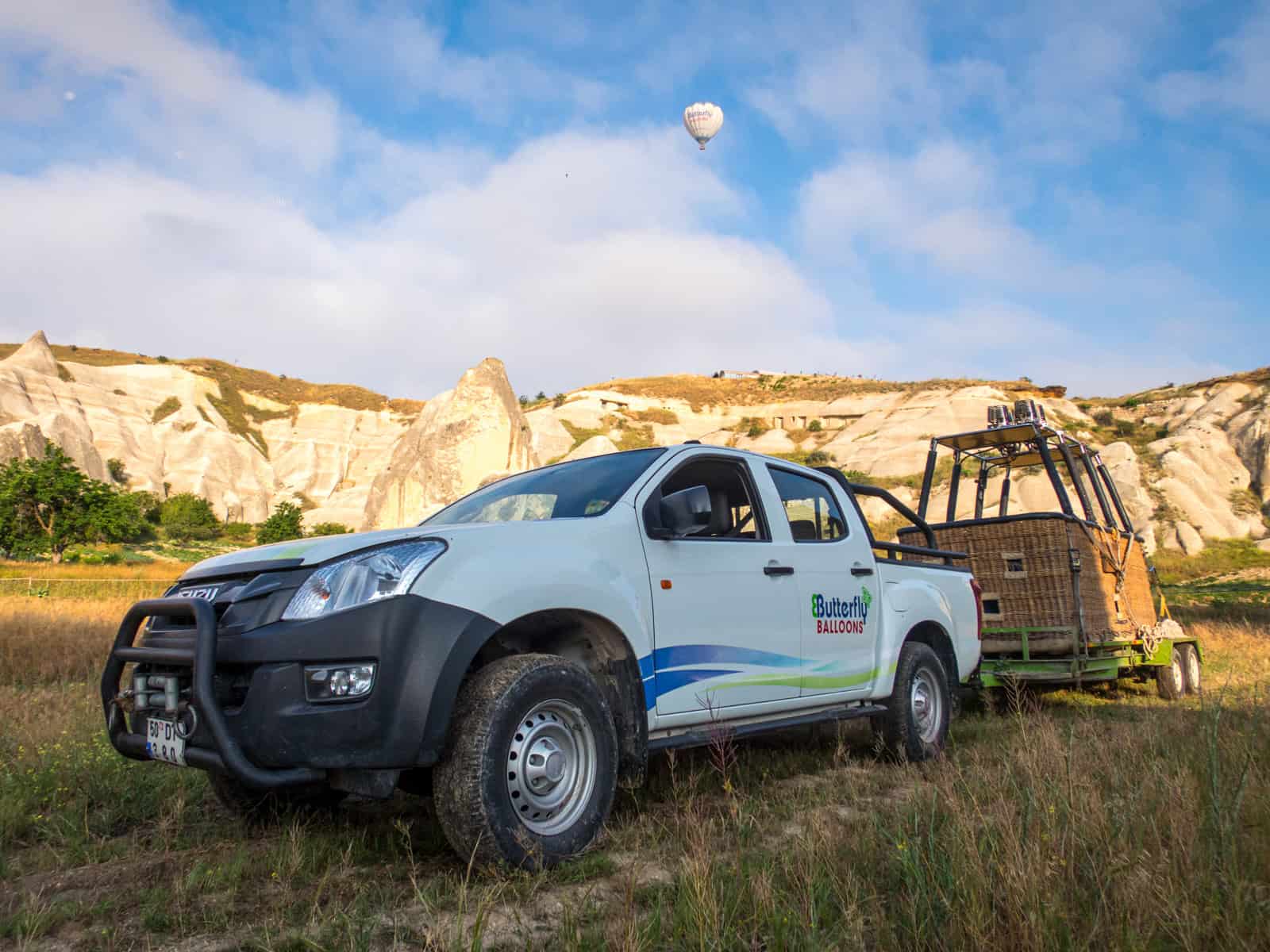 A portable table was set up with fresh red strawberries and Champagne to toast our successful flight. Orange juice was also available, whether you wanted to skip the wine or make it a mimosa.
Each passenger received a flight certificate, which is a cute touch and perhaps more meaningful to some guests. Mustafa was kind enough to pose for pictures, too.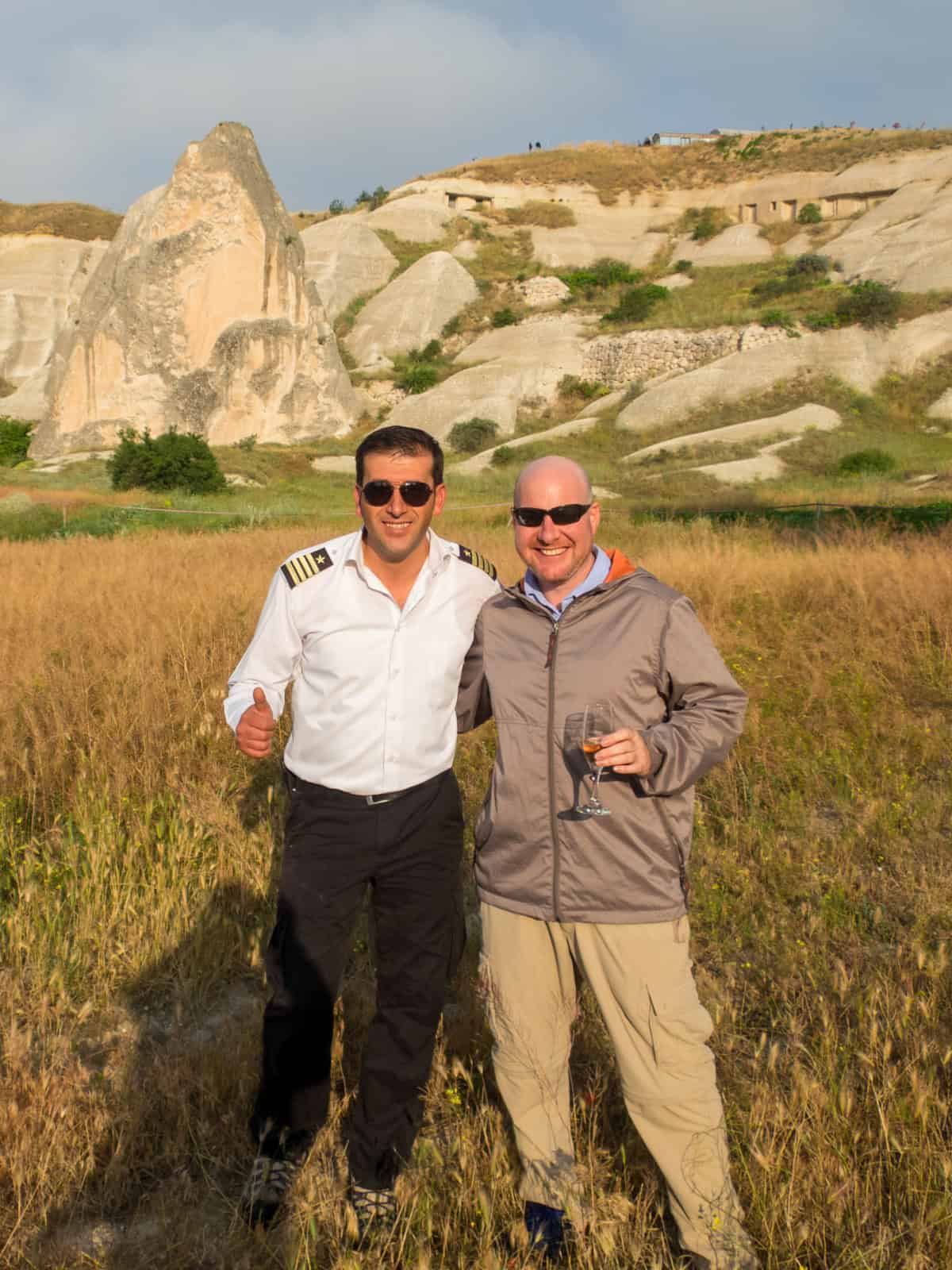 Final Thoughts
Overall, I'm glad I faced my fear of heights and took advantage of a sunrise Cappadocia hot air balloon ride.
While you can witness the spectacle from the ground and scenic viewpoints in Goreme, it's nothing like the experience of passing through the clouds with a hundred other balloons at once.
Dave is the Founder and Editor in Chief of Go Backpacking and Feastio. He's been to 66 countries and lived in Colombia and Peru. Read the full story of how he became a travel blogger.
Planning a trip? Go Backpacking recommends: