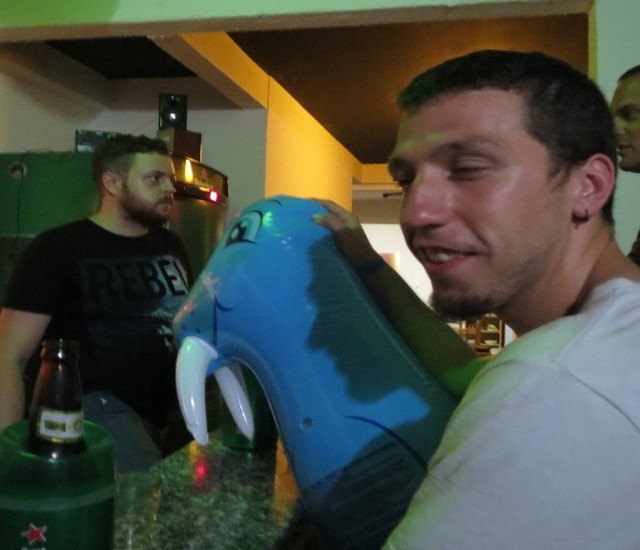 Sunday, Jan. 18, Fortaleza
The folks at Full Sail Hostel were in full party mode the night before, and they "convinced" me to join them, the reason I was suffering so much on this last morning in northeast Brazil.
Maybe this was fitting, this farewell to Brazil.
I would return to Colombia ready to get back to work with no urge to go out at all, something I do rarely anyway, hence the reason I was hurting so bad.
It was fun getting to know Alex and Jamily, the hostel owners, and I gave them both hugs before I left.
I hope to see them in Bogotá someday.
Tuesday, Dec. 30, Salvador
As I wondered how quickly my trip ended, I thought back to my first stop and activity.
Itaparica, the island 30 minutes from mainland Salvador, seemed like a good day trip, so Ana, Eva, and I met up with Rob and Franki, and we headed for the boat docks.
We waited in line for half an hour or so, but I didn't mind. I knew it would be something quite popular.
By the time we got to the island, carpooled in a van with another group, and got to the beach, it was about noon, still enough time for lots of fun.
This beach was not anything special, based on pure beauty, compared to the ones I visited later, but it was a fun day, thanks to the company.
I ate Moqueca for the first time, which became my favorite dish of the northeast, talked a lot with everyone about everything and nothing, and soaked up the sun at a real beach for the first time in just over two years.
If every beach day went this way, I knew it would be a good trip.
Friday, Jan. 16, Fortaleza
It seemed like everything was in place to work out the way it usually does in the movies.
I had just had a great day at Beach Park, and now it was time for my new first date.
When I got in the car, there was a warm embrace, the kind you give to someone you've been longing to see again.
There was that smile, the one that could make you melt and smile yourself, and I said, yes, here we are again, picking up where we left off, the sparks rekindled.
We held hands for part of the ride to the restaurant. We talked and laughed and talked some more, and it felt like 2012 all over again.
Marília drove to a touristy part of town, nice restaurants everywhere, bars too, of course, some of them a combination of both and all of them surely somewhat pricey, but none of that mattered.
We picked one with Brazilian food, and I told her to order, that I was in her city, I trust her judgment. We got the beef, and it came with the usual sides.
The night was going well until I tried to kiss her — and found out she had a boyfriend.
I was not hurt. I had prepared myself for the worst.
She asked if I was OK, and I smiled. She smiled too, we split the bill, and then she took me back to the hostel.
There would be no more beaches on this trip, no more Marília. I didn't see her again, didn't get any pictures of us together like I thought I would. She was busy.
All that was left was a couple of nights in a concrete jungle of 20 million people, where I enjoyed seeing my friend Felipe, who I met last year in Peru, and where I took a 45-minute bus ride to the international airport.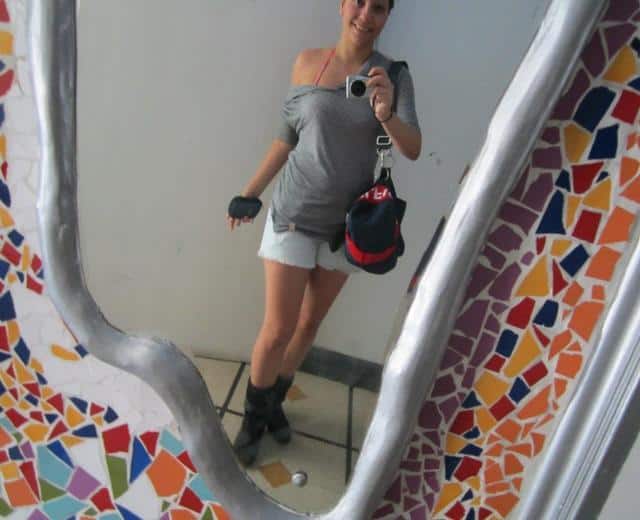 Tuesday, Jan. 20, São Paulo
In about 20 minutes, it's time to take my last flight, the one that takes me home, and these are the times, these waning minutes in the airport, when I become reflective of the trip I just took.
I thought a lot, naturally, about Marília, but there was no longing, no feeling of wanting more.
Not saying it wouldn't be nice, only that I'm OK with whatever happens in the future because I'm not going to try to control something as fleeting and fluid as fate.
I guess that's why I like movies with open endings, movies like 500 Days of Summer, the ones that let you draw your own conclusion.
How ironic that it was on the plane ride home that I first watched 500 Days of Summer.
It is non-linear, like this story, although I decided to write my story this way before ever seeing the film, my inspiration coming from another movie, Memento.
The main characters in 500 Days of Summer, Tom, and Summer, played by Joseph Gordon Levitt and Zooey Deschanel, do not end up together, as it once seemed they might, but they still manage to say goodbye amicably.
Maybe it's a good analogy for my situation with Marília. Maybe not. Or maybe there's a better one.
During my trip, I talked via Facebook chat with my good friend Ximena about something that had nothing to do with Marília, at least not directly.
We talked about the small sacrifices we make in life to enjoy beautiful moments, without worrying about what will happen in the future, without wondering whether we wasted our time by just appreciating the moment before us.
Ximena probably summed it up best, using a contemporary method, something short and sweet.
"#worthit," she wrote.
Then we talked about putting it on some T-shirts.
Planning a trip? Go Backpacking recommends: