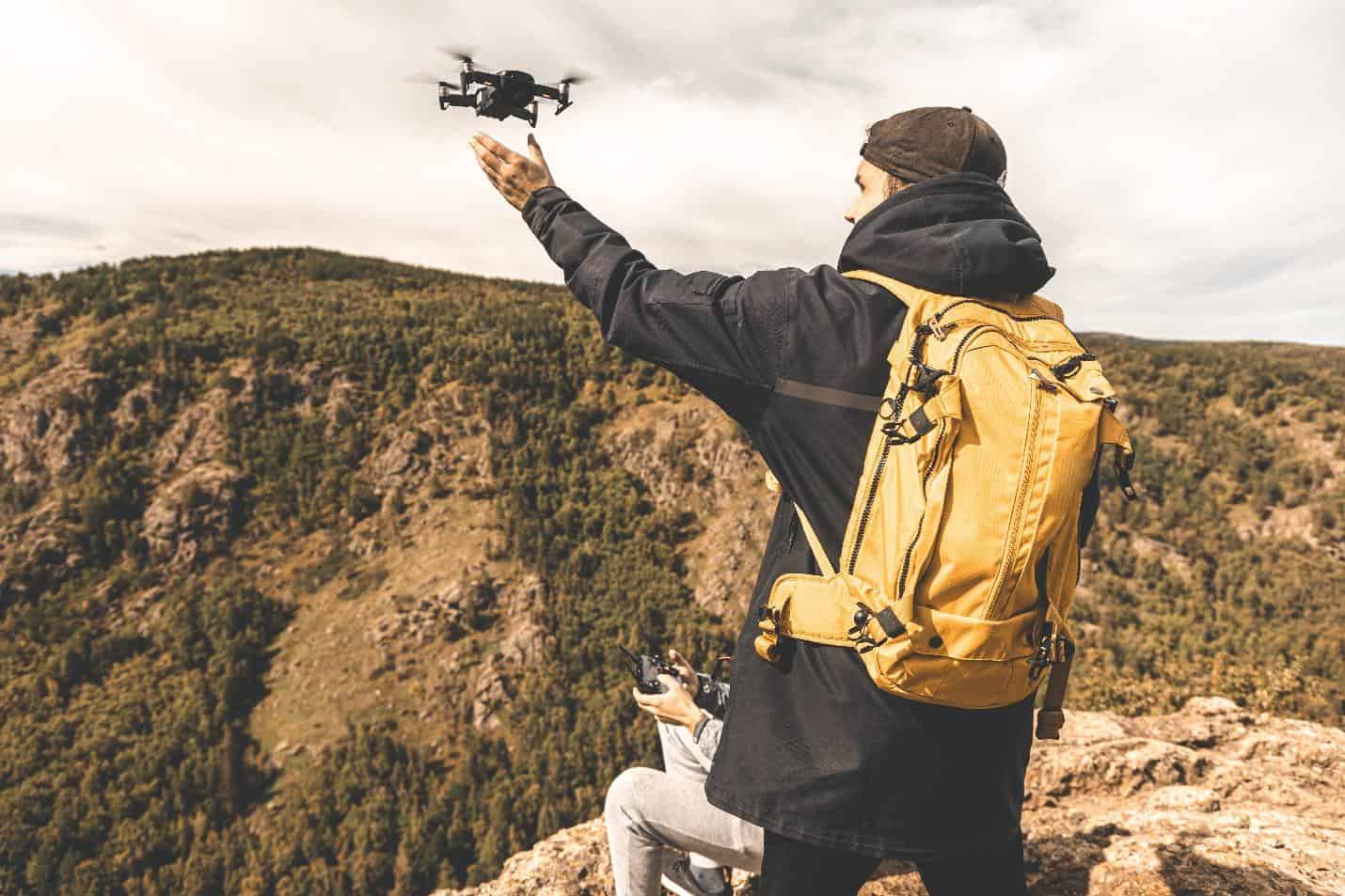 If you love to create everlasting memories on your trips, you could use one of the most advanced robots on the market to create breathtaking footage and photos.
Follow Me drones have a special mode that allows them to track an object while keeping a fixed distance as it is moving.
However, are they equipped for travelers and advanced enough to keep up with their demands?
Let's find out whether a Follow Me drone is worth taking on your next trip!
What Is A Follow Me Drone?
Follow Me drones have already been on the market for a few years.
Since 2015, new models have been developed to include more and more intelligent features, so many travelers and vloggers find them extremely useful.
Depending on the model you choose, a Follow Me drone can have different technologies that allow it to track you.
Some of them use GPS tracking and following, and they are the most affordable models.
This will enable them to follow you by tracking your phone or the controller while you move. This may not be very accurate, and you may struggle to keep it in the frame.
The second type of technology is known as vision recognition. More advanced models can detect the set subject and make real-time decisions while following your movements.
Some of them are even able to predict your next move, allowing you to capture some of the best footage or stills.
Most models also come with highly advanced sensors, so they can fly autonomously while avoiding crashes.
Benefits of a Follow Me Drone
Effortless Footage and Photos
Follow Me drones come with the precious advantage of making your trips effortless and more enjoyable.
You can create memories or content without any hassle as the drone simply follows you wherever you go.
A drone without this mode will have to be controlled by you at all times, which means that you will need to advance your flying skills, making it more challenging to record videos or shoot stunning photos.
Also, you will have to constantly split your attention between piloting your drone, taking your photos and videos, and staying on track if you are, for instance, walking, bicycling, climbing, canoeing, etc.
Automating your drone to follow you and to keep its camera on a set target will free you up to focus on your surroundings.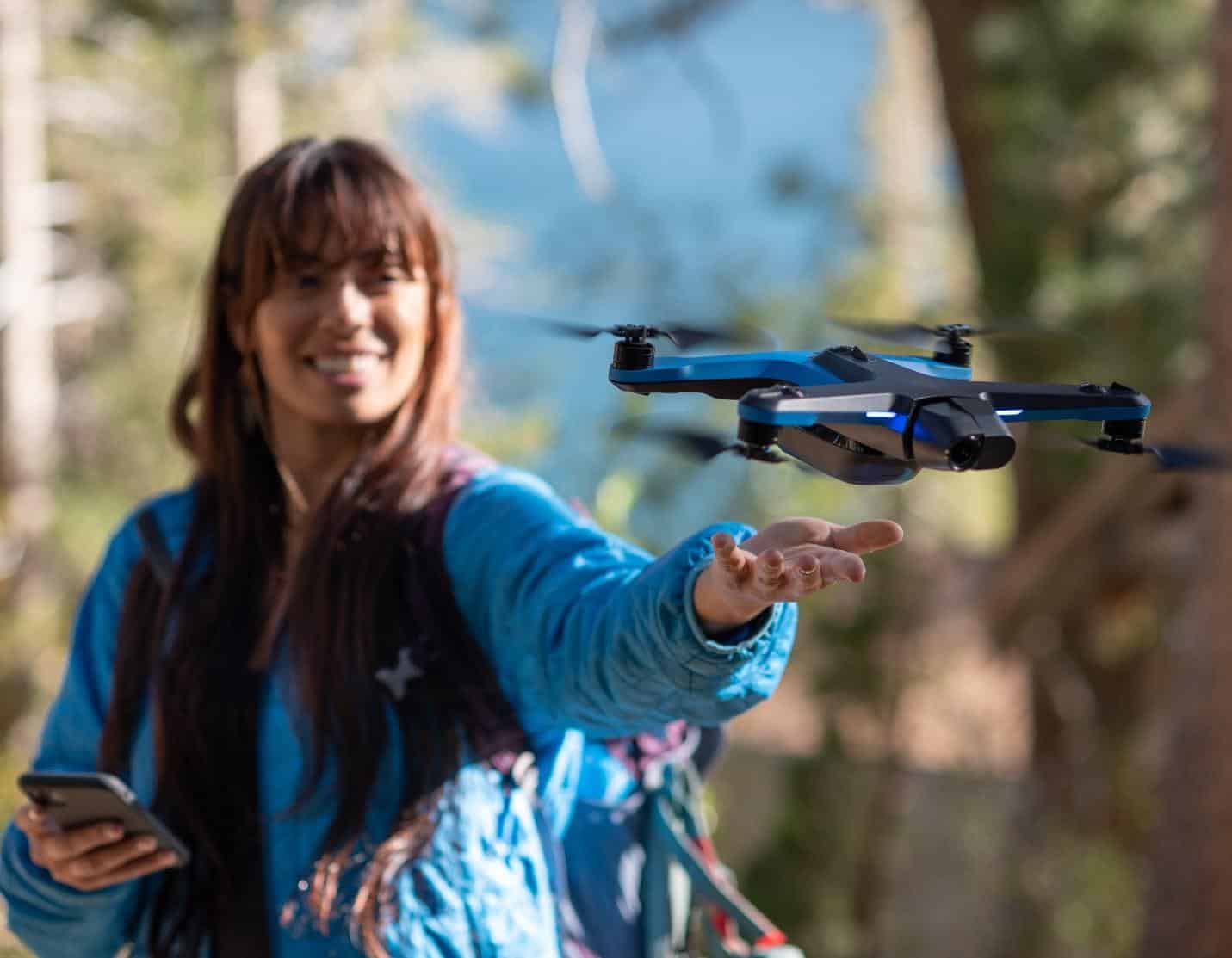 For instance, the Skydio 2 can record 4K 60 FPS videos, even in slow motion, and has a top speed of 58km per hour (36 mph). It is relatively lightweight, so it is ideal for trips.
Another drone option includes the Holy Stone 720, with a 4k Ultra-HD camera that provides high value for your money.
It is recommended for adventure vloggers who are beginners or have a modest amount of drone experience.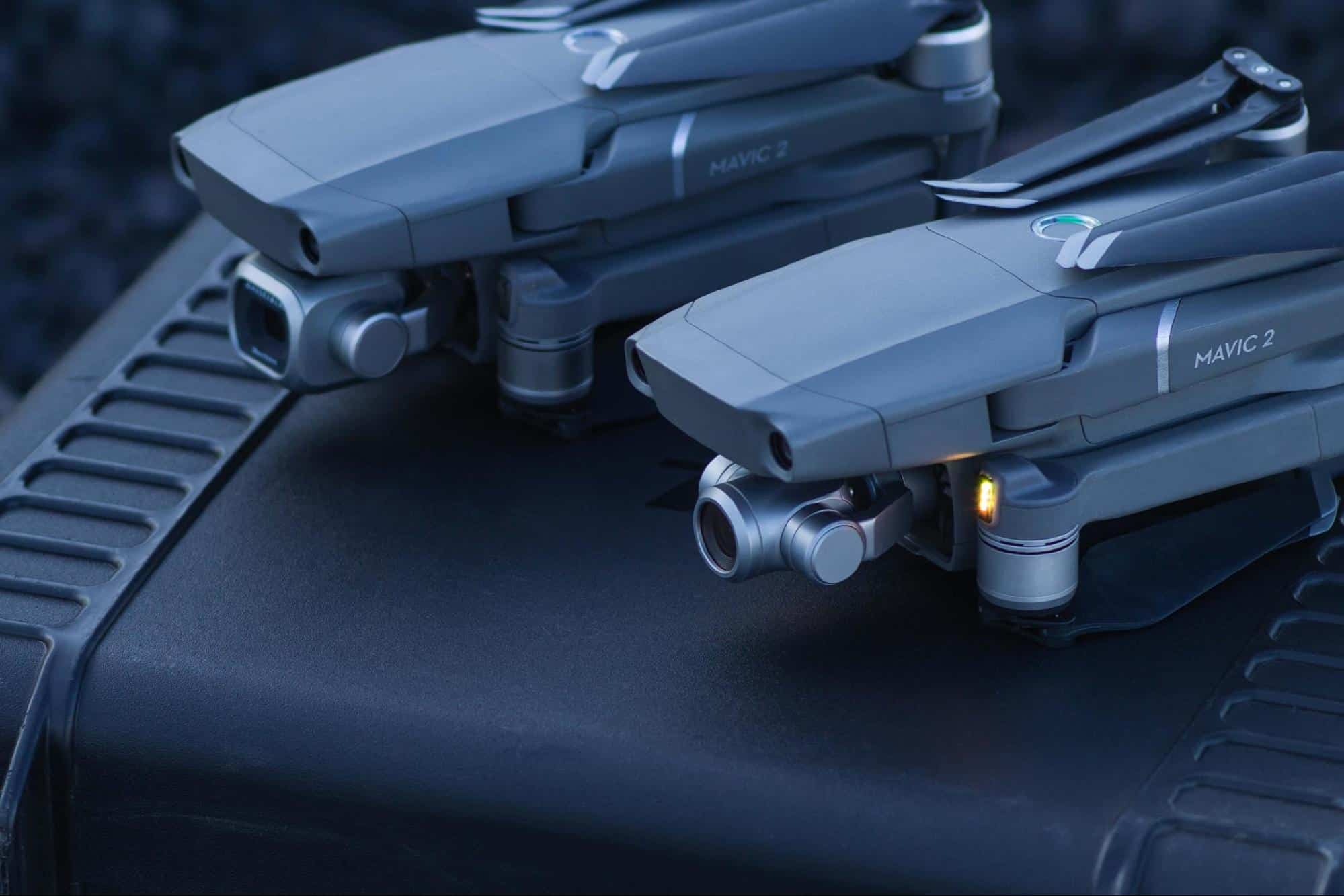 The DJI Mavic 2 Pro has one of the longest flight times on the market (31 minutes), with 4K Ultra HD video, clear and crisp photo-taking, and is suitable for longer videos and continuous stills.
Take Excellent Selfies
With a follow-me drone, you can hike, climb rocks, skate, surf, or do any activity while the drone takes high-resolution shots of you at all times, without you being required to control it.
In other words, it's just like having a family member or friend continuously recording or taking photos, but even better!
Not only can your loved ones enjoy all the fun along with you, but a drone can take selfies or group photos with higher accuracy and from interesting, mid-air perspectives.
Enjoy The Moment
Follow Me drones will allow you to free your hands and enjoy your trips and favorite activities.
They are ideal for fast-paced sports, so you can take high-resolution photos or record stunning videos of you and your friends in action.
Most models come with numerous obstacle-avoidance sensors, so you can enjoy the peace of mind of knowing that they won't crash.
Disadvantages Of Follow-Me Drones
One of the main challenges when it comes to Follow Me drones is perhaps the cost.
If you want a drone able to follow you in challenging environments, such as through the forest or even tunnels (like the Skydio 2), you need to be prepared to spend some cheddar.
Unlike the older models that track an object that you carry with you (usually your phone or the drone's controller), the Skydio 2 can see everything around itself as it has six navigation cameras.
Having so many sensors turns it into a nearly crash-proof device, even if you go hiking in a dense forest.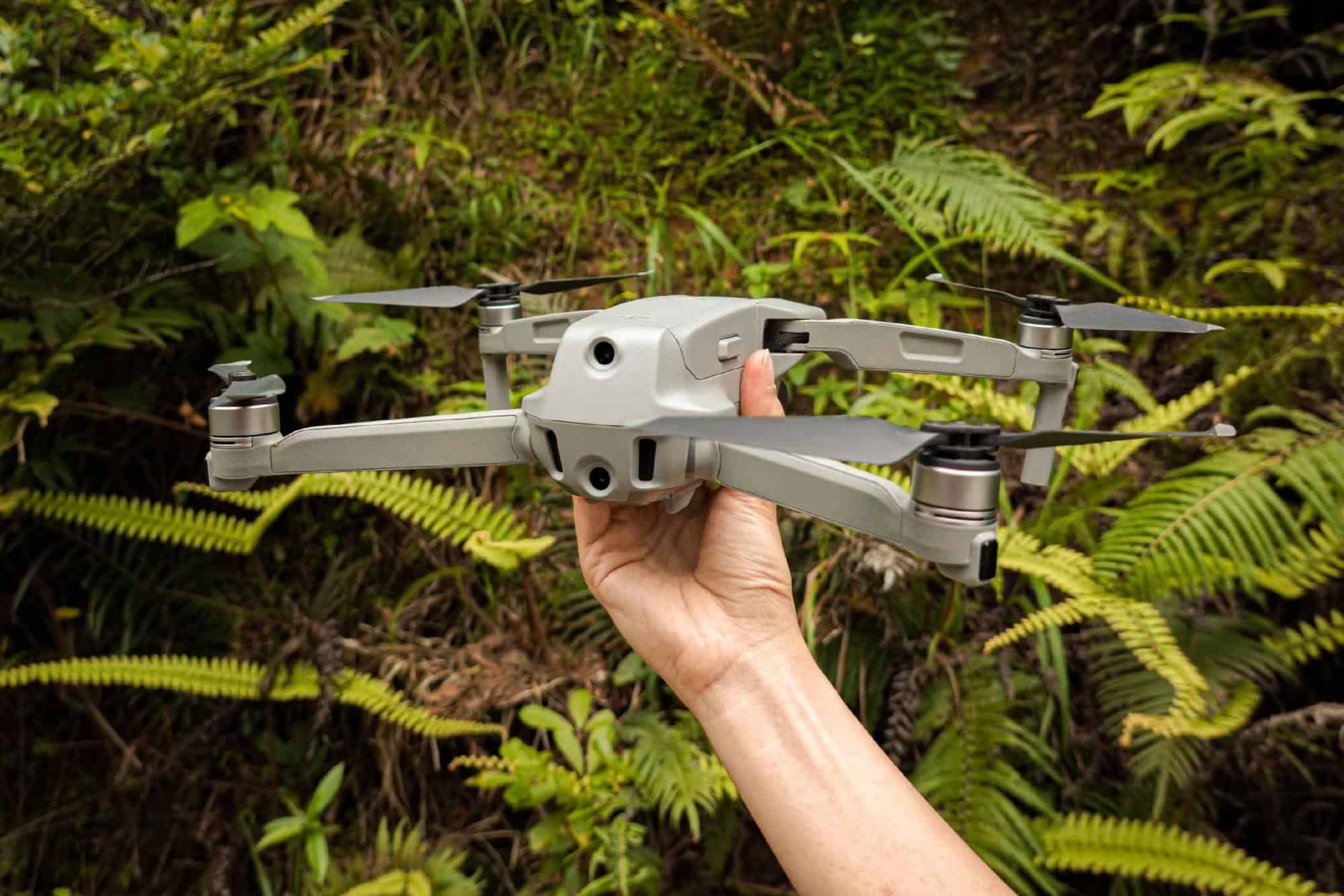 If you do not need the most advanced drone or you're going backpacking or traveling in a less challenging environment, there are more affordable options.
For instance, the Mavic Air 2 (not to be confused with the Mavic 2 Pro mentioned above) is an excellent choice thanks to the ActiveTrack technology developed by DJI.
It is fast and accurate, but it doesn't have as many sensors as Skydio 2, so it has a slightly higher probability of impacting objects if you take it to a crowded environment.
Other Aspects To Consider
If you are thinking of purchasing a Follow Me drone for your next adventure, you should be ready to capture some of the best videos while focusing on your favorite activities.
For many travelers, this reason is enough to consider investing in a hassle-free, Follow Me drone for their next trip.
If you also want autonomous shooting, a Follow Me drone is the best option on the market, although it can be quite expensive.
Some other aspects to consider include:
The total weight of the model, as a bulky, heavy drone, can be cumbersome when traveling.
Buying additional batteries as most models come with 20-30 minutes of flight time, while charging can take several hours.
Getting to know the regulations and rules regarding the use of drones at your destination.
If it's your first time using a Follow Me drone, or any type of drone, take some time to practice and get used to its features before you travel. It's essential to explore all of the drone's capabilities before arriving at your destination. That way, you have a realistic idea of what you can expect to accomplish and what limitations your drone might have.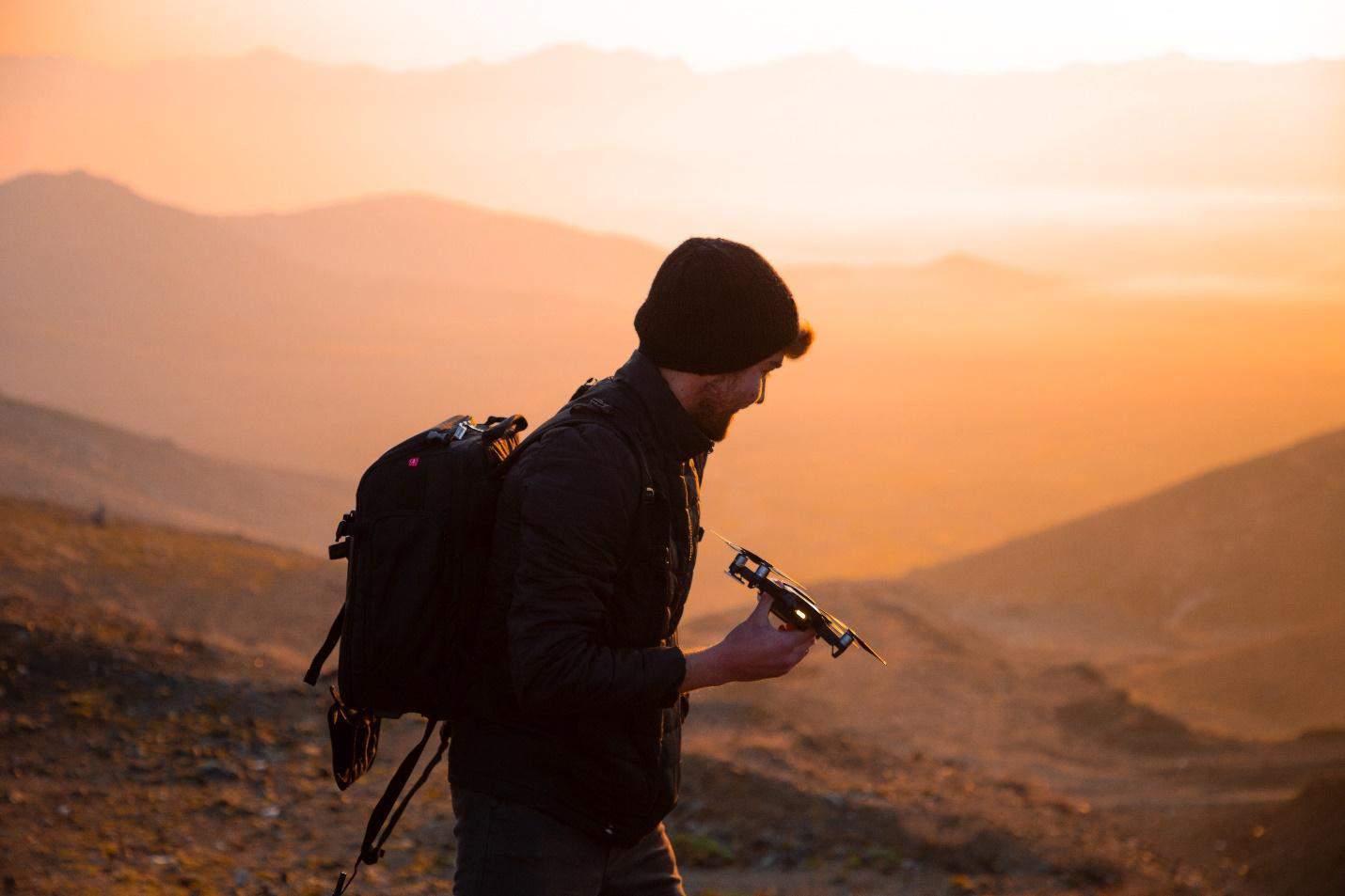 Final Thoughts
All in all, many travelers would consider a follow-me drone worth the investment because of the autonomy and the freedom it provides.
You can let the drone take care of flying itself and keeping objects in frame for photos and videos so that you can set up amazing shots and enjoy your adventure.

Jeremiah Burnett is a drone enthusiast and the creator of Drone Flying 101 (droneflying101.com). He enjoys flying drones, taking epic aerial videos and photos of his hometown and other beautiful destinations, and sharing his passion for drones with the world as well as with his two young sons.
Planning a trip? Go Backpacking recommends: