While Koh Samui and Koh Phangan mostly attract families, package tourists, and partying backpackers, Koh Tao lures divers with its stunning coral gardens and vibrant marine life.
What many visitors don't know, though? Koh Tao attractions go beyond PADI diving certifications and immersions!
Conservation initiatives, rock climbing, mixed martial arts, and even flying trapeze are some alternative activities travelers can enjoy when passing by this speck on the Gulf of Thailand.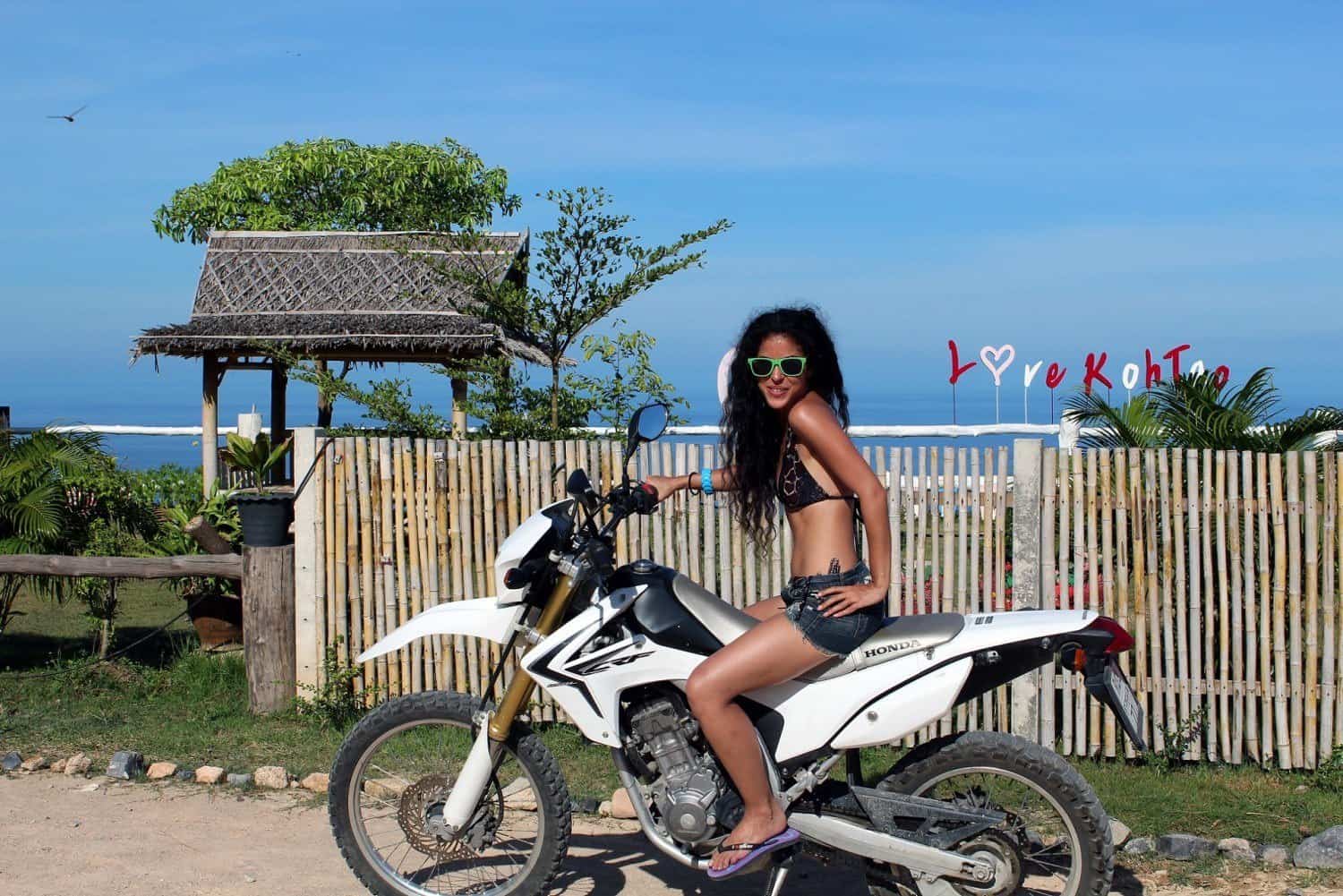 Koh Tao Activities
Motorbike or Hike up Koh Tao's Many Viewpoints
Not quite into extreme sports, but still an adventurous spirit? For about 200 baht (approx. $5.50) a day, you can rent a motorbike and drive up to some spectacular viewpoints.
Some of my favorites include:
Mango Bay
Two Views
Chalok Baan Kao
Moon Dance Magic View Bungalows' Deck
The Viewpoint – "love Koh Tao" sign, overlooking Tanote Bay
Please note: some roads are either in that condition, made of dirt or simply too steep. For this reason, you should rent at least a 250-cc scooter or a more powerful motorbike to make it.
Alternatively, you could ride up to the base of most viewpoints, hiking the last few kilometers.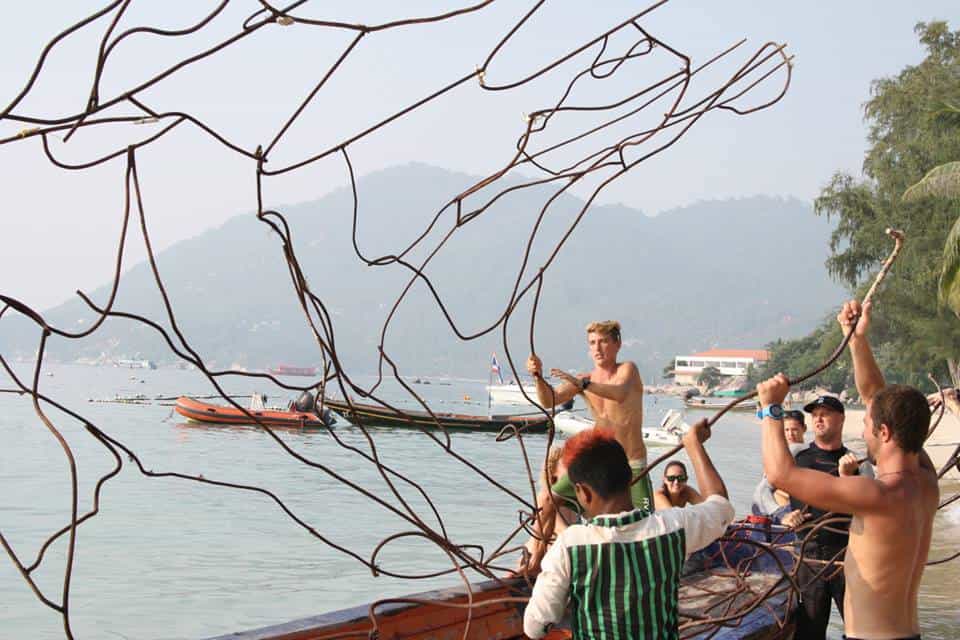 Volunteer in Eco-Friendly Events
One of the things I love most about Koh Tao is the strong conservation goals most of its businesses have.
Locals, expats, and visitors alike join forces often to organize everything from beach cleanups and recycling programs to turtle releases and coral implantation and regeneration.
Some of the island's largest dive shops, such as Crystal Dive and Big Blue, regularly pioneer eco-friendly events.
Visit their websites and Koh Tao's chapter of Trash Hero for more information on how to take part in their sustainability efforts during your visit.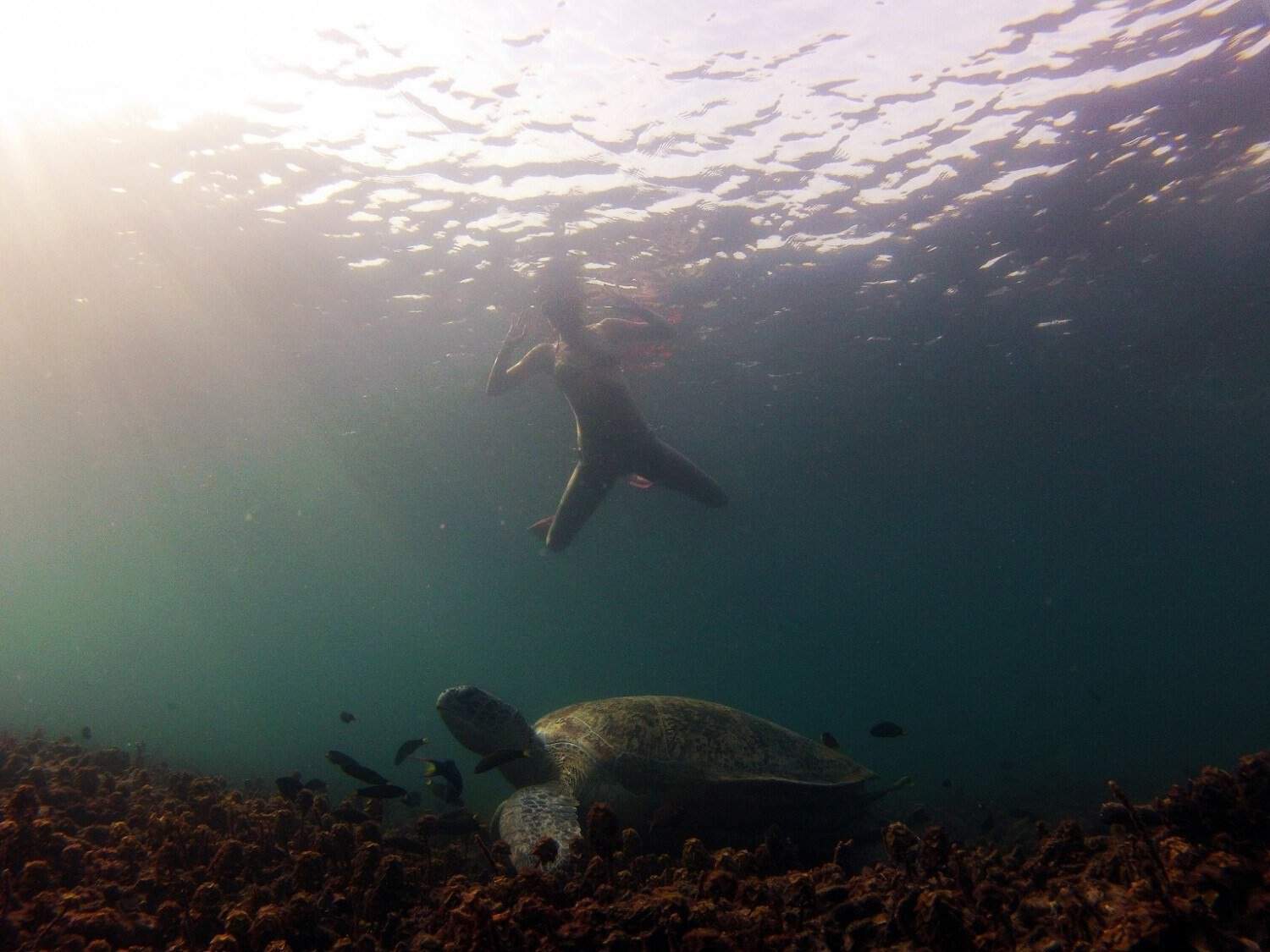 Snorkel with Sharks and Turtles
Scared of the deep but still love the water? You can't miss snorkeling at Shark Bay, also known as Thiang Og Bay.
It is a stunning spot for lounging and tanning and a lively reef attracting feeding sharks and giant turtles late afternoon.
Other spots with beautiful underwater life include Sai Daeng Beach and Hin Ngam. You can rent snorkel equipment at nearby hotels or shops on your way there.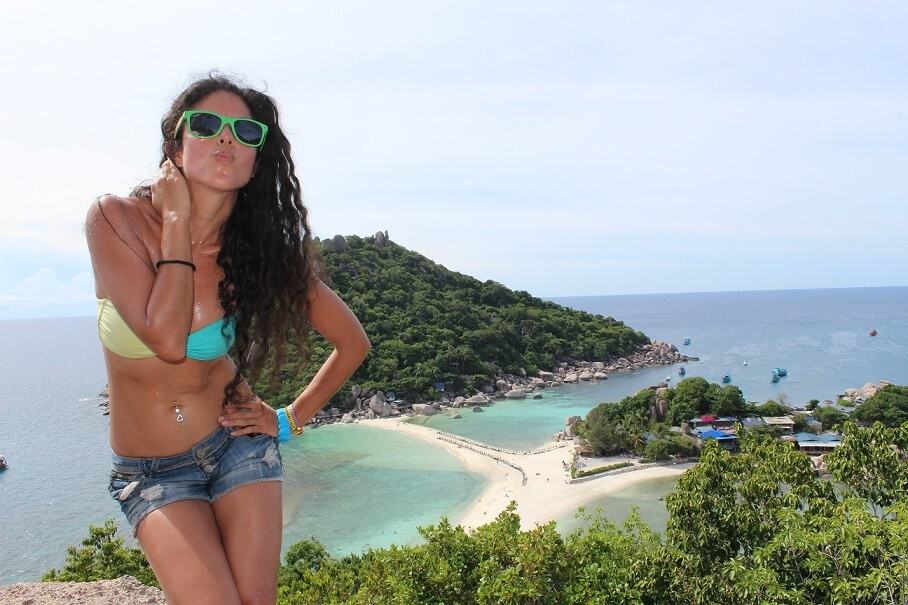 Go Beach Hopping
Speaking of motorbikes and beaches, beach hopping is one of the best things to do in Koh Tao when you have your own transportation.
Despite its growing popularity, Koh Tao still boasts quiet, unspoiled beaches, coves, and bays.
Some of my favorite spots include:
Freedom Beach, one of the island's most secluded on the south
Laem Thian, a secluded spot great for cliff jumping and snorkeling as well
Sai Daeng Beach, with free access through A-Na-Lay or Horizon Resorts
Tanote Bay only accessed by powerful motorbike, 4×4 vehicle, or taxi boat
Koh Nang Yuang, albeit a touristy boat ride away, is undoubtedly beautiful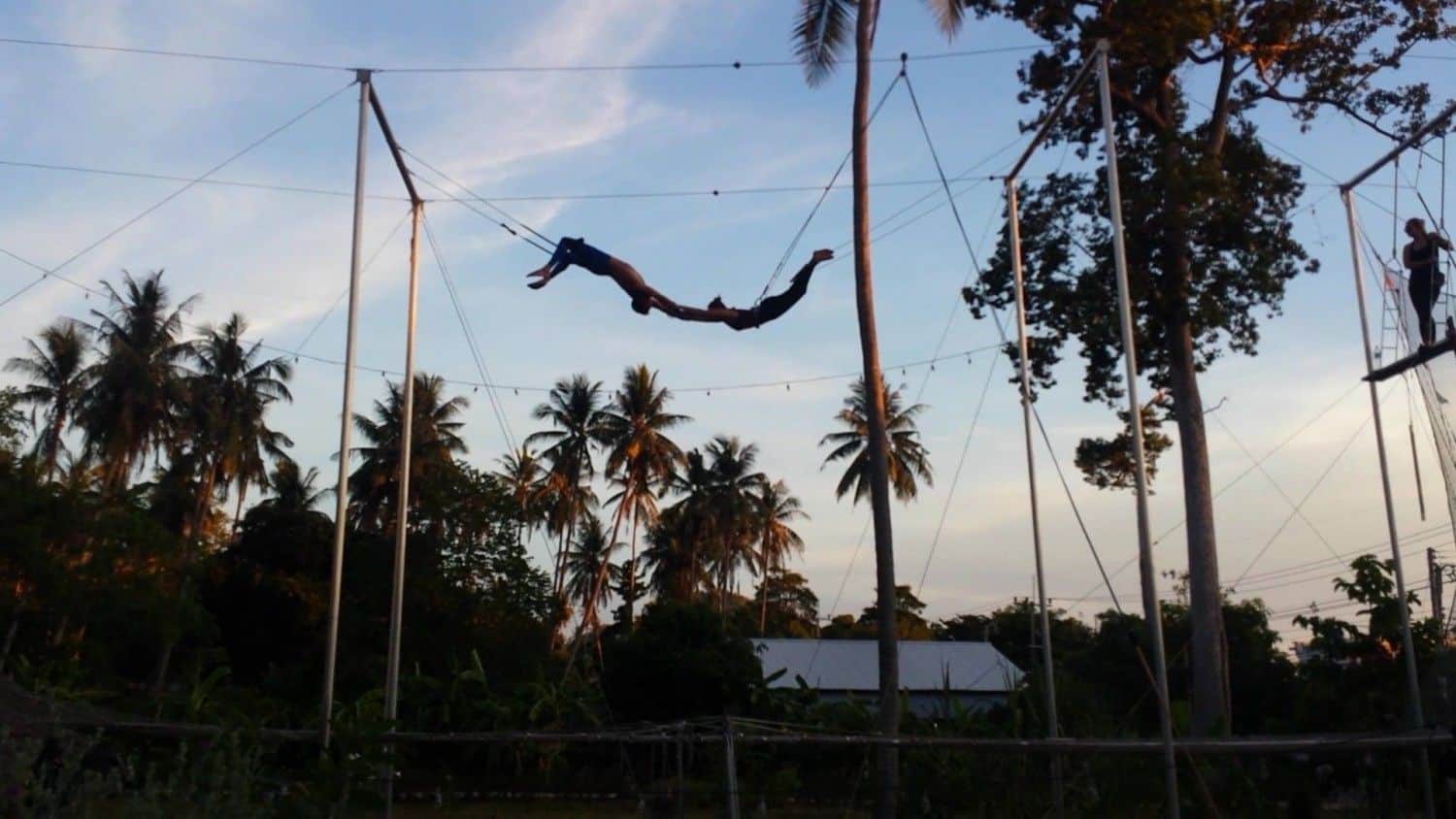 Feel like a Circus Acrobat at Flying Trapeze School
What traveler could ever imagine being able to fly across the sky like a circus acrobat in a small tropical island in Thailand?!
Flying Trapeze Adventures offers some of the most exciting classes in Koh Tao. Outdoors–among palm trees and puffy white clouds–you will learn how to perform several flying trapeze tricks.
I saw some backpackers fly and being caught mid-air in just one lesson.
Better yet, charity events and other flying trapeze shows are organized throughout the year, so make sure to check out their calendar during your visit.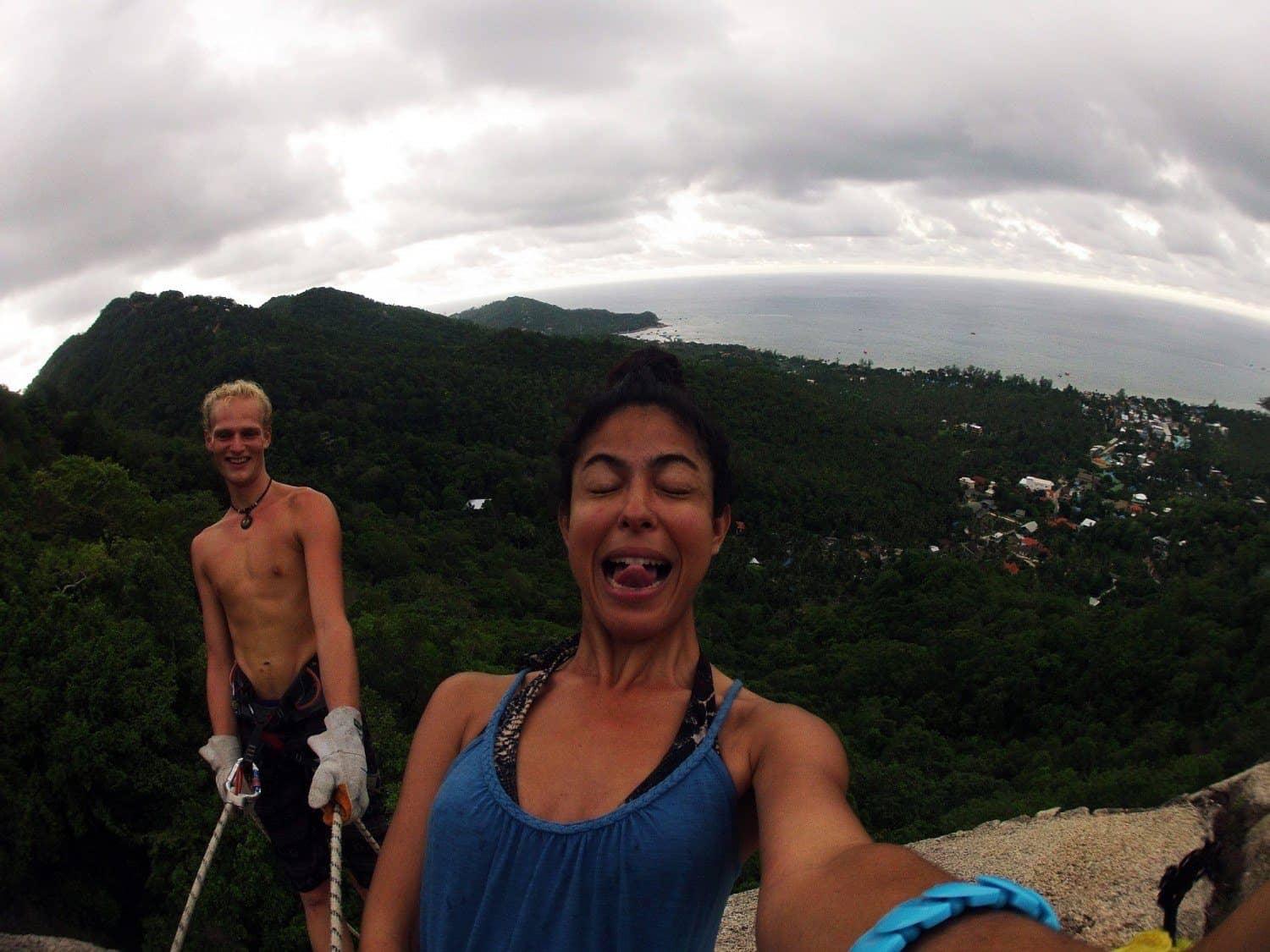 Go Rappelling, Rock Climbing, Bouldering
Hilly Koh Tao is filled with beautiful rock faces and peaks to climb and abseil from. While you could bring your equipment, find a map, and go for it, I highly recommend booking a trip through an agency.
A well-established one is Goodtime Adventures. Their guides are experienced, safe, and patient–even if you have never climbed before.
They taught my friend Daniela how to tackle the rock face while I rode up to a stunning viewpoint and then rappelled down it. We both loved it!
Stay Fit with Mixed Martial Arts, Muay Thai, or Gladiator Training
Other exciting things to do in Koh Tao include full-body combat sports such as MMA and Muay Thai.
You can see a show, sign up for Muay Thai classes, or even full-blown courses, all led by experienced fighters coming from all corners of the world.
The most well-known fitness centers on the island are:
Island Muay Thai on Haad Sairee offers both shows and training, from beginner to advanced levels, for all genders.
Monsoon Gym (also in Sairee), however, is a full-sized Western-style fitness center that offers not only Muay Thai but also MMA and traditional boxing training–in addition to daily Gladiator high-intensity workouts.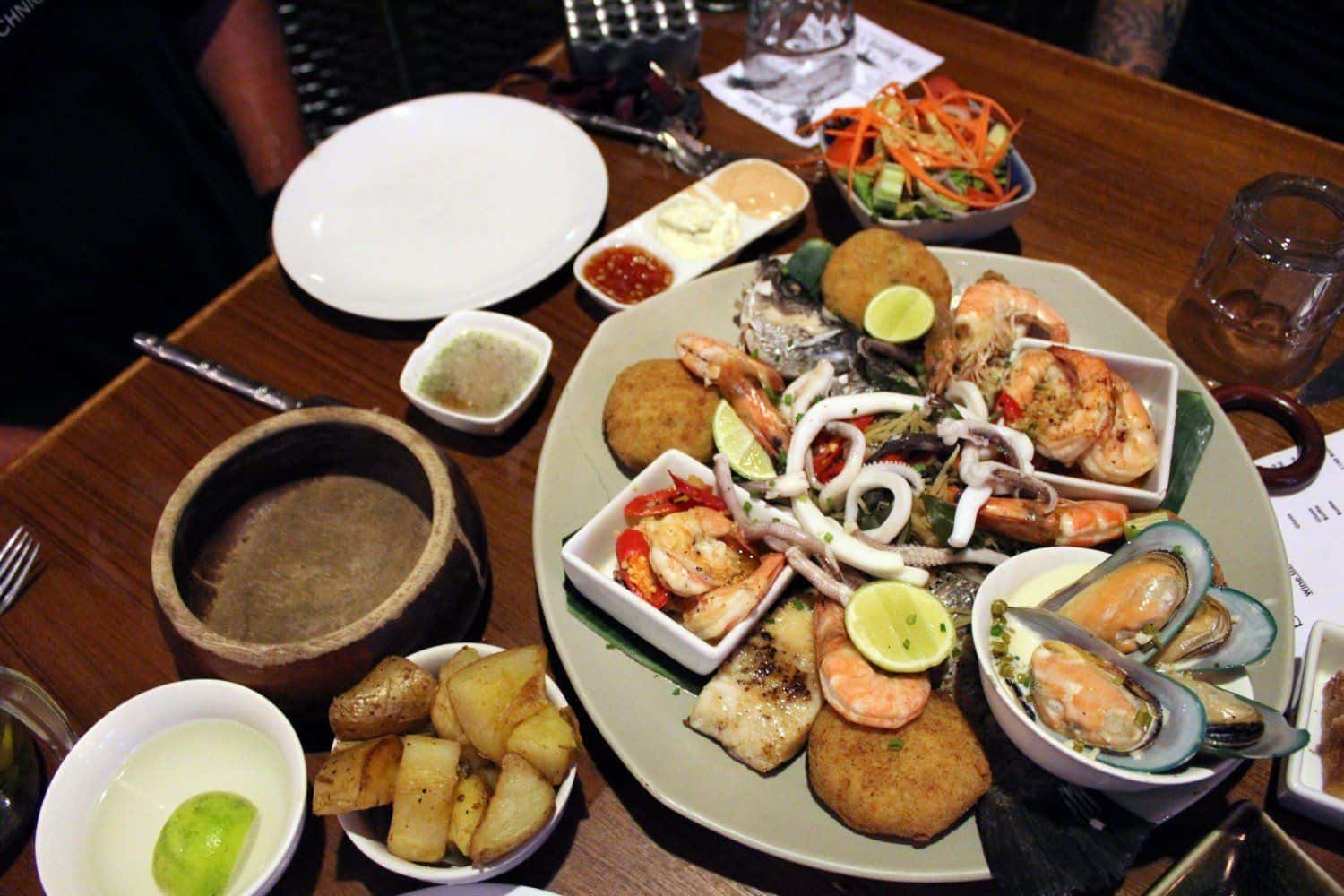 Sample Koh Tao's Finest Seafood–Or Go Vegan
Upon stepping foot on the island, expats and travelers alike raved about Barracuda–arguably Koh Tao's best restaurant.
Such is Barracuda's popularity that locals consider it a can't-miss attraction in itself.
I recommend the house specialty: the all-in seafood platter. It's a sampler of the day's best catch, accented by the executive chef's creative sauces and preparation.
Other top dishes of Sairee's foodie hotspot include:
Breaded barracuda fingers or prawns (made with an incredible, zesty lemongrass/kaffir leaves batter) and spicy red curry mayo dip
Asian-infused bruschetta with tuna sashimi marinated with ginger, soy, sesame seeds, and chili
Baked barracuda filet stuffed with feta cheese and tomatoes, then wrapped in Parma ham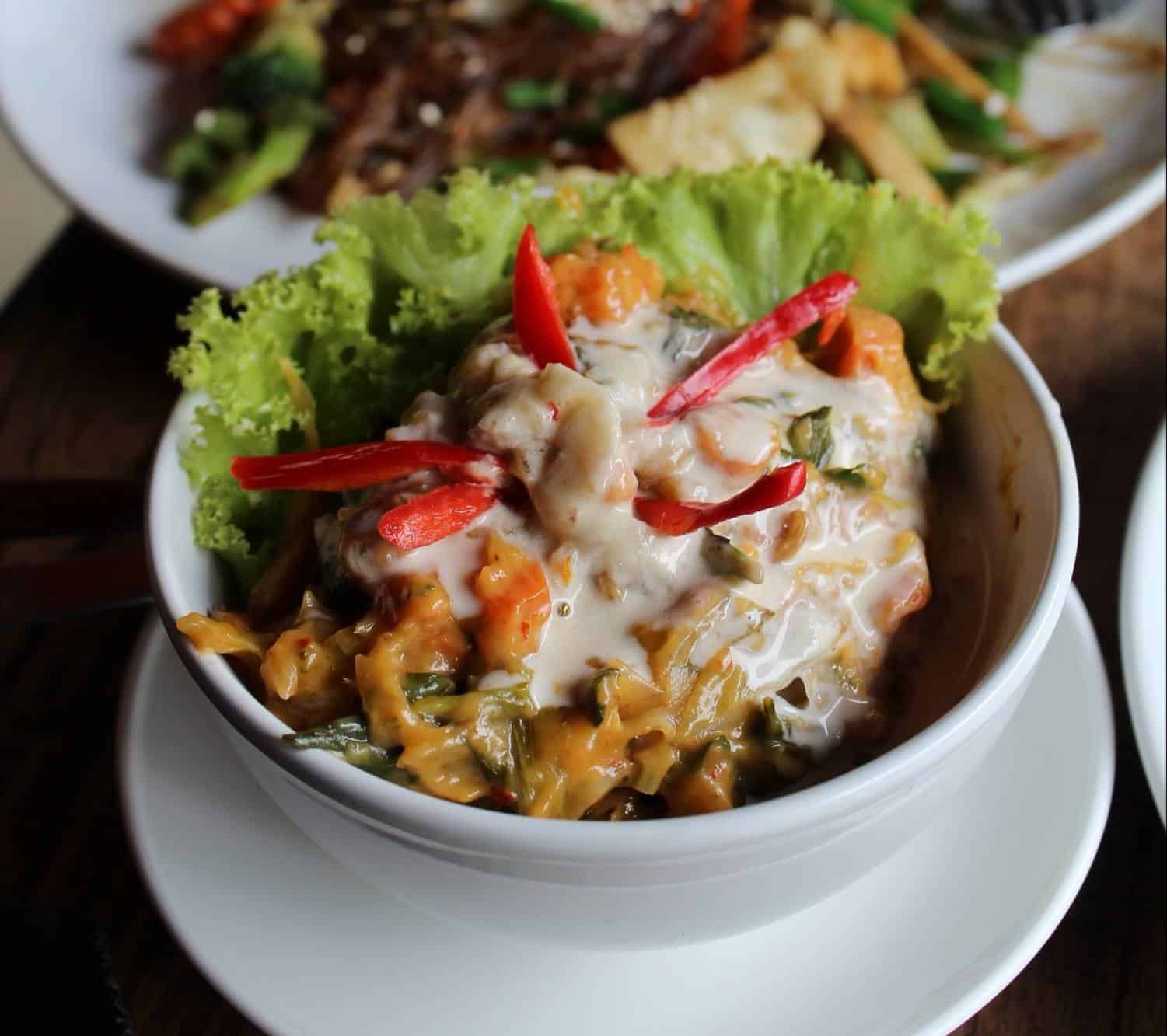 Vegetarian or vegan? Not a problem! Koh Tao also boasts outstanding vegan restaurants like La Carotte Qui Rit.
Located close to the main port in Mae Haad, its offerings include a variety of Thai dishes with a twist.
I promise you. Its spiced-up creations will tempt even carnivores.
My favorite vegan dishes include:
Curry with stir-fried vegetables and steamed rice noodles
Haw mokk: red curry 'salad' filled with kaffir lime leaves, carrots, broccoli, and cauliflower
Stir-fried glass noodles and vegetables
Join a Pub Crawl
Want a sample of Sairee Beach's nightlife without having to do much research? Just join the Koh Tao Pub Crawl, running every Sunday, Monday, Wednesday, and Friday night.
For 380 baht, you get a T-shirt, one bucket, two shots, and all-night drink specials at four selected locations.
Stops include a cabaret show, a beach party, a pool party, and even live music. Pubs and bars rotate around special nights and events.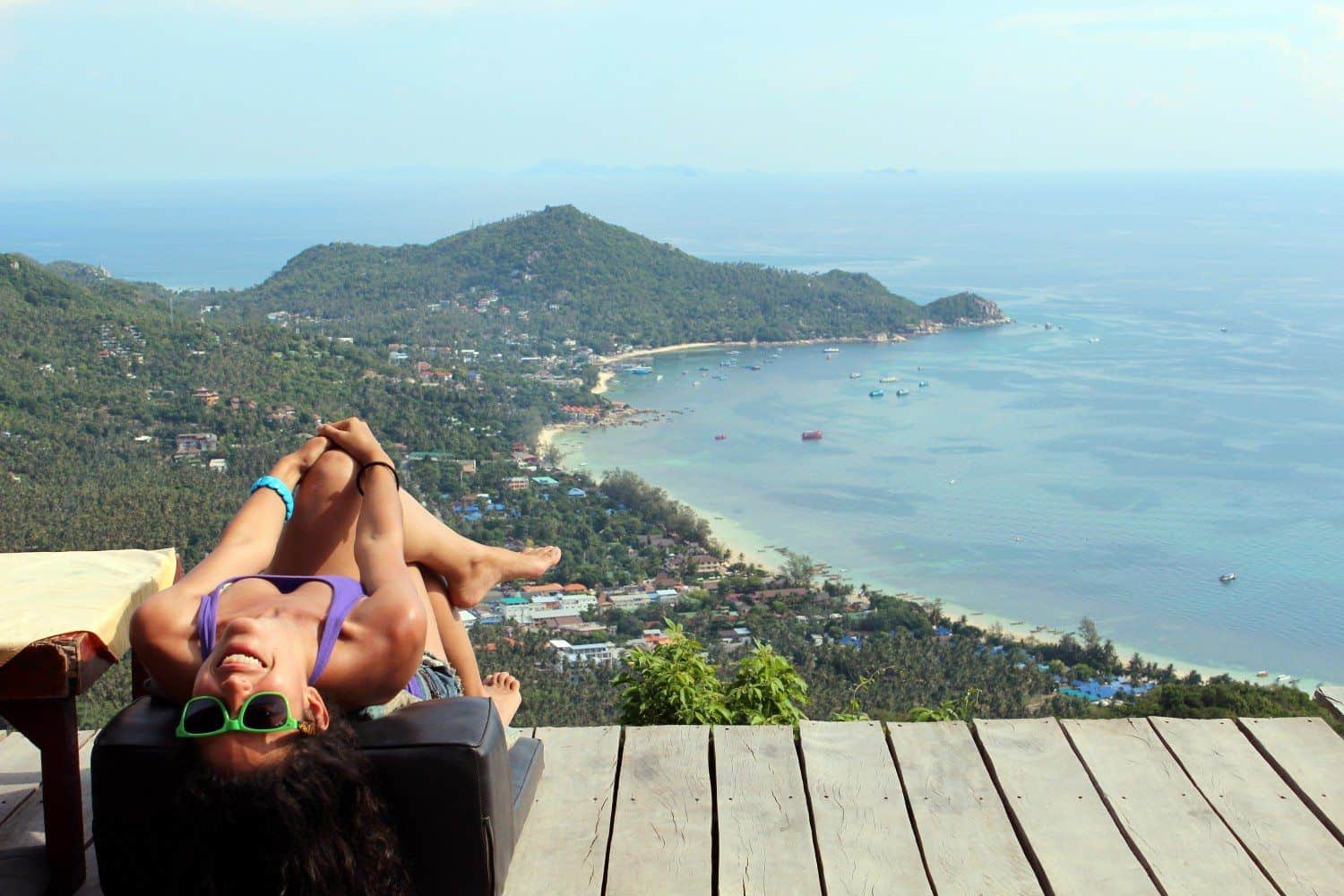 Maria Alexandra Laborde is a serial expat, having lived and traveled extensively throughout 6 different countries and territories, including over 18 years in Latin America.
Also, Maria is the author of LatinAbroad, where she shares cultural experiences and advice after living in and traveling to over 30 countries across 5 continents. Follow her on Facebook, Google+, Instagram and Pinterest
Planning a trip? Go Backpacking recommends: