On my first trip to Kyrgyzstan, as soon as the weather started to get a bit warm, the people always talked about escaping to Lake Issyk-Kul, especially in August.
I later learned that late July and August brings unbearable 40 degree Celsius heat at times — a heat that isn't made better by the lack of good air conditioning in many local establishments and on public transport.
And when that time comes, and the weather is just right, you can quickly understand why Lake Issyk-Kul is so popular.
About Lake Issyk-Kul
Lake Issyk-Kul is located in the northeast section of Kyrgyzstan, about a 3-hour drive from Bishkek (the capital) to the corner city of the lake (Balykchy).
The lake itself is pretty extensive, actually known as the 2nd largest mountain lake globally, coming in at 2,408 square miles in size.
Around 118 water sources are leading into this lake, and even though it might be surrounded by frozen earth and mountains, the water never freezes.
In the summer, you can expect the water to be cool due to the elevation. You might not realize it on your drive out to Issyk-Kul, but you are heading up to a height of 5,272 feet.
Back in Soviet times, the lake was of great popularity for those wishing to take a summer break with many vacation homes and sanatoria on the northern side of the lake.
These, of course, have only recently started to come back to the region since the fall of the Soviet Union.
Related: What to Expect When Backpacking Kyrgyzstan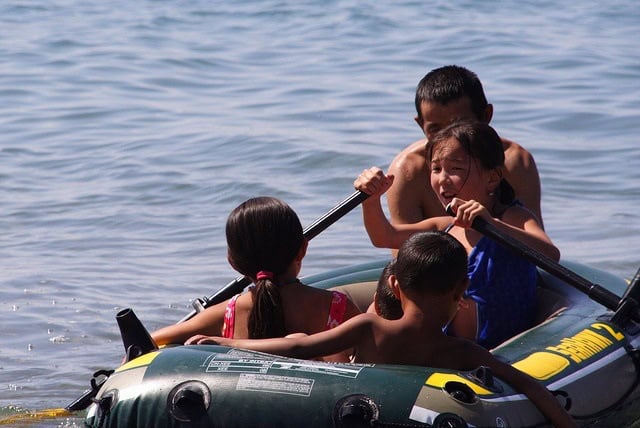 What to Do at Lake Issyk-Kul
The best thing to do at Lake Issyk-Kul is to lounge on the beach with the occasional dip in the cooling waters from time to time.
Entire Kyrgyz families retreat to Lake Issyk-Kul for August, swimming through the day and feasting by night.
There are also water sports available (rowboats and jet skis, for example) on some busier sections of the lake, perhaps up by the popular Cholpon-Ata.
A gorge, the Grigorievskoye, is but a short hour's ride away from Cholpon-Ata and is a beautiful place to hike or ride a horse.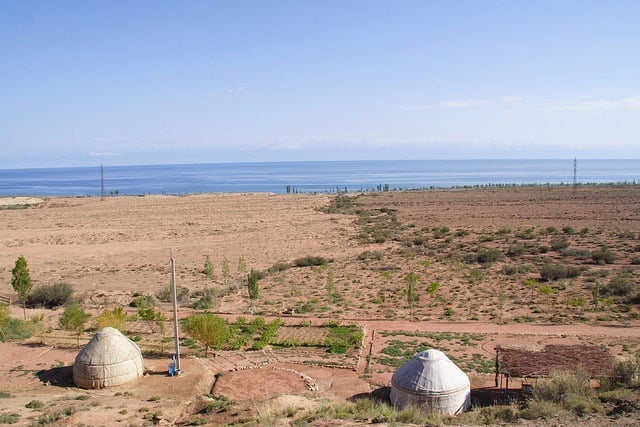 Where to Stay at Lake Issyk-Kul
The popular town on Lake Issyk-Kul would have to be Cholpon-Ata on the north, and this is where you can find several guesthouses to spend your nights.
However, in many of the locations around the lake, it is popular to choose a homestay or even a yurt stay (my favorite!).
Through Community Based Tourism, I spent the night at Lake Issyk-Kul in a yurt on the southern shores with an impressive dinner and breakfast cooked fresh for us on the spot.
How to Get to Lake Issyk-Kul
Buses regularly leave from Bishkek to Cholpon-Ata, and for a slightly higher price, you can choose a minibus (marshrutka) to get you from A to B in a faster manner.
Taxis can also be caught for the quickest option, but be sure you are sharing in a group, or the fee will be pretty high.
Related: Song Kol Lake – Horse Trekking in Kyrgyzstan
Best Time to Visit Lake Issyk-Kul
August is the busiest month at Issyk-Kul but also the best month to visit in terms of weather. If you'd like to avoid the big tourist drive, choosing to go in July or September can be a better option.
Other parts of the summer will be excellent for beach lazing, but the overall temperature of the lake is generally cool, so swimming in June (like when I was there) will be difficult.
The lake can be beautiful to look at in fall and spring, but do be aware that the air is cooler in this region. You might need to bring extra clothing to combat the chill.
Brooke lives a thrifty lifestyle so that she can travel the world at every possible opportunity. Find more of her writing on her website: Her Packing List. Or follow her on Twitter.
Planning a trip? Go Backpacking recommends: