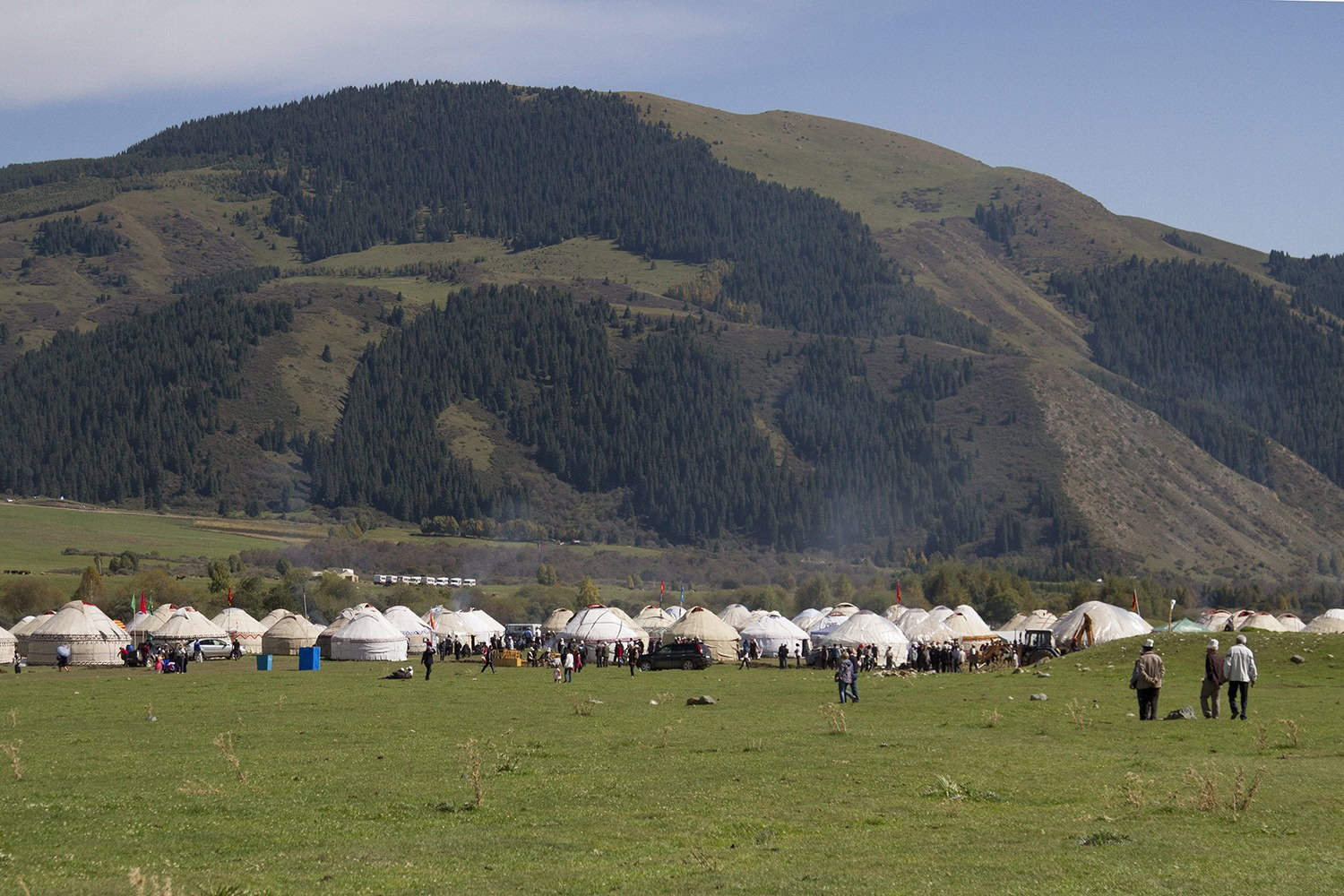 I didn't know what to expect when attending the second-ever World Nomad Games in Cholpon-Ata, Kyrgyzstan.
As someone who is decidedly not a fan of sports, I suspected that there would be other events and activities that would spike my interest, if not the natural beauty of the country of Kyrgyzstan itself.
As it turned out, the games do go beyond traditional nomadic events, such as archery, Er enish (wrestling on horseback), and the nail-biting sport of Kok Boru (imagine horse polo, but replace the ball with a decapitated dead goat).
There are costume competitions where participants proudly deck themselves out in their national dress.
Salburun is hunting involving falcons, eagles, or the Taigan, a Kyrgyz dog that relates to the Greyhound.
There are even yurt-building competitions, which take hours to see through to completion. Yurts are portable round tents used for shelter by nomads.
Not to mention all the baby animals an animal enthusiast like myself could ever hope to see.
All of this could be found within the Kyrchyn Gorge, a 45-minute bus trip from the main stage, the Hippodrome in Cholpon-Ata.
I could have spent the entire duration of the event wandering around this particularly picturesque valley.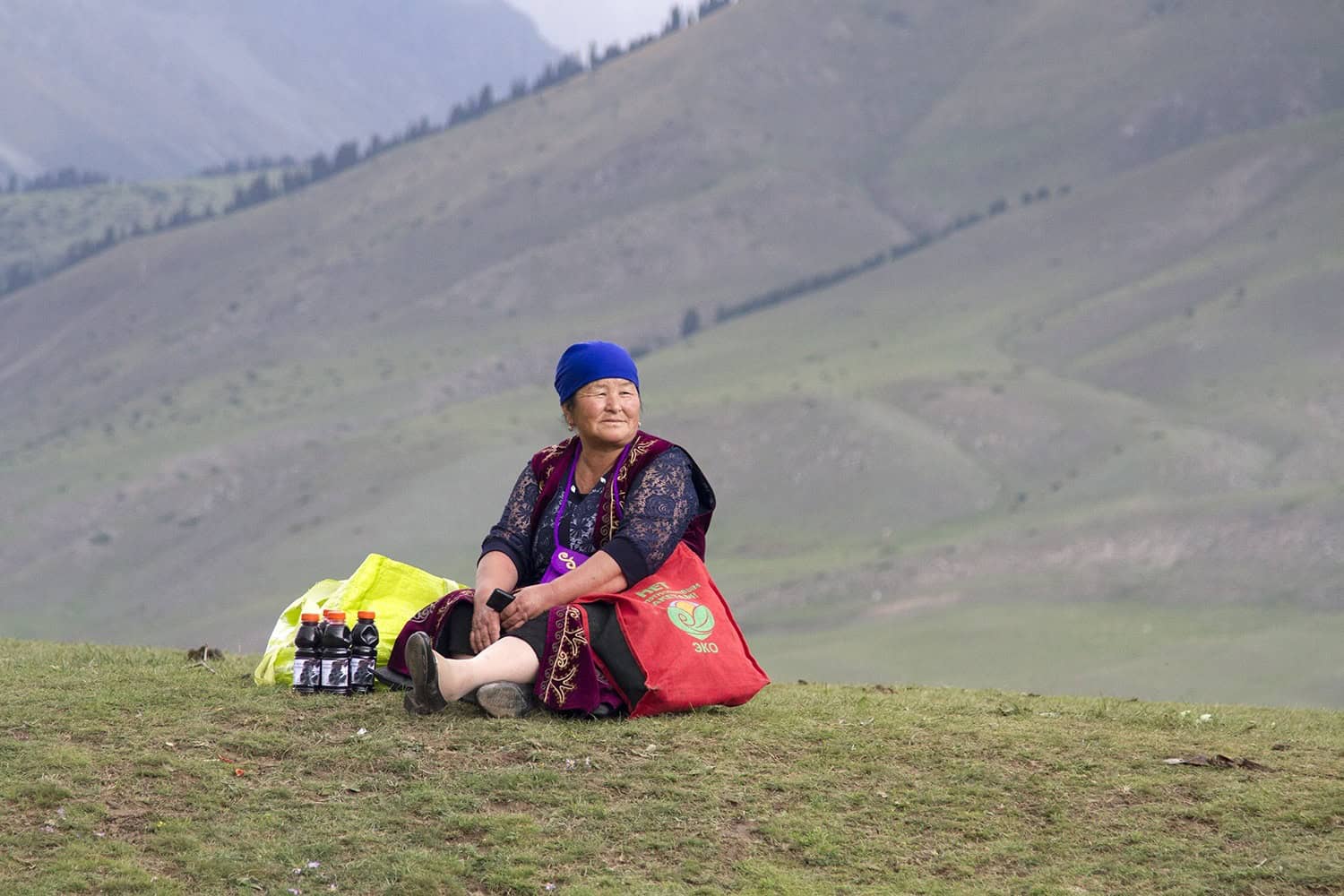 On my first trip out to Kyrchyn, a fellow travel blogger had commented: "This might be the most beautiful place in the world I've ever been to."
They had an impressive number of countries under their belt, so I stepped off the minibus with high expectations. These were met quickly and then exceeded.
Imagine a valley surrounded by mountains covered with an expanse of trees, their leaves turning golden with the changing seasons.
Above us, the sky rumbled as dark, threatening storm clouds rolled in, only to be swept away an hour later, revealing brilliant blue skies.
Four seasons in one day, that's Kyrgyzstan in Fall for you.
As we picked our way through the car park, yurts and stalls set up outside the entrance; we were routinely stopped by strapping young lads on horseback.
"Taxi?" They'd ask, stretching out a hand. If accepted, they would whisk you up onto the back of their steed, carrying you past the crowds of people and mud to the entrance of the venue – for less than you'd pay for a bottle of water in the USA.
Having just spent two days riding through the mountains of Kyrgyzstan on horseback and still a bit stiff in the legs, I smiled, shook my head, and declined with thanks.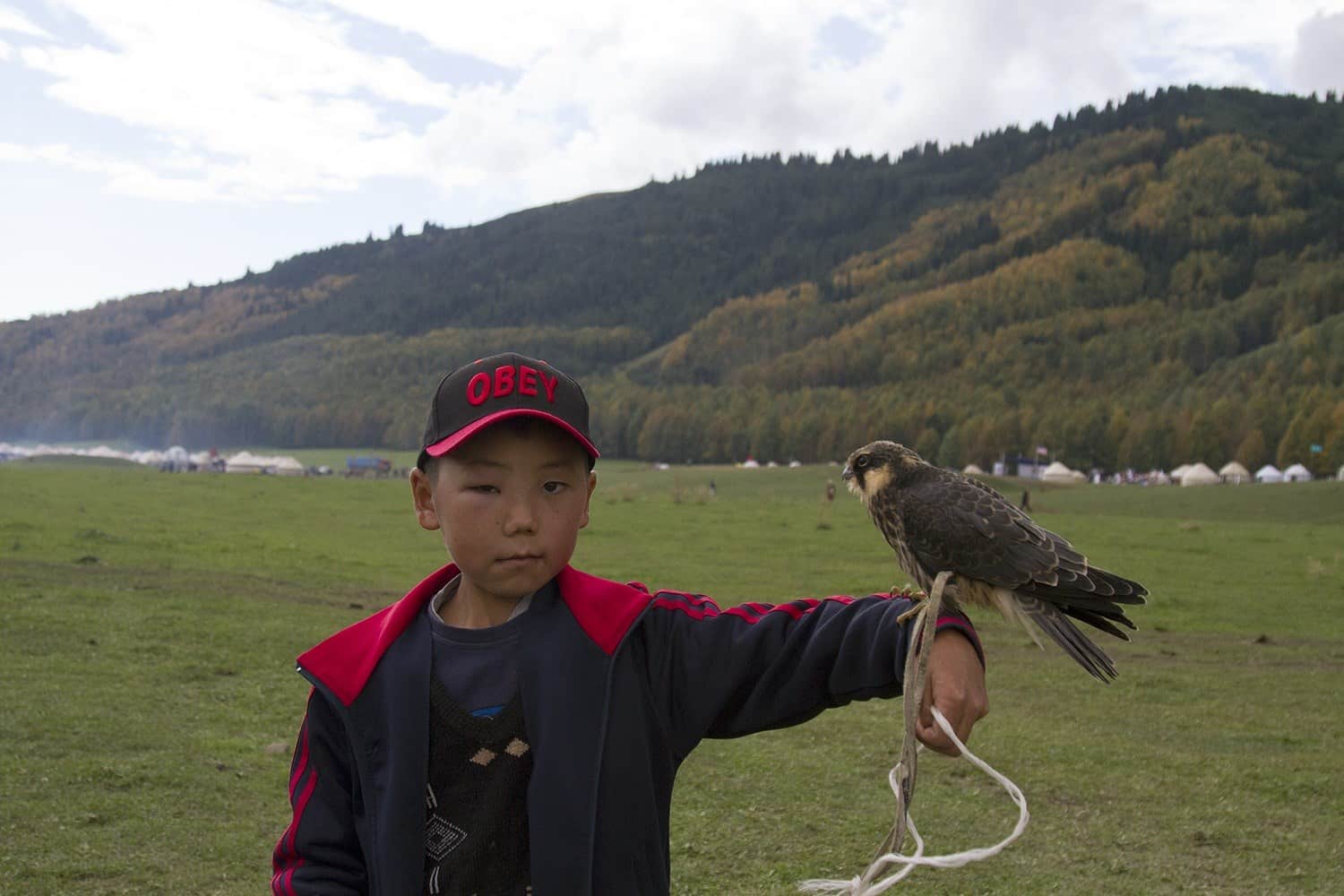 You had to be on your toes. I was gazing around, lost in my little world, when a Kyrgyz boy ran up and popped a small falcon onto my arm.
I was unsure how to feel about the situation, but it's no secret that I love birds. I stroked the beautiful creature for a little while before handing it back over.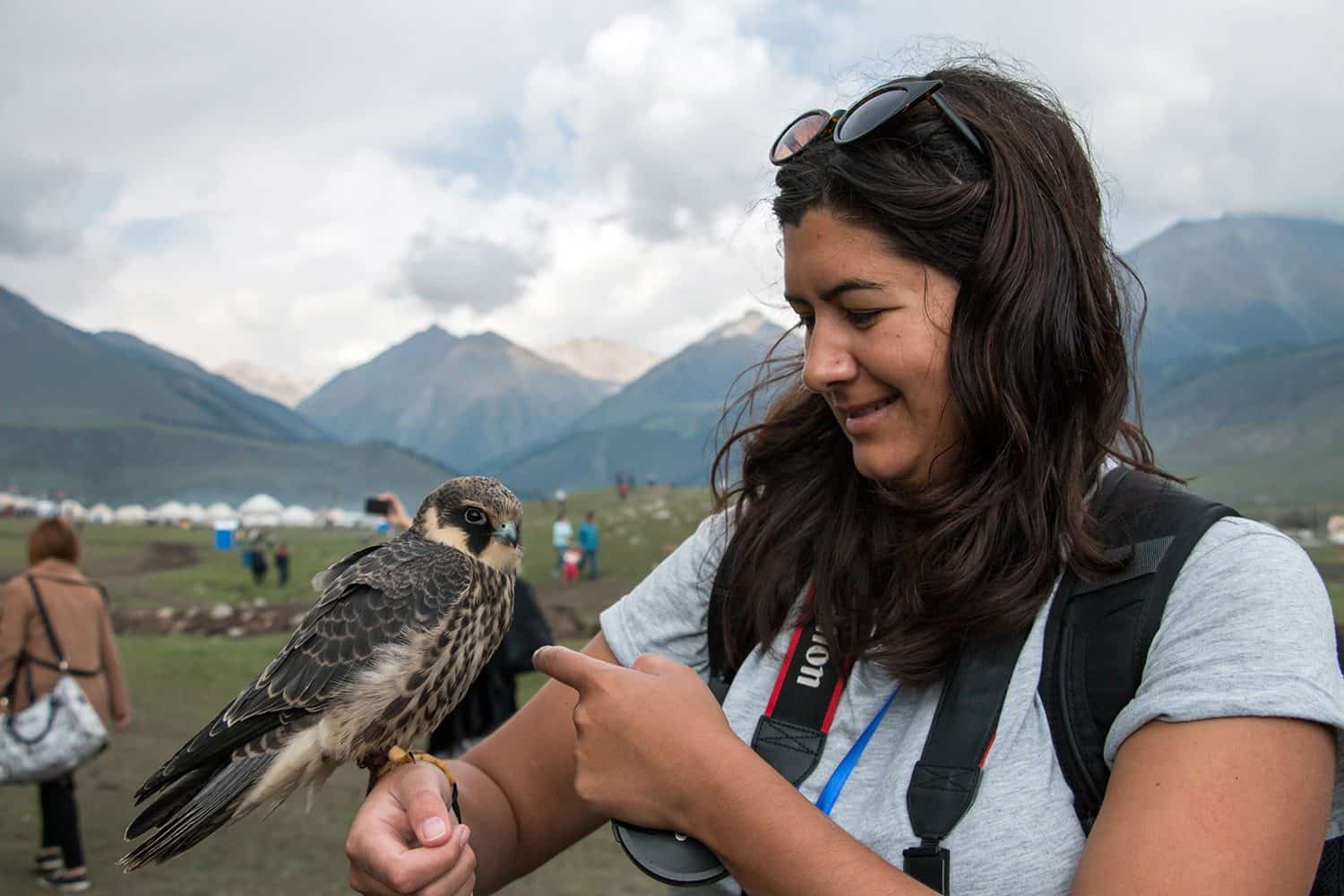 We walked through the shipping container used as a bridge over a stream that cut through the gorge, officially entering World Nomad Games territory.
I didn't have a plan for Kyrchyn – I figured I'd wander around, camera in hand, stopping to look at whatever happened to take my fancy.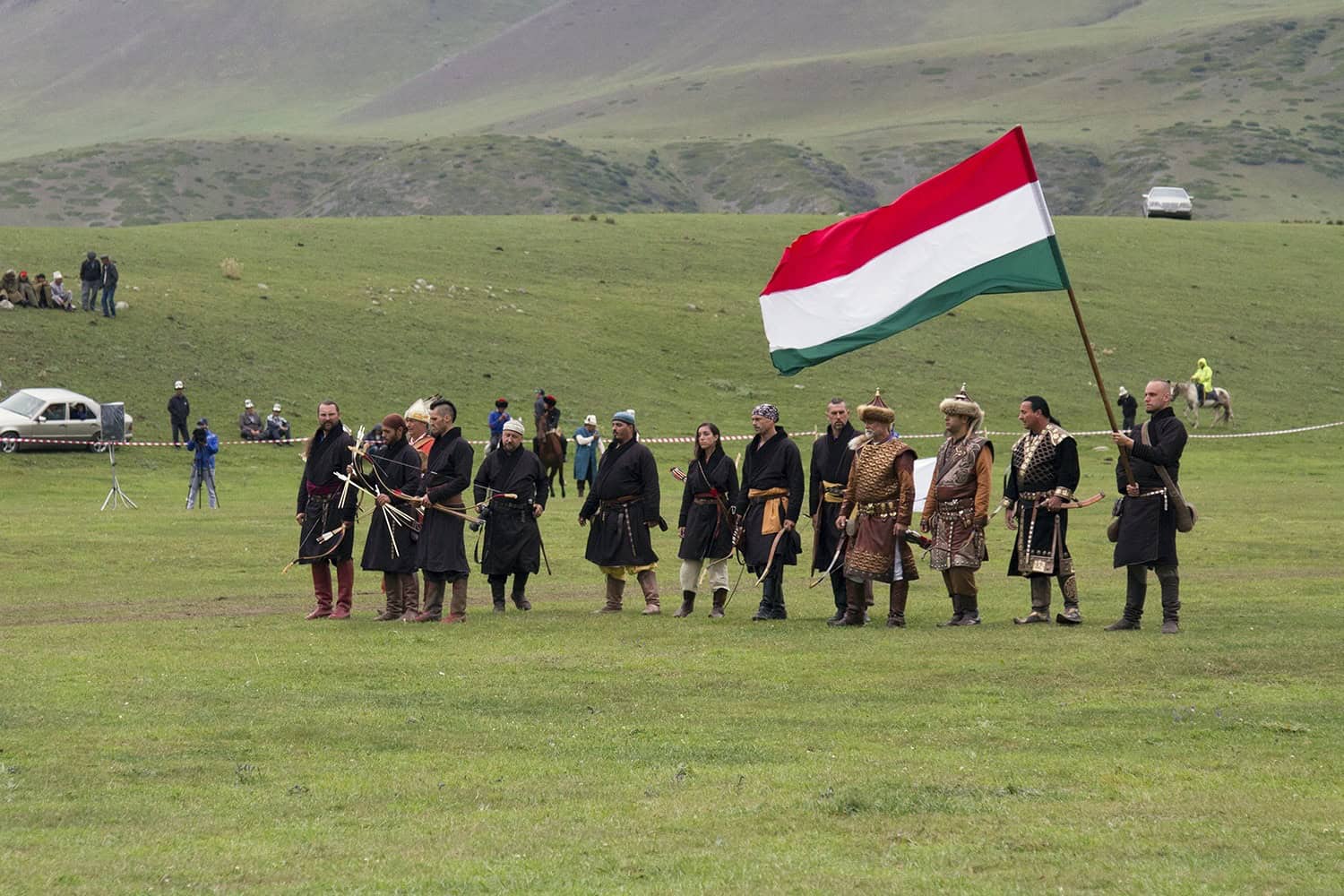 I followed the crowd to a nearby field, where the eagle hunting was taking place. My eye was caught by a small boy holding the leash of an equally tiny puppy.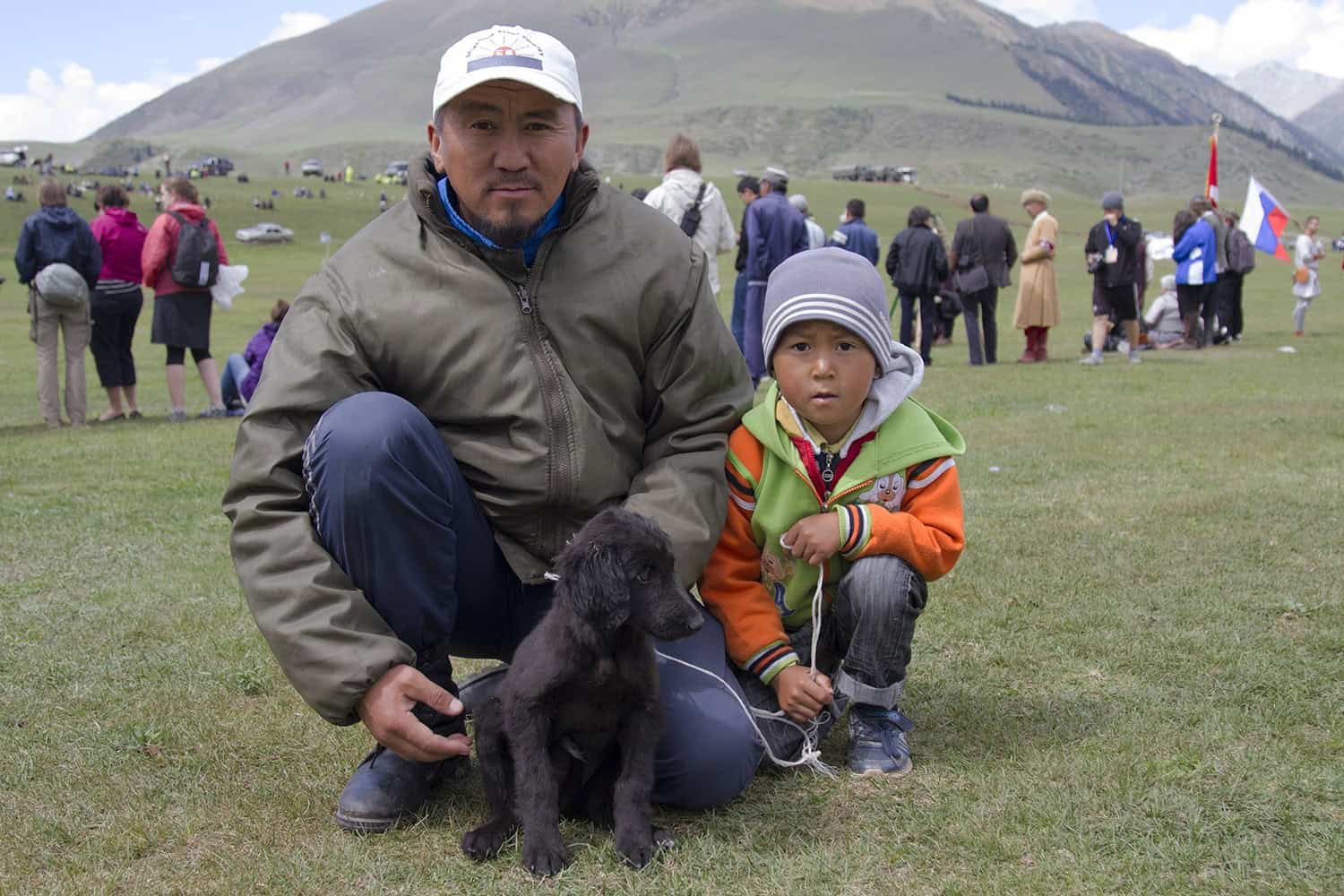 I leaned down in front of the two and asked him if I could pat his dog. He nodded. As I stroked the puppy's fur, a Kyrgyz local came over and introduced himself.
His name was Murat. He hailed from the Naryn Region and bred Taigan's on his property.
With the help of two of the Games volunteers Ermek and Roza (translated), Murat explained that the Taigan's were a type of Greyhound born and bred in Kyrgyzstan.
One day, this tiny puppy would grow to become a fierce hunter, an animal that could take on the likes of wolves… and win.
One day, this tiny puppy would grow to become a fierce hunter, an animal that could take on the likes of wolves… and win.
Related: What to Expect When Backpacking Kyrgyzstan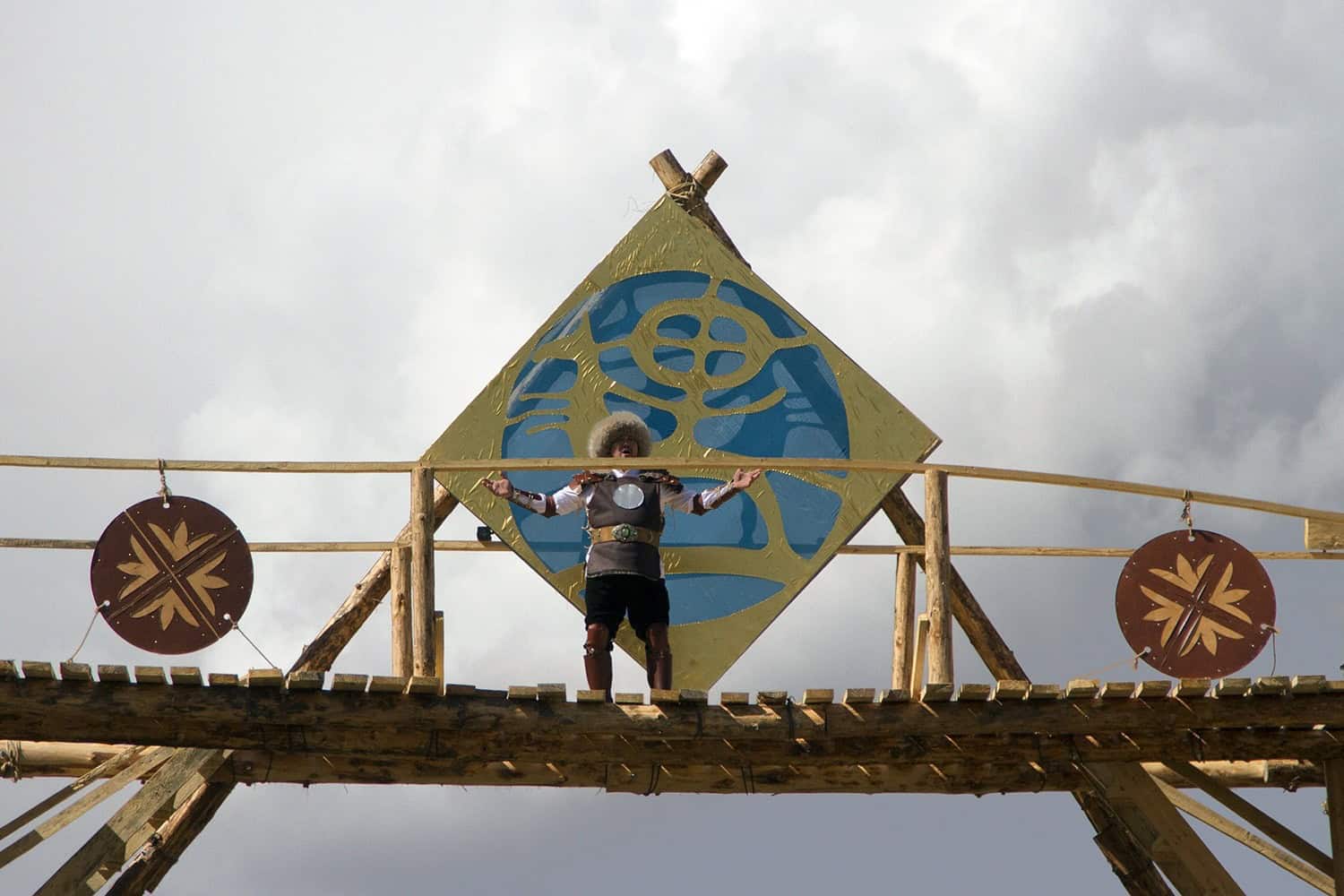 I ventured further up the hill, towards the cultural village. This was where locals walked around in their traditional dress, and the yurt-building competition was taking place.
It was here that many souvenirs were laid out on display. Small animals crafted out of wool.
Scores of Kalpaks, Kyrgyz headwear, made of felt or sheepskin. Intricately woven scenes yurts, horses, and goats, made of felt. I purchased one to send back to my mother in Australia.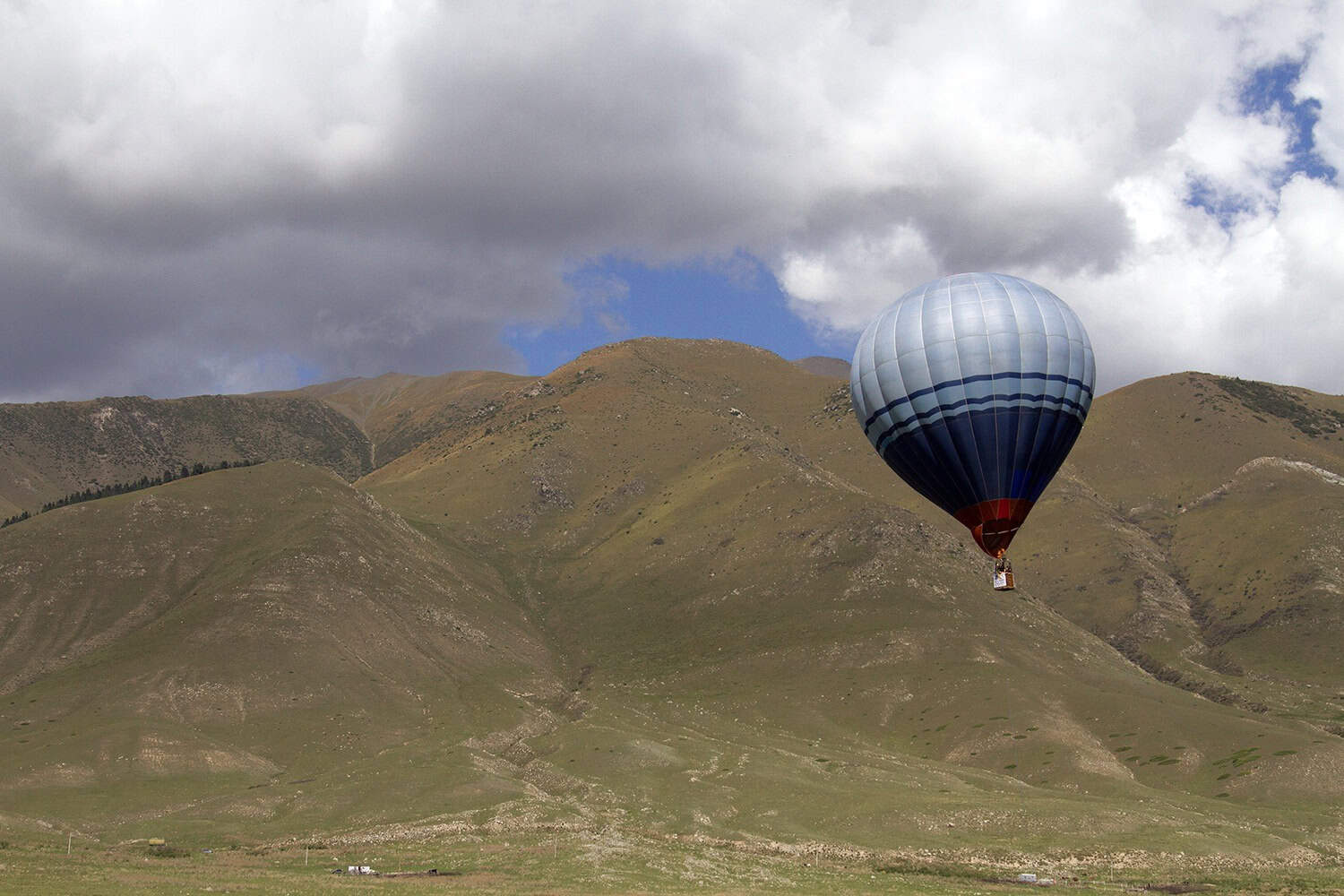 As we wandered back down to the car pack, we passed a hot air balloon drifting lazily in the sky. A small group of Kyrgyz boys was squatting on the nearby ground, watching the show.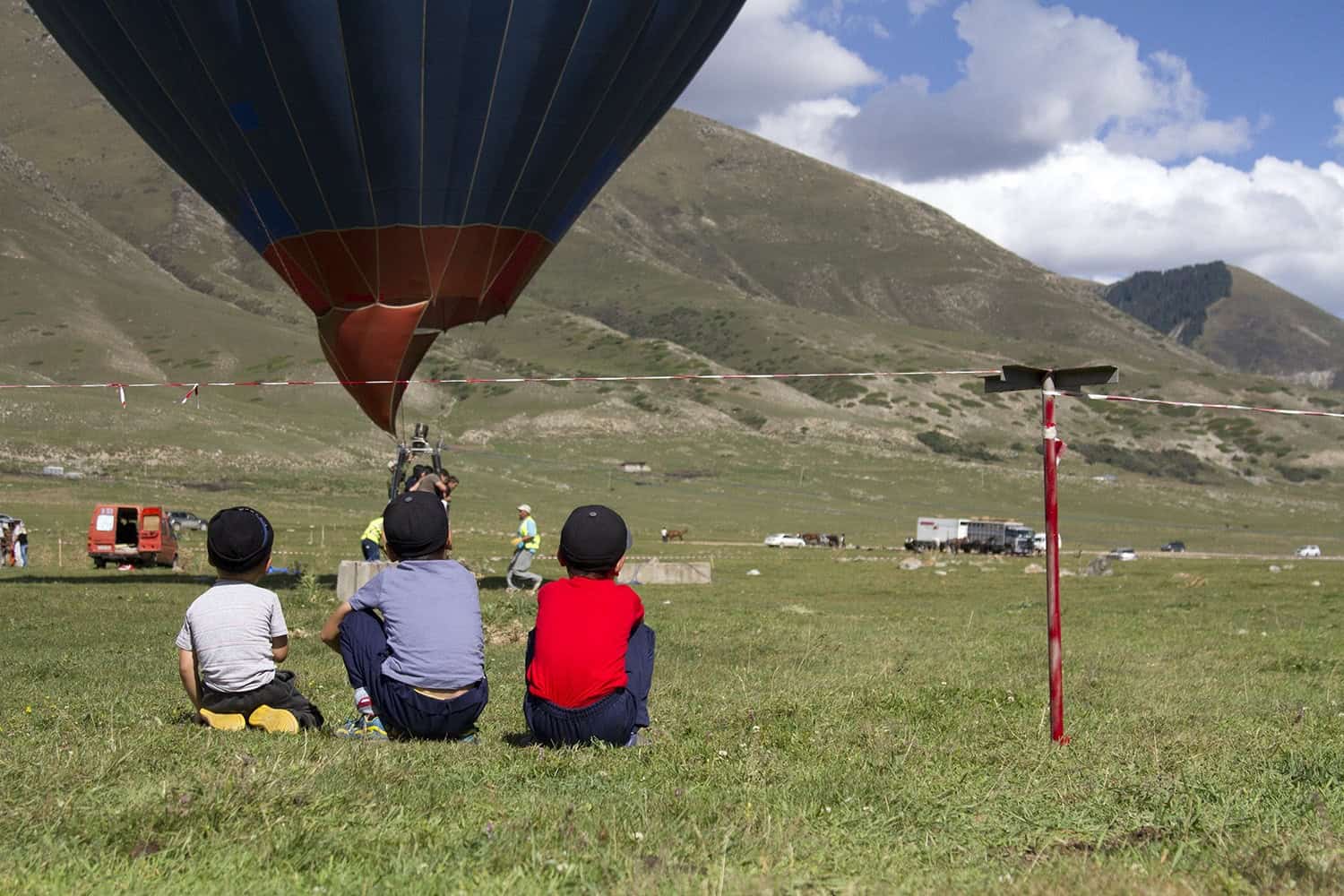 Having never been in a hot air balloon, I imagined that the dynamic backdrop of Kyrchyn was not a bad place to start. Yet, the bus was waiting, and time was not on my side.
I left Kyrchyn on a high, having patted a falcon, Taigan, and baby camel, and learned something more about the traditional and fascinating culture of the Central Asian nomads along the way.
_______
Our trip was organized in cooperation with Discover Kyrgyzstan, and made possible by the support of the American people through the United States Agency for International Development (USAID). The contents are the sole responsibility of the author and do not necessarily reflect the views of USAID or the United States Government.
LC is an ex-expat who is currently re-exploring her home country of Australia. Follow her adventures at home and abroad via her blog Birdgehls, where she writes about travel, expat life, gushes on about various animals and bemoans her often futile attempts to go completely green. Or, you can look her up on Facebook.
Planning a trip? Go Backpacking recommends: