Death Valley National Park's Telescope Peak reaches for the sky at 11,048 feet (3,564 meters) of elevation.
From the top, hikers can look down onto Badwater Basin in the heart of Death Valley, which is the lowest point in the United States at 283 feet (85.5 meters) below sea level.
Telescope Peak is the highest point in the park and breaks all the rules in a location known as the hottest place on earth.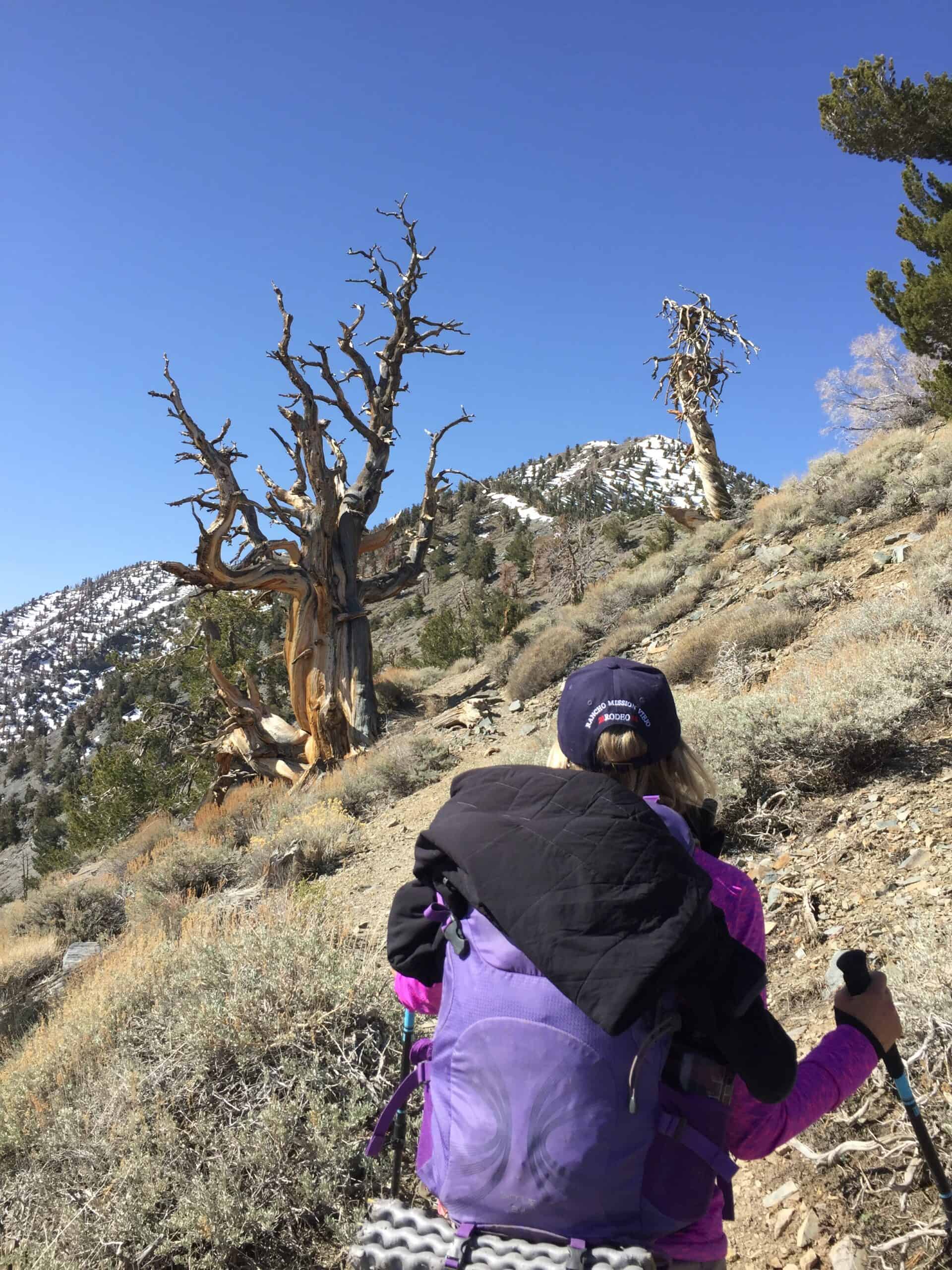 Snow in Death Valley
Telescope Peak is covered in snow much of the year and can be a bitter, cold, and windy climb to the top.
Steep, icy slopes hundreds of feet high surround the trail in winter, and the inexperienced or just unlucky climber can slide down the mountain to their demise.
However, during the summer, climbing Telescope Peak is a risky, way-too-hot 14-mile climb in a National Park with "Death" in the name.
Finding the right time to climb the peak is tricky. In late April, we did the climb one day before my 54th birthday when most of the snow would be gone, but the summer heat would still be a few weeks away.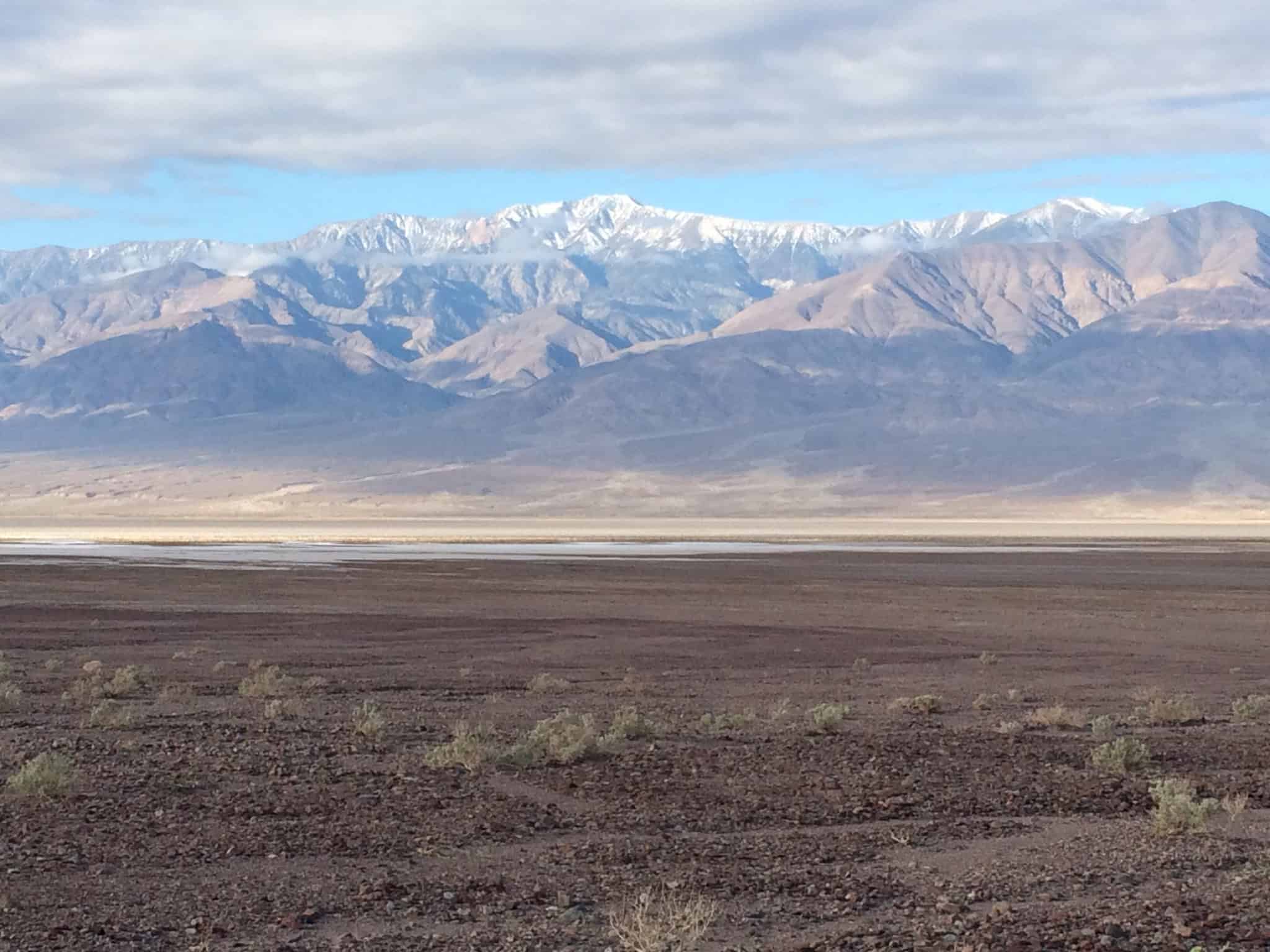 Where is Telescope Peak?
The trailhead for Telescope Peak starts on the edge of Mahogany Flat Campground with an elevation of 8,133 feet (2,624 meters).
Mahogany Flat Campground is a site in any internet mapping application, and entering the name will give you excellent directions.
Spending the night at Mahogany Flat Campground is a good way to acclimatize for the high elevation climb the next day.
Related: How to Get Ready for a High Altitude Mountain Climb
Joshua Tree National Park and Sequoia National Park are less than half a day's drive from Death Valley.
One of the reasons Telescope Peak is a place to find solitude and peaceful hiking is that you can not get to it from the main part of Death Valley or vice versa without a very long go-around drive.
For example, even though you can see right down onto Badwater Basin from Mahogany Flat Campground, it is an 80-mile (121-kilometer) two-hour drive to get there.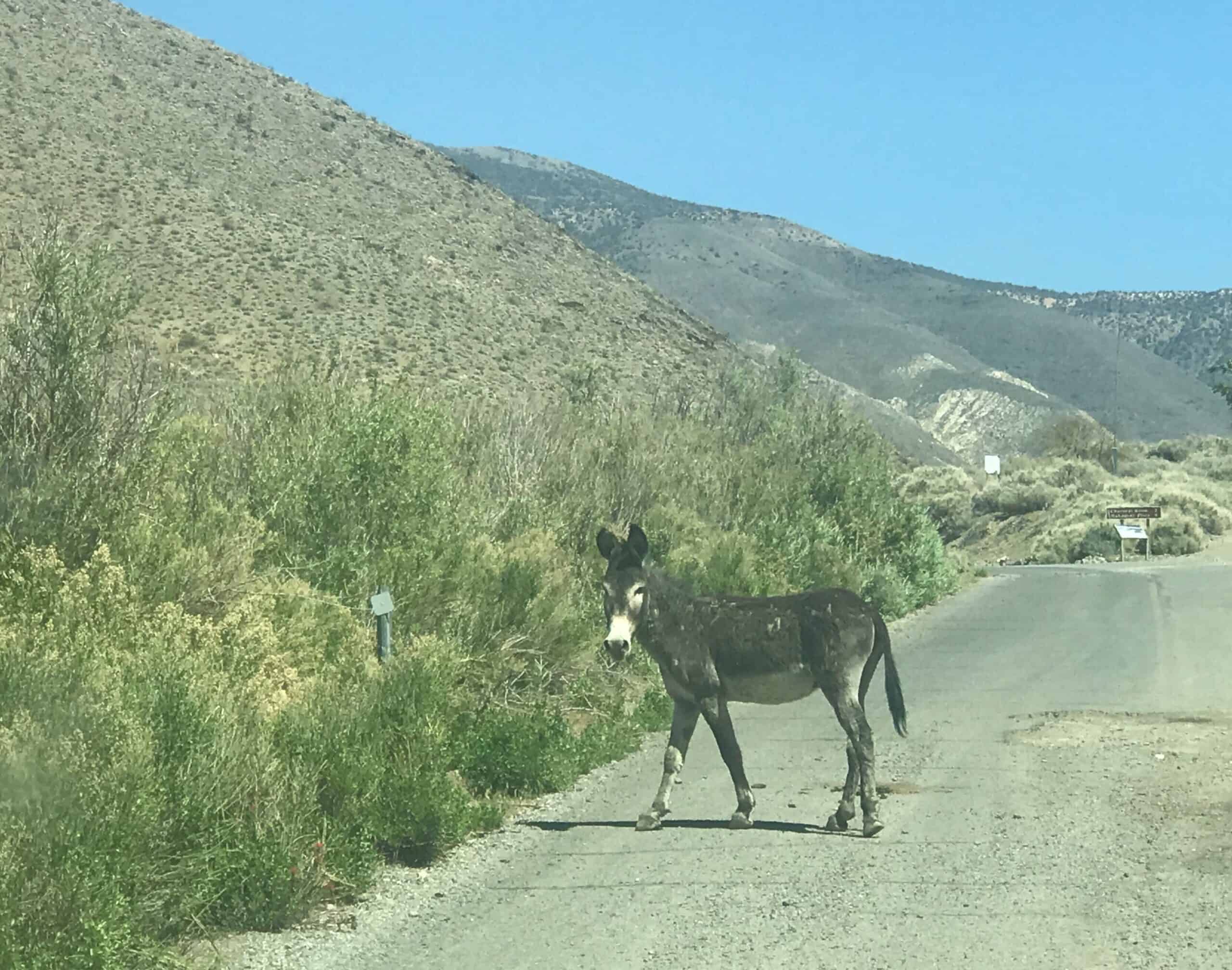 Very few of the total visitors to Death Valley National Park get over to the Telescope Peak area. That's unfortunate because there is a lot to see.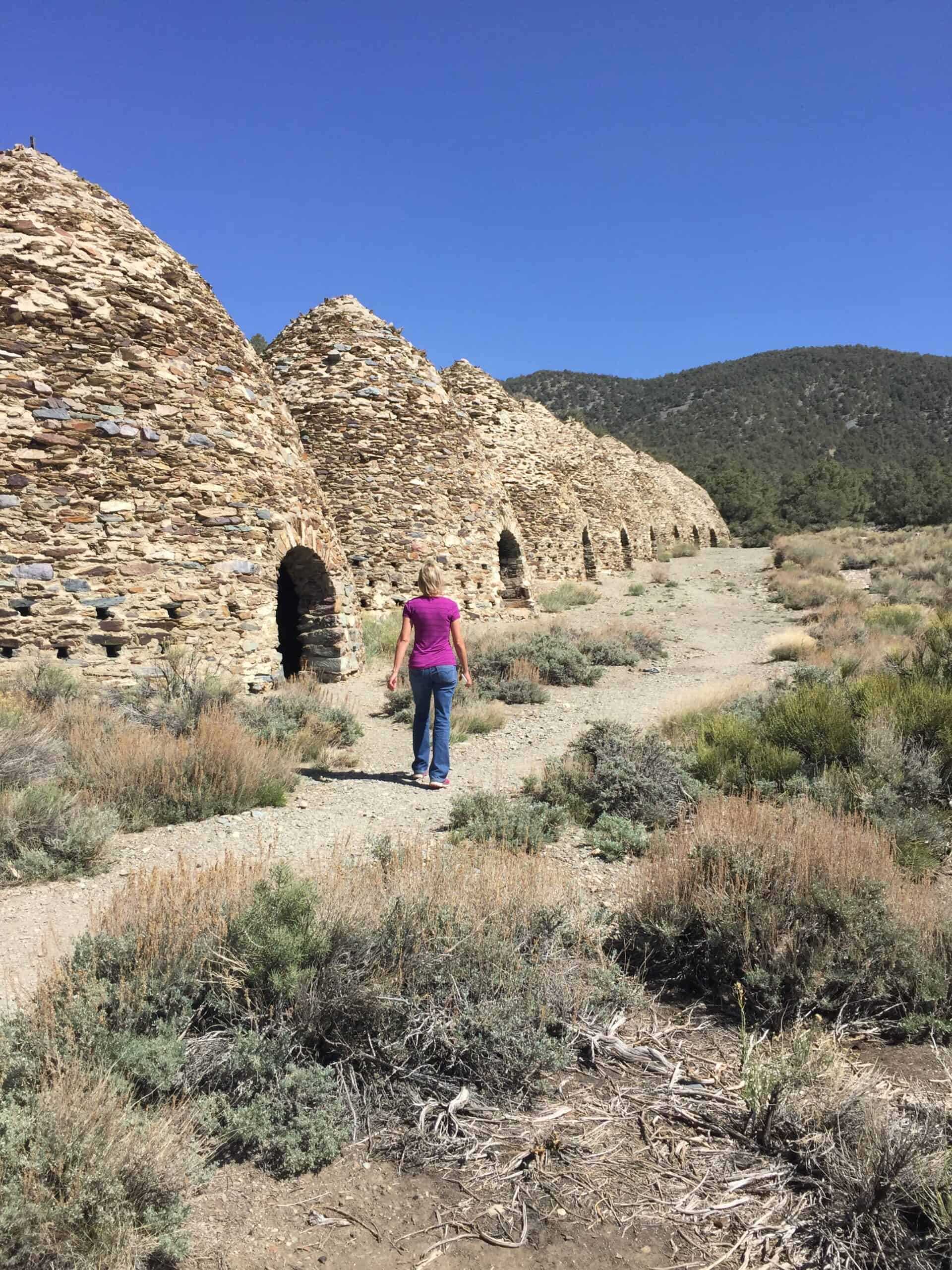 Wildrose Charcoal Kilns
On the route to Mahogany Flat Campground, we come across an impressive site. We had no idea this colossal 140-year-old set of ten charcoal kilns would be here.
Made of masonry rock 25 feet high, these kilns are in near pristine condition. Many historians say they are the best-preserved example of a charcoal production plant in the western United States.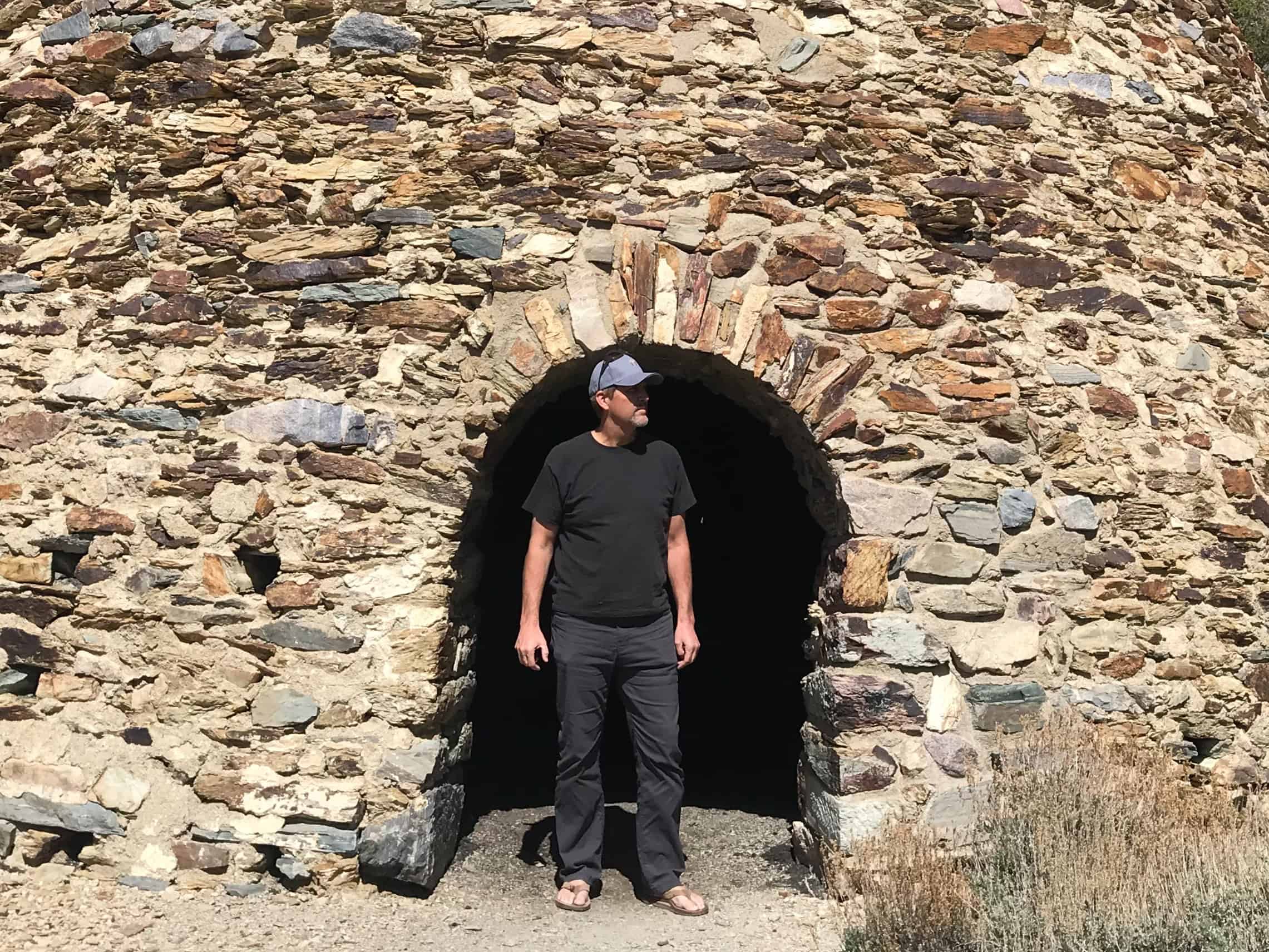 That the area is inside a protected national park, the air and climate are so dry, and the kilns were only used for two years is what experts say are the reasons they're so perfectly similar to the day they were made in 1877.
Death Valley National Park's Telescope Peak is not, as it turns out, the only great thing to do or see on the western side of the park.
The road turns to dirt from the Wildrose Charcoal Kilns and continues steeply uphill for 1.6 miles to Mahogany Flat Campground.
The campsites have a parking spot, a flat area for a tent, and a steel campfire ring, as well as a bathroom building at one end of the camp. There is no running water, so come prepared.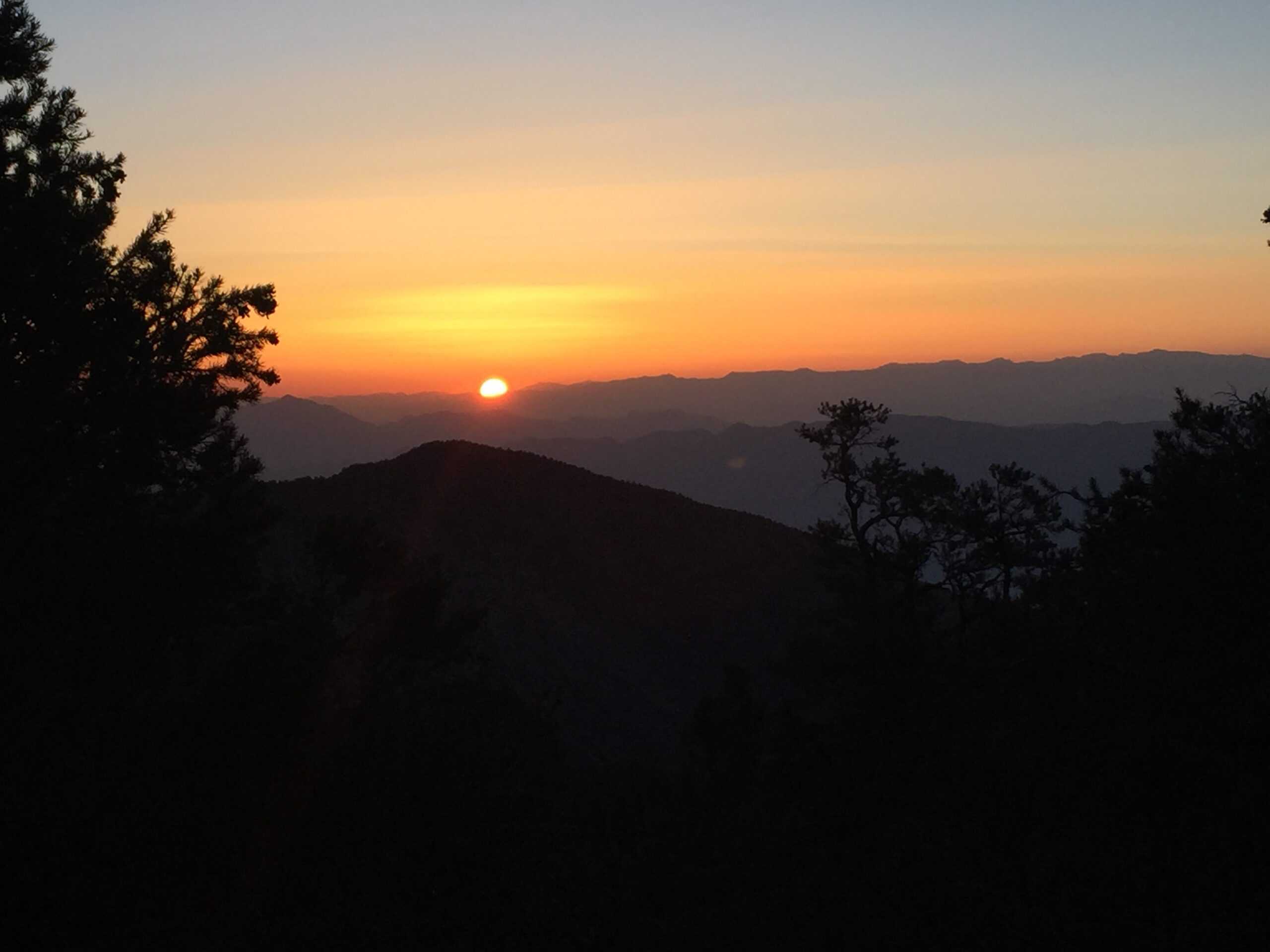 Telescope Peak Hike
Hiking the regular route up and down Telescope Peak is 14 miles (22.5 kilometers) round trip, but we plan to add Bennet and Rogers Peak (each at nearly 10,000 feet or 3,050 meters) on the route back to camp.
These additional peaks will make the hike a bit longer, but it also adds a considerable amount off-trail hiking and an elevation gain and loss in a rollercoaster profile.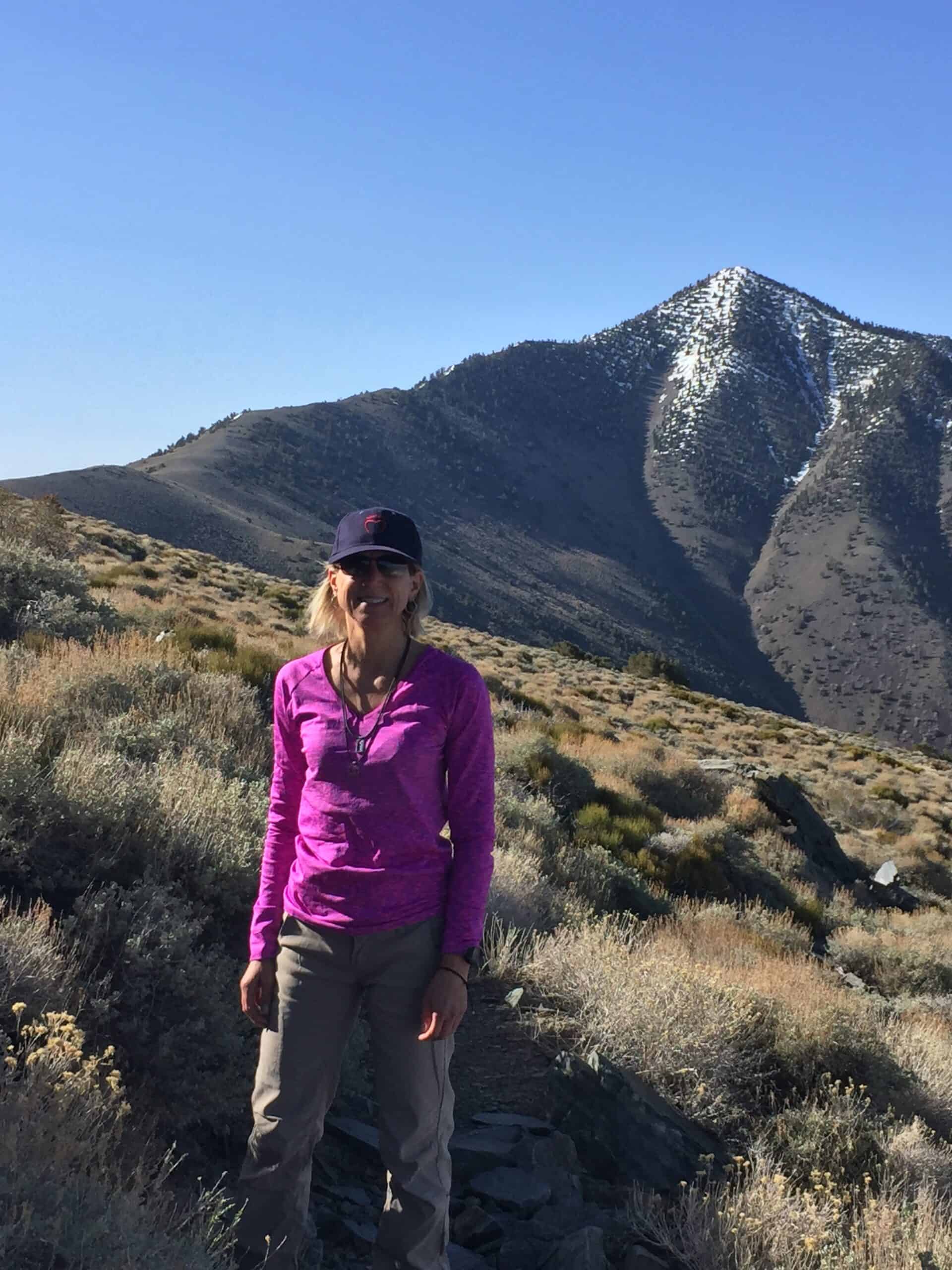 Views in all directions from the trail as we climb up Telescope Peak are breathtaking.
We can see nearly all of Death Valley and the mountains way into Nevada to the east on this day.
We are delighted to have a clear enough day to see the snowcapped peaks of the Eastern Sierra Mountains to the west.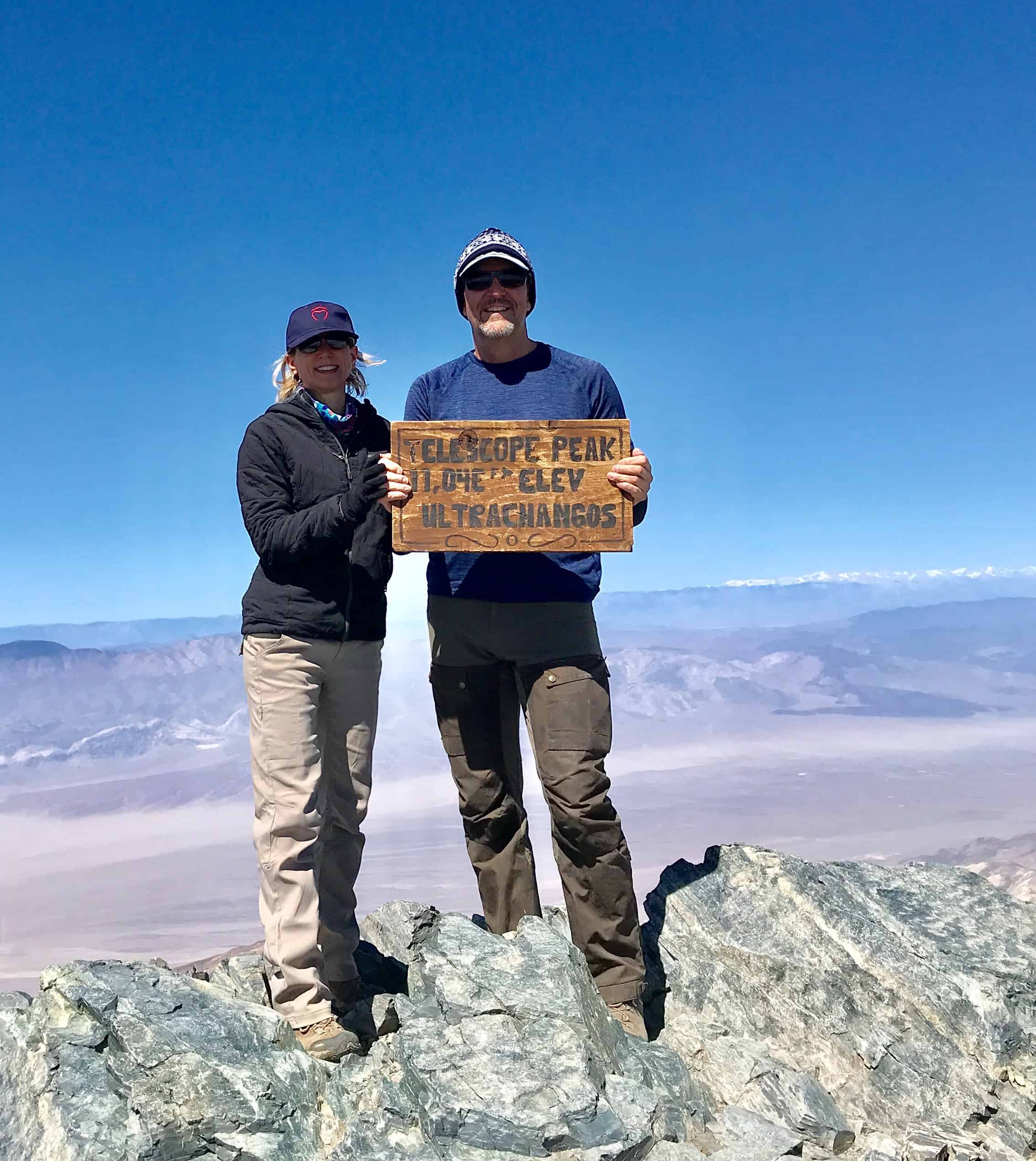 From this vantage point, we have calculated that we can see Mount Whitney and Badwater Basin simultaneously.
Thus, we are looking at the highest and lowest points in the contiguous United States from the one magical place where this is possible.
At the top, we celebrate by eating a small lunch and making coffee. It is frigid at this elevation, and the wind chill is well below freezing, so the hot coffee is a welcome and warming luxury.
Eventually, another small climbing group made their way to the summit and took our photo. They were also very envious of the hot coffee and wished we had some to share.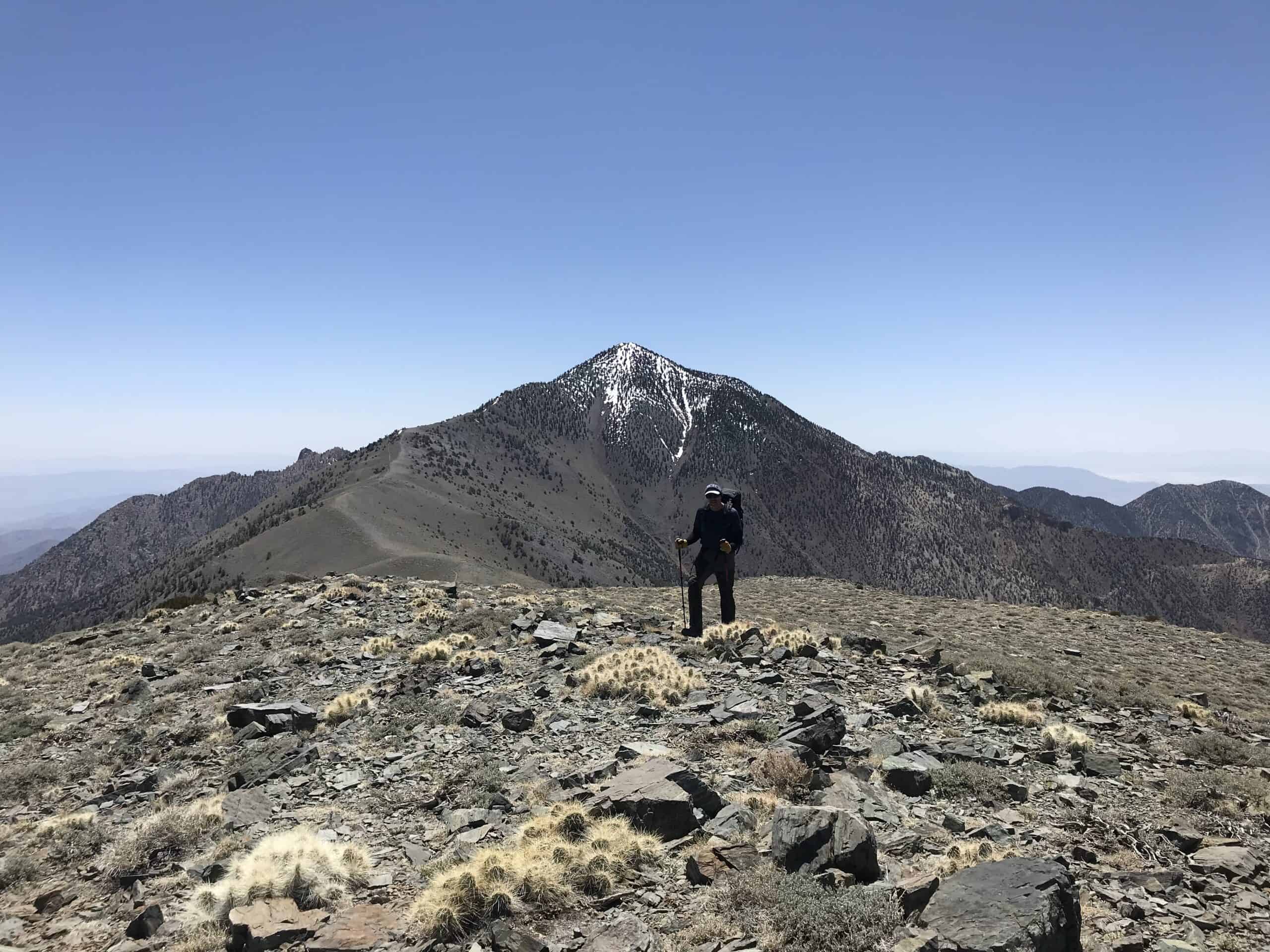 The hike back to camp includes the stops at Bennett and Rogers Peaks, which makes our total elevation gains for the day over 5,000 feet (1,613 meters) of climbing over a distance of 16 miles (25.5 kilometers).
In addition, there is no trail to these peaks, and the rough and steep terrain makes it even more taxing.
By the time we summit Rogers Peak, I am exhausted and feel lucky that the remaining two miles back to the truck are steeply downhill.
An Emergency Back at Camp
When we arrive back at Mahogany Flat Campground, we are greeted by a group of hikers who did not make the summit but returned to camp seeking transport to their car parked down at the Charcoal Kilns.
A woman in their group was very ill with severe altitude sickness, dehydration, or exhaustion—or perhaps all three.
The sick woman's friends planned to rush her to the nearest hospital in Ridgecrest, California, some two hours away.
This experience was a little reminder that isolated locations with dangerous conditions in the mountains should not be taken lightly.
Hiking in remote places and on difficult mountains requires a high level of fitness and preparation.
Too often, we run into people who are very under-dressed, very under-fit, very out of water, or very lost with no map, compass, or GPS device.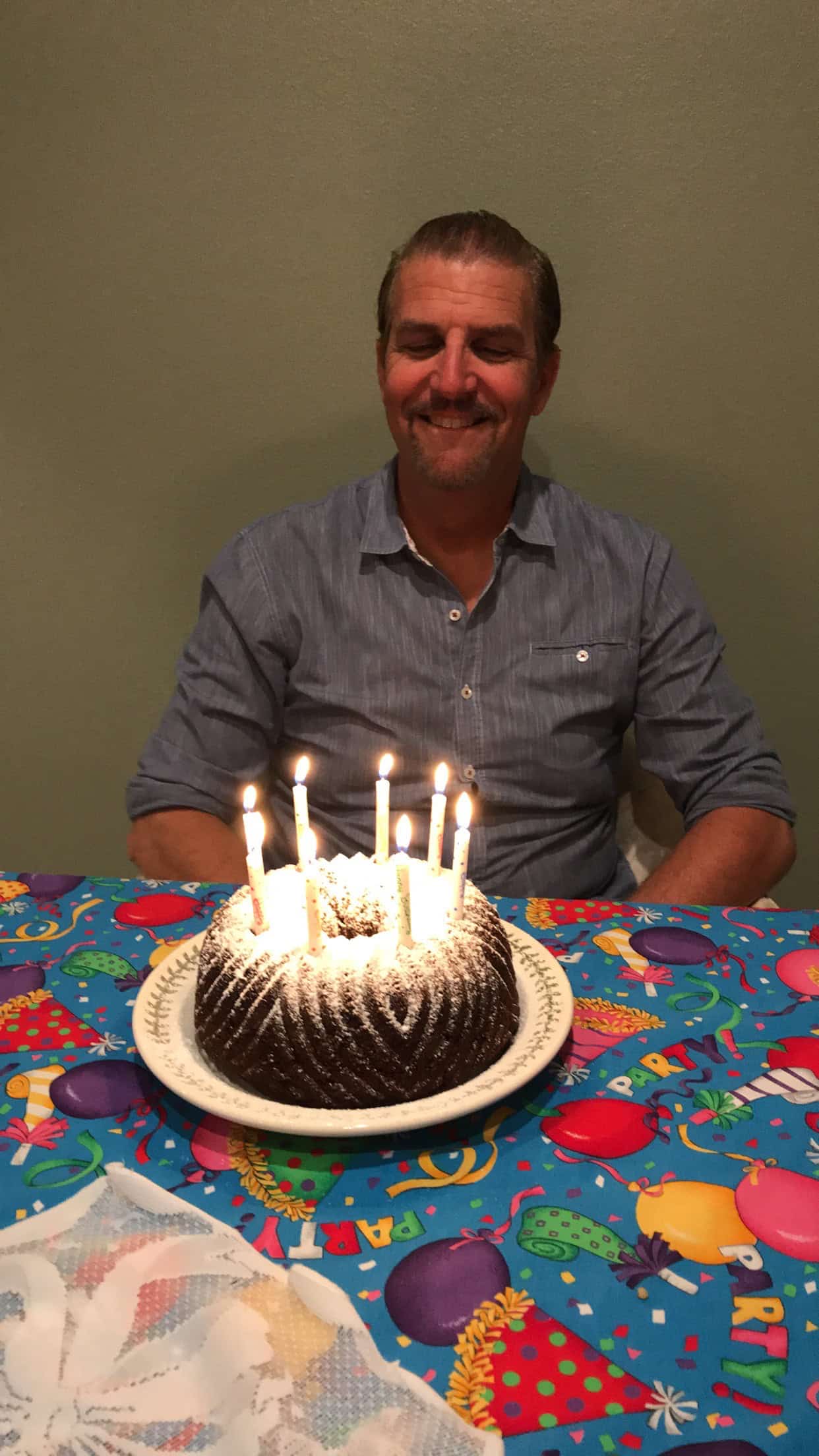 Back home the next day, we celebrated my 54th birthday and our safe return from another adventure.
Telescope Peak turned out to be one of our most memorable mountain climbs. At the time, the addition of Bennett and Rogers made our list of climbed mountains grow to over 300.
So, if you want a unique challenge and an experience that is unlike almost any other, plan a trip to climb Death Valley National Park's Telescope Peak.
Traveler, Adventurer, Writer, Photographer
Planning a trip? Go Backpacking recommends: