Exploring Death Valley National Park was one of my most memorable experiences as a traveler and lover of unique places.
Even though Death Valley is famous for scorching temperatures, there is so much to see and do in this distinctive desert landscape that most visitors can suspend the unbearable heat for a few days.
We did just that when CT and I set out to see as much of Death Valley as we could in just a three-day trip.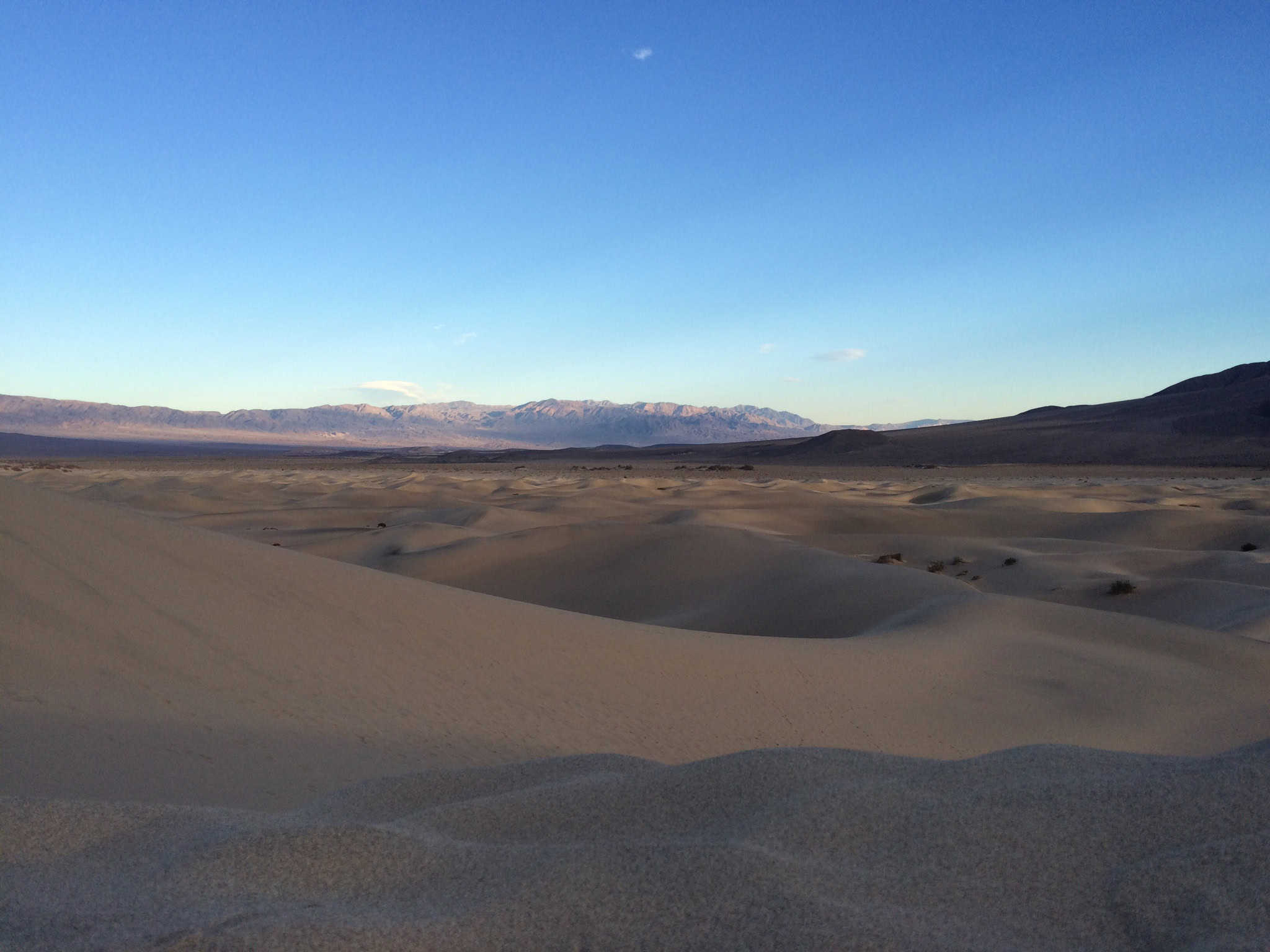 The most challenging thing about seeing Death Valley National Park in just three days is that it is enormous (5,270 square miles / 13,600 square kilometers) and situated in the remoteness of the expansive desert on the eastern side of Central California.
The nearest large city is Las Vegas, Nevada.
Getting To Death Valley
Driving to Death Valley National Park is a long process from Los Angeles and other Southern California cities.
Plan on a nearly 5.5-hour drive over about 280 miles (450 kilometers) from any of those locations, but it is only a two-hour drive from Las Vegas.
Day 1
On the first day, we left early in the morning to get some sightseeing done before dark.
We arrived at the Furnace Creek Visitor's Center around noon, and even though we took this trip in February, it was hot when we got out of the car.
Where to Stay
Death Valley National Park has hotels in various small villages scattered around the park, but the main entrance and visitors center is at Furnace Creek.
Many of the most popular and accessible sites are near Furnace Creek, so it is an excellent point to stay if it is your first time at the park.
While many Death Valley National Park visitors arrive in recreational vehicles, sprinter vans, or just a tent to take advantage of the many camping sites, there are two hotels in Furnace Creek.
We chose to stay in Furnace Creek at what is known as The Ranch.
We took a side trip up the hill to visit the crown jewel of hotels for hundreds of miles around called The Inn at Death Valley.
This hotel has been serving tourists since 1927 and is a four-diamond-rated resort.
Hollywood elites like Marlon Brando, Clark Gable, and Carole Lombard are part of the historical guest list.
When we visited the Inn, it seemed like we had gone back in time. The hotel felt as old as it was, so we had drinks and dinner on the patio near the pool but chose to avoid the costly stay.
A recent $100 million renovation has spruced the place up and added many more rooms and cozy casitas.
Hotels are Expensive
A quick check of the rates for staying in Furnace Creek revealed a large variety of costs for an overnight stay.
For Monday, March 7, 2022, there were rooms or space available at the Inn for $669, the Ranch for $319, and Fiddlers Campground for $29 per night.
If you choose to camp, Fiddlers Campground is adjacent to all the amenities at Furnace Creek Ranch, including the stores, gas stations, bars, restaurants, swimming pool, golf, and air-conditioned buildings.
Related: Anza-Borrego Desert State Park
Many of the dozen or so campgrounds in Death Valley are closed for the hottest months of the year.
With little shade and rocky ground, a day spent in 120 F (48 C) is not only undesirable but unsafe.
Check with the Death Valley official website for dates and current conditions before you go.
Mosaic Canyon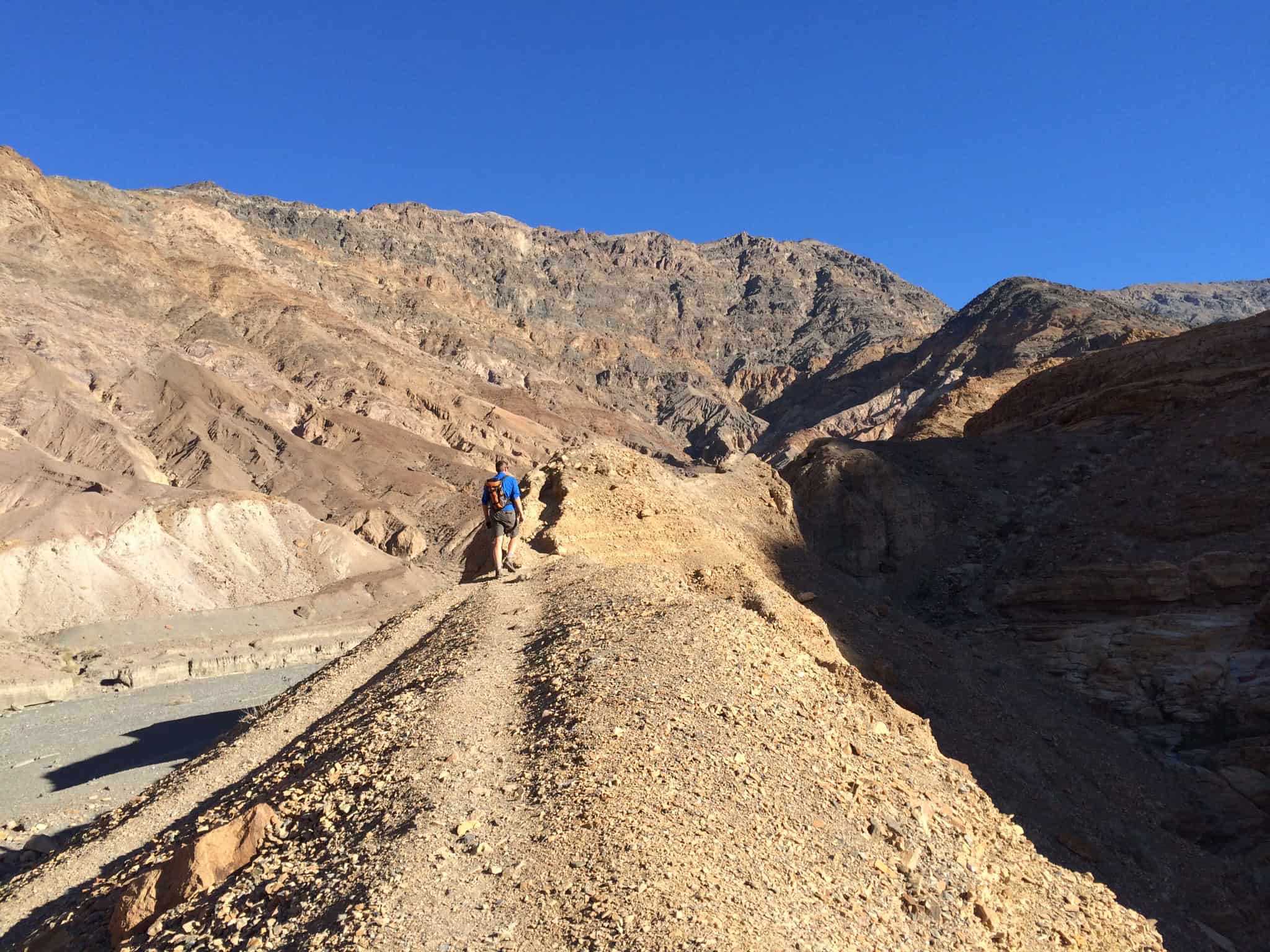 After arriving at the park eating lunch at the Furnace Creek Golf Club Cafe, we checked into the hotel and set out for our first day of adventure.
We decided to hike into Mosaic Canyon, a short drive (36 minutes) from Furnace Creek.
We learned very quickly that Death Valley is huge, and everything is far away from everything else.
The canyon is stark and almost uniform in color; the hike is about four miles round trip and begins as a wide, rocky opening on the side of the mountain.
After a while, it narrows dramatically and even has some very skinny gaps to squeeze by to continue to the end.
It feels like I have been here before. As we turn a new corner, it looks familiar to me again and again.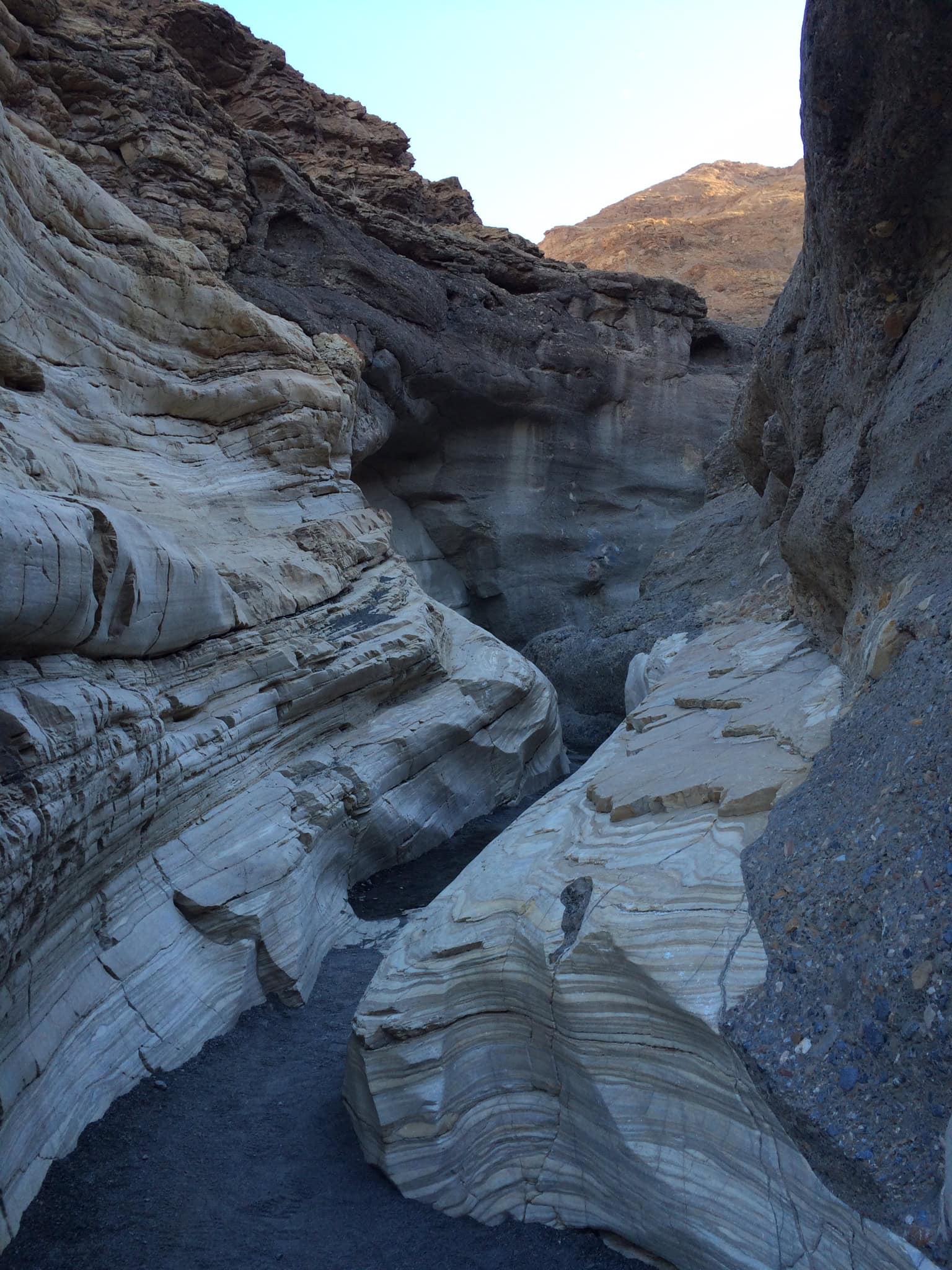 Filming Star Wars
It turns out that Mosaic Canyon was used in the original movie Star Wars in 1977.
As we hiked through the canyon, I could see the scenes in my mind where R2D2 wandered away from Luke into the canyon, where the Sand People later attacked them.
Every visitor to Death Valley should experience the short hike in Mosaic Canyon.
Mesquite Flats Sand Dunes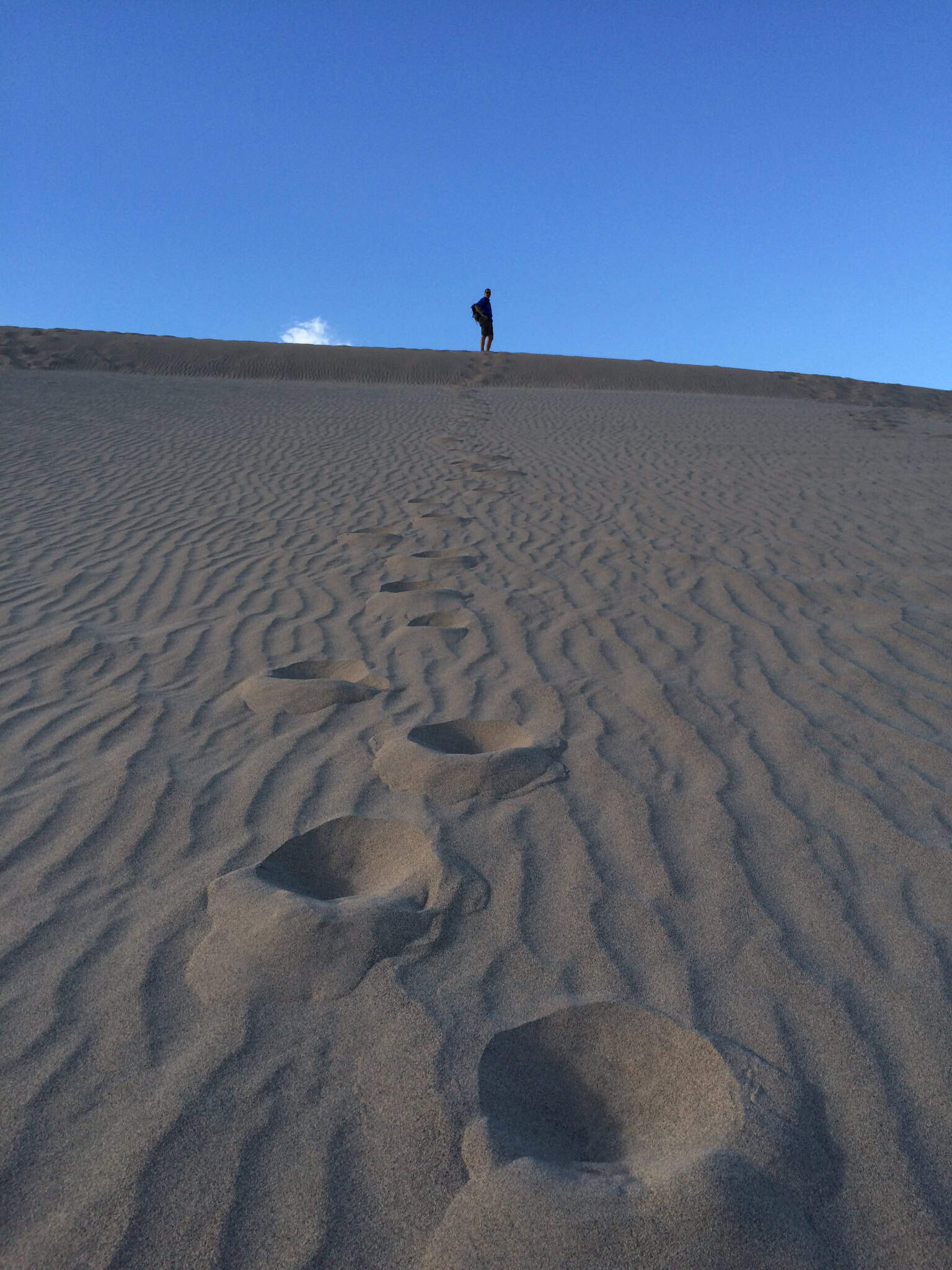 I have always loved to climb on and photograph sand dunes. There is something that attracts me to this remarkable geological feature.
Many people mistakenly think that Death Valley is all sand, but only about one percent of the park is covered in dunes.
Mesquite Flats Dunes are the best known and most accessible to visit in the national park. They're in the central part of Death Valley near Stovepipe Wells, a village with campgrounds and a hotel.
These sands dune cover a wide area, and we see very few people as the sun begins to set.
We brought our headlamps to find out way back to the car as it would be completely dark before too long.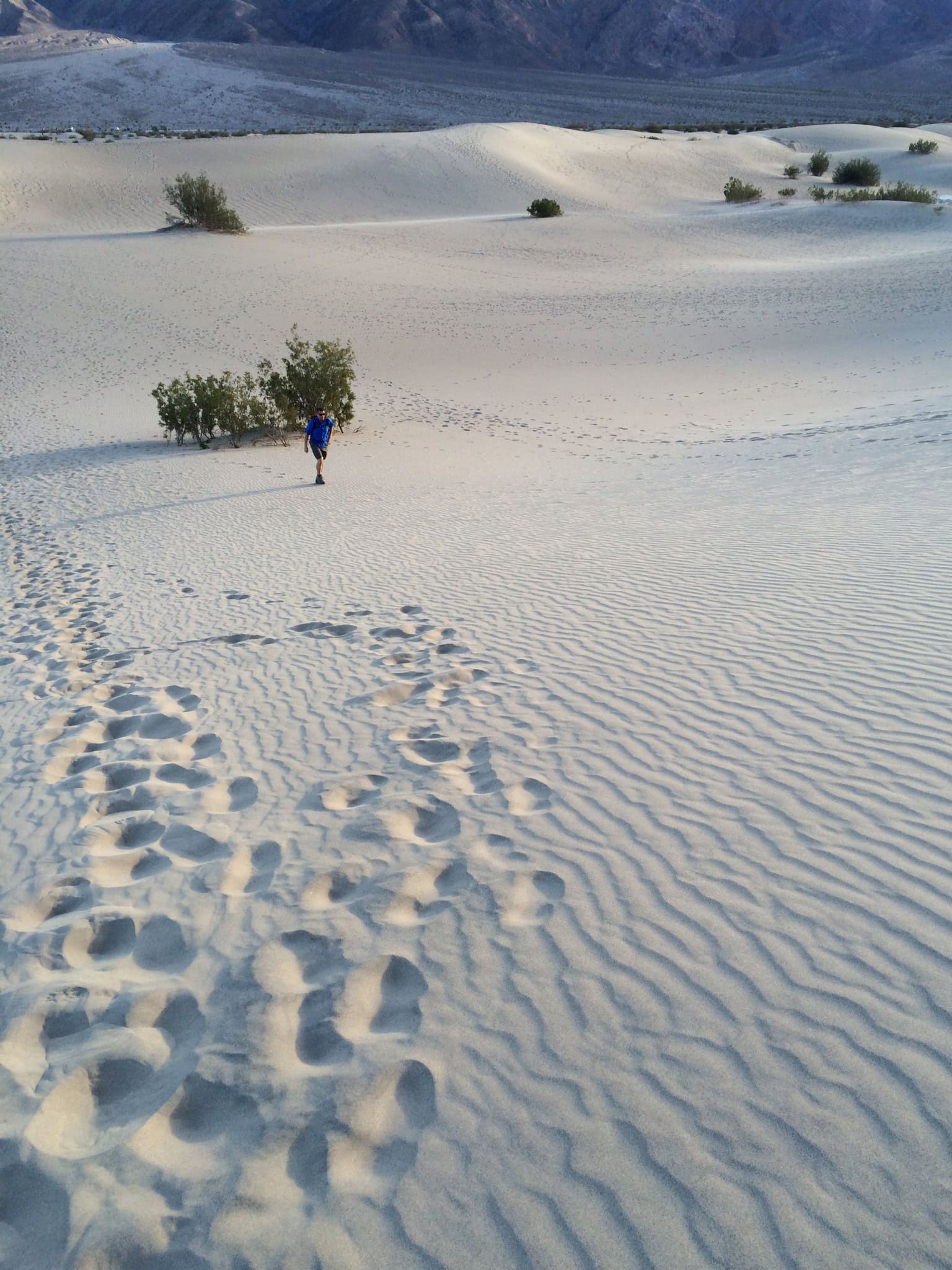 As the light fades and we find ourselves alone, we strip down to our birthday suits and run and jump around the dunes like we are little kids again.
Such is the life of adventure and purposely found solitude.
Once it is dark, we have lost our bearings and begin to wonder which direction to go back to the truck.
There are a few moments of trepidation until we finally climb a very high dune and manage to see a car's lights in the distance and figure it's the road.
With our lamps out, we climb up and down dune after dune in the dark, like sailors on a stormy sea with large waves, until we find our way back.
Related: Sandboarding in the Atacama Desert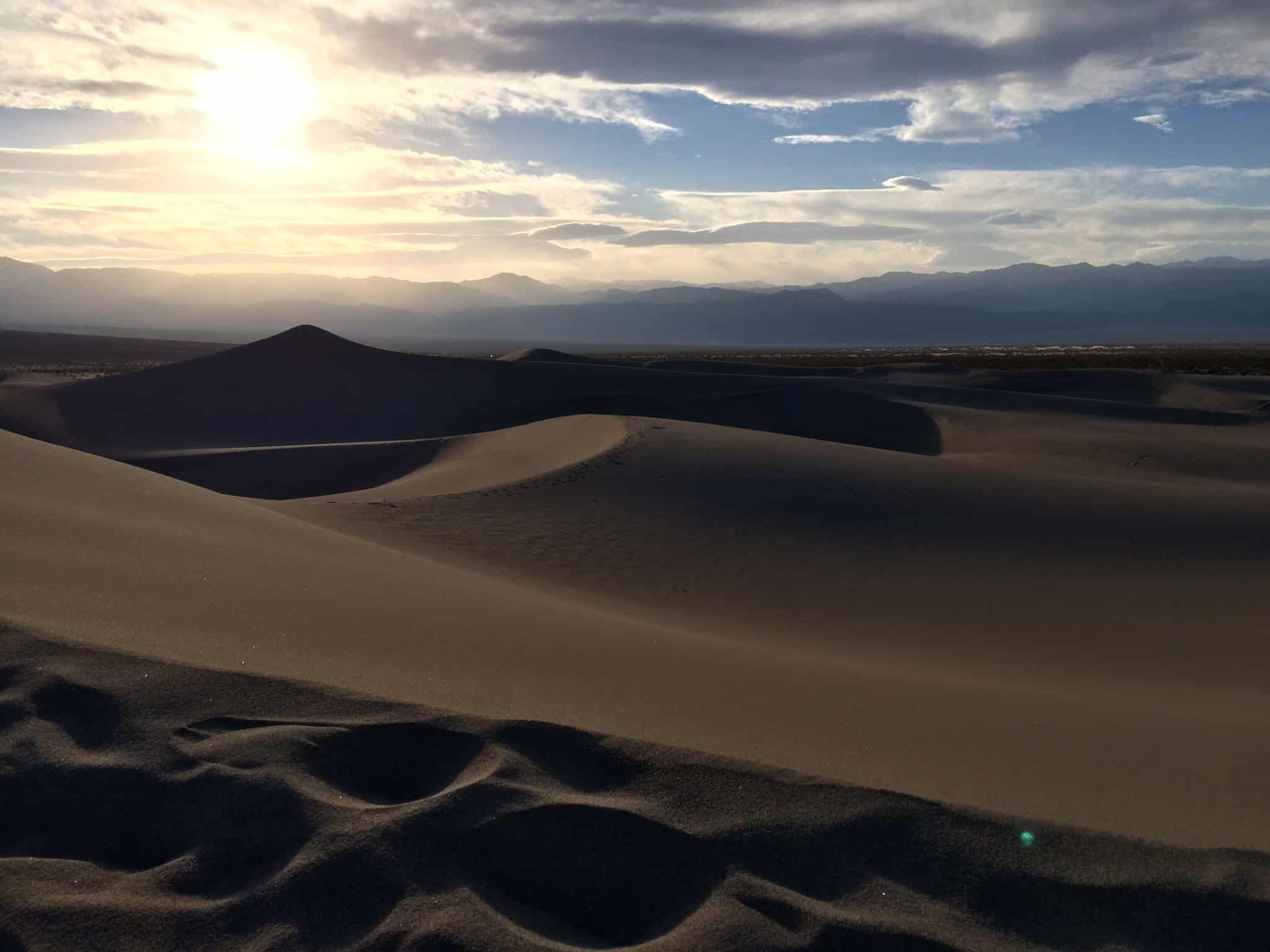 Day 2
The Racetrack
Exploring the Racetrack in Death Valley National Park was something I had wanted to do my entire life.
The gigantic dry lake and the mysterious moving rocks, and the long, unexplained trails tracked into the hard lake mud is a real draw for travelers to Death Valley.
The drive from our hotel in Furnace Creek to The Racetrack is 83 miles or 134 kilometers each way. The last 18 miles is on a rocky, uneven road.
A display at the Visitor's Center gave dire warnings about driving on that road and the tire or suspension damage that could occur to your vehicle if not driven carefully or slowly.
I scoffed at the information, thinking it was meant for someone else.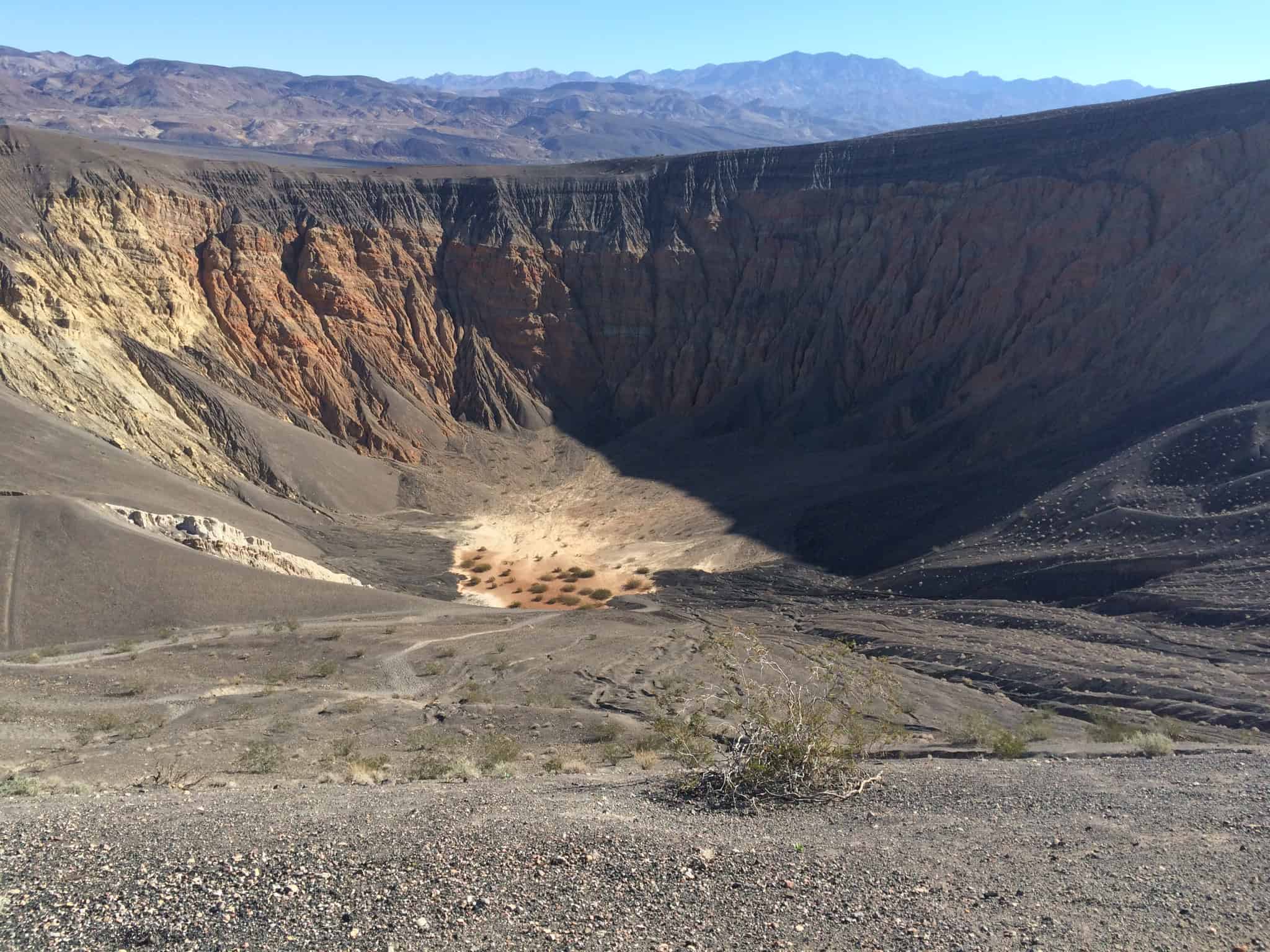 Ubehebe Crater
On the way to The Racetrack, we stopped at Ubehebe Crater to hike around its perimeter.
While Ubehebe Crater is fantastic, I was anxious to get going and see the Racetrack dry lake.
The road is paved to Ubehebe, but from there on, a 4×4 vehicle with off-road tires is recommended.
I wanted to get to the Racetrack quickly, so I drove up to 15 miles per hour on the road.
It was not too far into the drive that our truck with street tires, going at those speeds — gave out.
Related: Hiking Diamond Head Crater in Hawaii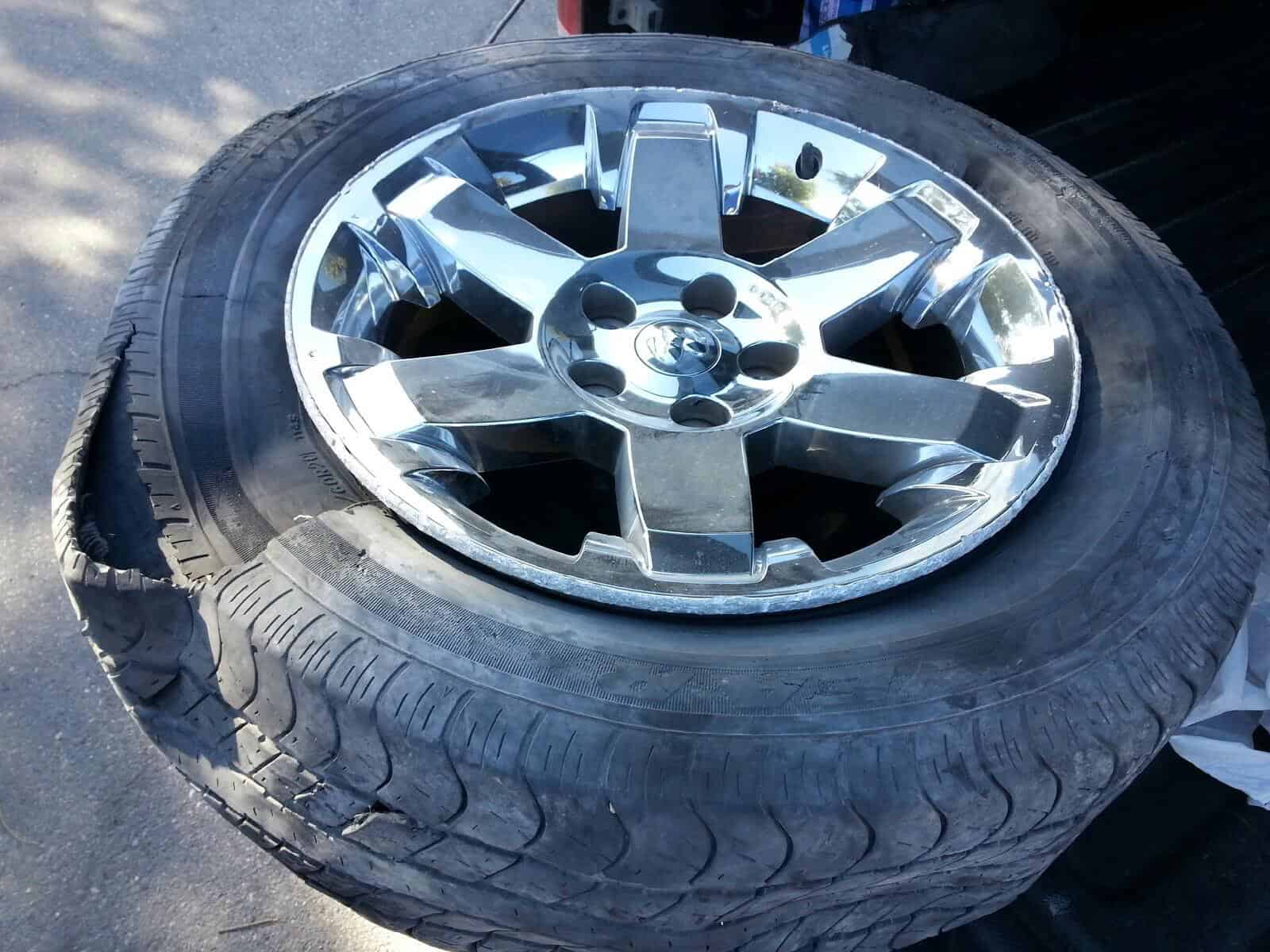 I floundered on the rocky and sandy road trying to change to the spare tire for what seemed like hours in the stifling heat and on top of some unhappy, stinging ants.
As I wrestled with the spare tire and jack, dozens and dozens of other visitors passed us driving very slowly over the rocky road, making me wish I had driven the same way. Lesson learned.
With the help of a Good Samaritan, the spare was finally on the truck, and the very present worry that we would pop another tire and be stranded forever began to set in.
We slowly headed back to Furness Creek and called it a day by swimming in the pool at the hotel.
Regrettably, I have not yet made it back to the Racetrack as of this writing.
Day 3
We decided to explore Badwater Basin, Artist's Pallet, and Natural Bridge on day three.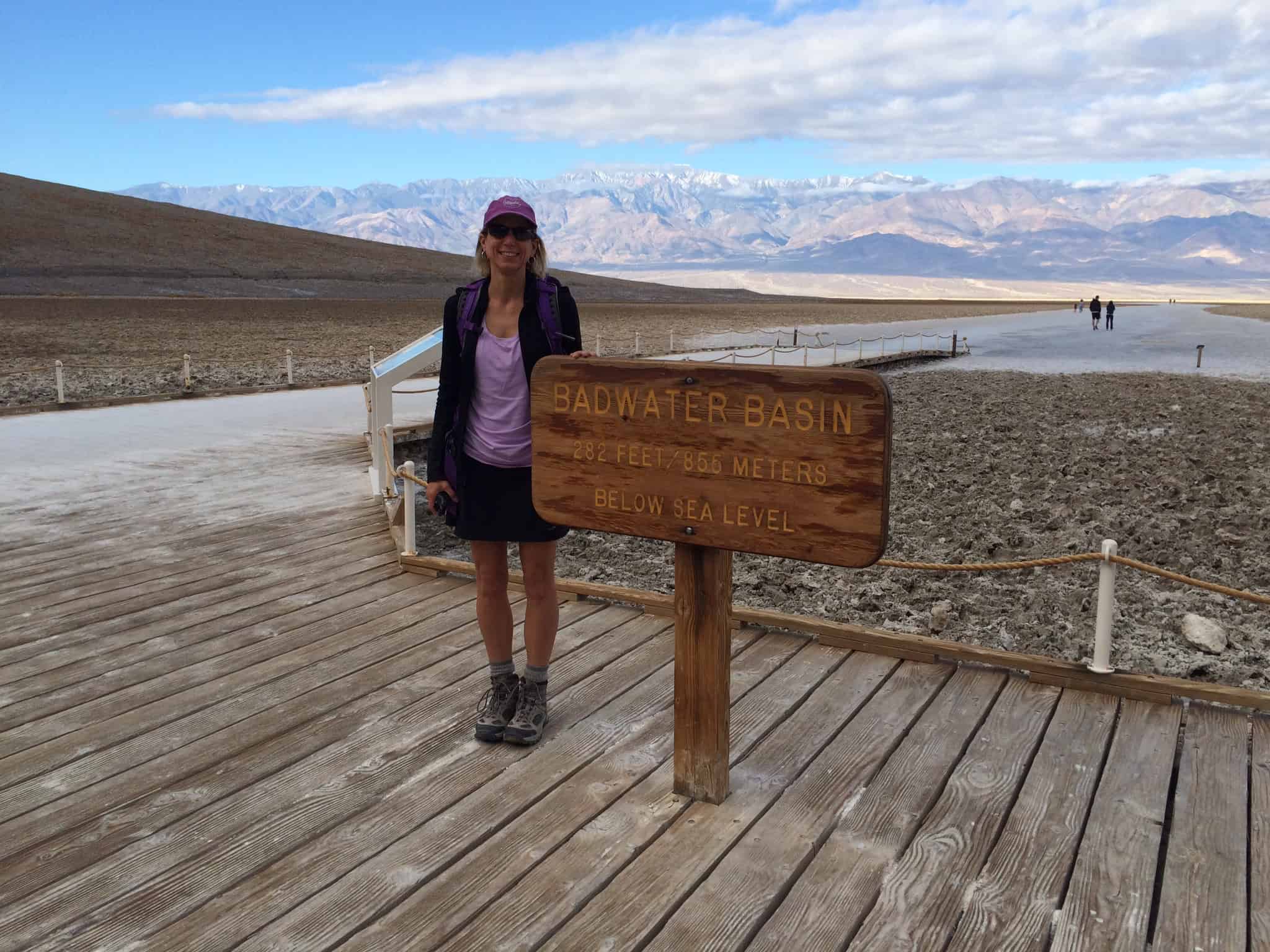 Badwater Basin
Badwater Basin is the site of the lowest elevation in the United States at 283 feet or 85.5 meters below sea level.
The drive to Badwater Basin is only 20 minutes from our hotel in Furnace Creek.
When we arrive, we are all alone and quickly run out onto the crusty, salty flat dry lake bed.
Human traffic has packed smooth a large area near the parking lot, but as we go way out onto the flat, it gets rough and strangely like a tempest on a sea.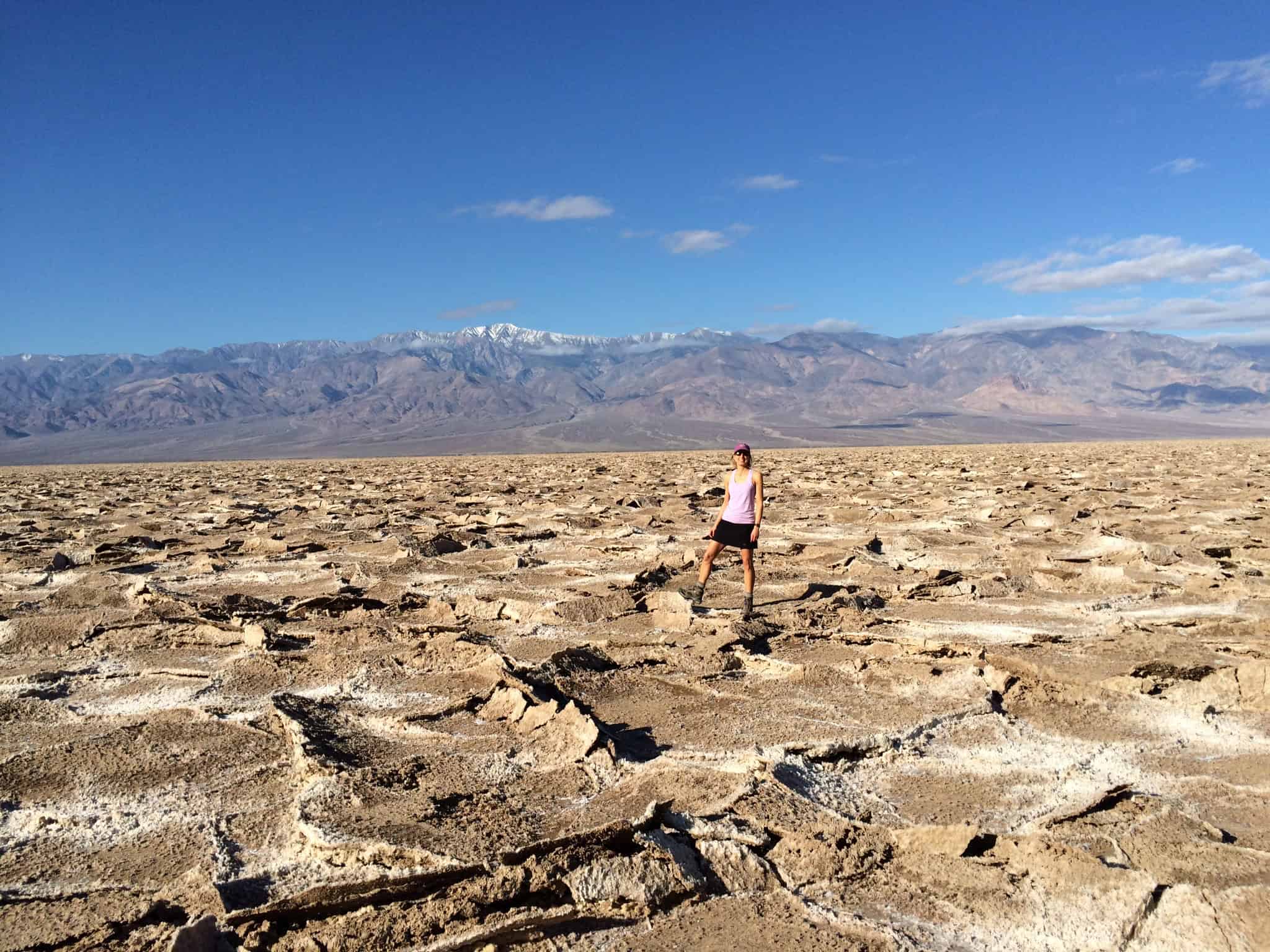 The lake bed is vast, covering over 200 square miles (518 square kilometers).
In the distance to the east, we can see the snowy patches on Death Valley National Park's Telescope Peak at 11,048 feet (3,564 meters).
It's one of the most dramatic rises in elevation, which can be seen at the same time.
It is strange to think about how near to each other places so high and so low in elevation can be to each other, let alone in the very same National Park.
As diverse as the geography of the United States is, the lowest point and highest point in the contiguous states: Badwater Basin and Mount Whitney at 14,503 feet (4,678 meters) are only about 100 miles (160 kilometers) apart from each other.
Badwater Basin was incredible, and we started to feel the sting of missing the Racetrack ease off a bit.
Our early-morning arrival at Badwater Basin does two things for us — allow us to leave before it gets too hot and enjoy the peacefulness before two busloads of tourists arrive.
Artist's Pallet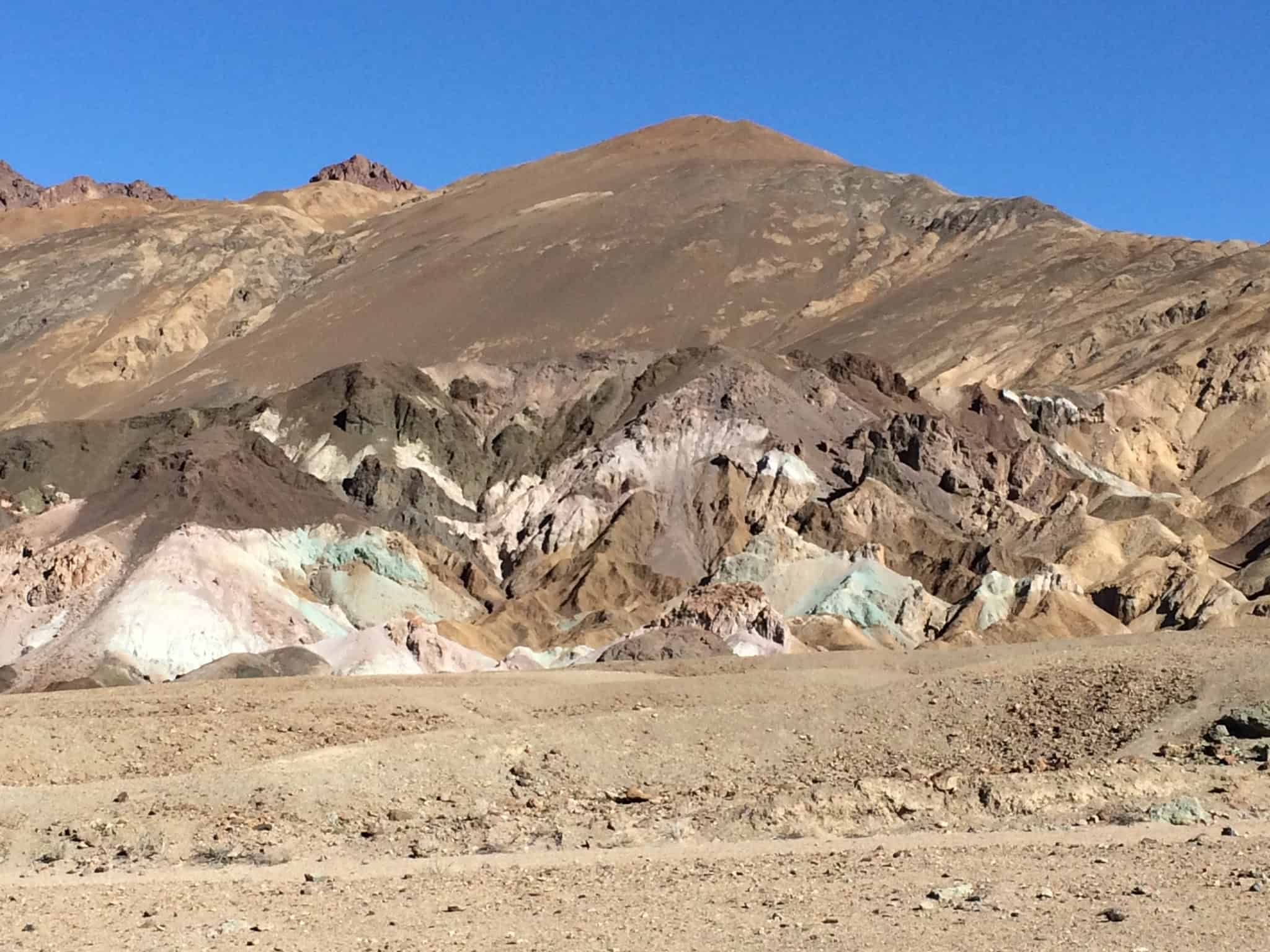 Just a short detour from Badwater Basin is a one-way drive through some of the most colorful natural landscapes I've ever seen.
The rock and dirt of the Artist's Pallet seem like a giant spilled his collection of paint all over a hillside. It is easy to get to and wonderful to look at.
Natural Bridge
Next to Artist's Pallet and Badwater Basin is a two-mile hike through an ancient river bed and around a carved rock feature known as Natural Bridge.
The hike is easy, but it is over sand and small gravel; it can be difficult without proper footwear.
The most stunning rock feature is a natural bridge you can hike under, giving the hike its name.
Related: Bryce Canyon National Park in Utah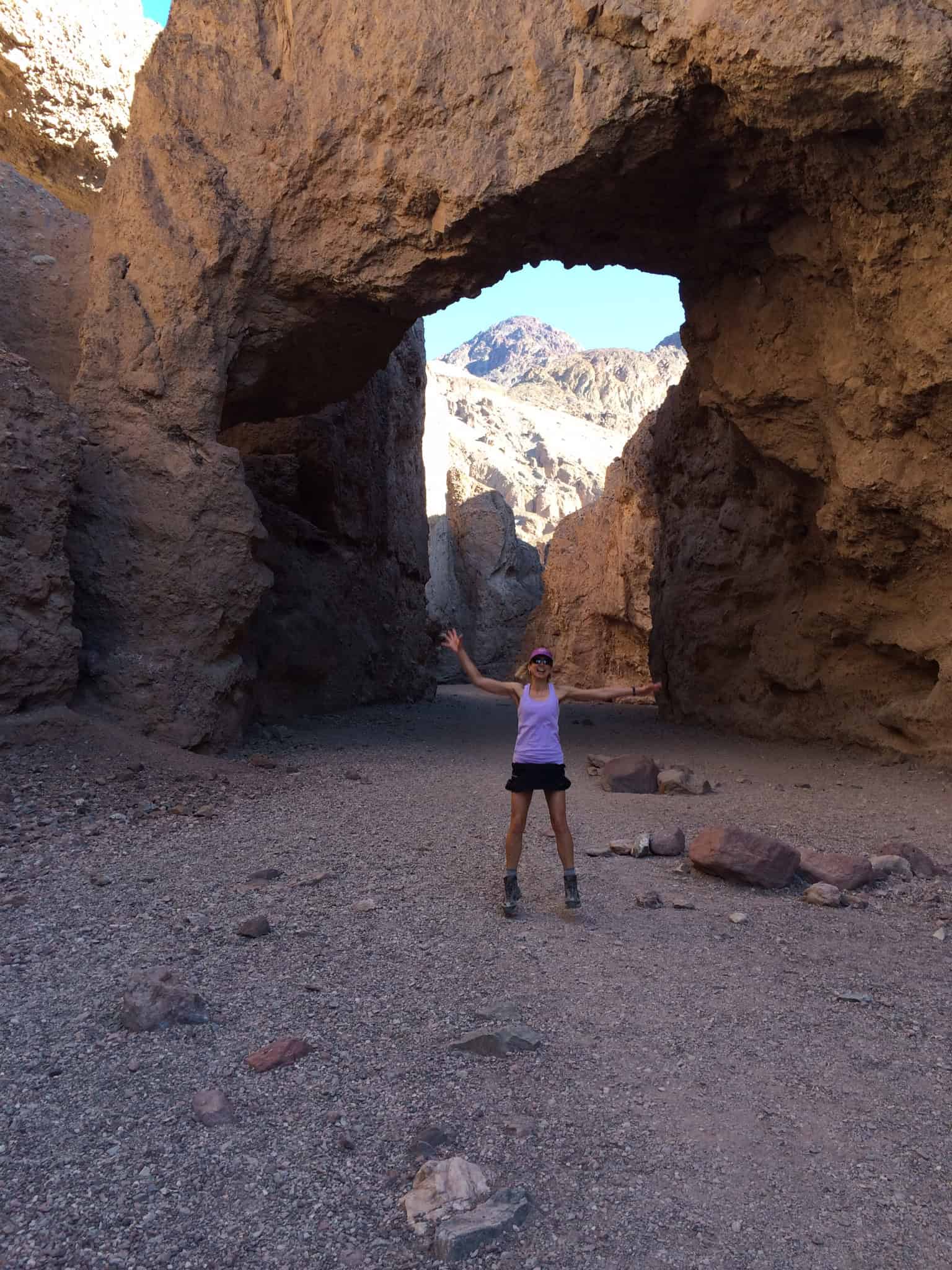 High walls on each side of the narrow canyon provide a great deal of shade, so we are pleased with a not-so-hot hike.
We find that the lower sun angles of our winter visit help with the heat in some of the canyon hikes as the sun's rays are often hitting one of the canyon walls while the trail is still shaded.
Even so, everywhere we went, we took loads of cool water in our packs and kept a cooler of cold drinks in the car for our return.
After our morning activities, we returned to The Ranch, packed up our gear, checked out of the hotel, ate a quick lunch, and started our six-hour journey back home.
While we didn't get everything done we came to do in the park on this trip, we returned a few years later to climb Telescope Peak.
That story will be in another post, but I can say that we will surely visit Death Valley again and again.
Exploring Death Valley National Park should be on everyone's list of places to go and things to do in the United States.
Traveler, Adventurer, Writer, Photographer
Planning a trip? Go Backpacking recommends: