If you're driving through West Texas, plan the best things to do in Big Bend National Park. This remote national park in the United States has a lot to offer adventurers of all ages.
Following our brief stay in Marfa, Kel and I made the scenic drive through Big Bend Ranch State Park to reach Terlingua ghost town on the outskirts of the national park.
We'd given ourselves three nights at an Airbnb cabin near the park entrance, allowing easy access for two full days of hiking and adventure.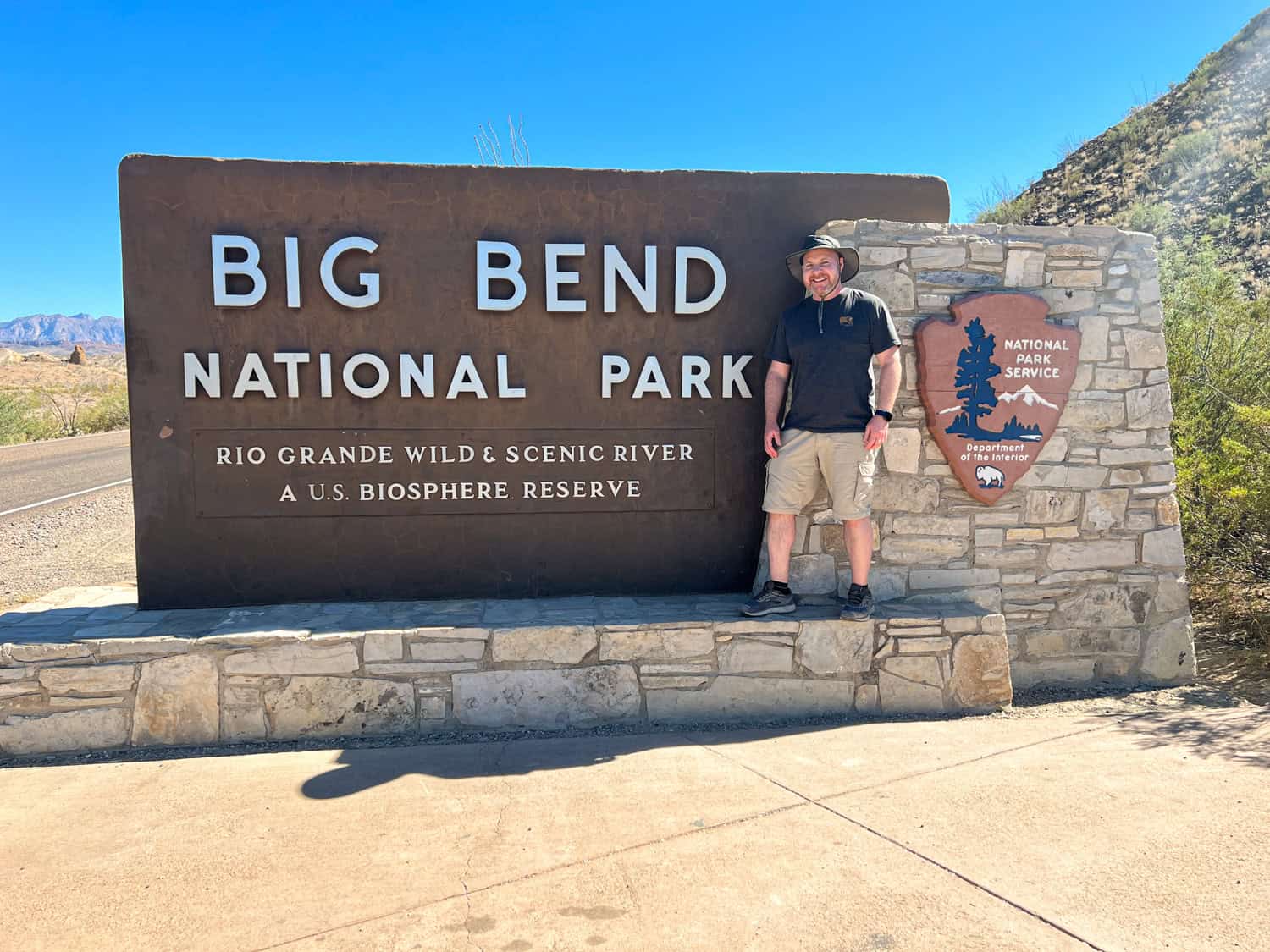 This list of the best things to do in Big Bend National Park is roughly in the order of our itinerary.
To present a complete picture of what's available, I've included hikes and activities we didn't have time for or were beyond our comfort level.
The remoteness of Big Bend National Park in the Chihuahuan Desert is a large part of its appeal and all the more reason not to overextend yourself.
The best time to visit is in the spring or fall when temperatures are relatively cooler during the day. Spring break is especially popular. The summer months are the hottest and arguably most dangerous.
Regardless of when you visit, bring plenty of drinking water and food.
Signs posted at trailheads provide more specific warnings, including whether black bears and mountain lions are seen in the area.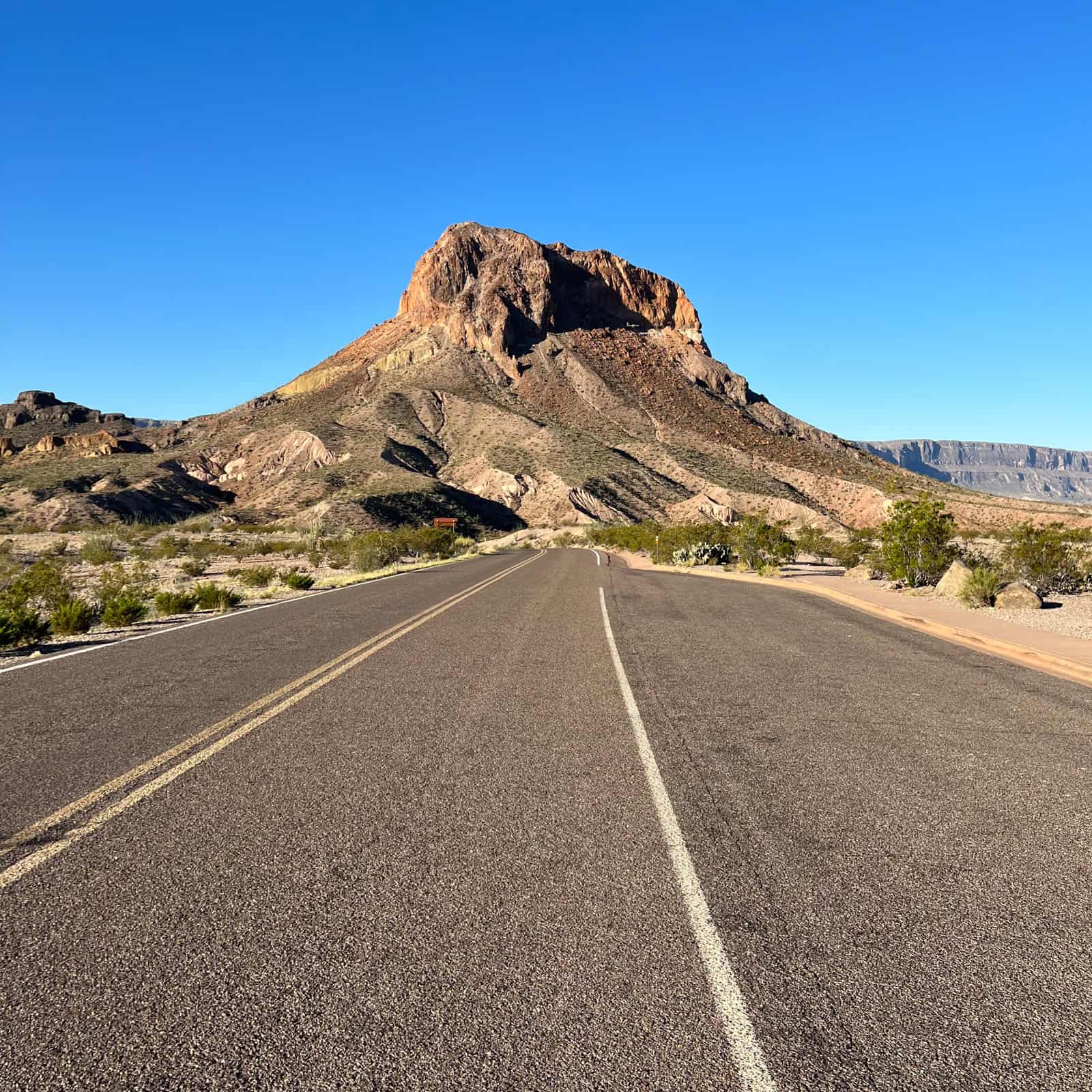 Things to Do in Big Bend
1. Ross Maxwell Scenic Drive
I wasn't aware of the Ross Maxwell Scenic Drive as an experience until we were already inside Big Bend National Park, on our way to hike the Santa Elena Canyon along the Rio Grande River.
This 30.9-mile paved road is one of the most scenic drives in the park, and it can be driven in any car (we were in a compact).
To beat any potential morning crowds, we drove the entire length of the road, hiked the Santa Elena Canyon Trail first, and then stopped at additional points of interest on the return ride.
These included the Castolon Visitor Center, where you can see the rusting remnants of 20th-century cotton gin machinery and the ruins of several historic structures destroyed in a 2019 wildfire.
In addition to hiking Santa Elena Canyon, we walked the quick one-mile Lower Burro Mesa Pour-off Trail, which we had to ourselves.
The rock formations visible here are incredible and can be seen with minimal physical effort.
Hiking Trails (from south to north)
Santa Elena Canyon Trail (1.4 miles)
Tuff Canyon Trail (1 mile)
Mule Ears Springs Trail (3.9 miles)
Lower Burro Mesa Pour-off Trail (1 mile)
Upper Burro Mesa Pour-off Trail (3.5 miles)
Homer Wilson Ranch (0.7 miles)
Sam Nail Ranch (0.3 miles)
In addition to hiking, there are at least four scenic outlooks where you can safely pull over in parking areas and get out of your car or van to take in the views.
Scenic Viewpoints (from south to north)
Santa Elena Canyon Overlook
Tuff Canyon Overlook
Mules Ear Viewpoint
Sotol Vista Overlook
Our first full day in Big Bend was spent exploring this western side of the park. There'd be enough to keep you busy for two days if you wanted to do all the hikes.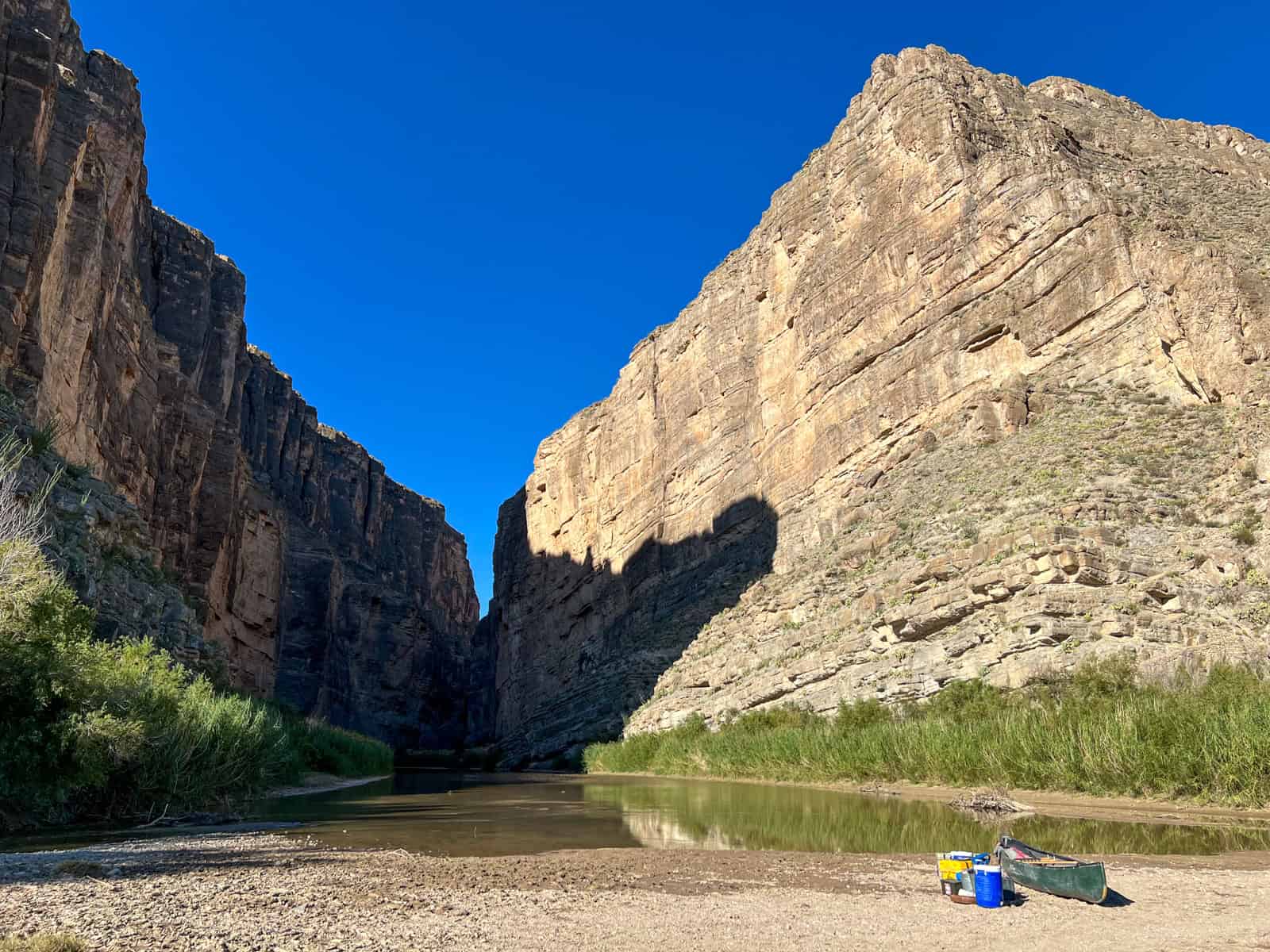 2. Hike Santa Elena Canyon Trail
I'm mentioning the Santa Elena Canyon Trail again as it's perhaps the most popular hike in Big Bend.
At 1.4 miles roundtrip and about 80 feet of elevation gain, it's a pretty easy hike and accessible to most visitors.
The ease with which you can hike into the canyon doesn't diminish the surroundings, which feature 1,500-foot walls of rock reminiscent of Game of Thrones.
The Rio Grande River flows through the canyon, providing a natural border between the United States to the north (right side) and Mexico to the south (left side).
As we learned, the hike will only get you about 0.7 of a mile into the canyon, at which point the ground runs out, and there's only the river that continues.
Guided raft, canoe, and kayak river trips offer visitors the opportunity to paddle up to 21 miles through the Santa Elena Canyon.
Choose from a day trip to a two to three-day trip with camping. The time required can vary depending on the water levels and conditions.
The Terlingua Abajo campground is just a few miles away. It's a pretty simple campground and doesn't come with hookups or water, but it provides space for a vehicle and room for a large family tent. You'll need a backcountry permit to camp anywhere in Big Bend National Park, and this is available online or at the visitor centers.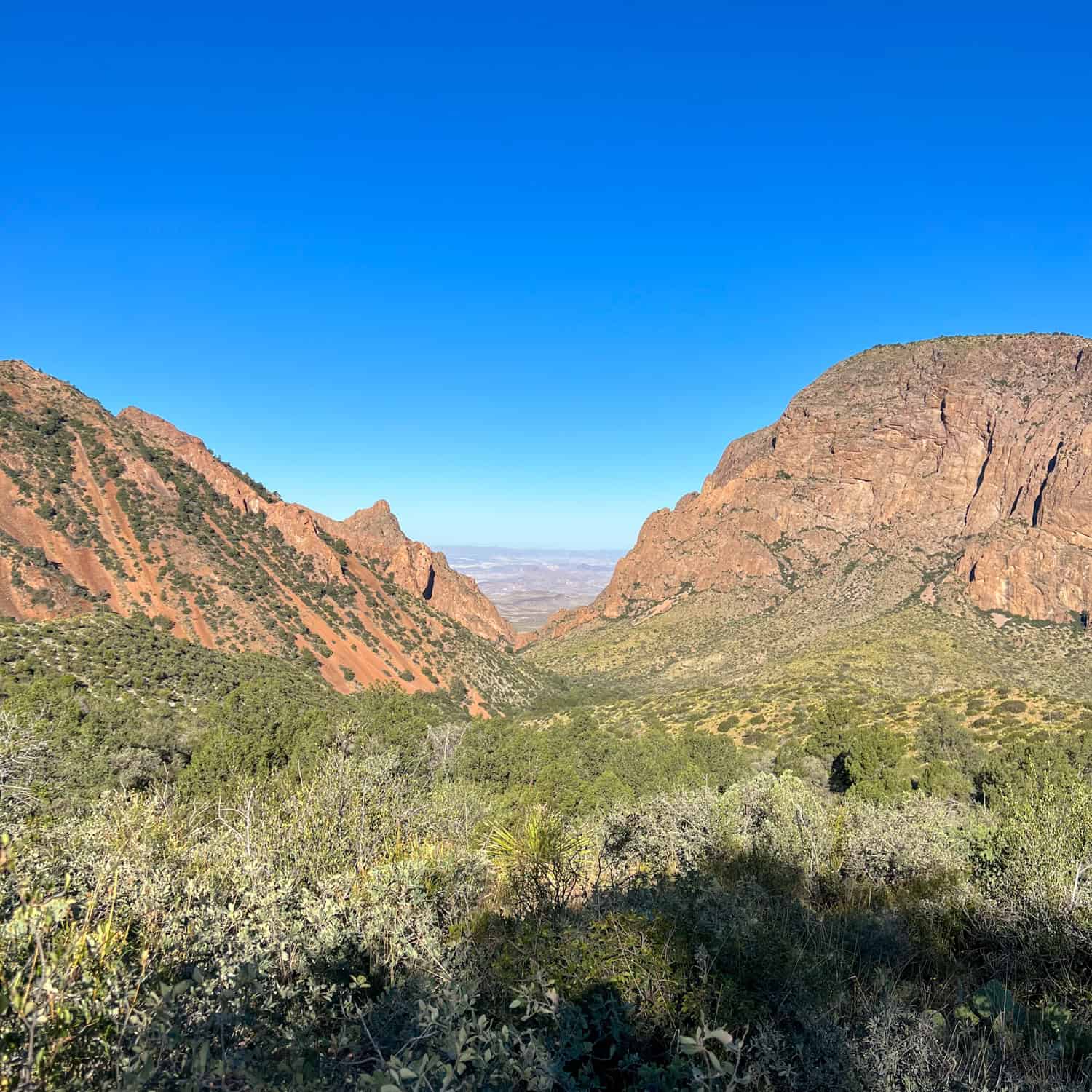 3. Explore Chisos Basin
We began our second full day in Big Bend with a drive up in elevation to the Chisos Basin area.
There was significantly more greenery, plants, and trees than what we'd seen the first day in the desert.
The Chisos Basin Visitor Center and Chisos Mountains Lodge are located at opposite ends of a large parking lot.
You can check in with park rangers about animal sightings (they told me black bears were being seen daily), weather, and trail conditions.
There's also easy access to numerous trails of varying lengths and difficulties. We opted for the easy 1.9-mile Chisos Basin Loop Trail, which led to a deer encounter and plenty of pretty views.
Hiking Trails
Chisos Basin Loop Trail (1.9 miles)
Boot Canyon Trail (3.5 miles)
Pinnacles Trail (3.8 miles)
Laguna Meadows Trail (4.1 miles)
Colima Trail (4.5 miles)
Lost Mine Trail (4.8 miles)
Emory Peak (5.3 miles)
South Rim Trail (5.3 miles)
Window Trail (6 miles)
South Rim Loop (12.4 miles)
We were also interested in the moderately-rated 4.8-mile Lost Mine Trail; however, there were no parking spaces available along the steep, curvy road near the trailhead, so we skipped it.
If there are no available spots when you pass by, you'll need to park at the visitor center and walk up the road to access the trail.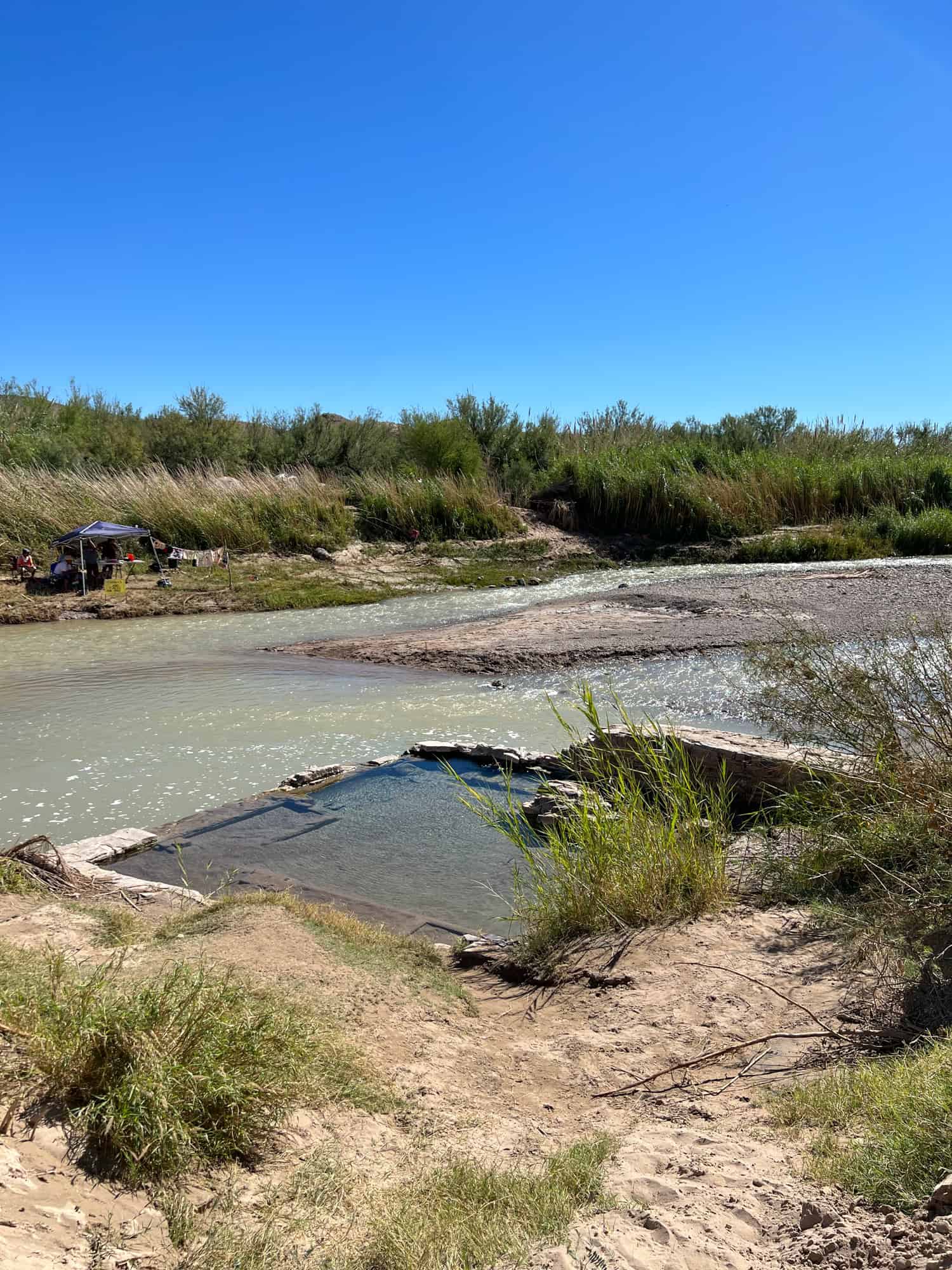 4. Relax in the Hot Springs
Hiking to the hot springs is one of the most popular things to do in Big Bend National Park. However, it can be hit or miss whether it's possible to take a dip in them.
If there's been heavy rainfall, dirt and sediment drain into the rising waters of the Rio Grande River and quickly flood the low-lying natural hot springs.
While we were at the Chisos Basin Visitor Center, we asked about conditions at the hot springs and were told the aptly named Hot Springs Road had been damaged during heavy rain the week before.
Despite the news, we drove east past Panther Junction Visitor Center to the intersection with Hot Springs Road, where sure enough, the road had been blocked for repairs.
A half-dozen cars had parked along the main road, suggesting their occupants had hiked down the road to reach the hot springs.
I did some quick math on Google Maps and determined the walking distance to the hot springs was not much shorter than the more scenic Hot Springs Canyon Trail.
The latter was accessible from the Rio Grande Village about three miles further east.
It took us about three hours hiking 5.5 miles roundtrip to the hot springs and back along the Hot Springs Canyon Trail, which we had to ourselves.
We only spent about 15 minutes in the hot springs themselves, but they were a worthy destination and not muddy or flooded when we arrived.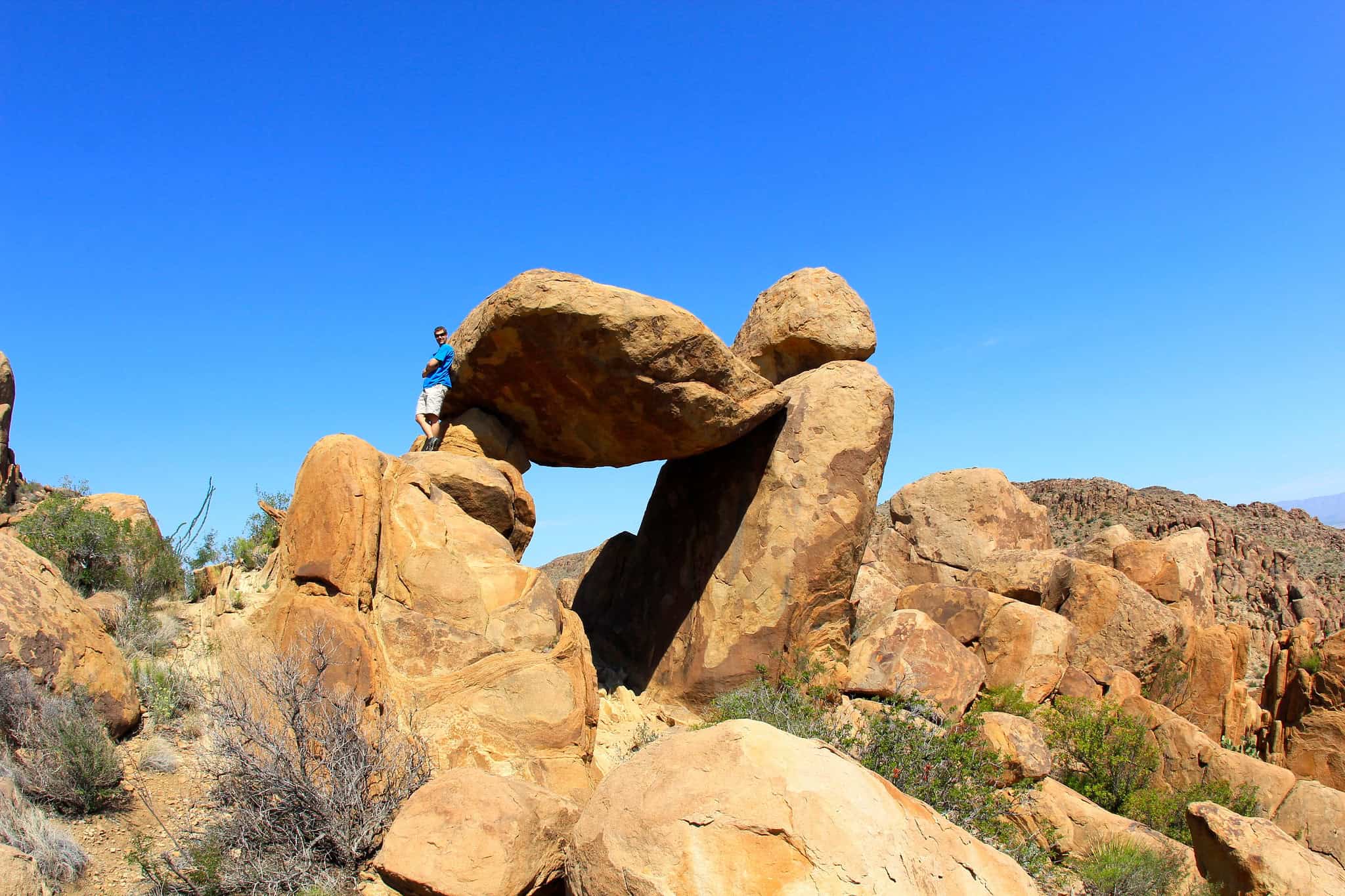 5. Hike to Balanced Rock
The 2.2-mile roundtrip hike to Balanced Rock appealed to both Kel and me. However, the reviews on Google Maps of the 8-mile gravel and dirt road we'd need to drive to the trailhead concerned me.
We were in a compact car with low ground clearance, and I didn't want to risk damaging the vehicle or getting stuck up to 10 miles from Panther Junction Visitor Center.
Most of the reviewers recommended an SUV, so we skipped this hike and photo op.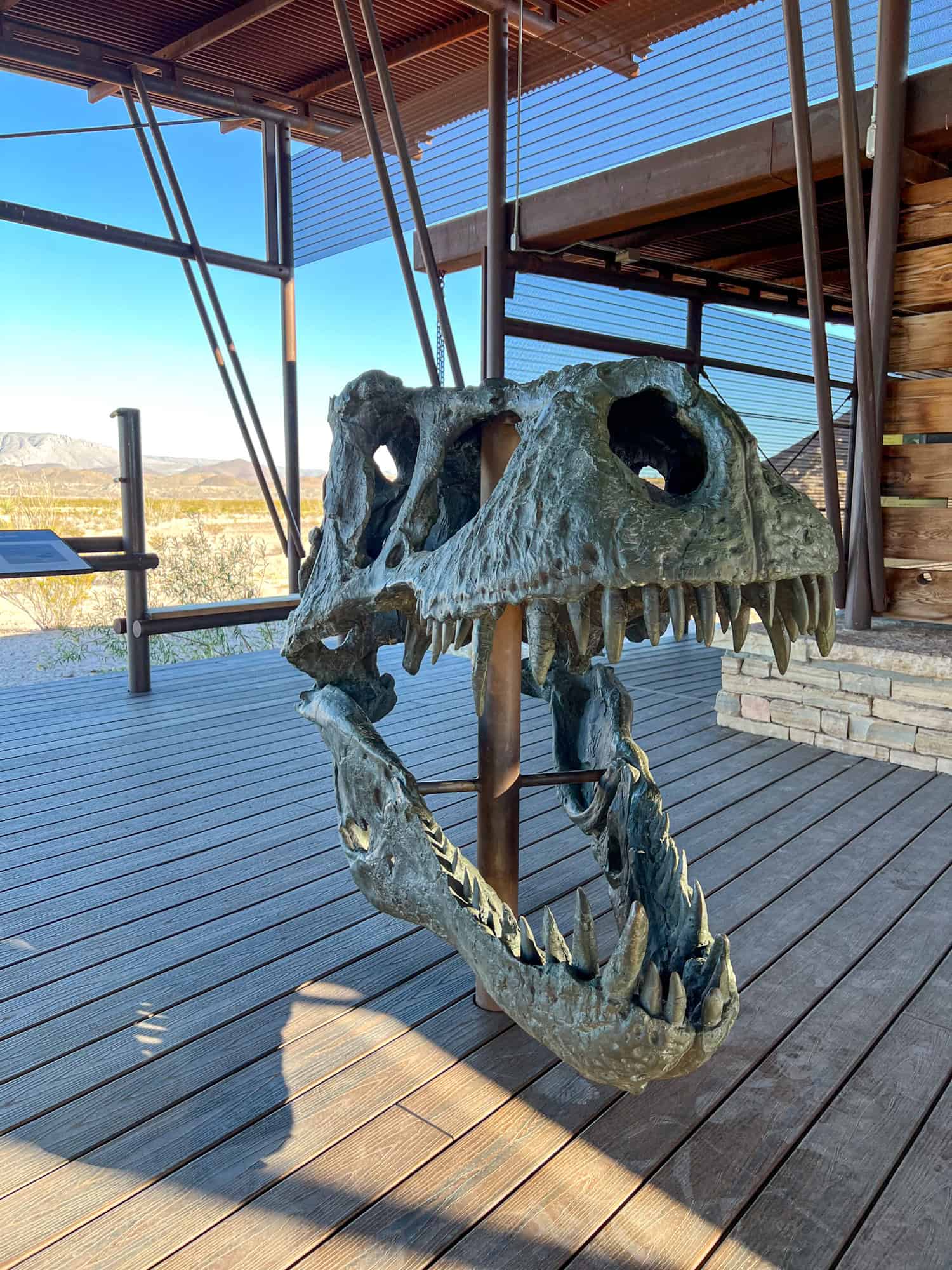 6. Visit the Fossil Discovery Exhibit
Eight and a half miles northeast of Panther Junction Visitor Center is the Fossil Discovery Exhibit at Big Bend National Park. The exhibit is free and available to visit at any time.
It showcases incredible dinosaur fossils from the region that covers 130 million years.
About 100 million years ago, a shallow sea covered the land that comprises Big Bend. Eighty million years ago, the top predator in swampy Big Bend was a 39-foot alligator-like creature called Deinosuchus.
As the Rocky Mountains rose through what is now the United States and Canada, the sea abated, and dinosaurs continued to flourish.
Fifty-five million years ago, the sea had disappeared completely, volcanoes were erupting, and mammals had become more dominant.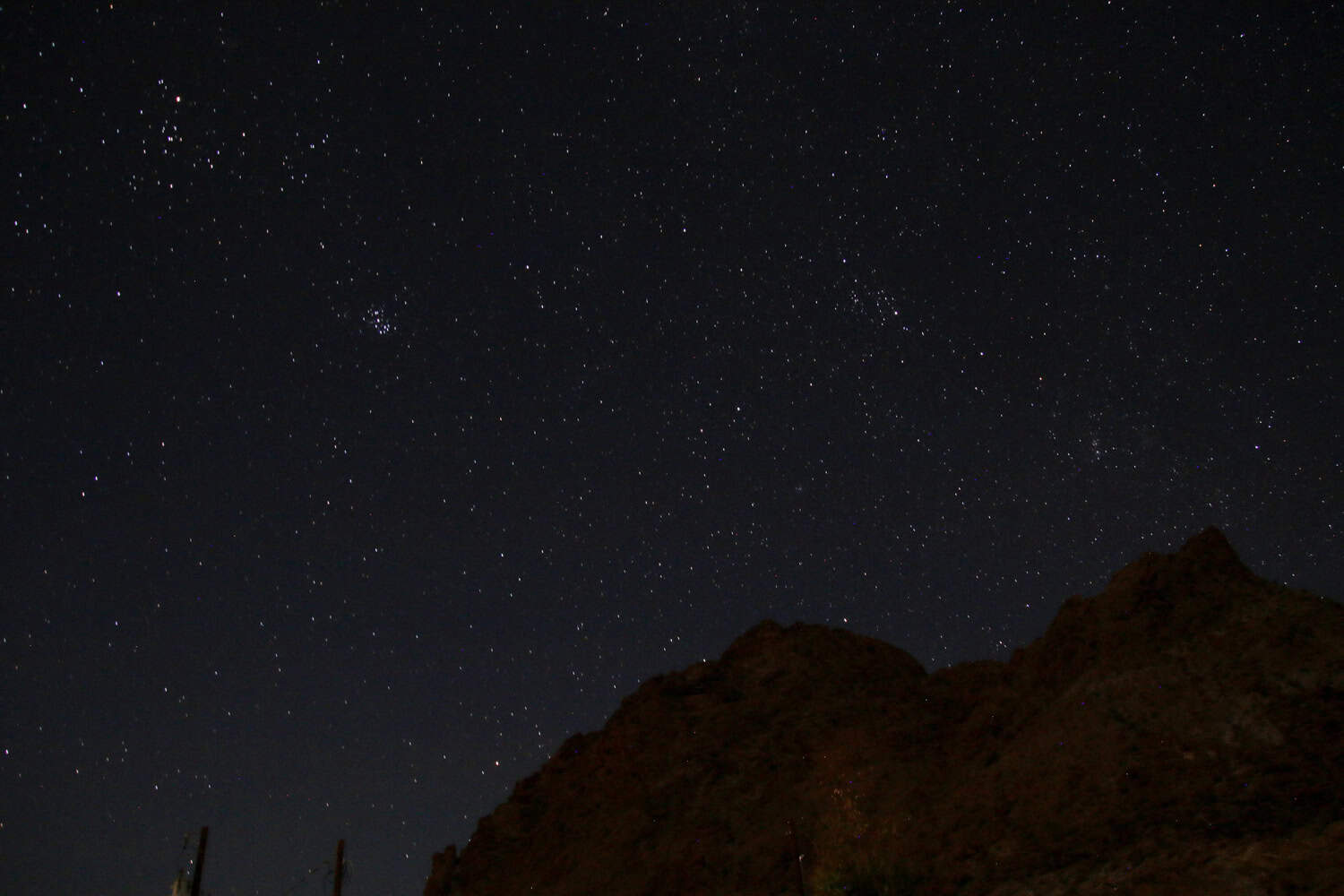 7. Stargazing
The dark skies over Big Bend National Park are some of the best in the United States for seeing stars, constellations, and the Milky Way.
The McDonald Observatory near Marfa has taken advantage of the low levels of light pollution for decades to conduct scientific research on our galaxy and universe.
The best way to enjoy the night sky is to camp inside Big Bend. But, based on our experience in Study Butte, just outside the park entrance, we were still blown away but how many stars we could see.
The Milky Way was also visible, which reminded me of a star tour I did from San Pedro de Atacama in Northern Chile.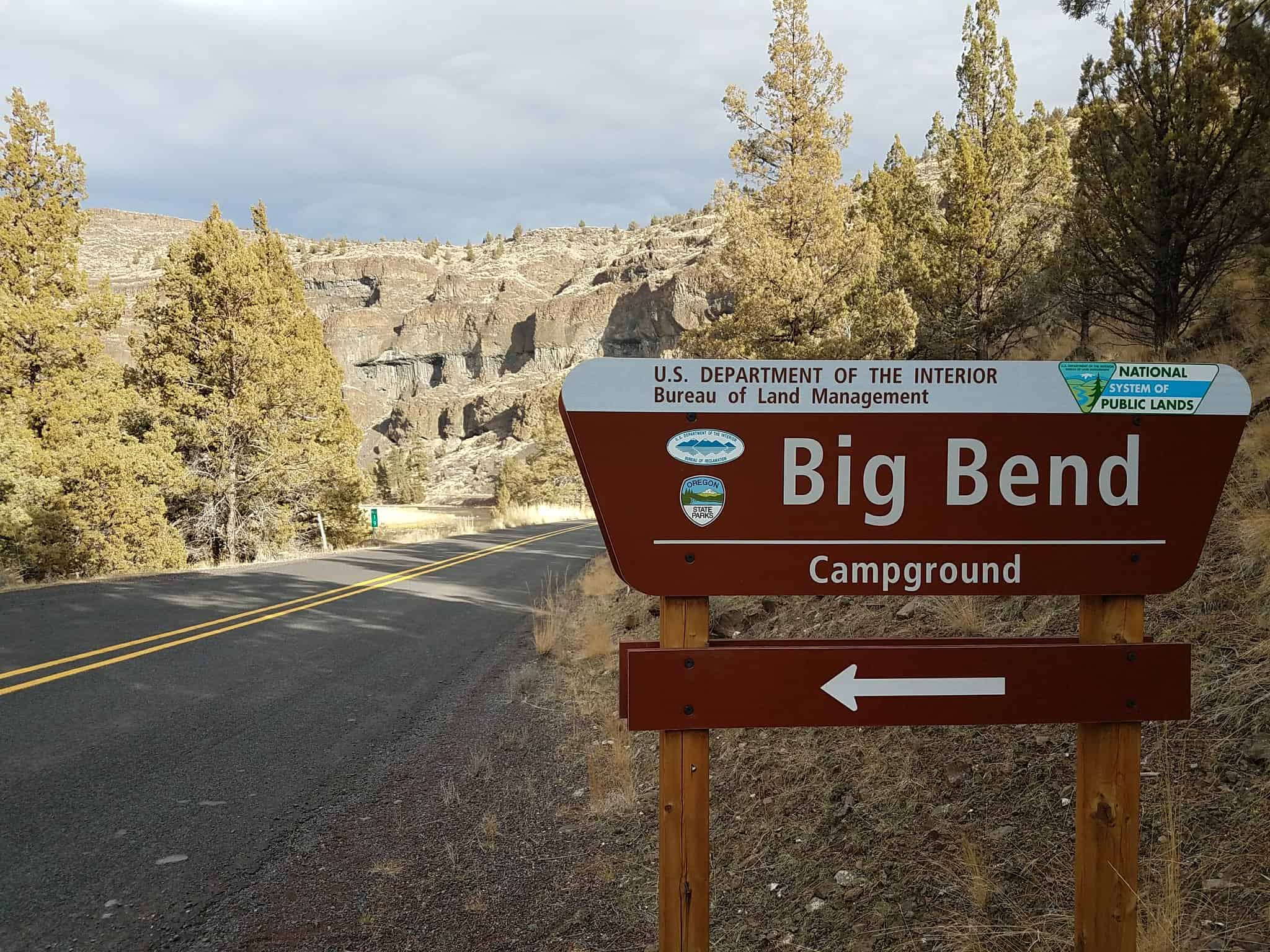 8. Camp in Big Bend National Park
As I mentioned above, stargazing is best experienced from one of the numerous campgrounds in Big Bend National Park.
The National Park Service website maintains up-to-date information on the official campgrounds, whether they're open, and if reservations are required.
Additionally, backcountry camping permits are available if you'd prefer to drive off-road and truly escape any signs of civilization in the Chihuahuan Desert.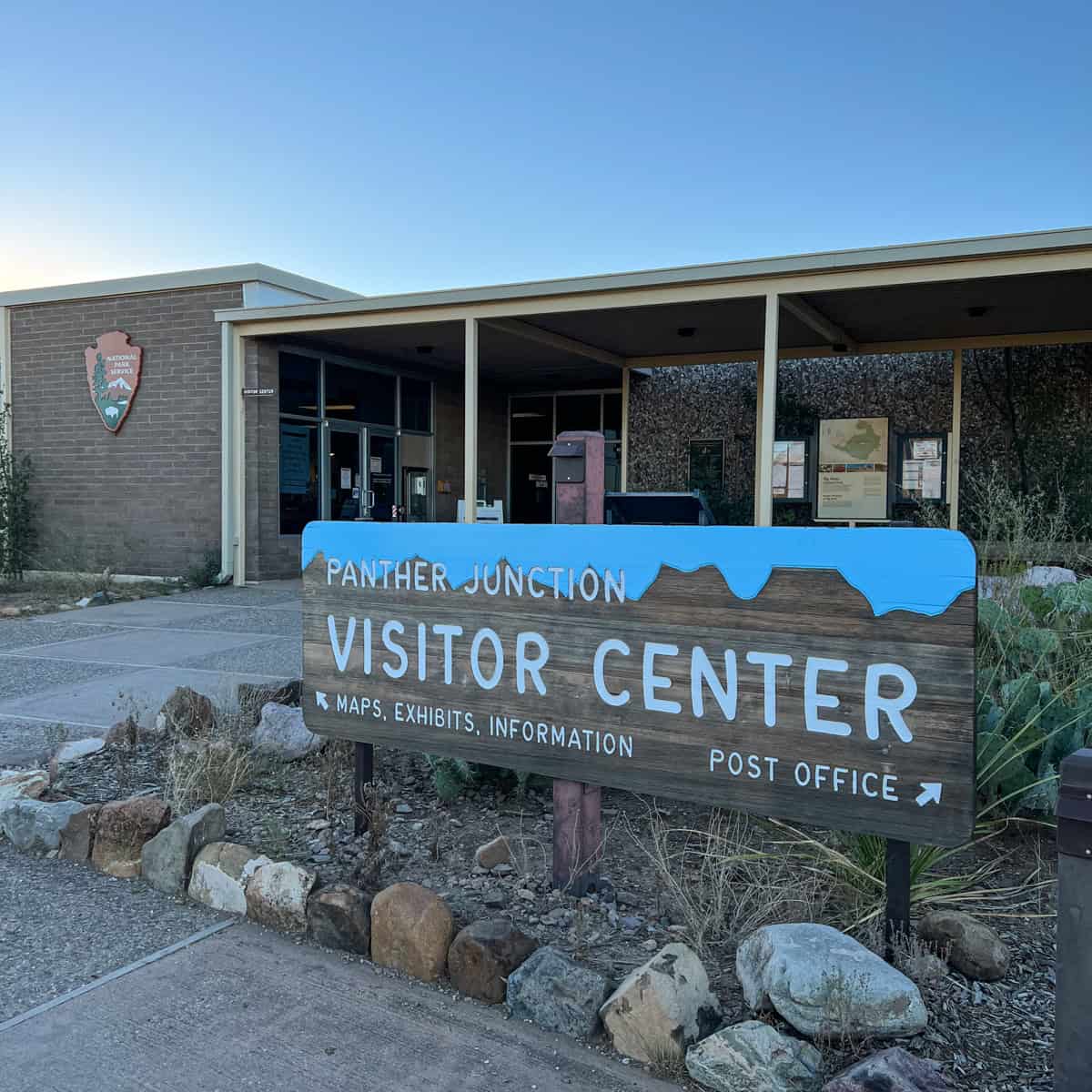 9. Pay Park Fee at Panther Junction Visitor Center
Speaking of the National Park Service, there's a fee to enter Big Bend National Park, which I recommend you pay to support the care and maintenance of the park.
You can pay admission at the Panther Junction Visitor Center, the park's headquarters.
Entrance Fees (valid for seven days)
$30 per vehicle (includes all occupants)
$25 per motorcycle
$12 per bicycle or individual on foot
Big Bend National Park is open 24 hours a day, and you can enter and leave at any time.
Panther Junction Visitor Center is only open from 8:30 a.m. to 5 p.m. daily, and they have reduced hours on Christmas day.
Backcountry and river use permits are also issued here, and there's free public Wi-Fi.
10. Cross the Border to Boquillas del Carmen, Mexico
Big Bend National Park runs along the Mexican border, and there's an official border crossing visitors can use as long as they've got their passport.
The Boquillas border crossing is accessible a few minutes east of Rio Grande Village. Check official U.S. government info on visiting the Boquillas border area before heading that way.
Once you're in Mexico, there are a few small restaurants and bars next to the border where you can get a bite to eat. Check it out on Google Maps before deciding whether to go; there's not much to see.
A short drive east of the border crossing on the U.S. side is the easy 1.2-mile Boquillas Canyon Trail.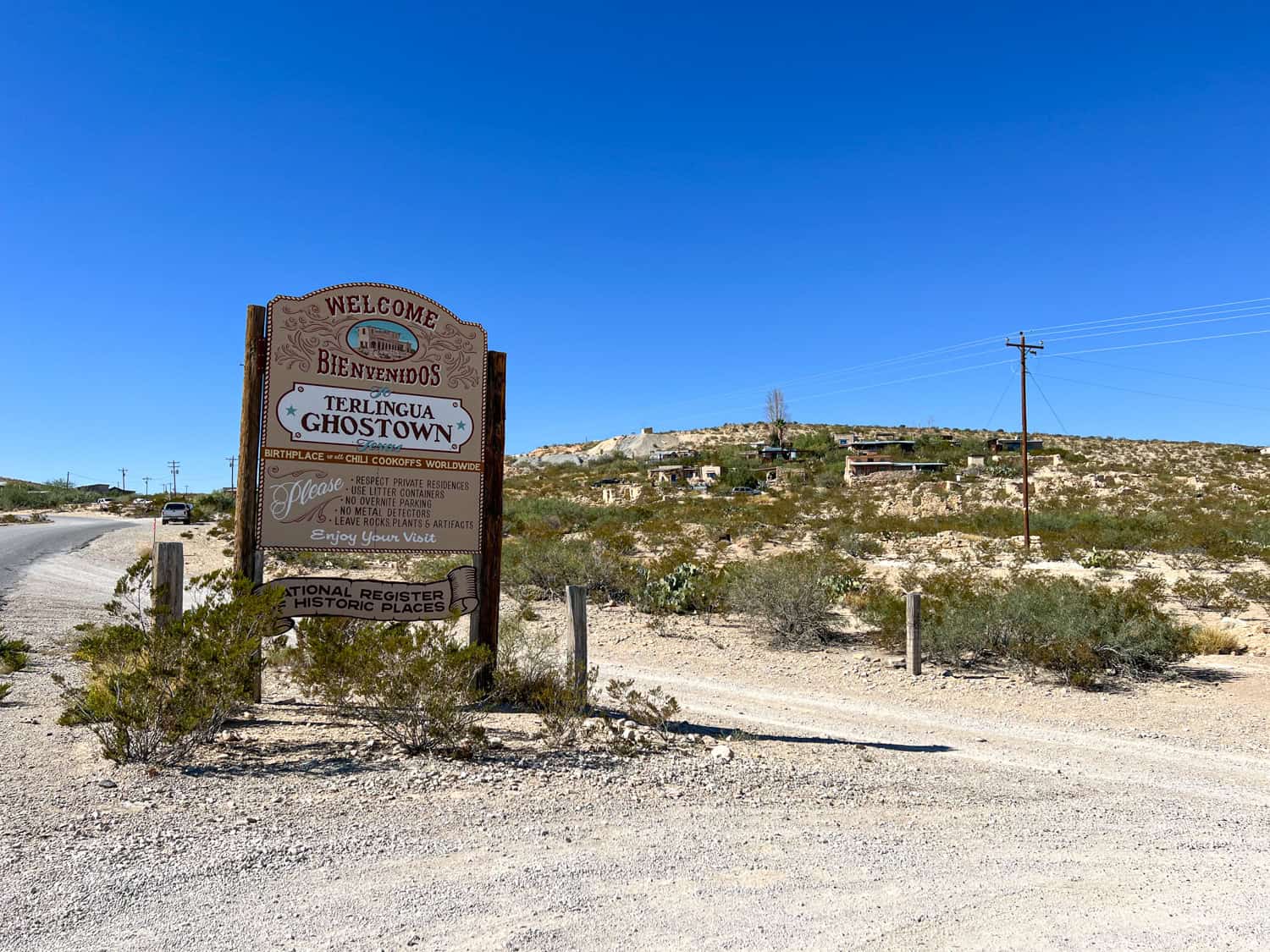 Bonus: Explore Terlingua Ghost Town
Terlingua is a legit ghost town registered with the National Register of Historic Places.
Highlights of a walk through this dusty desert town include the ruined buildings of the Chisos Mining Company, a 100-year-old cemetery, and the Starlight Theatre, one of the few original buildings still in use today.
While Kel and I stayed a ten-minute drive east of Terlingua to be closer to Big Bend's entrance, we drove to Terlingua for dinner and drinks all three nights. The Starlight Theatre has live music.
Dave is the Founder and Editor in Chief of Go Backpacking and Feastio. He's been to 66 countries and lived in Colombia and Peru. Read the full story of how he became a travel blogger.
Planning a trip? Go Backpacking recommends: