There are many fun things to do in Ghent, but this historic Belgian port city is not exactly budget-friendly for backpackers.
I highly recommend you plan your visit so you can experience the city without breaking the bank.
In this article, we'll take a closer look at some of the things to do in Ghent and what you can expect to pay.
Quick facts about Ghent and Belgium
The medieval city of Ghent in the northern part of Belgium is a quaint, but rather large city that should be a stop on everyone's agenda.
Here are some things you may not have known:
During the Middle Ages, Ghent was a prominent city-state, but today it is a university town and cultural hub
With a population of almost 600,000 inhabitants, Ghent ranks as Belgium's second-largest city behind Brussels
Ghent is located about 35 miles west of Brussels and southwest from Antwerp at the confluence of the Scheldt and Leie Rivers
It was once one of the largest and wealthiest cities in northern Europe with some 50,000 people (12th century)
Belgium's currency is the euro
Belgians are best known for their beer
Although most think France created the fried potato, it is Belgium who created the French fry
The city of Ghent is a Dutch-speaking city, but the majority of the people in Belgium, especially from Ghent as it is a student town, speak English fluently
Ghent has adopted a culture of riding cruiser bikes and is known by some as "Little Amsterdam"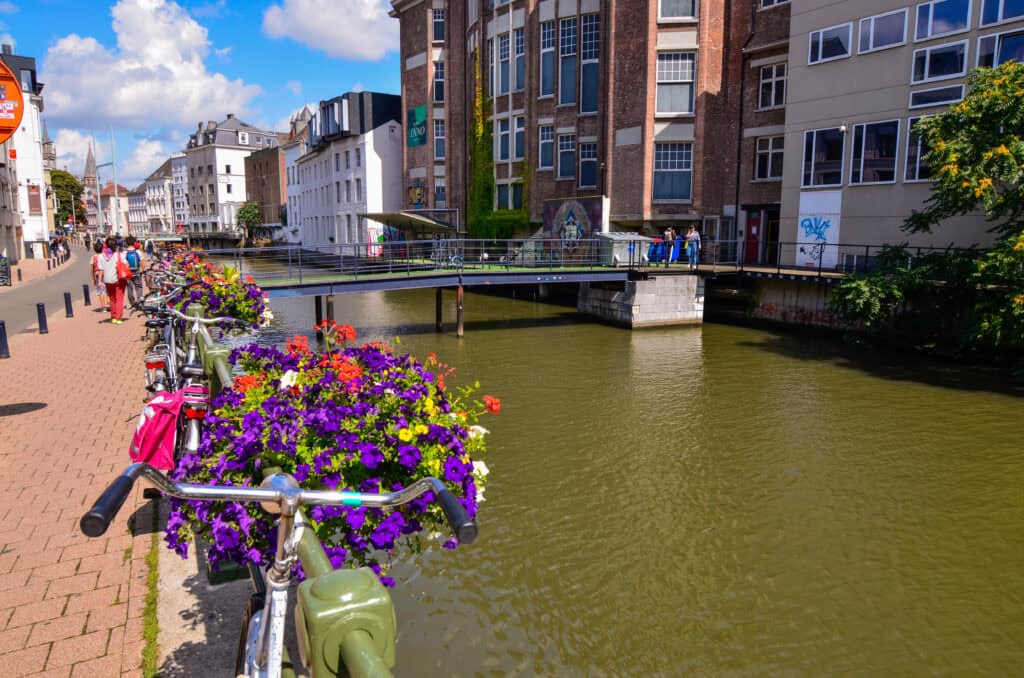 First Impressions: The Biking Culture
One of the first things I noticed about Ghent is the cleanliness of the city.
Unlike other European cities I've visited, Ghent was very well taken care of and held to a standard of excellence.
There was virtually no litter in the streets and no graffiti to be seen.
My favorite thing about the city of Ghent, besides the medieval city center, is the cycling culture.
For a month, I was introduced to a place where people are more likely to take their bike from the garage than a car.
It takes some astute observation, but foreigners can catch onto how the cycling traffic works in Ghent.
Being a student city and the fact that having a driver's license is so expensive in Europe, the city revolves around public transport and bicycles.
My suggestion if you're going to be in Ghent for more than a week is to rent or borrow a bike; it's fun and saves you a ton of money since everything on a typical Ghent itinerary is within biking distance.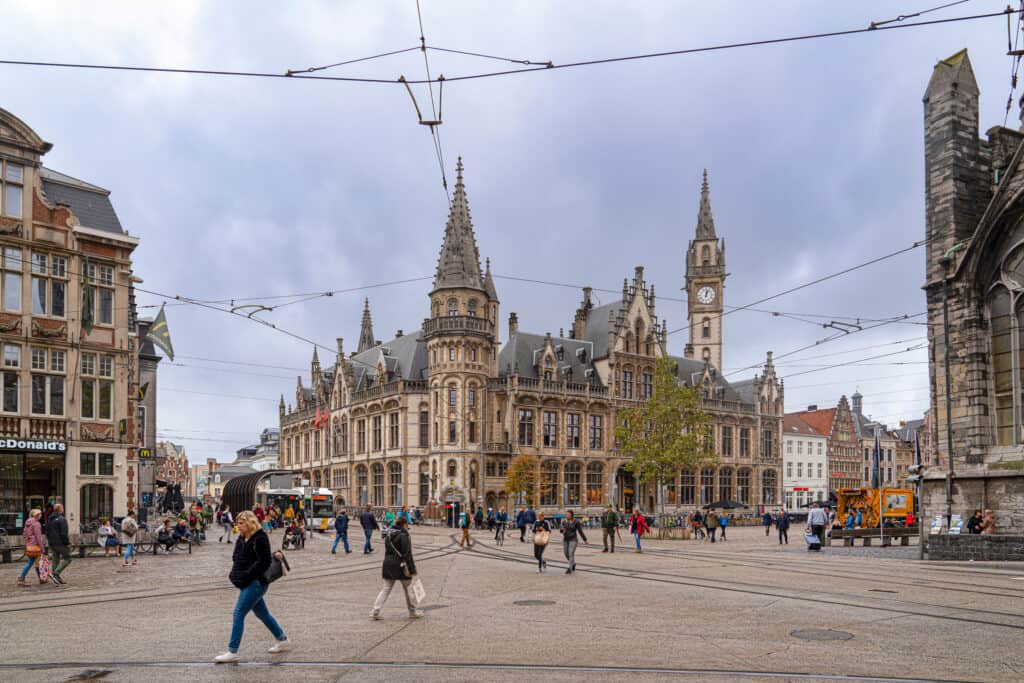 Cost of Travel in Ghent
Ghent is reasonably affordable. It leans more toward the expensive fifty percent of cities in terms of affordability.
However, with that being said, it's not outrageously expensive given what the city provides.
Accommodation
Expect to pay around $25-30 for a hostel near the city center.
Alternatively, you can check out Workaway because there are always plenty of opportunities in Ghent.
Food
A traditional meal may cost anywhere between $10-$17, depending on where you eat.
An average "fast food" meal can cost anywhere from $6-$8.
You can get a cheap burger with Belgian fries for as little as $3.50, but be warned you will get what you have paid for.
Markets in Ghent are expensive. I'm usually an advocate for cooking hostel dinners to save money, but even that won't do you well in Ghent.
Nightlife
As for the world-famous Belgian beers, expect to pay quite a bit on a night out.
For a middle-of-the-line Belgian beer, it can cost you around $5 for a third of a pint.
You can buy a quality Belgian beer at the store for around $1.
And then, there's the infamous Cara Pils which you can buy for less than $0.50 at any market near you (hangover included).
Public transportation is relatively expensive. The bus fare is $3.30 for a ticket with one hour of validity.
A train to the neighboring cities of Brussels, Antwerp, or Bruges will cost around $15-$20 for a one-way fare in second-class (note: it is only about a 30-minute commute to any of those cities).
WiFi
As is always the case, utilizing free WiFi can be a great strategy to save on data charges and SIM cards in Europe.
Free WiFi can be found relatively easy, especially around the city center.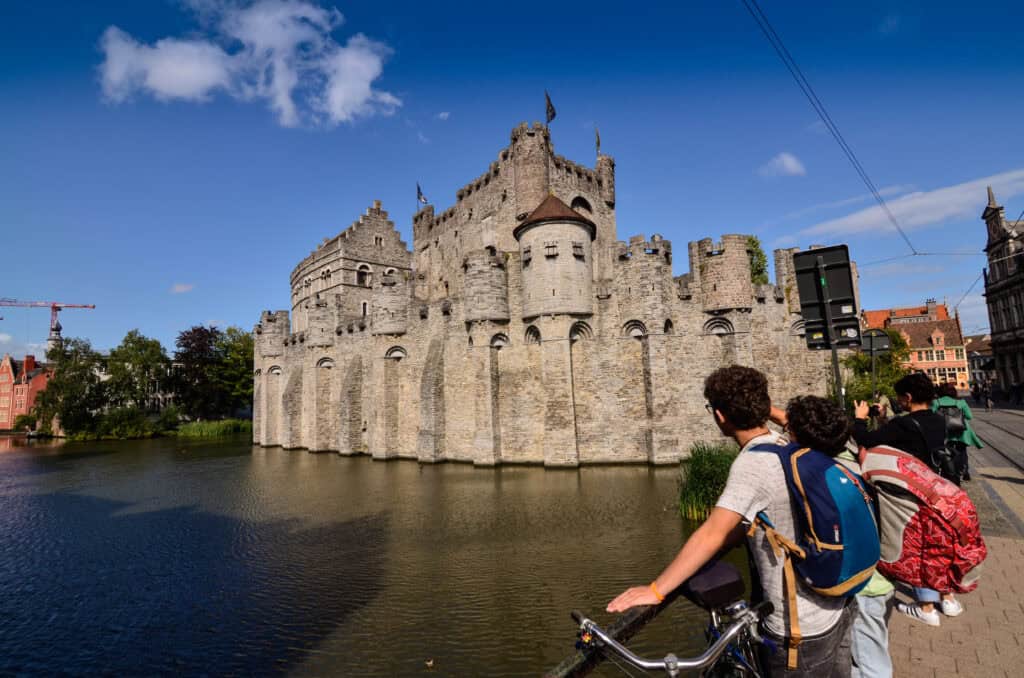 Things to Do in Ghent
Here are the top things to do in Ghent, Belgium's city center so you can easily access all of these attractions by bicycle:
Gravensteen Castle
Saint Bavo's Cathedral
Het Belfort Van Gent
Saint Nicholas Cathedral
Graslei
Korenmarkt
Sint-Michielsbrug
SMAK — Municipal Museum of Contemporary Art
Gent City Hall
Overpoort
Budget accordingly for your weekend in Ghent.
I would describe Ghent as a city ahead of its time in philosophy and culture but one that has remained rooted in history with its architecture.
It is a unique place to visit and an even more unique place to stay for a while. If you ever get the chance, I highly recommend a visit to Ghent.
Planning a trip? Go Backpacking recommends: