The city of Santa Monica is the perfect place to explore new experiences in Southern California.
Whether you're an avid surfer or prefer a walk down the famous pier, there's plenty of fun things to do in Santa Monica.
Incorporated in 1886, it is one of the oldest communities in Southern California. Ranchers first settled the area in 1875.
Here's your guide on what to do and where to go while visiting this scenic city in western Los Angeles County, California.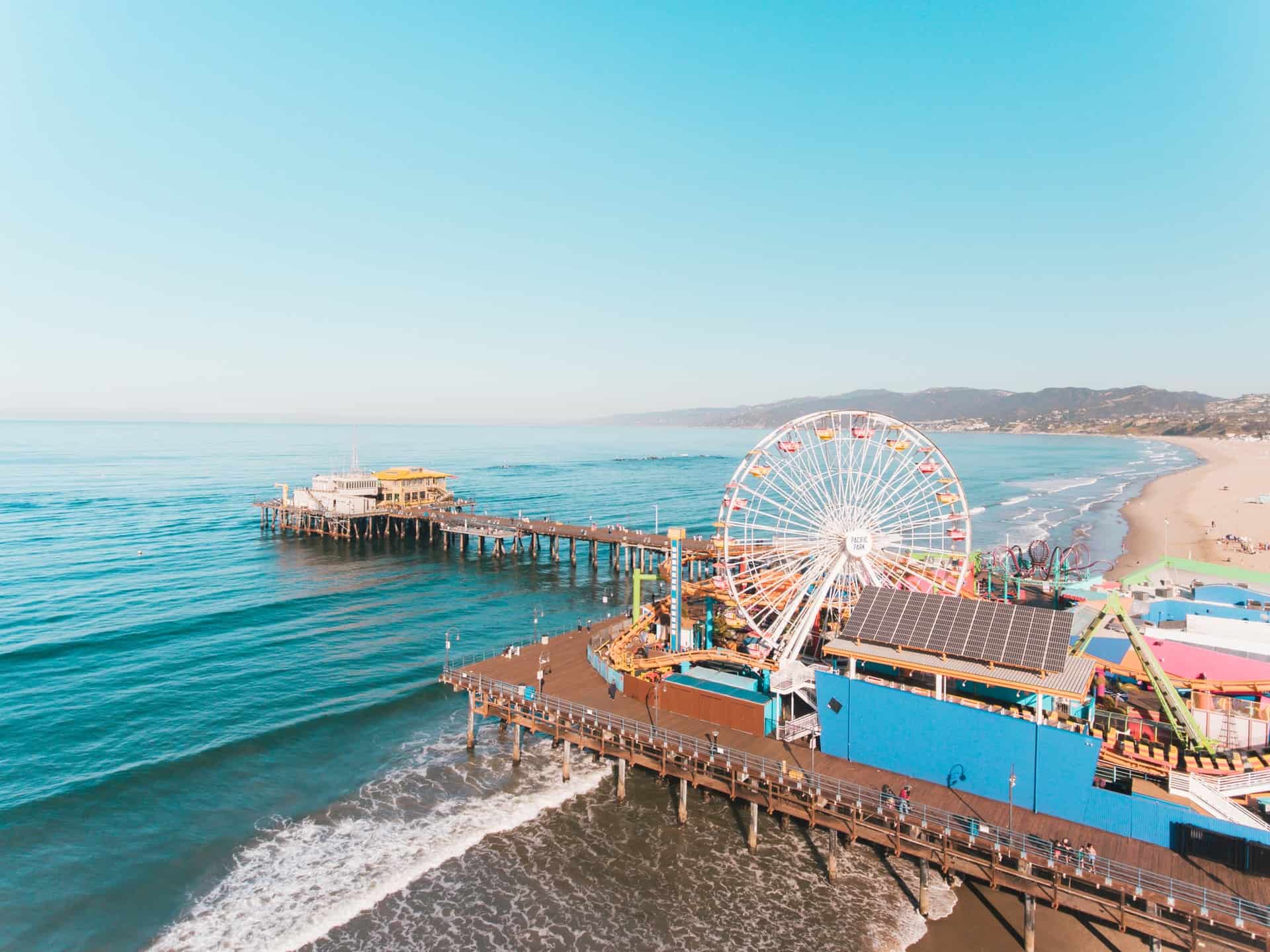 Santa Monica Attractions
1. Walk Santa Monica Pier
The Santa Monica Pier is located at the intersection of Ocean and Colorado Avenues.
Originally built in 1909, it is the only pier on the West Coast that remains at its original location.
It was named one of the largest wooden piers in America and has been featured in several local events and TV commercials.
You can pay $5 to play Skee-Ball, games of chance like the ring toss, or take photos with one of the many famous characters available for pictures.
Each level has a unique feel and activities, including one with vendors selling souvenirs and other goods.
2. Bicycle on California Ave
California Ave has some of the most exquisite boutiques and home stores in Santa Monica.
It is known locally as "the Avenue" and also hosts several trendy restaurants and cafes.
In addition, you can explore The Third Street Promenade by renting a bike on California Ave.
It's an excellent opportunity to take a break from walking while still experiencing the beauty that Santa Monica has to offer.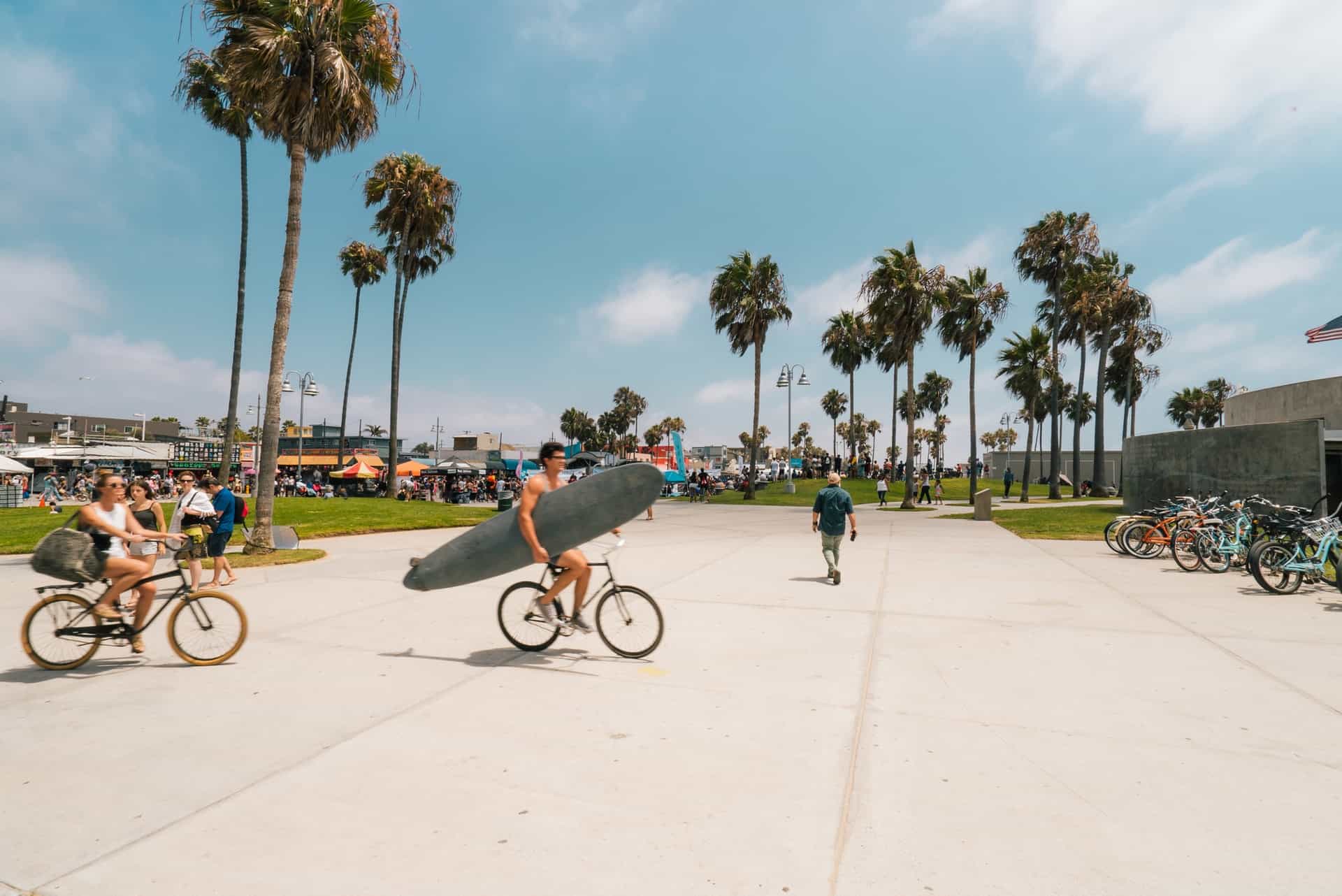 3. Day-Long Boat Cruise
What better way to spend the day than cruising along the coastlines of Los Angeles?
Several luxury yacht companies offer marine excursions in Santa Monica.
These deep-sea excursions are the best ways to explore various California landmarks like Venice Beach or Malibu Beach.
These beautiful beaches are often crowded with people, but on a cruise, you can enjoy your time in peace and come back later for some fun in the sun.
Several different cruises are available, each with its perks and exclusive services that they offer to customers.
You can even book a party or host your party at sea.
The prices vary depending on your desire, so do some research before going out on a boat cruise in Santa Monica.
Cruising on a yacht is a great way to spend time exploring the California coastline with your family and friends.
4. Shop on Montana Ave
Montana Ave hosts thousands of boutique shops for people from all walks of life.
It has been recognized as one of America's top shopping streets by Forbes Traveler and Los Angeles Magazine.
This street also contains dozens of restaurants boasting diverse cuisines for those who love to dine out.
Montana Ave has some of the most exquisite shopping experiences you can imagine.
Make sure to visit this street at least once before leaving Santa Monica.
5. Visit the Santa Monica Museum of Art
Located in the Bergamot Station Arts Center, the Santa Monica Museum of Art was founded in 1979 and has been devoted to exposing local artists and their works.
The exhibits change monthly, so there is always something new to experience here.
You can take a break in the museum's cafe or garden while admiring the views of the hills surrounding it.
Admission prices are low, making it an affordable activity for all.
Related: Hollywood, Santa Monica, and Malibu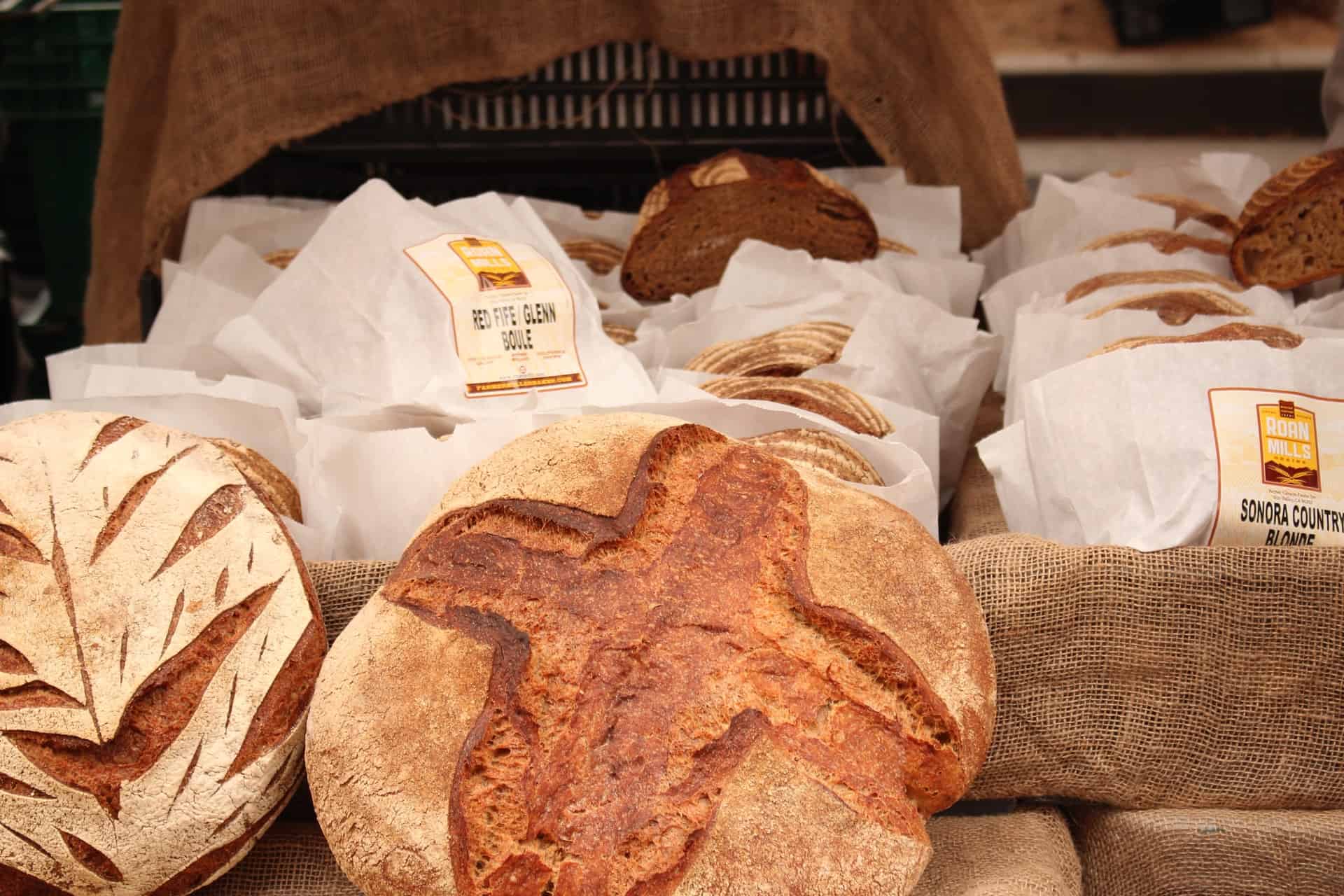 6. See the California Heritage Museum
Located in the heart of the Main Street shopping area, this museum was established to celebrate and display California's history.
This is done through exhibits, educational programs, workshops, performances, and lectures.
The building itself also has architectural significance since it was designed by Richard Neutra, representing modernism at its finest.
The museum is free to attend for residents of Santa Monica, making it easily accessible for all.
It also offers discounts on events such as concerts, so check their website for upcoming details.
7. Go on a Santa Monica Culinary Tour
One of the best things to do in Santa Monica is to enjoy the various foods offered by its many restaurants.
If you're a foodie, then this tour is perfect for you.
This is one culinary adventure that will have your mouth watering before it even begins. It's easy to find these walking food tours around the city.
Discover how chefs work behind the scene, learn about their techniques, and enjoy tastings from each restaurant featured.
You'll also get to see some cool parts of Santa Monica, along with meeting new people who share your passion for food.
8. Afternoon at California Heritage State Park
The beauty of California Heritage State Park is that you can explore the "hills" without having to drive far from Santa Monica.
Instead, you can walk along paths, see beautiful plants and architecture, and even take a peek inside an underground tunnel built during World War II.
The park has plenty of room for guests to explore, so it's easy to get lost in your thoughts while walking around enjoying the scenery.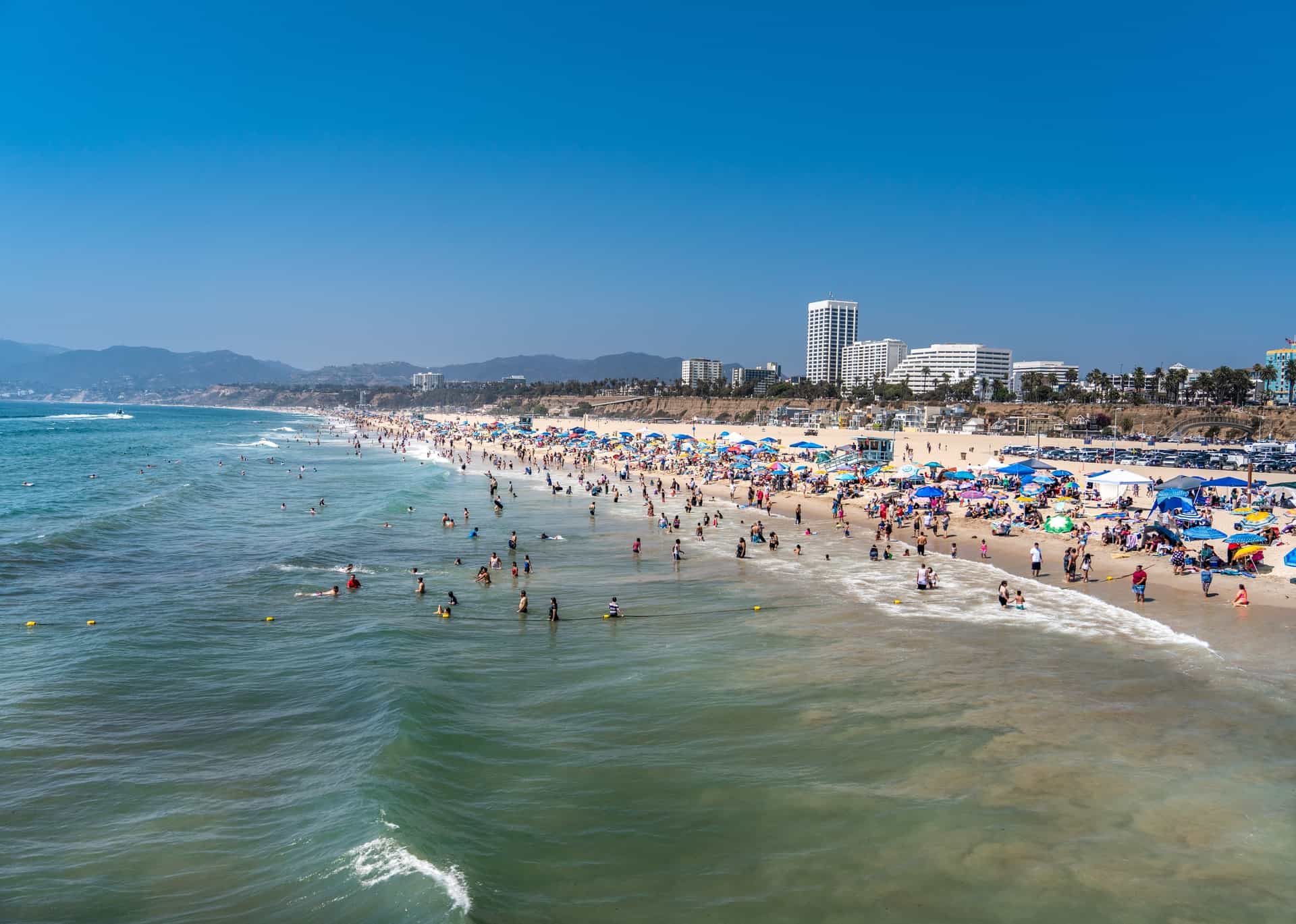 9. Relax at Santa Monica Beach
There is no better way to enjoy the Pacific Ocean than on the beach.
You can swim in the water, relax on the sand, or walk along and people-watch. Plus, you can always go for a bike ride.!
Santa Monica has some of the best beaches in California, although finding parking can be difficult.
Consider using public transportation, especially since it's very affordable.
Another thing worth mentioning that many people don't know about is their awesome fire pits!
Most people love sitting around them while talking with friends and family, so keep an eye out for these fun amenities when you visit.
Related: Top Things to Do in San Diego
10. Santa Monica Farmer's Market
This is undoubtedly one of the best Farmer's Market in all of Los Angeles, and if you love food, then it's a must-visit place.
You'll be able to try various cuisines from different cultures while enjoying the beautiful weather that surrounds the market.
The market contains hundreds of local vendors selling their goods such as vegetables, fruits, baked goods, wine, honey, flowers, and more!
There are even cooking classes available for those who want to learn how to cook before visiting restaurants on their own!
If you're coming here with children, there's an awesome carousel next to it so everyone will have fun, whether buying groceries or just exploring the surrounding area.
11. Visit Bergamot Station
The Bergamot Station is a perfect place to enjoy art without having to spend too much money.
You'll find various stalls with different works of art available for purchase and several other options that you can learn about by visiting their website.
The market's location makes it prime real estate for artists who share their talent with the world.
So whether looking for something that will bring beauty into your home or wanting something that will remind you of Santa Monica, there are plenty of options here ready to be discovered.
Many restaurants, cafes, and shops are located right near this area, so it won't be hard to find places to eat or have fun after exploring the creative concepts presented here.
12. Browse Skylight Books
If you like photography, history, and other nonfiction genres, then this is the perfect bookstore for you to visit.
They carry over 120,000 books, both new and old. The best part about it? You can enjoy a cup of coffee while reading your newly purchased book.
If you prefer to buy physical versions of books instead of digital versions like ebooks or audio tours, then this bookstore has plenty of those, too, along with other magazine titles.
It's also a great place to meet authors who give lectures from time to time if those interest you.
Plus, there aren't any crowds here, so browsing through their selection will be a breeze.
Related: Free Things to Do in San Francisco
13. Gelato at Santa Monica Place
Everyone loves ice cream and gelato, so why not seek out a place where you can enjoy the two without having to worry about outside factors such as loud noises or annoying people?
Thankfully Santa Monica Place is the perfect combination of both, and it's located right near the beach too.
I recommend that those who love chocolate visit this place as they offer over 40 different flavors (20 of which are dedicated to milk chocolate), making it one of the best places in all of Los Angeles to enjoy.
They also offer several other types, such as dark chocolate, vanilla, fruit flavors, and more.
It will undoubtedly be a moment that your taste buds won't forget anytime soon!
Conclusion
I hope that you enjoy these 13 fun things to do in Santa Monica, California.
Please let me know in the comments section below if you have additional recommendations to see while visiting this beautiful city.
I'd love to hear them since they may help others planning a trip there in the future too.
An Aeronautical Engineer who is passionate about anything with a motor on it. When I am not working, I spend my time Travelling. You can find me at Easy American Travel.
Planning a trip? Go Backpacking recommends: