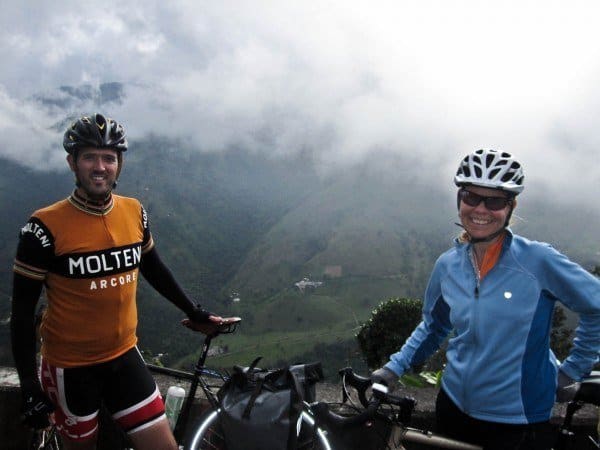 Traveling by bike is to take the slow road. This shouldn't be seen as something negative but as something to embrace.
As a cycle tourist, I can enjoy the journey itself.
In fact, the journey itself is many times more important than the destination.
Cycling through Costa Brava in Spain, the vineyards of Tuscany, the coffee fields of Colombia, and Canada's rugged west coast are just a few of the trips I've taken by bike.
It's not always easy, but the challenge is part of the fun.
If you haven't considered traveling by bike in the past, I'll give you five reasons as to why it's fantastic.
5. It's Scenic
Yes, you see the same scenery from a bus, but you don't get to live it.
When you're on the saddle of a bicycle, you can breathe the fresh air, hear the birds, admire the creek, and feel the wind.
These are visceral sensations that don't happen when traveling by any other form.
4. You Meet The People
When cycling, you have to go through every little town. On top of this, you usually stop in these little towns to refuel.
These little breaks allow you to meet the locals, eat their food, and talk with the people who often don't see tourists.
Also, as a cycle tourist, you are much more likely to be welcomed. When you pull up on a bike, you are many times seen in a different light.
You're not the guy that's coming to the country to see the Eiffel Tower, sit in a tourist cafe, go to the Louvre, then fly home; you're there to drink the wine, see the countryside, smell the lavender, then take pictures of the Eiffel Tower and go home.
This is especially true in cycle mad countries like France, Italy, and Colombia! I'd highly recommend riding all three.
3. You Can Eat Whatever You Want
When cycling, food is your friend. It's the fuel that keeps your motor running.
You also burn crazy amounts of calories pushing your iron horse up mountain passes and into headwinds.
Therefore, at breakfast, lunch, and dinner, you have a free pass to try all of the local cuisines that you can fit down your throat.
I specifically chose Spain, France, and Italy for one trip in large part for this reason. Eat up. Your legs need the nourishment.
2. It's Great Exercise
I don't know about you, but I get lazy when I'm traveling (without my bike).
I am out of my normal routine back at home, and I don't take the same care of my body as I would back in Canada.
Well, traveling by bike gives you a built-in exercise.
This doesn't happen with planes, trains, and automobiles (great movie.)
You need the best quality bike to travel; otherwise, it would be tough. 5cycling is the resource where you would get more reviews and guides about bikes.
1. It's Fun!
I love being on my bike. The beating of my heart. The pumping of my legs. The wind against my skin. The sweat on my brow. The spandex. All things to love about cycling!
Combine this with the adventure of travel, and you have a great combination.
So there you have it. Travel by bike. It's a great way to see a new place and savor everything there is to offer, instead of rushing through.
Brice Peressini is the Trading Voyageur. He formally was writing Traveling to Colombia. He's traveled by bike on three different continents through seven different countries. You can find more on his Trading Voyageur cycling blog part of his website.
Planning a trip? Go Backpacking recommends: