Chile is a country full of mountains, deserts, coastlines, and everything in between.
It's a country that, in my opinion, belongs on everyone's bucket list, whether it's to explore the otherworldly landscapes of the Atacama Desert, sip wine in the valleys, road trip the Carretera Austral, or hike the mountain trails of the W Trek in Torres del Paine National Park.
I firmly believe there's something in Chile for everyone.
However, Chile isn't exactly the cheapest place to visit in South America, especially when compared to the northern neighbors of Peru and Bolivia.
While you can easily get by on less than $40-50 a day in most other South American countries, backpacking in Chile can cost almost as much as in Europe or North America.
After three visits to Chile, I've learned the best ways to cut my costs while traveling in this vast country.
Read on to learn my favorite tips and tricks to travel to Chile on a budget!
7 Genius Hacks for Traveling Chile on a Budget
1. Take a shuttle or bus from the airports to your hotels
As you travel around Chile, you'll realize that transportation is one of the most significant and unnecessary money drains.
From the moment you land in the airport, you'll be bombarded with taxi drivers vying for your hard-earned dollars.
And it might be tempting to go with one of them to guarantee you'll have your ride and won't have to wait for anyone.
But here's the hard part: Should you use the taxi driver with the official uniform? With the lanyard and ID? Or the one with the yellow cab that's clearly marked? My answer: NONE of them.
I know this because I've fallen for it. When I followed one of these aggressive taxi drivers to his car, he told me that the ride to Santiago would cost 70,000 CLP. That's over $100.
I demanded he let me out of the car, and instead, I took a private shuttle, which cost me 7,000 CLP ($10) — 10% of the original cost to get to the exact. Same. Place.
Private Airport Shared Shuttles
Whenever I arrive in Santiago (or any airport in Chile), I inquire about costs at the shuttle stands FIRST.
Usually, I take TransVIP when they're available; their shuttles run anywhere from 5,000-10,000 CLP ($7.50-$10) per person and will take you wherever you need to go.
Airport Express Buses
An even cheaper alternative to private shuttles is the airport express buses.
These are the cheapest, most budget-friendly way to get to and from the airport, and they're pretty easy to navigate since they go back and forth from the city's main bus stations.
You can pick up one of these buses outside the Arrivals gate and take it to either Alameda Central Station or Pajaritos Station.
From there, you can take the metro to any destination in the Santiago downtown area (where you can find most of the main things to do in Santiago) and beyond.
2. Organize a bike instead of booking a tour
When I was traveling around Chile, most recently, I saw a ton of people on bikes.
In the wine valleys, in Santiago, in Atacama, and in Patagonia, tourists were on bikes all over the place!
Intrigued, I resolved to find out the deal about renting bikes in Chile.
When I finally approached a couple at a Casablanca Valley wine tasting about their choice to use bikes (while drinking wine, too), they said it was easily the cheapest way to get around.
They'd rented bikes in the Casablanca city center and used them to hop from vineyard to vineyard.
This also helped them sober up more quickly and reduce their wine intake (so they could try a wider variety!).
I found similar trends in the Atacama Desert, where people were using bikes to get to major attractions like the Valle de la Luna (Moon Valley), Valle de la Muerte (Death Valley), and Pukara de Quitor (incredible desert ruins).
Opting for a bike rental instead of a guided tour with an air-conditioned bus is another way to travel Chile on a budget.
How to Rent a Bike in Chile
Most cities and towns have at least one bike shop that rents bikes by the hour or day. However, these places sometimes aren't the most obviously marked.
I'd recommend inquiring about bike rental shops at your hostel, a tourist information kiosk, or a souvenir/tourist-oriented restaurant.
In Spanish, here's how to ask about bike rentals: "Donde puedo alquilar una bicicleta?"
Most people should be able to point you in the right direction to the nearest bike rental shop.
Make sure to check the bicycle before agreeing to anything — check that it works, make a note of any cosmetic damages, and make sure you understand the payment structure (by the hour, by day, etc.).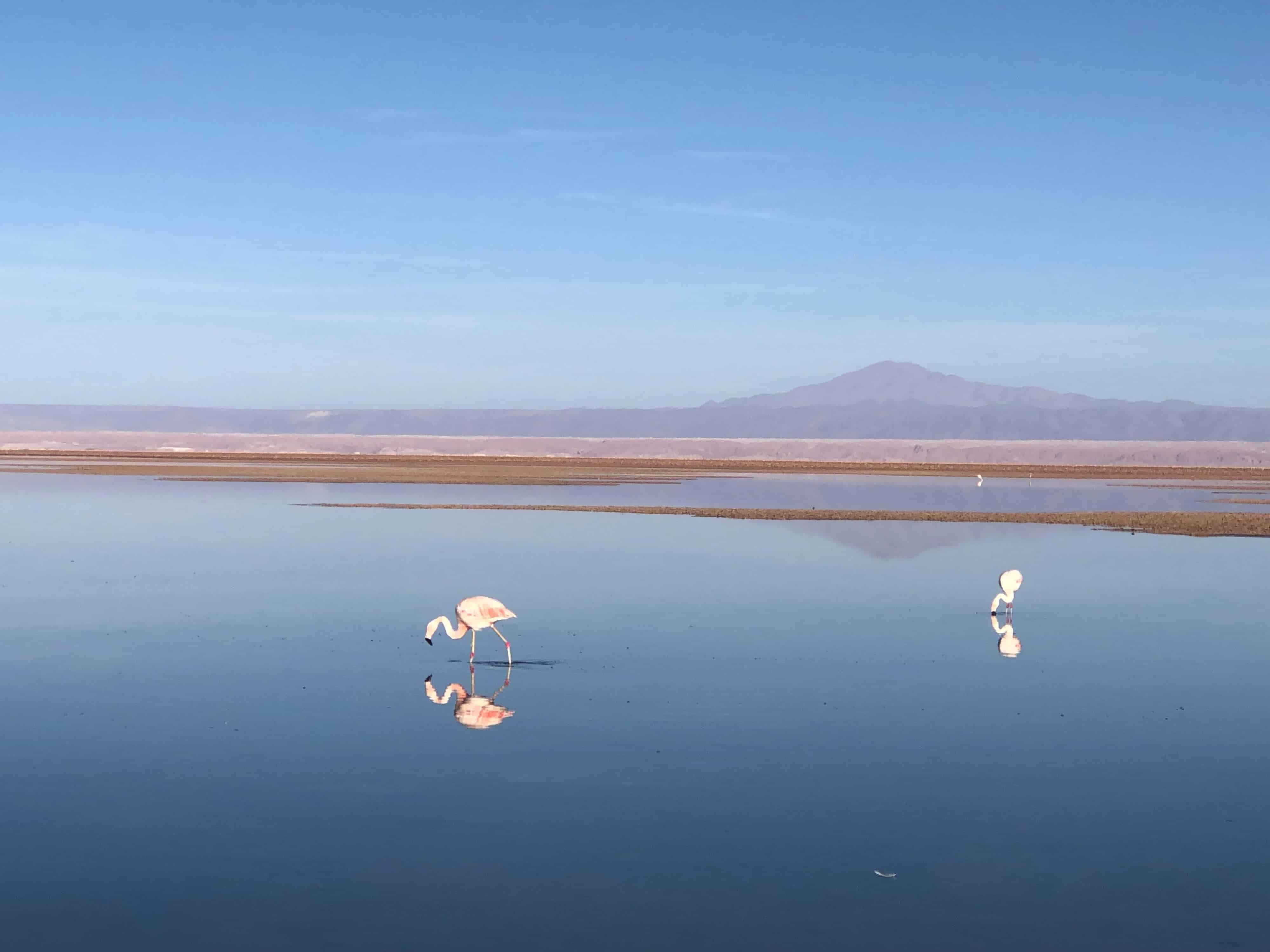 3. Negotiate necessary guided tours as a package
Chile is known for its remote landscapes and fantastic adventure activities.
Therefore, you'll probably run into instances where taking a tour is the only way to see or do something on your Chile bucket list.
Car rentals are expensive, and the roads can often be confusing to navigate, so a tour is often the most practical option.
If you absolutely cannot get to places without a tour, try to organize them all together with one provider.
This way, you can ask for any discounts that the operator may provide for booking multiple tours.
You may be surprised by how often this happens.
Many tour operators, especially in main tourist areas like the Atacama Desert, will offer a discount if you book multiple tours with them.
They want to incentivize people to book more tours with them and are happy to do so by offering a discount (sometimes 10% or more) off multiple tours.
When I went to San Pedro de Atacama, I booked all of my tours with one operator.
They had a "standard package," but the tours on it didn't interest me as much as some of the other options.
So, I asked them if they'd be willing to honor their tour discounts for a custom-made package.
They happily obliged.
You won't know if you don't ask, so approach them with a list of tours you want to do and see what they're willing to offer.
Additionally, in the case of the Atacama and similar situations, don't book anything until you've compared prices across at least two to three tour operators.
4. Purchase Chilean wines by the bottle instead of doing wine tastings
If wine tours are something you're looking for during your trip, consider this: most wine tours near Santiago cost $100+ per person per day, and many of them don't even include the price of the tastings!
For travelers on a budget, this can break the bank fast.
Even if you DIY your wine tour by going on buses, each tasting costs $15-25 per person.
By the time you've visited two to three wineries, you've already spent what feels like a fortune.
But that doesn't mean you should give up on trying to drink wine in Chile.
Instead, organize a wine tasting with travel companions or friends from your hostel.
Visit a local wine shop and buy your Chilean wine by the bottle.
Bottles usually run between 4,000-10,000 CLP ($7-15). Grab two or three bottles and split them!
This way, you'll only try the kinds of wine you like (reds, whites, blends, etc.), and you can split it with friends to reduce the costs.
Doing this, even if you split five bottles (one typical wine tasting) between five people, you'll each be paying about $10 per person, and you can customize your wine selection based on your tastes. Win/win, I'd say.
Related: Flying from Santiago to San Pedro de Atacama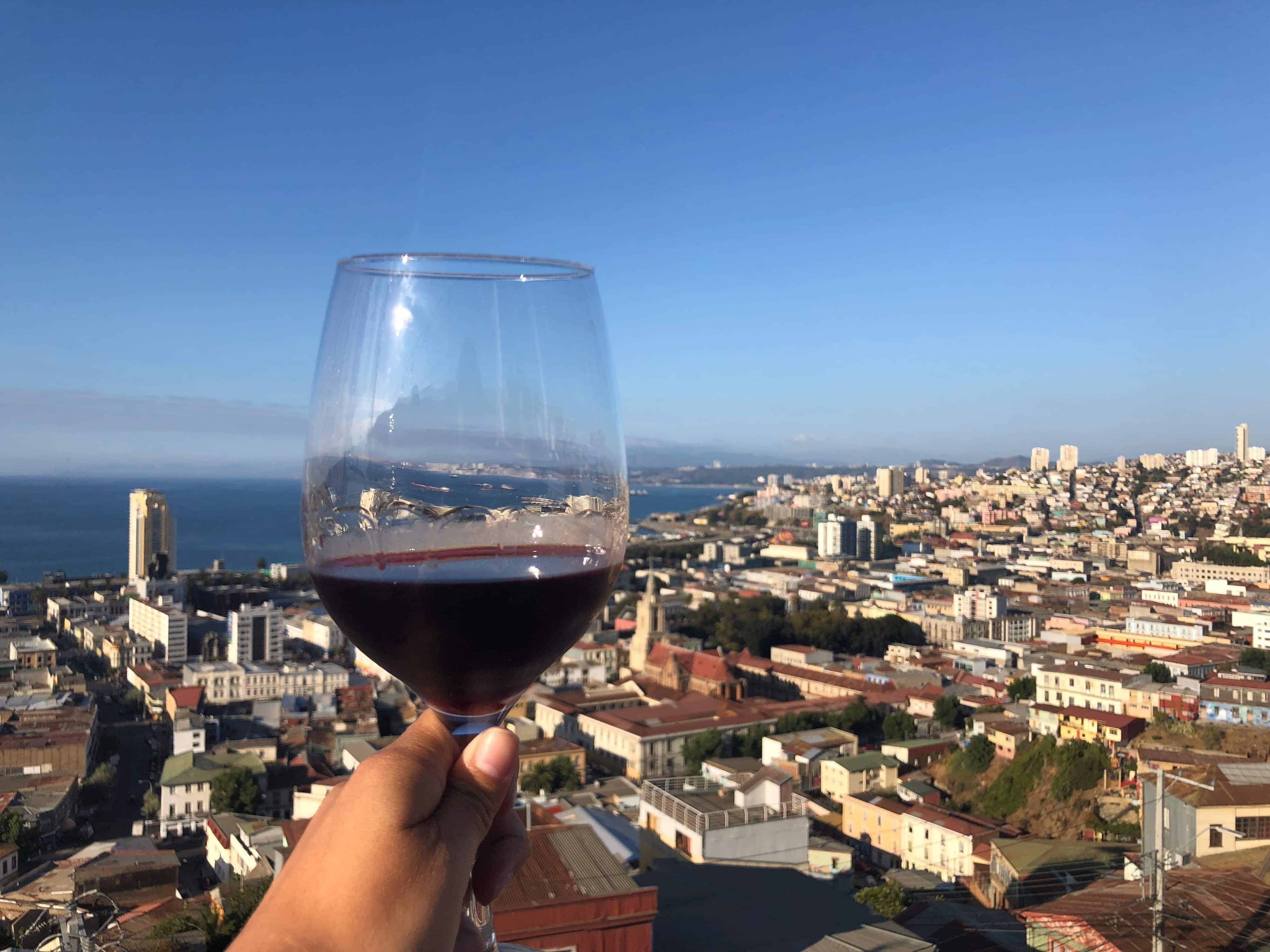 5. Choose Chilean "street eats" rather than sit-down restaurants
While Chilean food often gets overshadowed by its northern neighbor, Peru, there are many great dishes and flavors to discover here.
However, you might find that when you look at menus for Chilean restaurants, prices can be over $20 per dish. Ouch.
However, you don't need to pay an arm and a leg to try Chilean food.
Instead, go for some of these famous street eats that you can get to-go or for low prices in local restaurants and bars:
Empanadas de Pino – Empanadas are one of Chile's favorite street foods, and their traditional recipe is called "de pino."
Empanadas de pino includes beef, onion, raisins, olives, and a hard-boiled egg (yes, an entire hard-boiled egg inside of this delicious meat concoction. Seriously.).
Chorrillana – Think Canadian poutine, but with a Chilean twist. Chorrillana is the ultimate Chilean bar food and consists of crispy french friends topped with meat, onions, and fried eggs.
At some places, they have other varieties, like vegetarian, fish, chicken, and more.
Mote con huesillo – A cross between a dessert and a beverage, mote con huesillo is a Chilean summer favorite.
It's a glass with cooked barley, a dehydrated peach, and peach juice served cold with a spoon (to eat the grains).
You can find this on every street corner of Santiago during the warmer months of the year.
Completos – Every country seems to have its spin on the hot dog, and Chile is no exception.
Chilean completos are like a "choose your own adventure" situation, topped with your choice of ketchup, mustard, mashed avocados, mayonnaise, and hot sauce.
Ceviche & mariscada – In the seaside areas of Chile, you can often find street vendors in the fish markets (like in Valparaiso's Caleta Portales) selling freshly made ceviche and mariscada, a ceviche-like concoction made from mussels and shellfish.
Citrus-filled and delicious, it's a fabulous and cheap treat after a day at the beach!
6. Use public transportation as much as possible (it's easier than you think)
Public transport runs smoothly and is easy to navigate in Chile.
In Santiago, the capital city, buses and metro run regularly, connecting the airport, the central bus stations, and the downtown areas.
Most other larger cities have some kind of bus system at a minimum.
Public Transportation in Santiago
To use the metro system in Santiago, you'll need to buy a BIP card at any one of the stations.
The BIP card costs a one-time fee of 1,550 CLP ($2.34), and you can refill it based on the number of rides you want to take.
Rides vary in cost depending on the time of day but typically hover around 800 CLP ($1.20) each way.
Taking Buses Between Cities in Chile
For travel from east to west or over shorter distances, bus travel is a comfortable and easy option for getting around Chile.
While I wouldn't recommend bus travel across the entire country (a big country and north to south distances can be super long), getting around by bus is very straightforward.
To buy a bus ticket, show up at your local bus terminal and check the bus schedules.
From there, you can book your ticket directly at the kiosk of the company running the bus you'd like to take.
Related: Scenic Bus Ride from Mendoza to Santiago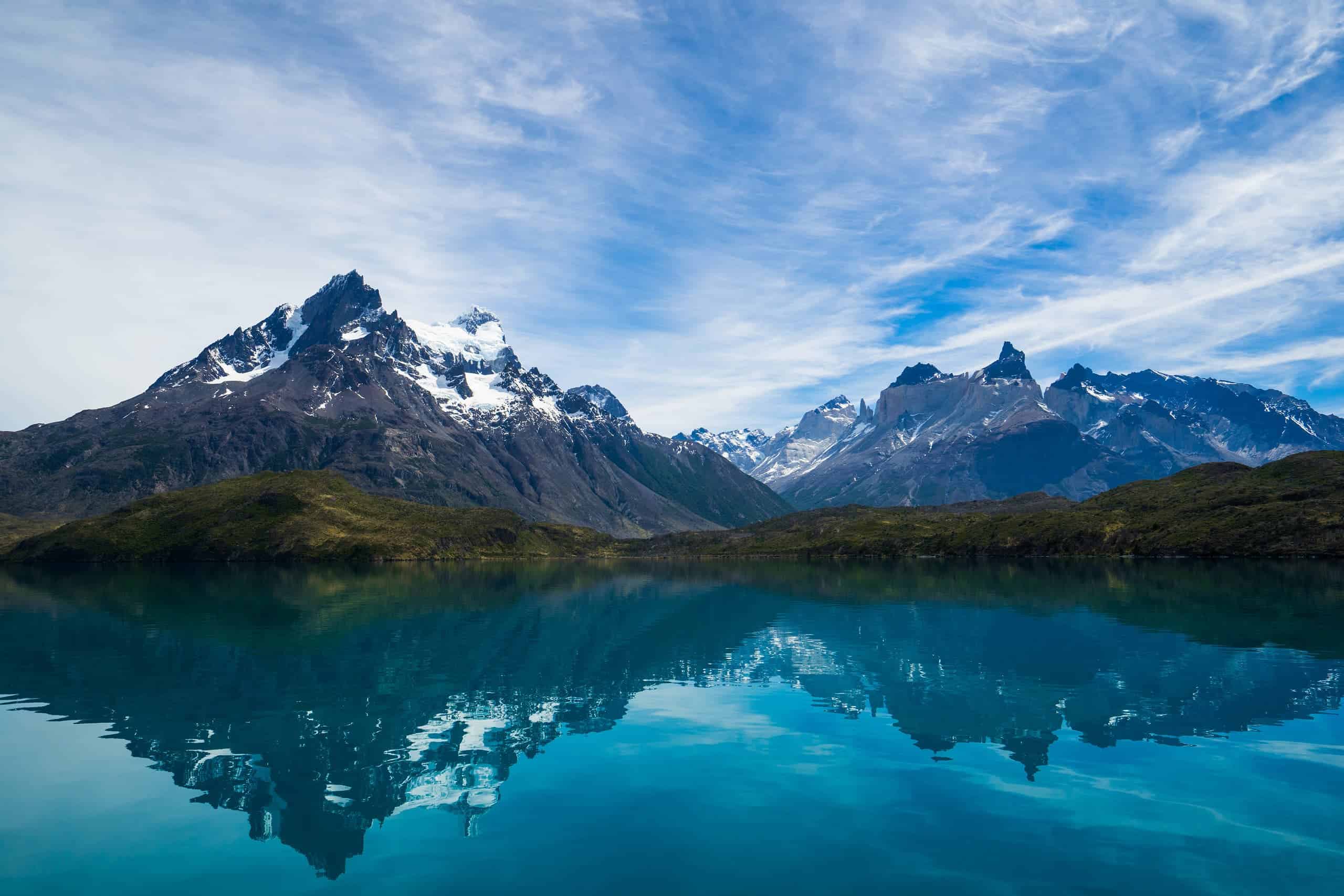 7. Book any flights at least one month in advance
Since Chile is such a long country, you'll want to fly to get from destination to destination.
Most of the incredible places to visit in Chile are pretty far away from each other, so getting around can take a super long time if you don't fly.
There has been a considerable growth in budget flights available from Santiago to practically anywhere else you'd like to go in recent years.
SKY Airlines and JetSMART are two airlines that have joined the ranks of LATAM in transporting people around the country at very low prices.
But there's a caveat: you must book your flights far in advance.
I've seen flights on SKY Airlines as low as $10 each way. Yes, that's ten dollars. However, those were for flights about one and a half to two months out.
Two weeks before departure, those same flights cost over $100 each way.
You can save massive amounts of money on flights by booking as far in advance as possible.
There you have it, my best tips for how to travel Chile on a budget. Share your budget-busting tips in the comments below!
Kay Rodriguez is the travel writer and photographer behind Jetfarer, an adventure travel blog for time-strapped travelers. When she's not hiking a mountain or diving into the ocean, you can find her sipping wine and reading a book while listening to Icelandic music on repeat. You can check out Kay's adventures on Instagram, Facebook, and Pinterest.
Planning a trip? Go Backpacking recommends: