Colombian food is typical of Latin American cuisine as a whole. Most traditional dishes feature a protein like beef, pork, chicken, or fish alongside or mixed with rice, beans, or potatoes.
Vegetables play a small supporting role, while the variety of fresh tropical fruits in Colombia is extensive.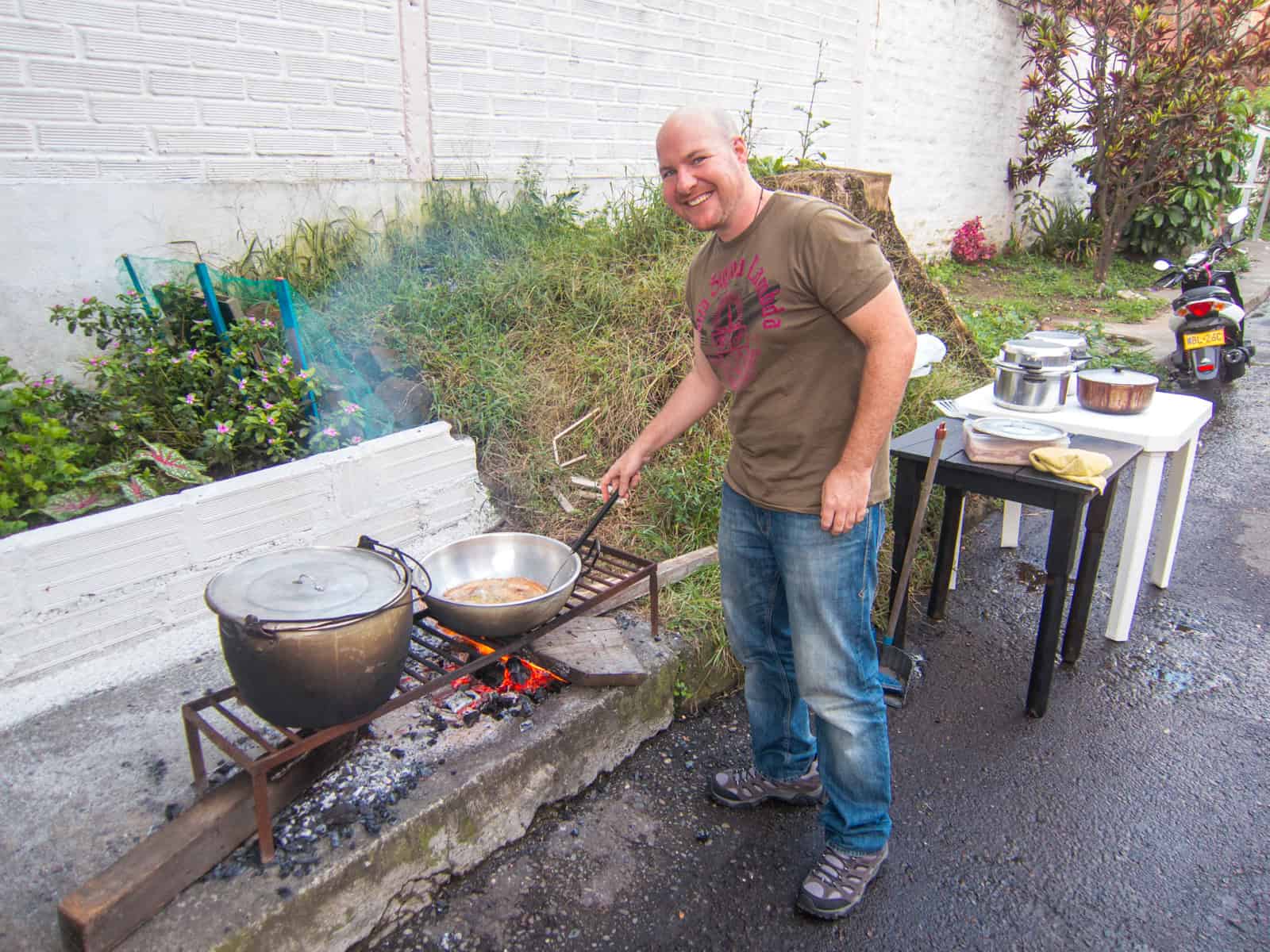 In this guide to Colombian cuisine, we'll take a closer look at the most common foods you'll see during a visit to the country.
I challenge you to try everything on our Colombian food list!
Snacks and Street Food
Street food in Colombia is everywhere and a common part of daily life for many locals.
Vendors come out in large numbers for outdoor concerts, festivals, and special events.
It's an incredibly cheap, albeit unhealthy, way to eat. However, chances are good you'll try at least a few of these items during your stay.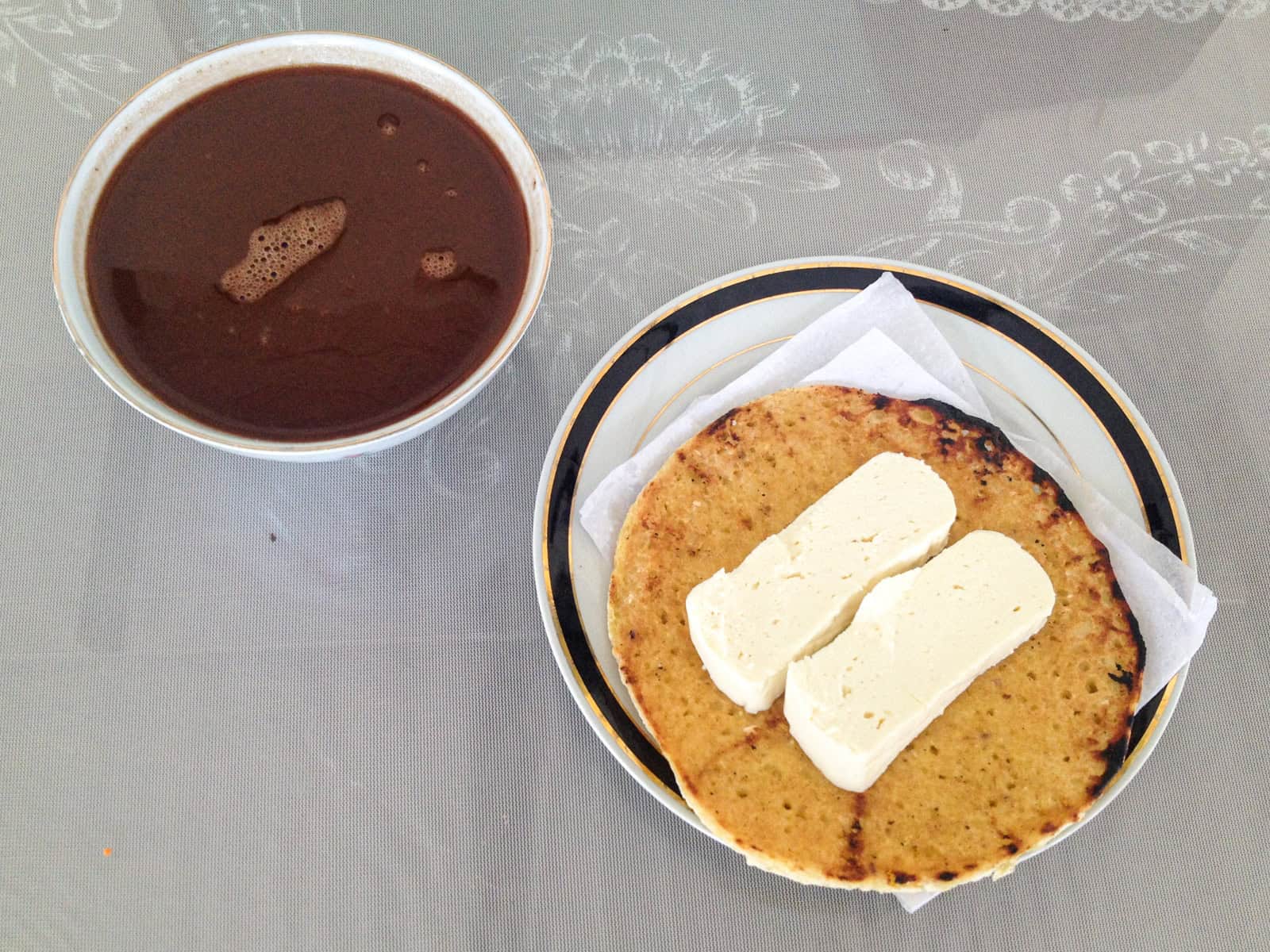 Arepas
Arepas are a ubiquitous Colombian food. They're served with every meal — breakfast, lunch, and dinner, whether at home or in a restaurant.
Made of ground corn dough or flour, arepas con queso (with cheese) are best sampled from street vendors.
Recipes vary by region. In Medellin, for example, you can expect to have sweetened condensed milk drizzled on top, which offers a counterbalance to the saltiness of the cheese.
They're super heavy and make for a highly-caloric, but tasty treat after a night out at the bars.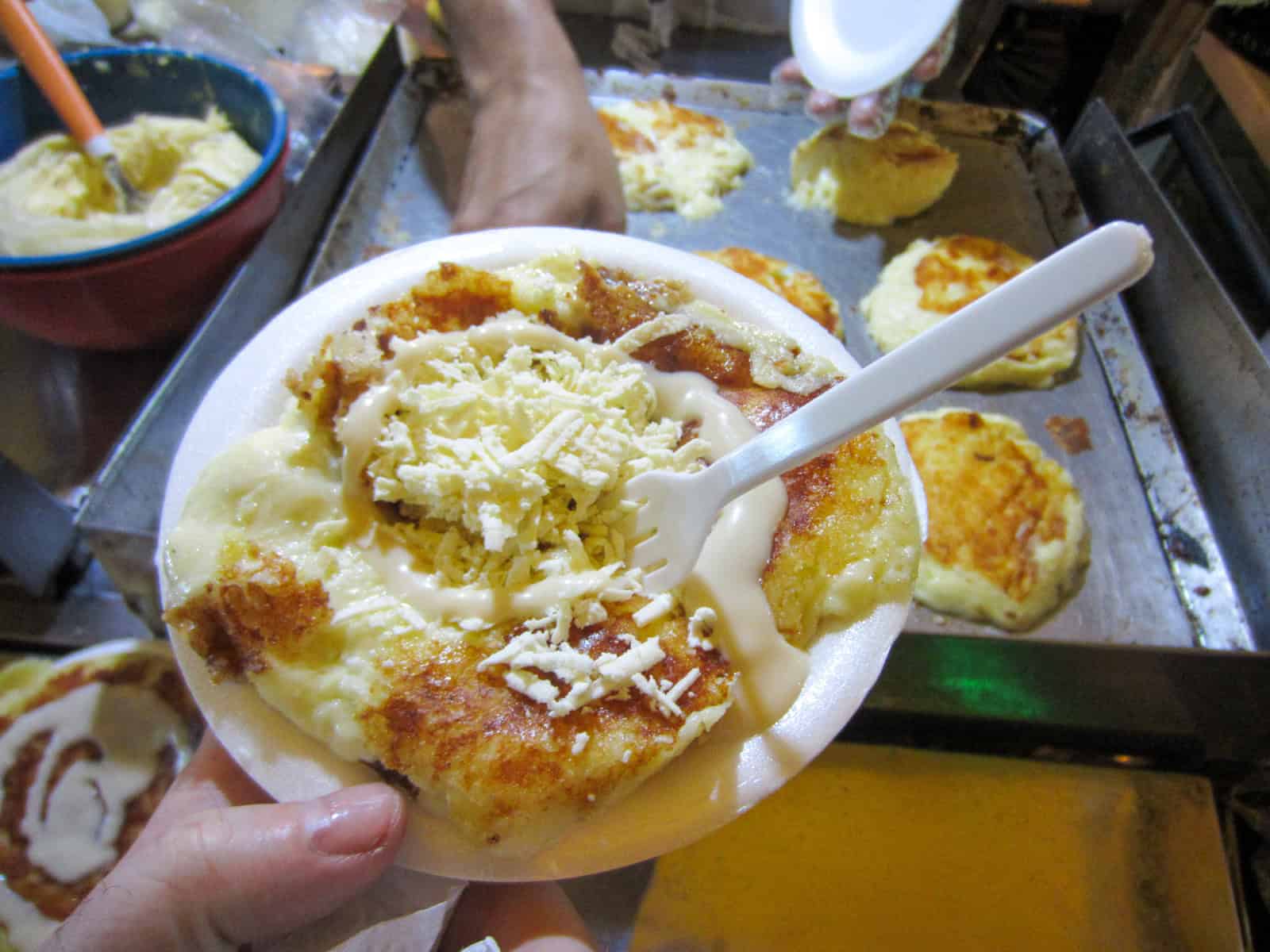 Types of Colombian Arepas
Arepas Blancas – white corn arepas typically topped with butter and cheese.
Arepas de Choclo – made with sweet corn, and with a softer consistency more like that of a pancake. Often topped with cheese.
Arepa de Huevo – a yellow corn arepa with an egg inside, typical of the Caribbean coast.
Arepa de Queso – an arepa with cheese.
Arepa Boyacense – a yellow, slightly sweet arepa often filled with cheese from the Boyaca region.
Arepa Santandereana – a yellow corn arepa made with chicharron (pork belly) and cassava from the Santander region.
When I first arrived in Colombia, I wasn't a big fan of arepas, however, after living there, I grew to appreciate them.
Know they're not all made the same. Small, thick ones can be as dry as cardboard and not worth eating, but others made with copious amounts of butter, cheese, or pork fat can be incredibly flavorful.
Now that I'm back in the US, I sometimes miss my morning arepa with eggs and cheese.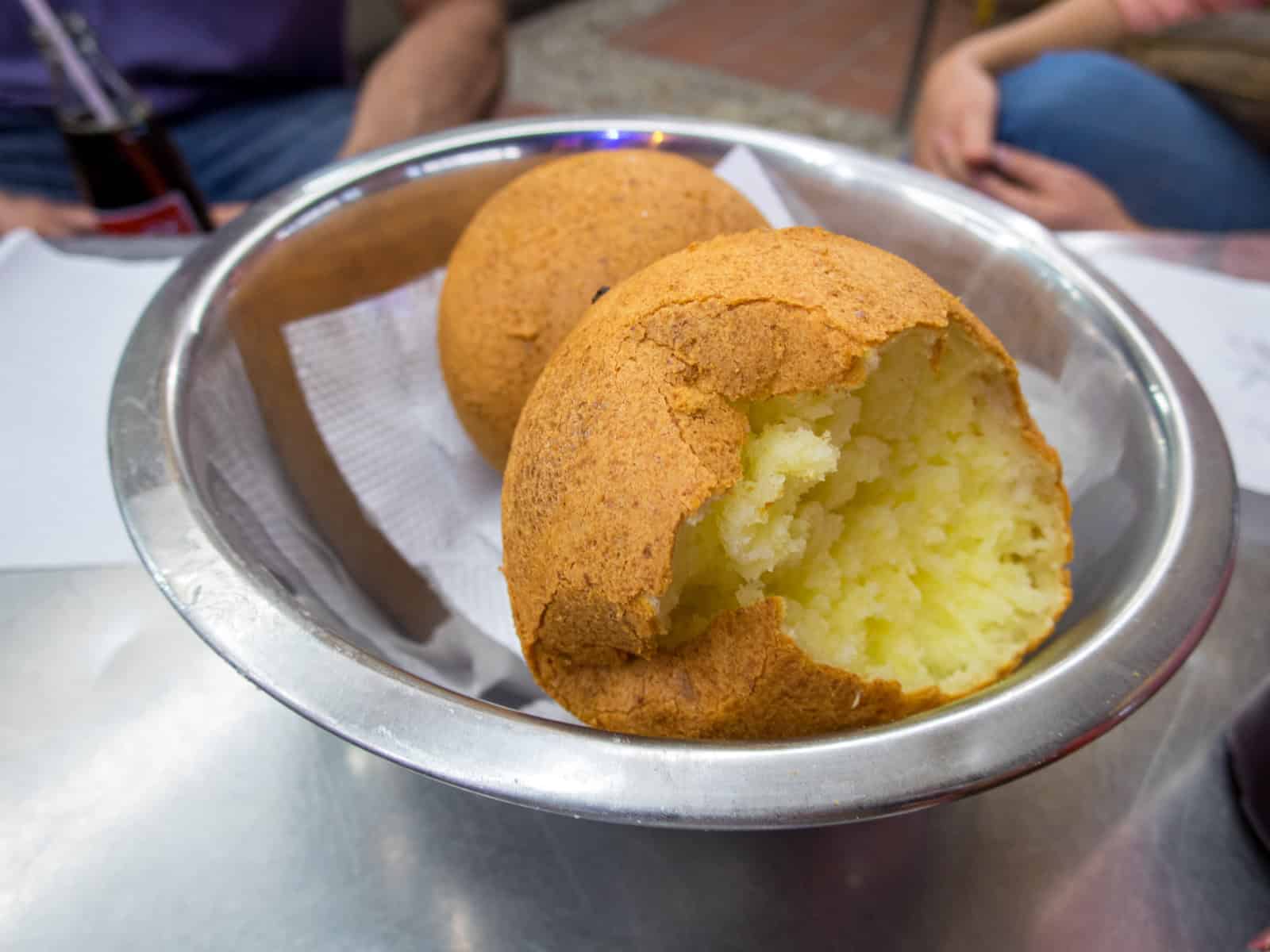 Bunuelos
One of my favorite Colombian snack foods is the bunuelo, a ball of dough and white cheese that's deep-fried.
The result, when done well, is pure heaven. The outer crust is slightly firm and crisp.
Bite through and you'll hit a soft, fluffy inner chamber. It's salty, a tad sweet, and seriously addictive.
Bunuelos are available year-round, but they're especially popular around Christmas, when they're served with natilla (custard).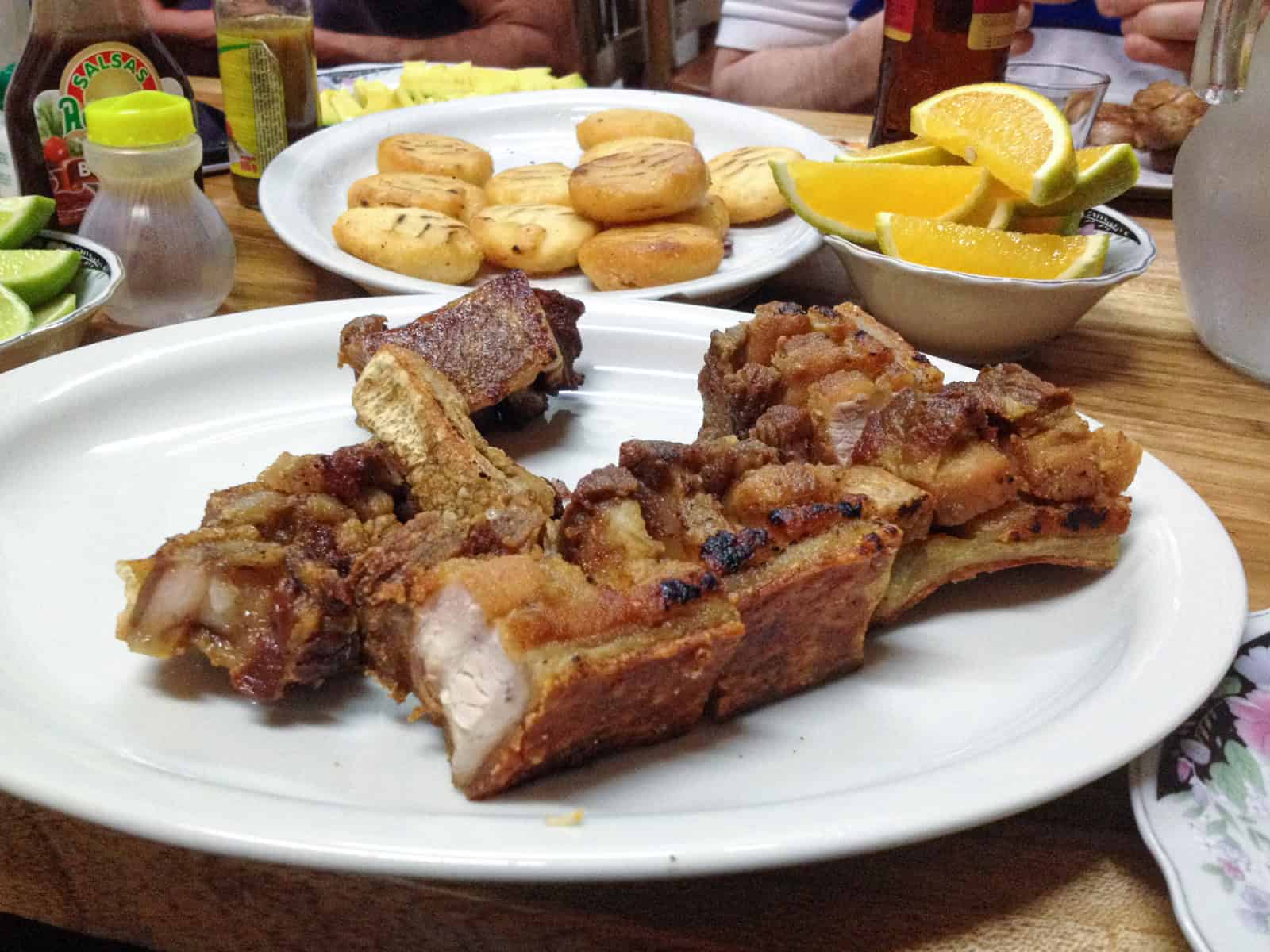 Chicharron
Chicharron is deep-fried pork belly, and Colombians LOVE it.
This pork product is a key ingredient in bandeja paisa, the star dish of the Antioquia region (see below for more).
After years of living in Colombia, and mostly avoiding this deep-fried pork fat, I discovered it can be satisfying if you know where to go.
La Gloria de Gloria in Envigado, just south of Medellin, is one such place.
The chicharron here is a sight to behold — far larger than anywhere else I saw it in my travels around Colombia.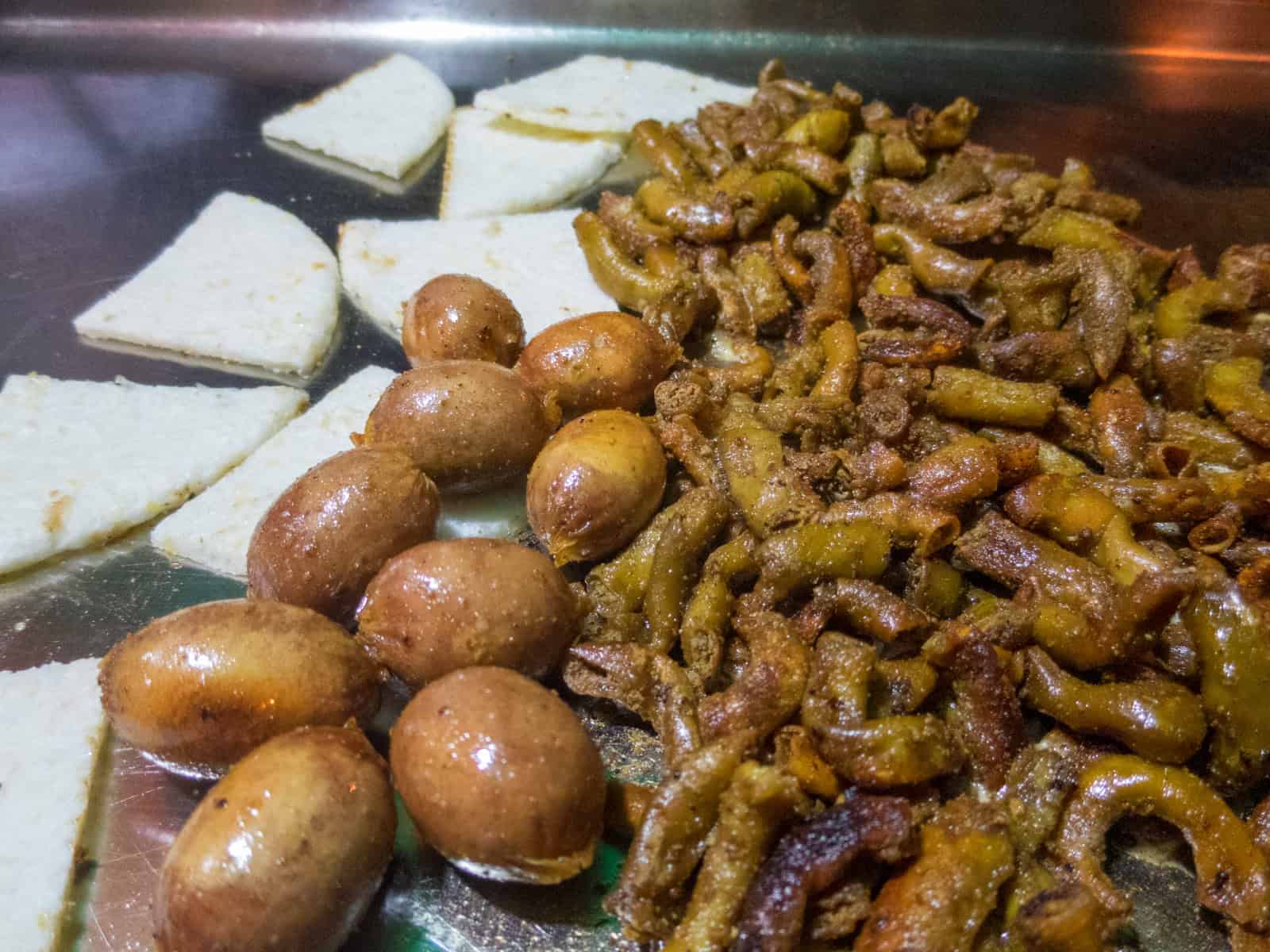 Chunchullo
One street snack I never acquired a taste for is chunchullo, or intestines. Whether grilled or fried, it was all the same to me.
The first time I tried chunchullo was at a street vendor in the picturesque pueblo of Guatape.
It had the consistency of rubber, and I couldn't actually break it down in my mouth. It may not have been sufficiently cooked.
I tried again years later in Envigado during a food tour but still didn't like the taste or texture.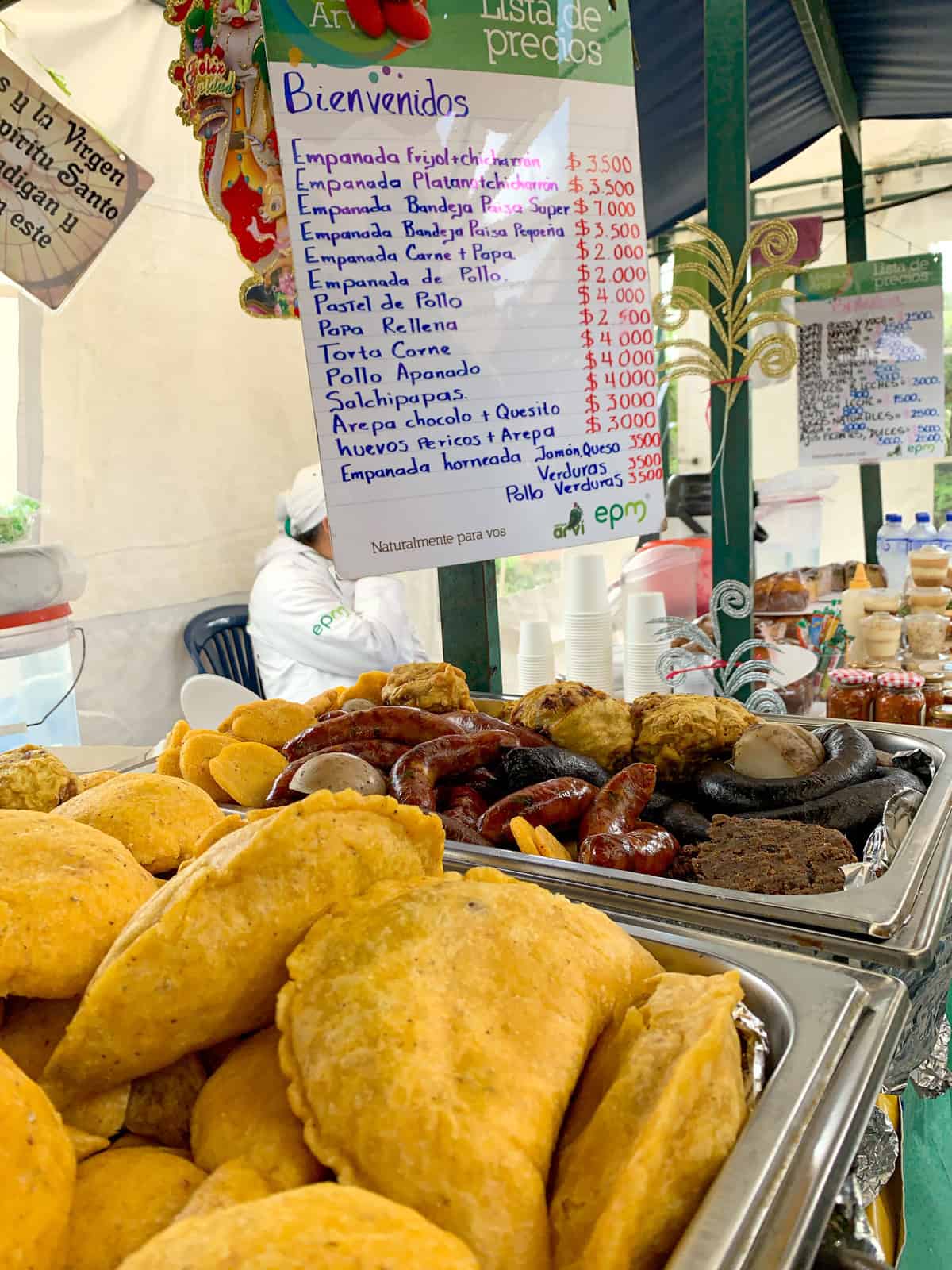 Empanadas
Empanadas are one of the most famous Colombian foods. They're available everywhere, from street vendors to cafes, and restaurants.
They're usually fried, though some cafes offer Argentinian-style baked versions as well.
The most common filling is meat (ground beef); chicken is also widely available.
Colombian empanadas are best enjoyed with a dollop of fresh salsa, usually provided by the vendor.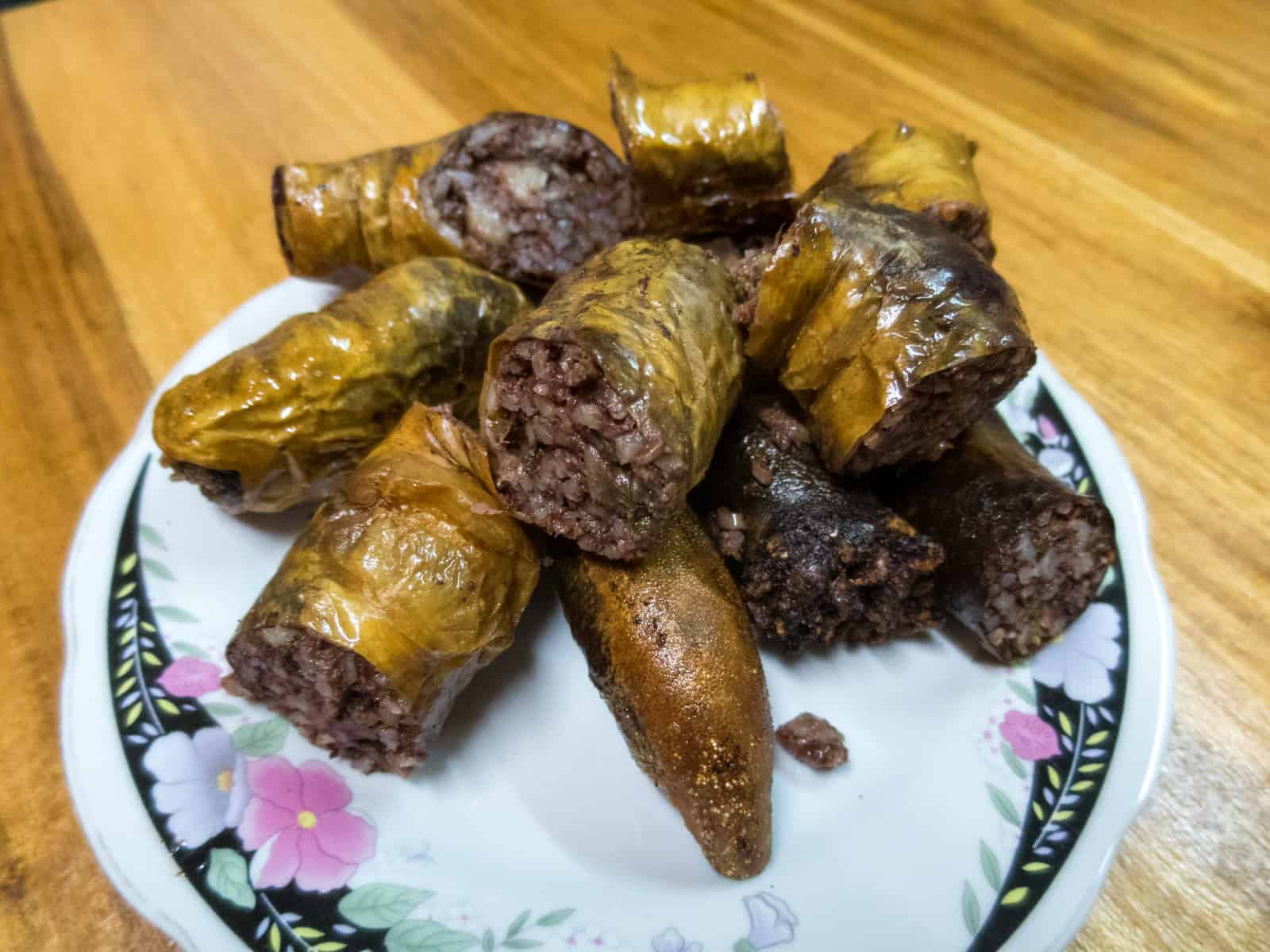 Morcilla
Morcilla is a type of Spanish sausage made with pork or beef blood, a starch such as rice, and various seasonings.
The mixture is poured into the intestines and then cooked in oil.
I consider blood sausage, also known as black sausage, to be another acquired taste.
Salchichas
A more palatable Colombian food option for many visitors will be salchichas, or various kinds of sausage that are chopped up and served with dipping sauces or ground pepper.
For home chefs, you can cook smoked meat or fish with an electric smoker in your backyard.
Soups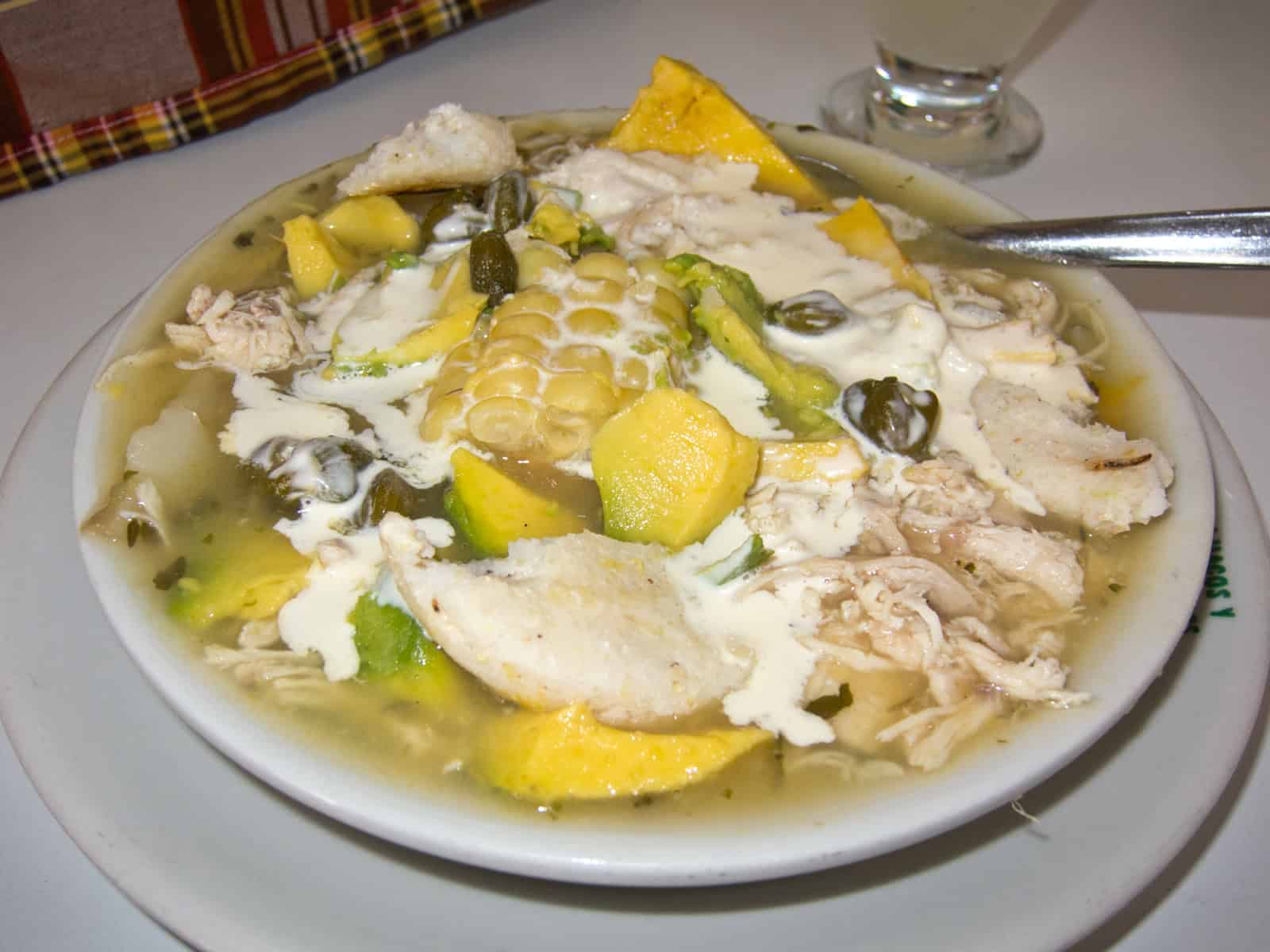 Ajiaco
Ajiaco is a heavy, potato-based soup that originated from Bogota.
Additional ingredients include shredded chicken, corn on the cob, capers, and cream.
Ajiaco is typically served with a side of rice and fresh avocado, which are then be added to the soup.
Where to Eat It: Just off Bogota's Plaza Bolivar is a small strip of Ajiaco restaurants, all claiming to have the world's best.
Pick one, and prepare to fill your stomach with the best soup in Colombia.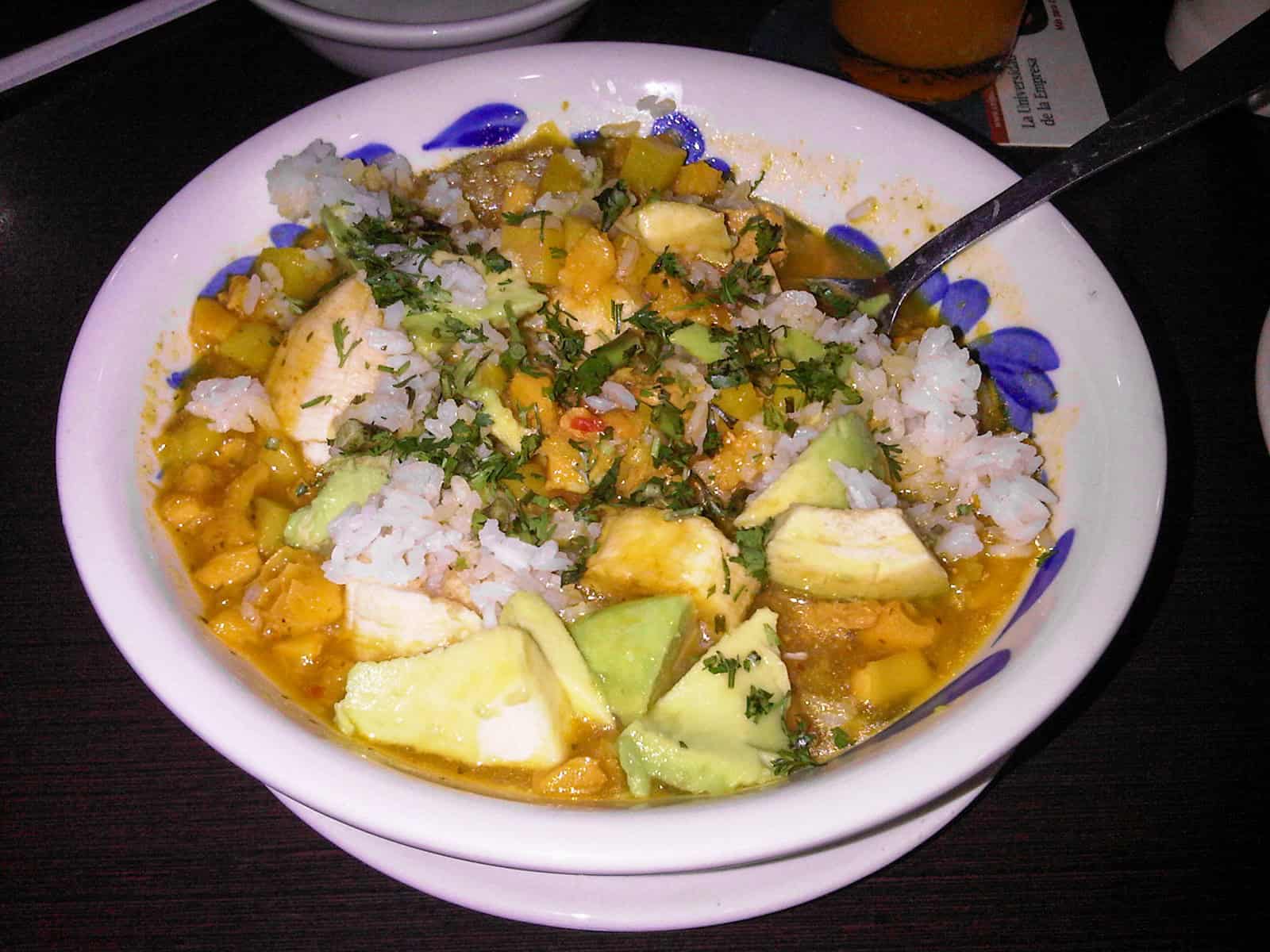 Mondongo
Another hearty soup, especially popular in Medellin, is mondongo.
The base is chopped tripe (stomach lining or intestines) in a broth, however, it is always served with accompaniments for mixing, including rice, avocado, bananas, and fresh cilantro.
Where to Eat It: Mondongo's is a restaurant chain in Medellin that specializes in this traditional Colombian food.
There is a prominent location on Calle 10 near Parque Lleras in the Poblado neighborhood.
Sancocho
A typical stew found throughout South America, sancocho is a common Colombian dinner food.
Along the coasts, it's made with fish, while in the mountains, chicken is favored.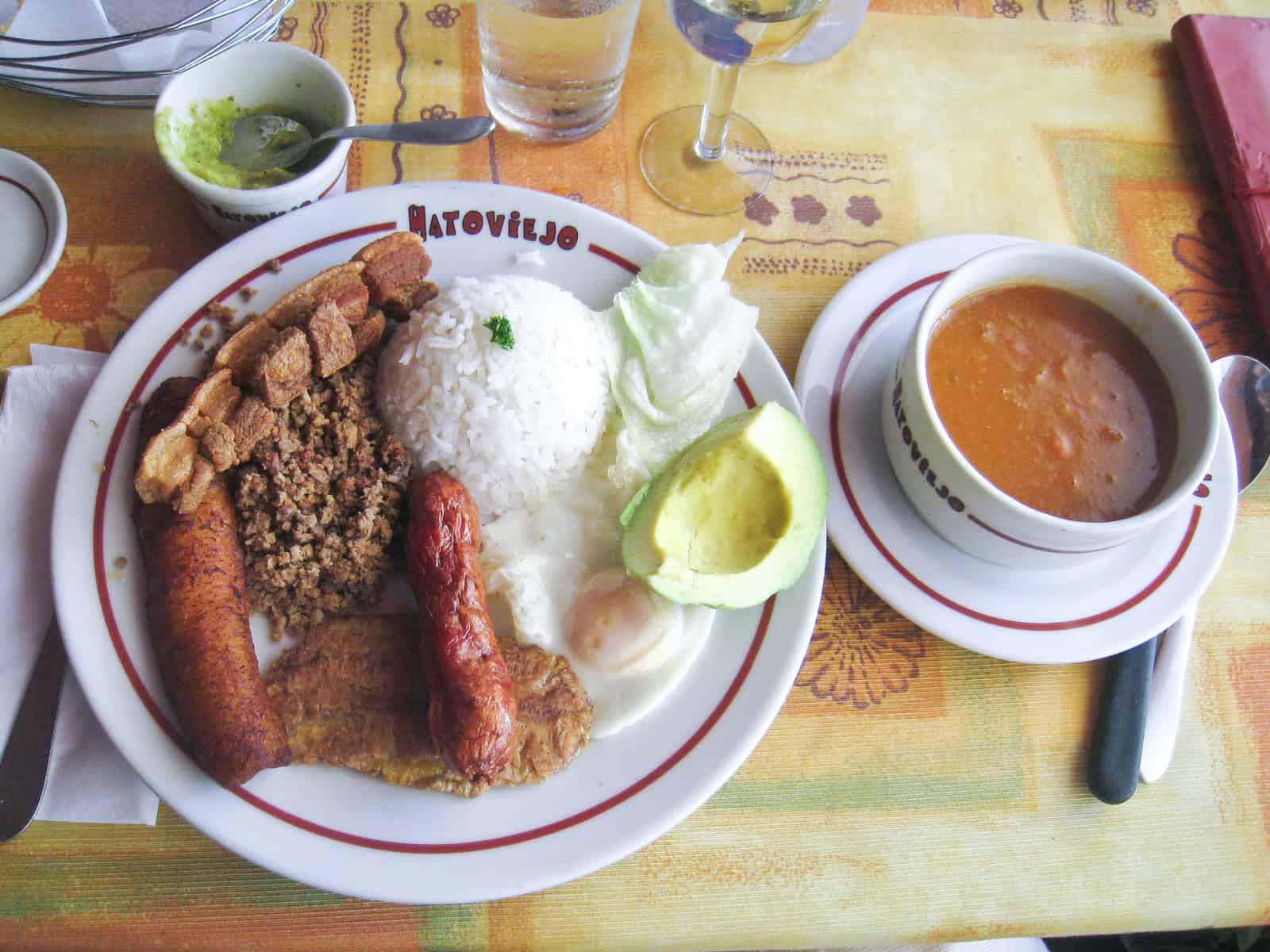 Main Dishes
Bandeja Paisa
Bandeja Paisa is a traditional Antioquian dish consisting of beef, pork or chicken, chorizo, chicharron (pork fat), fried plantains, a fried egg, refried beans, rice, avocado, and a small salad.
This larger-than-life Colombian dish is hard to finish, and probably contains a month's worth of cholesterol.
A popular time to indulge in bandeja paisa is for Sunday lunch. And if you eat it all, it can certainly be enough to last you until the next day.
Where To Eat It: Bandeja Paisa is best sampled in the state of Antioquia. In Medellin, head for Brasarepa Restaurant in Envigado, where Anthony Bourdain filmed a scene for the Colombia episode of No Reservations. Also, Hato Viejo has multiple locations in Medellin.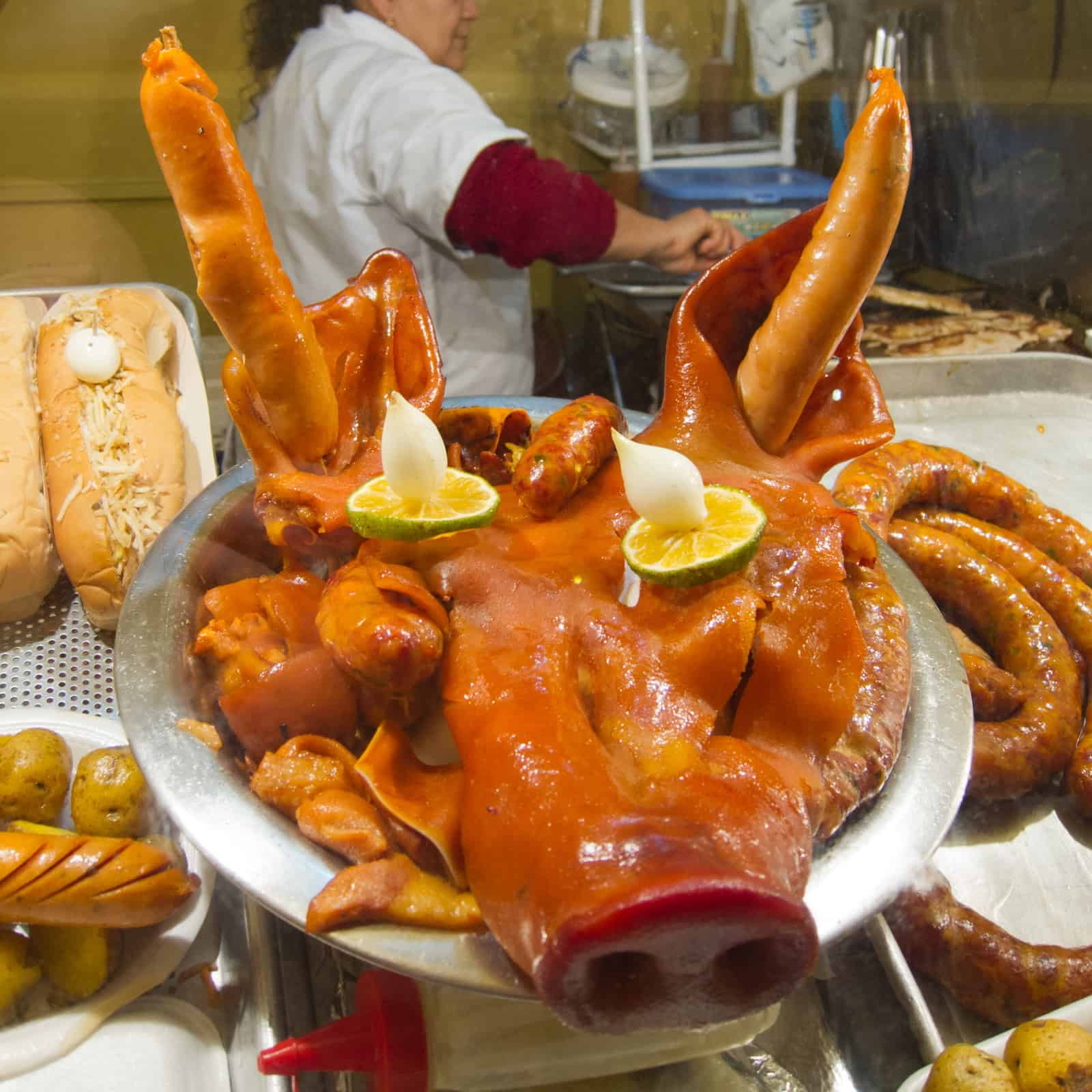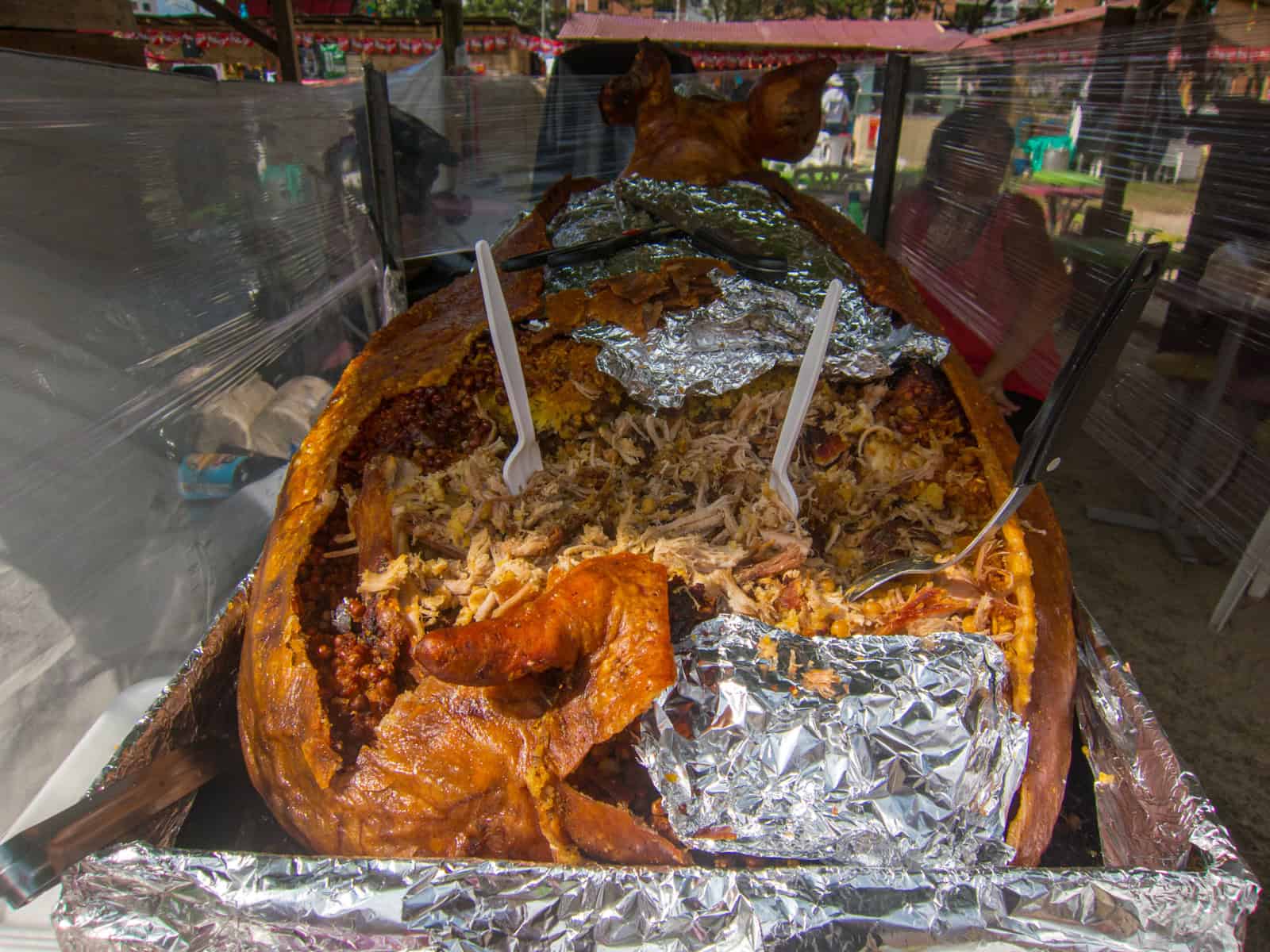 Lechona
Roast pig, known locally as lechona, is a Colombian food favorite.
The pig is roasted over an open fire, and then the meat is chopped up and served out of the pig's body!
Lechona is popular in December around the holidays, and it's common for families to purchase a pig and cook it themselves in the streets of their neighborhoods.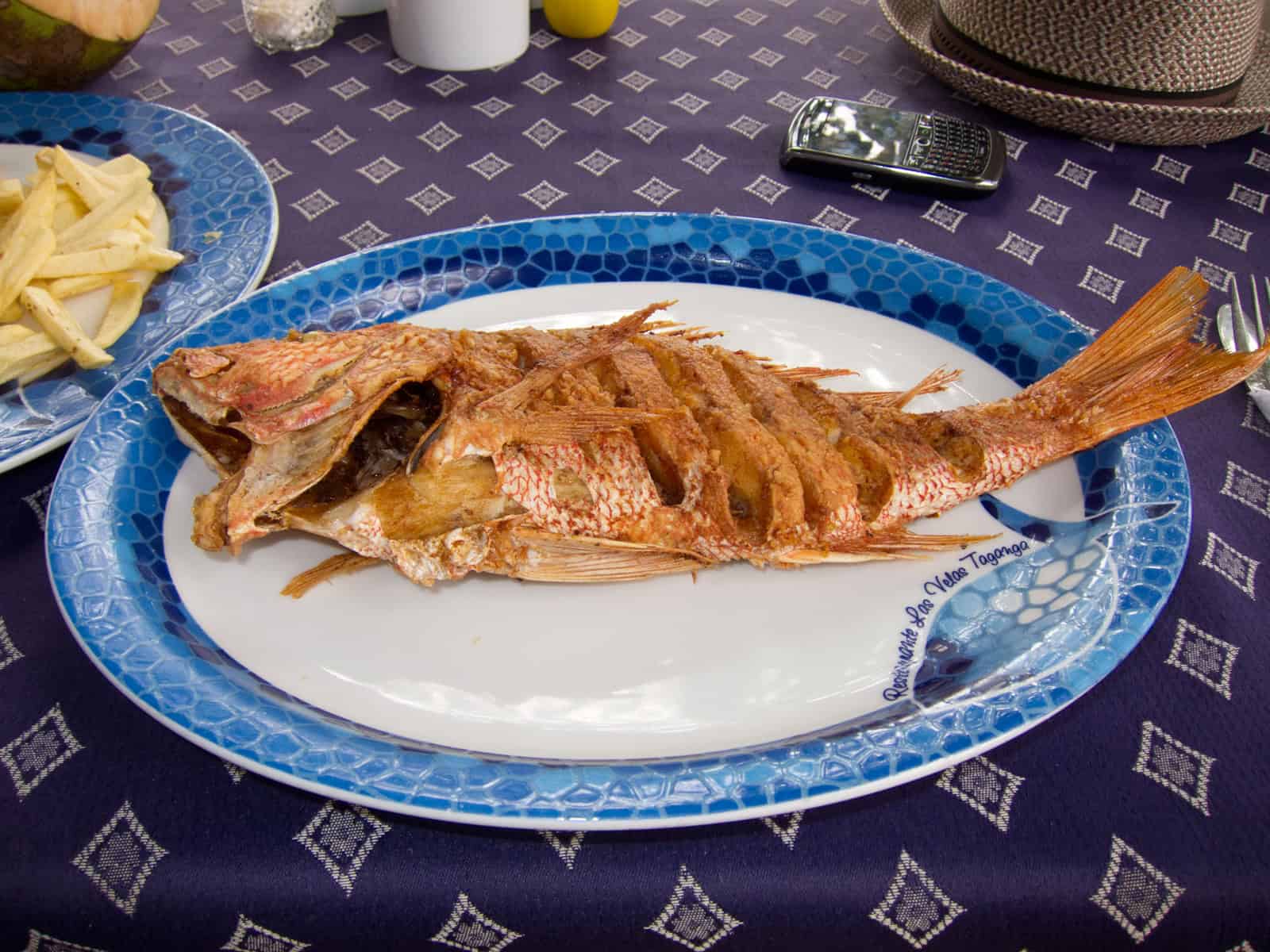 Pescado Frito
You might be surprised to find pescado frite (fried fish) on the menu throughout Colombia.
Obviously, fresh fish is available along the Caribbean and Pacific coasts.
I'm fond of the pargo (fried snapper) served with coconut rice along the Caribbean coast.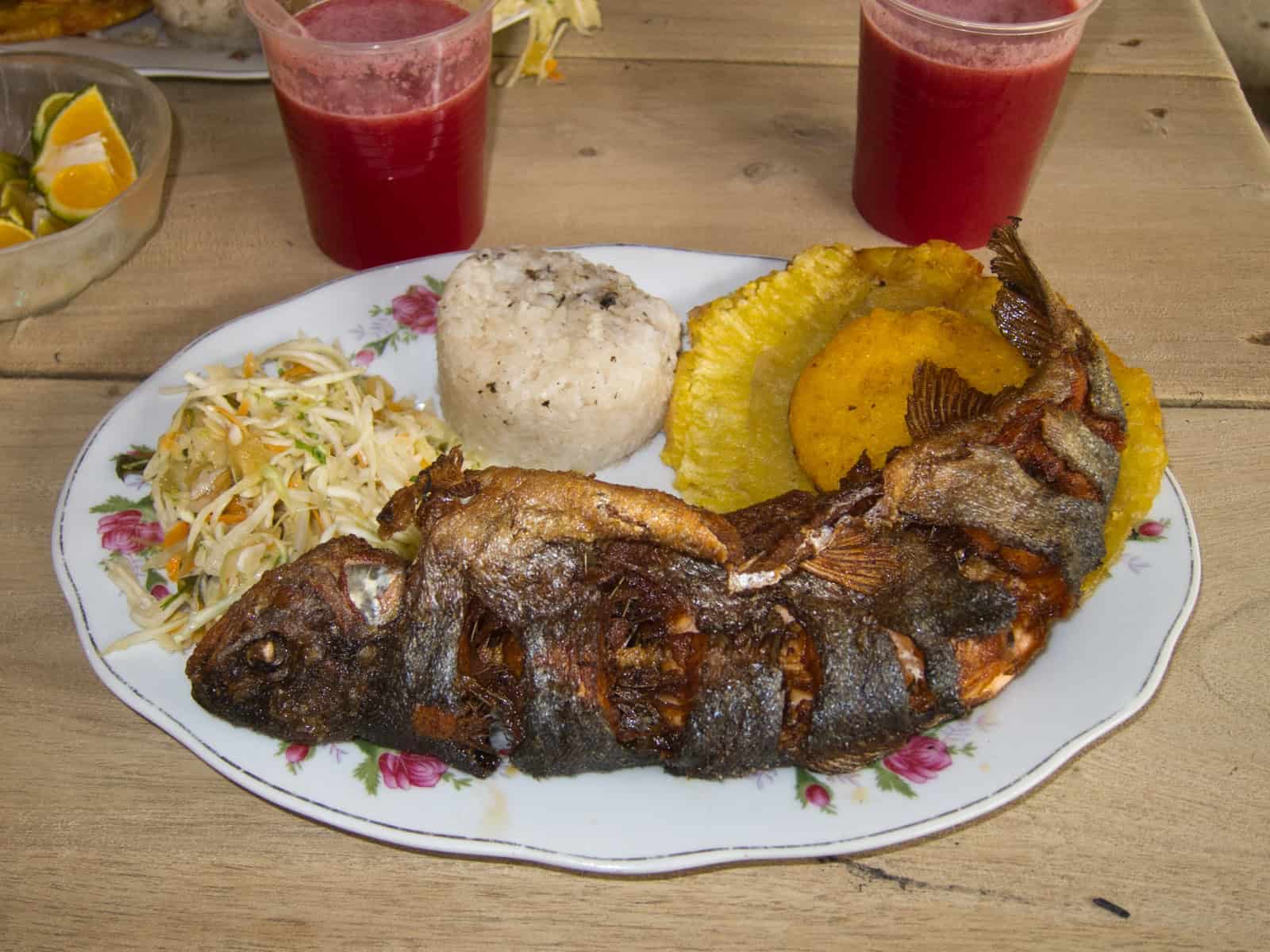 Inland, and even in the mountains around Medellin, trout farms are common.
Trucha is the Colombian word for trout, which is often served in the pueblos.
Most restaurants will offer a variety of preparations to choose from, and it's typically served with a large, fried plantain and white rice.
Where to Eat It: Trucha is best experienced in the pueblos of Colombia, such as Salento, or at a trout farm in Jardin.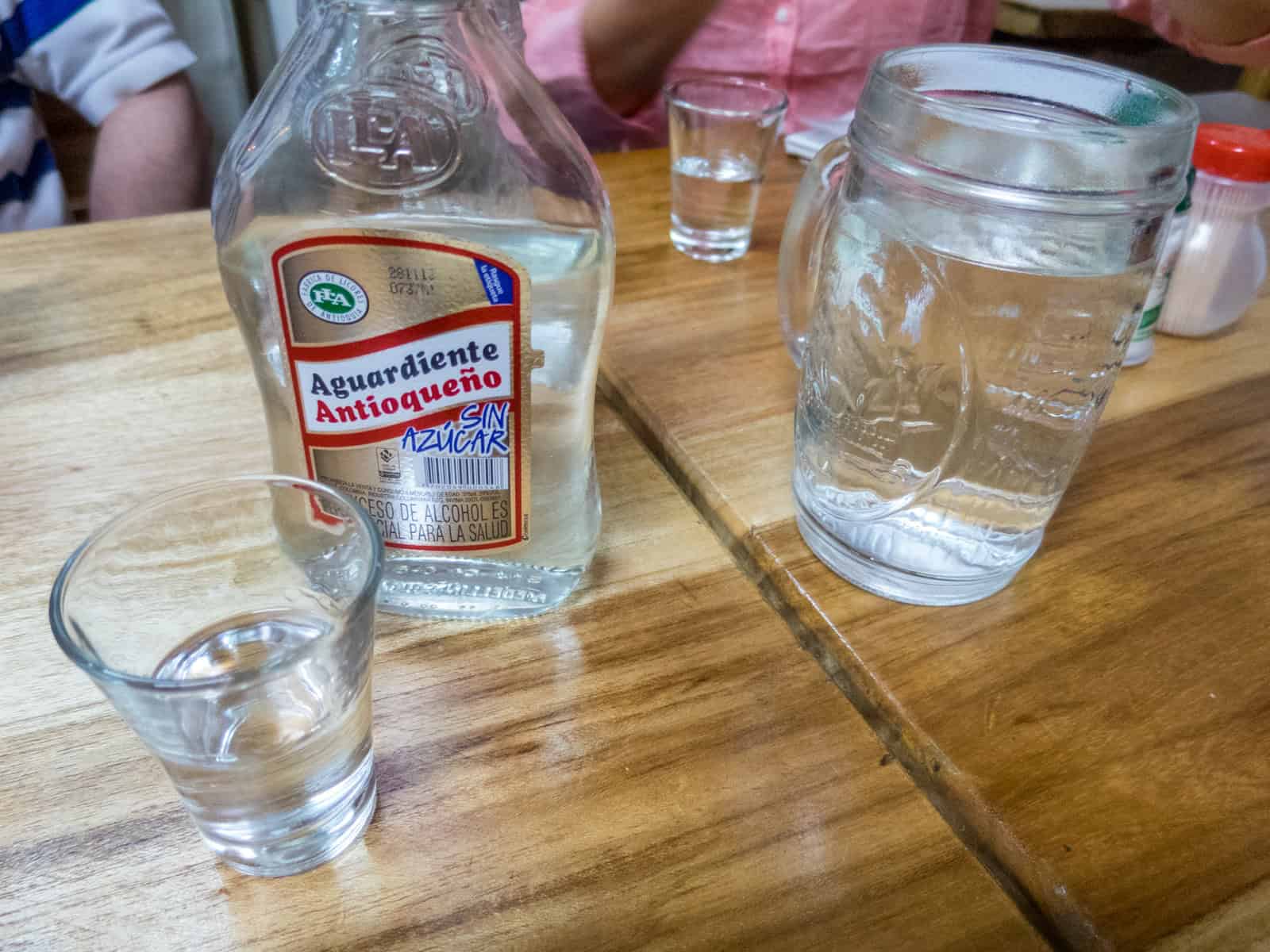 Drinks
Aguardiente
Aguardiente (or guaro as the locals call it) is a clear, anise-flavored (black licorice) alcohol that is available throughout the country.
Inexpensive, and according to the locals, less likely to give you a hangover compared to other liquors, it is usually consumed straight and chased with water.
Small plastic cups are used for dishing out shots of Aguardiente, and it's common for Colombians to offer the drink to new friends in the bars and clubs.
Aguardiente Antioqueno is the brand most common in Medellin, which is the capital of the Antioquia department.
The regular version has sugar. If you see "Sin Azucar" that means it's the version without sugar. It's worth trying both to see which you prefer.
Where To Drink It: Any Colombian bar or discoteca, or buy a bottle from a convenience store and enjoy it with friends outdoors (drinking in public is legal in Colombia unless otherwise indicated).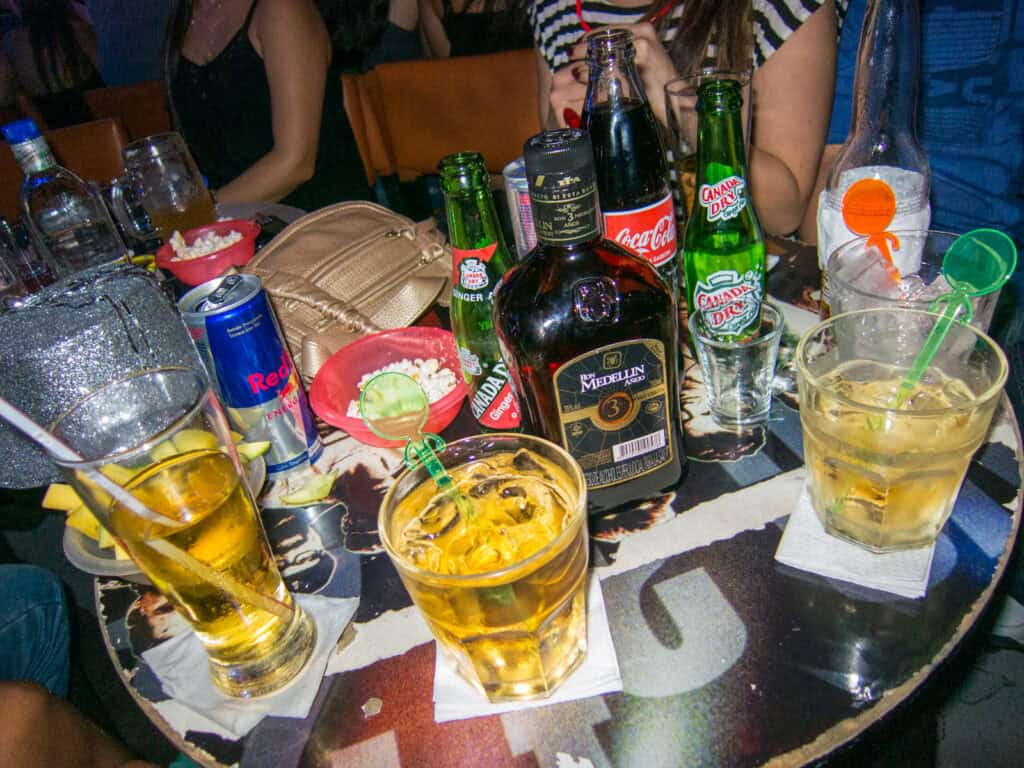 Rum
Like any good Caribbean nation, rum is appreciated and widely available in Colombia.
For those who don't like Aguardiente (me), you can rest easy knowing there's an alternative.
Each region of the country produces its own variation.
Since I lived in Medellin, I drank Ron Medellin Anejo whenever I'd go out to dance clubs with dates or friends.
We'd often get the cheapest version (3 years) since it's common to mix it with something like Canada Dry ginger ale (my preference), Coke, or Red Bull.
In Cali and the Valle del Cauca department, they drink Ron Viejo De Caldas, which I preferred to the Medellin brand.
Dictador is a Colombian rum brand from Cartagena that dates back to 1913.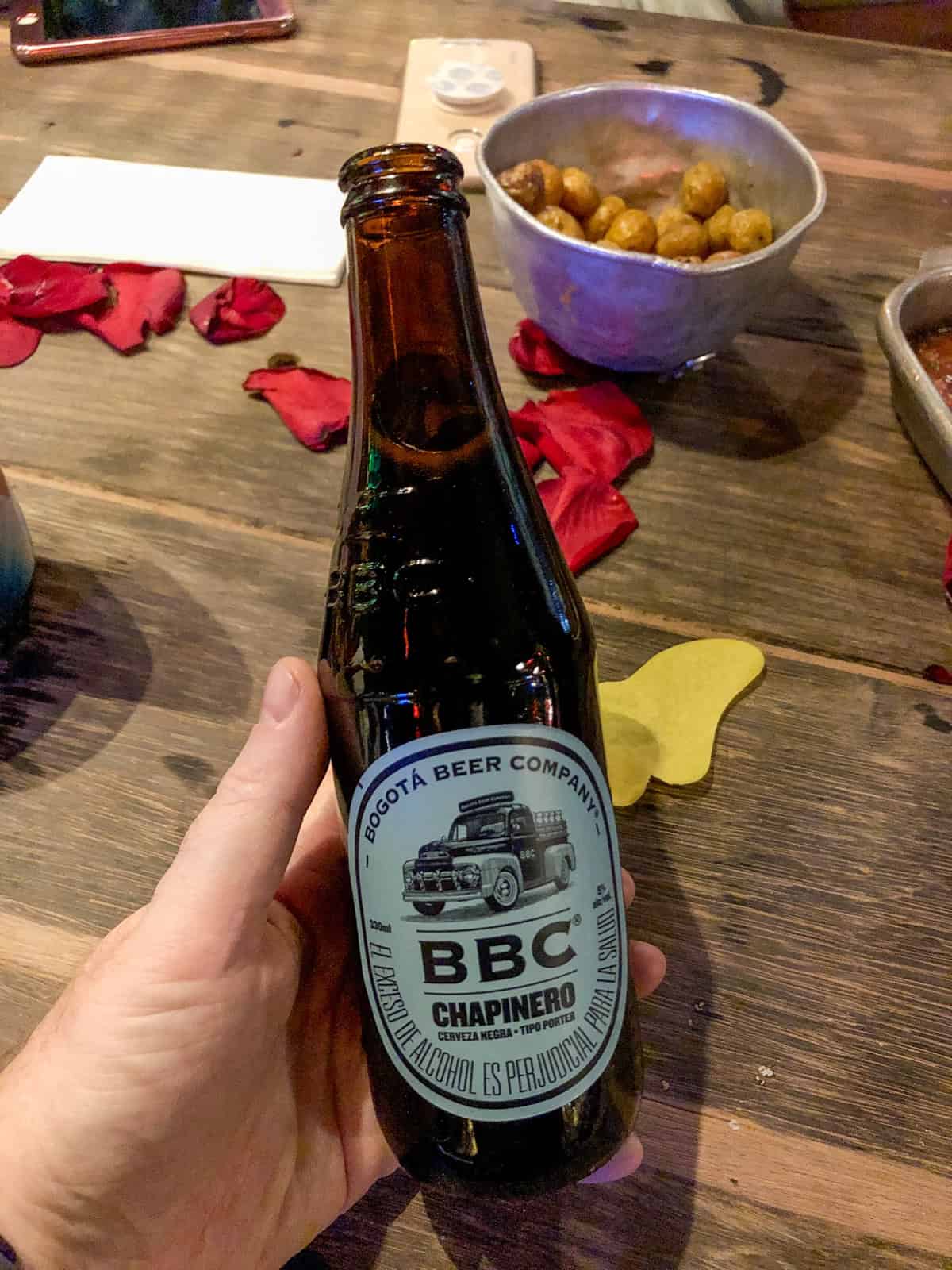 Beer
Since I first arrived in Colombia in 2009, the country has seen a modest increase in craft breweries, both big and small.
This is a welcome change from the monopoly big brands have had on the market (think Colombian versions of Budweiser and Coors).
My favorite Colombian beer to date is the Chapinero Porter by Bogota Beer Company.
Medellin is home to two big brands in 3 Cordilleras and Apostol, as well as a handful of neighborhood microbreweries that fit in the back of bars.
Whichever craft brew you choose, it's sure to deliver more flavor for the extra pesos you pay.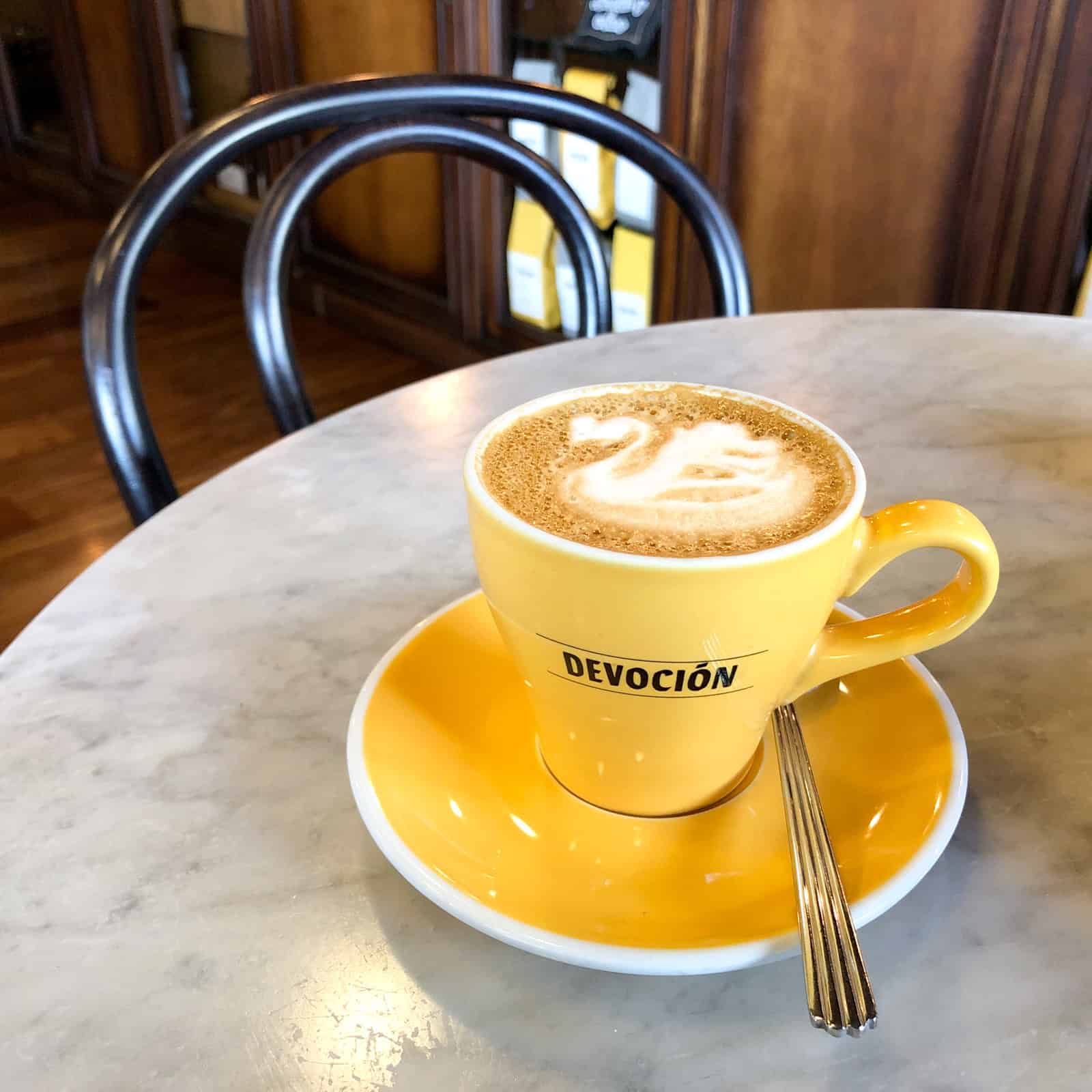 Coffee (Tinto)
Colombia is famous for its coffee, and whether you drink it regularly at home or not, be sure to sample it while visiting the country.
Tintos are very small cups of coffee that are often sold on the streets, out of thermoses.
Sometimes you'll see vendors rolling shopping carts down the street with a dozen or more thermoses, trying to keep up with demand.
The chain of Juan Valdez Cafes is the Colombian equivalent of Starbucks and offers free Wi-Fi to customers.
In the last decade, higher-end cafes have begun to spring up in major cities, catering to tourists and well-to-do Colombians.
Where To Drink It: Everywhere! Sample the typical tinto from a street vendor, an iced coffee from a Juan Valdez Cafe, and from the source, on a coffee plantation in Colombia's Eje Cafetero (coffee region).
One of my favorite spots is the Colombian-owned Pergamino Cafe in Medellin.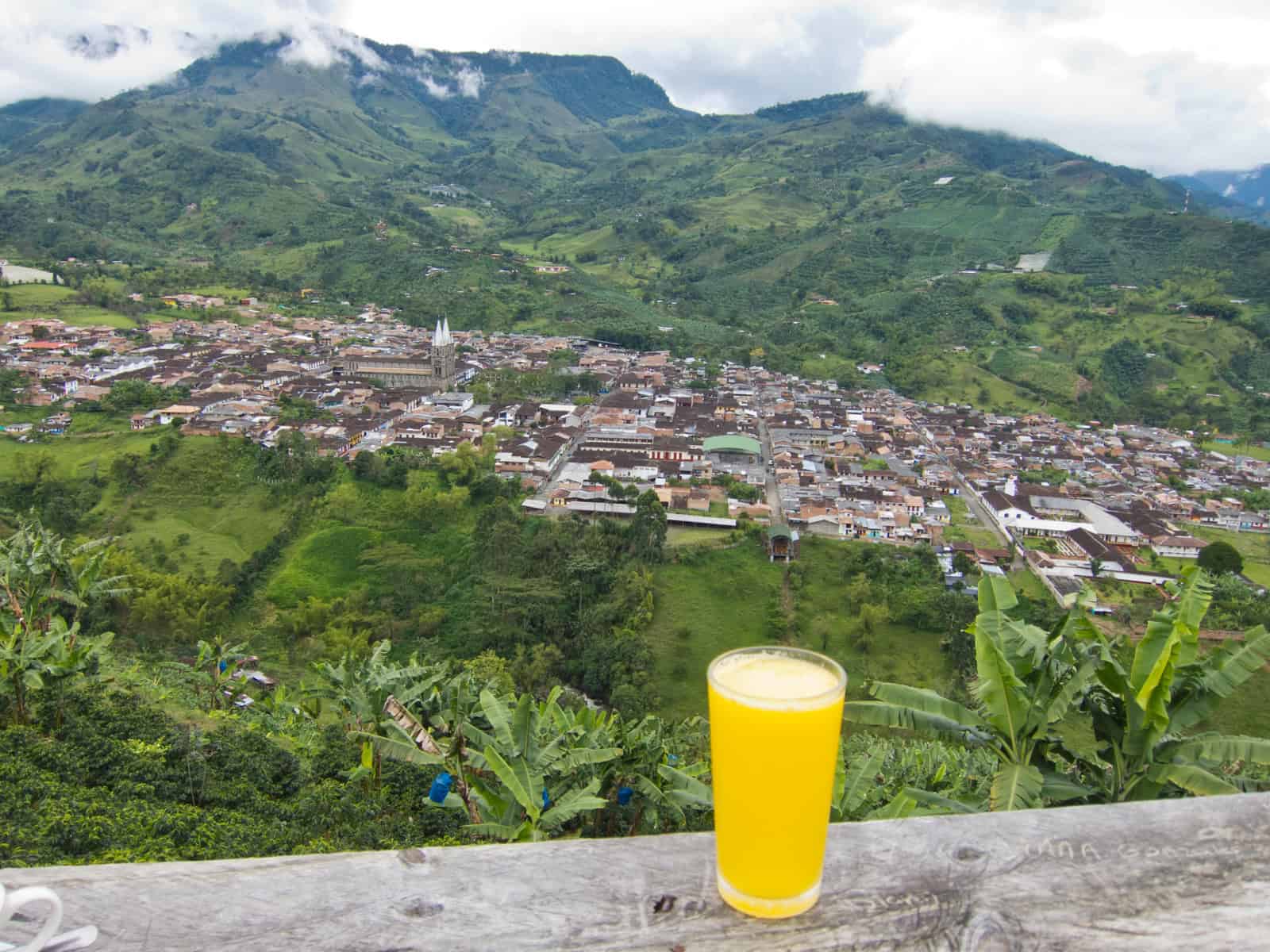 Fresh Fruit Juices
Blessed with a wide variance of climates, all within the same country, Colombia's selection of tropical fruits is off the charts.
And that most can be ordered in the form of fresh fruit juices, for no more than a dollar or two, makes sampling them all a pleasure.
The most commonly available fresh fruit juices (made with water or milk) are:
Banana
Mango
Orange (naranja)
Strawberry (fresa)
Raspberry (mora)
Pineapple (pina)
Passion fruit (maracuya)
Soursop (guanabana)
It can also be fun to order cocktails made with fresh fruit.
Where To Drink It: Everywhere, but especially along the Caribbean coast and beaches.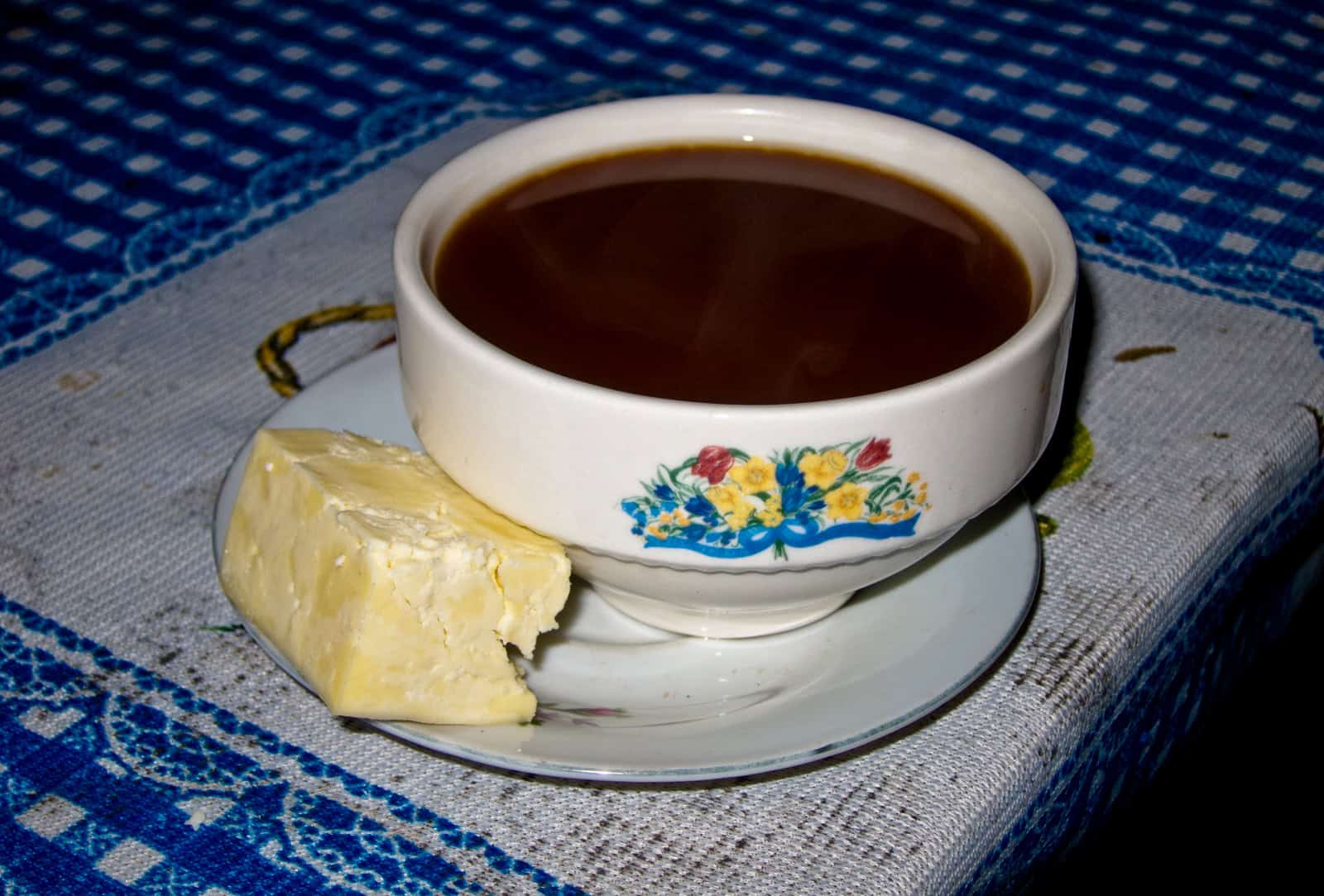 Hot Chocolate and Cheese
It might seem odd to some foreigners, but hot chocolate and cheese is a typical Colombian food combination that's surprisingly delicious.
Traditional Colombian hot chocolate is made without added sugar or milk, as is common in Western countries.
Drop in pieces of large cheese, and allow them to soak up the flavor for a minute before fishing them out with a spoon.
Where to Drink/Eat It: Look for it on the menu at restaurants, or if you hike or go horseback riding in the Valle de Cocora, order it at the rest stop where you can watch the hummingbirds.
***

Dave's eBook
The 138-page, all-original Medellín Travel Guide by David Lee is available for Kindle and PDF.
Last Updated on February 21, 2022 by Dave Lee
Dave is the Founder and Editor in Chief of Go Backpacking and Feastio. He's been to 66 countries and lived in Colombia and Peru. Read the full story of how he became a travel blogger.