Uruguay is known primarily as a summer beach destination for Argentinians, Brazilians, and other travelers from Latin America. Therefore, many of the best things to do in Uruguay are by the beach.
While it may not be as big as its neighboring countries, it has its own spirit and culture.
Uruguayans are most passionate about their meat, mate, and football (soccer), so if you experience nothing else, aim to incorporate these three themes into your visit.
Top 10 Things to Do in Uruguay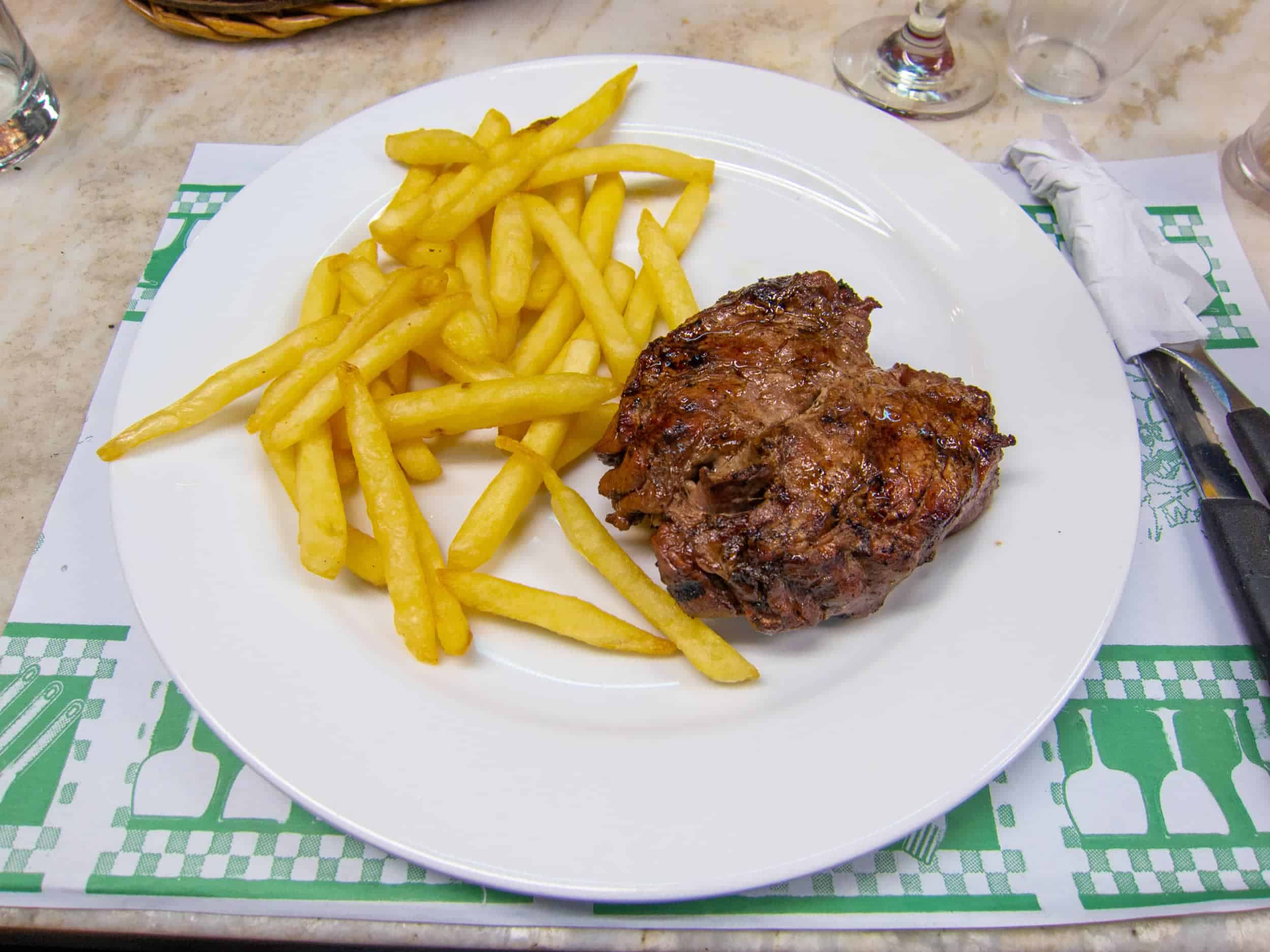 1. Eat Steak at Mercado del Puerto
Mercado del Puerto is an old, covered market filled with a dozen or so restaurants grilling steaks and various cuts of meat all day long.
The food is excellent, but the dark, smoky atmosphere is what makes this one of the best places to visit.
If you don't stay for lunch, at least try one of the free samples of medio y medio, an Uruguayan sparkling wine, being given out.
The market is located at Piedras 237 in the Old City (Ciudad Vieja). Due to its proximity to the sketchy port area, it's best to get directions from your hostel or hotel, and not wander off into the side streets.
Fans of Anthony Bourdain should know he filmed a segment for his Uruguay episode of No Reservations here.
2. Walk La Rambla
Uruguayans love to get outside and walk when the weather is nice.
La Rambla, the 14-mile (22-kilometer) boardwalk winding along the coast of the Uruguayan capital and largest city, Montevideo, is the perfect place to get exercise and people-watch.
Be sure to walk past Pocitos, one of the best beaches and one of the most popular places in the city; it's easily accessible from the Old City.
3. Watch a Football Match
Life in Uruguay comes to a standstill for football games, especially the national ones. Back in 1930, Uruguay won the first World Cup at Estadio Centenario.
The historic structure features a football museum and can seat 65,000 people.
4. Celebrate Carnival
Every February, Montevideo, and Uruguay play host to colorful Carnival celebrations—it's one of the best things about Uruguay.
Parades and parties are on a smaller scale than Brazil, though that's not necessarily a bad thing.
Just be sure to watch your pockets as thieves prefer to operate amongst the large crowds of tourists.
5. Party in Punta del Este
Punta del Este hosts wealthy vacationers from Argentina and Brazil from late December to February
They come by boat and plane to soak up the sun at the best time of year on Bikini Beach, and party until sunrise at the nearby dance clubs in La Barra.
The cost of accommodation skyrockets during this time, with luxury apartments going for thousands of dollars per week.
Luckily, there are a few hostels in Punta Del Este, where you can still grab a dorm bed for a relatively cheap $20 – $30 per night.
6. Go Off the Grid in Cabo Polonio
Cabo Polonio is a small fishing village a few hours east of Punta del Este by bus. Aside from the lighthouse, which is still in operation, there was no outside electricity available when I visited.
Residents depended on renewable sources of energy, including solar panels and small, modern windmills. Drinking water was collected from wells.
January is the busiest month when the cost of a bed triples to at least $30 per night, and the hamlet is filled with an international mix of hippies from South America and around the world.
For the rest of the year, you can still stop by Cabo Polonio to enjoy the laid-back atmosphere. A few hostels stay open year-round; however, you'll have to cook for yourself.
If you're looking to go off grid, also check out Santa Teresa National Park (Parque Nacional Santa Teresa), an excellent place for nature lovers, full of sand dunes, palm trees, and hot springs.
It's a few hours up the Atlantic coast from Montevideo, the capital of Uruguay, making it perfect for a road trip.
7. Relax at the Beach in Punta del Diablo
Further east of Cabo Polonio, and a stone's throw from the Brazilian border, Punta del Diablo offers visitors beautiful beaches, waves for surfing, and wind for kiteboarding.
During the summer, it's another vacation hotspot, though still closer to the vibe of a fishing village than Miami-esque Punta del Este. Still, I recommend you check out these popular hostels to book your bed in advance.
8. Discover Historic Colonia del Sacramento
Colonia is the oldest city in Uruguay, and the historic district, or old town, is listed as a UNESCO World Heritage Site.
Popular to visit as a day trip from Buenos Aires, people's opinions of Colonia del Sacramento vary from "must-see" to "overrated."
Regardless of who you believe, most agree that this small town requires little more than a half-day to explore.
It's a good place to explore when you're looking for something other than one of Uruguay's long sandy beaches or chic beach towns on the Atlantic Ocean.
9. Sample the Mate
Mate is to Uruguay what coffee is to the United States. You'll see Uruguayans clutching a thermos of hot water and their mate cups with a metal straw everywhere you go.
It's popular in Argentina too, but the Argentines tend to drink it more at home, whereas Uruguayans take it everywhere.
Also, unlike Argentina, where sugar is added, the Uruguayans prefer to drink their yerba mate straight, which makes it a lot stronger. It's an acquired taste.
Most of the mate consumed in Uruguay comes from either Argentina or Southern Brazil.
10. Experience the Gaucho Lifestyle
With three cows for every Uruguayan, there's a lot of beef roaming around Uruguay. And the gauchos are there to tend to them.
For visitors to Uruguay looking to go off the beaten track (that is do something other than go to the beach), the best way to do this is by booking a tour and going horseback riding with Gauchos.
Last Updated on June 6, 2022 by Dave Lee
Dave is the Founder and Editor in Chief of Go Backpacking and Feastio. He's been to 66 countries and lived in Colombia and Peru. Read the full story of how he became a travel blogger.