It seems that a few of my Kyrgyzstan-based articles, both here and on my blog, have been inspiring quite a few people to want to travel to Kyrgyzstan.
However, there are still questions, like how to get around the country, popping in my inbox.
Well, I can say that getting around the country of Kyrgyzstan can be an adventure in itself.
Several options are available, from shared taxis to marshrutkas (the minivans) and even long-distance buses.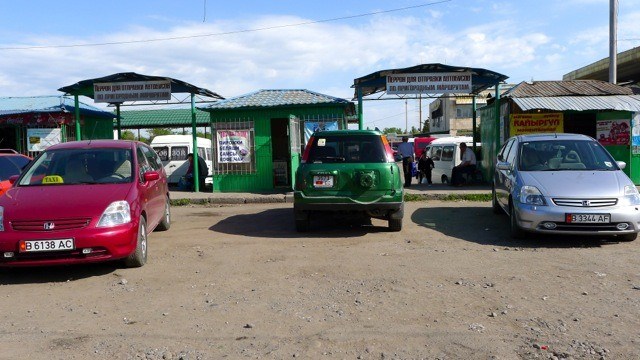 Shared Taxis
For a foreigner, I find the shared taxis from one city to another to be the most comfortable… and I use the word "comfortable" lightly.
Typically, you will be in a car of 4 to 6 people (depending on the model), and you pay per seat.
In Bishkek, shared taxis congregate at the West Bus Station, or the New Bus Station as it is also known.
If you need to head anywhere, arrive in the morning hours, and the taxi owners or "taxi pimps" will pretty much find you.
Just say the city where you're heading, and someone will point you in the direction of a taxi.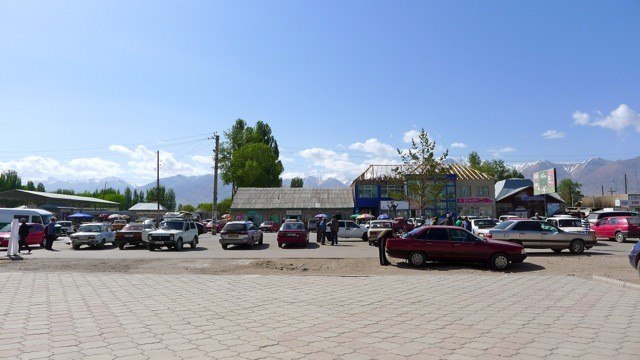 The price for a 3-hour journey to Kochkor or the edge of Lake Issyk-Kul will typically run 300 to 350 som per person.
You do have the ability to buy out an entire car if you would feel more comfortable, which is still relatively affordable in Western terms ($25-$30).
A few things to be aware of when taking a shared taxi.
Sometimes the driver is not the one finding the cab for you. Someone might see you, take you to a car, and get a cut of your pay from the driver.
Cars can be very cramped. If going in a four-person car, try to find one that is a bit larger. Kyrgyz people tend to do whatever they can to save a couple of bucks, which can mean sitting next to two women holding toddlers on their laps.
Cars tend to break down. Many of the shared taxis are older vehicles, and the roads in Kyrgyzstan can be unforgiving.
Our last rides down to Naryn and on to the Torugart Pass were horribly bumpy, so prepare yourself (aka use the toilet before going)!
Don't be afraid to shop around if the price doesn't sound right.
People are generally reasonable, but there will be times when they shoot off an excessive amount, hoping to take advantage of Westerners.
Related: What to Expect When Backpacking Kyrgyzstan
Long-Distance Marshrutkas
Marshrutkas are minivans that act as public transport. In Bishkek, they can be crowded, over-run and stifling – but they are also super cheap (10 cents for a ride!).
In the same way, long-distance marshrutkas are cost-effective, but they might take a bit longer than a shared taxi (at least they only sell by the seat on long-distance rides).
The rides might still be a bit stifling given that no, or few, interior windows tend to open.
Luckily, many of the rides appeared to be newer machines, meaning AC will hopefully be in your cards on those hot summer days.
In Bishkek, catching a long-distance marshrutka can be done at the West Bus Station, just like a shared taxi.
However, more local, regional stops like Tokmok and Korday have marshrutkas that run from the older East Bus Station.
Besides being slower, it might also take you longer to get on the road in the first place since the driver has to wait for the van to fill up with more people.
Long-Distance Buses
The slowest of all the travel options in Kyrgyzstan would be the long-distance bus as those have many stops to complete en route.
These buses also typically leave in Bishkek from the New Bus Station (West Bus Station), but routes still appear pretty limited.
Marshrutkas and shared taxis are generally the more flexible and better ways to go if possible.
I have opted for the other two popular modes of transport to get around Kyrgyzstan overland. Tickets are more affordable, however.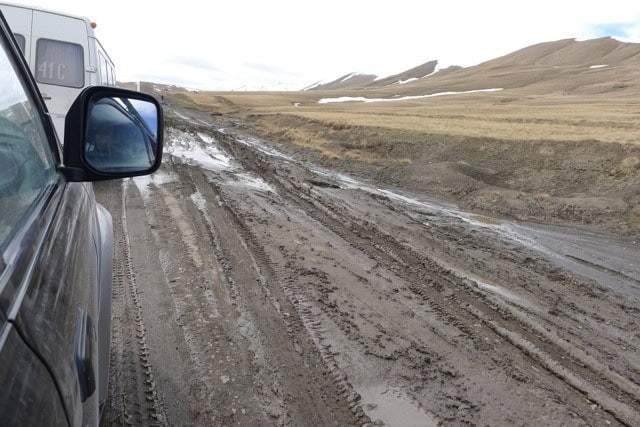 Some Tips for Getting Around in Kyrgyzstan:
Try to learn at least a few words or phrases in either Russian or Kyrgyz.
It will help when you need to ask how much the ride costs, where you're going, whether or not you need to ask to use a toilet, etc.
Ask a local before heading to the taxi, marshrutka, or bus how much a typical ride should cost. Use this as a guide when negotiating a price.
Wear comfortable clothing and be prepared for heat or cold while traveling.
Plan to be cramped. Kyrgyz people will cram in anything and everything where there is a free space.
Head out in the morning. You will have more luck in finding a ride and just be safer that way.
As always, I highly recommend Community Based Tourism as a resource. They will help you with transport, and local guesthouses or yurt stays throughout the country.
Brooke lives a thrifty lifestyle so that she can travel the world at every possible opportunity. Find more of her writing on her website: Her Packing List. Or follow her on Twitter.
Planning a trip? Go Backpacking recommends: